Put on Your Noseguard. Put on the Lifeguard. Pass the Tanning Butter.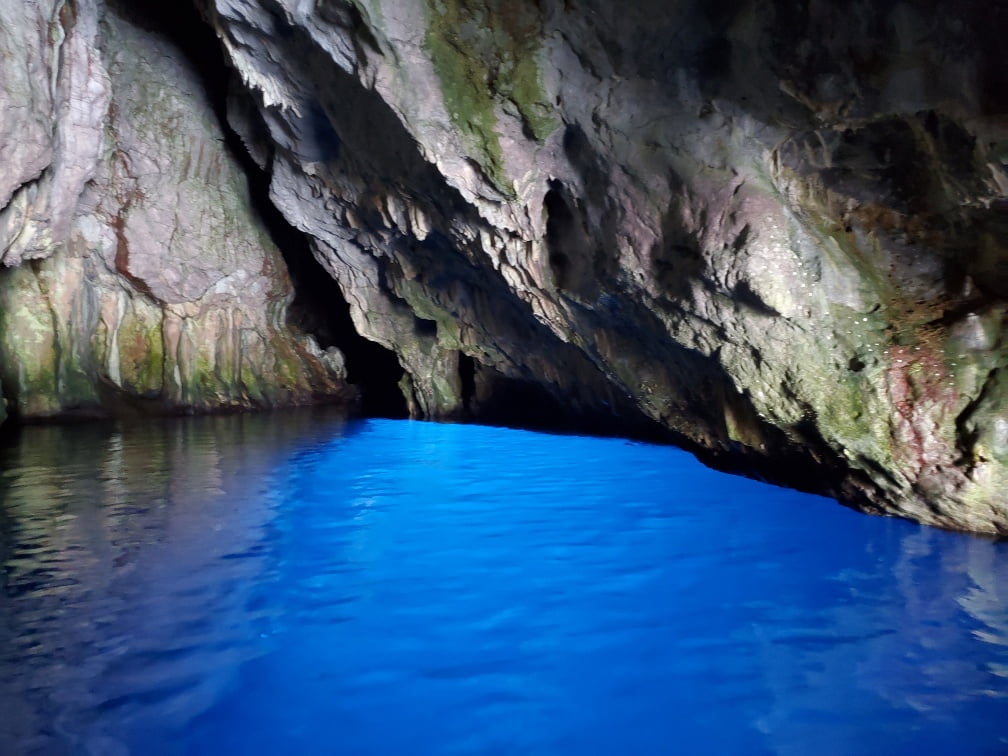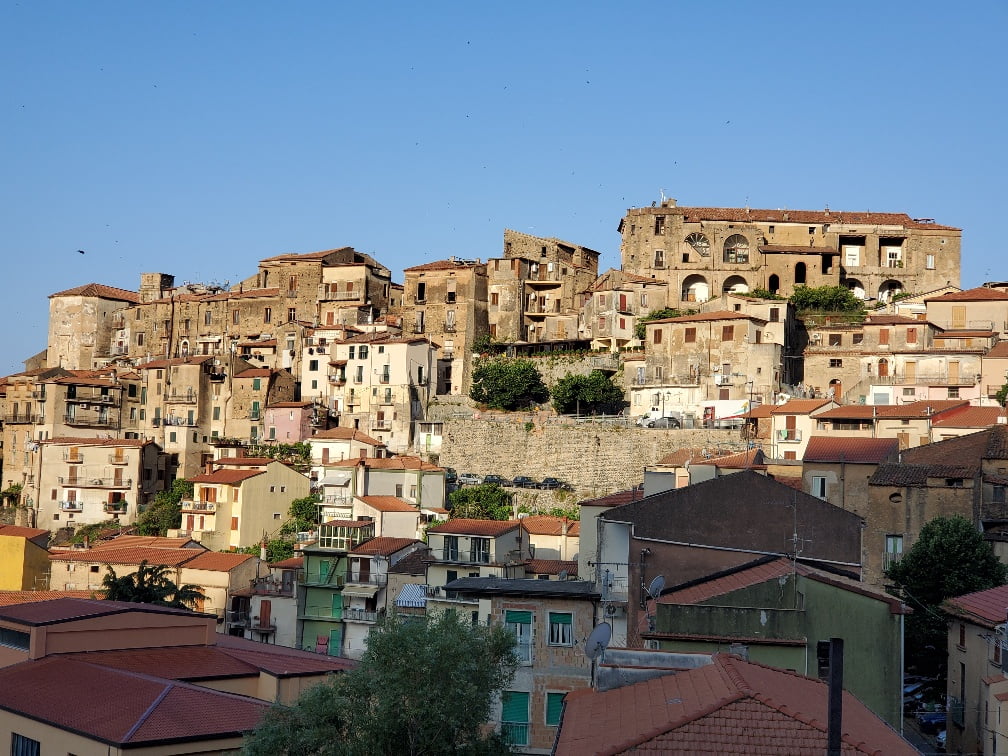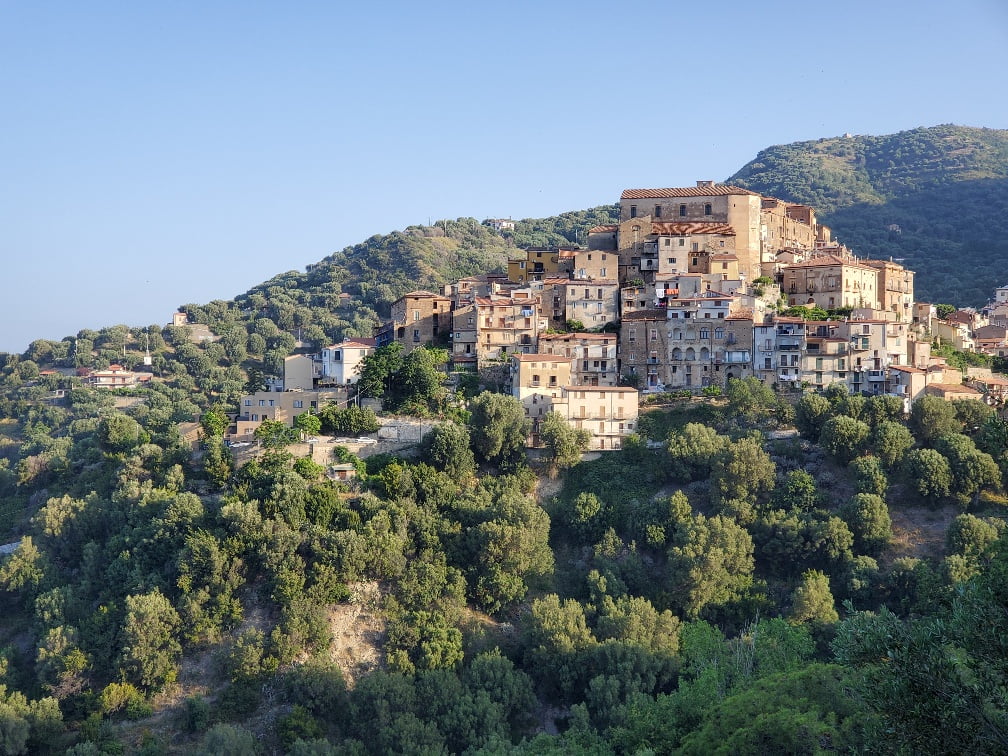 Woke up very early and couldn't sleep so threw on yesterday's clothes and went out for a 6:30 a.m. walk; got 7000 steps in before the day had started. The air was ripe with oleander and jasmine, which litter the roadside, there were myriad bleating goats on the adjacent farm, swallows were up, dive bombing, and as I headed toward the village I could see a huge amount of activity in preparation for the weekly Wednesday market. Used clothing and trinkets; excitement afoot. There were some beautiful shots of the surroundings as morning sun rose across the horizon.
Back at Per Bacco, breakfast was especially good; all the odd assortments of an Italian morning buffet, but homemade cakes rather than delivered, select local cheeses, delicious plums from trees on the property, some cherries and strawberries. During breakfast a few ripe mulberries fell onto the table.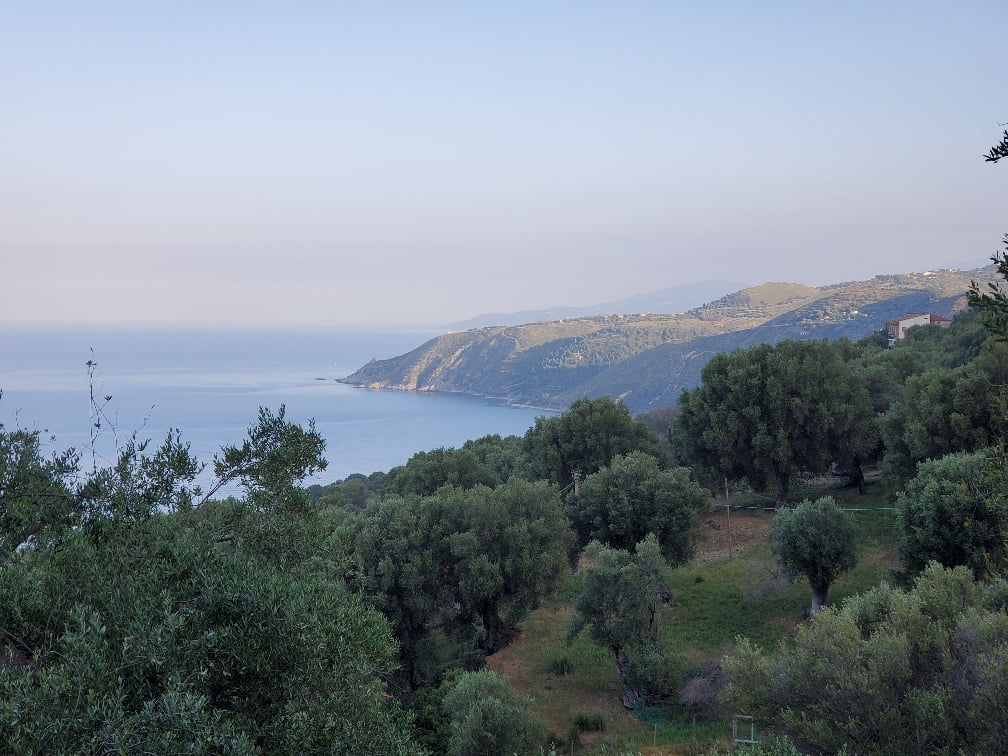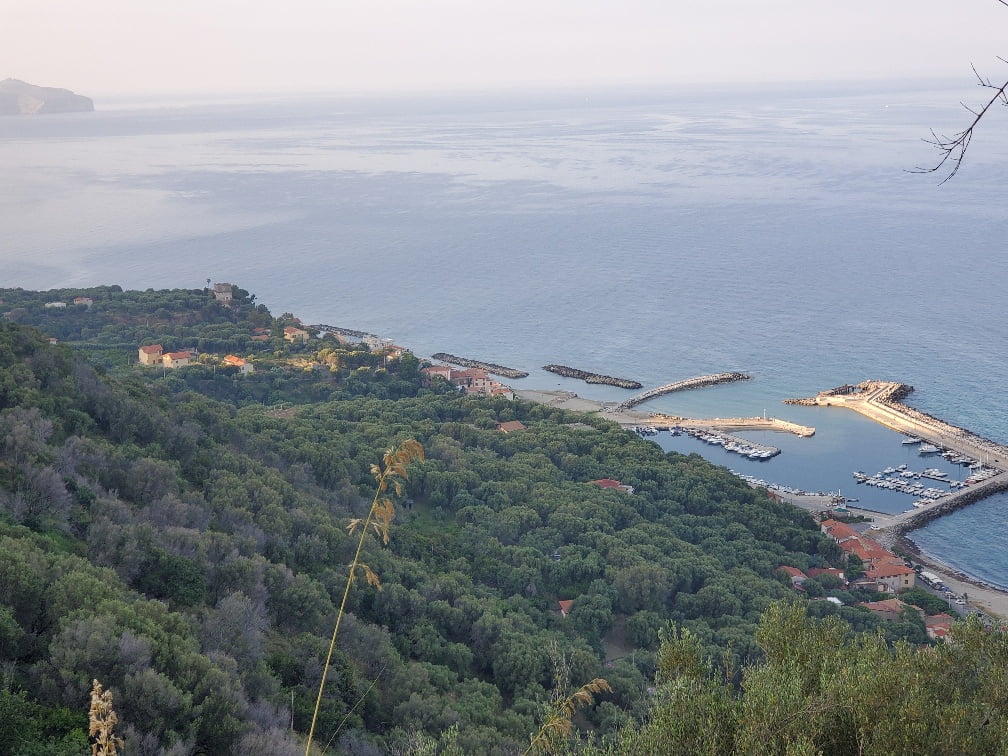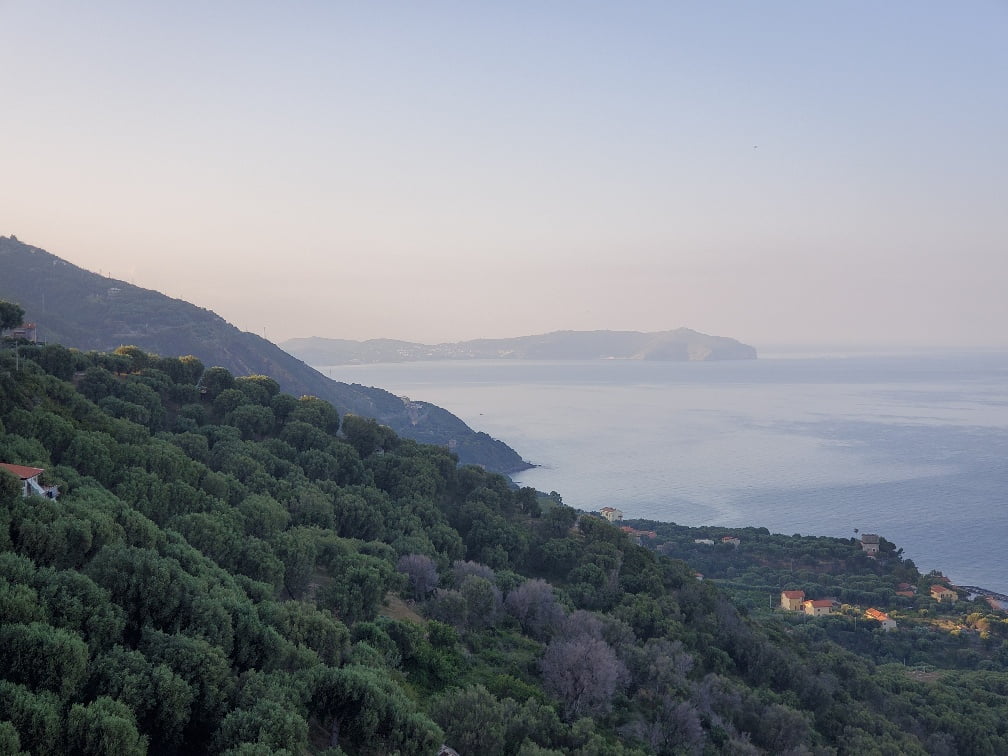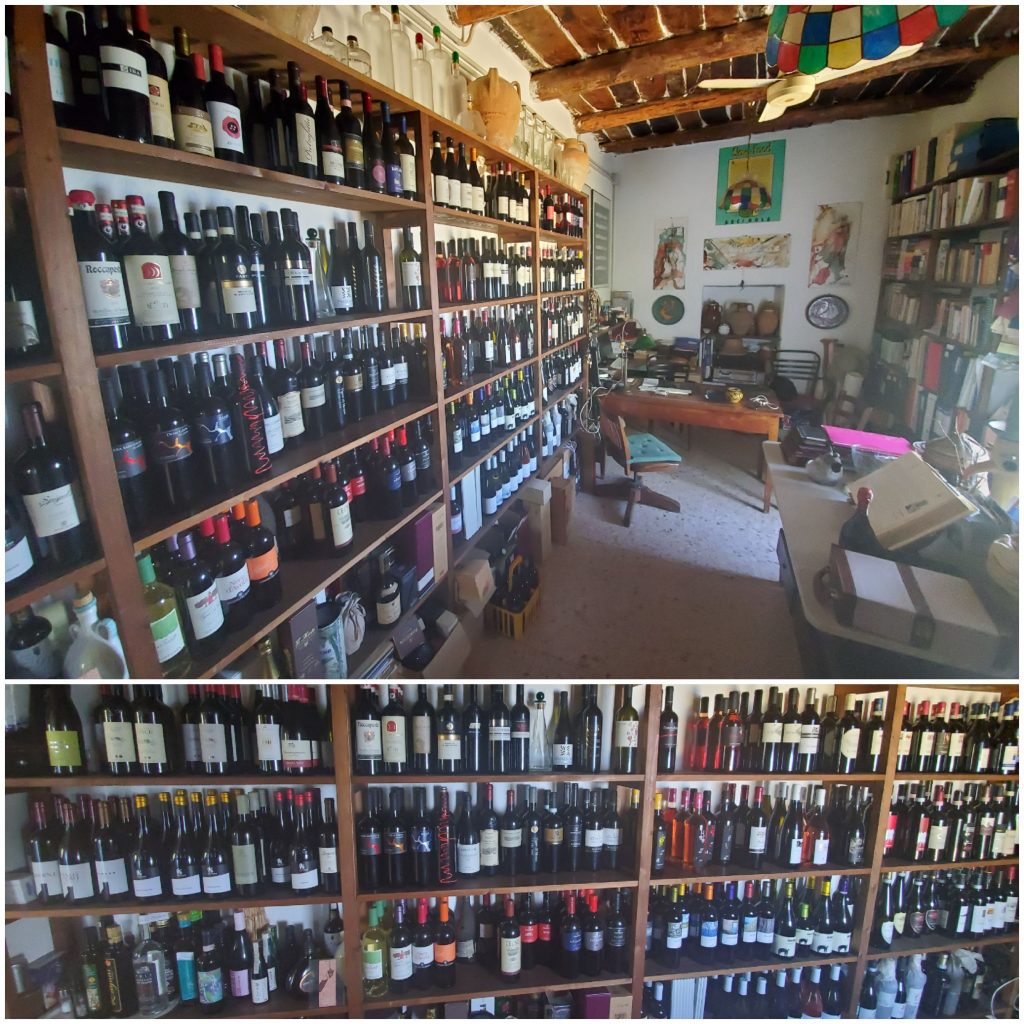 We decided to stay local-ish today.  About 15 minutes south lies Palinuro, an inconsequential dot on the map of Campania but a HUGE beach destination riddled with summer villas and seasonal long stays, Italian families on Monsieur Hulot type adventures.  Being here on the shoulder, it was quieter than July, but parking was still at a premium.  We took a short morning tour of the local blue grotto, Grotta Azzurra (one of the gazillion grottos available for the grotto obsessed).  It wasn't Capri, but it was a hundred times less for a tour.  Instead of 10 on a boat, there were just four of us, so we lucked out.  Before the tour we hiked up the peninsula to the remnants of a historic fort.  The din of beachcombers below rose up like crowds of extras in an Irwin Allen disaster. It's amusing that the only sure way to know Italians are relaxing is if the pitch approaches 90 decibels.
View of the grotto from our hike. Shots inside, and a look at the cliff face behind.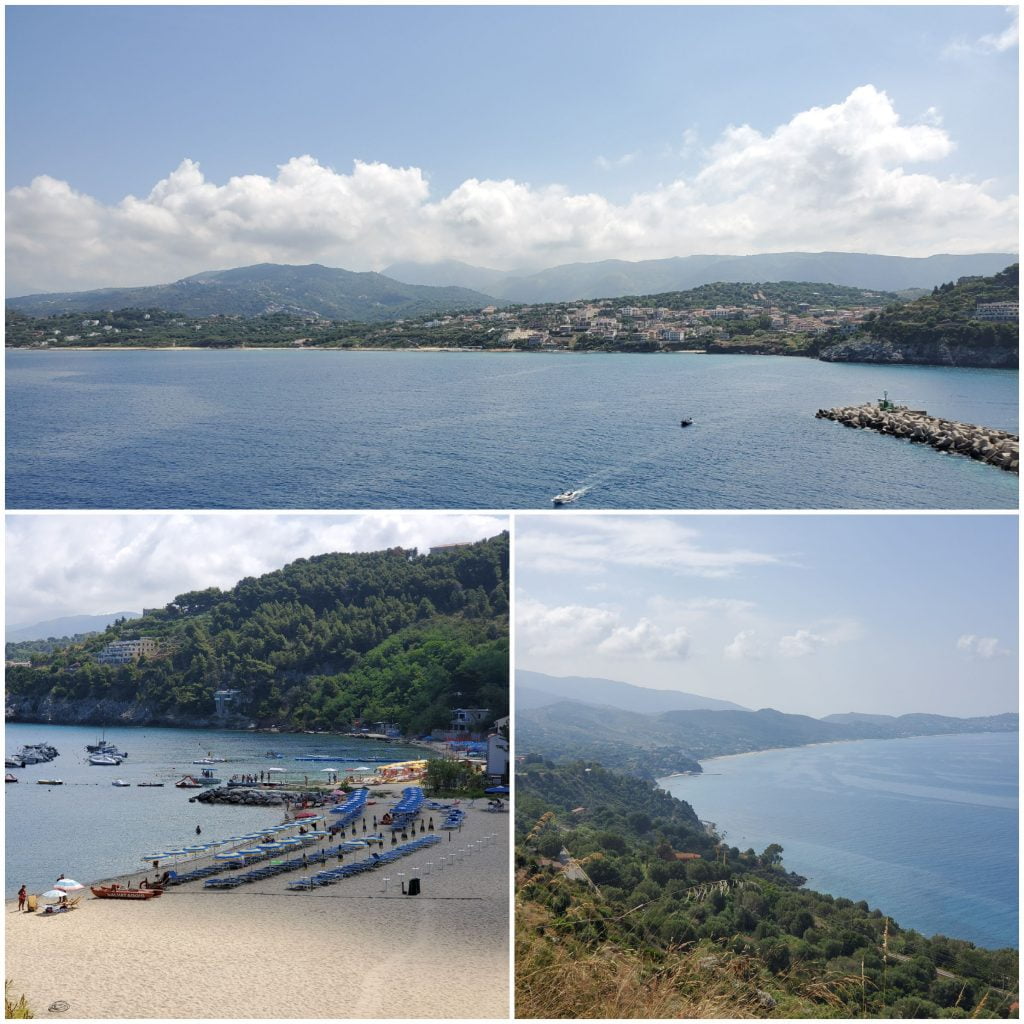 Following our morning "exercise" we drove to a beach "resort" to test the limits of Canadian relaxation. For about six Euros each we got parking, facilities, the bar/restaurant, beach loungers, umbrellas, WiFi, and some cheeky service. And, yes, the Italian couple next to us (him mid-50s, her late-30s) ate and drank, talked and argued, talked louder and argued more intensely, made out in a public and most unconventional fashion, swam, and then did it all again in a different order. I was too lazy to take a picture except fully reclined. Despite lying in shade, most of it with a shirt on, our short excursions into the sea left us like lobsters. Any pinker and I'd be blue.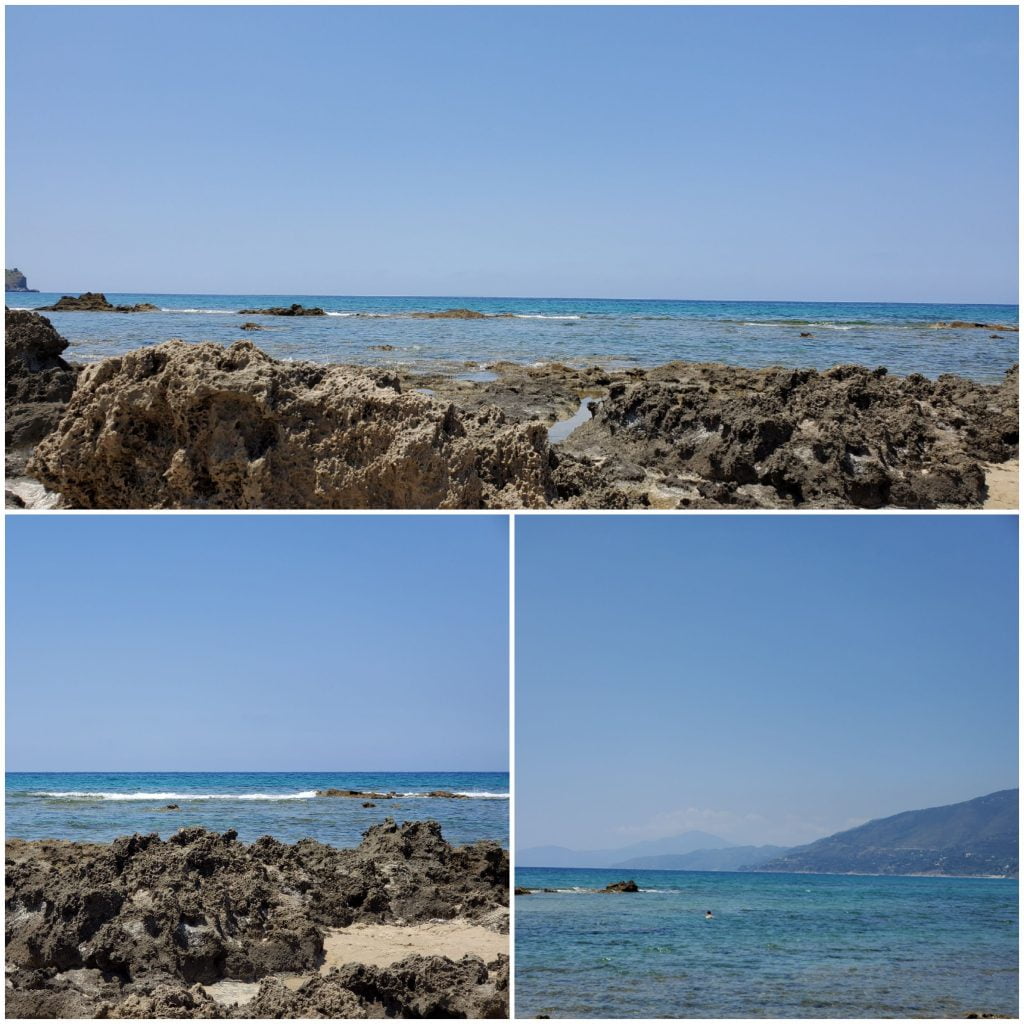 After much effort we pried ourselves away and took the perilous road back to the B&B. En route we stopped in Pisciotta to wander around the hilltop "streets" if you will.
For the evening we walked into town, our burnt pink bodies creaking.  We had a pre-dinner beverage on the roof of a local hotel.  Utter hardship.  Then we walked down a few streets and took supper at a place recommended by a Swedish/American couple who have spent the last six summers in Piascotta.  From start (cured meats and cheese) to pasta (an utterly sublime carbonara) to finish (local fish braised in a bouillabaisse like sauce) it was perfecto.  Then a 17 minute walk home.