If the Walls Could Talk (it Would be in Latin)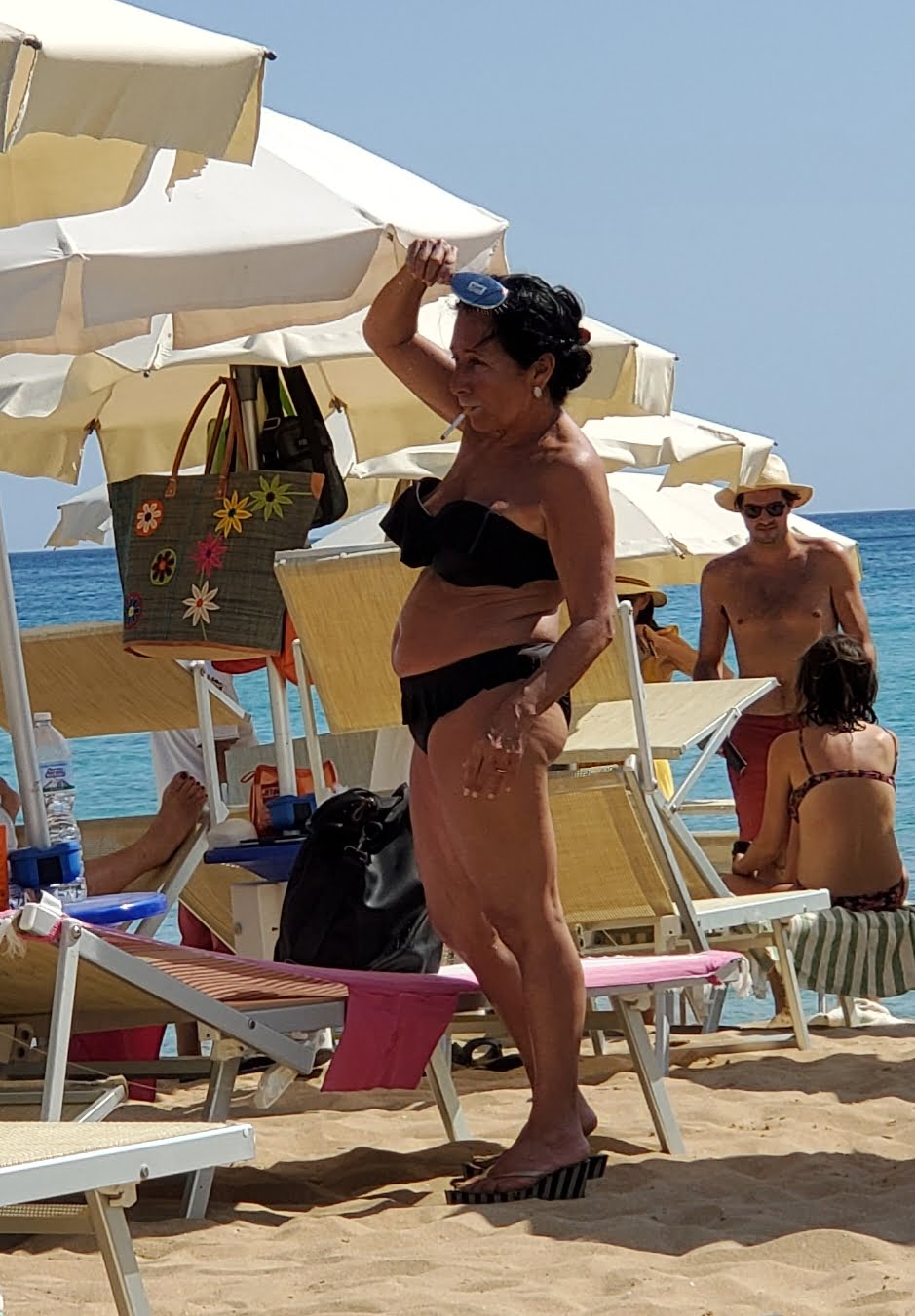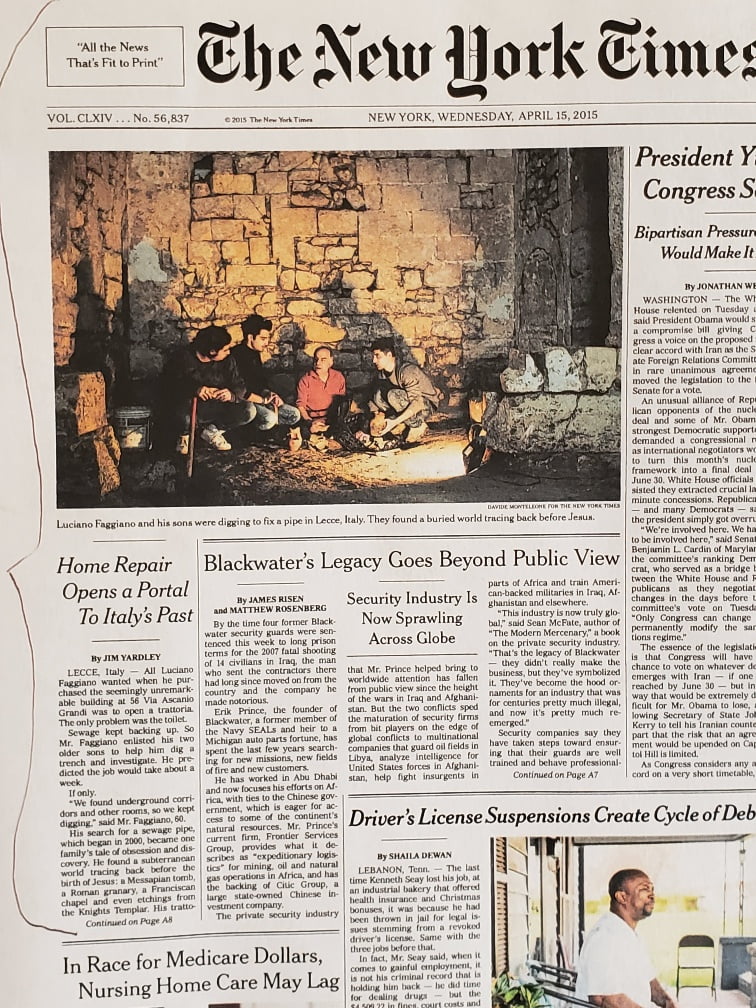 Twenty years ago a guy decides to open a trattoria with his sons.  They've got this nice piece of property in the Lecce old town perfect for the tourist trade. Minor thing, the toilet keeps backing up.  So they decide to get a plumber in.  They dig down to replace the sewer pipe and low and behold relics.  True story.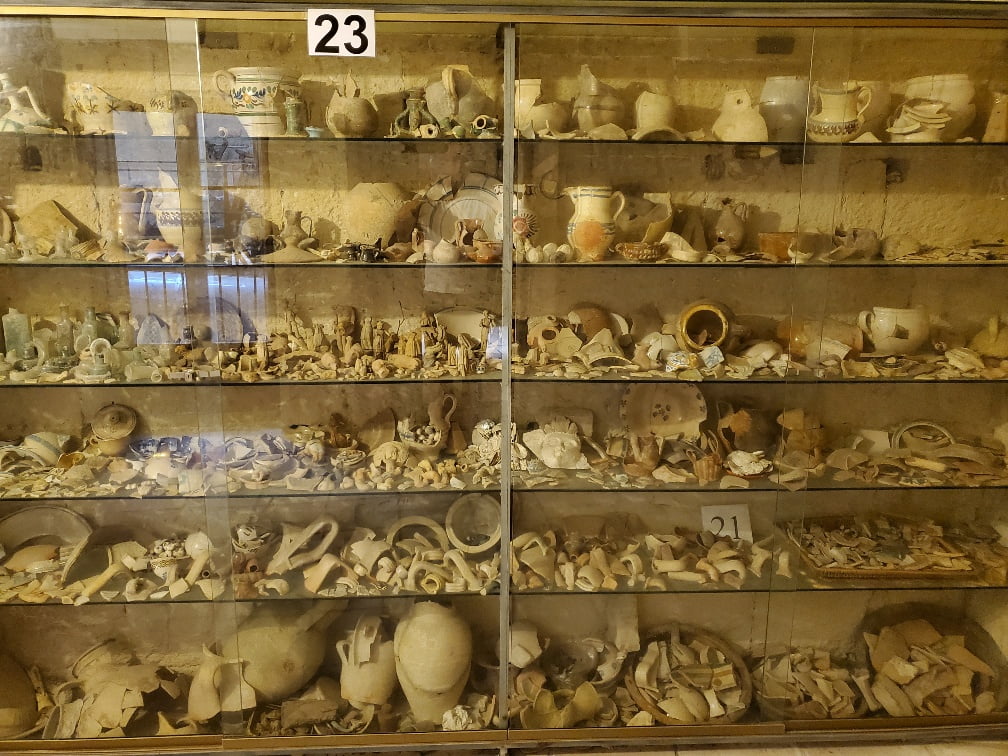 OK, so not like the relics they find everywhere in Italy, every time someone puts a shovel in the ground, but the kind of relics novelists dream up, hidden rooms and tunnels and archaeological finds that pretty much put the kibosh on a renovation. Anyway, after all was said and done, after the state had hauled out all of the finds in good shape, what to do? Open your home as a museum is what to do.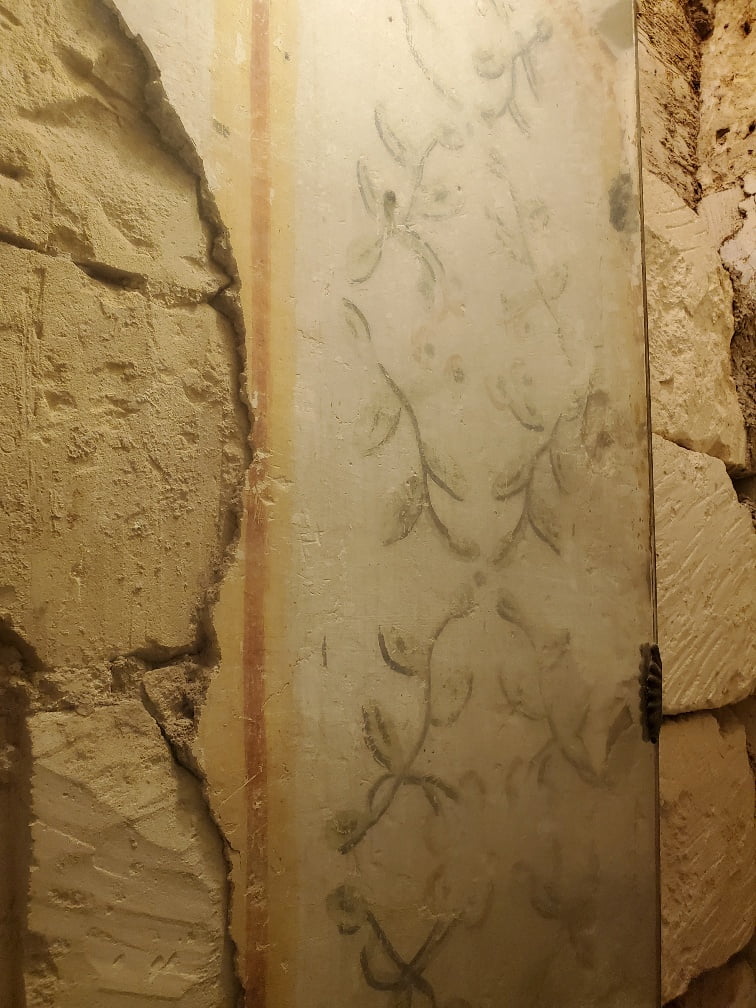 So after our coffee we headed over to the Museo Archeologico Faggiano, basically a row house with some serious history. This is what they know so far: The house in some form has been there since antiquity, with elements dating to the "Messapic" period (I had to Wiki it). In 1200 it was home to the Knights Templar. A couple of hundred years later it became a convent. Afraid of "invading Turks" among other threats, the nuns created a number of "escape tunnels" including one which archaeologists presume went all the way to the Roman amphitheatre, about a km away.
OK, so listen carefully to how fascinating the photos above are starting top left: A tomb for a baby from an undetermined period in antiquity. A cistern used to gather water from the roof from the medieval period. #30 is part of an escape tunnel but also where they hung dead bodies to drip blood and decompose. On the left in the middle row, the glass is over medieval stone that was torn down to create more room in a later renovation; no one worried about antiquity 400 years ago. The middle picture is part of the original Latin from the Knights Templar days, If God is With Us Who can be Against Us?, for which they've only recovered half (those against the KT stole it?). On the right in the middle is a "discovered" room; imagine initiating a reno and discovering that? On the bottom you see the three or four levels down they excavated that were originally "escape hatches" as the guidebook said but after 1600 or so became cisterns.
On the top floor you have what appears to be you know, just an old room. But in fact the ceiling is made up of 600 earthenware jars; it is apparently a Roman technique to both reduce the weight of the ceiling while increase insulation. Also, very hard to discern (at 800 years old) but the Knights Templar "logo" is in stone on the top floor.
The roof has nothing to offer other than neighbourly interest. Ciao Maurizio, beautiful day, that sort of thing.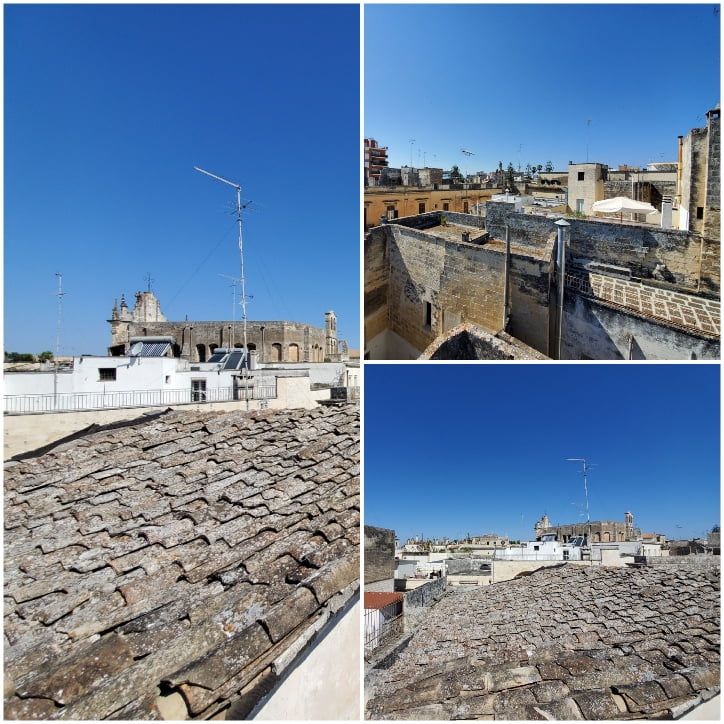 Late morning we loaded up the Audi and drove to a beach. The wind on the Adriatic was fierce; no one was recommending a day on the Otranto side. There were lots of options but for no particular reason we decided to drive to the far south on the Ionian side, where the marina del Pescoluse has been self-declared as the Maldives of Italy (a stretch I think) and where we spent several hours under umbrellas and with shirts on avoiding the intense 31 degree heat.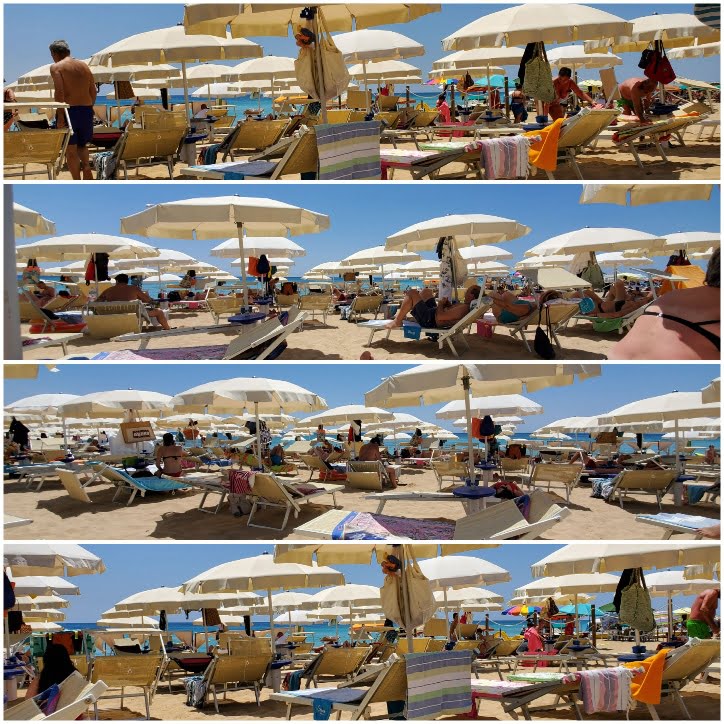 The beach, which runs for probably 10 kms, was insanely popular. One beach club after another. Where we went there were seven rows of umbrellas. Not a lot of kids, school isn't out yet, just heaps and heaps of Italians at the beach.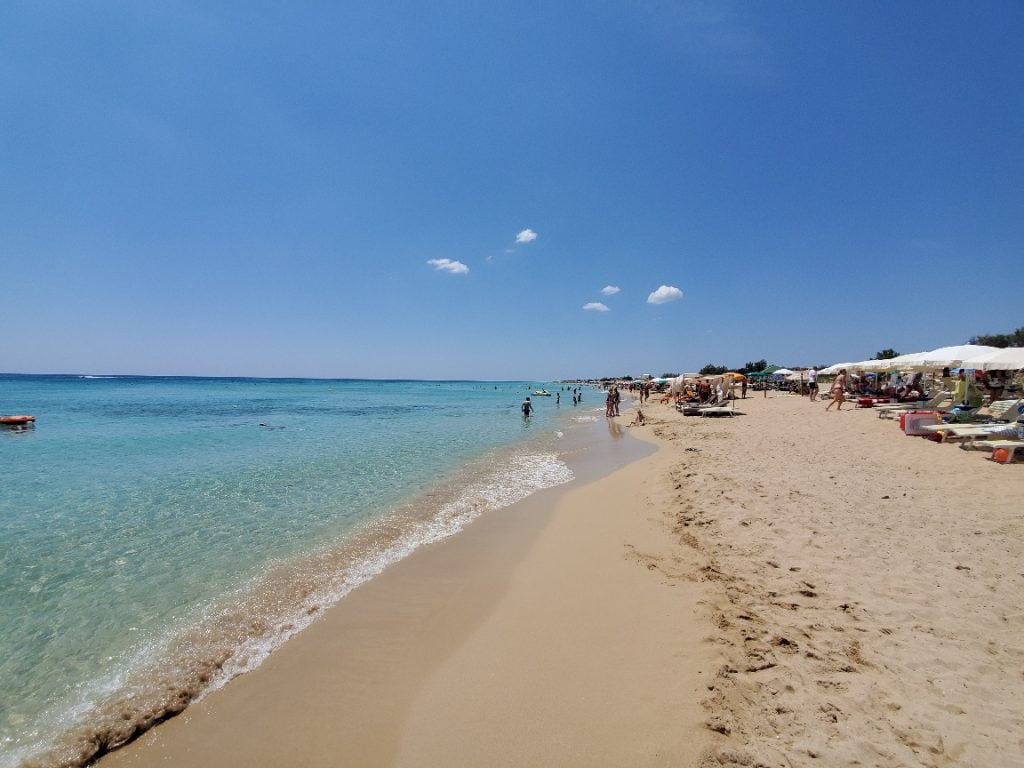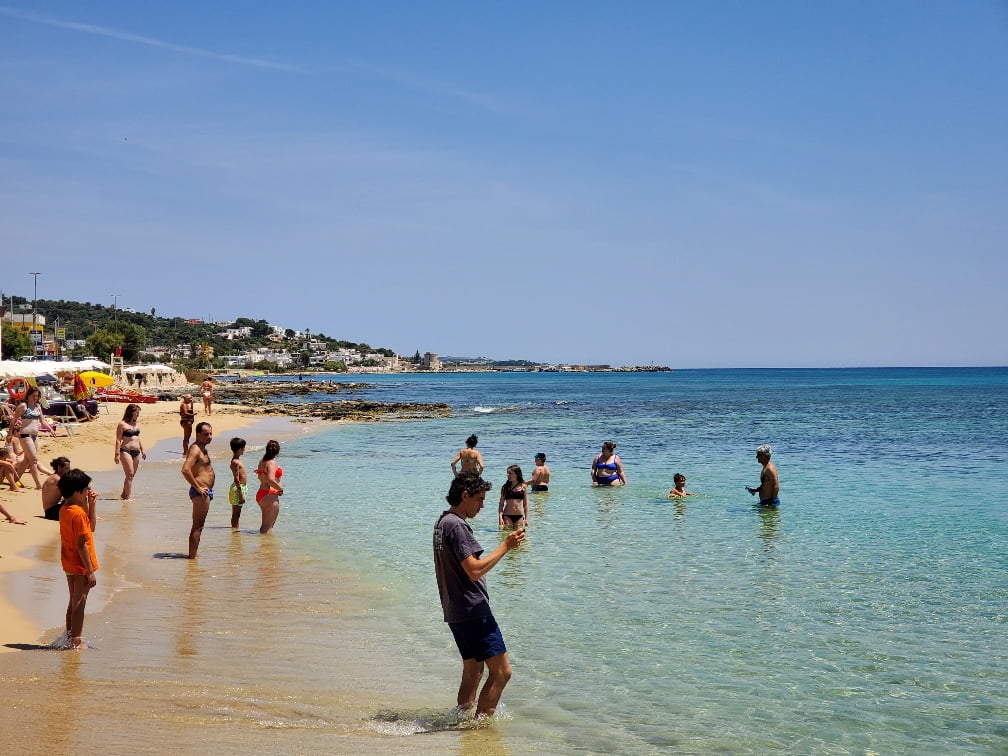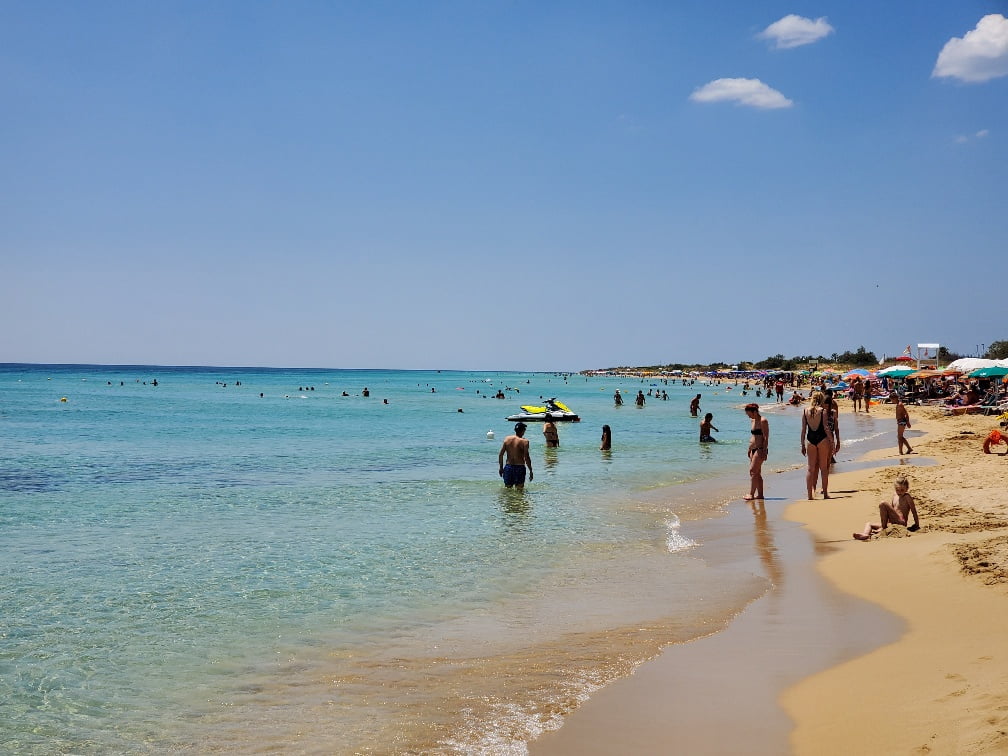 But the beach itself was gorgeous, water was cool and refreshing and clear. As for all the people, maybe it was wrong, but I became obsessed with a few "regulars" if you will. Check out this grande dame of the beach set; she spent the afternoon coated in coconut oil but doused in zinc oxide on the lips and eyes. She was a serial smoker and here she conducts some post swim grooming while calming down on a king size. Sadly, my pics don't do justice to her enormous striped sandals which gave her a seven inch boost.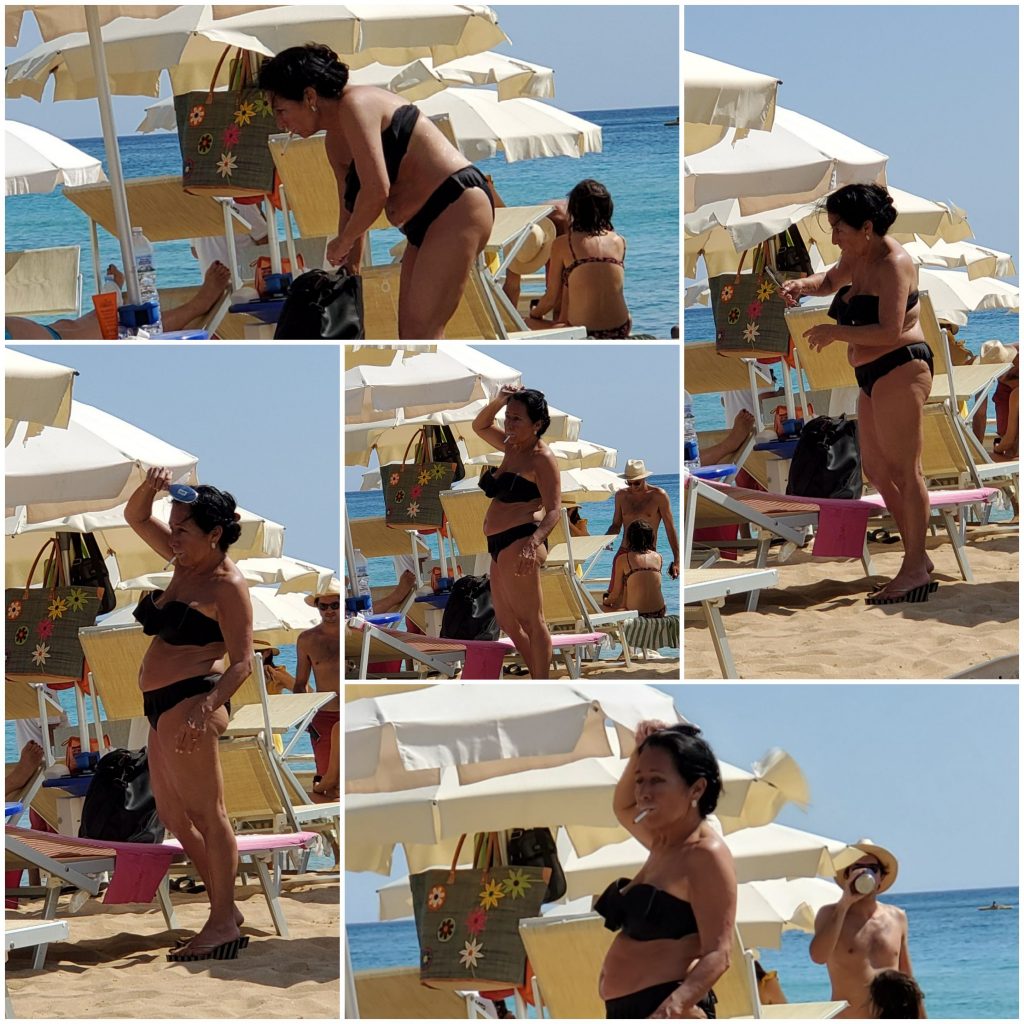 We drove home the long way, up the centre of the heel. South Puglia is essentially one huge olive grove with towns in between the trees; the tourism mixes with history, of course, but mainly with agriculture which defines the boot. And it should be stunning the long, flat, historical region; but it's not. It's really not. And mainly because of xylella fastidiosa. Google it. The trees are dying by the millions due to this blight. Not an exaggeration; to date over 10 million trees have died. And you can see it, km after km, dead trees, dying groves, bare acreage; it makes the pine beetle problem back home look like a joke. It is a monumental environmental and economic and social disaster and really hard to reconcile with the luxe of the beach culture and the fun and sun we enjoyed today. But, as per an earlier blog post, "what can I do it?"
For dinner we went to an enoteca slash restaurant a few minutes near our BnB for which we actually had to reserve. And it was, stop the presses, the absolutely best meal to date. Smoked buratta. Wow. Grilled vegetables that were out of this world. A pasta with fresh porcini and another with fried popped cherry tomatoes and chicory. Somewhere along the line a sorbet arrived which was chocolate, orange and, wait for it, olive. Really sensational.