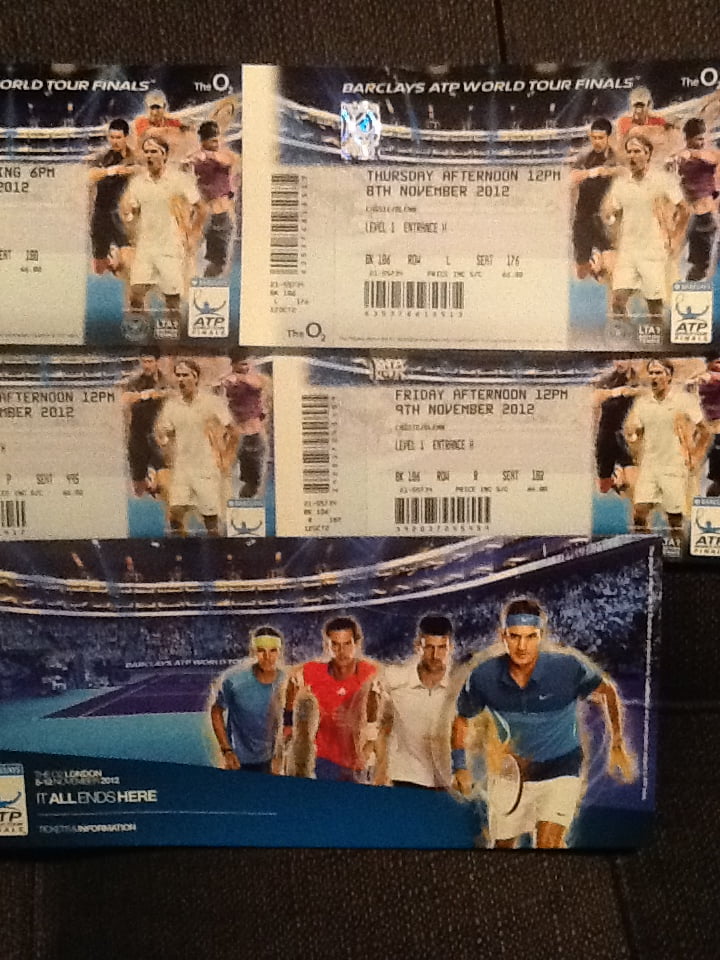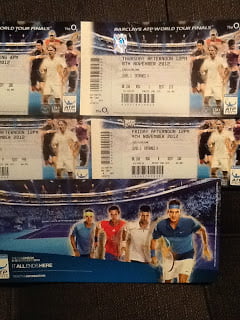 Thursday AM I made the trek to Cricklewood to see Diana,
Simon's mum.  She is still her old self
in many ways, but in other ways lost in a bit of a fog.  I also saw a young woman who claimed to be
his daughter but I truly couldn't believe it.
Midday to tennis.
Spoiler alert: I did not see Murray Djokovic.  Because the Tour Final is a Round Robin of
two groups of four, with 1/3/5/7 and 2/4/6/8, that means that since I have tix for both sessions on Thursday I will see Nadal
and Murray, because Novak and Roger would be in the other group.  But then of course Nadal pulled out.  That left Novak with Andy, bumped Federer and his half
picked up the extremely uneven Tipsarevic.
To start, they start with doubles.  On the one hand, doubles doesn't get enough
credit and is rarely shown on TV.
Brilliant dedicated doubles players can be brilliant.  But doubles is also littered with various
castoff singles players, and worsened by teams where partners are forever
switching it up.  It gets almost
impossible to support anyone except for the Bryan brothers, who by dint of
blood (and I guess temperament) are true to their team.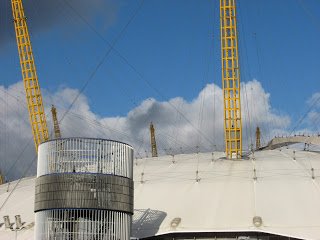 The 02.  Rock star venue.  Lights blink on Aces and Break Points.  Pretty much the bizarro version of Wimbledon.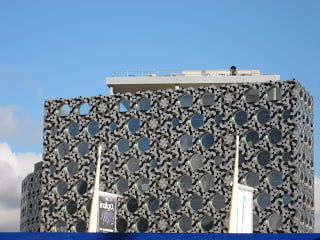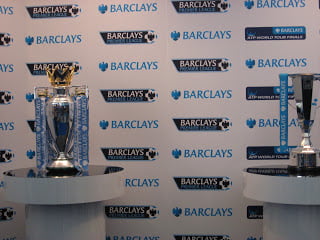 First match was Paes and Stepanek against Lopez (not
Feliciano, who isn't playing at the event but was, for no apparent reason, on
site, sitting with the Spanish Armada) and Granollers, the Spaniard with the
French name.  The first set was dull as
Paes/Stepanek took it easily; I think there were no break points and most games
played at love.  But things picked up in
the second, with not one but two breaks, although the Spaniards simply couldn't
capitalize, and Paes sealed the deal.
Stepanek, it might be noted, is I believe the only player on the tour
(and maybe the only player under 30 period) that wears the long, baggy Pete Sampras
shorts and tucks his shirt in.  He has
the look of an Eastern European PE teacher, circa 1972.
The real tennis, and the sold out crowd, savoured the second
match, Ferrer versus Federer.  With Nadal
pulling out this should have been a Federer Nadal duel but was in fact one more
nail in the coffin of the never ending Ferrer losses to Federer.  More insulting to Ferrer is that Roger didn't
bring his A game.  His first serve
percentage was pathetic and he fluffed and muffed an unusual number of easy returns.  His second serves dribbled over the net,
often under 100.  Still, Roger's less
than perfect game is still too much for most mortals and Ferrer, although he
did try valiantly to recover, and brought the second set to a tie break, even
having the upper hand twice, succumbed to the inevitable.  Roger, with only one ace in two sets served
up two in the tie break.  Must have had
dinner plans.
Ian McKellan was seated a few rows down from me.  Fluorescent orange top and tight stretch
pants that looked like leotards.  He
spent an unusual amount of time on his smart phone and the older gentleman
accompanying him looked, at one point, to perhaps suffer from narcolepsy.
During the break I tubed back to the hotel for a snack and
to freshen up.  Given the timeframe it
was a bit ambitious.  I arrived back just
as Qureshi and Rojer were battling the Bryan Brothers.  Lively, fun, and with a few serious doubles
net volley duels, the Bryans sewed it up quickly in two.  Following, in recognition of their eight year
run as number one doubles partners and now going into the record book as the
most successful doubles team of all time, they were given both a trophy for
their year end status and a crystal goblet as ATP fan favourites. Justin
Gimelstob, looking trim in a well tailored suit, did the honours.
They were followed by a strident and aggressive Tipsarevic
and a loping, downcast del Potro.  Janko,
who did a great impression of Novak at an ATP event a year or so ago–
  Phone rings
  Novak answers
  "Hello?  Who is
this?  Barack?  Barack who?"
–brought no humour to the court, but neither did he bring
much in the way of tennis.  Although
there were some long rallies and there were all of nine break point
opportunities in the first four games, it was poor shot selection, over-hitting,
and a raft of unforced errors, that did Janko in.  6-0.  A
bagel at the year end event!  Top eight
in the world my ass.  A sea of Barclays
men, the event sponsor, who appeared to be getting a fine corporate wine and
dine in a restaurant upon my arrival, filtered into the arena, all navy and
gray suits (is there no other acceptable fabric for the City?) twenty minutes
late and virtually missed the first set.
It looked like a pod of Orcas, like private school boys in their
uniforms which, I guess in a way, it was.
But they didn't miss Janko not once but twice toss his rackets towards
his stringer in disgust.  A streaker
might have been what the match needed; some relief to the angst and tension of
Tipsaravic and Delpo's seeming lack of commitment.
Janko came alive in the second, showing some clever and
athletic moves, but even so it was just a glimmer of how good he can be.  Meanwhile, Delpo did little more than hit
returns, hard, fast, and accurately, to quickly go up a break and take the
match in a 6-4 clincher.  A little sour for the occasion I
think.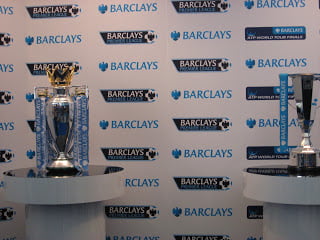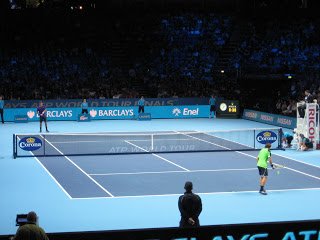 From my seat.  Actually much better than my pathetic pocket Canon shows.
Hopped on the Jubilee home.
Oh, three nights in, and Knightsbridge is "home" already…