And Now for Something Completely Different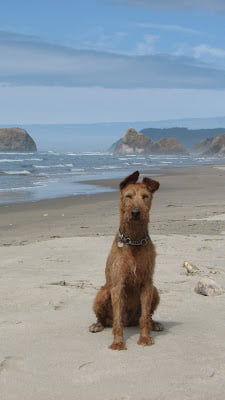 Sunday, August 14, 2011
No reason for an early start but we had an early start nonetheless.  Tempurpedic bed.  I'm of mixed opinions—but if you sleep on it like the body in the logo it is perhaps wonderful.  SS got coffees and we read ("read") the Oregonian.  Still printing Tiger in the colour comics; I used to think Andy Rooney had the best job going in America.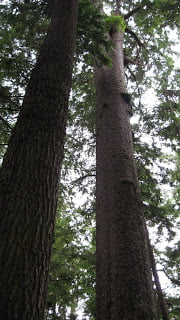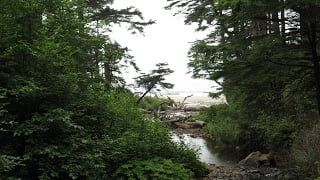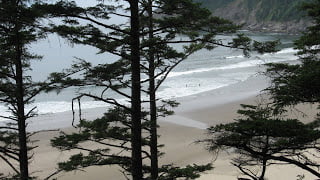 Oswald West State Park
Drove south on highway 101 about 15 minutes to Oswald West State Park, down to a secluded surfing beach, then hiked a 2.5 mile trail to an outlook onto the Pacific.  Back to "town" for lunch, in a garden, with the dog lying at peace in the dirt, then south again, this time to Arcadia Beach.  We saw a 14 week old Irish, Glimmer, who had perfect ears and all the typical IT demeanour that I remember so fondly, but I also admired at a distance, fully cognizant of "puppy exhaustion."  The beach was a mile or two, not busy, and the sun came out in force.  We walked for a couple of hours then retreated to the hotel.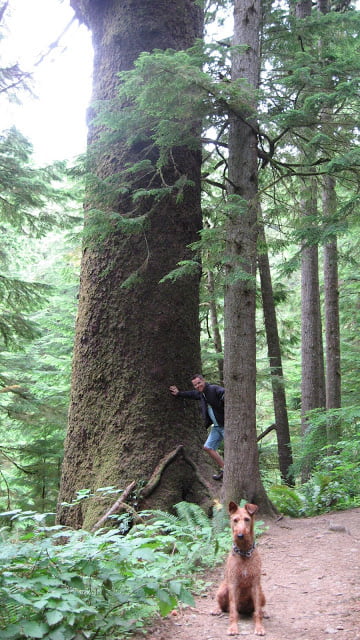 Leader of the pack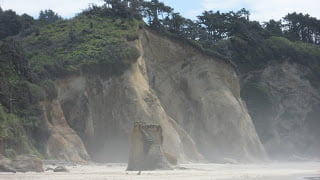 Arcadia Beach, south of Cannon Beach, Oregon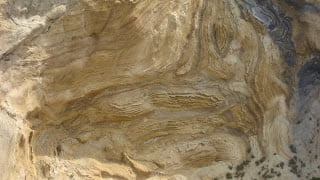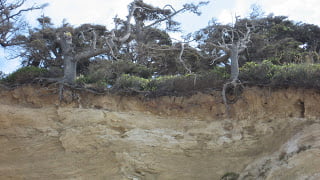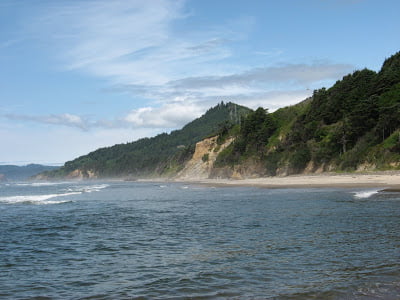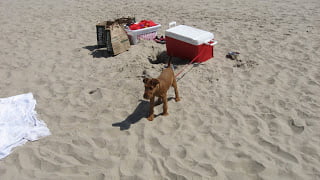 Glimmer, 14 weeks old
Then, for something quite out of the ordinary, a chef's dinner.  We walked from "midtown" into the centre for one of 20 spots at EVOO, an acronym for extra virgin olive oil, a kitchen where a CIA trained chef prepares four course meals as guest entertainment.  There are seats around the stove then four raised tables behind that; we were with a father and daughter from Chicago, who were famished, at one of the raised tables.
The first course was a grilled flat bread with lemon-zested greens, cherry tomatoes, sheep's feta, Moroccan olives, a delectable baked falafel, and a baba-ghanoush, which he mixed with baked garlic, fresh ground coriander, tahini and cilantro.  It was a show, a series of mixing and matchings, and a good start to the evening, fresh and forward and summery.  We drank a Capitello pinot gris, something a little blasé to sip but which came alive with all the flavours in the mezze.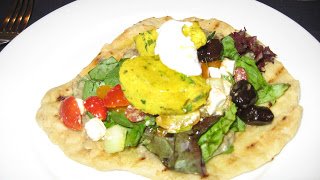 Nice start.  What else ya got?
The second course was substantially more chef-like.  Sturgeon, carefully scaled and cleaned and fat removed, then bathed in buttermilk overnight, then breaded in two types of cornmeal, and while he baked that he made a salad of corn off the cob (grilled) and red pepper.  Meanwhile, freshly baked chipotle biscuits (more like small scones) were brushed with blue agave butter.  This all came together with a remoulade (preserved lemons in a mayonnaise base) on top of the fish.  Perfect fish.  Will probably never eat sturgeon again in my life (it's usually prepared poorly, greasy and gamey) so having something so spectacular was a gift.  We drank something completely different, a "young" fruit forward zinfandel, against type with fish, a 2009 Four Vines from Sonoma.  Holy shmoly!
Third course was an applewood smoked tenderloin of beef.  We had the demo on dry smoking and prepping and cooking.  Meanwhile he mixed up a creamy polenta with Tillamook cheddar and pancetta.  Polenta is officially banned in our house—years ago in TO I had not reduced the heat sufficiently and a pot of polenta turned into Vesuvius which came up and scalded me in the face—so SS takes pleasure in any opp to order it.  And, while that was all coming together, he threw together a hugely refreshing watermelon salsa (watermelon, cilantro, onion, cucumber).  We were offered "black salt" as we ate, an unusual but complementary accompaniment.  With this course a Bordeaux California blend, J. Scott Avante 2009 (a little beefy and heavy for my liking).
Somewhere along the way we toasted the chef and his wife's 23 years together and, to the day, their seventh year of running EVOO.  And the famished couple from Chicago began creating doggy bags but the two of us, up to the challenge, persevered.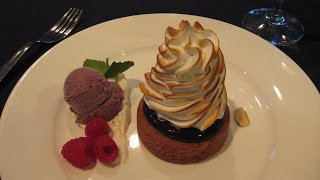 Dessert was a feat.  The base was a graham cracker coconut cake.  He prepared a fresh chocolate ganache to spread on top.  While we had been eating steak he had begun a meringue, a twist on seven minute frosting.  This was piped in "Dairy Queen" swirls on top of the ganache, then "torched" before he soldered the gas line.  Just kidding.  A few fresh raspberries around the cake.  Then, and this was criminal, a berry ice-cream (blueberries, blackberries and salal berries mixed with a ruby port), a smattering of almonds and a mint sprig garnish.
Tony, upon our return, had dehydrated beef reconstituted to mush and a little rice cake for crunch.  Seemed to think he it was a Top Chef masterpiece.
And Now for Something Completely Different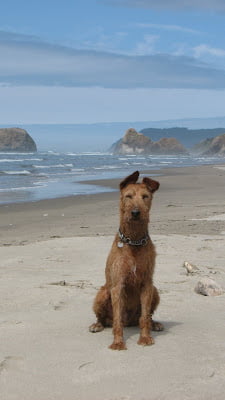 Monty Python is a bit insulting to the Irish
I debated on calling this entry Barefoot in the Park, because we spent most of the day barefoot in a park on a beach, but I couldn't bear it, thinking of how Jane Fonda recites her lines a fraction of a note above 2001's HAL, and there isn't a chance in heck Robert Redford ever had to live one iota of the life we're supposed to believe he's living in BITP, and Simon's best play (Prisoner of Second Avenue) and his best line (Odd Couple: "It took me three hours to figure out FU meant Felix Unger.") have nothing to do with Barefoot.  And it wasn't a turn from the norm.  True, ANFSCD doesn't have a zippy music-hall number to end the picture, a la Always Look on the Bright Side of Life, or John Cleese "farting in our general direction" but it is more politically incorrect than, say, John Waters' Bin Laden nesting dolls he keeps on his side table, and is both brilliant and ragged and pulled together on the fly, much like our day.