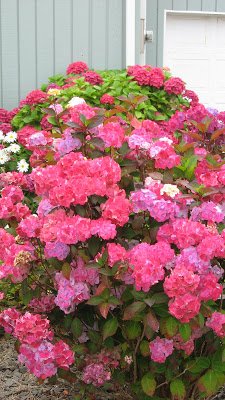 August 13, 2011
Dog trip.  Sooner or later it had to happen, no swooning like Harlow in Monte Carlo.  Very early start and zipped through the border, brief stops in Bellingham (Starbucks) and Seattle (Pete's—91 point Piper Heidseck Brut NV at $31—less than half the price in Canada.  Less than half the price! Don't get me started…), a couple of extremely busy rest stops—one like the midway at a fair, I won't get into what a slice of Americana that was, and a deke off the I5 through Kelso, where, literally, we ended up on the wrong side of the railway tracks: pit bulls off lead, half naked men standing in open doorways suspicious of out-of-state plates, a number of slacker yard sales, boarded up buildings, a litany of sale and lease signs.  I locked the doors.  Lost, map-less, it took two convenience stores to figure the issue.  We later found our way, over a viaduct, then across the river into Oregon.  By design the most direct route is through Portland, but the hourglass of traffic across the Columbia is a slog at best.  We took the narrow two lane route 47 up and over a small pass, through tiny towns such as Mist (two homes, a school, and a sign that said Gasoline), Jewell, and some other "municipalities," to put it generously.  Myriad layers of green, not typical arid mid-August at all, like a Disney animator's vision of Oregon countryside.  Huge swaths of clear cut, like the cover to Pynchon's Vineland (for those who still read…)  Eventually we joined the 26 and turned west toward Cannon Beach, arriving early aft, for a stupendous beach walk, where an uncommonly large amount of people knew that Mr. T was in fact an Irish Terrier.  Afterwards we unpacked and sussed out the services.  Our room looks out directly onto the beach, Haystack rock, but being a "dog friendly" room doesn't have a deck.  Still, very nice, with the roar of the Pacific, a la Tofino, through the mosquito screen.
Early evening walk with Mr. T from "midtown" to the centre (12 minutes each way, but the hotel runs a shuttle bus for those unaccustomed to putting "one foot in front of the other, and soon you'll be walking cross the floor… you never will get where you're going if you don't get up on your feet" with apologies to Jules Bass.  Then out to dinner at Irish Table, much lauded on the much lauded TripAdvisor.  SS had a fresh fish chowder followed by a vegetarian (mainly wild mushroom) shepherd's pie, I ordered a supreme curry lentil soup, pureed to within an inch of its life, and a ling cod on wild rice with baby squash and snow peas.  A sharp, metallic Oregon Ponzi Pinot Gris to go with.  Then SS had a Guinness Oreo ice cream sandwich (I just watched).  I had commented on the way down—with stops in Bellingham and Seattle—that we hadn't encountered a typical American sight.  But we sighted it at dinner.  I'll let you guess what it was.  Hint: Think deep fried butter at the Iowa State Fair.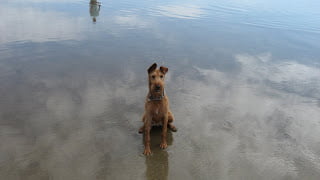 All Dogs Go to Heaven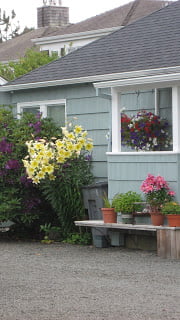 Consider the lilies.  Seriously: Consider the seven foot tall friggin lilies!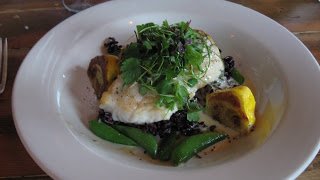 Ling cod on wild rice with baby squash and new peas with lemon thyme and parsley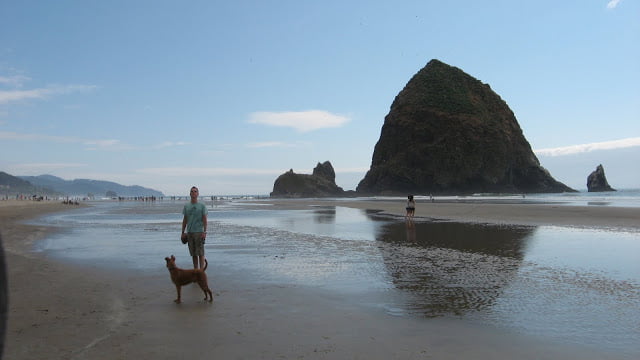 Haystack rock, Cannon Beach, Oregon
Goin Down the Road.  A Canadian classic, apparently.  Looks like it was shot in Super 8.  An archetypal story—two Newfies make good in TO at minimum wage jobs of $2 an hour (it was 1970)—but it baffles me how that could make "the top 10" of CDN movies ever made (source: Playback magazine) and Jeremy Podeswa gets a shutout.  To name just one example.