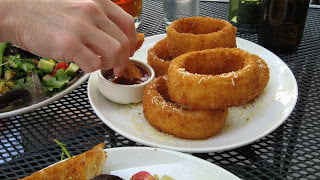 Monday, August 15, 2011: On an endless, trans-continental, ultimately fruitless quest, for the ideal Americano, SS served me a delicious freshly roasted cup from the roaster across the street; I sat up in bed and said thanks but half an hour more sleep would also have worked instead.  So, again, early start.  Off to Portland, city of roses, less than two hours away through a scenic forested route which winds down into a Jolly Green Giant valley of farms and ranches, then into Hillsboro, the outskirts of an urban landscape that is at the least an affront to Vancouverites (rapid transit along the highway?  Light rail to the suburbs?  Synchronized traffic lights?) and into the downtown.  Warm, sunny, subdued.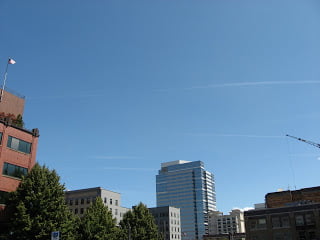 Contrail Crud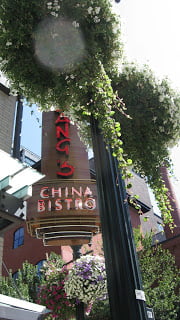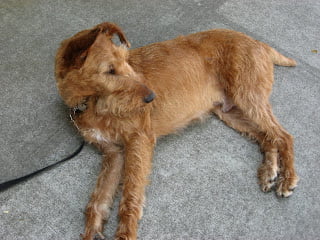 Most boring den ever…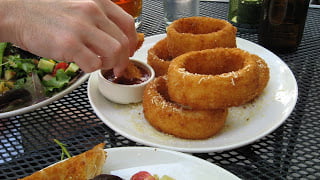 Portion control
We shopped the morning away, last of the big spenders, I got socks, SS ate some Junior Mints.  Segue to the Seinfeld Junior Mint episode (Kramer pops a Junior Mint into a splendectomy but also, incidentally, the episode Jerry can't remember the name of his girlfriend, except that it rhymes with something unique to the female anatomy—not Mulva).  It was 79 and glorious in Portland, sleepy in its wakefulness.  Eminently walkable, but with free downtown transit if you must.  Is there any more enviable metropolis under one million?  We had lunch in the Pearl so Tony could stretch out on the pavement; "healthy" salads with a "side" of onion rings.
Upon our return it was too glorious to wrap up the day.  We took a long walk along the surf, then put loungers in the sand and talked about the two and a half pages of comics in The Oregonian.  SS hadn't read Ziggy yet so I told him the punch line and he related the latest in Prince Valiant and we both wondered who phones in Mother Goose and Grimm, and the ocean roared in a soothing metronome and then it simply got too late for us to ignore that it was time for dinner.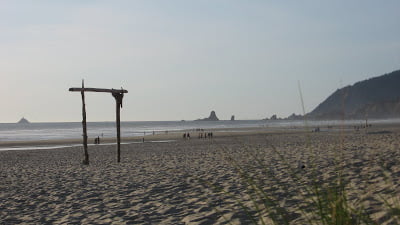 View (I guess you could call it that)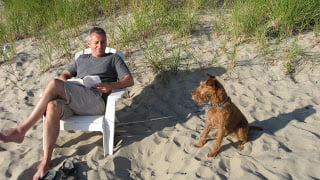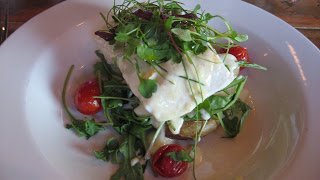 Fish for dinner
What would have been ideal was a long table a la Roma, but on the beach, a la Amarcord, but we did in fact have to rise, walk across the street and order dinner.  SS had a salad and a halibut, I had a wild mushroom soup and corned beef.  We came back, with the horizon in pink, several bonfires across the beach, gulls in defence of Haystack rock, and said goodbye to Cannon Beach.  It was a sad moment for the dog, but there you go.
Dog Day Afternoon: They should play the opening credits at the MOMA in a loop in a dedicated room the way they have the Water Lilies.  No, they should give credit in history class.  There is no finer four minute montage of NYC in the 70s, so brilliant and taut and observant.  Then landing on Al Pacino in a wretched gas guzzling 70s sedan, before he became a mockery of an image of an actor called Al Pacino, tense and torn, about to commit a crime, polyester and sweat.  But that's when the movie starts and before it starts, those credits, that montage, that's the stuff of Lumet's genius.  (And a side note to John Cazale—a six year career including the first two Godfathers, DDA, Deer Hunter and The Conversation!)  It could have been Winterbottom's The Trip except SS saw a sign that said Virginia Woof Dog Daycare which led to an hour of conversation intermittently cut with, e.g., Lone Woof DD, Grey Woof DD, Woof Blitzer DD, Never Cry Woof DD, Big Bad Woof DD, The Woof at the Door DD, et cetera.  That's called yer long term relationship.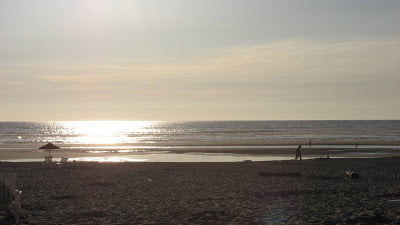 Long day's journey into night