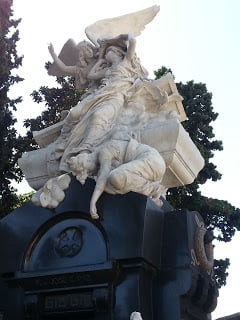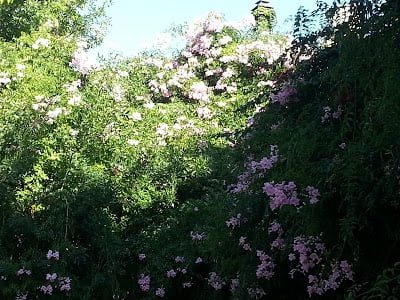 Fall.  Last of the jacaranda.
What a spectacular gorgeous day.  Clear blue sky.  And so darn hot!  I had to sunscreen my head to avoid burning in those pesky spots where the hair has stopped reproducing…
We took a lovely walk towards Recoleta, past the botanical gardens and zoo, to the Evita museum.  It was on SS's list.  Housed in a grand house on a quiet street the museum is slight, but interesting, and not overrun with tourists.  Being Sunday, the city had a brief reprieve from the honking horns and incessant traffic.  We even boldly crossed an eight lane avenue against the lights.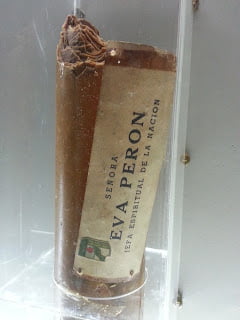 A torch from her funeral march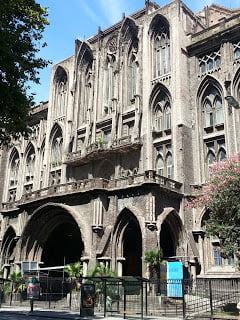 Engineering Museum.  Make work project?
From the Evita museum we wandered side streets and came across one of very few Starbucks; although we didn't patronize, I did note the baked goods were identical to virtually any other establishment.  Then to a posh-ish mall where, on the top floor veranda overlooking the Recoleta cemetary we had a coffee.  The cemetary is a rabbit warren of curiousities, grand and often extreme monuments and crypts.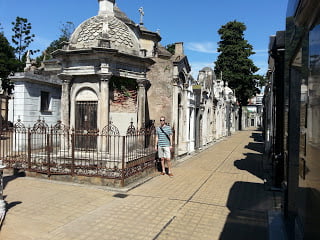 at a distance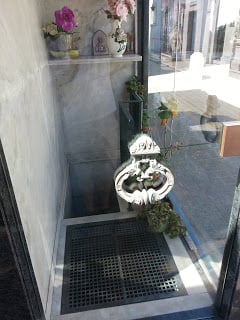 Those are stairs, leading down to the crypt.  We're talking 18 inch wide stairs…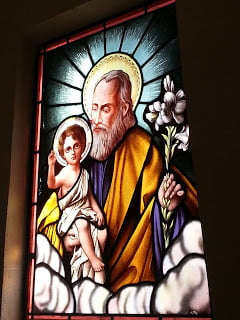 Interior of a crypt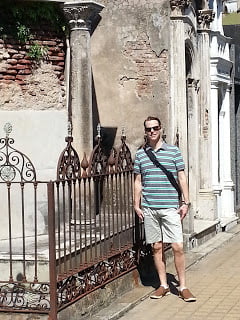 up close
From the cemetary through a Sunday market, some design boutiques, and a leisurely lunch on a veranda lined by palms.  It was starting to swelter at this point and everyone was under umbrellas.  We could have gone inside for the AC but that seemed criminal.
After lunch we wandered without too much intent back towards our hotel, but going further afield into what is termed Palermo Hollywood, which seems to me a realtor's trifle, as it's just an extension of one neighbourhood into another through gentrification and hot new condos.
For dinner to a wonderful small restaurant about 2 kms away called Local, with an emphasis on locally sourced ingredients.   In photos it looks spare and modernist but in fact it's quite warm and inviting, with a lovely garden glassed in above the kitchen.
We were looking for basic food after the previous night's indulgence and we found it here.  To start, we shared spinach fritters, light as air, not greasy, crisp and with a sensational tomato chutney.  For mains SS had a simple grilled pork shoulder on potatoes and yams (just so damn good he even ate the fat!) and I had house made ricotta spinach ravioli.  For dessert a coconut cake with meringue and dulce de leche sauce, SS a banana pancake (panqueque) with a dulce de leche ice cream.  Simple, straightforward.  Really a great meal.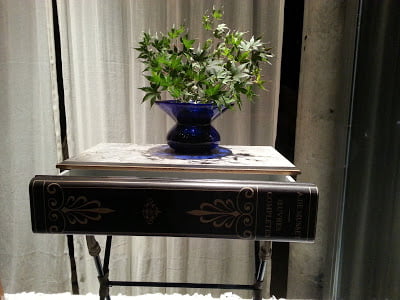 On the way home I spotted this book made into a table.  Do I smell a 50th birthday gift going UPS to YVR?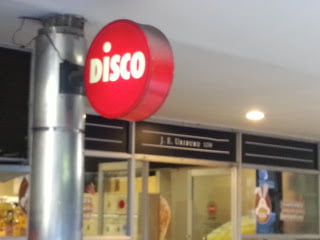 Not dead after all