Iron Chef Battle: El Baqueano vs. Mocoto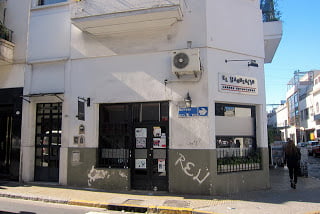 That's the high end restaurant.  Seriously.
Ten course dinner at El Baqueano.  You say it like it's written.  But first, the cab ride.  It was way, way, way far away, in San Telmo,
the other side of the centre, and although there are wide boulevards and most
of the city is on a one-way system, the traffic is beyond belief.  30 cents a litre for gas doesn't help.  To say there are lanes would be
generous.  The old Montreal fear about
right turns on red plays out for real here.
Our cab hit speeds over 90 kmh, in the city, at least twice—I mean only
after I started looking at the speedometer out of curiosity.  The speed, the braking, the proximity to
other vehicles—not just in front but on the sides—was so outrageous you simply
had to shrug.  I think that's why Diana
wasn't wearing a seat belt in Paris; if you travel the world you get used to
the bravado and somehow you can't imagine a crash.
The dinner was in a dodgy neighbourhood where the front door
of the restaurant was locked; you had to ring a bell.  The decor, an unusual clash of French bistro
and contemporary gone wrong, was comfortable if nothing else.  But the food…well that's a different
story.  The evening we went, there was a
ten course tasting menu paired with five wines by two chefs.  The Argentine Fernando Rivarola, and the
Brazilian Rodrigo Oliveira.  They
alternated courses, Iron Chef style, and it was quite a trip.  It was too dark to take pictures…
1 Aperitive
The theme was textures.
The ingredient was corn.  So there
was a corn soup with a corn mash, a corn tuile and the bowl was dusted with corn powder.  It looked unusual and actually not that appetizing, but tasted amazing.  There was one flavour that made you think of Kellog's Corn Flakes, another of popcorn, another of candy another of johnny cake.  And the bread came with three olive oils; Italian, Spanish and, believe it or not, and indigenous Argentinian oil.
2 Jamon de rio
It was not ham.  When I struggle with a menu I revert to Jamon.  But here, they slipped me up.  It
was a river fish, ham of the river I guess, smoked, and served ultra thinly sliced like a transparent
filet.  I don't know what to say about this.  Probably too refined and delicate for me although SS thought it brilliant. He suspects it was eel.
3 Dadinhos de tapioca corn queijo de coalho e pimento agridoce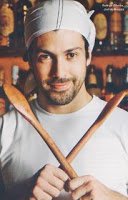 Hey Rodrigo: Thanks for playing the part
So of course we never had any idea what we were eating, which was made worse by the menu being in, alternately, Spanish and Portuguese.  That said,
on the dishes made by the Brazilian, he came out and explained them to us personally.  (He was personable, I give him that.)  This was basically a square that looked like
tofu but was in fact corn and cheese curds on a light pickled pepper puree
which resembled Thai hot sauce.  We ate it with our hands.
4 Carpaccio de llama con gelificado de alcoparras y texturas
de questo
When it was the Argentine chef we got a translation from the
servers and their English, while admirable, wasn't totally, um, particular is I guess
is the word.  All I can tell you is that
this was the first time I'd ever eaten llama, that it was also the first time I'd
eaten it raw, and that it was delectable.
It was very similar to beef carpaccio but perhaps not quite as hearty.  There were capers and tiny dollops of cheese and mustard along the sides of the plate.  Silly in its goodness.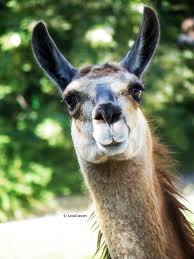 5 Saldinha de pirarucu con farinha d'ague e feijao
manteiguinha
We got a lengthy explanation which in the end went past me,
but this was a Top Chef finalist sort of dish.
Uber simple to look at; basically a salad with tiny beans and some
vegetables and maize, but with all sorts of delicate flavours, a very light but
distinctive vinaigrette, a few minced pimentos for bite.  Ridiculously complex on the palate.  I could have eaten it by the truckload.  Rodrigo's finest hour.
6 El yacaré en su habitat
This was silly to look at, the chef playing with themes and
food.  The title translates as a yacare in its
habitat.  There was water (a pea puree)
and earth (crushed cacao, very lightly sweetened), and the yacare was "buried"
in a foam.  It was quite wonderful but we
differed on whether yacare was chicken or a crustacean and in the end we found
out yacaré was a local caiman and we were eating the tail, the tenderest part.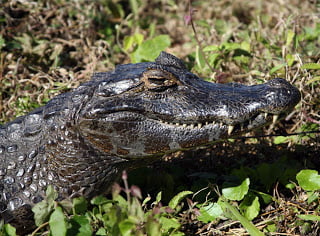 They call him Wally.  Has a voice like Ed Wynn
7 Cabrito guisado com cuscus de milho e folhas do mato
Braised goat on couscous.
Sounds sort of unappealing but it wasn't.  Except that it was described to us as "like
lamb" and so I sort of had my hopes higher.  This was perhaps the only dish we coud approximate at home.  It was also the least fussy.  But when you're eating in a "competition" I would say this was below the bar.
8 Nandu grillado con papa fondant y espuma de chimichurri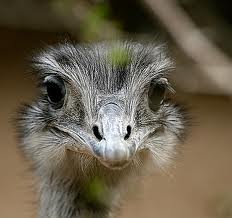 It's my three toes that make me special
Our neighbours were "ahead" of us one course.  When they got this dessert item on a black
slate plate it looked like a selection of chocolate.  I thought: Well, SS will be happy. But I noticed the servers didn't remove the bread.  The otherwise exquisite service fails!  Then we got our chocolate sampler. It was in fact meat and potatoes.  It was a star of the evening.  The chocolate square was a caramelized
potato square.  When you cracked the caramel the
"yolk" that poured out was truffle oil; those three combinations, starch, burnt sugar and aromatic truffle were sinful.
It was ingenious if a monster to create.  The meat was nandu.  I had to Wikipedia it.  Like an ostrich, native to these parts, only
three toes.  Go figure.  So, first time for llama, first time for
caiman, first time for nandu.  The meat
sat on a spicy but not overbearing chimichurri with a small candy cane coloured
salsa.  All delectable.  We are about to have the Chairman award it to El Baqueano…
9 Limpiaboca
This was a palate cleanser.
They gave it to us and said mango sorbet.  But it was so much more.  It had shredded kumquat in it and about three
different textures.  Sweet, sour, tangy,
I could have licked the bowl.
10 Sorbet de caja, mana, baunilha do cerrado e coco
A mango soup; pureed to within an inch of its life.  Floating, a scoop of caja fruit sorbet (caja
is a mango-like fruit grown in the rainforest, and while the flavour is like
mango, it's not as sweet and is a beautiful tartish counterpoint to the cloying mango).  Toasted, chopped coconut was sprinkled to the
side for crunch, with a few coconut flowers for decoration.  Truly, after all the other dishes, this was pretty much the proverbial icing on the cake and, yes, Fernando takes it in five.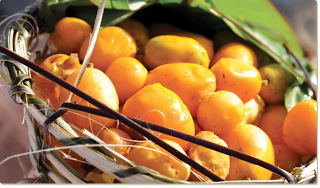 Caja.  Who would have known?
We also had coffee and "bon bons."
Our reservation was 9:30 though we arrived before 9.  People were still arriving at 10.  We didn't finish until past 12:30 (and I find it
hard to get to midnight on NYE, a miracle!).
But the kicker was this: The cab ride home, at nearly one in the
morning, took longer than getting there, that's how crazy the traffic is and
how many people stay out late here.