Fava Beans and the Meltemi Wind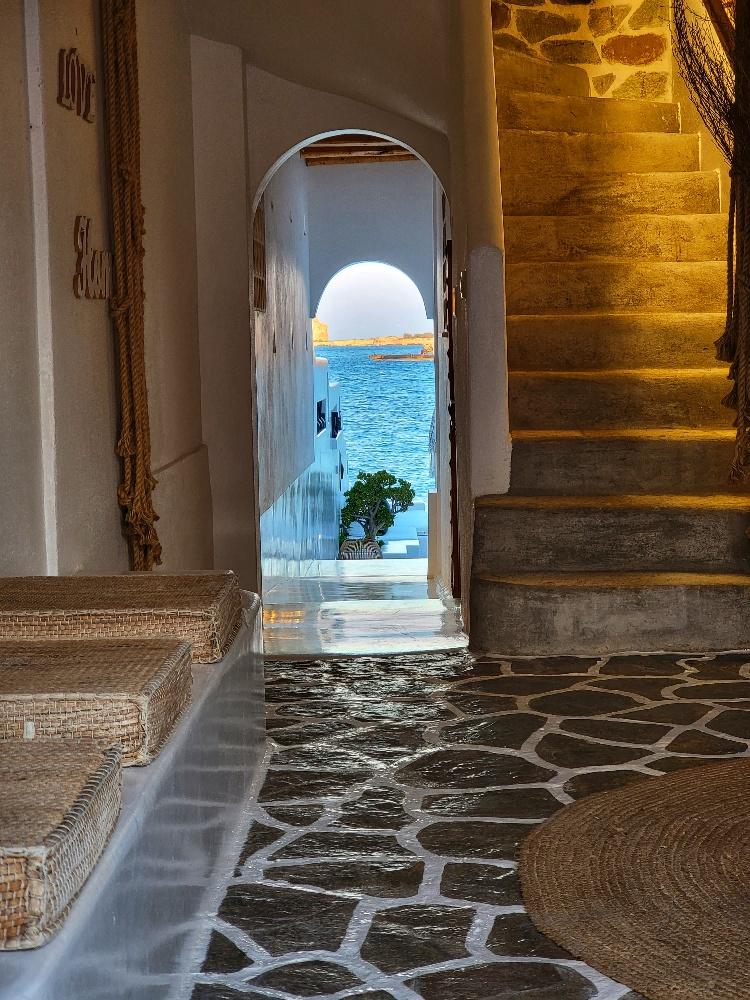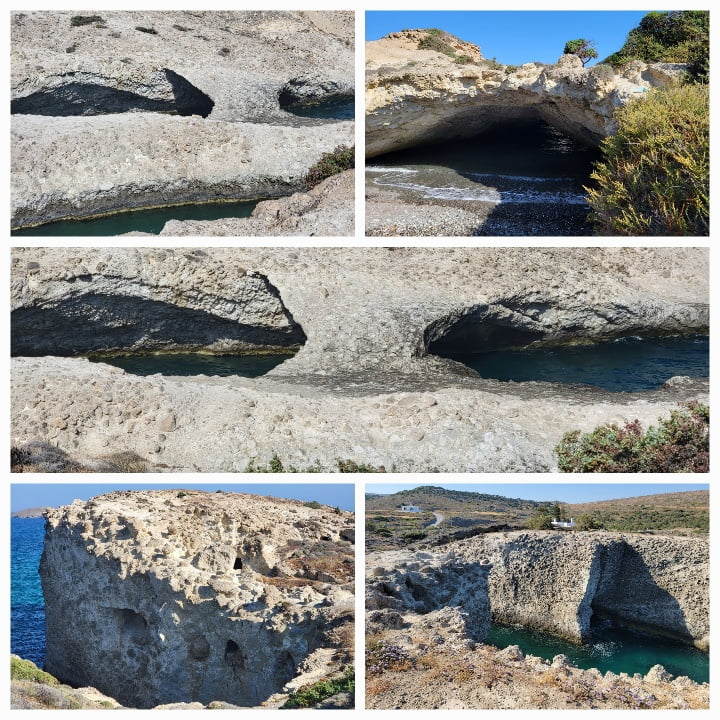 It was Thursday. On a Greek Island. So we went to a beach.
We started at Papafragas, a rock beach eroded by time and surf into caves, arches, and eerie outcrops. It's virtually an Instagram outpost, and if you don't arrive early it's awash in shapely women draped in flowing beach wear and floppy hats, their other half kitted out in myriad lenses, and much posing, strutting and sometimes jumping.  After our tourist-free photo op we drove to the south side for "the relax."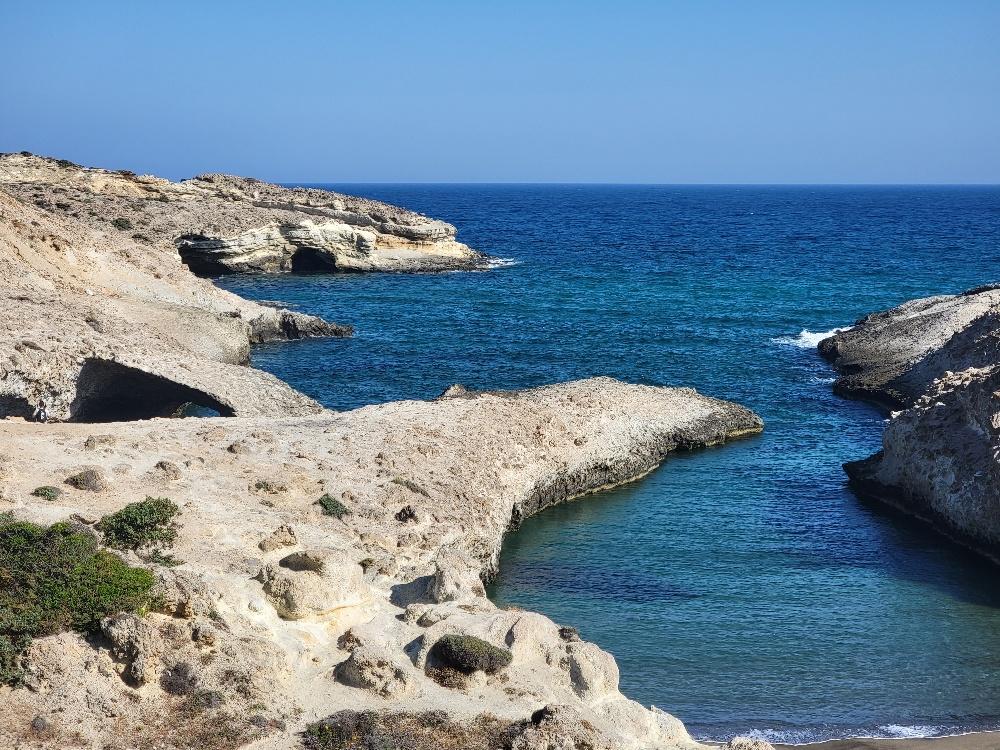 The beach we decided on, Ag Kyriaki, was sleepy, mainly deserted, with over a km of sandy foreshore. But it just wasn't Instagram-worthy, and also in its decrepit surroundings, a bit abandoned looking; so we hauled the Jimmy out of there and went back to Paliochori Bay. Why spoil a good thing?
What a difference a day makes. The water, like glass Wednesday, was now rippled in the Meltemi winds which had picked up over night. Outside the protected bay there were whitecaps. And once in a while red dust (from the sulfur, Milos is rich in sulfur and pre-tourist mined it widely) from the hills could be seen airborne, in clouds swarming across the bay. If you think the wind tempered the temperature, think again. It was a scorcher, and we did everything imaginable to position the sun loungers under the palapa to maximize shade.
With school out, with the season "started" it was amazing how much busier everything was.  The sun loungers sold out, a few crowds arrived for day trips on sailboats and catamarans, and the excellent beach taverna, Scirocco, filled up at noon and stayed that way until we left, around three.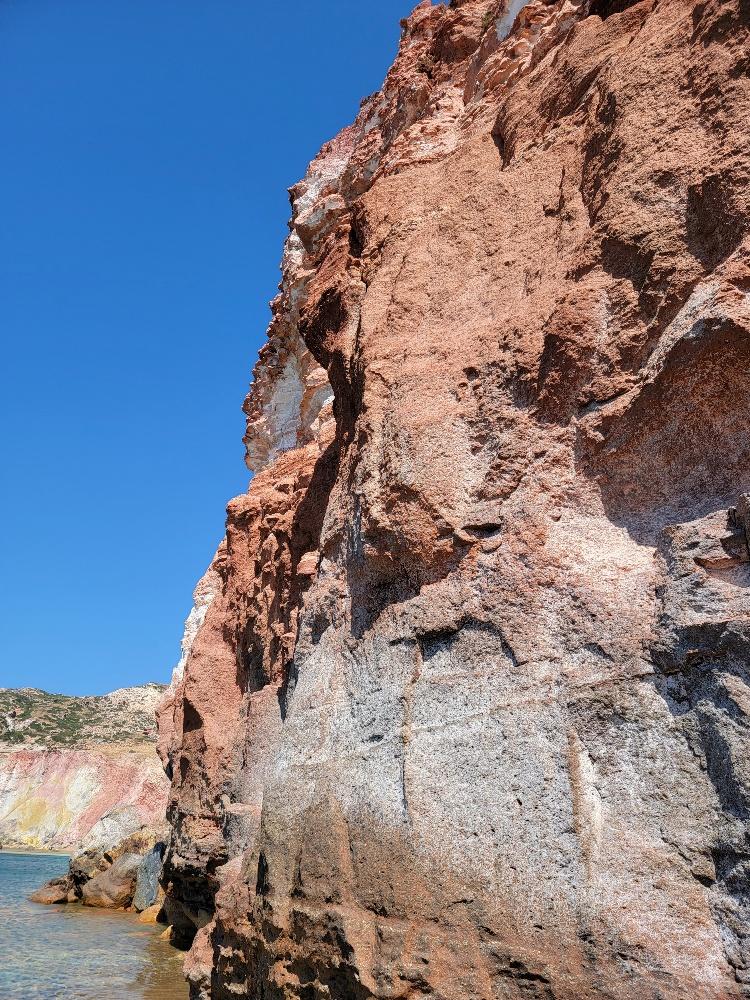 Speaking of lunch, we had some of their food which they cook underground; delectable Greek potatoes, fish souvlaki and baked eggplant.  The volcano at Paliochori is underground.  All you have to do is dig down about a foot to cook food.  Fish takes 40 minutes, vegetables closer to an hour, no tending.  In fact, if you sink your hands or toes into the pebbly beach just a few inches they start to heat up.
The hedonism of the beach is my type of holiday, but you still need room for dinner, so we went to Achivadolimni, which faces NW and which is, as our host put it, "the longest beach on the island but not much else."  It was good for steps (and there was no underground volcano heating the sand).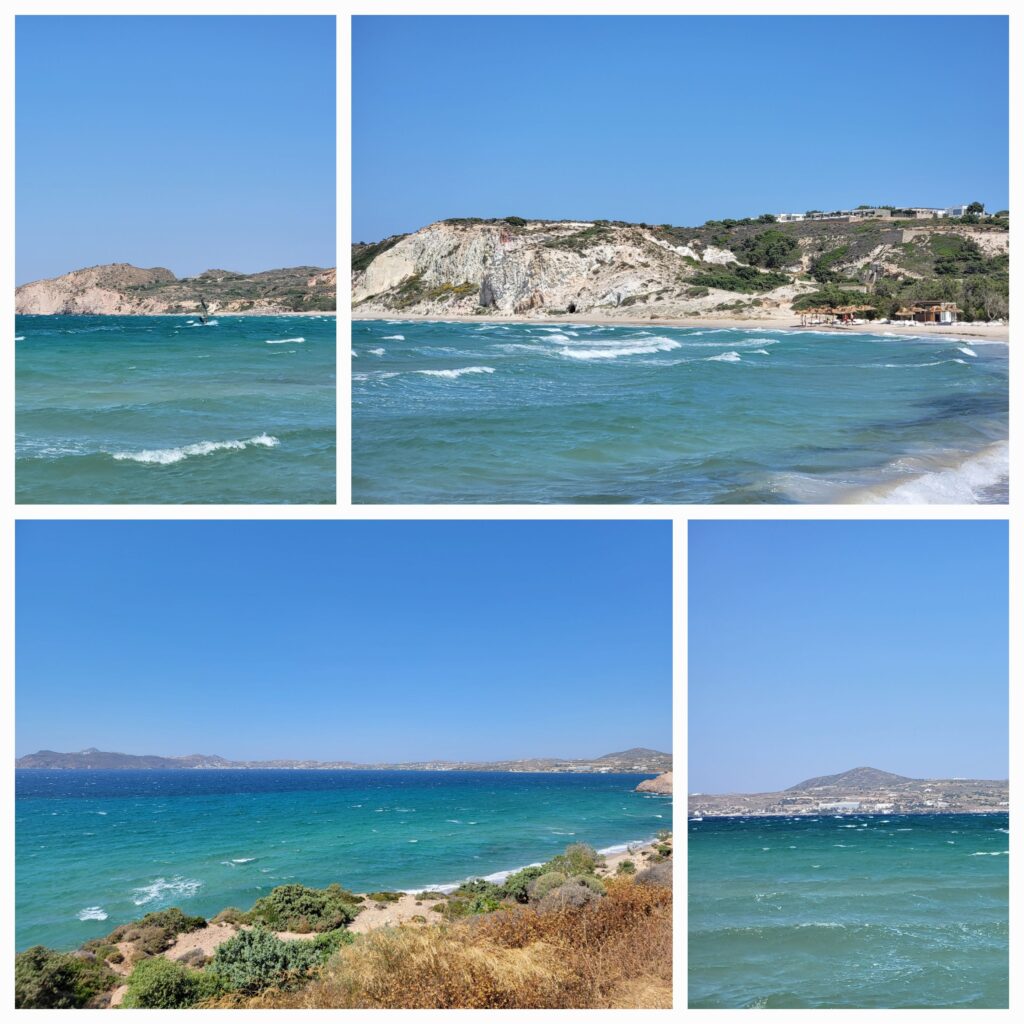 In the evening we returned to Yialos, steps from our room, where, with the Meltemi still peeling across the island, the seaside decks were nestled in acrylic tarps.  We had another sensational dinner, a fava bean spread with caramelized onions and capers, zucchini "pie" with mint and shredded potato and onion, and some delectable fresh prawns.  Oh, and some barrel aged Santorini white which was Robert Parker-90-plus-points-worthy.