Jim Goes in for a Closer Look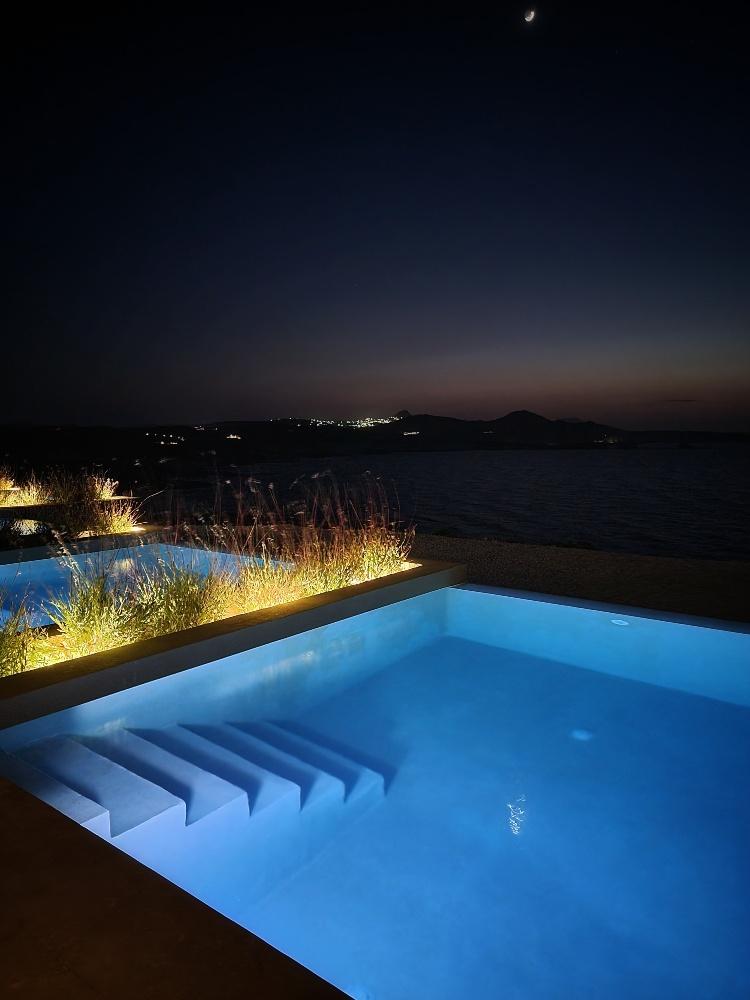 Anyone remember Mutual of Omaha's Wild Kingdom?  Marlin Perkins stayed well back and would say things like "watch Jim as he approaches that lion."  And Jim Fowler would do something theoretically dangerous.  Today I could have taken Marlin's job.
The only thing missing in today's adventure was the suspension bridge in The Wages of Fear.
Wait: In TWOF it was an unstable platform, Friedkin's remake, Sorcerer, he filmed it as a suspension bridge.
The only thing missing in today's blog is that Zabriskie Point could have been shot in Europe, here on Milos, instead of Death Valley.
Since we've rented a 4WD, we decided to visit an old mining site five kms down a dirt road past a farming village called Zefyria to an abandoned mine called Thioricia.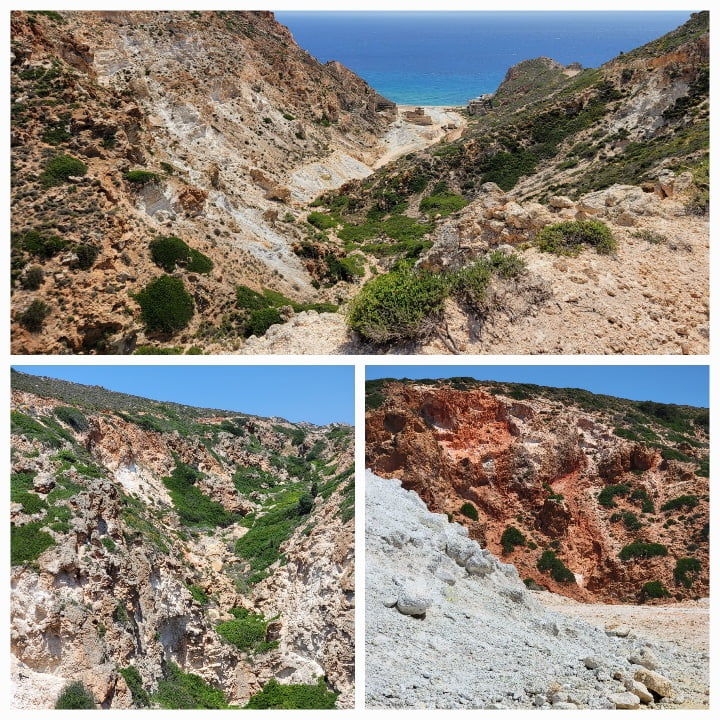 Thioricia, literally suflur mines, sits on the SE corner of the island, really not far from the airport as the crow flies but geography dictates a much longer slog on switchback roads on cliff edges; despite both our paper map and GPS it took three tries to land on the "correct" dirt track and as many "12 point turns" to get the GPS recording the right direction.  [Sidebar: Hey Suzuki, ever heard of power steering?  Jeepers. What a piece of crap your Jimmy is.]  It turns out there are many dirt tracks leading to and from Zefyria.  Signage was nominal.  The road wasn't simply a dirt track, it was at times treacherous, washed out, strewn with rocky debris, and extremely difficult to navigate.  We met ATV-ers who were not sure about continuing.  In our case, we parked the Jimmy about 1.5 kms short of the destination and hiked the final leg.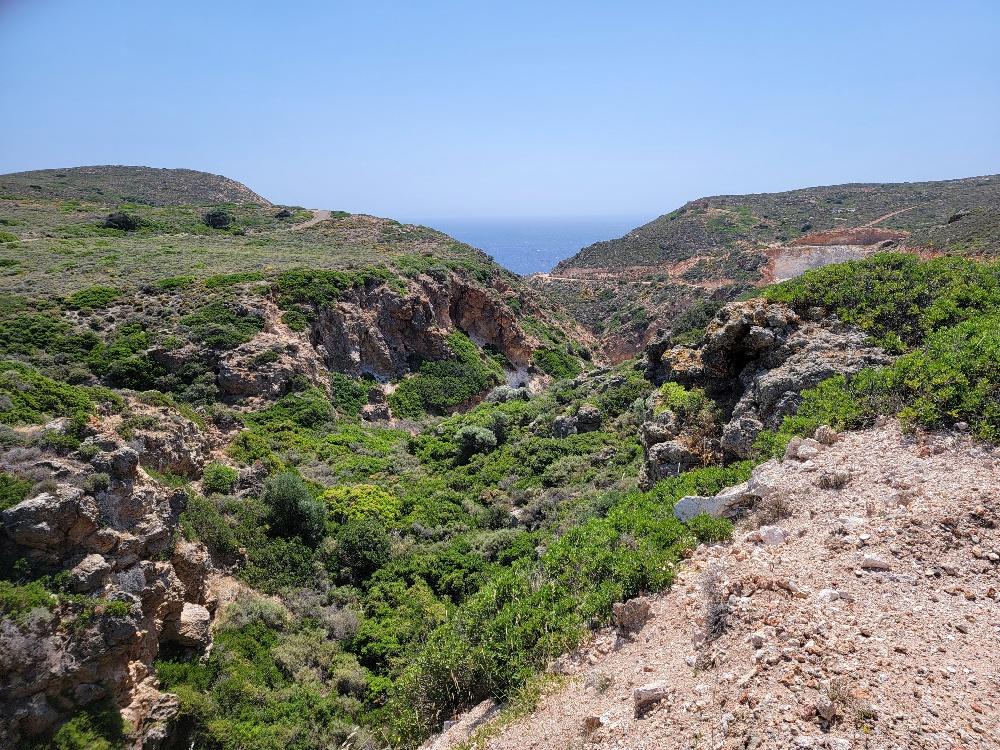 The relic of the mine is something of a spectacle, carved out of a mountainside on the most gorgeous Mediterranean bay, industry and nature colliding.  Prosperity for Milos in 1930 with sulfur, the capitalist dream ended by 1960.  As one blogger put it, "the beach is undeveloped, you will find no umbrellas, deck chairs or snack bar here."  Our blog reads, "you will find no signage indicating the route, no guard rails on the perilous cliff edges and zero manoeuvrability if you run into a vehicle in the opposite direction."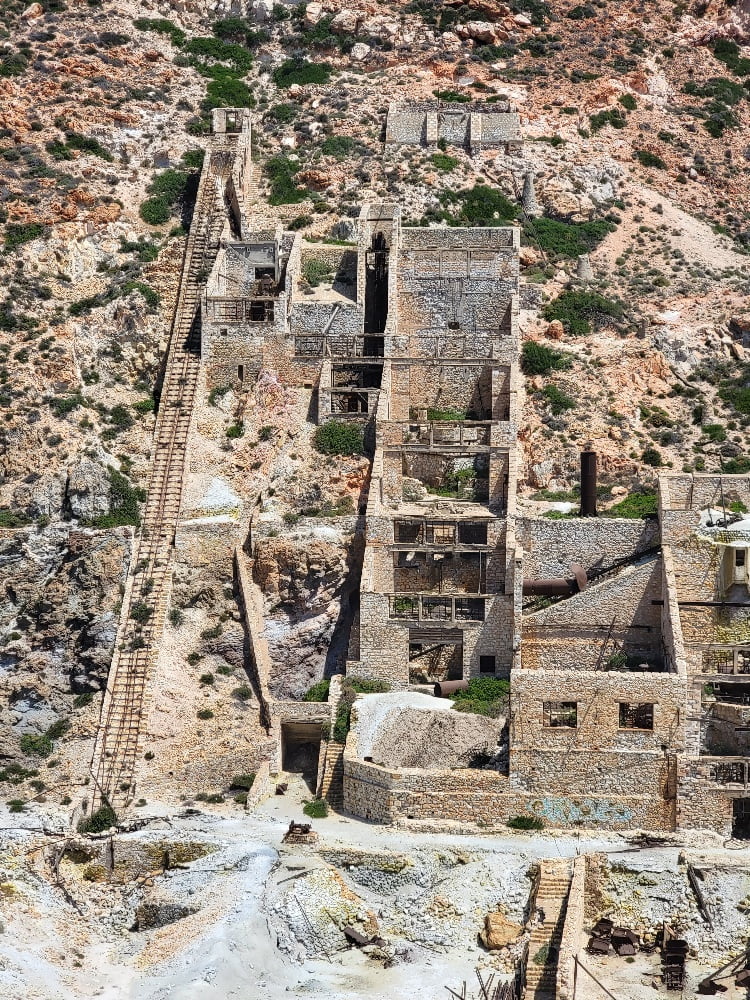 Following our trek–and it was something of an ordeal–we backtracked to Pollonia for a nosh at a place where a mum and pop deli cum bakery serves breakfast and lunch and a wide variety of sweets. Their outdoor seating abuts the road but is swathed in Ficus, fig and hibiscus trees, as well as leafy shrubs and fruits. 
Then we did a skinny through Adamas, the "most commercial" of the towns, replete with tourist tat, bars that stay open past midnight [people staying up past midnight? Shurley shome mishtake?-ed] and restaurant wranglers at the seafront places.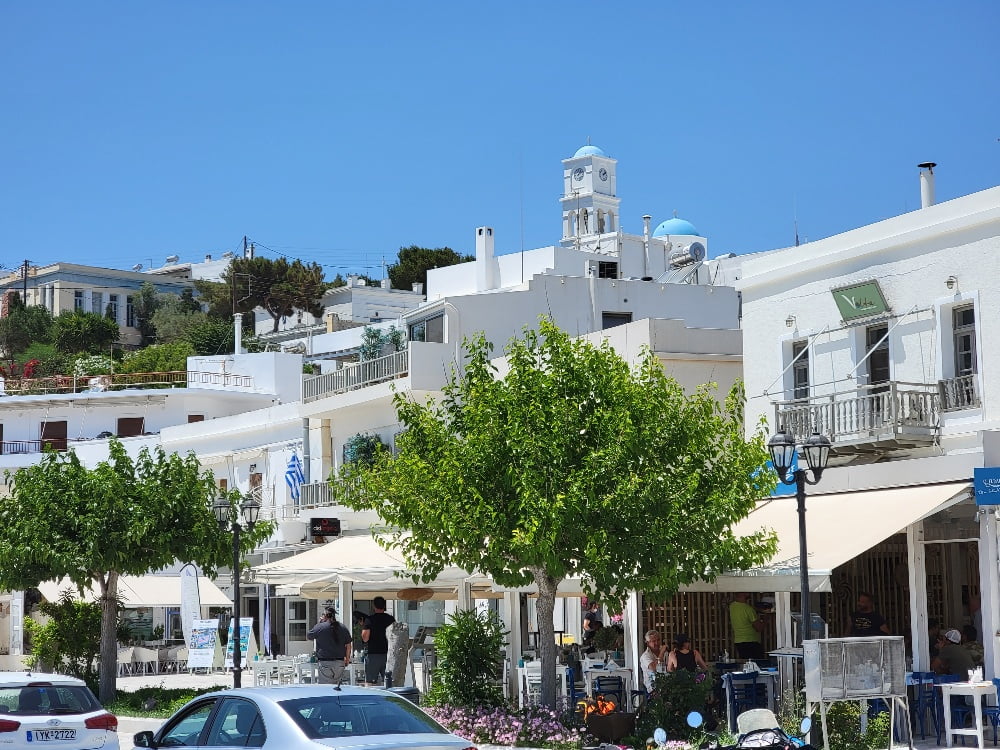 After our shopping excursion we checked into new digs.  Our last three nights on Milos are a property fit for Real Houswives.  The chic new lodging on Milos is White Coast Pool Suites, a posh lodge with splash pools in every suite and a Vogue-endorsed high-end restaurant.  Rooms start at 340 Euros in spring and climb up to 1,000 in the high season, but we cleverly booked well in advance with points; thank you World of Hyatt.
There was a whole procedure on check-in, greeted at the car, provided with a wet towel, water, then a passion fruit mandarin beverage was foisted onus, then we were whisked to our room.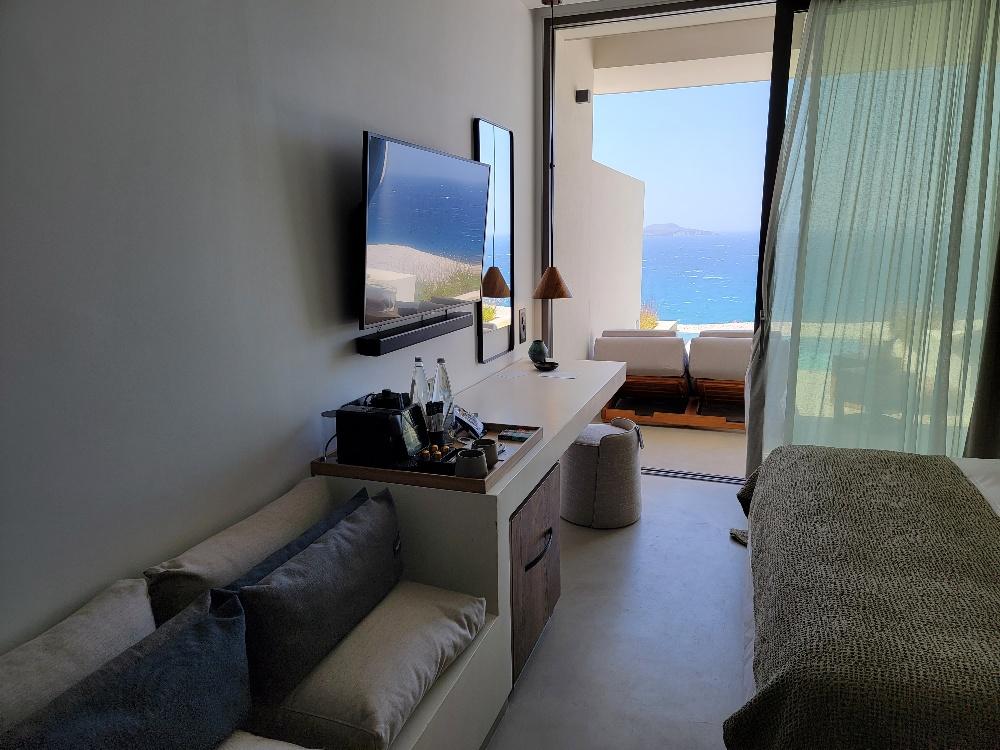 We lounged about late in the day, as the wind ebbed and the heat transitioned to warmth, then took an early dinner on their patio.  Zucchini tart in filo, a local greens salad with hazelnuts and feta, and some milk-fed lamb with eggplant and potatoes.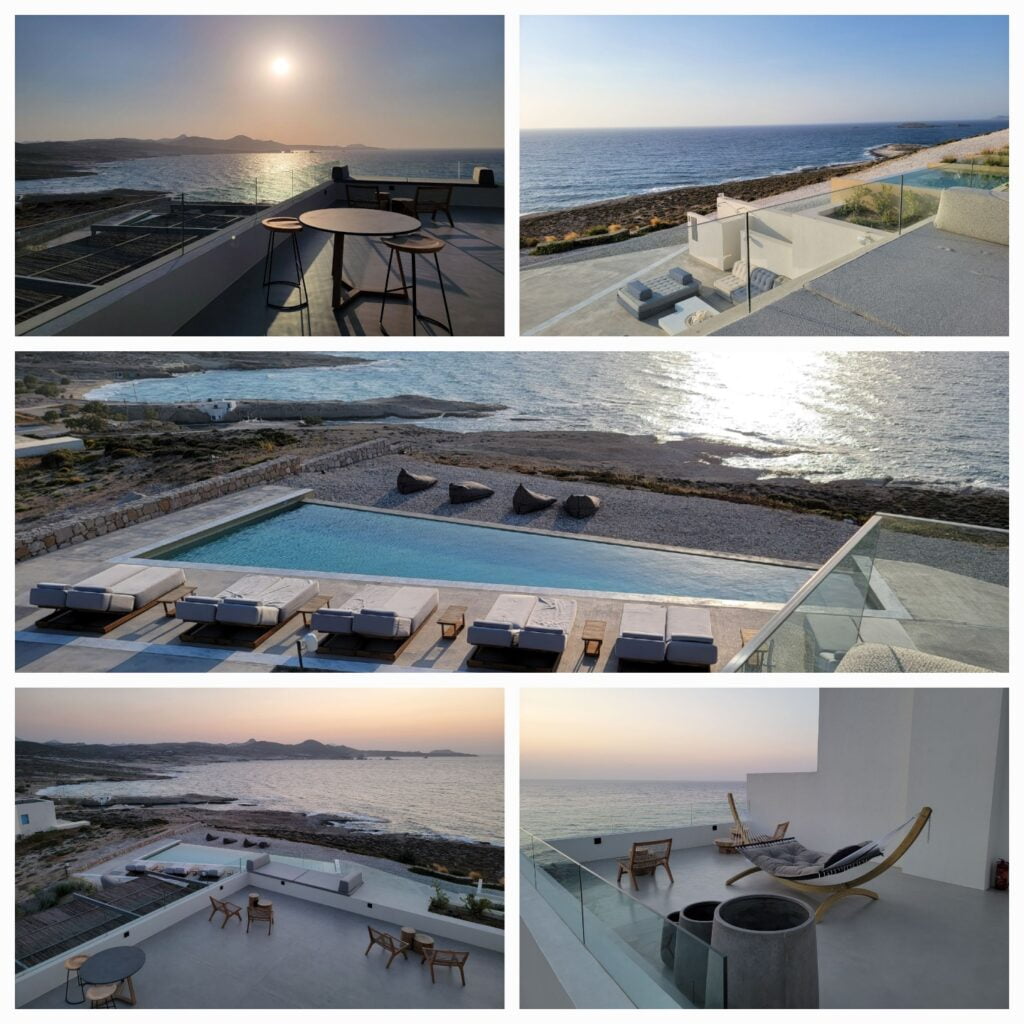 And guess what?  Nadal got a walkover.  Who woulda thunk it?