It Hardly Abstains Five Meters from the Beach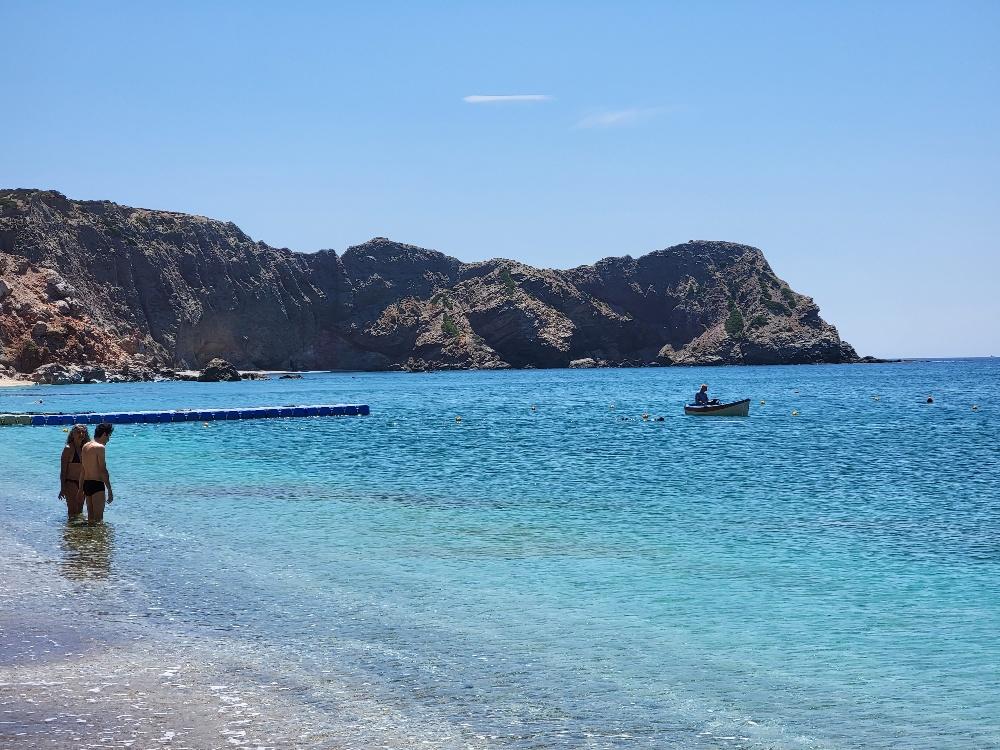 Our plush luxe digs are owned by a local family who have "rooms" geared for locals immediately next door. Instead of advertising them "on the beach" they note each "hardly abstains so much as five meters." Oh to abstain so little.
Open Season: June 1 marks the beginning of the tourist season (and the last day of primary school, at least in the Cyclades) and the hordes teem in, those who tack on days to the June UK Bank holiday Monday, the Americans who are starting a gap year with parentals in tow, and the Germans who have 12 weeks of vacation a year and are in a perpetual crisis as to which corner of the globe they have not yet explored.
June 1?  We had no idea what day it was.  My watch is in the safe and my phone is mostly off (although I woke up early to read the Nadal Djokovic outcome and was secretly joyed that an old man with a chronic foot condition beat the Brahmin of Belgrade whose enormous skill is matched only by ego.  But honestly, I was deep asleep before they were even halfway through their late night slugfest; it doesn't help that Greece is yet an hour beyond Paris.  Or that Amazon insisted on late night clay court tennis).
Stephen told me it was Wednesday and I said well, we better go to the beach. So we loaded up the truck we moved to Paliochri. Paliochri beach that is. Palapas, tavernas, swimming.
Yesterday, at a beach not a km away, the sea had light surf and a long sandy strip, you could wade 10 meters in, and the tenor was party up.  Today the beach was pebbly, the ocean dropped off precipitously, the water an enticing aquamarine, the surface like glass, the depth not child friendly, and the crowd light, very light.  For lunch we ordered from the beach taverna and it was stunningly good; burrata with deadly ripe tomatoes and basil, and a trio of dips including an earthy eggplant and homemade tzatziki; we did not order the baked in volcanic sand fish, a specialty. At least in the guidebooks.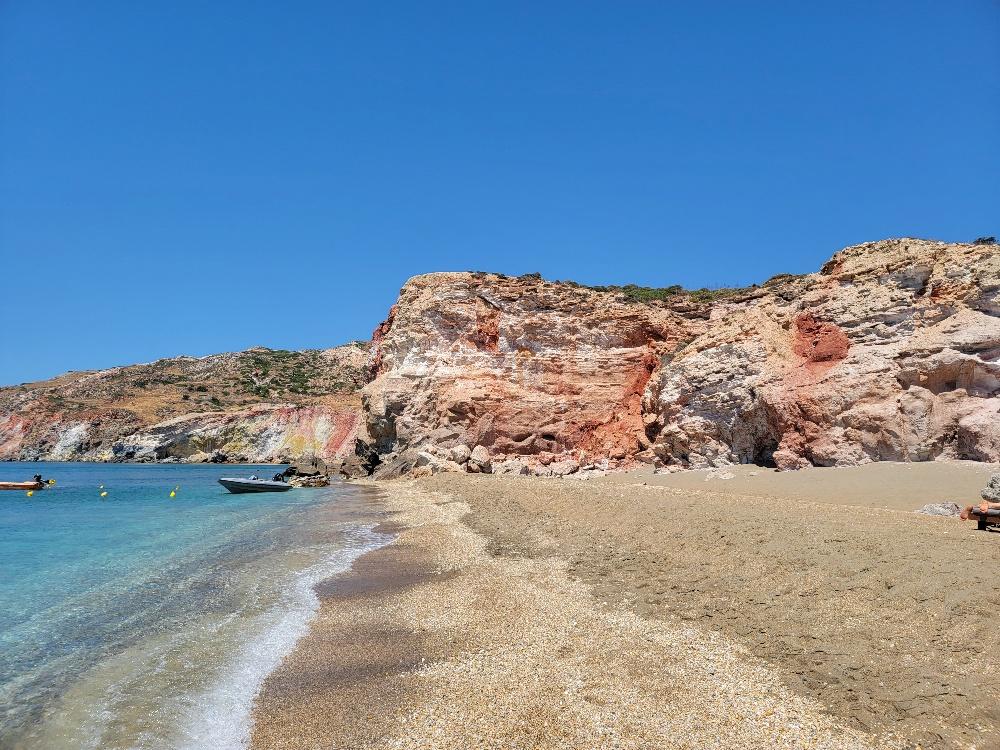 Some time later, time being elusive, we went back to Pollonia, then headed out past Plaka to the catacombs and (what is apparently) the finest remaining Roman amphitheatre in the Cyclades.
The catacombs were a bit of a non-starter, having housed 2,000 bodies back in the 2C, the grave robbing, looting and vandalism had taken their toll.  Only two of several long passages (which make the shape of a cross) were accessible to the public, although you could see the tunnels snake into the darkness.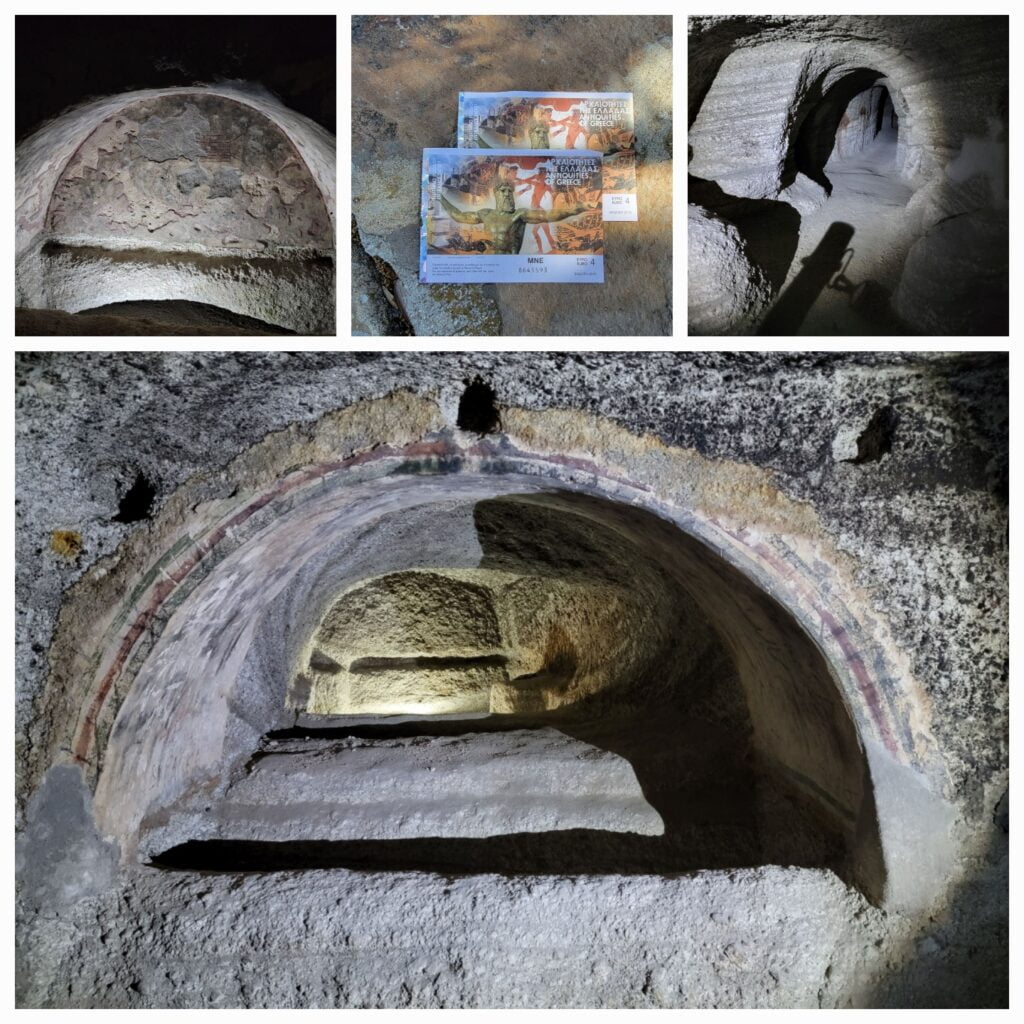 I grew up believing that St. Paul, en route from Rome to Athens, was shipwrecked in Malta. But Milos claims (some religious historians claim), he was instead shipwrecked here. A plausible rationale if you look at the map, and you consider he diarized snow in November, possible on Milos, not possible in Malta. (Although, when you Google it, you realize a number of religious scholars all disagree on where Paul found himself post-storm, and in fact one even posits he floated up the Adriatic and was marooned in Croatia. Christ stopped at Eboli but no one really knows where St. Paul landed during a tempest.)
What isn't contestable, though, is that here in them hills they found the Venus de Milo, now housed at the Louvre, the Milos claim to historical fame.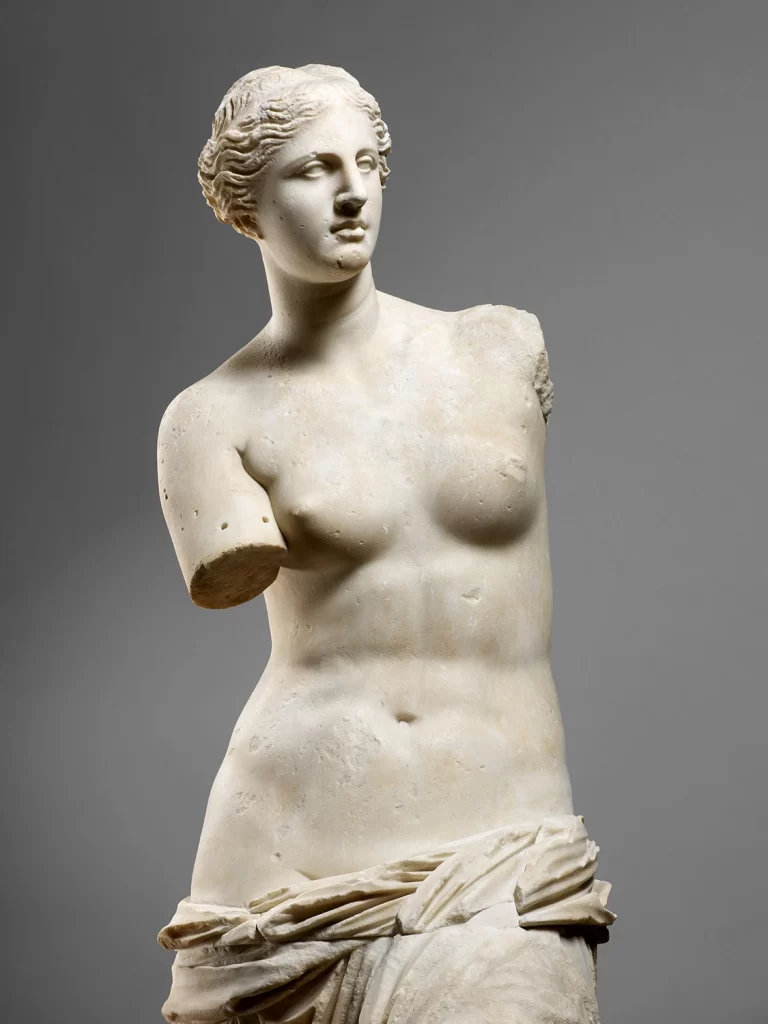 But the amphitheatre, although only partially restored, was gorgeous, no moreso than in it's south-eastern view across the Mediterranean.  How satisfying it must have been to be at the Milos forum watching a Plautus production before the Peloponnesian War. [Now you're just being a dick—ed.]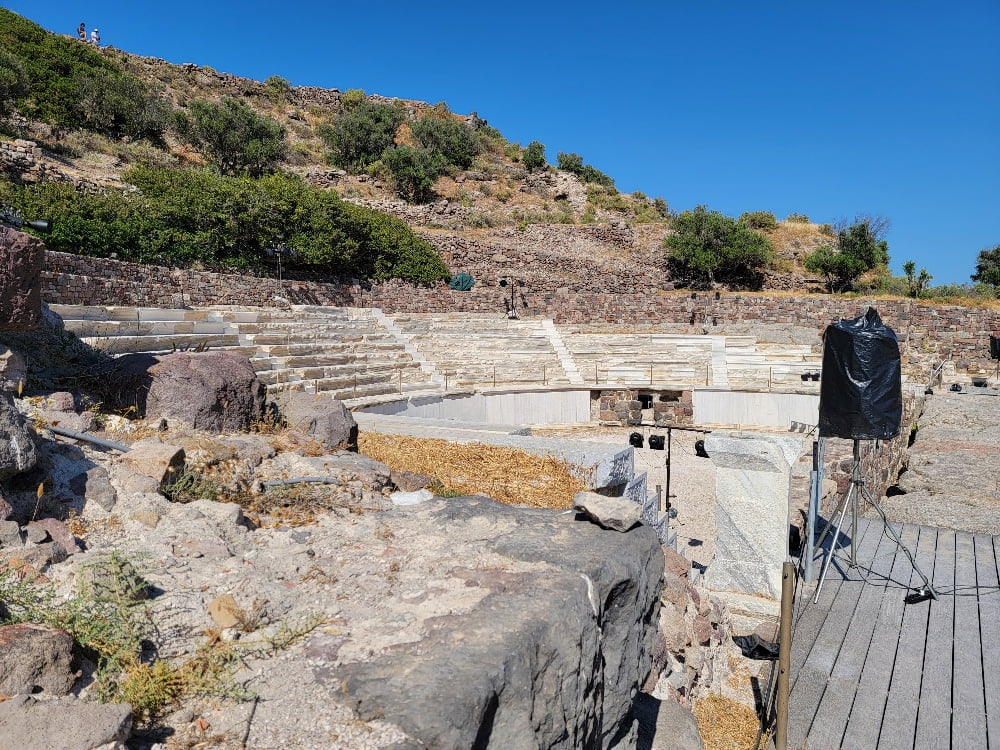 The views above the Forum provided a wide-angle outlook on Klima, an old fishing village where the houses abut the ocean affording "row in" boathouses (but which are now quaint AirBnB accommodations).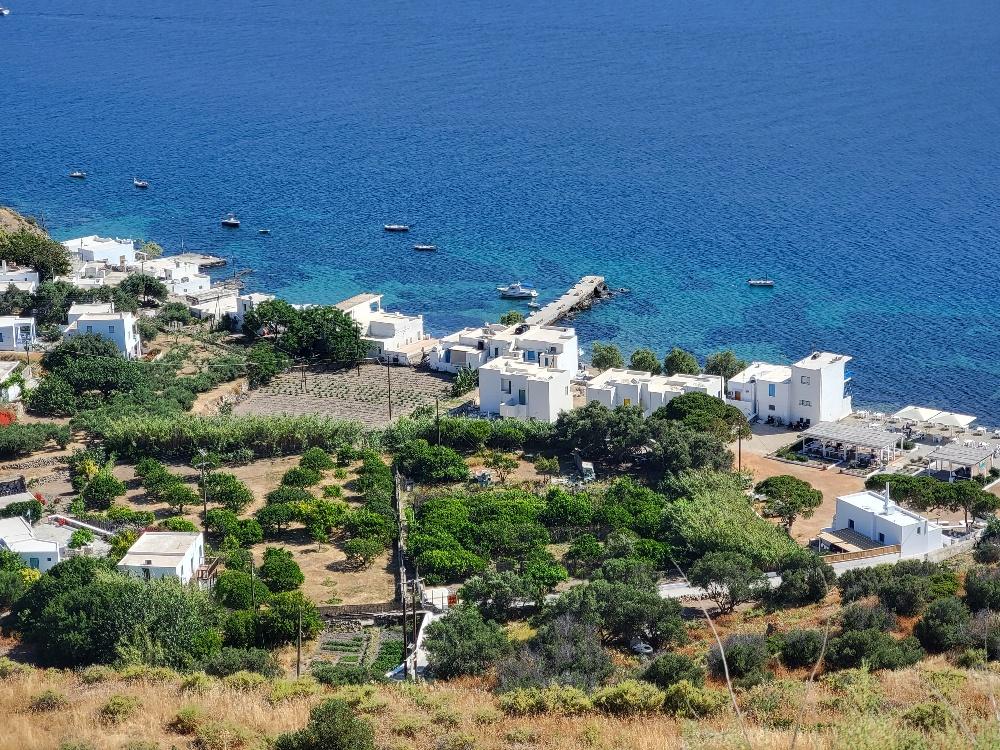 For dinner we headed to an impossibly popular "rustic" outdoor taverna, mum and pop style, where a local farm serves their local animal protein.  It was tasty and novel and in a lovely garden setting but lacked the punch of the last couple of days.