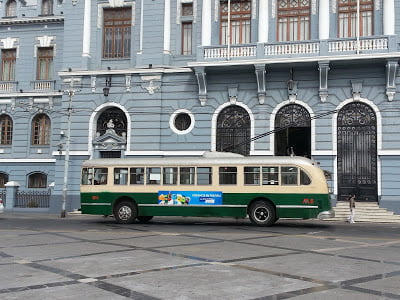 It was
overcast first thing.  I thought we´d
left the sunshine in Buenos Aires.  We
walked 10 minutes to Starbucks for coffee, then picked up the car and drove
into Valparaiso, where the sun came out and we enjoyed a gorgeous day.
Valparaiso
is hilly.  Reall, really, really hilly.  Think San Francisco then
double it.  There are basically two
towns: The port town, which during the day has government and military
personnel and a busy working port including navy frigates which go out into harbour each day for what seems no good reason.  But
it´s also dodgy and dangerous at night and you can get a clear sense of that in
the light with the graffiti, buildings in disrepair, people living in flats with broken windows.  Then, high above, there is a
lovely, peaceful, colourful village-like town, with awesome views and narrow
cobbled streets with clumps of palms and bougainvillea.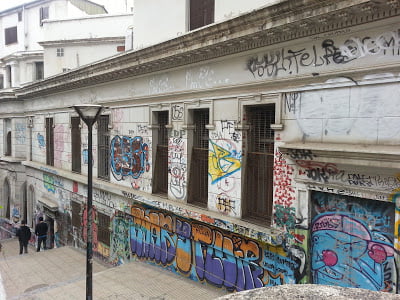 Downtown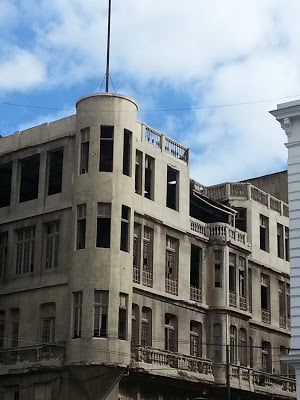 The UNESCO Heritage designation ensures nothing gets torn down…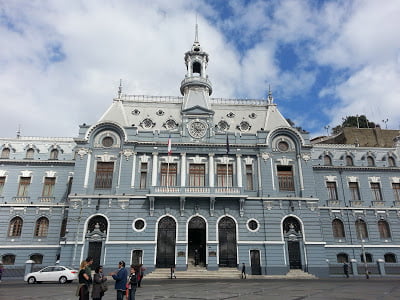 …and well kept government and military buildings sit next to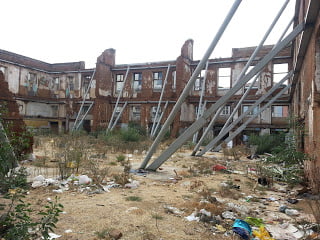 …the shells of the once great port which, ever since the Panama Canal was built, has suffered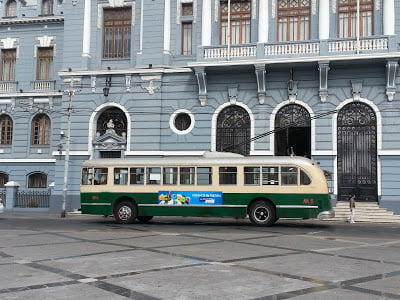 This is, I kid you not, the Arbutus bus from 1973.  Identical.  Down to the vinyl seats.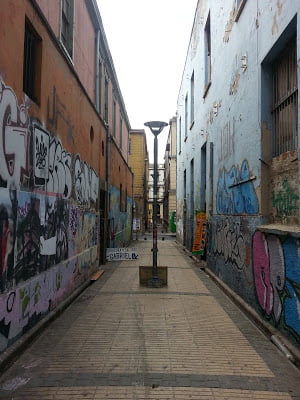 It´s like a scene from Oliver Twist
The busy downtown streets are abuzz during the day.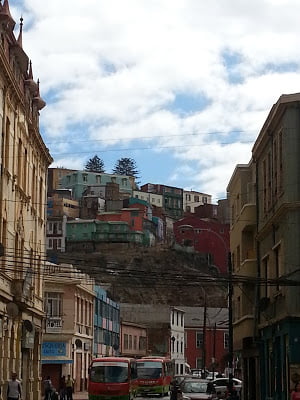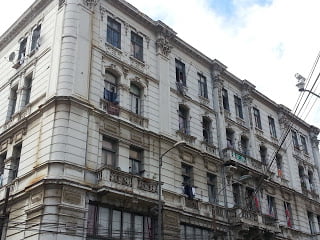 But heritage buildings like this, with half the windows broken or missing, laundry pegged on shutters, and doors on hinges, speak to how little UNESCO actually means to the average person.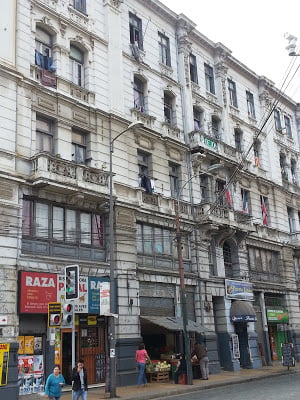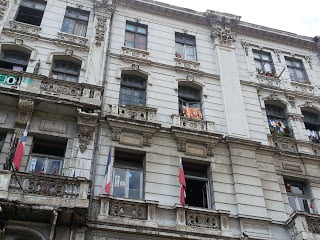 There is
also nowhere to park and the driving is criminal.  I asked at the hotel where they recommended
parking in Valparaiso and they didn´t recommend driving, let alone
parking.  But we persevered; it´s better
to fail than…  We did in fact find
underground parking in the centre and walked most of the old town.
To get from
the port to the "top" there are various funiculi, some of which are still in
operation, that spirit locals up for about 50 cents.  The first we took, Artilleria, was old, built
in 1893 and, from the look and sound of things, not updated since.  The floorboards creaked and had gaps where
you could see through.  It jolted and
shook.  It rose at a grade of 30 degrees
for 175m.  I started the journey standing
but, when it seemed like we might not make it, I took a seat, which jiggled
when I sat as if to collapse.  But we did
make it, up and down, so that was reason of course to try a second funicular!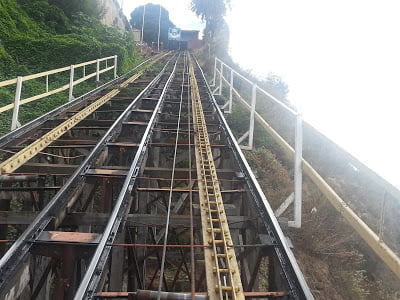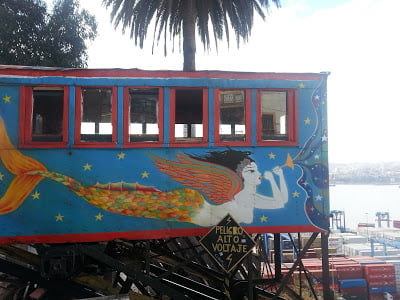 One was painted with Jesus on top, the other with Mary.  I guess that would offer solace when you pummeled 175 meters down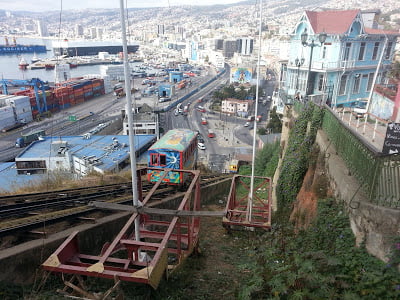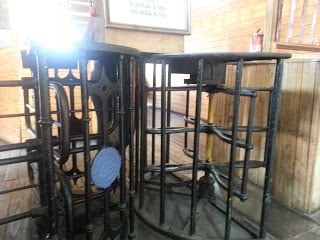 Original 1893 turnstile
I was 34,290 on the day we took this ride.  But how many times has the meter lapsed over the last century and some.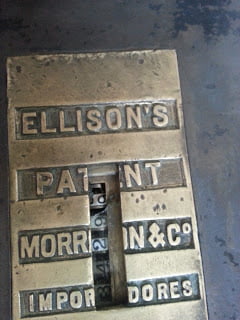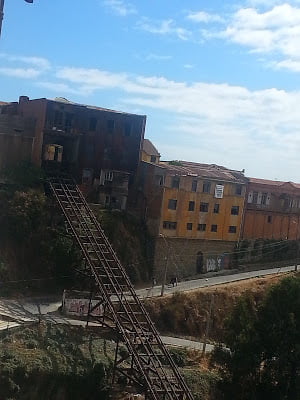 This funicular, no longer in operation.  Thankfully!
The second
ride we took was to a more touristy area of boutiques and cafes.  The Concepcion funicular was shorter, faster,
but much steeper; it took about a minute before you could see the track and
when we reached the top it was like crashing into the arrival pod.  Just don`t look down, just don`t look down…  We took lunch at a lovely bistro called
Pastis where we sat on their patio and ate onion soup followed by salad and
quiche.  Or, I should say, that´s what SS
ate.  I thought  I was getting the same when instead a chicken
pot pie arrived.  Excellent, exceptional
actually, but another example of how the language fails us.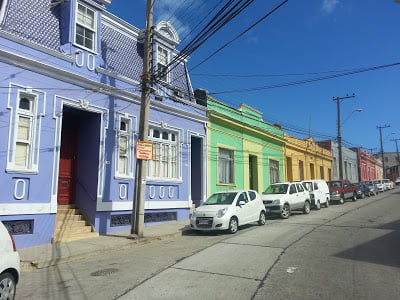 Facade only.  Thanks UNESCO?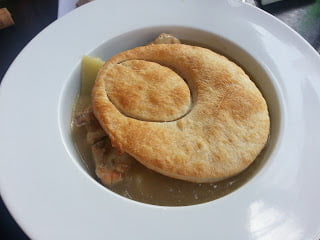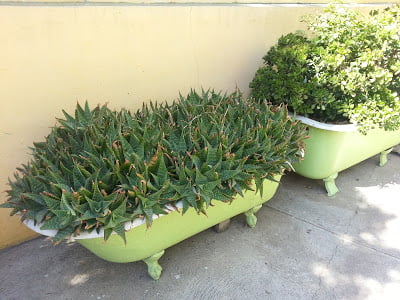 Afterwards
we retrieved the car and drove to Pablo Neruda´s house.  This was no easy feat.  The "two-way" street went at a steep grade
akin to the funicular.  The Mazda
wouldn´t go up in second, so we floored it in first.  When we made a wrong turn the only option for
a u-turn was at the end of a dead end street where a pack of dogs barked at the
car and chased us off.  And when we
finally found the house it was closed on Mondays!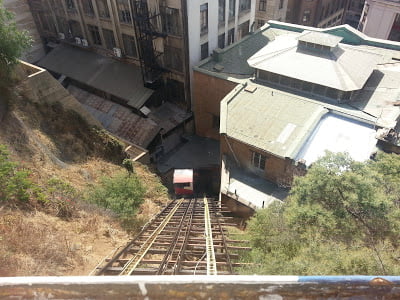 Concepcion is actually older, 1883, but has been "renewed" over the years.  The gradiant is 44.5 degrees over 60m.  I wouldn´t walk a hill this steep.
Back at the
hotel it was sunny and hot and we relaxed on our huge deck and watched pelicans
group on the rocks and fan their wings then took a light dinner at the hotel.