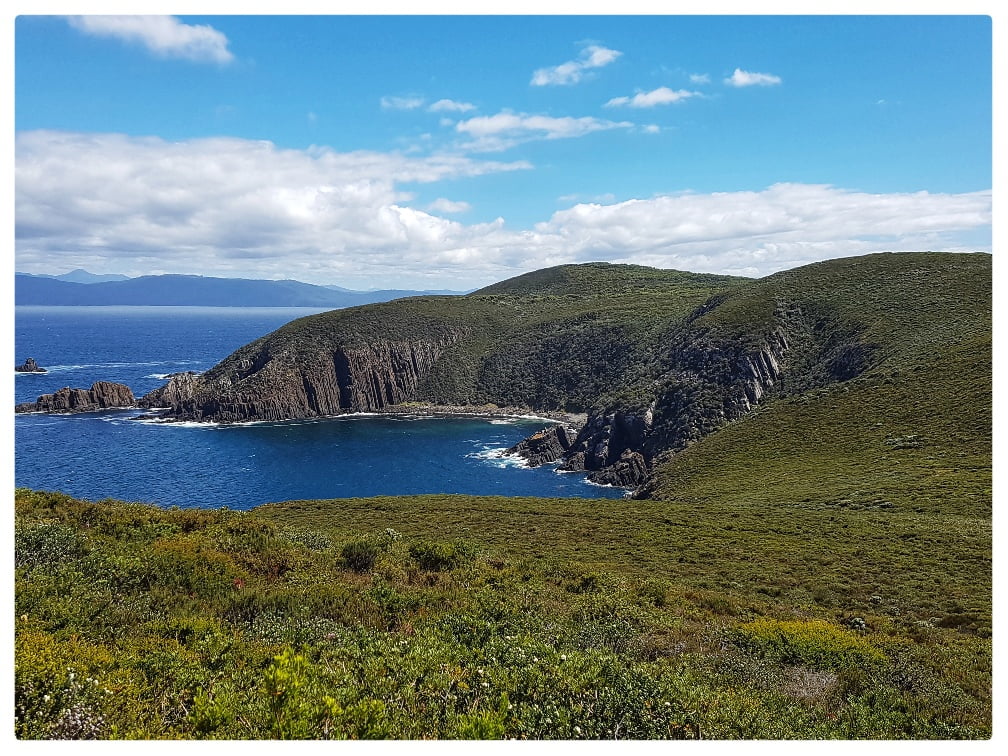 We did art Sunday so it was only suitable to do nature Monday.  And we did nature as far south as, I guess, we'll ever be.
Antarctica isn't on the bucket list.  Although we've done Argentina and Chile we took a pass on Patagonia.  So, short of an exile, I think we've gone about as far south as either of us will ever go in our lives.  I mean, when it comes to any land mass at this latitude, if you exempt the ice to the south there's only Tasmania and Patagonia.
We started the day by driving about 35 kms south to Kettering for the ferry; you know the place—you pass Margate, the Electrona Industrial Park then Snug (and Lower Snug).  Easy.  In the summer the ferry leaves every half hour; one is called Mirambeema and the other, wait for it, the Bowen.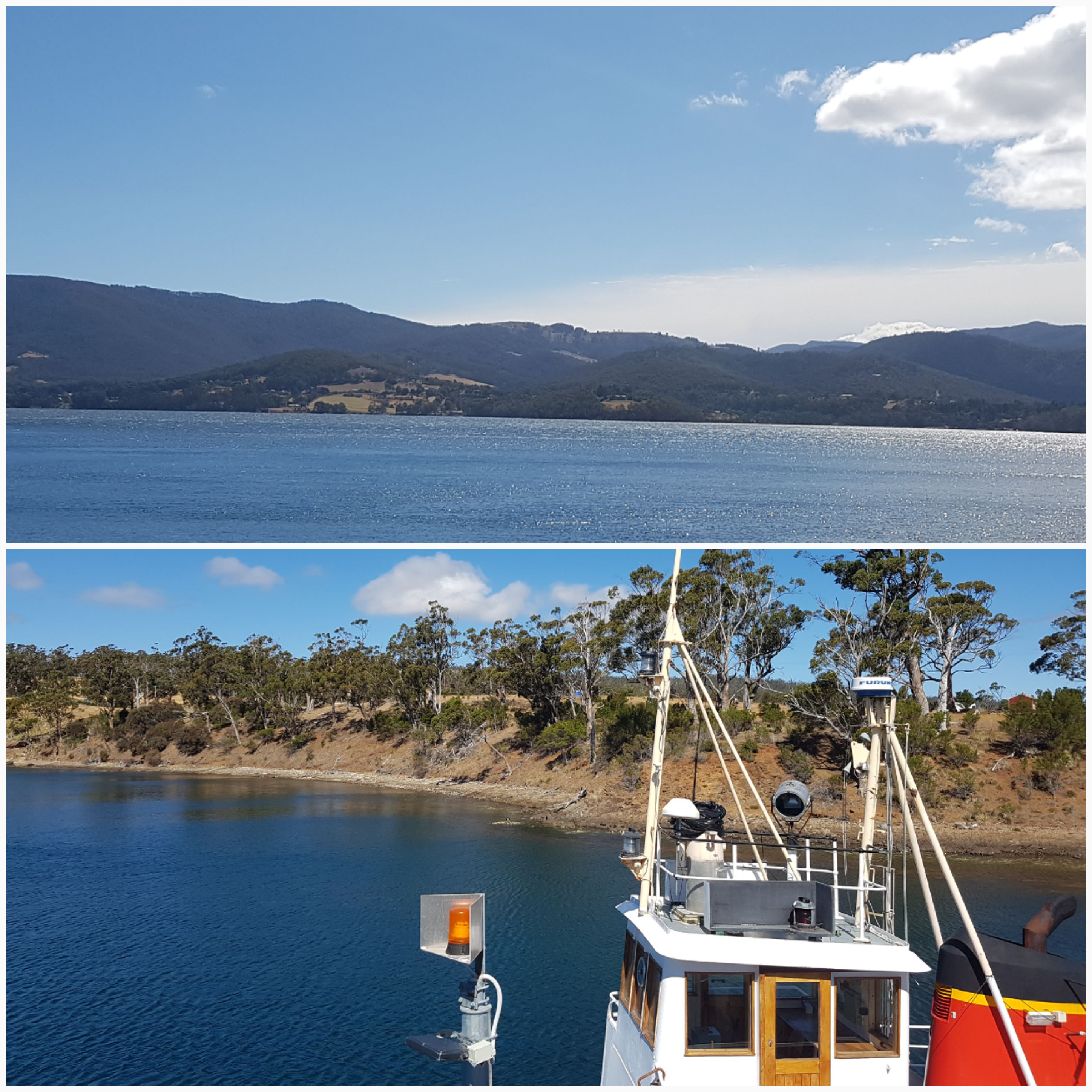 Except for all the eucalypts, it wasn't much different than arriving at Pender Island.
Bruny Island is a sort of tourist slash foodie slash day-tripper slash camper van off the grid sort getaway.  We had a preconceived notion of Salt Spring but in fact while the land mass is the size of Singapore, and there is a distillery, a cider works, a brewery, a vineyard, a cheesemaker, a berry farm, and a substantial national park, only 650 people live on the island.  It was really like Salt Spring Island 40 years ago.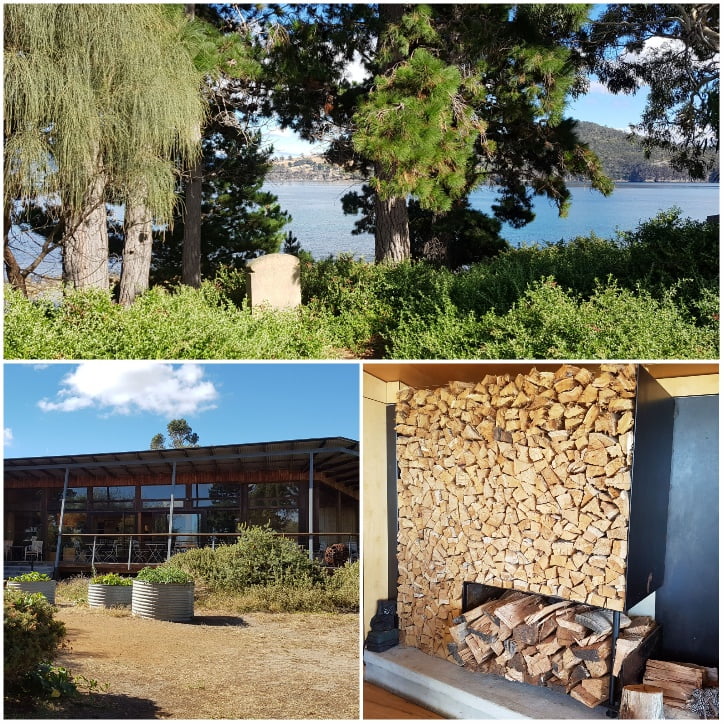 We drove north first, to the furthest point on the "Iron Pot" called Dennes Point.  There was a nice café and we had breakfast, fabulous flat whites, and a bit of a poke.  I thought of Brent when I saw the interior wood pile.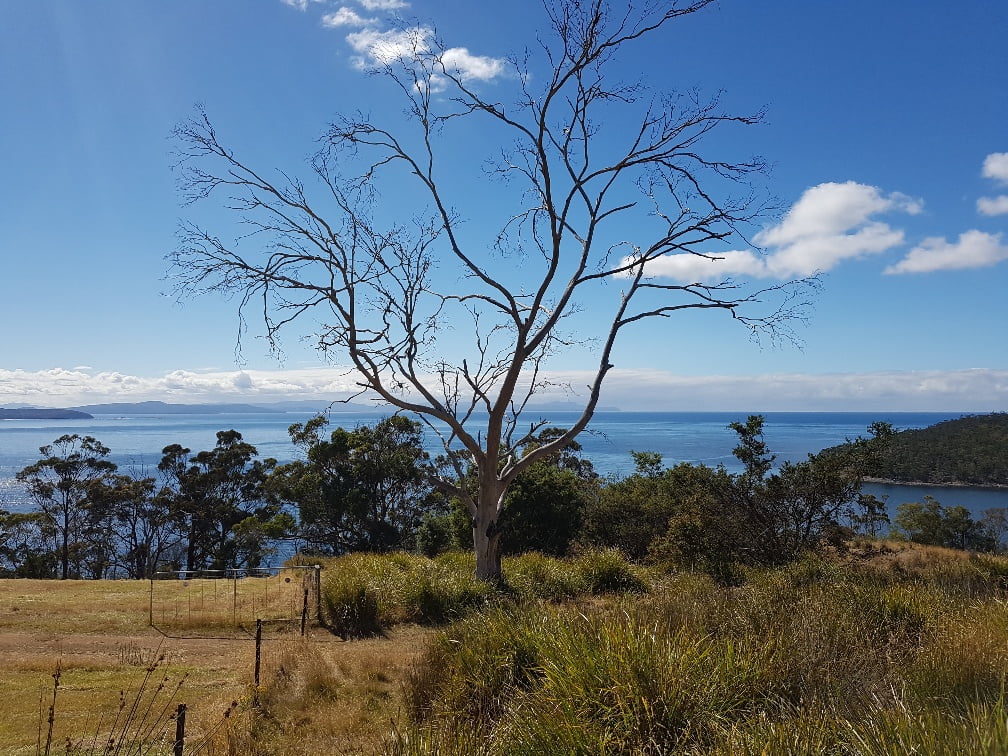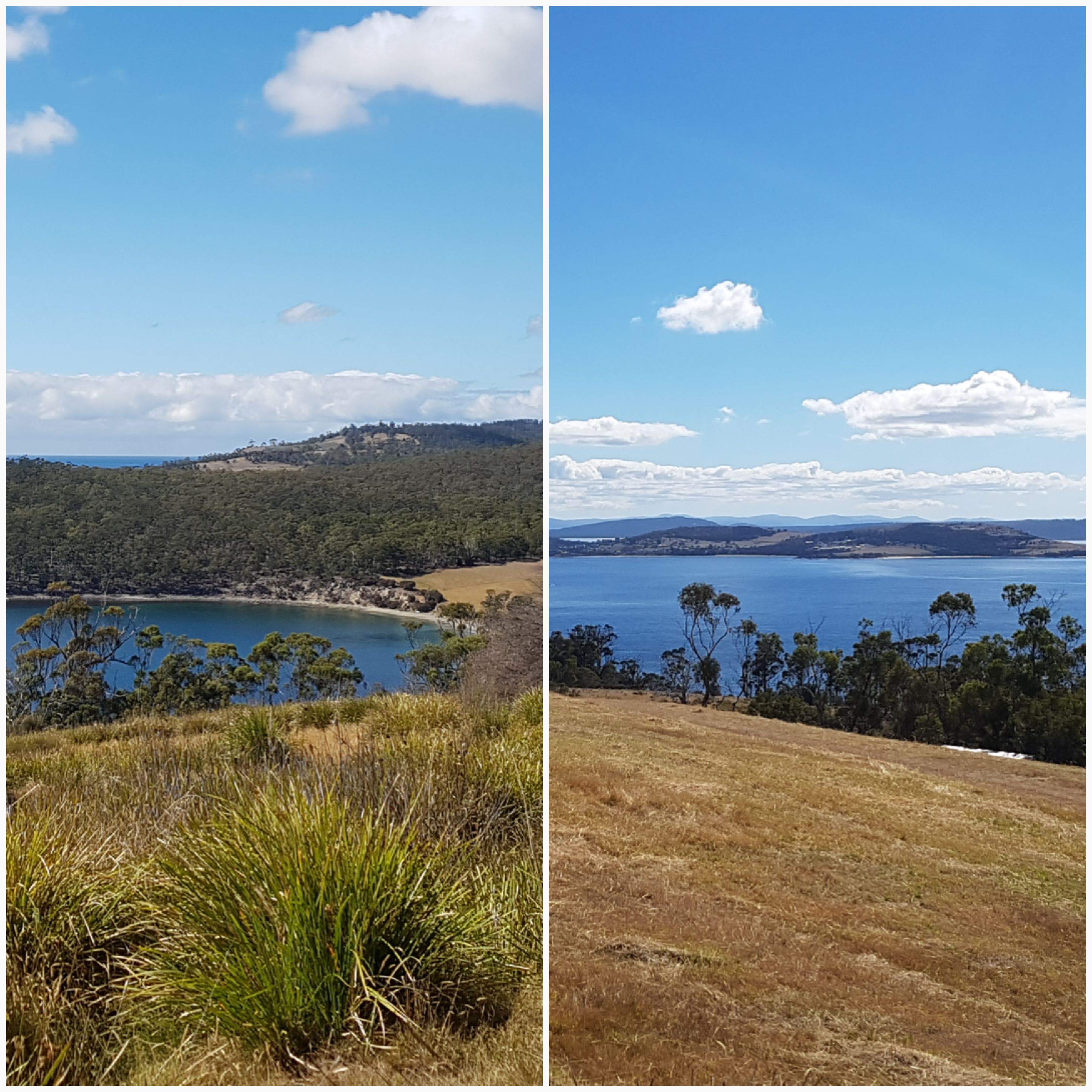 Views of Bull Bay, a beach on the east.  After breakfast we drove south past Bull Bay, Great Bay, the Isthmus Bay, and deep into the southernmost reaches of the South Bruny National Park.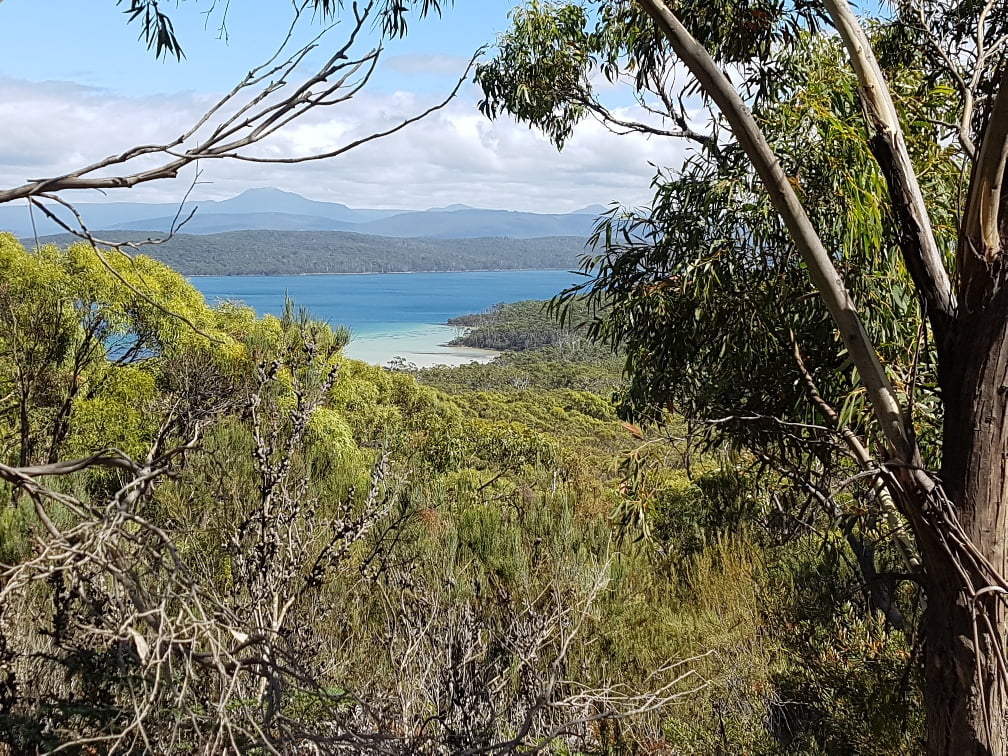 Trumpeter Bay.  It's after Bull Bay but before Great Bay.  Remember, there's a quiz at the end.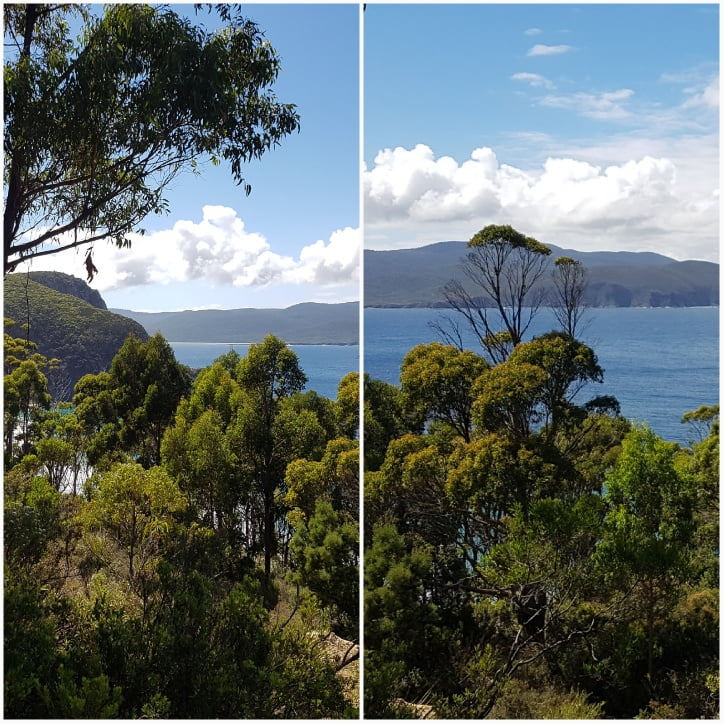 As we approached the southernmost point, I shot a couple of pics of the sensational views.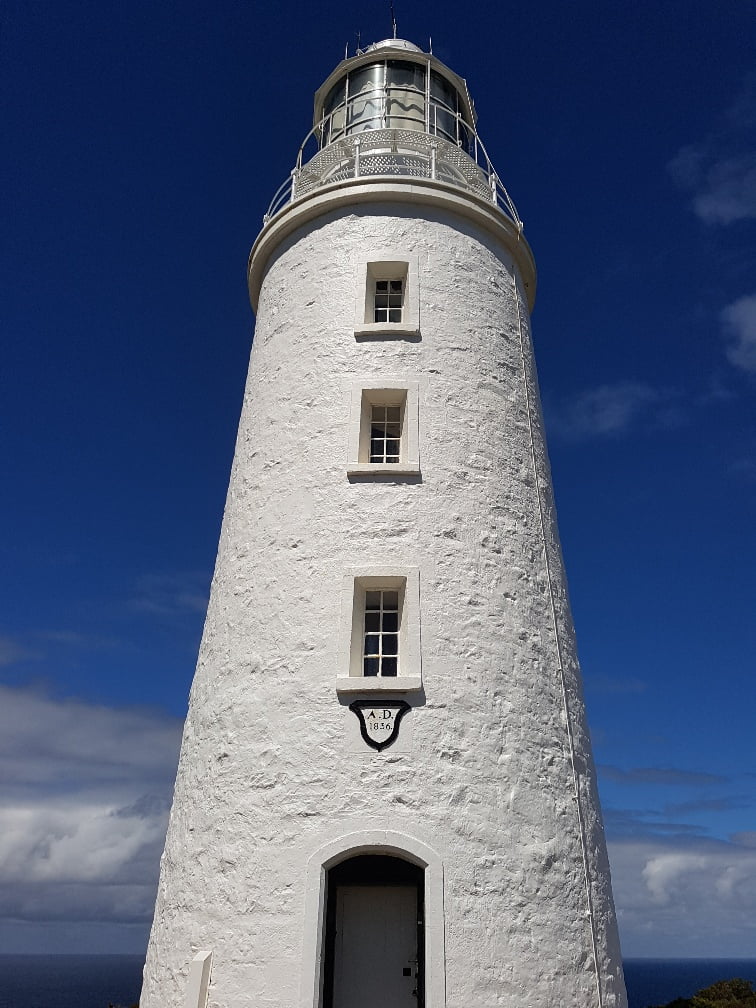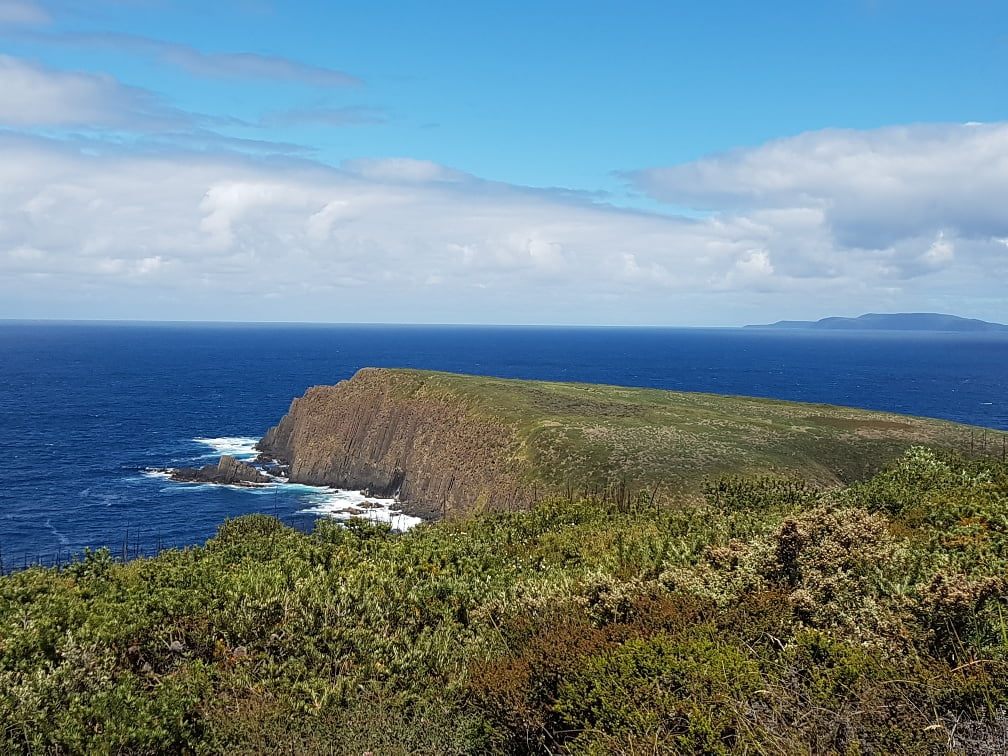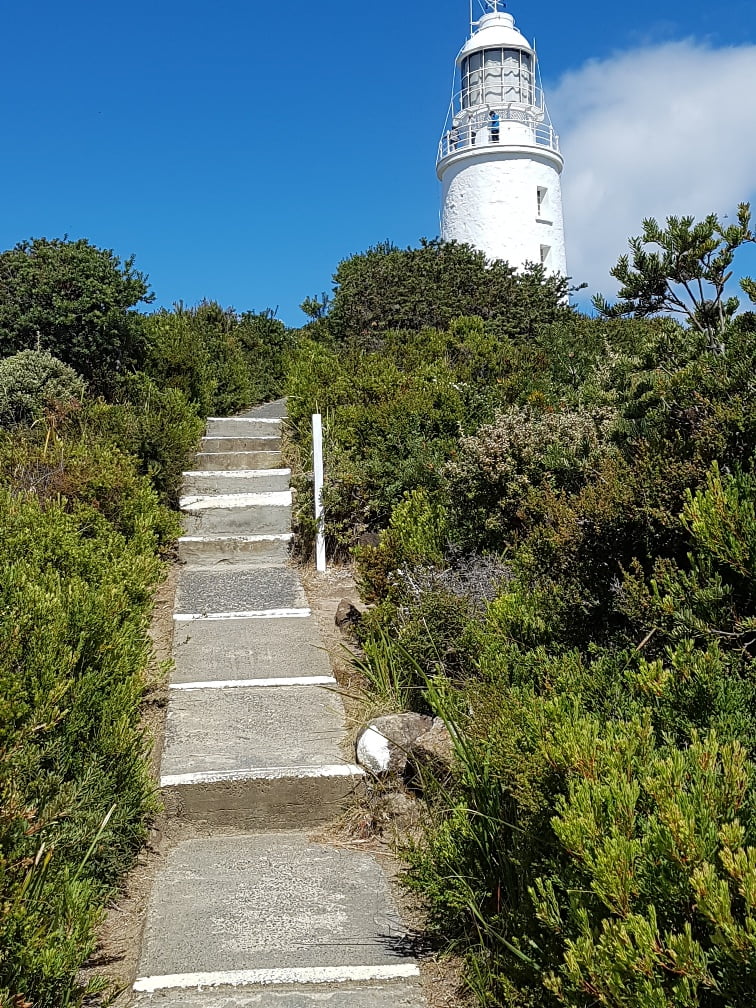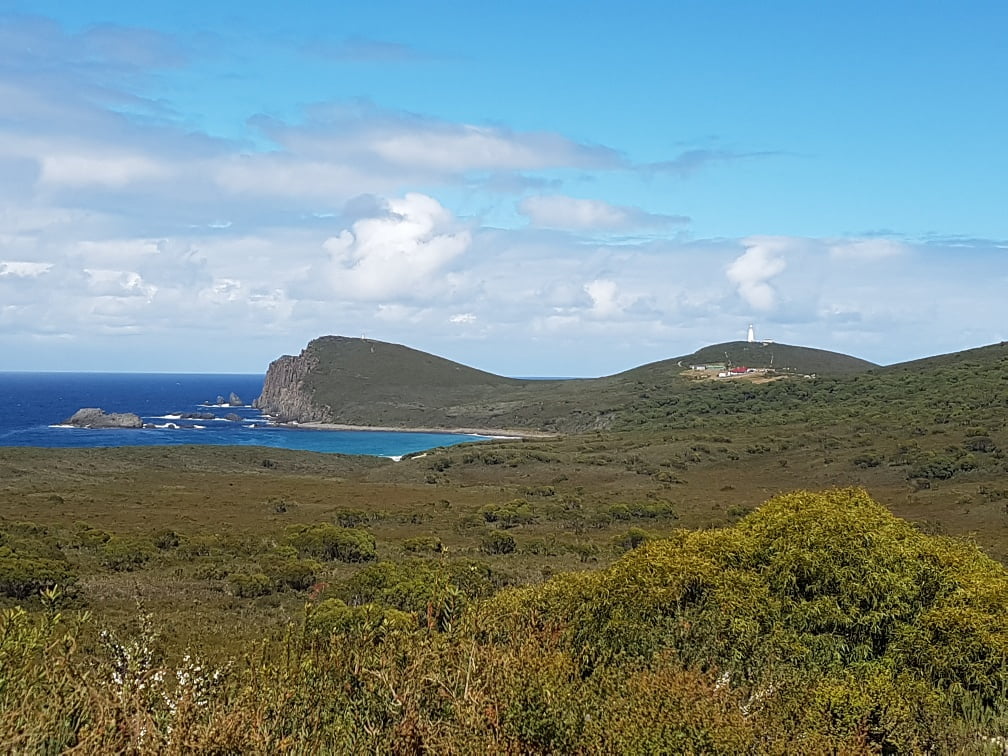 After a very long and arduous drive we pulled into the tiny lot at the south end of the island.  Here we hiked up to the Cape Bruny Lighthouse with its spectacular views over Standaway Bay and beyond to the Southern Ocean.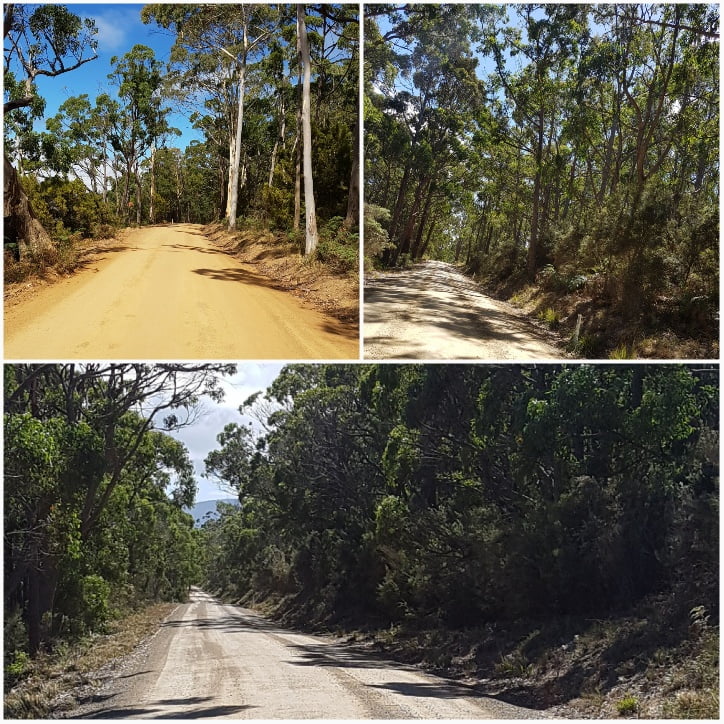 After a long, awesome break here, we headed back on the unmarked roads.  Can you tell which direction is which?  Just remember to keep to the left; the left, by the way, is not the right side, the right side in Australia is the left side…
Just to emphasize how far south we went, Telus sent me a text at lunch "welcoming" me back to Australia!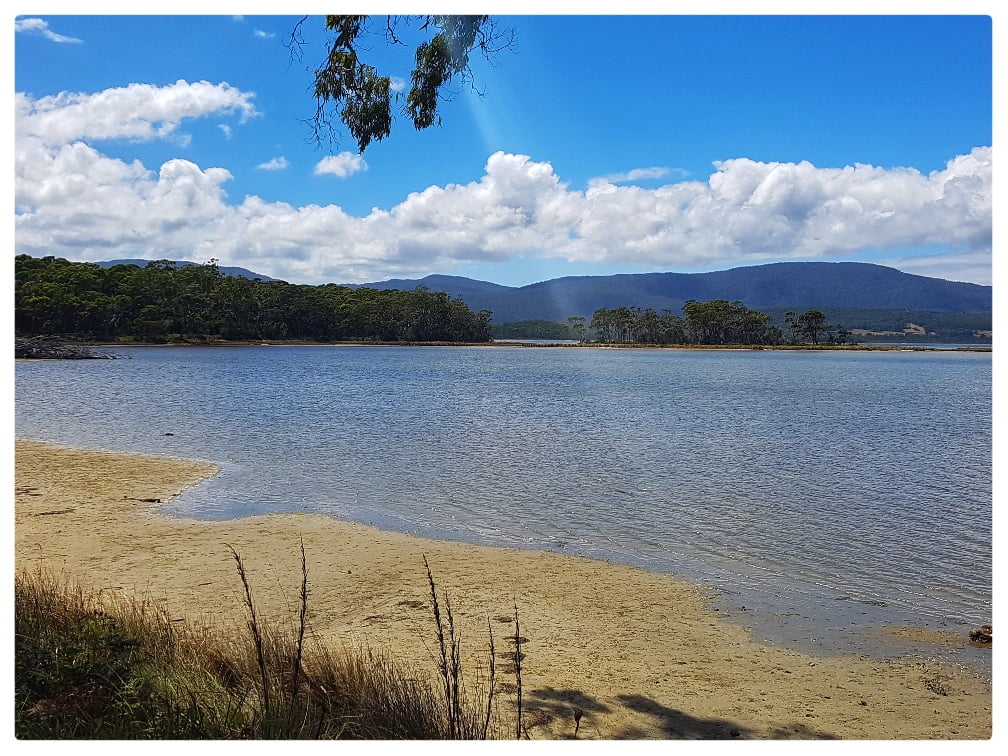 On our route back you pass the Cloudy Bay Lagoon.  The lagoon on, say, Gilligan's Island, always sounded so safe and glamorous, but in reality a lagoon is a bit of a septic system for the ocean, still, buggy, smelly and just a saltwater bog.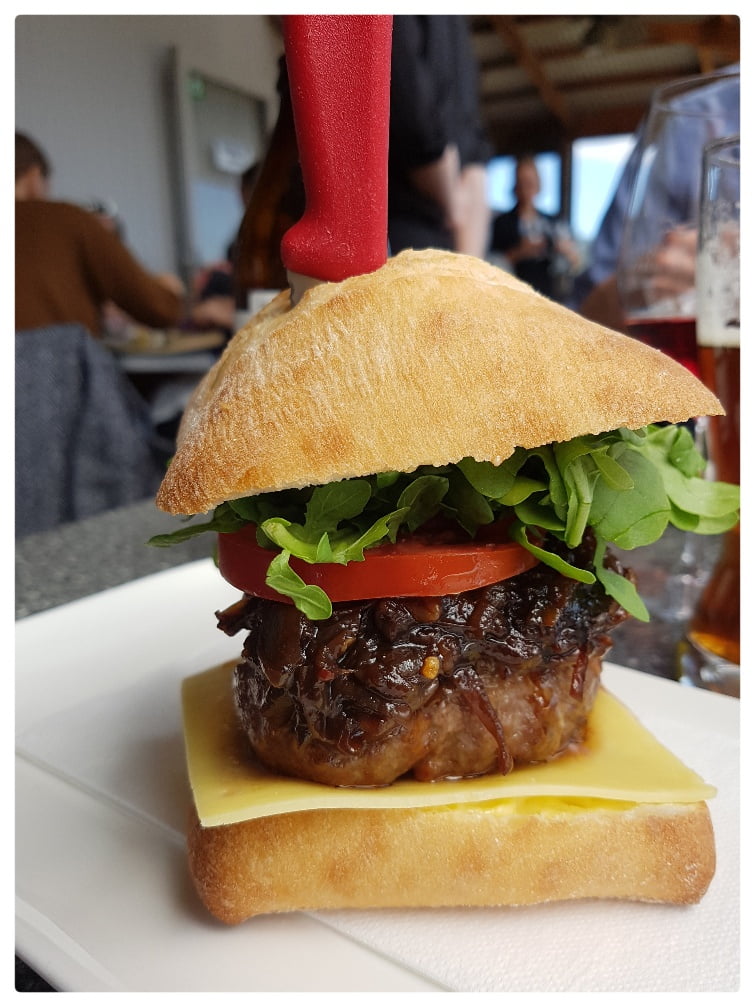 We stopped at the local vineyard for lunch.  We both had burgers.  What you see is a local lamb and wallaby burger.  The local brewery made an absolutely superb hoppy malty ale with 2.8% alcohol, positively a dream for a DD.  We had a very relaxing nosh.
After lunch we headed back into another part of the national park on the east side of the island, where the waters are turquoise, the sand white, and the views reminded us of the British Virgin Islands.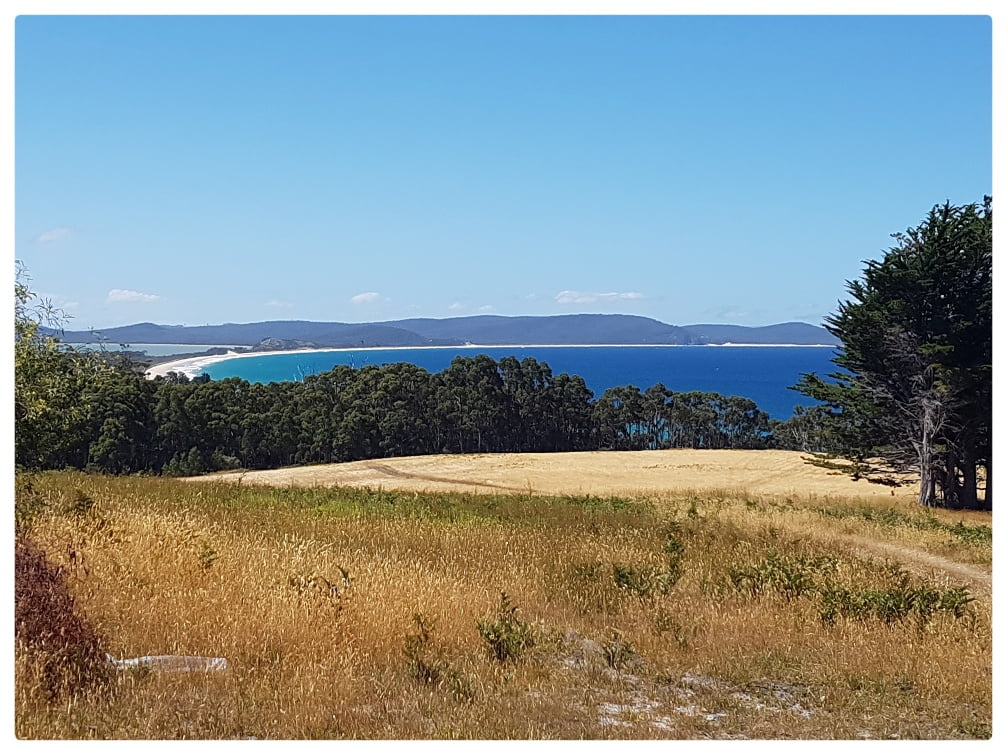 This shot is of Adventure Bay, from a distance, which lies on the east side of the isthmus, which they call The Neck.  Keeping track?
When we got to the other part of the park we did a hike past where Captain Cook landed.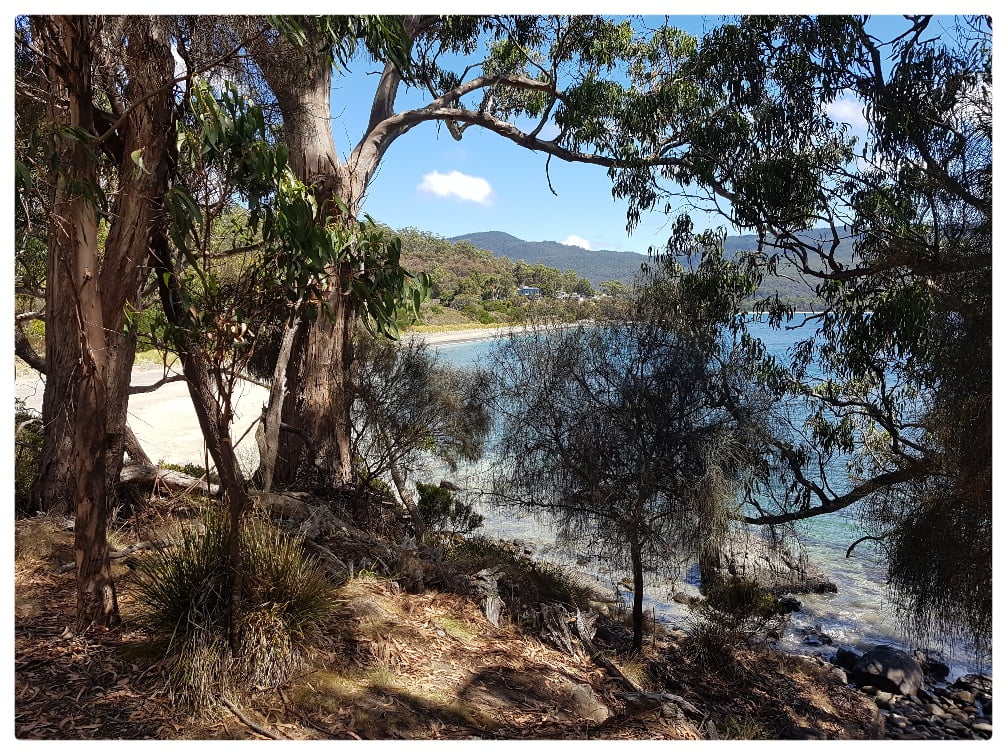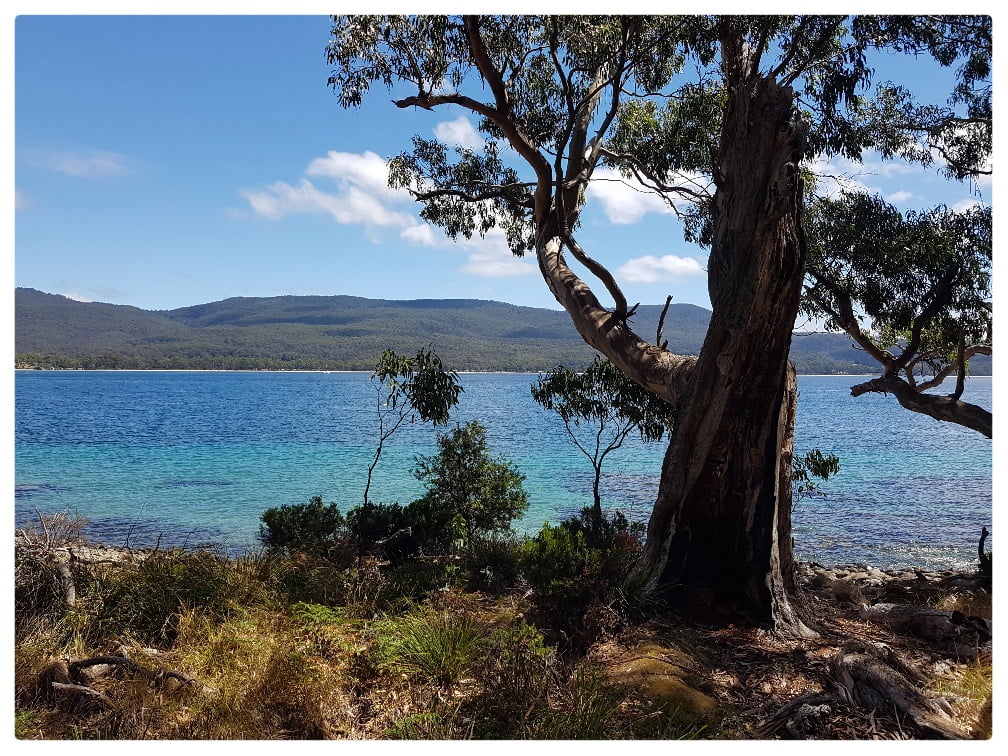 This hike looked back over Adventure Bay, Cool Point and Blighs Rocks, gorgeous spots all.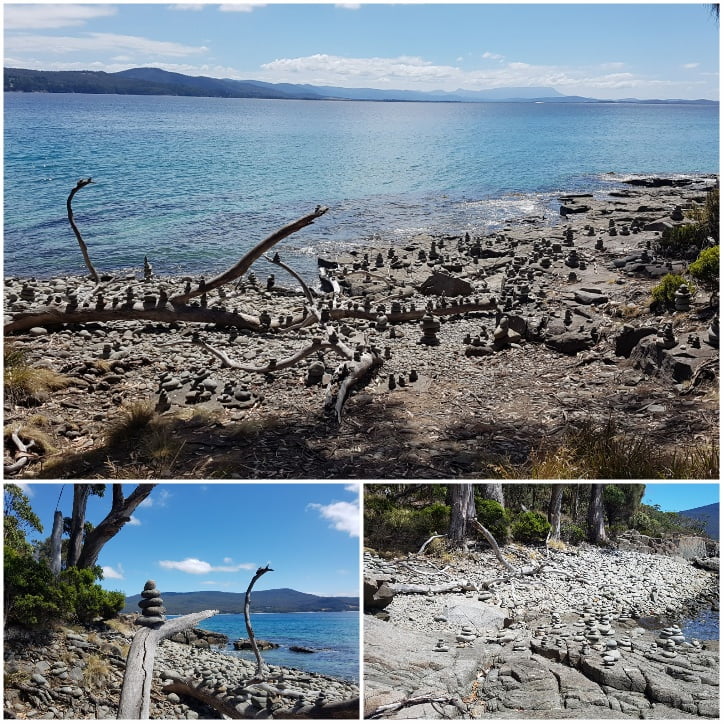 Someone's been busy.  Faux inuksuk beach.
We caught a late afternoon ferry back, waded through rush hour traffic, then walked up to a tiny little highly rated resto called Templo.  As you know I am not a fan of a chef's menu but given this was a temple to pasta we went all in.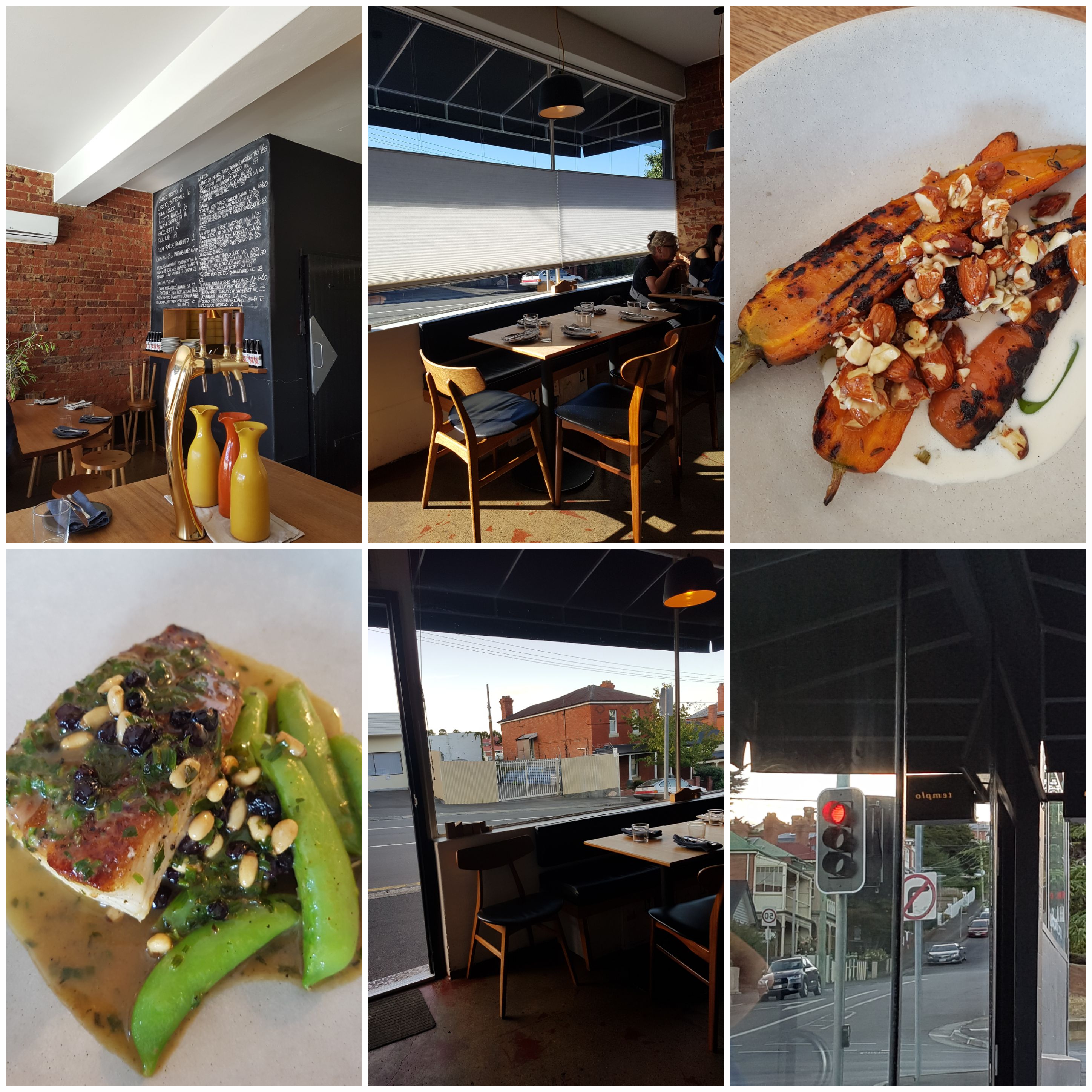 There were some particularly good dishes including a wood smoked carrots on buttermilk with cumin and hazelnuts, ling cod with pine nuts, and a (not photographable) sensational mini gnocchi with pork ragu.  Four deuces, a communal table for ten, and the bar; teensy.  Two sittings.  That's sorted.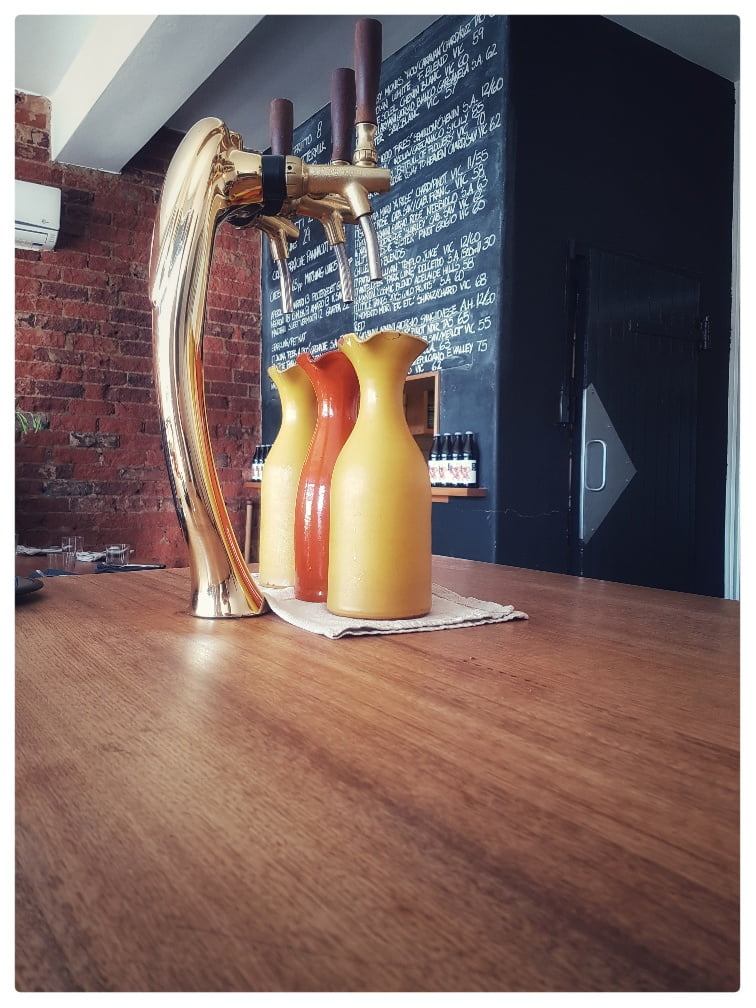 There is free guest laundry at the hotel; time to get back to the room!