We took breakfast at a really authentic bakery (in the Jim Lahey style ) called Pigeon where they made the most delicious Eccles cakes.  We passed a restaurant on the pier playing contemporary jazz to keep the boarders and ne'er do wells away, and, hand on God, witnessed a seagull doing the moonwalk.  Then, more or less, first thing, to MONA, the Museum of Old and New Art, a relatively new complex on the river Derwent quite a clip outside of town.  It's pretty much top of the list for Tassie tourists and locals alike, bursting at the seams by the time we left early aft.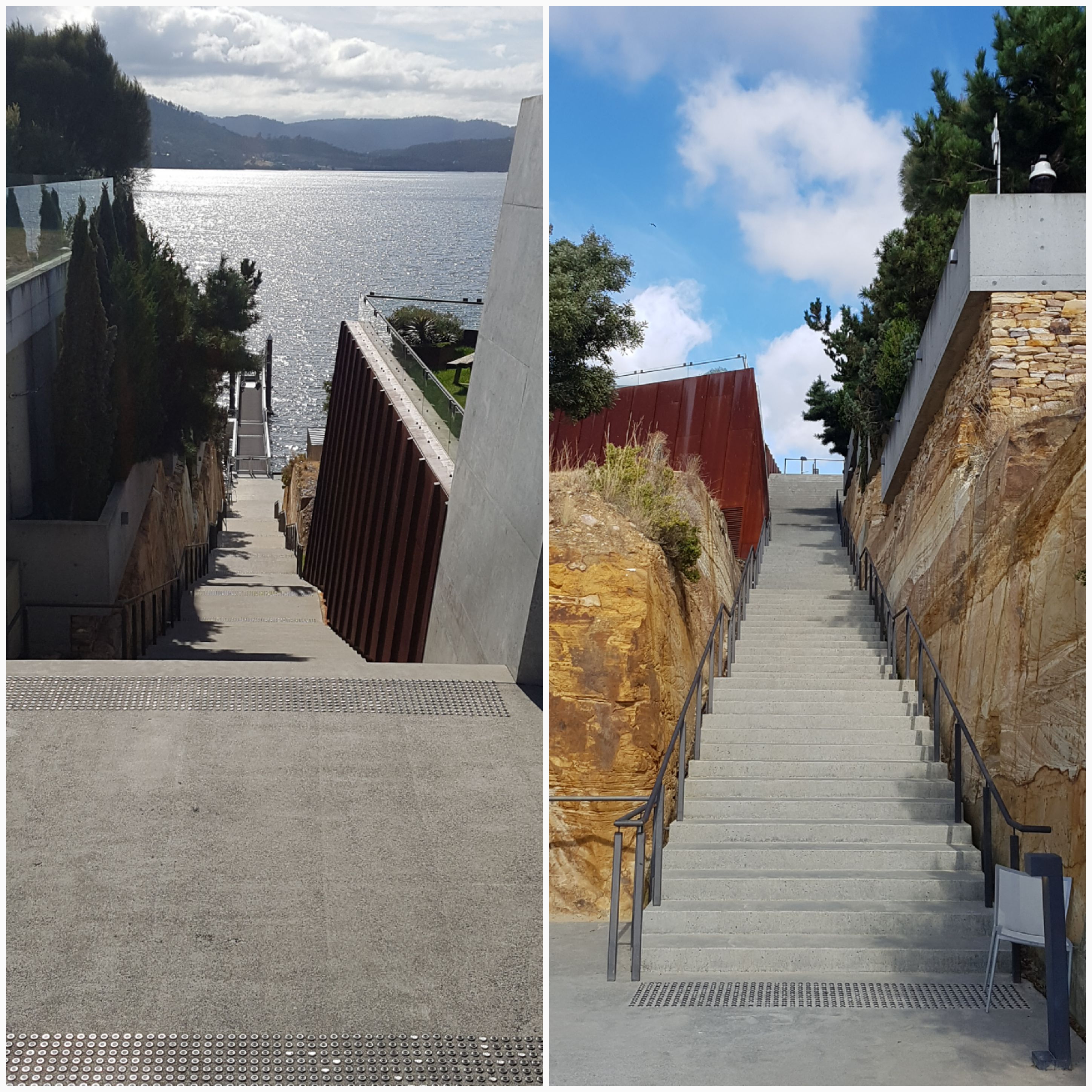 You could take a ferry from the pier where our hotel is, to a dock seventy steps down from the museum, but we drove.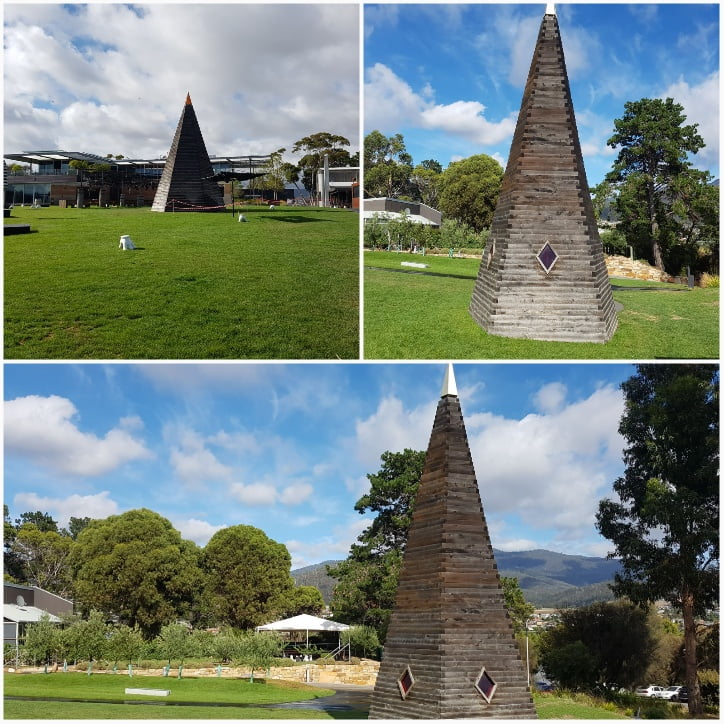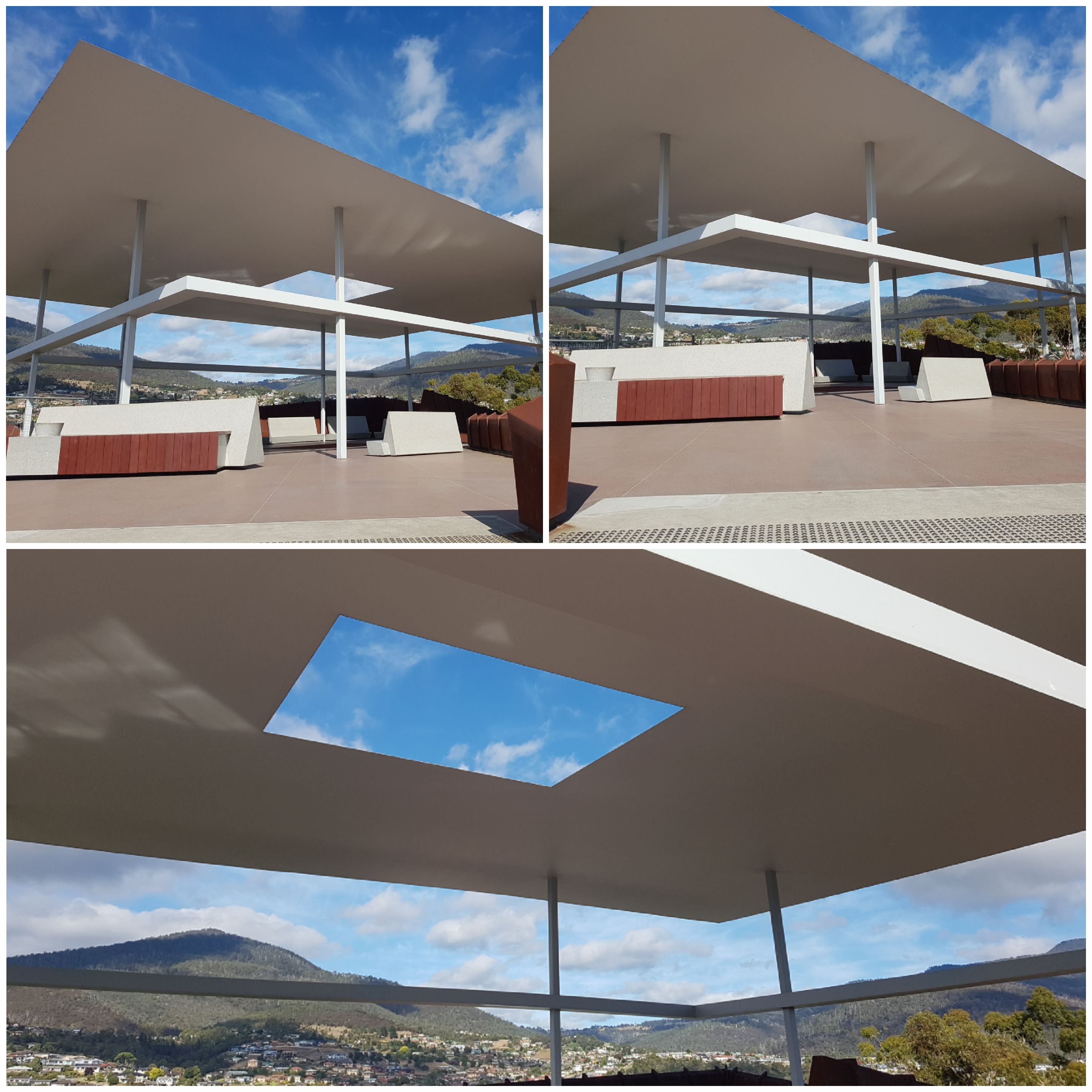 Surrounded by vineyards and bordered by water on one side you would expect the best, but the exterior was not inviting in any respect.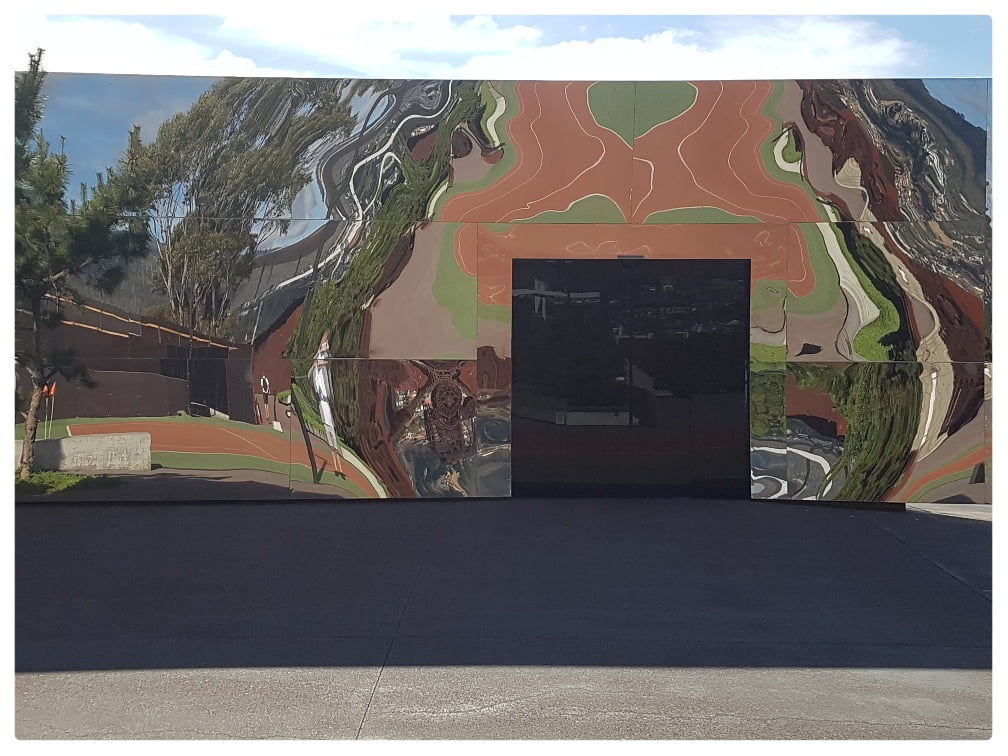 In fact, the entrance, pictured above (a mirrored wall) was of a "considered dissonance" to put it kindly, and more of an affront than a welcome.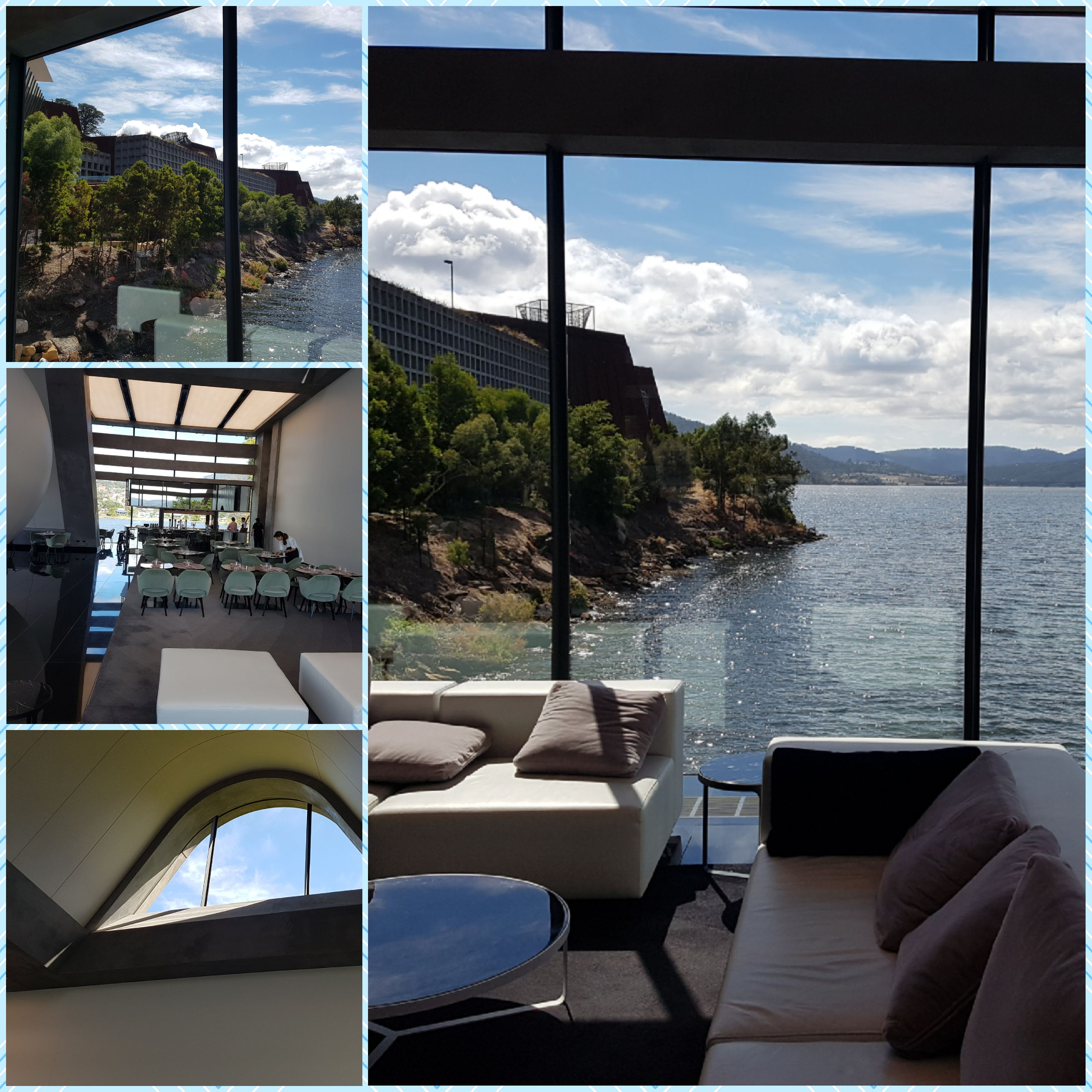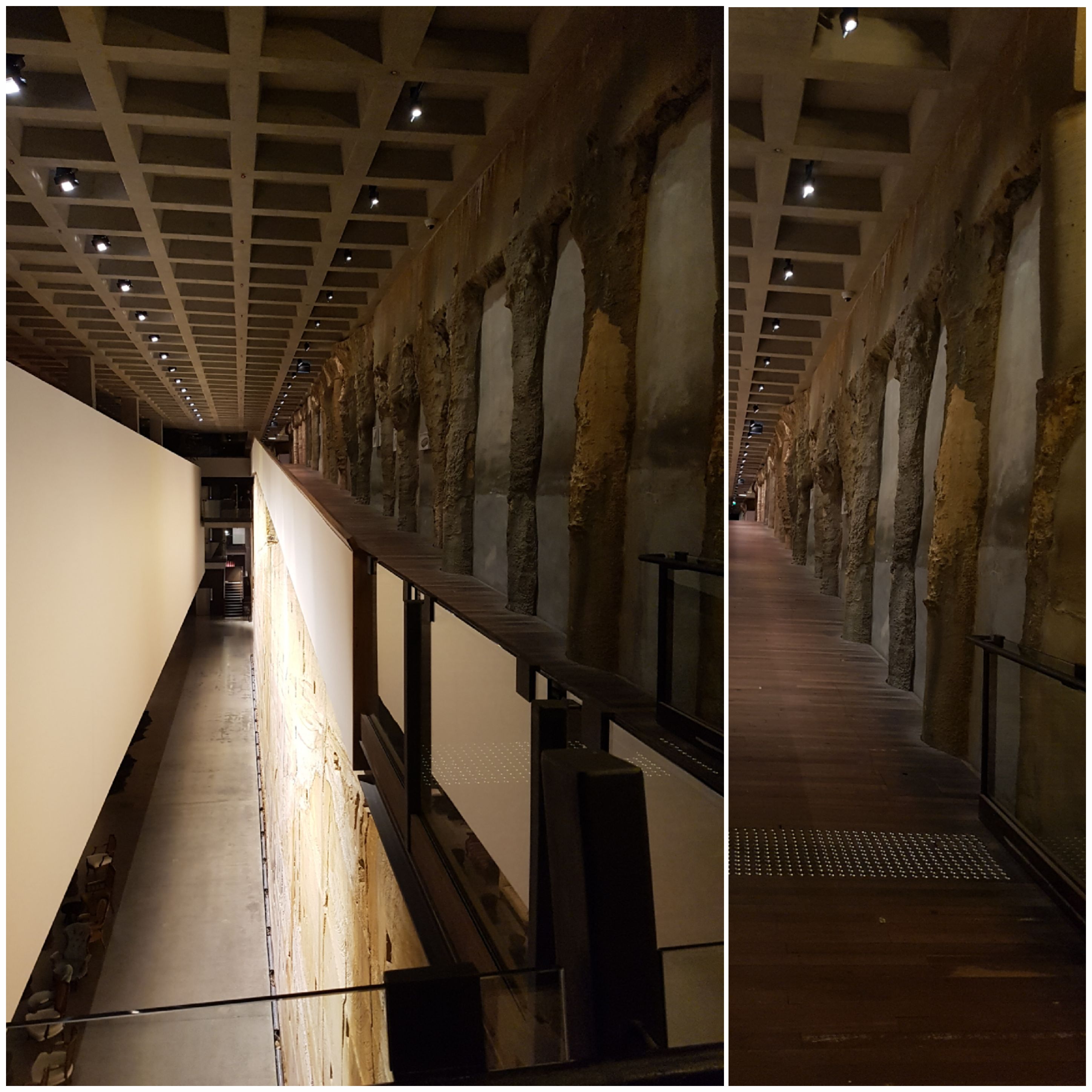 Inside, however, it was a different experience altogether.  Much of the museum lies underground or wedged into the rocky outcrop; you traverse spiral staircases, tunneled walkways and a mish-mash of rooms that are disorienting and not afar from Disneyland's Haunted Mansion.  A beautiful lounge with a tapas bar extended out onto a rocky beach.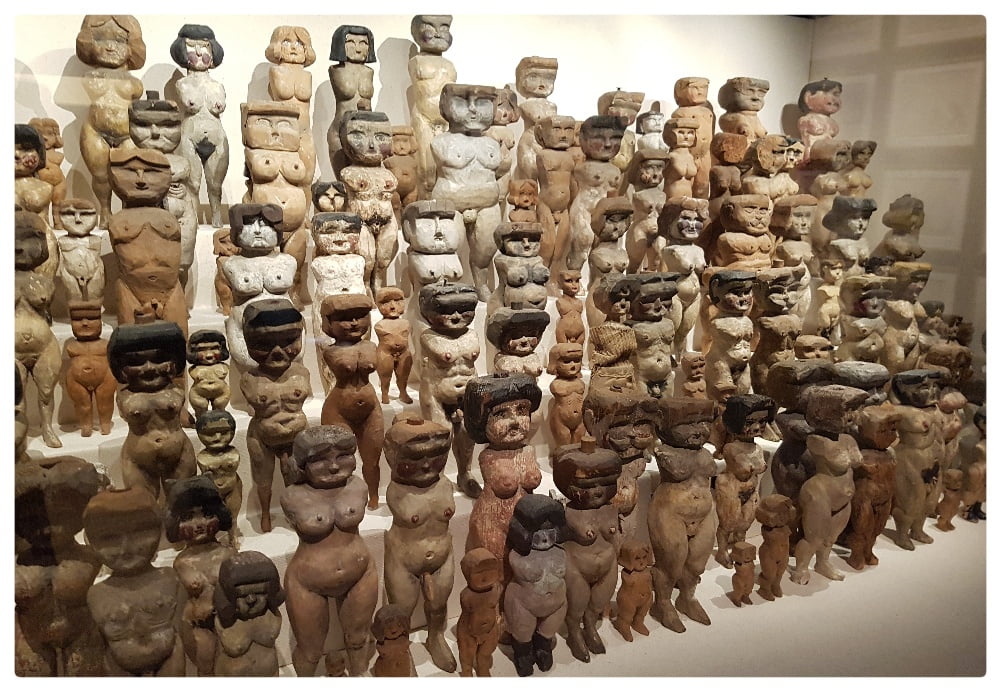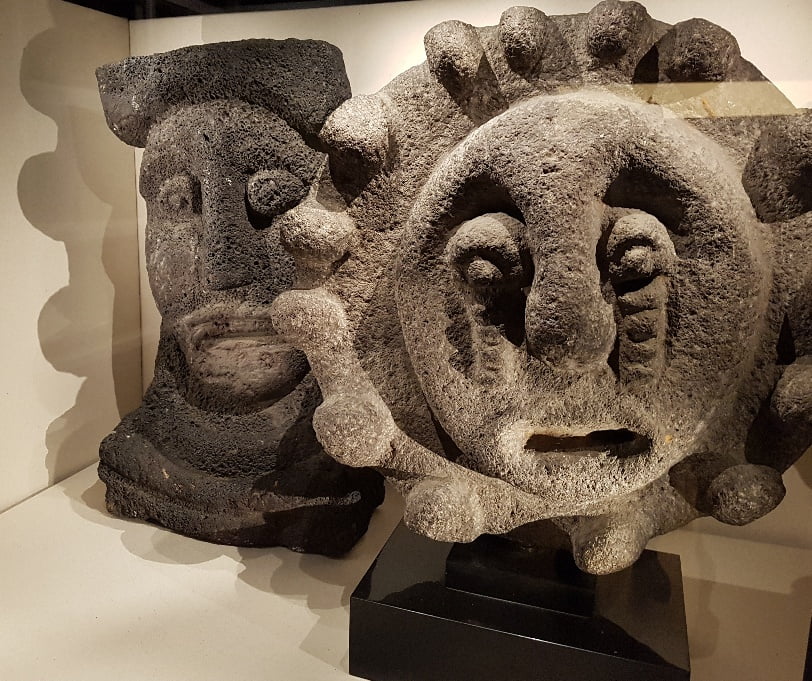 But the work speaks volumes.  The old and new aspects are sometimes metaphorical but sometimes, as in the above two pictures, literal, where you have ritual figures of antiquity from Auvergne next to early 20th century American armless carvings.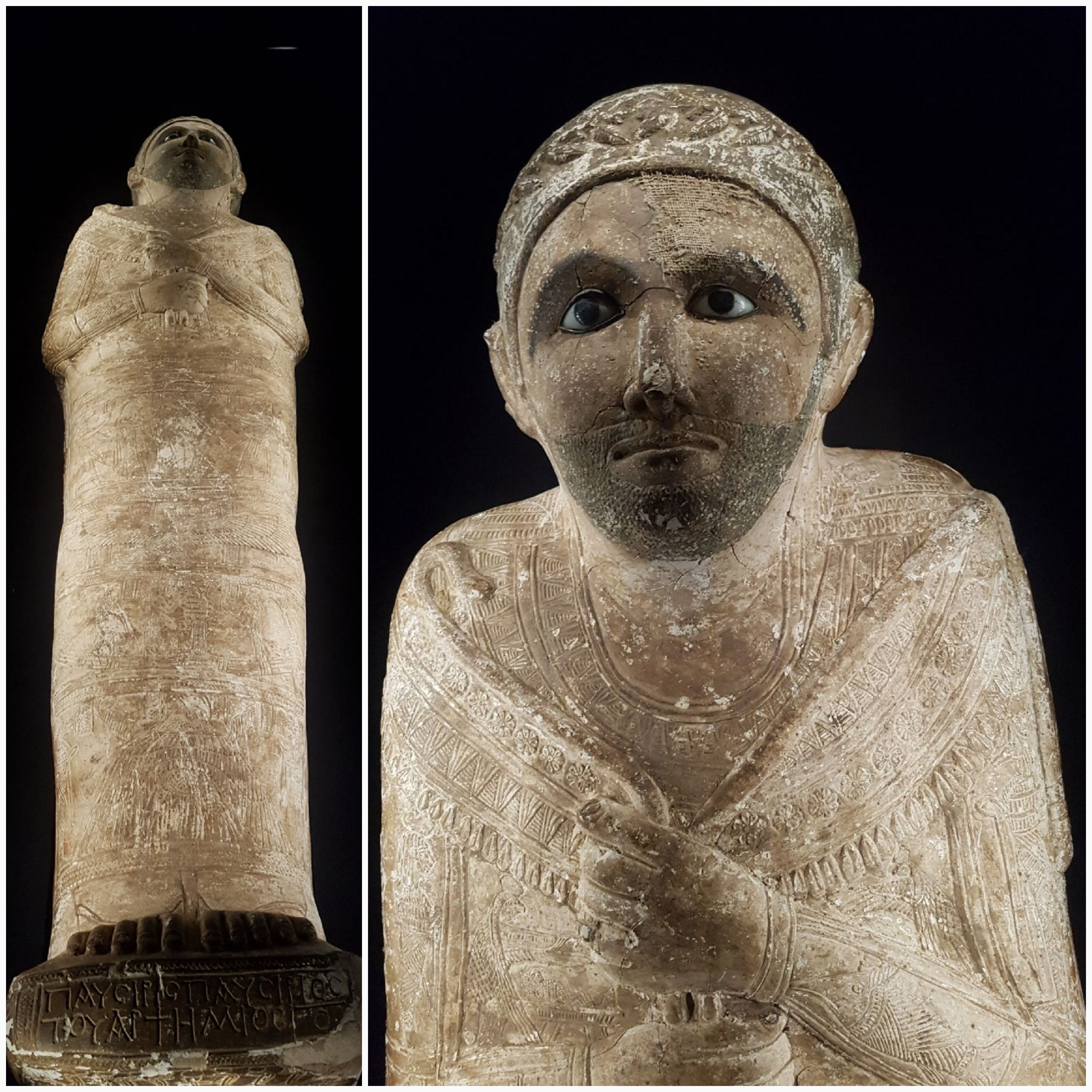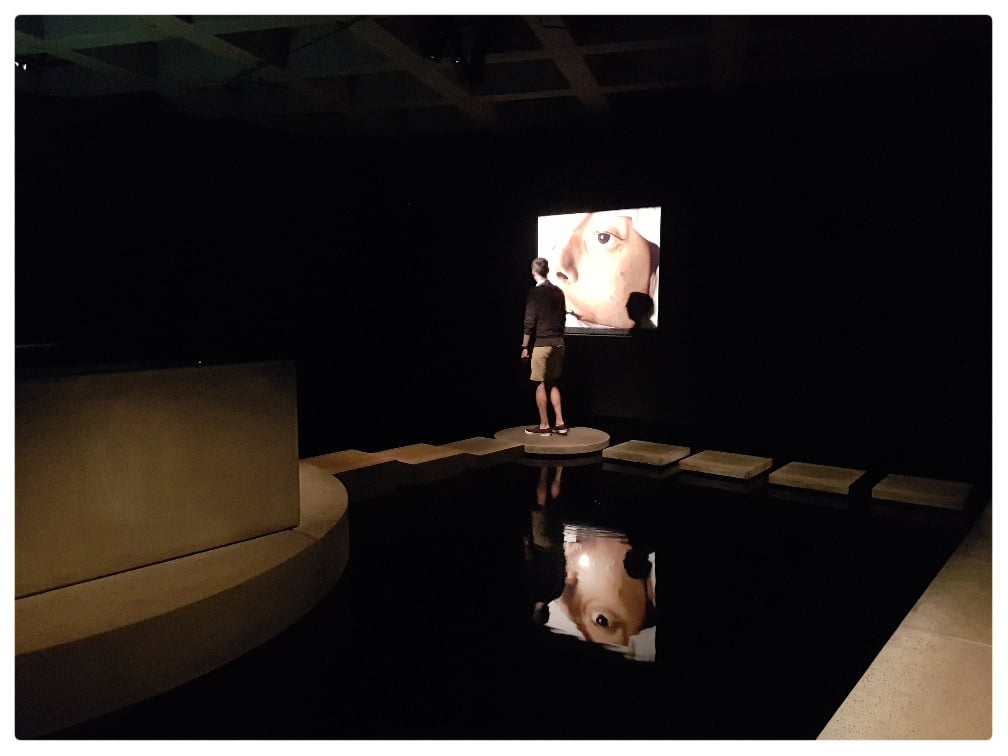 As you descend to the main galleries you pass a room with a mummified tomb of Pausirus (100 BCE).  Cleverly (or not) the tomb is set on a concrete walkway surrounded by water, so only a couple of people are permitted in the room a time; here SS traverses the paving stones around the pool to the tomb.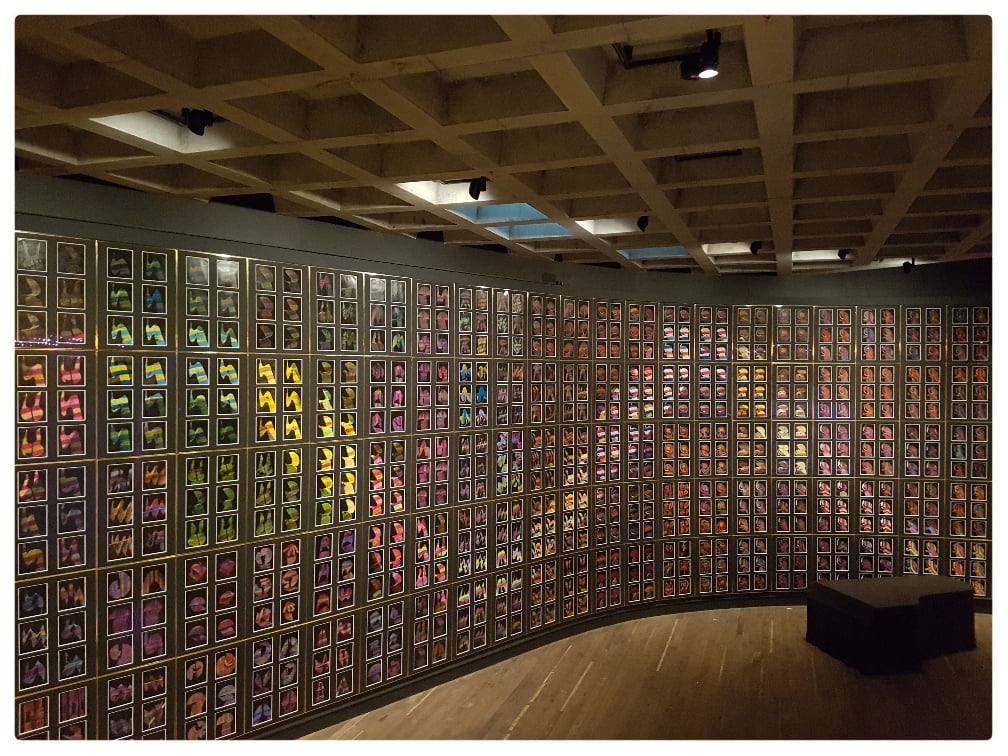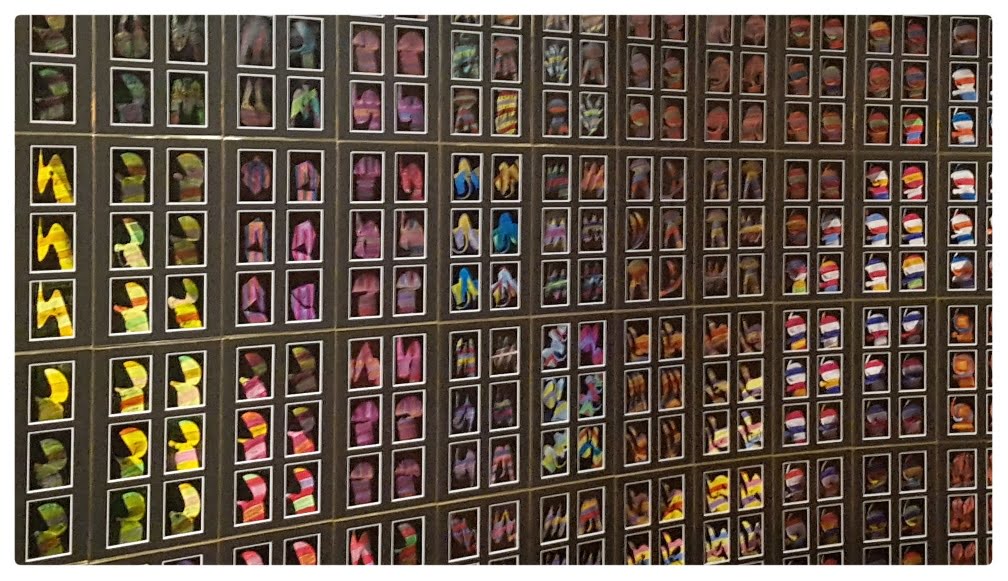 Another massive installation adorns a wall over two floors, 1600 individual drawings in collage.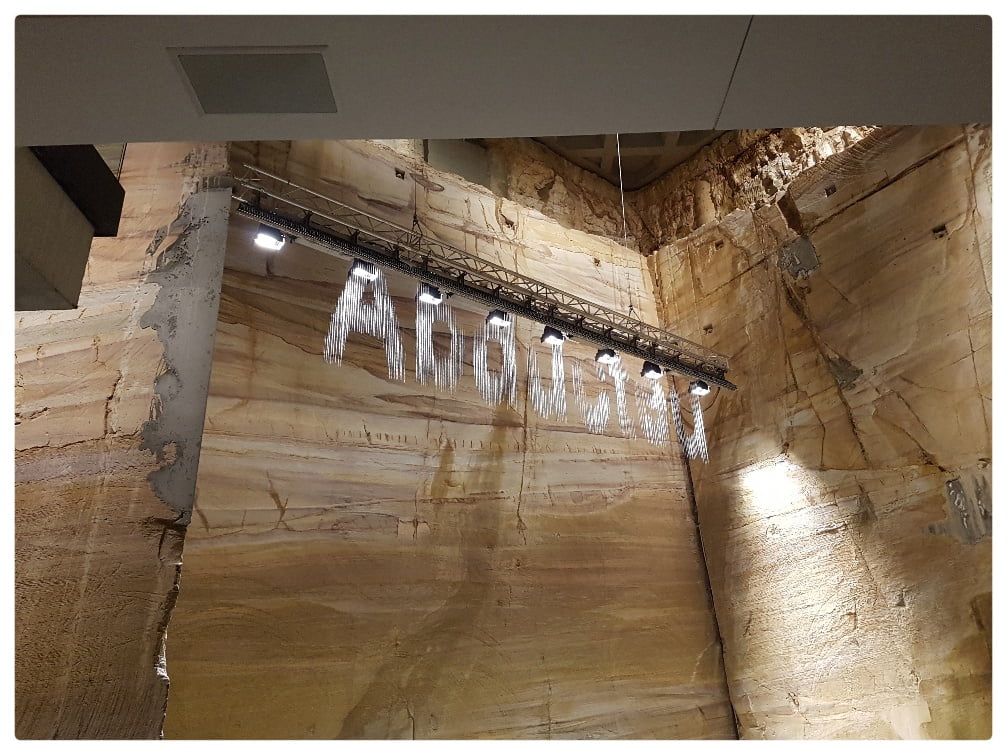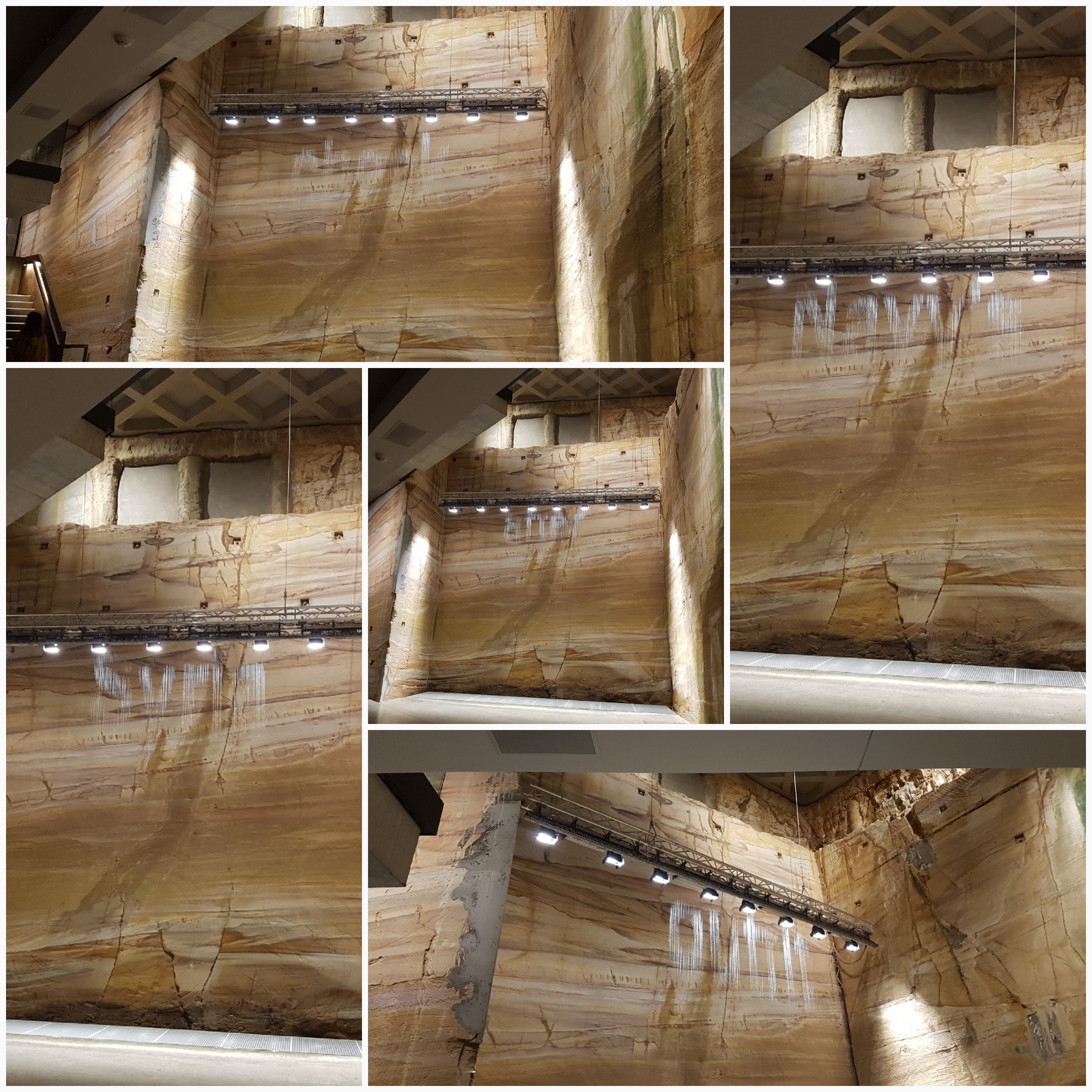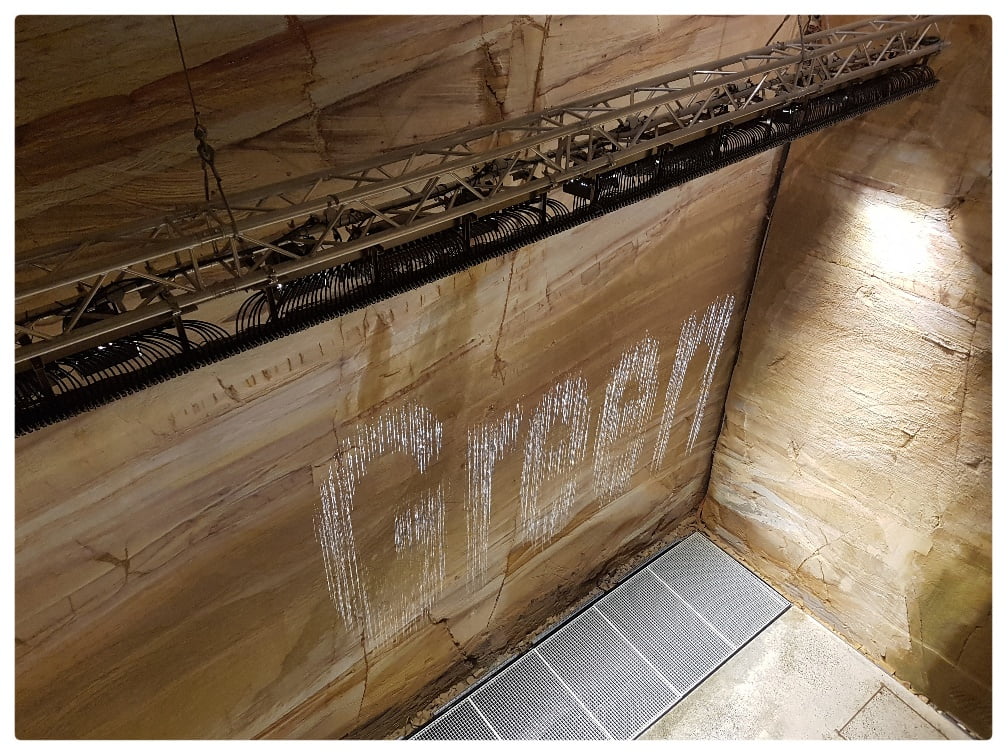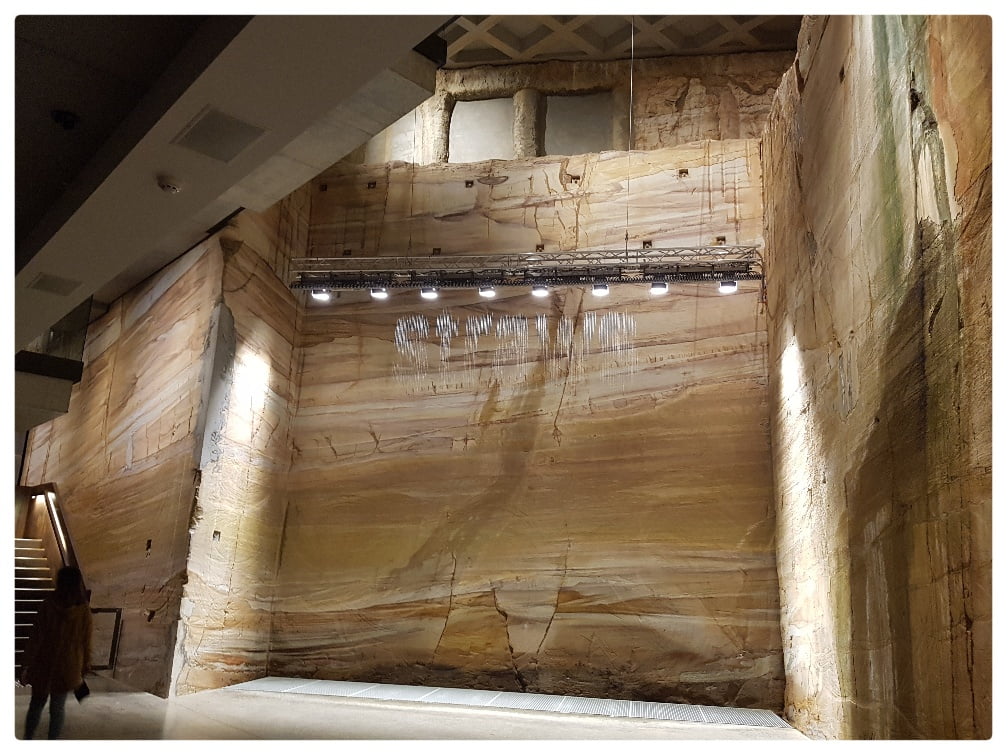 When you reach the bottom level there was a water installation called Bit Pop by Julius Fall that spanned nearly three levels. My pictures may not do it justice, but as the water fell it formed words, ad hoc, and then trickled into space; it was powerful and ephemeral in one breath and weirdly hypnotizing.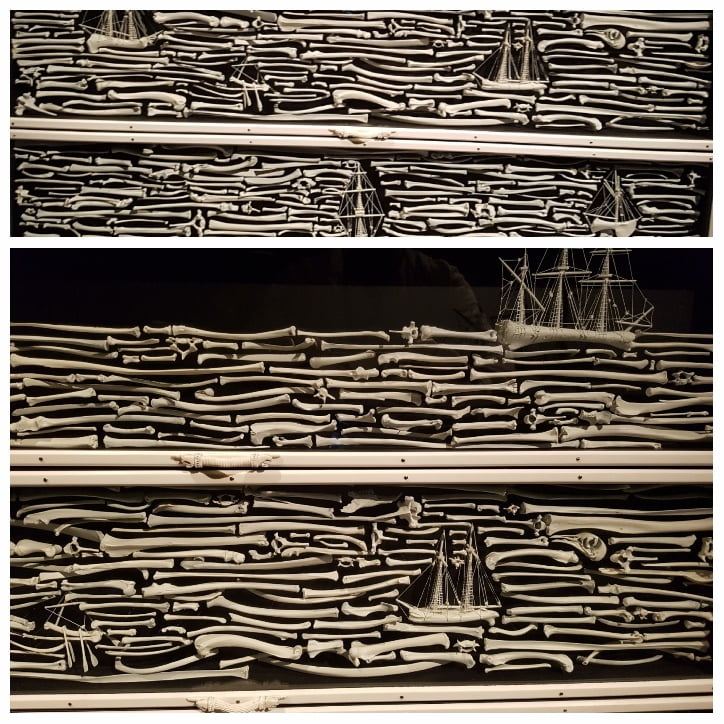 Another unusual and captivating piece was called Bounty by Patrick Hall which was a construction of real bones representing the ocean.
The current exhibit at the museum has a theme of lesser known or unrecognized artists.  Naifs, hermits, ex-soldiers, stone forgers, pastors, priests, beauticians, collectors, obsessives, free hand artists, typographers, cartoonists, inventors, politicos.  In short, people compelled to be artists, not just names.  In this vein: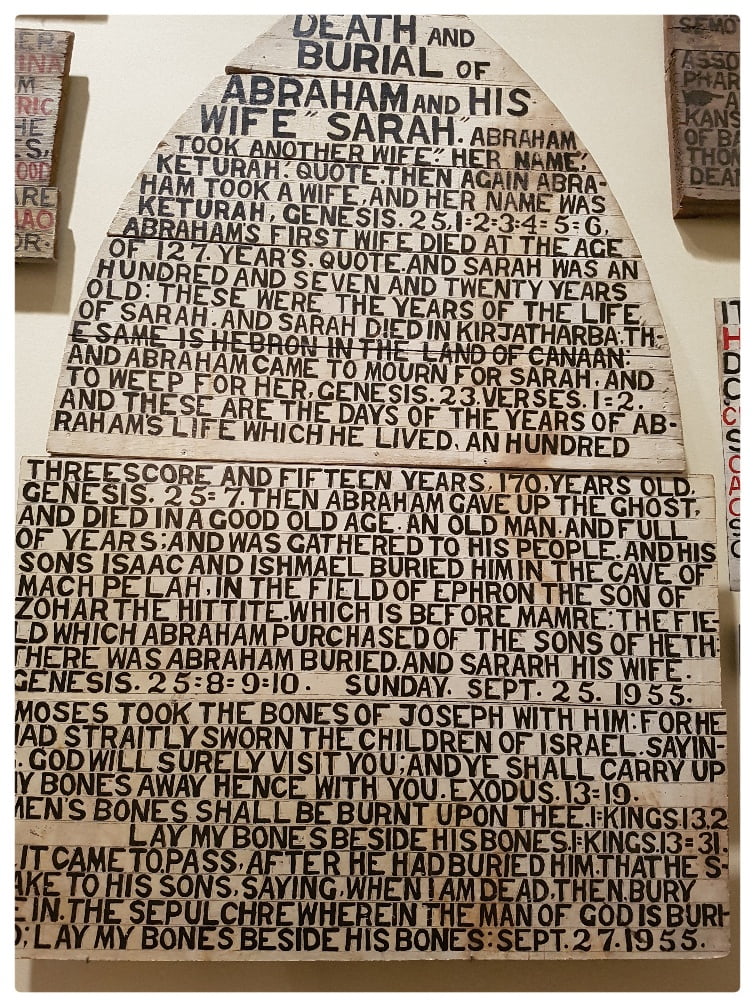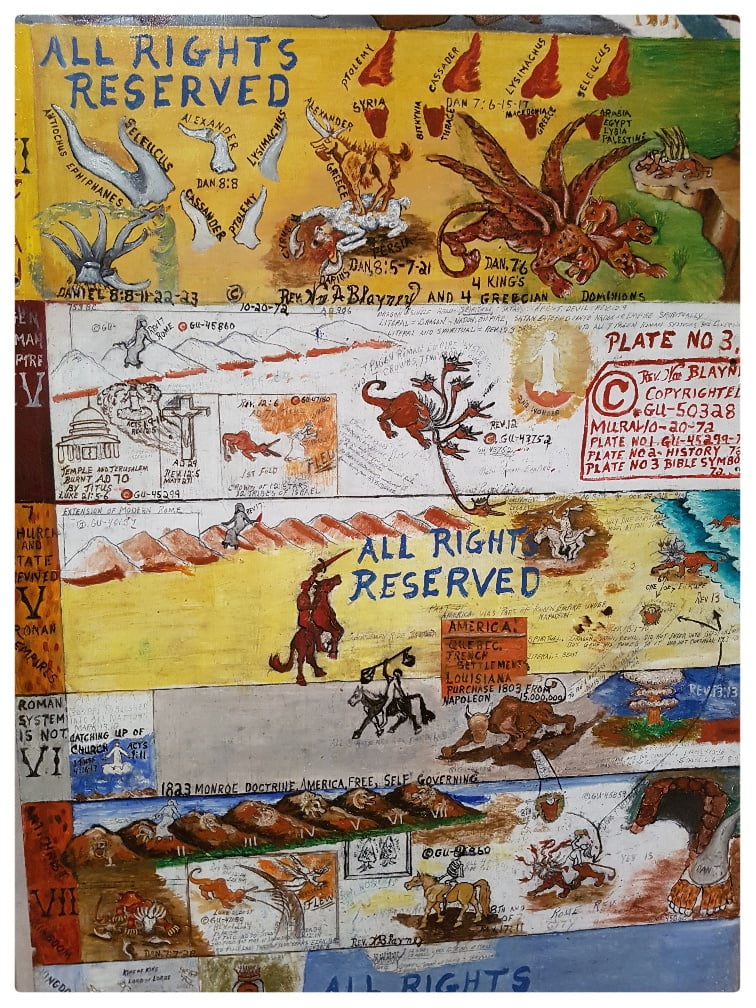 Two rooms focused on pastors and their biblical art; these "preaching plates" from 1958.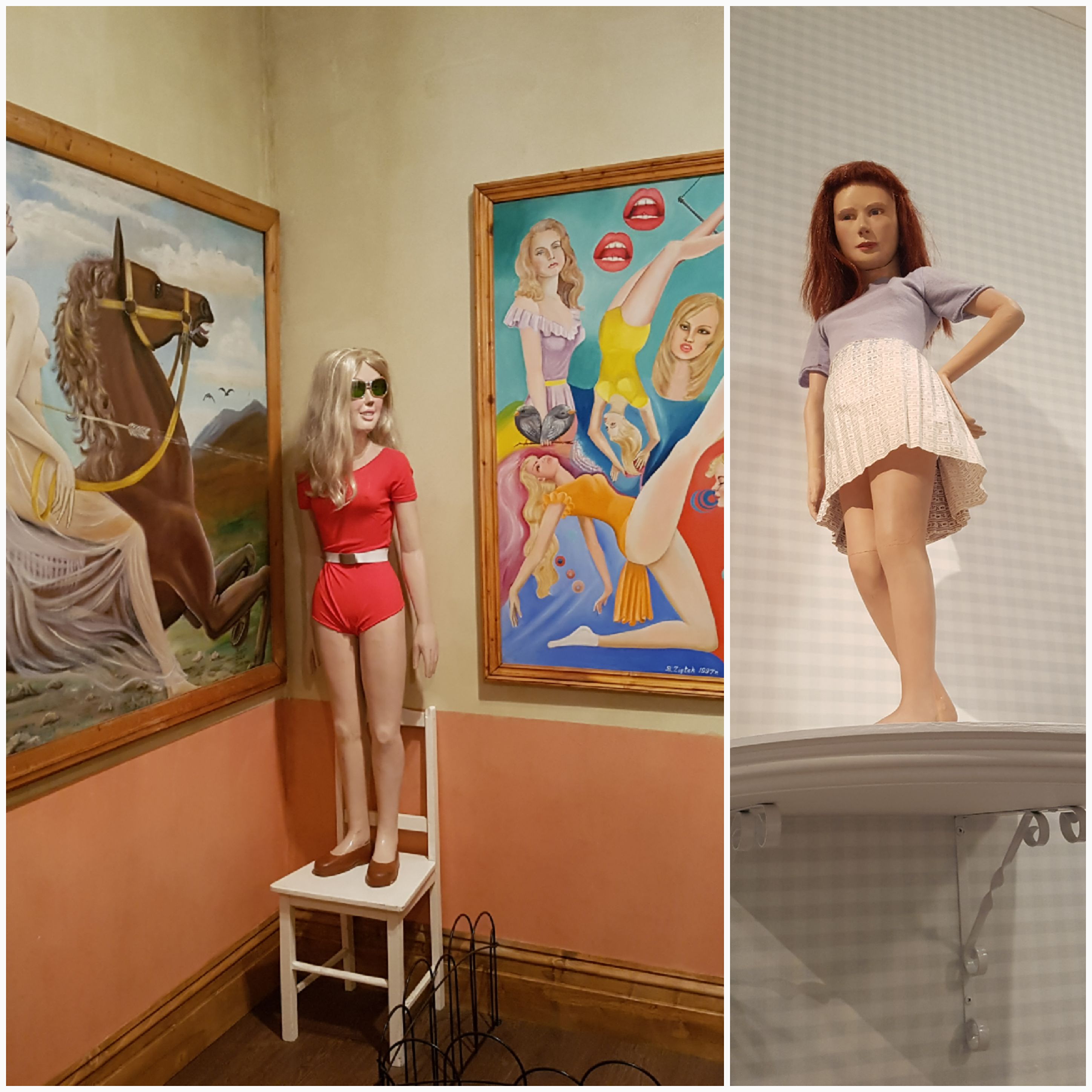 An artist, Morton Bartlett, obsessed with young mannequins.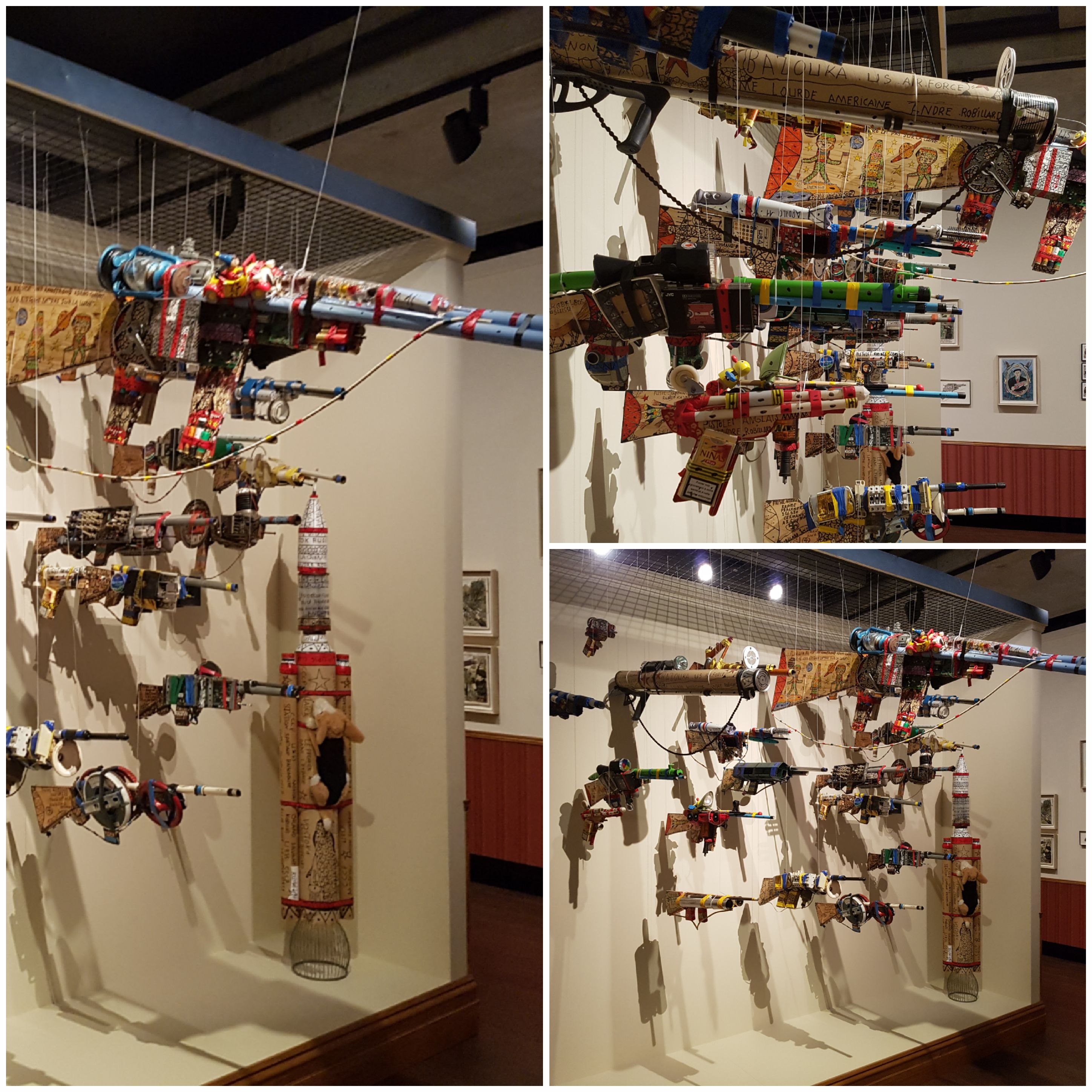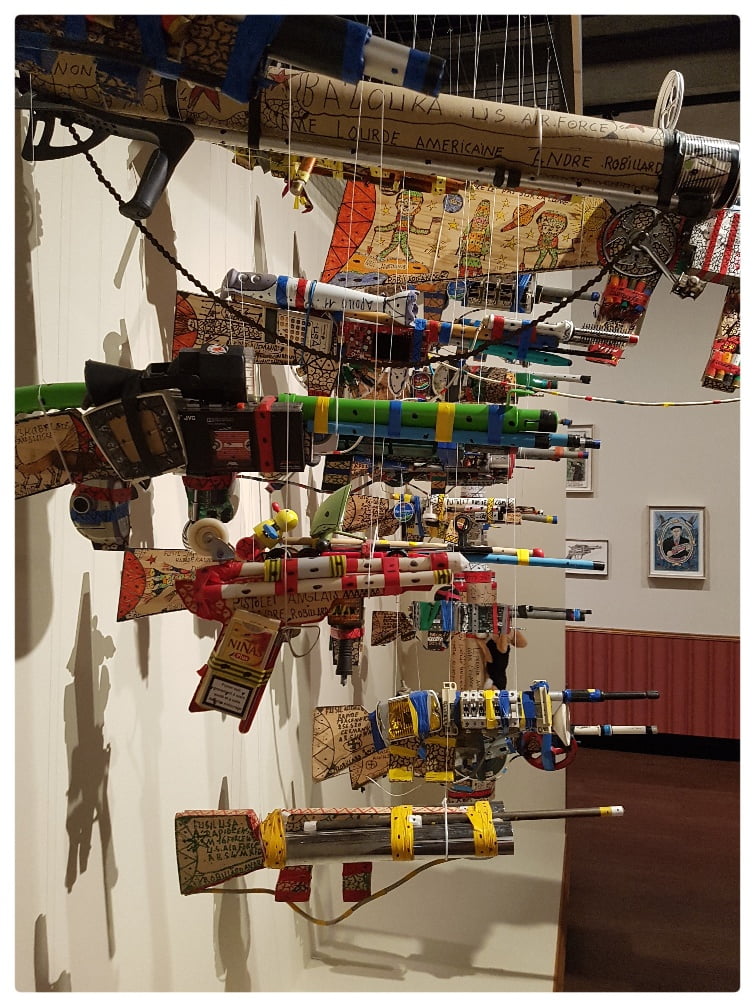 Andre Robillard's 23 guns and rocket launchers.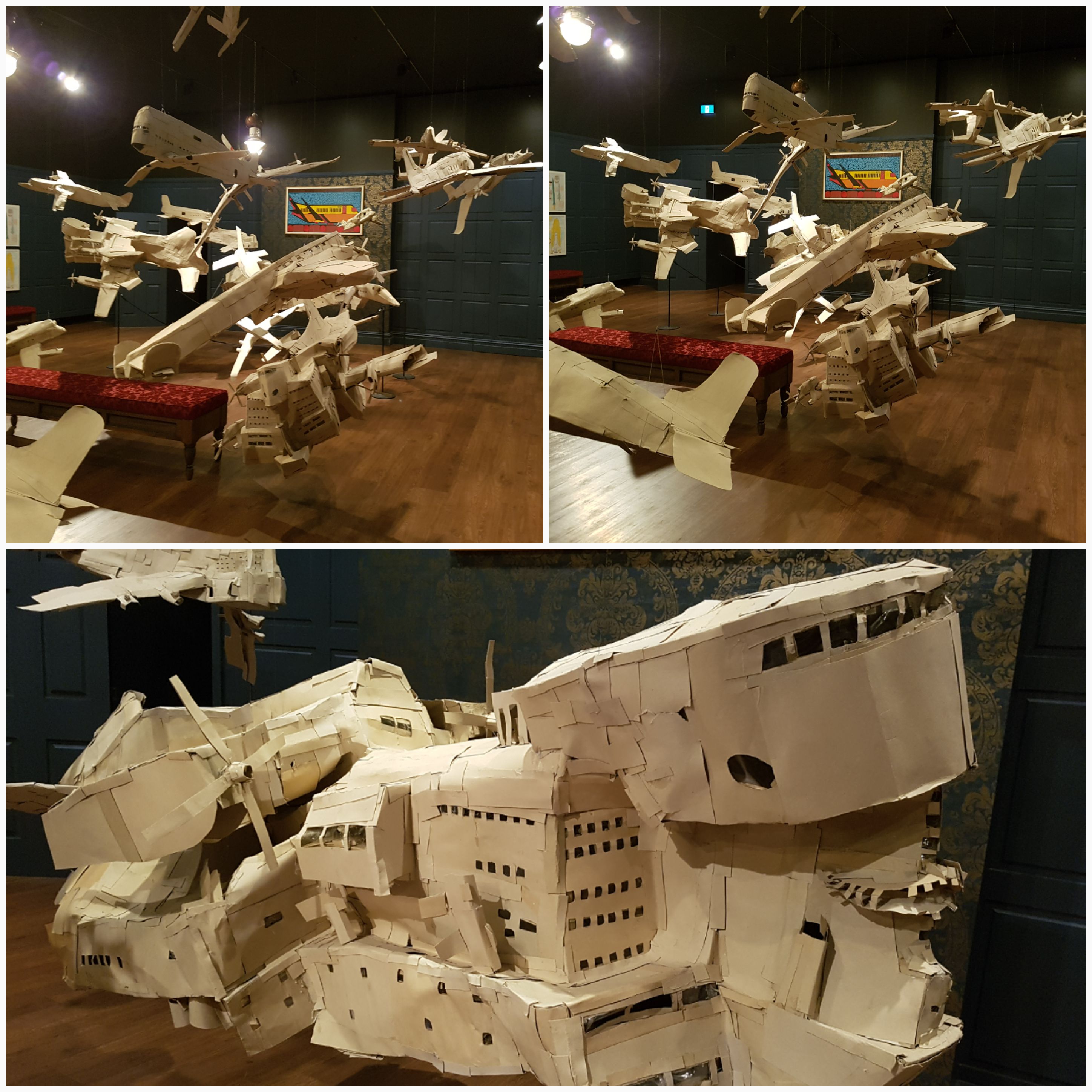 Hans-Jorg Georgi's 24 cardboard airplanes.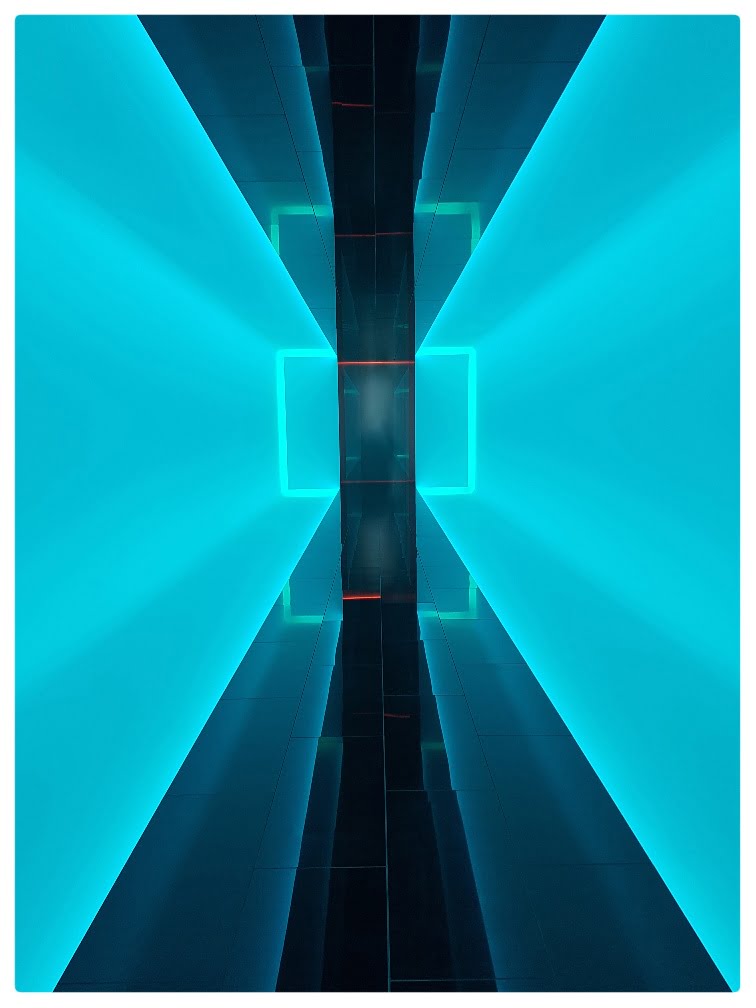 At one point we queued for "an experience" in a room called Event Horizon by an artist called James Turrell.  Basically, about seven of us took off our shoes, surrendered our devices, put on white sockettes, and then entered a large room of rounded white walls and various lighting coordinates, where there was a staff person in a white smock who looked at the ground and ensured we didn't touch the walls or sit, and there we stood for 16 or so minutes, as the lights changed colour and, on occasion, strobes went off.  It was a little bit Woody Allen's Sleeper and a little bit Kubrick's 2001.  Ho hum on the hallucinatory experience but en route, you pass through a light hallway, pictured above, which was (for me) totally disorienting and weirdly uncomfortable.  The pic doesn't do the size justice, as it was about 10 feet wide and 16 high.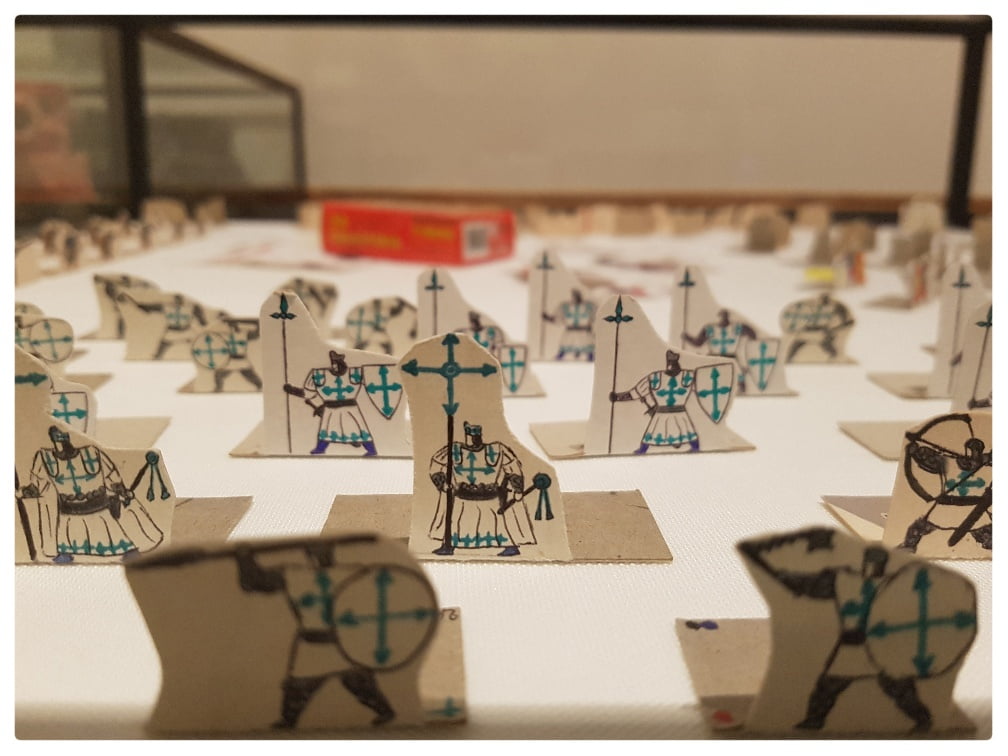 I can't remember the details, but a Russian ex-soldier focused on recreating historical soldiers, to the tune of an army of nearly 2,000.
Was everything great?  No.  No, no, no. Lot's but not all.  Take, e.g., this collage: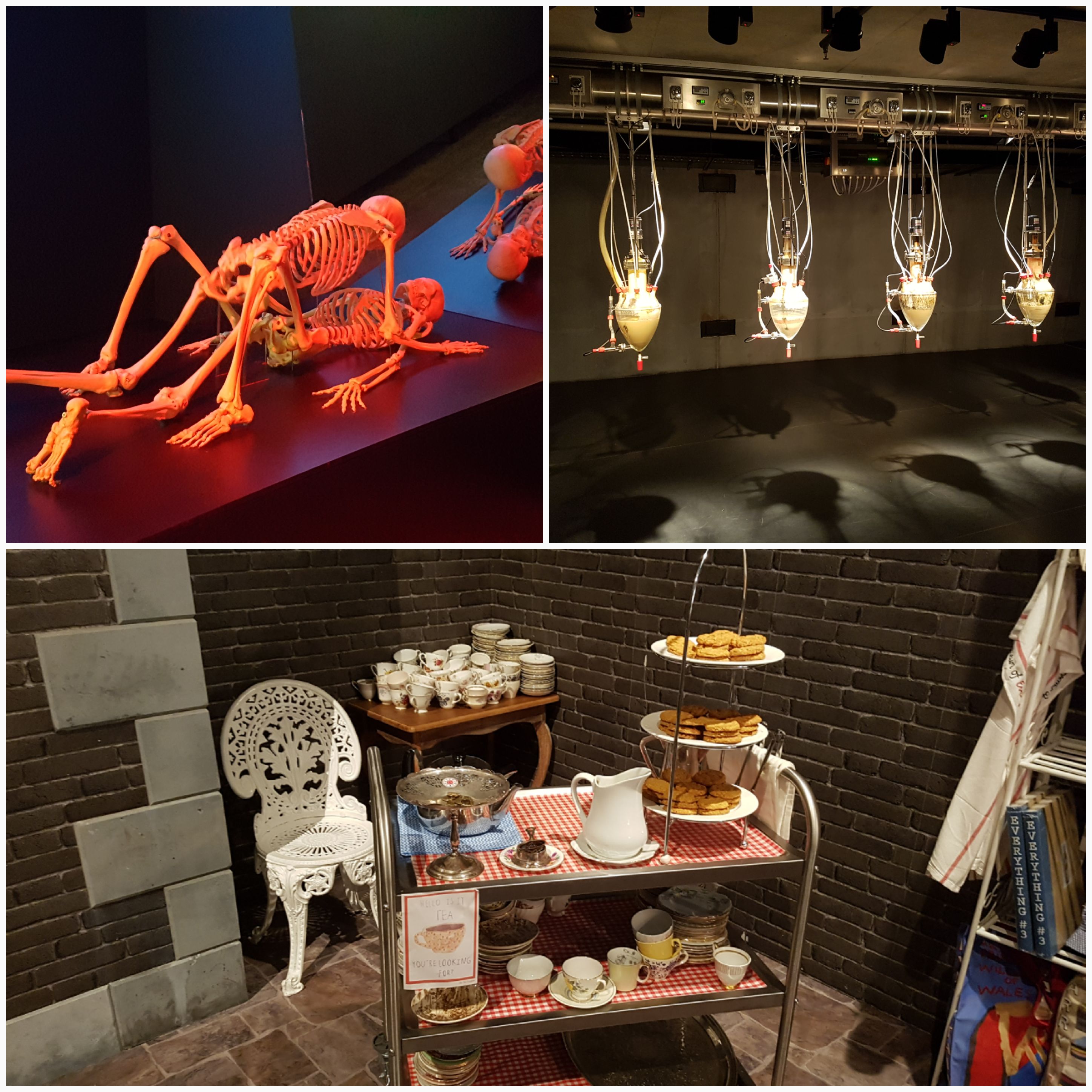 The skeletons, well, let's just say they speak for themselves.  The hanging devices, Cloaca, by "radical" Belgian conceptual artist Wim Delvoye, is essentially a poop machine which, when provided with food at one end will, on a daily basis (at 2 p.m. to be exact) produce some fecal matter.  I am not kidding.  And as for the tea cart, that was a bit twee: When you exit the basement you go through a screen door into what elsewhere would be a standard museum shop but here has an older woman (your mum) offering to serve you tea.  For free.  Hmmmm.
But the good far outweighed the crap.  The crap.  Geddit?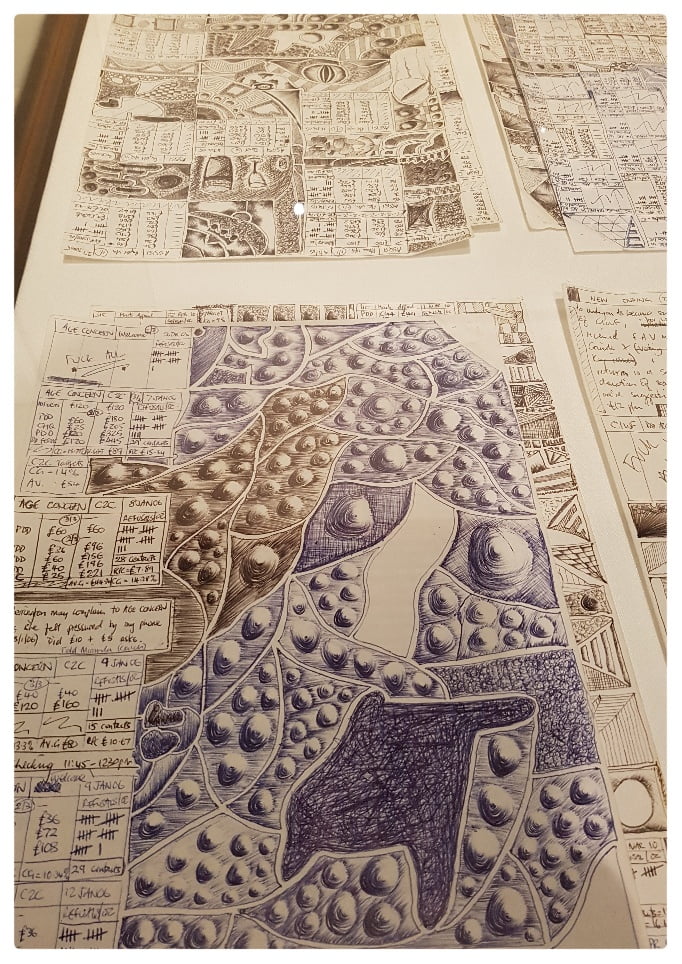 One of my absolute favorites were 12 exquisite, intricate and inexplicable "doodles" by an artist who drew them while working at a call centre.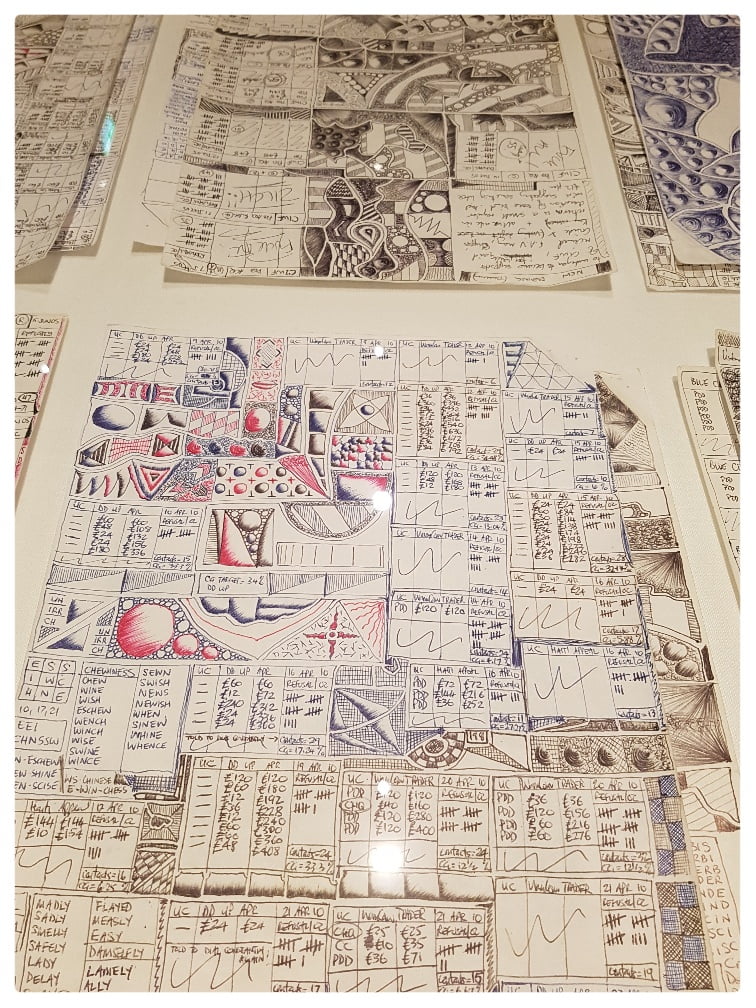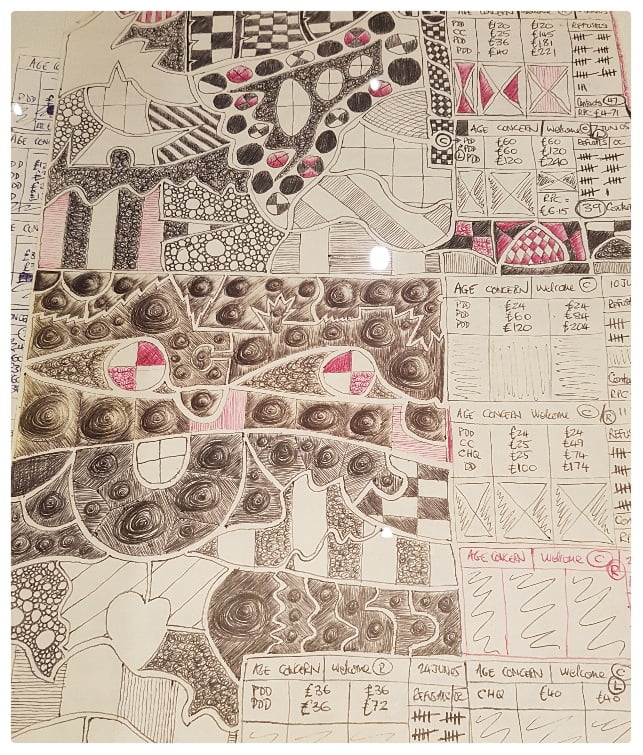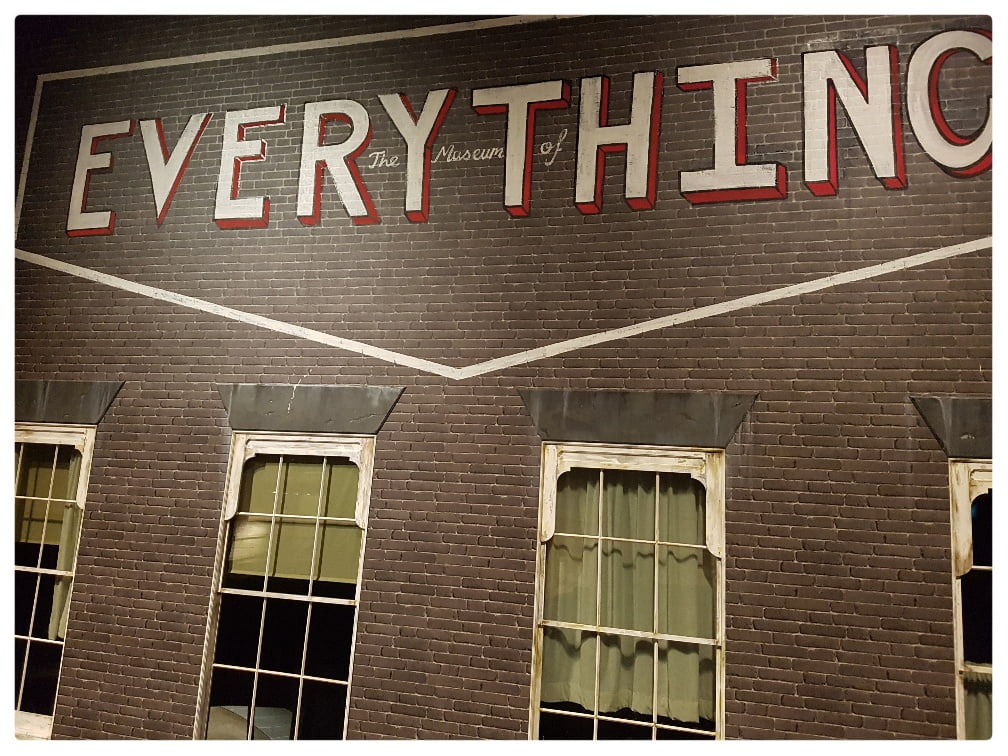 That's the wall outside the tea shop…  We had lunch on the grounds at a café at a picnic table in the shade; salmon on greens and Spanish omelette.  Then we drove back the hotel, dropped off the car, and walked into north Hobart.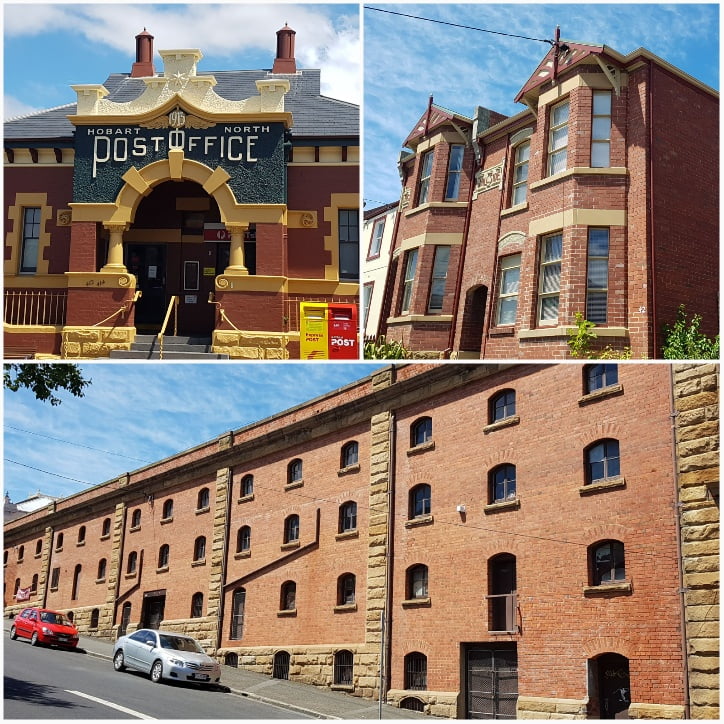 Can you tell what city you're in?  Bristol?  Newcastle?  Milton Keynes?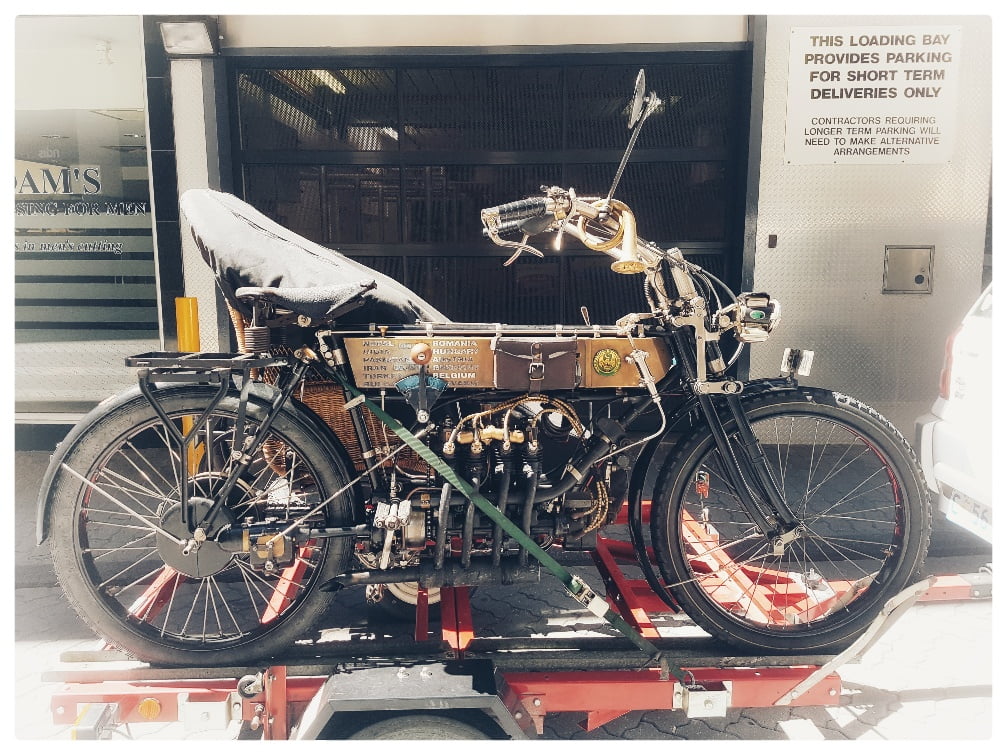 We ran into an old guy who had a 1910 FN (Fabrique Nationale) motorbike who had driven it across Asia and Europe, from Nepal to the UK, not dissimilar to what I did in 1985 except he skipped Africa (!), but of course we were in a reconditioned Bedford.  No Room for Watermelons was his published diary.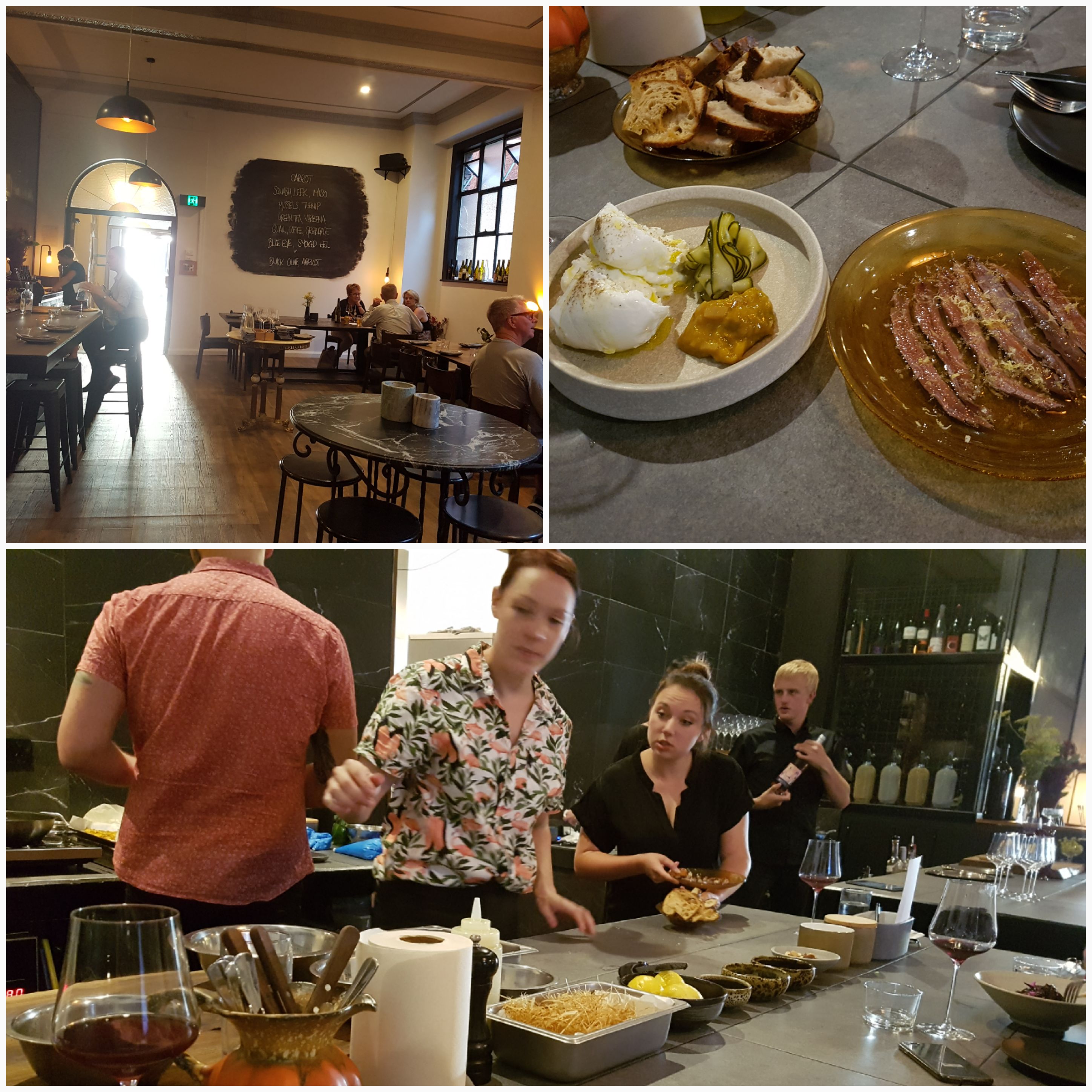 In the evening we headed out to another "hot" Hobart restaurant, Dier Makr.  They do a degustation menu, not really my thing, but on Sunday it's simpler and a la carte.  We ate a sensational small dinner for not very much. For starters, pictured, buratta, rhubarb chutney and pickled cucumber, and anchovies in lemon.  We sat at the kitchen so to speak; the chef knew the chef at Farmer's Apprentice, two blocks from my office.  Small world.