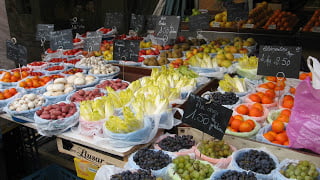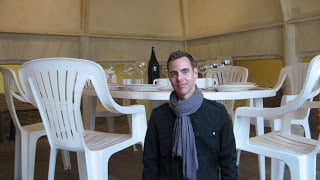 Suffering from severe malnutrition, SS begins to shrink.
Et voici mon ami Anne.  For those who remember.  And for those who do, that's about the extent of my French these days.
The sun took several hours to cut through the haze today, which, along with a bitter wind in the AM left us seeing our breath (and forced me to buy an eight euro scarf in H&M).  We went to Dijon to see the Friday morning market which left us in-between buildings and out of what little sun there was.  It finally felt like October should feel.
The market wasn't a let down, it was a foodie paradise: Tiny cherry tomatoes from Sicily, no less than three types of fresh raspberries from the south of France, even fresh red currants, a slew of truffles and wild mushrooms, enormous heads of splayed escarole, charcuterie in mounds, sweets, dried fruits, butchers with anonymous cuts of meat.  But there was no non-food highlight, no curios or "bijoux" and the clothing stalls looked like they came from an Oxfam drop to Angola which somehow got re-routed to Marseille.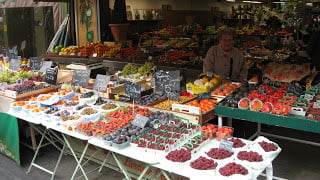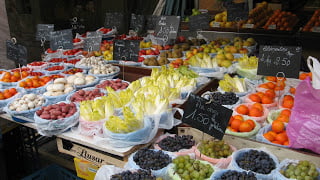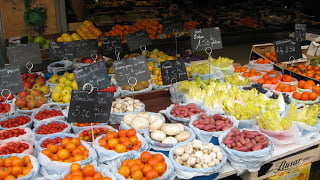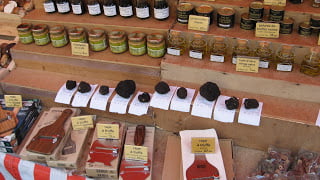 Truffles: 15 Euros and up…
Dijon is an interesting spot but certainly not quaint; it is an old, functional city full of industrious sorts, a sort of Ethel Merman of France.  The most interesting architectural aspects are the remaining medieval houses which are sandwiched between more modern builds, uneven, aslope, even tilting, as if to give way any moment.  As with many towns the centre is "pedestrianized" and parking at a minimum so we had to go underground which was no mean feat; we actually had to fold in both rear view mirrors just to make the harrowing hard right turns down each level.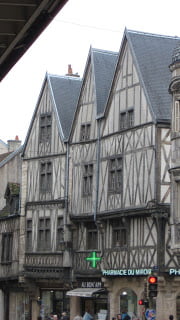 Medieval buildings on the high street
The coffee spot we had decided on for the morning, where a doctor turned coffee roaster has taken the region by storm, travelling to hand pick his beans, personally roasting them on site, wasn't even close to opening at half ten (half an hour past his stated opening time) which only underscores how the French take a leisurely coffee.  We had coffee in a bar where I read in the IHT that eight of the twelve oil refineries in the country are at half mast due to strike action and that there could be shortages next week.  We are filling up every day, usually in a queue, with signs already stating 10 litre maximums for jerry cans.
The Duke's Palace in Dijon is the go to site, free, three floors of art from various eras and places.  I was expecting, on a mini scale, something resembling the palace in St Petersburg, but alas post-revolutionary France made a point of leaving as little "d'origine" as possible.  The top two floors were an uneven selection of impressionist and 20th century pieces including (believe it or not) a bronze statue made by Sarah Bernhardt; yes that Sarah Bernhardt.  Otherwise the usual drivel, Monet, Manet, Sisley, Braque, Gris.  (Just joking.)  The "grand" floor was an assortment of medieval pieces from when it was actually the duke's home (circa 1100-1500), mostly religious art, tapestries and sculpture.  I looked hard for the Titian(s?) to no avail.  One room, though, was astonishing.  An archaeologist from Dijon had amassed one of the most diverse collection of Egyptian art I'd seen outside of Cairo; everyday objects, coffins, etc.  There were even exceptional (and exceptionally preserved) paintings from the time of Hadrian (first c AD) which blew away the medieval triptychs.  How and why Egypt hasn't demanded repatriation is a mystery. Afterwards (of course) the cathedral. The Dijon Notre Dame, a classic gothic church, has been updated over the years with art and stained glass and although the bones are "early" gothic (i.e., 1100 AD) the original frescoes have not been resuscitated.  I accidentally went into confessional (which SS watched with delight).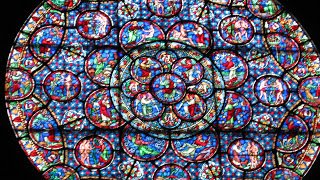 Stained glass added to Notre Dame in the 1700s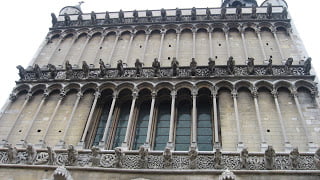 Three rows of gargoyles line the entrance facade to ND
After our culture fix we took lunch at a classic bistro, Bistrot des Halles, (checkered table cloths, wooden banquettes) in the centre.  I had the 17 euro prix fixe (a lightly curried squash soup with roasted duck, roast guinea fowl with scalloped potatoes and a semolina cake in raspberry sauce) and SS had a starter (terrine) and a pear cobbler, for 19 euros!
We set out for the Architectural Museum but somehow misplaced our city map and wandered aimlessly as, what I like to call "Vancouver sun" came out, and we eventually ended up in a park where there was a statue of Pierre Poupon (a bit of a surprise given that I thought Grey Poupon, a US mustard, was a marketing name akin to Hagen Dasz).
We took the toll road (freeway) back to Nuits-St-George (1.50 euros) late in the afternoon.  Speed limit 130.  Didn't take the Citroen past 120 though.
No culinary adventures to report on today.  Our attempt to eat dinner at Ma Cuisine, a Beaune hot spot with 23 euro pf dinners, fell through, as did another at Beaune's version of Gordon's in London.  We ended up at a "terroir" restaurant; we both had a wonderful green bean, marjoram and salmon roe soup (sounds dreadful but it actually worked), a bresse chicken roasted with a wild rice and greens side, and a simple fresh, warm cake with white chocolate pistachio ice cream along with a dollop of blackberry preserves so concentrated it reminded me of jelly tots.

Bresse hen
Tomorrow: West to Morvan.  Oh, btw, we found the Dijon map.  It was folded neatly in the Dijon section of the guide book.