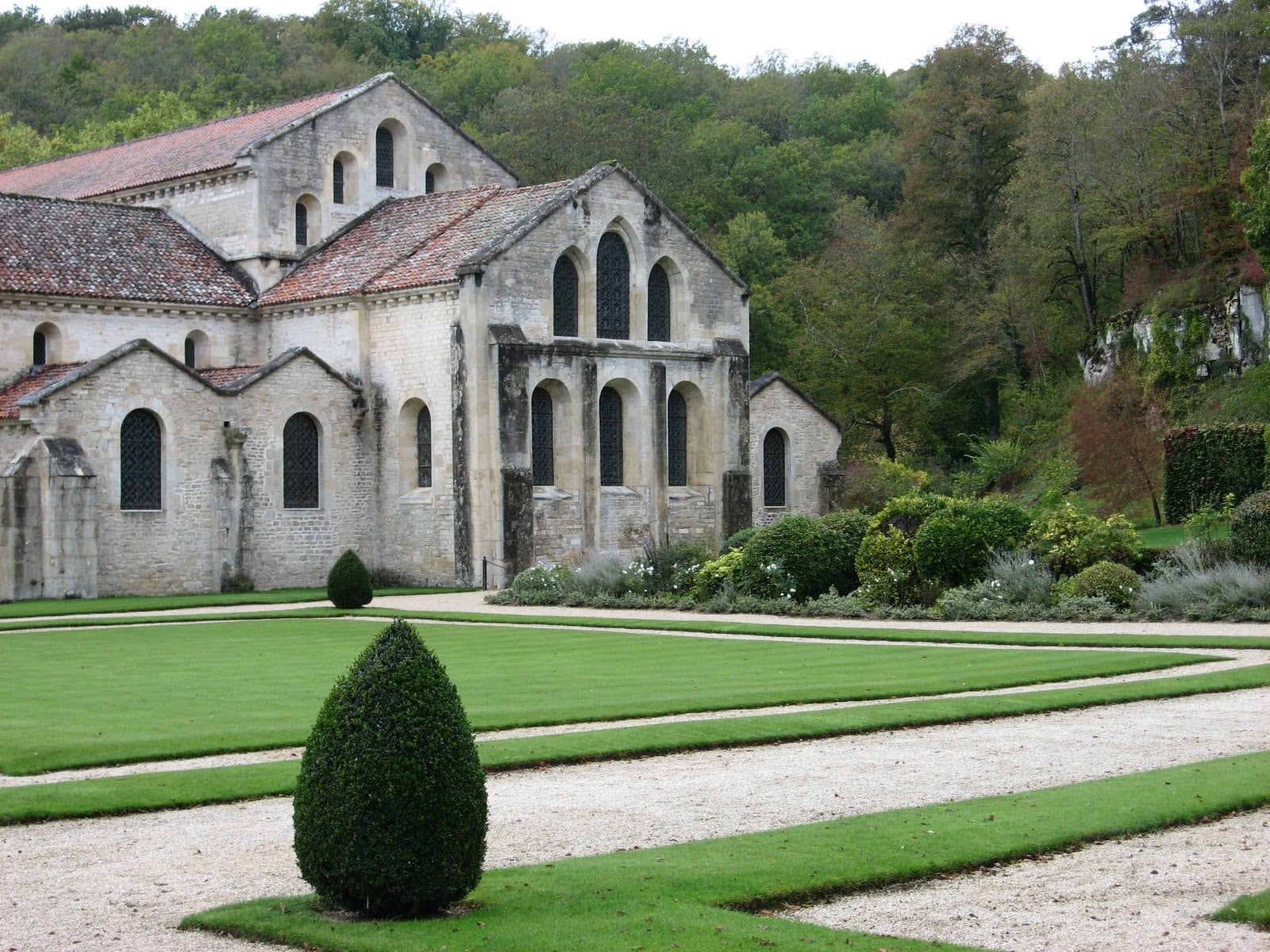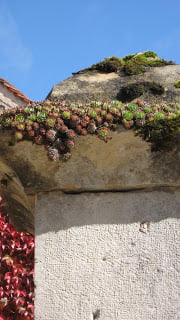 For Heather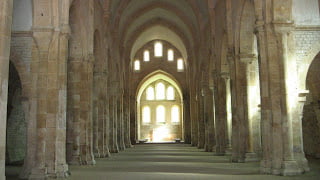 The medieval church at Fontenay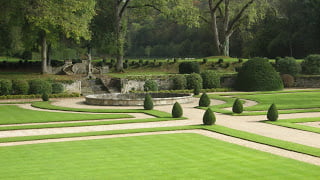 The "grand" garden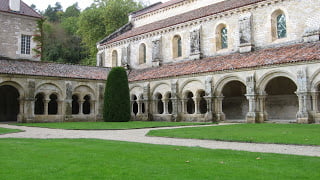 The cloister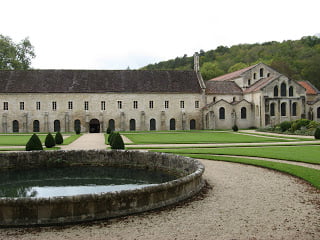 The barnlike room is the monks' dormitory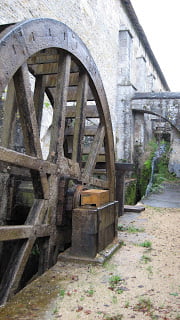 It actually works!
Woke up to rain!  Checked out Saturday AM from LR, drove south to Beaune then northwest to Saulieu, where it was chilly (8) but only drizzling; it's a pleasant hilltop town, lively, with a small market, medieval cobblestone streets, and a Bernard Loiseau restaurant with 145 Euro tasting menus (and the occasional penguin emerging from the staff entrance for a smoke).  OK lunch at a local brasserie (where they refused to take orders at 11:55 as the kitchen didn't open until noon) with wooden floors and all manner of socializing and coming and going, including dogs off lead, children dancing, disarray and weekend chaos, it was a mix of the Saturna cafe on Saturday and an elementary schoolyard at recess.  Took a leak after lunch and it was the porcelain steps (or what I used to call "France's gift to Morocco"); that was a throwback.  We then drove north to Fontenay.
We have been travelling the "D" routes, two lane no-toll roads that are, to put it mildly, absolutely over the top obscenely picturesque.  They have three great characteristics.  First, no billboards; I couldn't hit on it at first why it was so enjoyable to drive these roads then I got it, no ads, no distractions.  Second, very little traffic.  Third, no golden arches, nothing corporate of any sort; it's an old farmhouse cafe or bar or nothing at all.   But, ultimately, it's the idyllic view which makes them so alluring.  Rolling hills, contented Charolais cattle, romping sheep, hedgerow corn fields, tree-lined streams, old castles and chateaux and cathedrals across the various "mountain" tops, thousand year old barns in various stages of function or decay.  The difference between the east, where virtually every square inch of ground available is dedicated to vineyards, and the west, too high and wet for wine, is remarkable.  The west of Burgundy is the scenic one of canal trips and country inns and chequered forests.  We saw a few hunters along the way (in orange vests with rifles slung on their shoulders) but none with bounty.
Fontenay Abbey lies just north of Mont Bard, on the larger side but along the very appealing Burgundy Canal (which can be hiked, biked, sailed).  The Abbey, one of the oldest in France, dates to 1118.  It spreads out over acres of lush farmland with myriad springs filtering into pools and ponds.  It still has a working water wheel.  In keeping with French history, it was turned into a paper factory after the revolution, but by 1900 was on the road to "rehabilitation."  Today it's a UNESCO World Heritage Site (as per, it seems, half of Burgundy).
Afterwards south to our new lodging.  For our current leg we're staying just outside Autun, which dates to Roman times and has many ruins.  Then, as if that wasn't enough, it has an "old" town from medieval days characterized by a cathedral which is a bit of an architectural potpourri: founded in the 400s, rebuilt in the 1100s, then modified in the 1400s.  (NB: I am getting all my architectural advice from the expert; please don't Wikipedia my accuracy.)
We have lucked out with our choice in B&B; Moulin Renaudiots, an old, large, stone chateaux, completely refurbished this decade, a mix of old French country and Danish modern.  The ancient wood beams remain but the giant concrete hearths have been replaced with wood burning fireplaces and concrete floors with insulation have been laid to "level" everything.  There is an east garden with a pool (for the summer) and a west garden, looking over the valley into town and next to a rushing stream.  We have direct access to the west garden from a lovely two room suite, with a bathroom window to the east.  There is also a dog, Ulysses, is a petit griffon basset vendeen, cafe crème brown, long like a dachsund but bigger than Tony, and with undeniable Bette Davis eyes.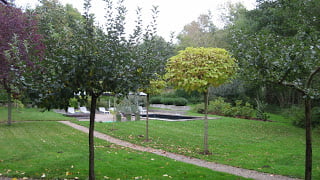 East garden, from the bathroom window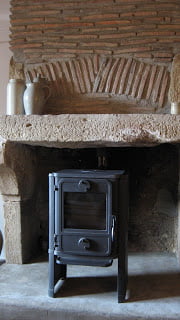 Sitting room fireplace
For dinner into Autun by the centre to a swank new place opposite the cathedral, La Chapitre.  SS had a starter with fried snails and all manner of vegetable matter, I had the most exquisite crab cake with slices of roast tomatoes and a flawless avocado cream; he had poisson bar for main (we still haven't figured out what that was) and I had mackerel; then he had a cheese course; then we both had lemon tart, a lemon wafer with lemon cream and lemon meringue and lemon sorbet and none of it acid, what an accomplishment!  But not terroir, the grail of our guidebook.  Back early-ish but too tired to blog.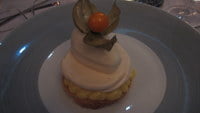 Lemon tart to die for