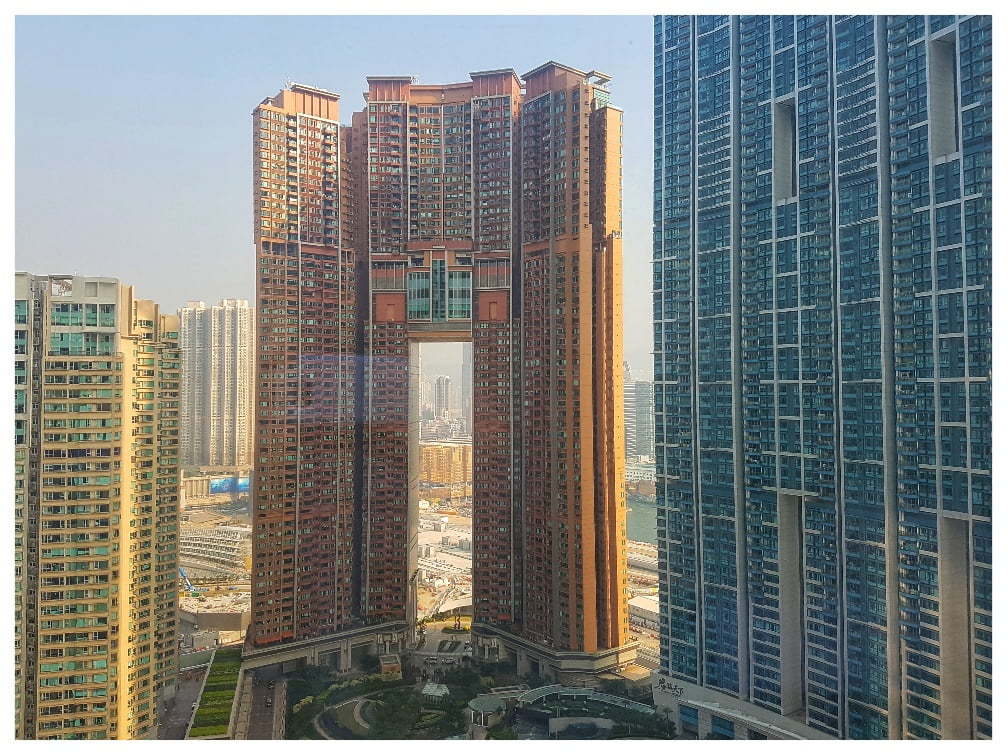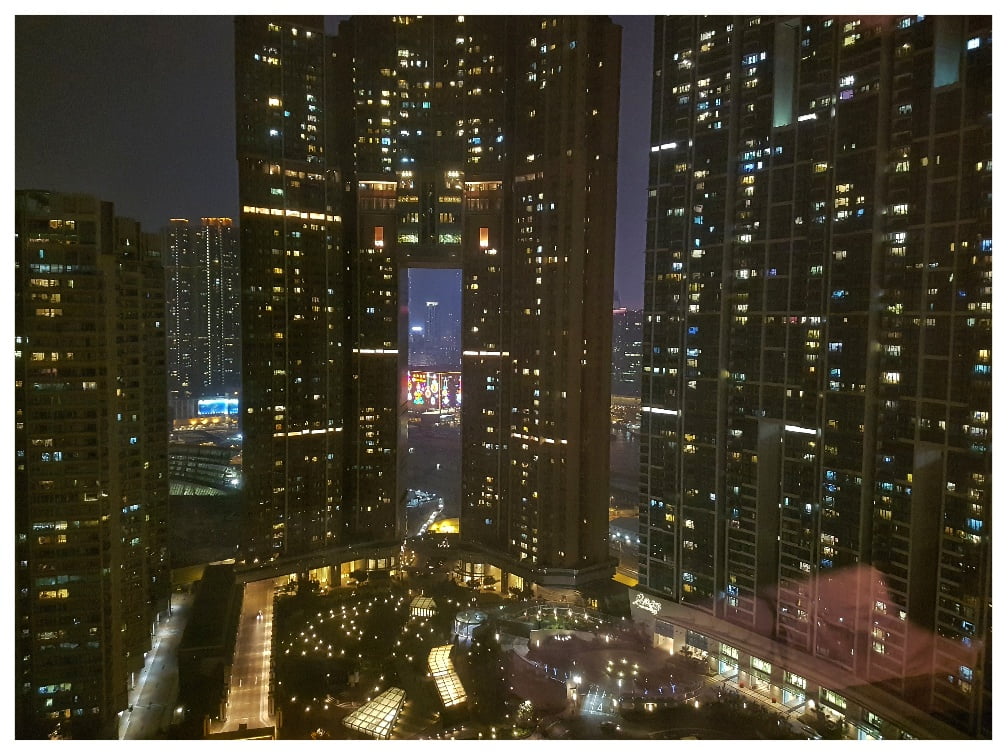 Saturday was quite beautiful (as the hazy weather in HK goes) and I was able to get a few decent view pics from the room, day and night.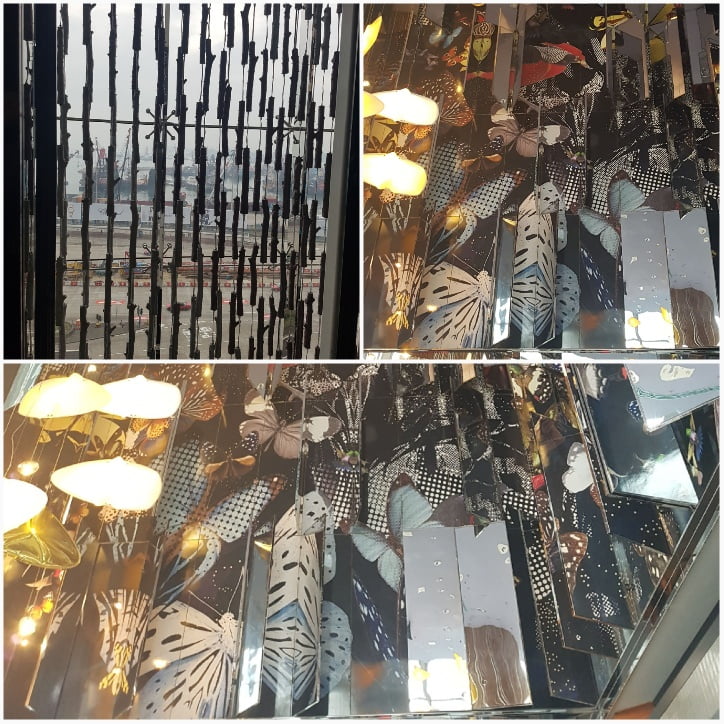 The mish-mash above is the ludicrous design in the W foyer bar and a shot of the see-through elevators that connect the hotel with the mall.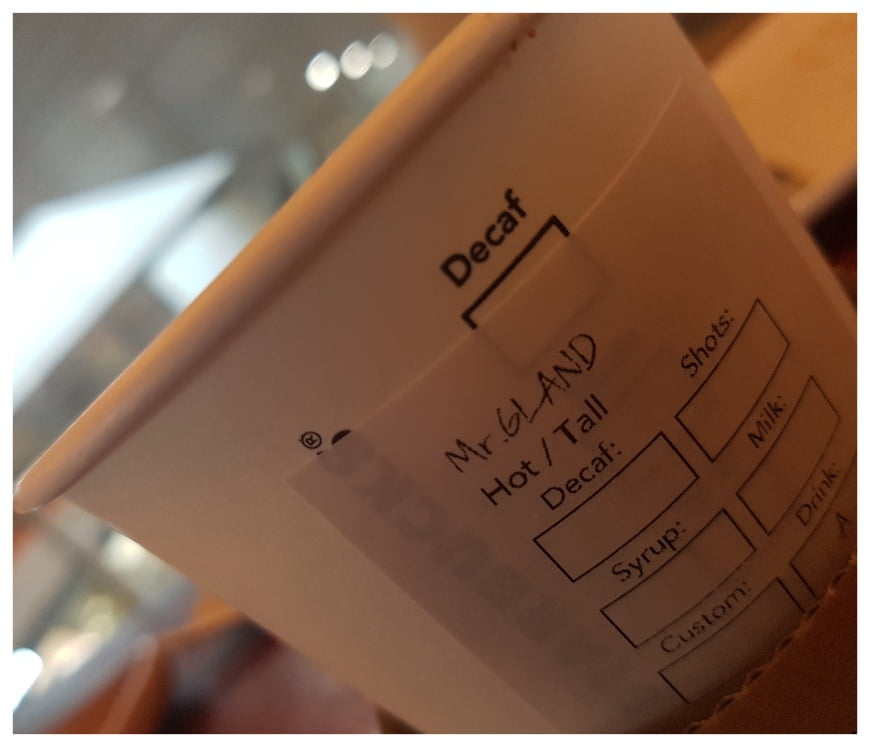 They call me Mr. Gland: Downstairs first thing for our usual morning brew.  I remember in Sri Lanka how difficult it was for them to get the "e" in Glenn correct; it was always easier just to let people call me Canada.
Not being terribly familiar with Kowloon, outside the Elements mall, we decided to explore Nathan Road.  (The Elements, I think I haven't posted, is like existing in J. G. Ballard's High Rise, a vertical gated community.  In case of demonstrations or riots it could easily be barricaded off from the actual world.  There is vehicle access off a few ramps, underground parking, but no pedestrian access except through one minor overpass.  According to Wikipedia there is 1,000,000 square feet of space.  The mall serves thousand and thousands who live in all the various high-end skyscrapers that lie on the perimeter fortress style surrounding an inner courtyard; there is shopping in the mall, an ice rink, a multiplex–1600 seat cinema, largest in HK–access to the airport and metro trains, and security galore.  But you can't ever simply walk out onto the street.  The mall private roof top gardens?  Yes, if you must get fresh air.  But you can't walk away.  It's like a cruise ship anchored in a city).
We noticed on the first day the generous seating areas at each of the public toilets in Elements; again, according to Wiki, these are ostensibly to provide a "decent and comfortable place" to allow gentlemen to wait for their girlfriends.  At any rate, Saturday morning, after much effort, we discovered the overhead pedestrian bridge to the real world and set out on foot.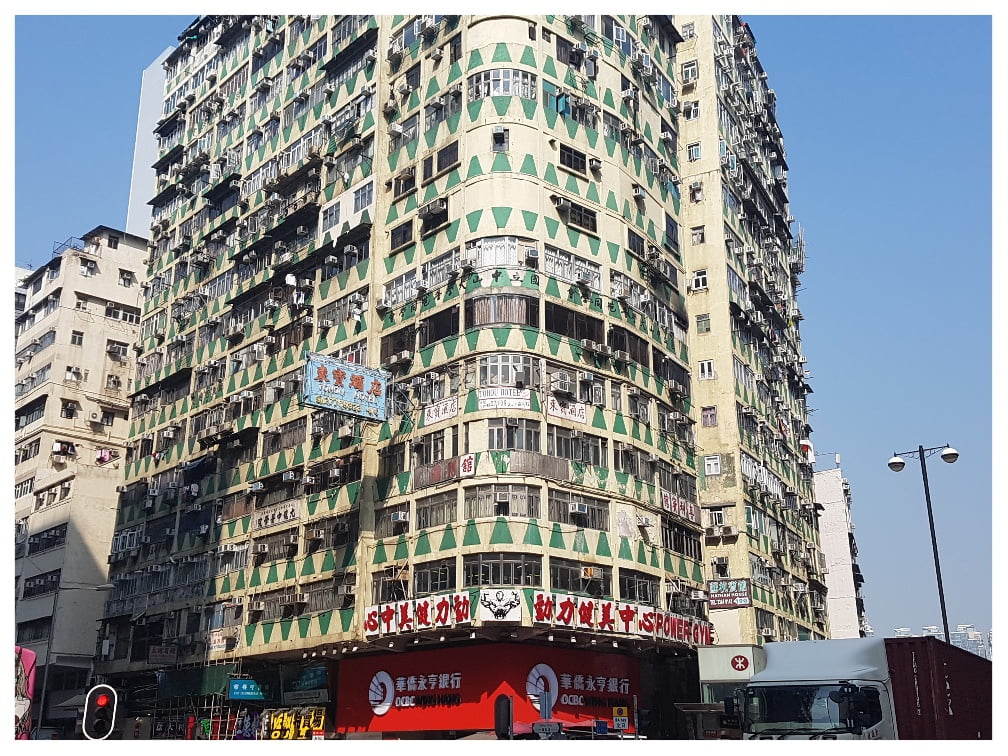 Don't know why SS didn't shortlist this lovely hotel on Nathan Rd. with easy street access?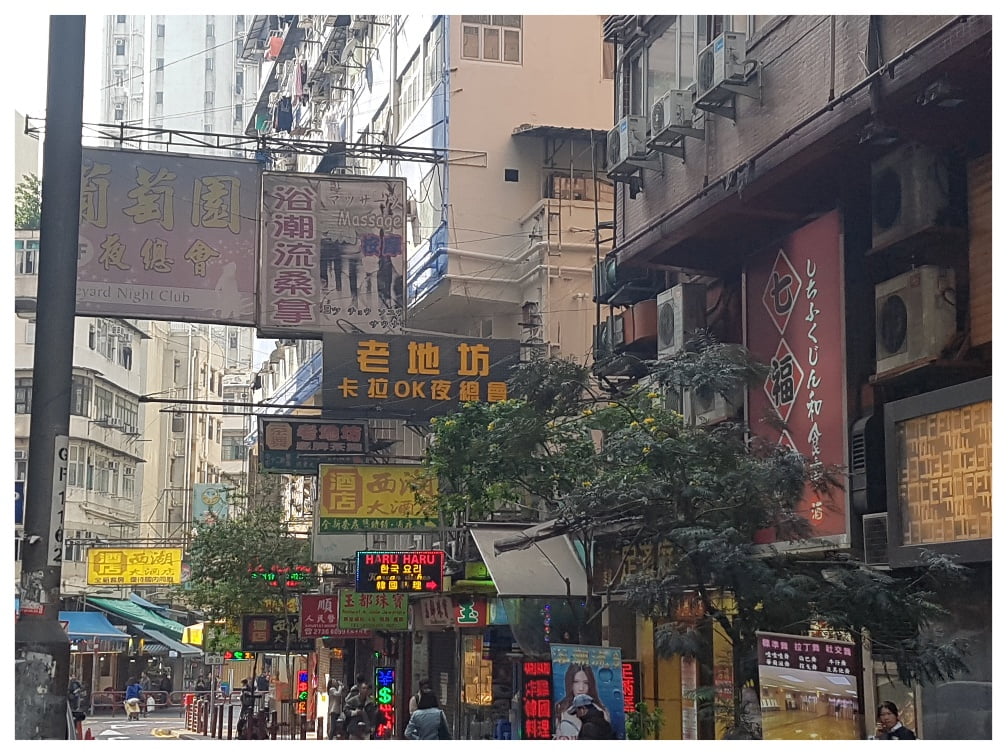 Nathan Road is sort of like if Yonge Street was as busy as it is at Queen and College and Bloor all the way to Barrie.  It's that long but umpteen times more chaotic.  At the harbour there are cultural institutions, piers, high end hotels (the Intercon, Shangri-la, Peninsula, etc.).  But as you head down the avenue it gets distinctly less posh.  The authentic mingles with the knock-off, the common with the elite, Rolex fades to Casio as you wander deep down the avenue, and the crowds get denser, more intense and frantic.  Raw meat on hooks open air at a butcher, bags of clean and dirty laundry curbside, fish in makeshift ponds, and jewellery in a volume unseen since Debbie Harry's Hairspray wig.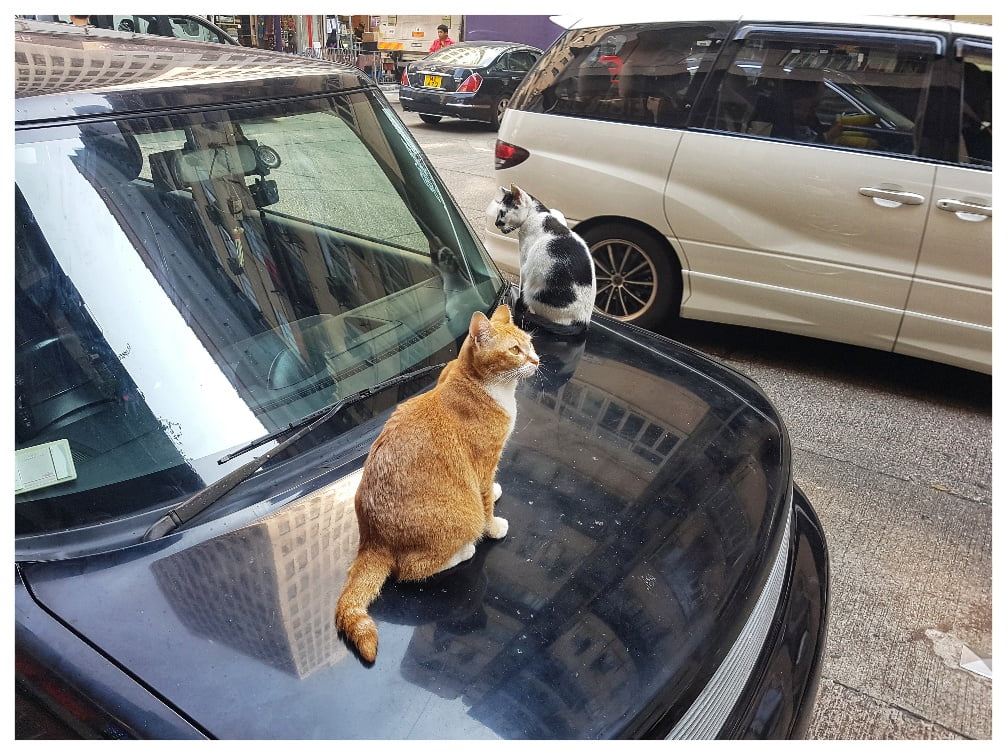 Hello Kitty.  Animals on Nathan Rd too, but mainly squeeze toy and teddies.
We did set out to find a couple of shops I'd sourced on Google but the malls were rabbit warrens, English signage non-existent, and we hit two dead ends.  Hawkers on the street and what I call the tailor peddlars (men tasked with snagging you in for a custom fitting) were particularly drawn to the two Caucasian males.  We did however exceed 20,000 steps on Stephen's Fitbit.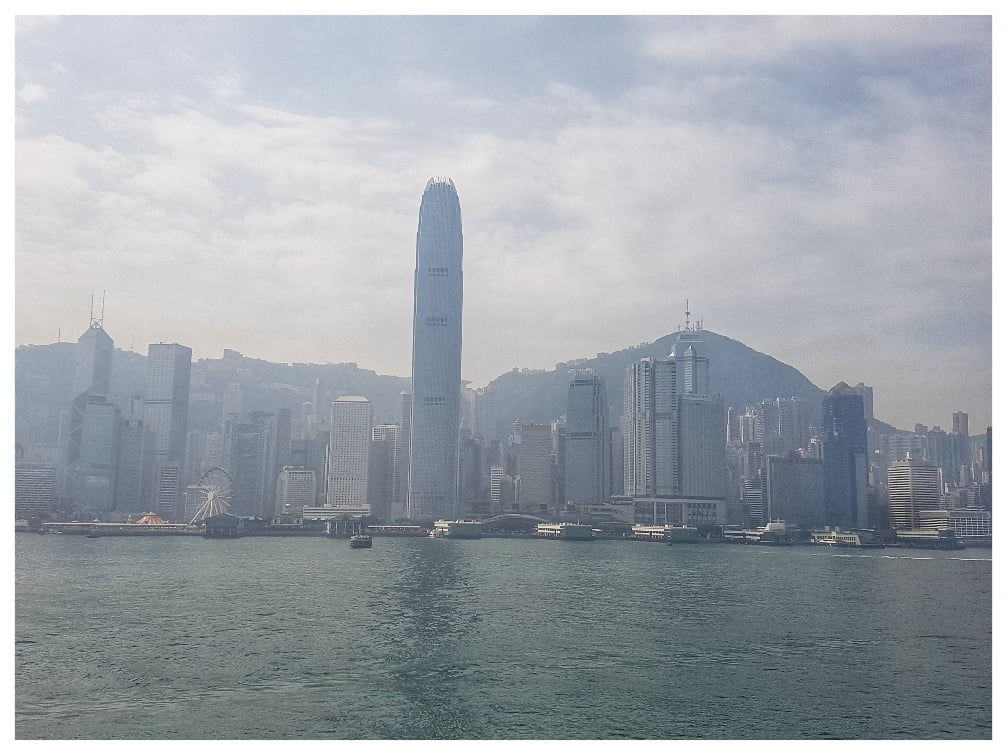 We ended up at a pier on the water where there were good views of the working harbour and the Hong Kong island skyline.  The day was nicer than the pics indicate; about 21 tops but humid.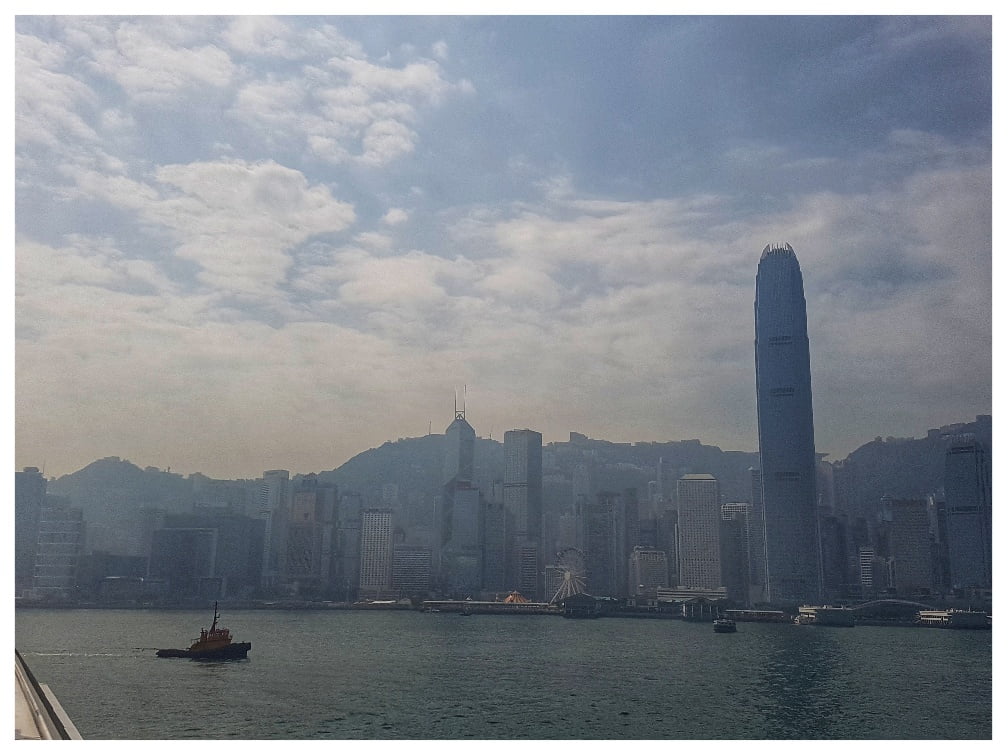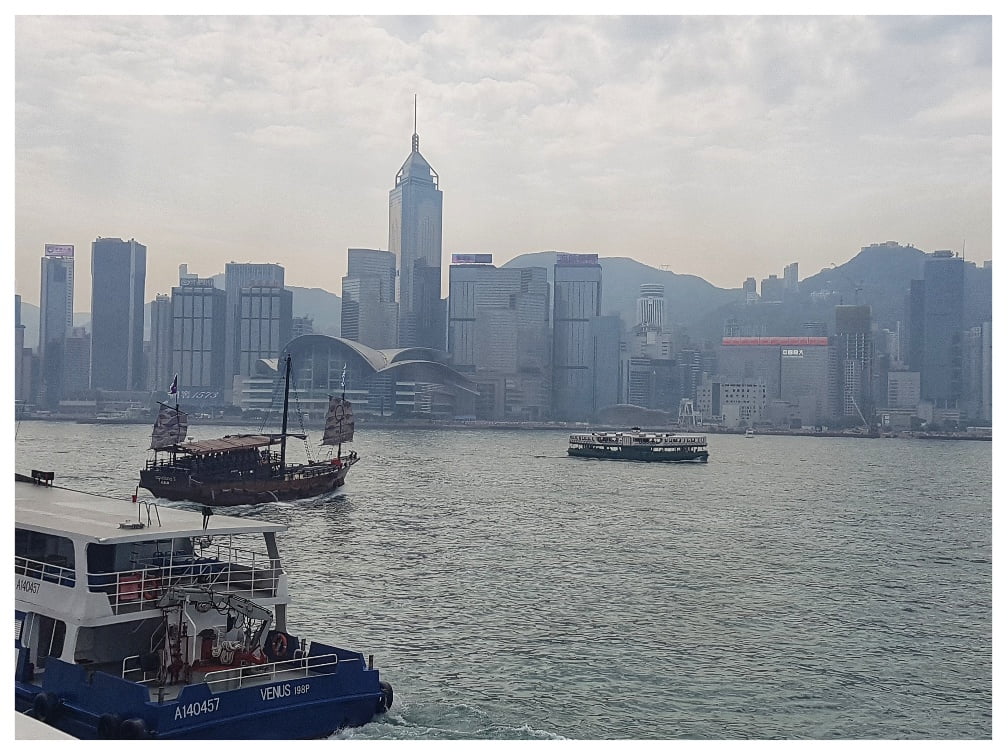 We had a tapas lunch at a place SS sourced and continued on with our trek.  At one point we stumbled into a mall where the cruise ships dock.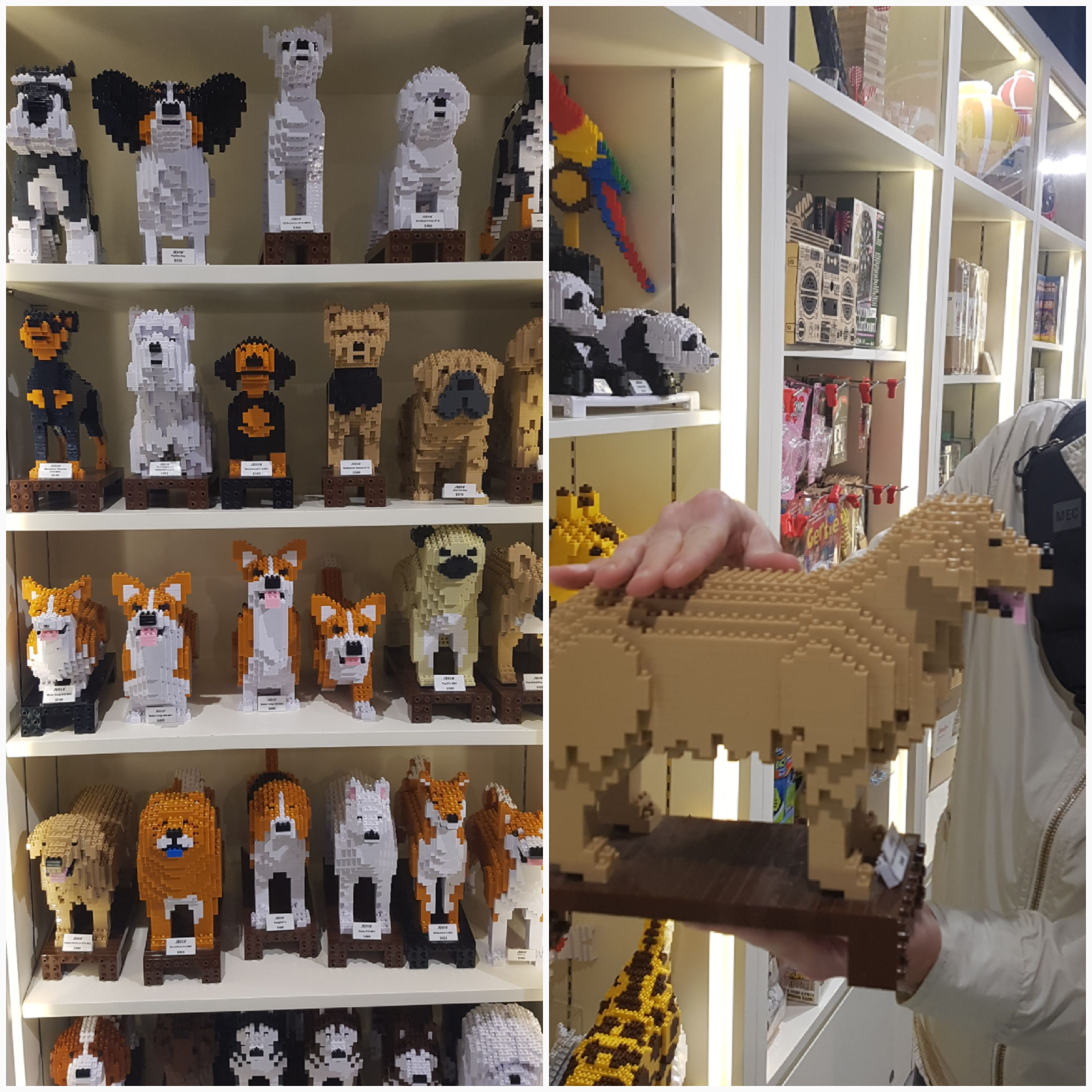 A Golden Retriever in Lego: This would look great at the Shi-Shi Palace. Wrap it with a gift tag please!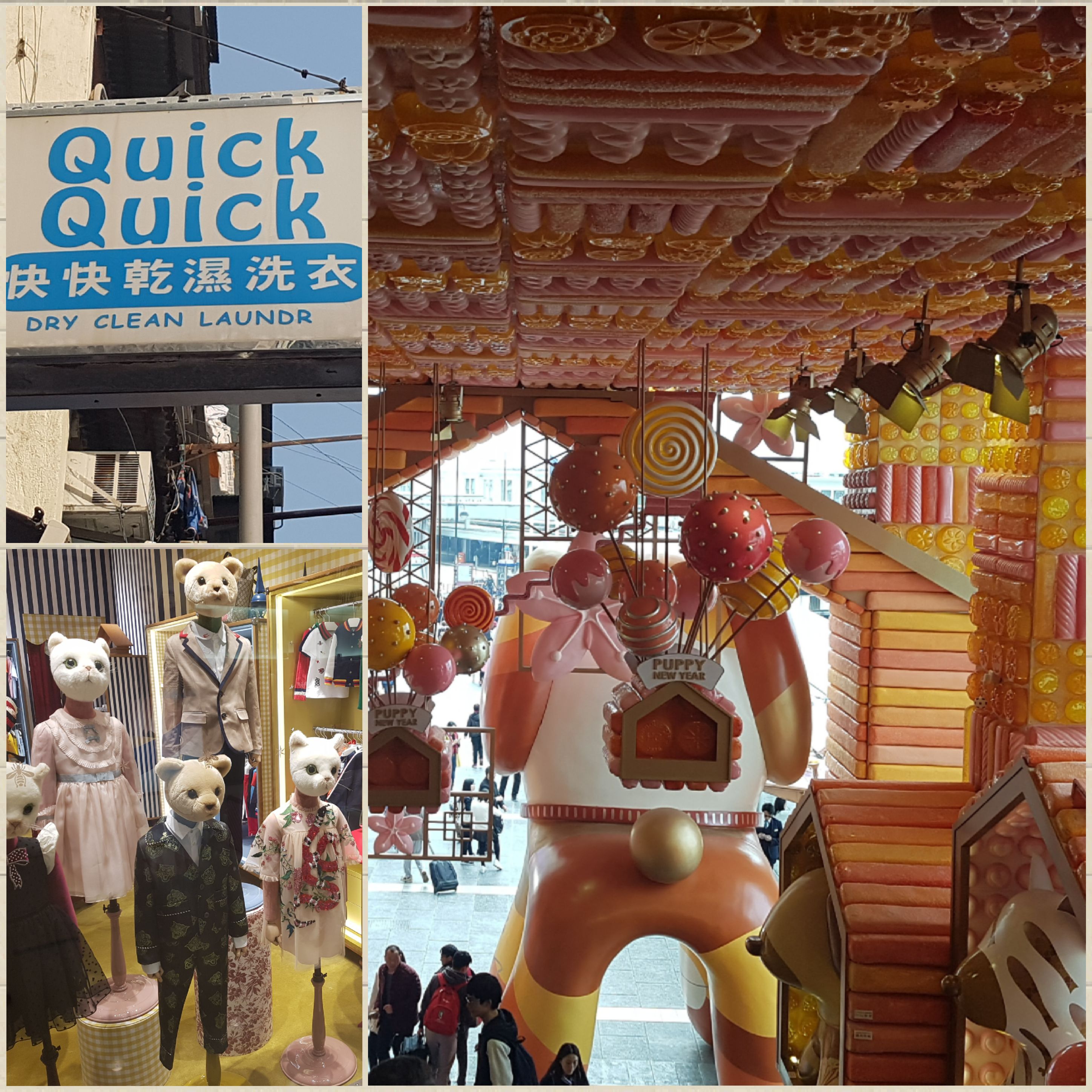 In the collage above you can see a pic from the window at Gucci children; that is right next to Dolce children which is across from Armani children.  That's right, a whole mall dedicated to designer clothes for spoiled brats. Outside the mall was an ENORMOUS New Year's display.
The evening was a sort of bookend to the holiday.  We had a significant anniversary last year.  My gift was a meal at Attica, a much-lauded Melbourne restaurant and for which there is a Netflix show about the chef, but the sitting options didn't work for my tennis schedule.  So instead SS booked us in at Amber, Dutch chef Richard Ekkebus' marriage of French and Aisan cuisine, but mostly French; it occupies an entire floor at the Landmark Mandarin Oriental.
Amber is a two-star Michelin restaurant and the #3 restaurant in Asia on the San Pellegrino best restaurant list and #24 on the same list for top 50 restaurants in the world.  We did not set out to eat ourselves to death, as the post title references, but we did come close.  This is, in general, not our style of restaurant or cuisine; but it's also something that everyone should do once in their lives.
The menu has a couple of degustation offers (we chose the one without frog's legs and sea urchin).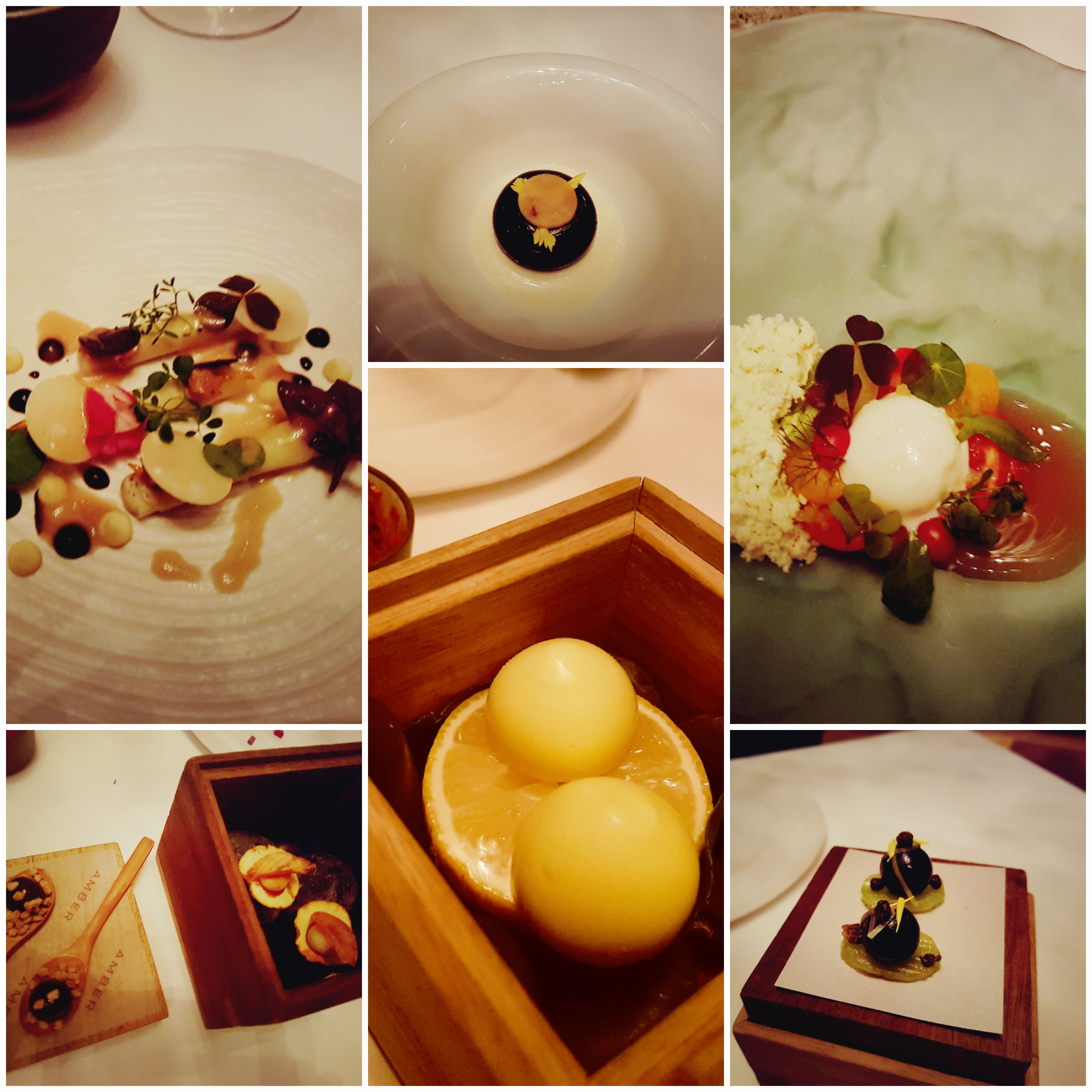 There were five amuse bouche morsels before the nine course meal.  Each amuse referenced a sense; there was sweet, salty, sour, bitter and umami.  The subtlety of each was supreme.  The little blob that looks like a curling stone was in fact duck foie gras covered in a light jelly with chestnut and truffle and celeriac and a dish you really could only get at a place like Amber.  In the menu proper they subbed two courses for me, the oyster and the langoustine were replaced with two spectacular veg options, heirloom tomatoes with tomato water and pickled rose petal and in the top left a picture of the other vegetarian sub for the oyster, globe artichoke with hedgehog mushrooms, truffle dressing and mushroom tea.  Each course with a dollop or drizzle wasn't merely sauce; if you dipped the tyne of your fork in you could taste sensational depth, how, and how long it took to create these flavour notes is anyone's guess.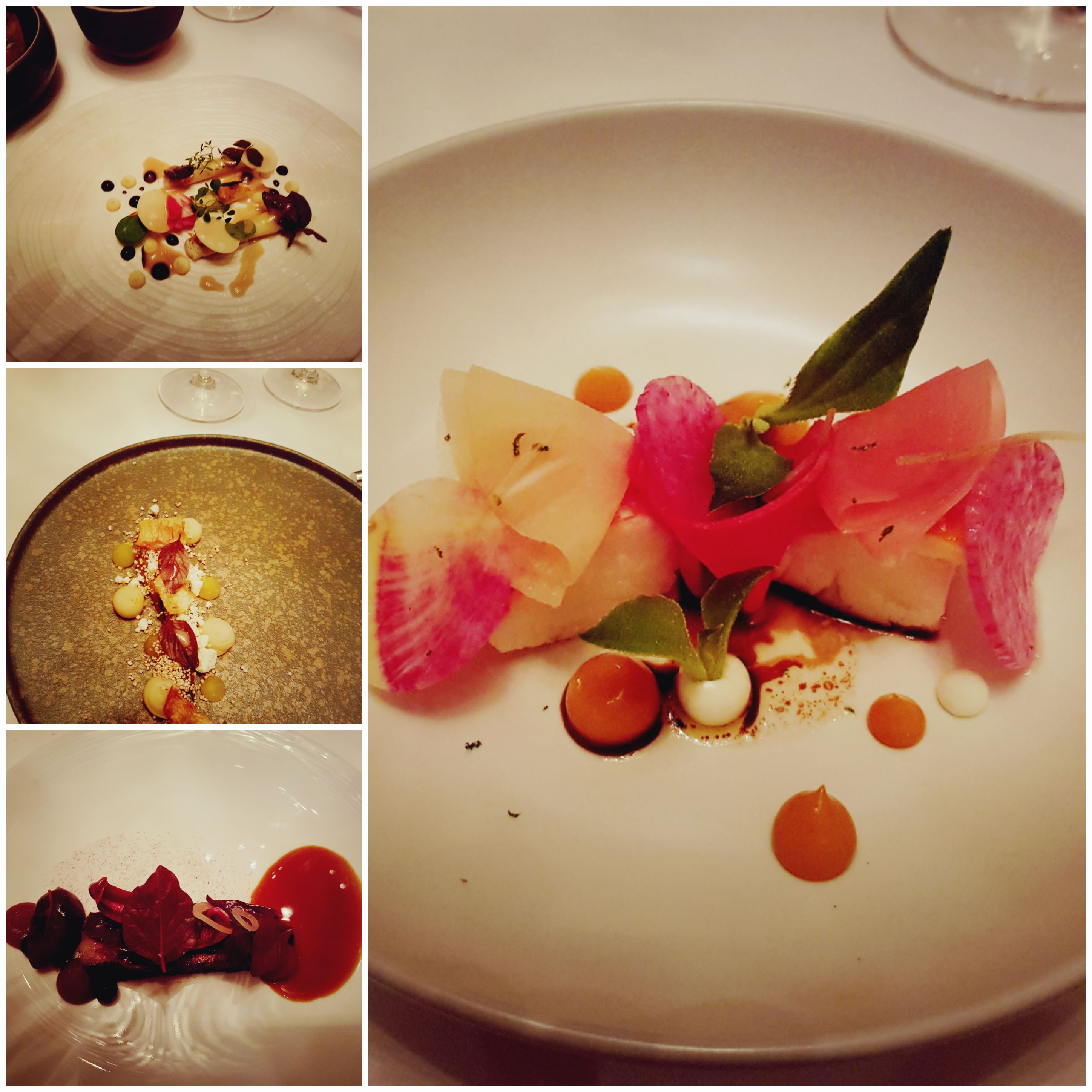 The un-photogenic brown blob was in fact Wagyu beef with a ridiculous component of layered flavour from red onion skin and seaweed powder and a black currant shiraz reduction which was over the top.  The crab is on the right, watermelon, radish and other pickled goodies around it.  The other pic is a roasted parsnip with a feast of related flavours enveloped around it.  In the middle of the nine courses a small whole loaf of freshly baked artisan bread was delivered.  That in and of itself was a feat.
I chose the wine pairings for each course but SS instead chose the "Six Glasses of Burgundy" which was, to put it bluntly, a master class in some of the finest wines on the planet.  When on his third glass the steward poured a Chassagne Montrachet (a wine I've only had a couple of times in my life) I thought where will they go next?  Meursault; I forgot, I always forget—who can afford the crap?  Not for me to complain, the red that came with the beef was Brunello.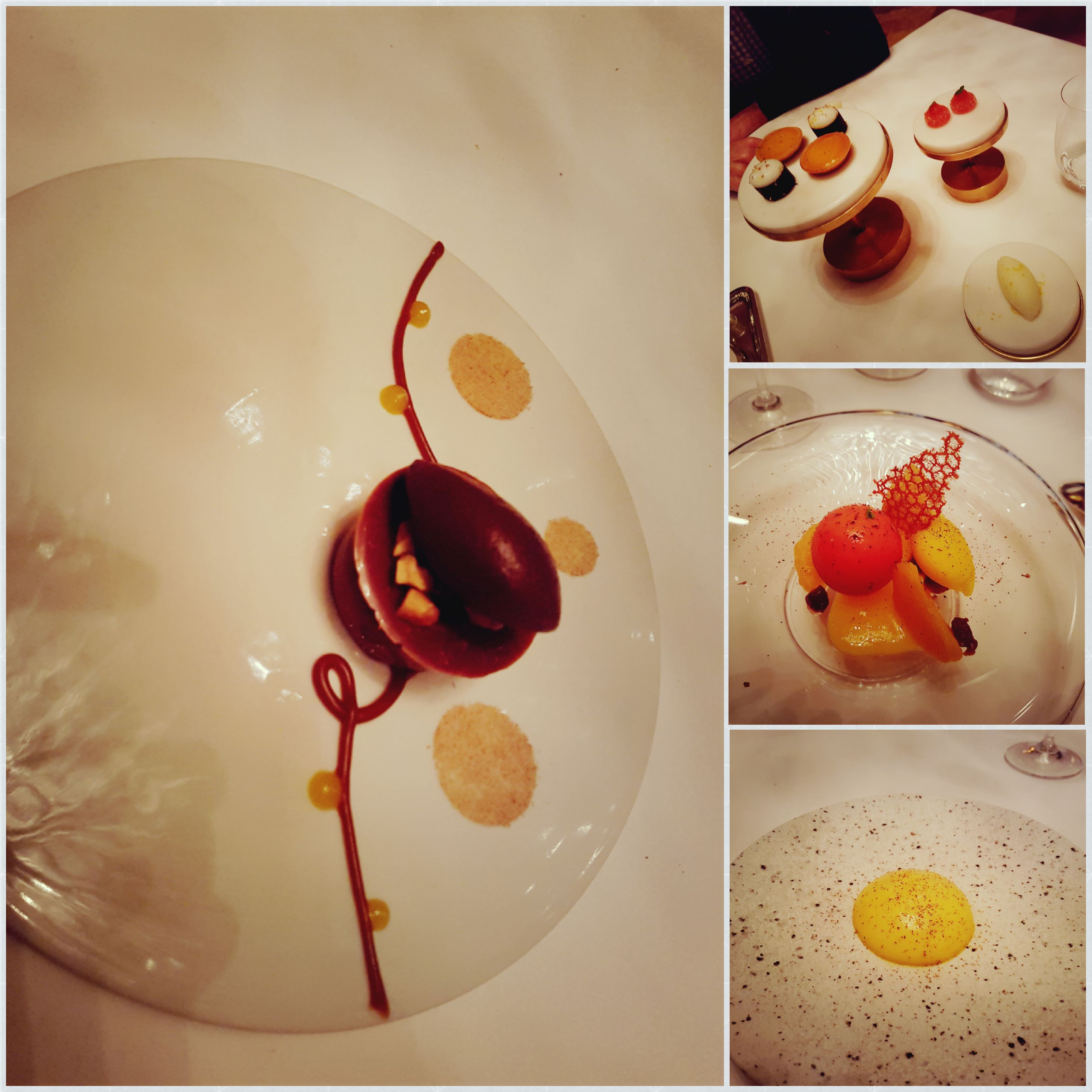 The main dessert, on the left, was chocolate and chocolate and caramel; the disk like objects were in fact just a dust of hazelnuts.  The tiny orange dots were hyper-flavourful passion fruit.  On the right, neither of us remember what the egg-like dish was (!), but the colourful bouquet of ice and fruit was a pre-dessert palate cleanser in a clementine theme and the tray of bonbons at top right were served at the end with the bill.  And yes, everyone at the table ate dessert.
At the end of the meal SS called Visa to get a credit limit increase.  Kidding.  But not by much…