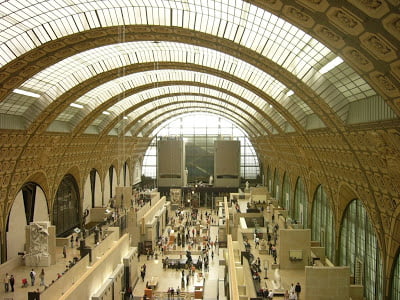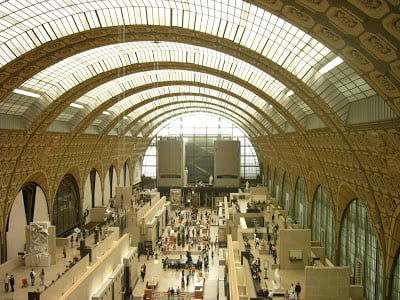 The entrance to the Musee D'Orsay, a "retired" train station
Today a sunny start then clouding over but mild, about ten degrees warmer at this end of the week than when we arrived.  A relaxed morning down to the Musee D'Orsay.  I've never been (it's all impressionism and post-impressionism not my strong suit, which wouldn't maybe  be so bad if it didn't attract so many gawkers) but SS went last visit and said I had to see the building.  The museum is a transformed train station and, yes, that alone is worth the price of admission.  Photos were forbidden so I've gone to the museum site to lift a few pics.  Aside from the paintings there were a number of riveting early photos, from the 1850s-1860s, rural France, Egypt, Mexico; needless to say I was alone in those galleries.  Monet has the crowd thrill of an Oceans Eleven enterprise: something to please (almost) everyone.  There was one great piece that really caught my eye though, a Vuillard, of a woman in a garden with a dog in the foreground.  Monet and Pissaro always painted dogs either as a centrepiece or on the lap of a lady, like Red Rose tea china collectibles, not as dogs.  I really loved this painting because the dog is in the foreground, ruins the line and the symmetry, detracts from the subject and, shockingly, is turned away from the "camera".  This reminded me of trying to take a picture of our dog–impossible!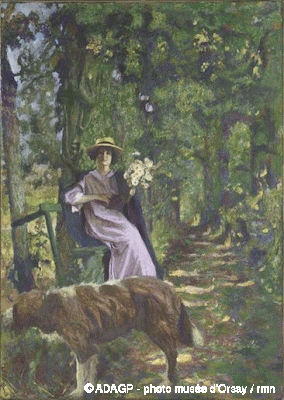 Dog in the way
There was also a special exhibition of Jean-Leon Gerome.  I won't go into detail on how unusual and quirky these works were except to note that his work in the "orient" heavily influenced early movies and how historical silent era pics were created and designed.  He also did some commercial work; in keeping with the dog theme I've lifted one below.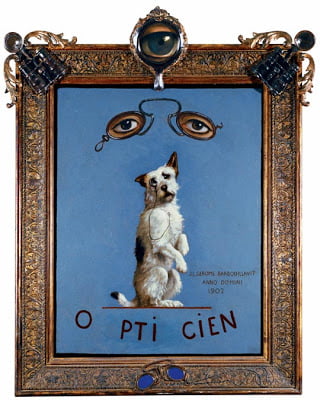 And with so many dog mentions it must be Tony homesick time.  One or two more entries and the blog is done.  So, since this blog went on so long (sorry!), here is a highlight list of links which we used to navigate us through our travels (and a shout out to my brilliant navigator SS!):
Moulin Renaudiots near Autun, brilliant B&B
Olivier Leflaive, vintner extraordinaire
Hospice in Beaune, history, architecture, culture and wine
Rochepot, castle with the "Friendly Giant" flair
Fontenay, unlike Cluny it's not been dismantled, an exceptional diversion
Jardin des Remparts in Beaune, lunch deal of the century
Le Chapitre, not a lot of food options in Autun but this is the best
Bastide de Boulbon, pretty inn in tiny town
Good eats in Aix, L'Epicurien,13 Forum des Cardeurs, 13100, Aix en Provence
Good eats in Arles, Le Cilantro
Roman ruins, amazing (Glanum)
Roman ruins, amazing (Arles)
More amazing ruins!  Les Baux.
Palais des Papes, Avignon
Le Pre Gourmand, over the top
The wonderful rue de Bretagne and rue Charlot, too many to list but this blog is an excellent starting point for the Marais in general.
Cool castle, Chastellux
Cool castle, Bazoches
The Museum of Natural History in Paris (which, btw, is a complex and ridiculous site)
Eglise St. Trophime, another old thing, no website but a link here
Paris Opera, you can buy your tix online but don't expect a seating plan
Le Petit Duc, best jelly tots on the planet
Montmajour, yet another UNESCO site in France, worth the trek
Vezelay Abbey (no website, but the Wikipedia link is here)
And probably a million other things I've forgotten.  Like the woman with whiteface and red hair married to Monsiur Hulot and Simon Callow in Paris and "dog crapping horizontally" and Baudelaire's "scratched" windows (he didn't want to look at Paris, only the sky) etc., etc., etc.  Hope the national protests don't keep us from getting to the airport.  Ciao.