Spring, Chef Daniel Rose's Restaurant Spring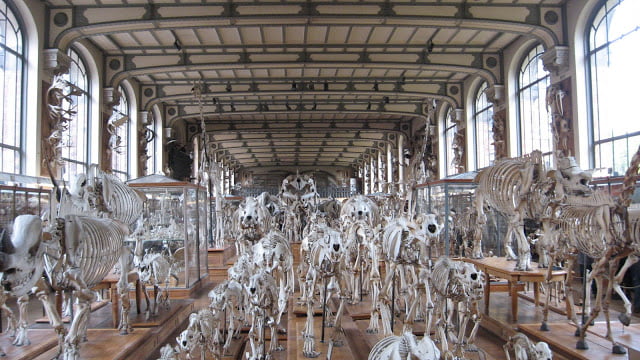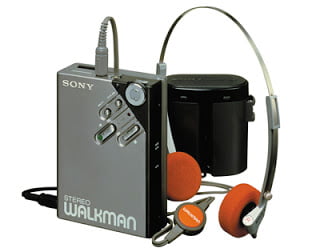 1979-2010, politically incorrect but much loved
Gee our old LaSalle ran great: First, a moment of silence for the passing of the Walkman.  Sony has announced the Walkman will go the way of the Edsel.  I owned the very first model, sleek aluminum and bright orange ear muffs with a mute button that hung on your chest so you could speak to the grocery clerk without stopping the music.  It was, is, a museum piece.  However, it was also insanely impractical, with gaping holes on the sides to allow water or sand in, much too fragile for the sort of activity it was designed for, and, to save on energy (which it used with abandon), a clunky D-cell battery pack that when combined on your waist with the Walkman left you bulky and looking like Schneider on One Day at a Time.  But I continued to own them, as the design improved and functionality too, at one point running JVC speakers off the "auto reverse" waterproof model as a home stereo.  The Walkman was a defining technological achievement of the 1980s, until, finally, recordable CDs made cassettes inconsequential.  It's a new era now, what with the Zune and all.  RIP Walkman.
So, today, a little gastronomy.  We had dinner reservations at Spring run by US ex-pat Daniel Rose.  We actually had the opportunity to eat at the "old" Spring, up in a sort of no-man's land near the Pigalle, in 2008, but it conflicted with Roland Garros and tennis won out.  It was a squat of a place, seating about 12 (not too comfortably) and the waiting list to get in was five months long.  Despite the success, Rose closed that venue, opened a wine boutique and, not before closing the first Spring leased an old skateboard shop in the 1st not too far from the Louvre to be the "new" Spring.  Took, I think, over two years to renovate.  So much of what I write today will be gastronomic particulars.  That said, what a great day before dinner:
As usual we packed the umbrellas.  And as usual the clouds parted late morning to reveal a broad blue sky and mild temperatures.  More meandering in the Marais then to the French Museum of Natural History.  My friend Simon recommended it to me in 2005 and I really wanted to return with SS.
The American Museum of Natural History has notable dioramas depicting the natural world;
The UK Museum of Natural History has an enormous selection of taxidermy, including many extinct species, as a record of the natural world;
The French have skeletons.  The first floor is recent history, the second prehistory, the third ancient fossils.  Go figure.
When you first walk in it is unusual to the point of almost being an affront, then you adjust, like your eyesight in a dark room and it becomes hugely captivating, then a little bit esoteric (a section on animal livers in formaldehyde, a section on animal brains in formaldehyde, etc.), then you just give in: It's just plain French.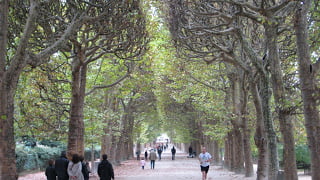 Promenade in the botanical garden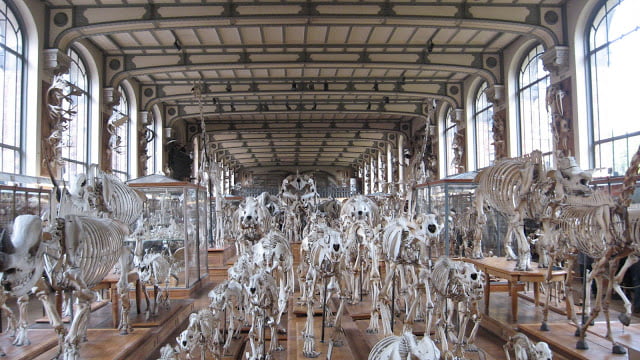 "Natural" history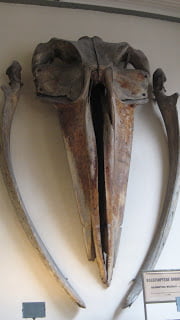 I'm not fat, I've just got big bones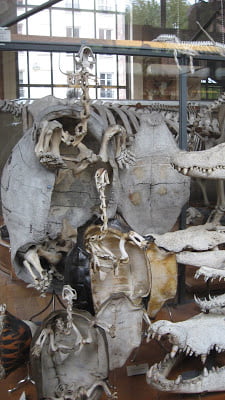 Several tortoises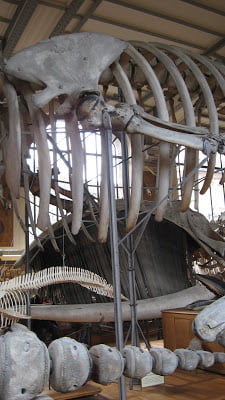 Belly of a whale, a fin whale, at 25 years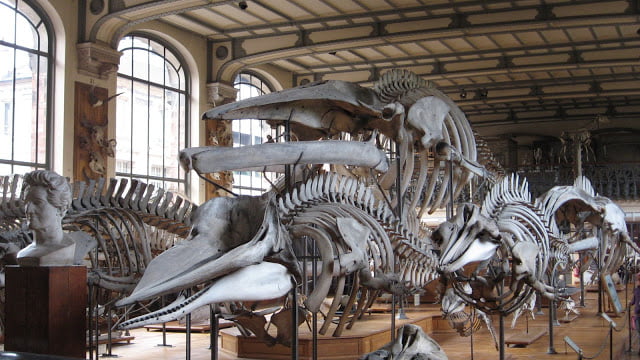 Pod of whales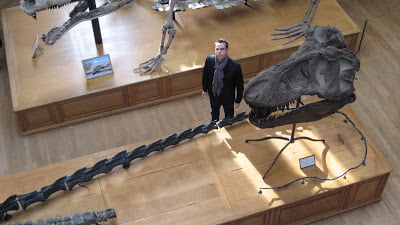 SS beside the tail of the Diplodocus; see the wiry bit that winds around the head of a bronto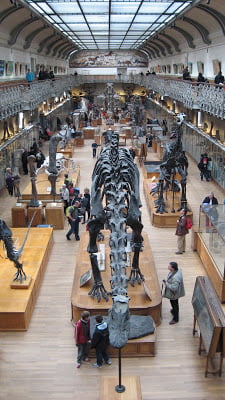 The diplodocus was bigger than a brontosaurus (and a vegetarian)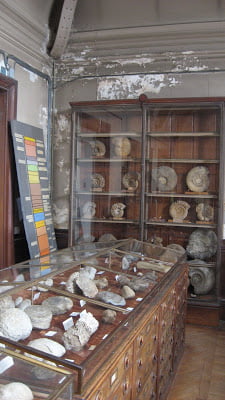 If you're looking for those fossils I put them in the corridor
For lunch something deliberately simple: We went to arguably the best falafel restaurant in France, L'As du Falafel on 34 rue des Rosiers in the old Jewish quarter.  You have to queue and it's not fancy but it is cheap and really delicious given that you're inclined to having falafel. At lunch one staff member patrols the take-out line, another the restaurant queue.
After lunch we did a walking tour.  I did a similar tour in London a few years ago and really enjoyed it; even if you think you know a neighbourhood it's amazing how many things you don't know.  We did a Marais circuit which included all sorts of interesting tidbits (the French don't allow pawnbrokers but since prior to the revolution the state has run a national pawnbroker, up until 1950 you could pawn your mattress–which included delousing!).  It was just over two hours of history and anecdotes ending in the Place des Vosges, Paris's oldest square, a remnant field left behind when Catherine de Medici razed the castle she lived in with her husband, King Henry II, as she was remorseful upon his death in a jousting accident–which was foretold by Nostradamus!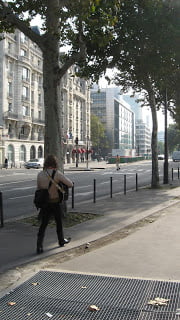 Today just feels like the sort of day to walk down the street playing my guitar and singing folk songs.  Call me crazy…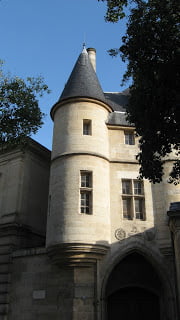 Remnant of a 13thC castle in the middle of the Marais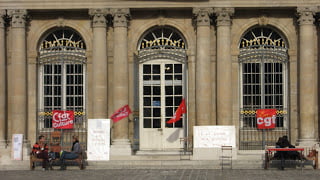 October 28, national day of protest, outside the National Archives: Two protesters have a smoke, two protesters make love.
So onto an elaborate description of dinner, if you're inclined to read it.  Spring is a warm appealing modern space with an open kitchen, four staff busily preparing each dish, concrete floors and halogen spots but not austere, with comfortable seats and a spaciousness not common in many central Parisian restaurants.
The amuse bouche was a trio of items, a sensational sea bream ceviche with a light but densely flavoured fresh grapefruit jelly; alongside that deep fried celery; alongside that small baby radish on a seaweed butter.  Our starters (and I might interject here that this is the sort of restaurant not only with a set menu, but a set menu without choice; you book three months in advance and then, if the main is pigeon, you eat pigeon), our starters were a scallop (perfectly seared) with a mix of finely diced granny smith apple, pomegranete seeds and fresh walnuts.  The mix of all those flavours, the crunch and sweet together, were magical.  Unfortunately, on my plate, I found two small shards of walnut shell, which almost popped an inlay.  Ordinarily I wouldn't be too fussed.  However, this was a gourmand destination and (for us) a rare occasion to witness a renowned chef prepare food at the highest level.  I think it was in fact unforgivable that there was shell on my plate.  I notified the server and there was some discussion about it in the kitchen, but that was pretty much it. In many a restaurant of lower caliber they would have done much more than discuss it in the kitchen…  If this dinner was a food network TV show then chef Daniel Rose would have been eliminated; on a "top chef" scale of errors I would call this a [insert Gordon Ramsey expletive].
As an aside: There was an amusing Tom Hachtman New Yorker cartoon a few weeks ago.  A Broadway marquee for a new show, "Uncorrected Proof: The Musical" with all sorts of reviews plastered on the facade the funniest of which was I think "Egregious!"  Due to copyright I can't insert it here as a visual but it would be apt.
The next course was a bowl of wild mushrooms.  The chef brought the dishes to the table and jokingly referred to it as mushroom casserole.  It was of course much more refined than simply a bowl of fungi, and visually it had great appeal.  A slew of wild mushrooms sauteed and bathed in a broth from small crabs with sweetbreads.  Now that probably doesn't sound delectable, but in fact the sweetbreads tasted as if marinated in lardons, they were absolutely superb, and overall this dish was excellent.
Next the main.  Pigeon.  There is pretty much nothing less than pigeon I'd rather have although I love game.  It seems to have none of the depth of flavour or interesting texture of so many other foul yet chef's continue to put it on their menus.  That said, it was perhaps the best pigeon I'll ever have (because unless it's on a plate at a dinner with royalty I'm unlikely to ever order or request or eat pigeon ever again).  Cooked on the undercooked side it was good.  I won't say it was excellent because I really didn't feel it was.  The mash of celeriac underneath was tasty, and the adornment of cape gooseberries (I swear mine had a swipe of coconut milk on top) were a nice enhancer, but in the end it was pigeon, not partridge or guinea hen or grouse or any of the other types of game we've had or have been offered over the last month, but pigeon, vermin of the sky.  We ate it all.
We opted to have cheese.  It was extra.  Not, I think, really necessary (to have or to charge extra for but we thought let's go all out, this is our Paris gourmand meal).  I had a Brillat Savarin to end all cheeses; soft and smooth and buttery and brilliant and with a drizzle of chestnut honey.  That was paired with a very good goat cheese.  SS had a soft camembert-like cheese with an astonishing cheddar, the depth of which was unimaginable, like the night and day difference between Gouda and aged Gouda, with a smear of a sweeter honey.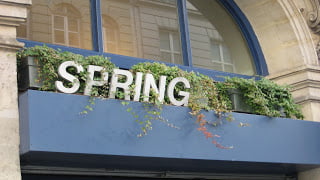 Spring "boutique" down the street from the restaurant
Onwards: Dessert.  This came as poached pears with vanilla ice cream on a light nut/fruit cake and a subtle syrup.  It was good.  Not exceptional, not write a long verbose blog entry about, just good; the cake was, actually, not even that good.  However, after that, two additional dessert treats arrived.  The first was a cocoa bean tuile (like a smoked cocoa bean crisp) on top of a chocolate ganache with a chestnut puree and a light caramel sauce on the bottom.  This was sufficient for me: The Brillat Savarin and a small exquisite dessert.  I was satisfied and impressed.  But there was one more thing: A white chocolate ganache with vanilla beans and a sprinkling of lime zest and a very slight drizzle of a very green olive oil.  This just didn't sound good, and in fact I was hesitant to eat it after the spectacular chocolate ganache, it seemed wrong to end on that note.  But I persevered.  It was unexpectedly scrumptious and extraordinary and unique.  It was as if they had taken my mum's Christmas hard sauce and given it to a chef and said what can you do to make this unusual and exquisite.  After that we had two espressos which came with gingered chocolate trufffles.  Enough already!  Well that was our one Parisian gourmet night out.  We had planned three but I'm glad we cut it back to one because, realistically, that is no way to eat on a daily basis, as wonderful and one-off as it may have been.
We have had some spectacular meals this trip and presumably Spring would be the proverbial cherry on top but I think, start to finish, Spring was eclipsed by both our meals at Le Pre Gourmand in Eyragues and Le Jardin des Remparts in Beaune (and, neither of which made a single error on plating).
Tomorrow: Digestion!