Here Hare Here is on Hiatus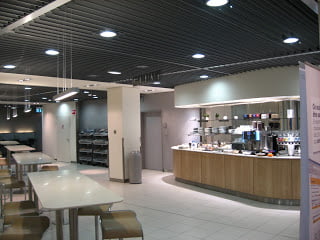 On hiatus; thanks for the traffic.
Speaking of which, here's a post-mortem for the die hards…
Up early, out to Charles de Gaulle.  Light rain and dark.  The trek to CDG never ceases to amaze me, traffic at all time of the day/night/week, the route a confusing, cryptic maze of on and off ramps, merging, arriving underground, then through subterranean ramps to perhipheral pods.  But it all came together despite the ongoing French labour unrest and even though our connecting flight to Frankfurt was late leaving FRA and late leaving CDG.  We spent a little time in the lounge at CDG which was pleasant and modern.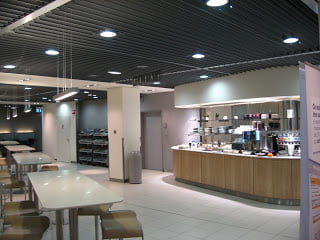 Look, a Star Alliance lounge that's not packed to the rafters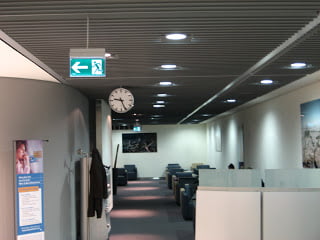 Lufthansa has this weird inter-Europe business class which is basically three seats for two passengers not really biz class.  Nevertheless, it was fine.  The captain referred to the crew as "his guys" which was amusing.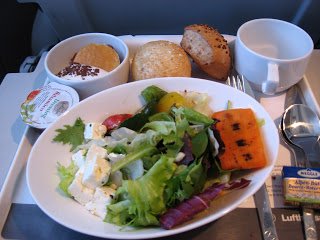 45 minute "Alp" jump, Paris to Frankfurt snack: radish greens, grilled vegetables, feta and an unusual apricot compote dessert
The most interesting airline food I've ever had was on Asiana between Korea and Thailand.  You could eat "western" cuisine or Bi-Bim-Bab–we chose the latter.  The BBB came with directions which was sort of "Hello Kitty" in and of itself, pictures showing you how to mix the ingredients, sort of an airline version of teppanyaki; basically, it was steamed rice, assorted vegetables, and some meats.  A sweet and spicy pepper paste along with sesame seed oil gives BBB a mild, tangy flavour, and you had to skilfully mix these disparate elements to personal taste.  No such option in Europe!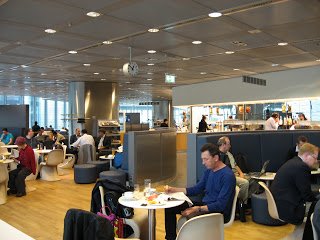 The Lufthansa biz class lounge in Frankfurt has had a much needed reno since the last time we were there.  The food options are better, the seating is better, and the smoking room is gone.
We boarded the Airbus A340-600 (brand spanking new) by bus; that is they carted us across the airport to a field where we climbed the steps up.  Although Lufthansa has one of the new A380 double-decker monsters, the 600 is actually the longest commercial aircraft in the sky.  Three rows of first class then two biz cabins.  We were nicely situated in the second row of the first BC cabin.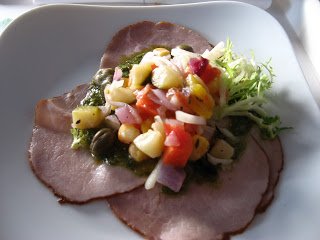 On the long haul flight FRA to YVR.  First course: Veal with salsa diavola and vegetable salad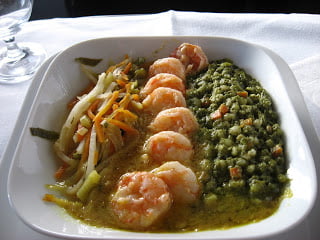 Main course: Jumbo shrimp in curry with wheat berry risotto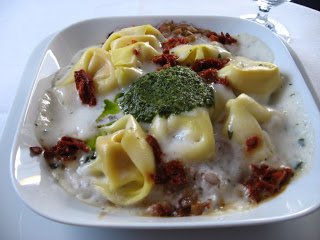 Alternate main course option: Tortellone filled with buffalo mozzarella with basil puree and sauteed eggplant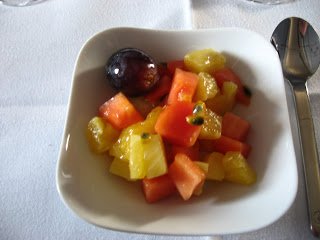 "Healthy" dessert: papaya, pineapple, passion fruit, and one grape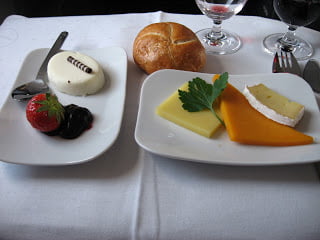 The "real" dessert: camembert, cheddar and rahmberg aside charlotte of yogurt on blueberry sauce
A couple of hours after the main meal they bring around sandwiches, fruit and cake.  Then about an hour before you land they bring around a hot snack, pics below.  I give full marks to Lufthansa for comfort and service and food but their AV (compared to Air Canada, even in AC economy) pales and there is absolutely no way you can get a decent sleep on the seats even in their flattest position.  That said, if you're travelling as a couple, Lufthansa is social, AC has the isolated pods.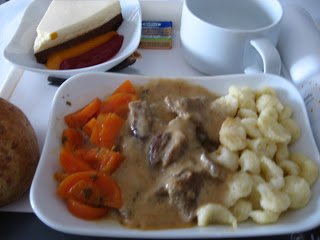 I asked for the beef but I got the veal in mushrooms with carrots and spatzle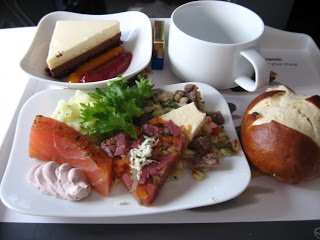 The third snack option: "Seasoned" salmon with pesto sauce and salad; black and white chocolate mousse with fruit coulis
And then there was laundry.