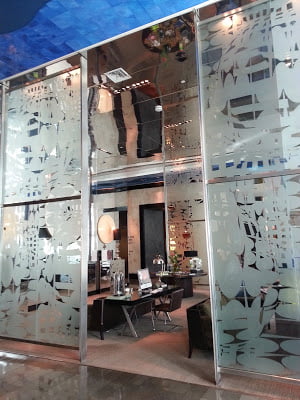 On departure we were heading down the valley at 7:30
a.m.  It was a glorious day, again, and
traffic was light.  With only two gas
stops and keeping to the (generous) 120km/h speed, we hit Santiago at two.  But then we hit the poor signage ritual, as in
all dense areas, the detours, traffic, etc., and it was a slog to find the
airport and leave the rental.  After all
was said and done we were at our hotel by four.
Stephen cashed in a huge amount of points for four nights at the W
Santiago, probably the best thing going here.
At the Sheraton in Iguasu they put us on the second floor.  At the Sheraton in Vina they put us on the
second floor.  Here, the W starts on the
fourth.  They put us on the fifth.  I said "do you have anything higher?" and
next thing you know we're on the 11th floor with a stupendous
outlook NW towards a pleasant urban neighbourhood and the Andes rising behind.  Best bed, sheets and shower of the trip.  Although everything else is standard hotel
fare; SS accidentally drank a bottle of water: $6.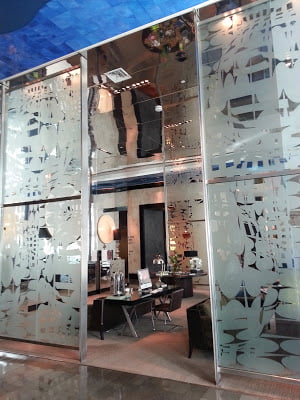 W Lobby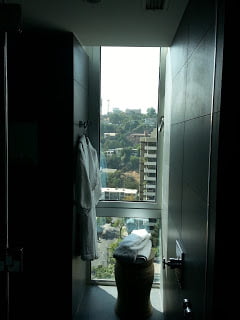 Our bathroom shower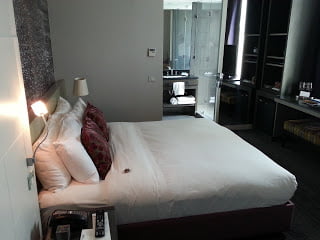 Our room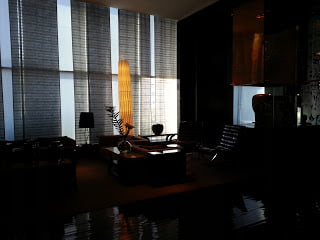 Lobby. In the daytime.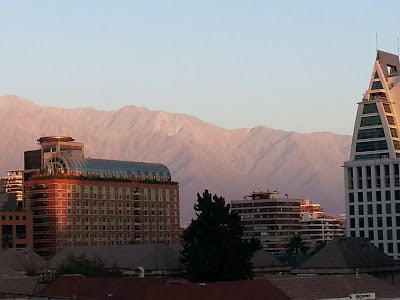 From the foyer terrace; that bulbous building on the left is the Ritz Carlton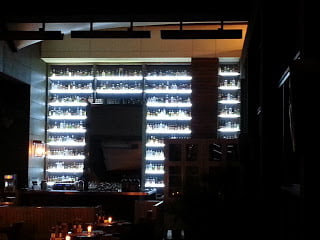 Terrace restaurant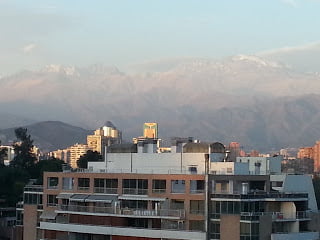 Dusk view looking east from our room
After a 570km drive we were both pretty tired but wanted to
get some walking in.  We are staying in
an upscale area called Las Condes.  The
Intercon is on one side, the Ritz C a block the other.  SS calls it Toronto: Clean, green, safe.  Also, you don't have to watch where you walk
(unlike Buenos Aires, and you know what I'm talking about!).  With the mix of
financial buildings, homes and condos, and the number of restaurants and
pleasant gardens, it does indeed feel a bit like Yonge and St. Clair.  The mountains make it seem a little more
California maybe.  We did a long neighbourhood
tour then decided on an early dinner but it was impossible to find a restaurant
that was open before eight (that's second sitting in YVR!), so we took a 7:30
dinner on the terrace at the W, which was surprisingly good and then I
crashed.  Nine hours of uninterrupted
sleep.
Pics: Around the hood.  Toronto?  Or not?