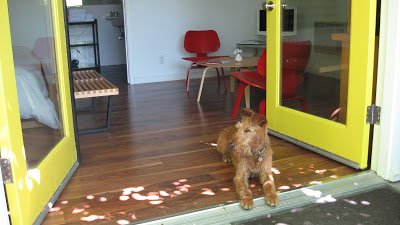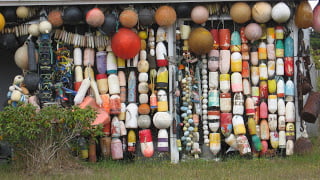 Point Arena porch; say goodbye to Mendocino
Sunday, August 21, 2011: Today we left Mendocino and turned east towards the heart of Sonoma, a sort of sharp left turn.  We had three options to accomplish this: Backtrack north to connect with the 128 which runs SE down the scenic Navarro River valley into Sonoma; drive a narrow two-lane rural route called Mountain Valley Rd east to the 128; or go south on the Shoreline Hwy, Rte 1, as far as Jenner, then turn east along a few highways and byways progressively going NE.  Since I'm not inclined to ever drive the somewhat harrowing Rte 1 ever again, we chose the last option.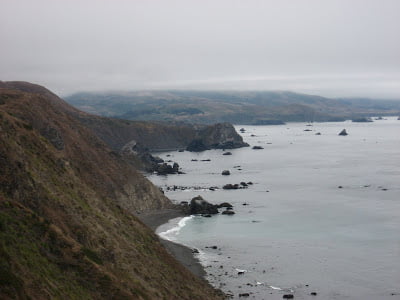 Coastal view in Sonoma; mind the guard rails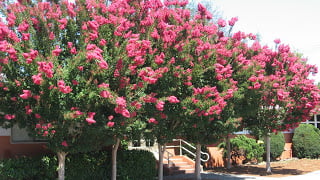 Blooming  trees, Healdsburg
It was Mendocino fog and gloom as per every morning during our stay, a brisk 56 or so, as we headed south to Point Arena (named by Captain Vancouver on his coastal travels), Gualala, the Mendo/Sonoma border, Timber Cove, Fort Ross and Jenner, which sits at the mouth of the Russian River; an exceptionally "focussed" drive with very clear views to the Pacific many, many, many meters below, and speedsters on our tail.  From Jenner we had carefully mapped out our route on Hwy 116 through Duncans Mills, Monte Rio and Guerneville, then along the Russian River up to Healdsburg—but we made a wrong turn at Guerneville and ended up way south in Forestville, Graton, etc.  Along the way we connected to Hwy 12 and ended up in Santa Rosa.  The clouds parted, the sun came out in full force, and it finally felt like California in August.  After a short pit stop at the Whole Foods in Santa Rosa (which sells "two for $6" as opposed to YVR's "two for $5" lunch to go, and along one whole wall had booze and food including, I kid you not, a Tap Room) for lunch, onto Hwy 101 north to Healdsburg.
Healdsburg is a tiny touristy town, a foodie destination (Charlie Trotter has an outpost here and one restaurant, Cyrus, has two Michelin stars; folks sometimes pop up from SFO for a nosh), corporate/chain free (in the centre), and a wine epicentre.  But we just came based on the premise that after ten days on the Pacific we wanted to guarantee ourselves some sunshine.  Healdsburg has delivered big time.
We are staying at a little place ten minutes walk from the town square called the Modern Cottages.  They are situated in a gated compound of about an acre with pretty gardens, a pool, and each self contained cottage with its own deck.  We are in the smallest and least expensive, but at 400 square feet with a peaked roof and small porch it feels roomy and comfortable.  It's called the
Charles
(each cottage is named after a renowned 20th century designer) and includes a few authentic pieces including, in ours, two Eames plywood chairs along with an Eames coffee table (not alas their surfboard table, the be all and end all of coffee tables), a George Nelson bench—a piece I've always coveted, and a Bertoia chair.  Our deck faces west, perfect under the shade of two fruit trees in the afternoon sun, by a trickling "sculptural" fountain and just beyond the compound lies a steelhead stream with a shoreline path, ideal for the pooch.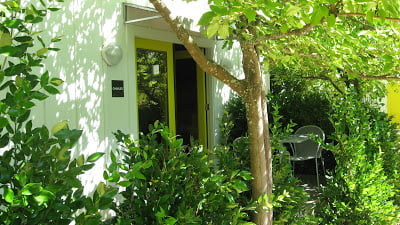 Entrance to the Charles, Healdsburg Modern Cottages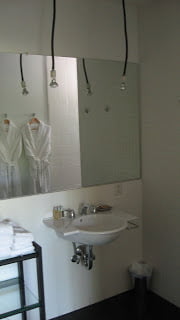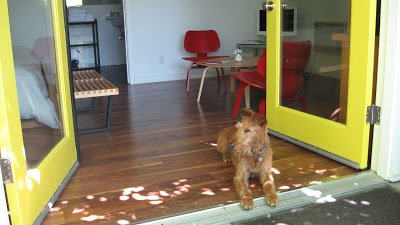 Shadows of leaves shade Mr. T in the new den
We spent about two hours prowling around the antique and antiquey shops, galleries, and myriad wine tasting bars, but most of it was a tad twee.  $6 for the Sunday NYT, that was a score though.  I took a swim as a late afternoon wake-up, but the air temperature pool was like soup.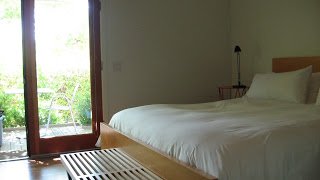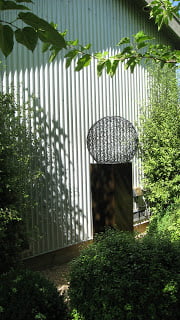 fountain in the garden
An early dinner tonight at BarnDiva, silly name I know, but an interesting reinvented barn space, the owners of which also run a gallery next door and the Cottages.  I think overpriced for what it was (even the SF couple next to us said so much) but lovely.  I started with an arugula salad with strawberries which had been compressed with lemon verbena, SS two delectable scallops caramelized with a basil oil puree and  a  corn/fruit salsa.  For mains SS had a homemade fromage blanc pasta, I had a halibut with fava beans on a tomato puree with roasted garlic and dotted with baby blooms from the bachelor buttons in the garden.  I passed on dessert but SS had a warm peach crumble with vanilla ice cream.  Pooch had dehydrated raw, baby carrots and rice cake.  Yum!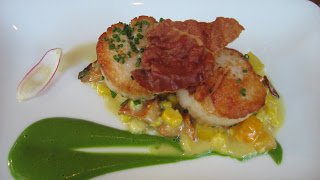 seared scallops etc.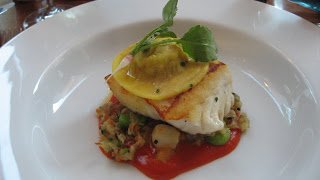 halibut (note tiny radish on top; I felt like I'd committed infanticide)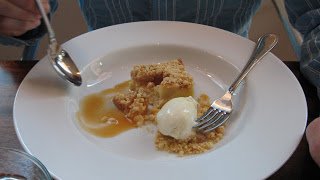 dessert–wait a second, I want to get a picture of that!
Sideways: Many wonderful scenes, TH Church plays the wine naïf perfectly ("tastes good to me" as well as the long tasting sequence followed by PG asking "Are you chewing gum?"), Paul Giamatti is superbly over-important (She: What's your novel called? He: The Day after Yesterday She: So, Today? He: grimace…)  But ultimately, like so many Hollywood movies, people actually offering benefits to society (PG as a teacher, Morgan Freeman in TBList as a mechanic, on  an endless list) are seen as lives unfulfilled.  Why is it that someone in a Hollywood movie can't be good at something that serves a benefit to others and still be satisfied doing it?  Heck, the NYT today ran a cover story on a maitre'd–it's possible!  Mark Zuckerberg's comment, post-Social Network, that the writer/director/producers couldn't wrap their head around the "idea that someone might build something because they like building things" as opposed to celebrity, status or money is well put and really at the nub of what I call the Hollywood hoodwink.  Mike Rowe, host of Discovery's Dirty Jobs, has a great piece on this theme at TED talks;
link here
for ten minutes well worth your time.