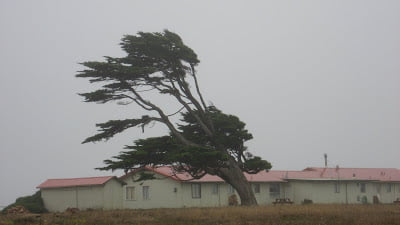 Saturday, August 20, 2011: Wake up, eat, walk, eat, walk, eat, watch a movie.  Some life.  The "poor man's sentinel" gave us an important warning first thing though: Donkeys in the adjacent field had wandered over the hill and were leaning against the wire fence outside the west deck hopeful for, I guess, an apple or carrot.  It was as you can imagine a virtual tsunami alarm. (NB: They returned at 8:25 p.m. but the Toninator was snoring, too relaxed to notice.  Some "alarm dog"!)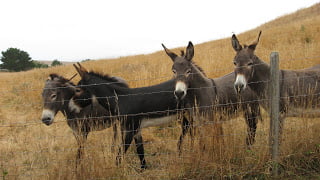 Who farms donkeys?
It was another cool Pacific air fog hanging low morning.  We drove into Point Arena, about nine miles south, stopping first at the lighthouse.  It was $7.50 per to go in, with nothing to see but fog, so instead we walked the perimeter.  Mr. T was in heaven, running free in the pasture, inquisitive at the cliff edges, doing spins in the tall grasses.  The Stornetta Public Lands, about 1,000 acres, surround the lighthouse area.  They were sold from the original family owners to the state in 2004.  Great walking.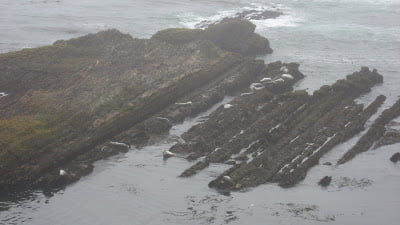 the "sardines" are sea lions; easy living indeed!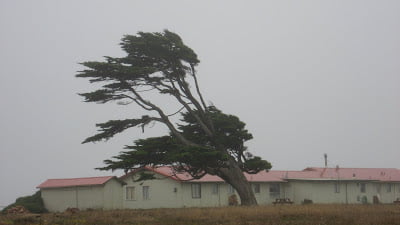 trees at Point Arena lighthouse; which way do you think the wind blows?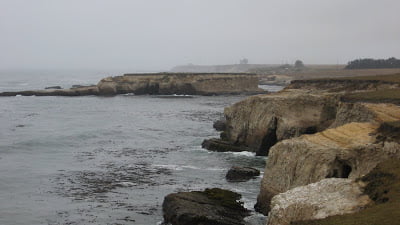 rocks at Point Arena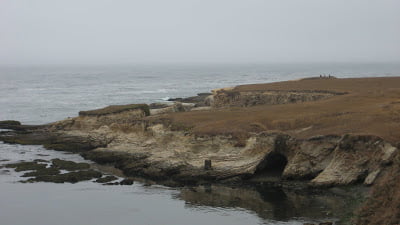 Enough with the rocks already!
For lunch we went into Point Arena proper.  It's the smallest of the towns along the Mendocino coast but it has a lot: A movie theatre with "big screen" movies, restaurants, a gas station with service (we paid $4.15 a gallon, still cheaper than BC), an actual honest to God bakery run by a baker, a drug store (had one of those swivel racks selling $40 watches, when's the last time you've seen that in a drugstore?), and of course a bar (but with live music of all things).  It had the ring of authenticity you hope for in small town America but rarely run across.  We had a great lunch (fresh paninis and carrot juice) then went across the street to the bakery where we proceeded to pay more for sweets than the lunch tab.
After Point Arena we went back home, unpacked our finds, then down to Irish Beach for a long walk in the surf.  There was more of the usual, sticks, digs, "tag" with the waves, rolls in the dunes.  If this isn't heaven what is?  At home SS cooked up the remainder of our groceries: Fresh corn on the cob, a frittata, tiny baby potatoes in butter and rosemary, and salad with the last of our spectacular heirloom tomatoes.  It never went above 66 today, we have had none of that luxurious heat we had inland, and the fog comes and goes as if John Carpenter had sent it in himself (The Fog is, after all, what torments a northern California fishing town…).  Tomorrow inland.
Easy Living is a movie that, unfortunately, Preston Sturges didn't direct, just wrote, but Jean Arthur is still hilarious and the theme that all sorts of good things can come out of nowhere has got to be somehow somewhere penetrating the tiny little brain of Mr. T as he lives through a canine fantasy of epic proportions.