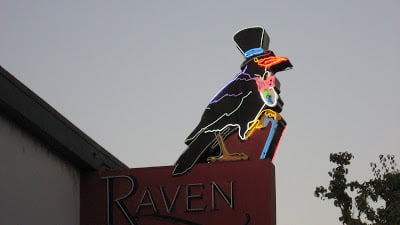 Monday, August 22, 2011: Woke up to 59 degrees, cloudy, mist like rain in the air; Mendocino had followed us east!  SS went across the street for coffee to a bakery connected with the DuChamp, the hotel for swells also with Cyrus, the Michelin starred spot; coffee and baked goods are included in the room rate.  We got our act together, packed up the station wagon with all sorts of gloomy weather gear, and set out for Napa.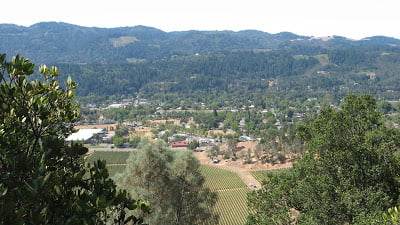 Above Napa valley, looking toward Calistoga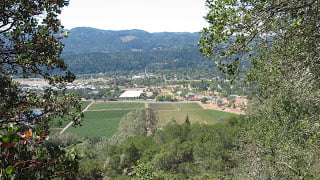 The very famous valley…
One thing I forgot about California is that it is a tad strict on the dogs.  The really interesting State Parks near here, Robert Louis Stevenson (he honeymooned there) and Bothe-Napa, both with great trails and swimming, are dog prohibited—even on lead!  So we had to be creative and instead went to a county park in Calistoga.  There is a very long trail called the Oat Mine Trail, 2400 feet or so up the Palisades, but we only hiked about 1300 feet up and back, just over two hours hiking.  No sooner had we started, in our mist-weather gear, then the clouds parted, the sun came out, and it was spectacularly hot, about 85 degrees.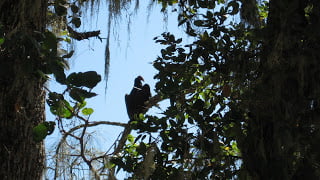 Turkey vulture with its wing spread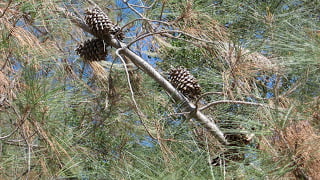 giant pine cones of northern California
The hike took us through pine, oak, arbutus (which they call Pacific Madrone), laurel and eucalyptus trees with exceptional views south and west through the northern end of Napa valley, the town of Calistoga, and glimpses of the Napa River (if you can call the near still stream that runs down the valley a river…).  The warning at the trail head was to watch for mountain lions, rattle snakes and poison oak.  A little different than the bear warnings up Whistler way.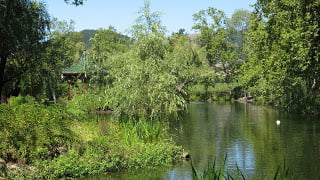 Jade Lake at Chateau Montelena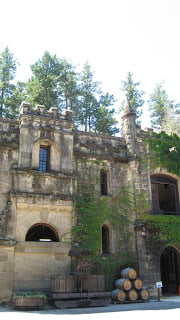 The chateau, also seen in film…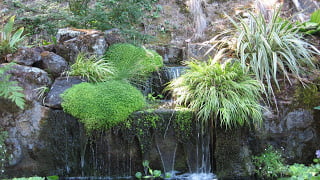 water feature, not related to the WC Fields quote
This trip isn't focussed on the wine mecca we've ended up situated in, but it's so in your face that sooner or later we had to bite.  When we drove by Chateau Montelena, there was no question but to go Sideways.  The grounds are well-manicured and the "chateau" quite regal,  but there are no organized tours.  Bearing witness was sufficient for me, the $20 tasting fee seemed a little steep and I'm not about to buy anything to drive back home with, but it turned out that on Mondays in August they are offering tastings of their 1990 chardonnay.  For those who have never seen Bottle Shock (spoiler alert), it's the hugely amusing Alan Rickman film, based on a true story, about an over-mortgaged winery in Napa, a perfect chardonnay, a blind taste test in Paris, and Napa coming of age in the wine world. Needless to say it put Montelena on the map. They also let us "share" one tasting, so we enjoyed their current chardonnay, the 1990 (from a magnum), two cab sauvs, a sauv bl, a Riesling and a zin, from the same glass.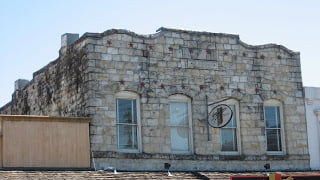 Oldest building in Calistoga, built in 1886; now a pizzeria
It was early afternoon, so we headed into the nearest town, Calistoga.  This seemed to me the perfect mix of town and tourist, with both quaint and appealing streets and bungalows, shops not too "done up" and even a dog friendly patio where we took lunch under an arbour.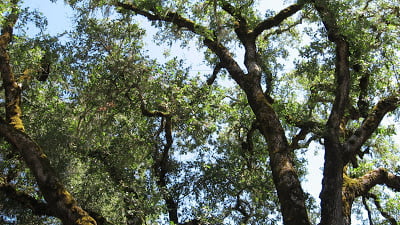 600 year old California oak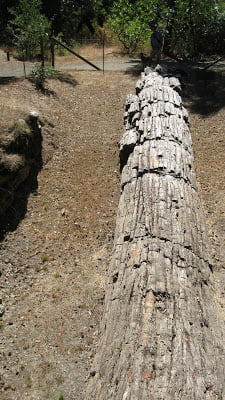 giant redwood, petrified, Petrified Forest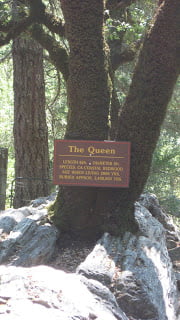 2,000 year old tree felled by volcano, 3.4 million years ago
On the way back we detoured to The Petrified Forest, a gimmicky place I guess but it was fun and they let us in with Mr T.  In short, it's a portion of forest that, 3.4 million years ago, took a huge volcanic blast which felled old growth redwoods, pines and oak.  Many have been "resurrected" by geologists.  The highlight for me though was their cafe.  It is not on the path but I wandered off to check it out: Pristine oak booths, vintage lino floors, the open kitchen with diamond stainless steel, antiquated cash registers, a line of five and ten type barstools.  It was just magnificent, as if someone had closed the door in 1960 and not come back.  The proprietor told me her mother had opened it in 1952.  There is a small cabin attached off the kitchen and she ran it until 1968 when, due to Parkinsons, she had to be hospitalized.  I can't believe it's not in demand by Hollywood as a location shoot.  Anyway, there you have it, Americana writ large, and rotting away in dust.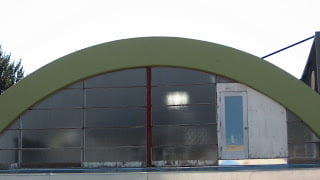 second story door, not to code
We drove back on Hwy 128 to Healdsburg, took a walk around town, a swim, then went out to dinner.  Walked into a place called the Charcuterie. They had half orders of everything but I'm telling you, even with half starters and half mains, we could barely waddle out of there. Plus, no corkage on Mon-Thu.  God Bless America!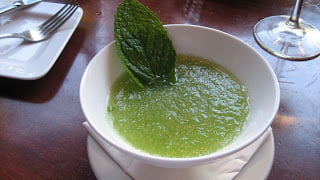 refreshing and delicious honeydew mint soup at the Charcuterie (chef refused to share recipe!)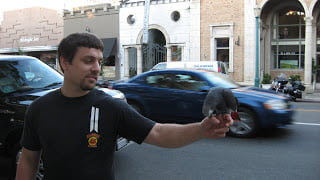 man with parrot; he had adopted the bird at six months, it was now 10 year old