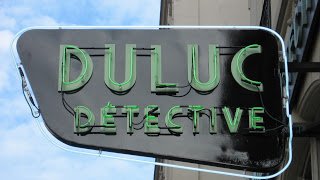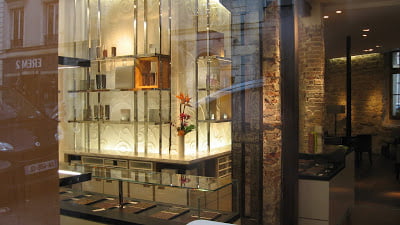 SS said it was a housewares shop.  Wrong.  Chocolatier.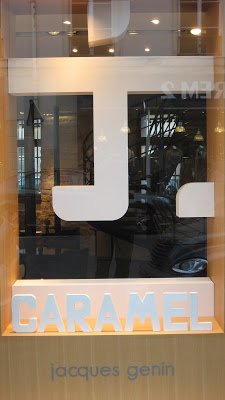 …and nougat and caramel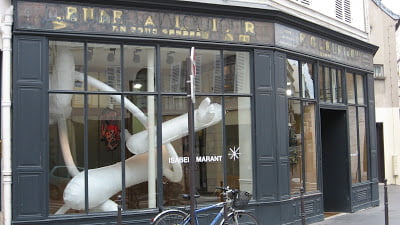 Women's shoe shop (apparently)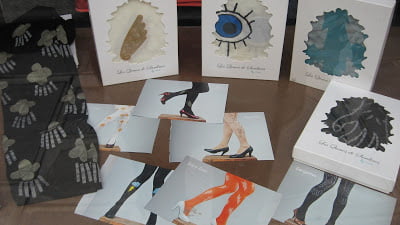 Oh oh ladies, look out: Stockings are back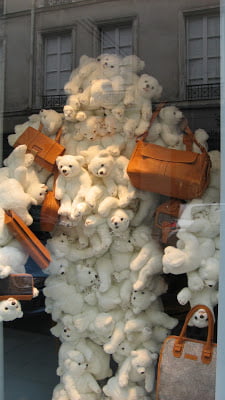 Bear made of bears in a bag shop window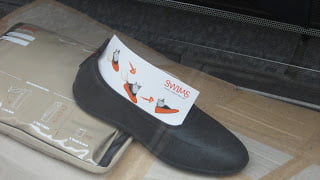 70 Euro ($100 CAD) pair of galoshes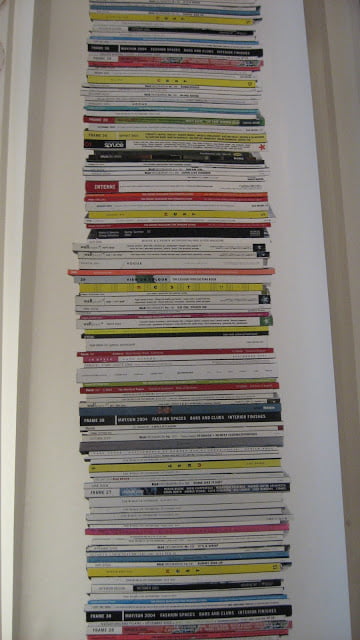 Very expensive "magazine" wallpaper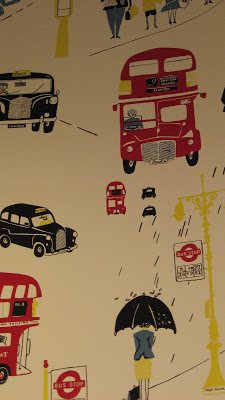 Very, very expensive London wallpaper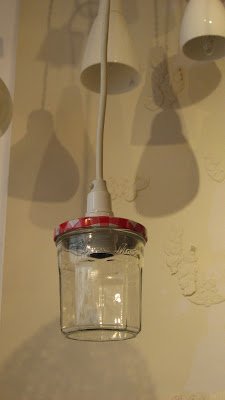 Jam jar light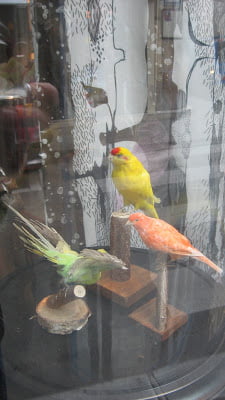 Shop that does not sell stuffed birds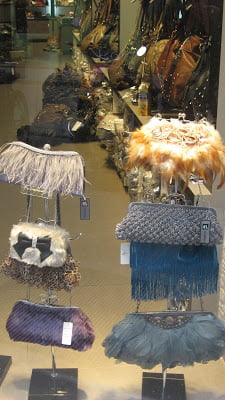 Who will be the lucky duck getting the feather clutch for Christmas?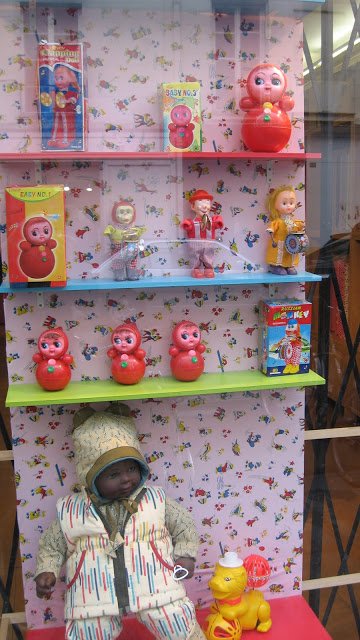 Baby Number One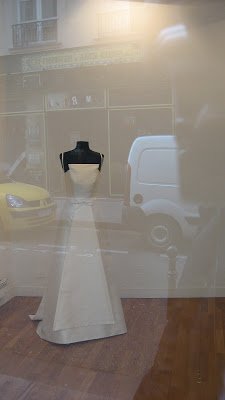 Shop, one dress for sale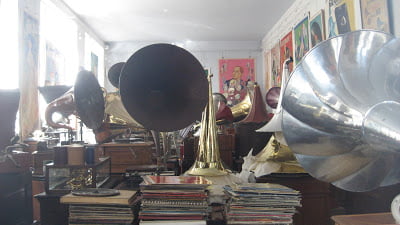 Shop, lots of gramophones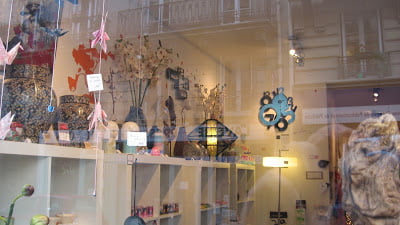 Shop, panic is over, lots of things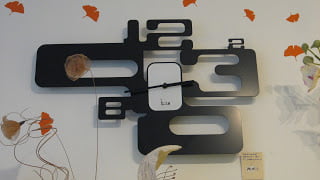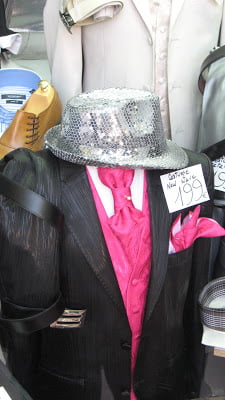 Fancy fedora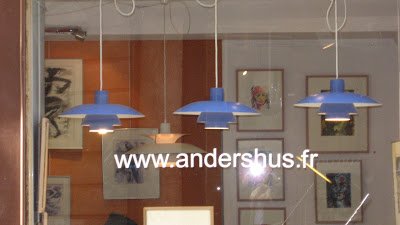 On rue Charlot, outside our apartment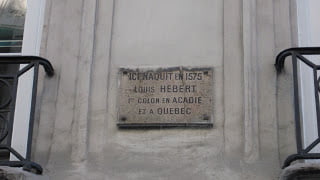 Birthplace in the 1st of Louis Hebert in 1575, the first Canadian farmer.  Bio here.
Packed umbrellas ready for the worst but of course by midday it was sunny and warm and I wished I had my sunnies.  A day of mostly meandering in the Marais, where the shops may open around 11 if they open and may or may not have anything to sell.  A magical spot, a little more hip than our last visit (which of course is only to say everything is less of our demographic) and with only a Subway encroaching onto the rue de Bretagne, still not terribly corporate.  Also over into the 1st for a bit, up into the Pigalle for some multicultural flair, and over into St. Martin, then back.  A pleasant lunch in a busy bistro teeming with Parisians, but we communicated successfully on the fly.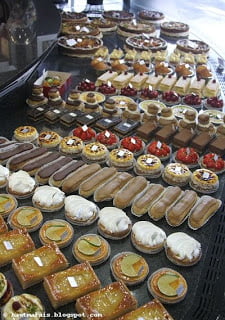 La Fougasse, 25 rue de Bretagne (but SS prefers the croissants from another boulangerie…)
For dinner we ate in, not just to save a few euros but because we could and because we know that the hand-made pasta at Casa Della Pasta, 12 rue de Bretagne, is heaven sent.  SS cooked up some [insert seven syllable Italian word for complex stuffed pasta] stuffed with ricotta, Parmesan and basil, and topped it with some fresh basil and a drizzle of wonderful Provencal olive oil (available at the shop down the street, Premiere Presson, 35 rue Charlot, which sells only Provencal olive oil) and served that with some cherry tomatoes and a watercress salad with diced dried apricots, dates and hazelnuts (available at CocoCook, 30  rue Charlot, a few doors down, which specializes inn fresh take away).  We followed that up with an outrageous dessert, lemon meringue and raspberry tarts from La Fougasse, an exquisite pastry shop also on the rue de Bretagne (which, I should clarify, we shared).  As if that wasn't enough SS had some macaron from the boulangerie on St. Honore (underneath where Hebert was born) which he foisted upon me.  No rest for the wicked.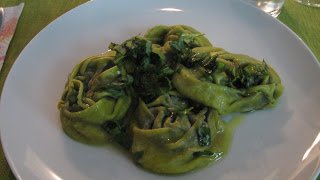 Dinner in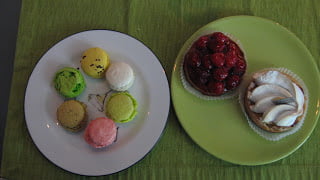 With only French channels (all 600 of them including Al Jazeera Children, TV Romania, the French Poker station, etc., etc.) on the satellite, we went out to see the late showing of The Social Network.  It was clever I think that The New Yorker ran a benign profile of Mark Zuckerberg the week of the movie's release, to give the "balanced" view; he must have hired a very good publicist.  I know all the critics love it and it's a big smash, Sorkin will probably earn an Oscar for his exceptional script, but ultimately it's a weird and unsatisfying juxtaposition: In order to keep some authenticity to the story there are no characters, "winners" or "losers" you entirely sympathize with.  So there's no Ben Hur.  Then, because you don't really care what happens, you become a little disengaged and realize the inverse, that they've dropped a lot of authenticity to build up a dramatic arc which is fine if you can get past all the "actory" stuff, particularly scenes like the one with Larry Summers, Harvard's President, which is an inch away from Al Pacino as Roy Cohn.  Why was Paddy Chayefsky so brilliant at stuff like this and others not so much?  No matter, it's a huge hit; SS liked it more than me.
Near the bistro at lunch a neon sign for a detective agency, scent of Simenon: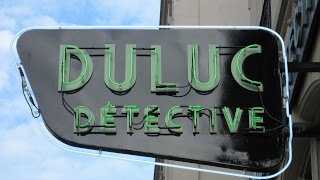 Agency founded in 1913