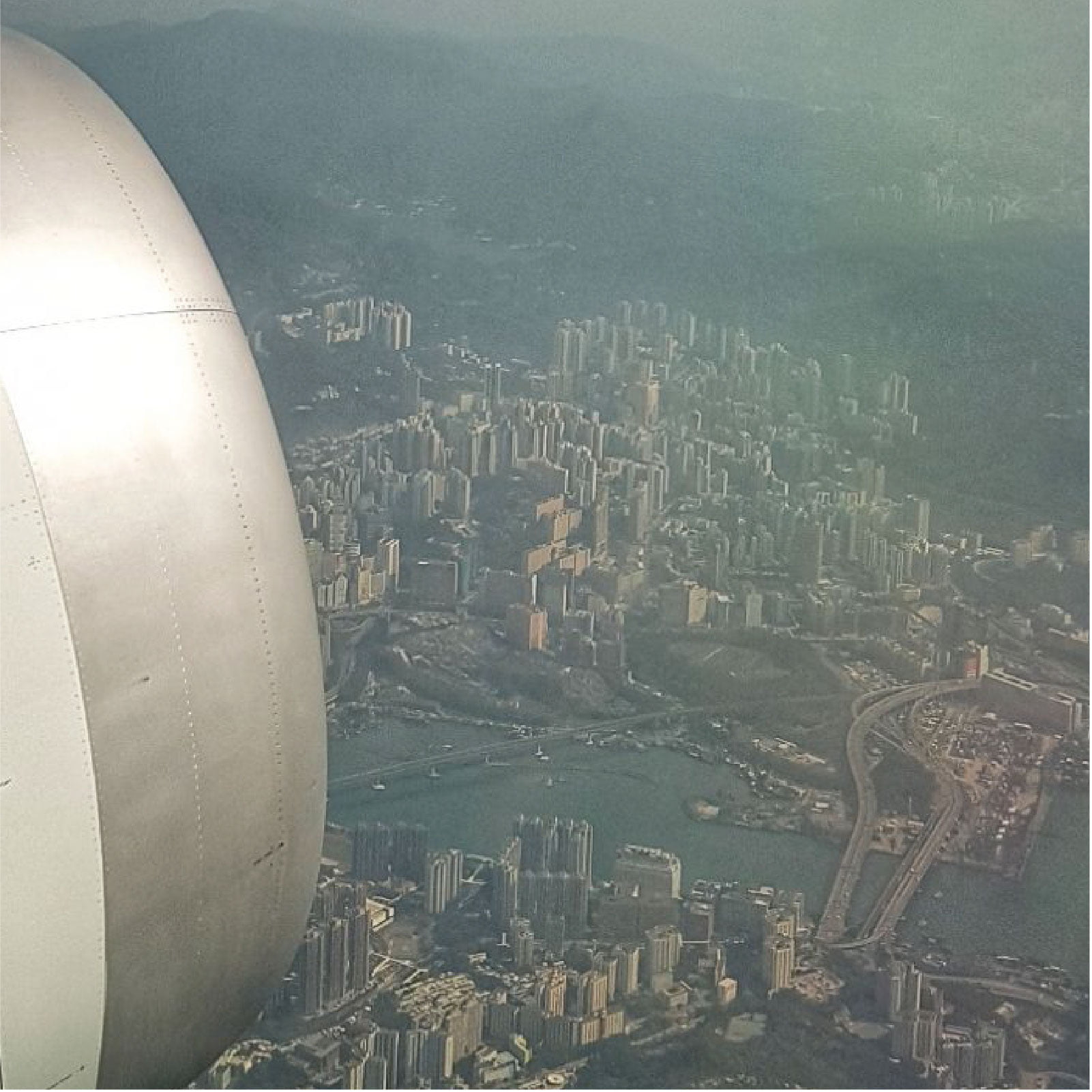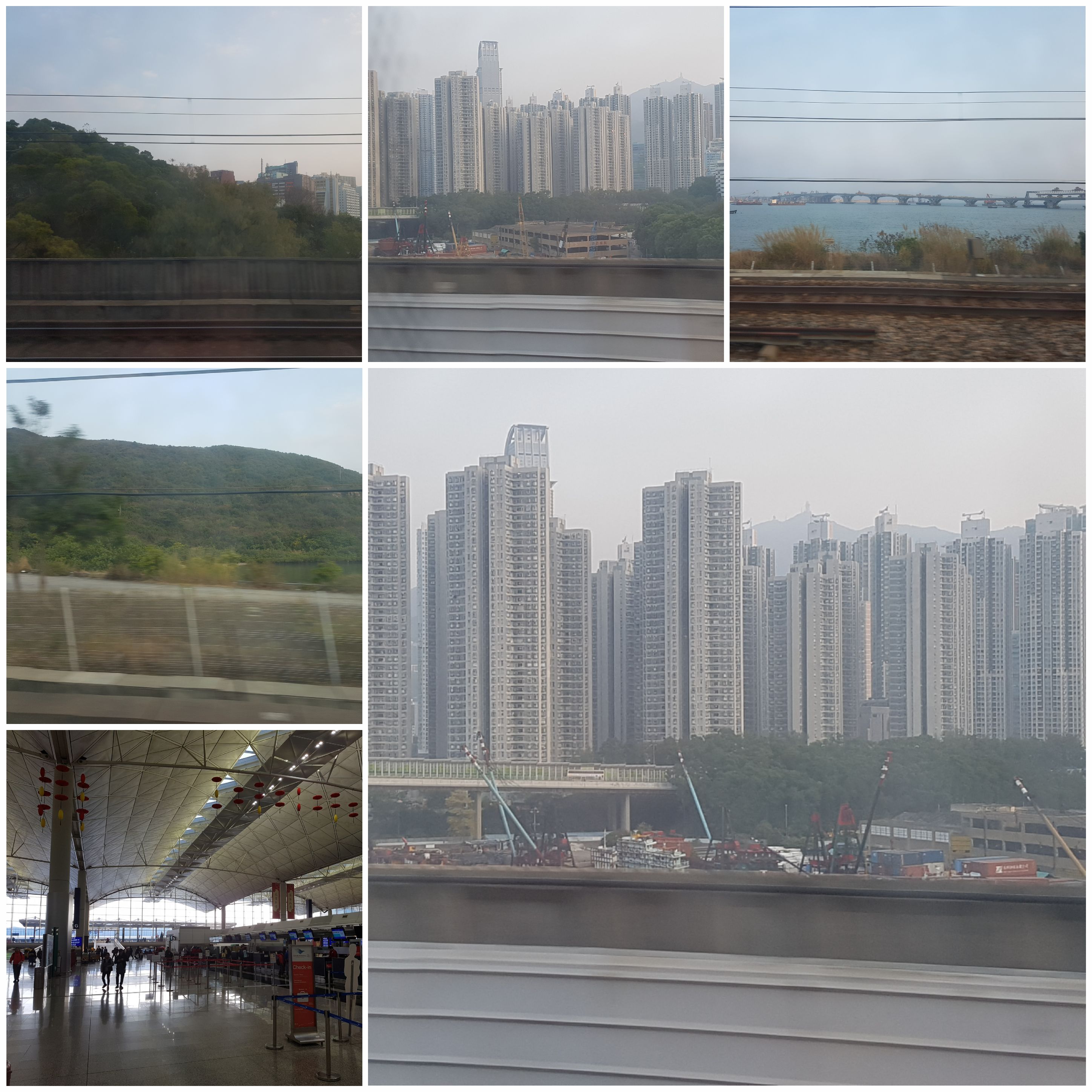 It's going to be two flights up to get away home: Japan Airlines 736 Hong Kong to Tokyo, Narita, then transfer to JL 18 Narita to Vancouver, overnight. We were packed and showered and out of the W shortly after seven. The walk to the airport train was about three minutes. Seamless trip out; HKG has a fantastic transit operation, a little bit better than Heathrow, and a lot cheaper. You pass the homes of hundreds of thousands (maybe millions?). Hong Kong is teeming with people and vehicles but really it's a city of construction, it's bursting at the seams in terms of development.
There are three Cathay flights to YVR today but we couldn't get on any of them; the lead up to New Year's is an intense period in HK; so we're transferring through Tokyo on JAL.
Check-in was pretty busy as our first flight, Japan Airlines 736 to Narita, will be packed. JAL uses the Qantas lounge as a code share. It's open concept to the waiting areas below which in, say, an American airport would be havoc, but here there is a weird calm and quiet given the size of the enterprise. (And no one is hanging over the rail and hooting at their friends.)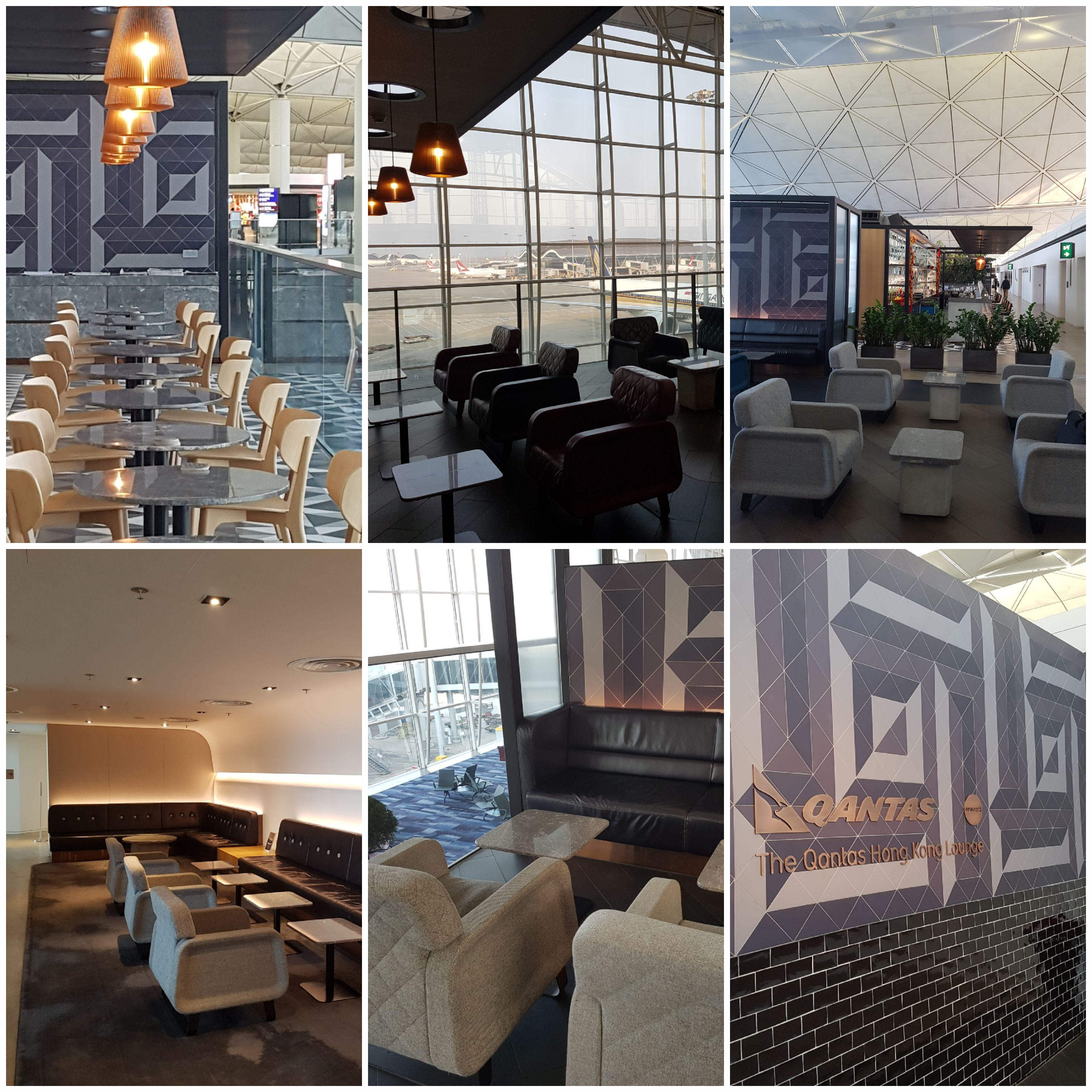 The lounge was huge, even with a third of it cordoned off. The food offerings were a mix of the usual suspects (cereal, toast, eggs, sausages, really awful croissants) and Asian (congee, rice, some dim sum and soup). We were both famished and were grateful for some grub although the best thing I ate was fresh pineapple.
SS got bored and immediately set off to build up the Fitbit steps. Our flight came into gate 16, just below the lounge. Boarding started very late (10:05 a.m.) but was fully boarded, four classes, in 15 minutes, and we departed the gate early. That's virtually unheard of in North America. The Japanese crew have a unique style of service; the ground staff all stand at attention and don't do anything until they finally get "the signal" and then they smile, clasp their hands, bow, and welcome you on board. Staff on the tarmac wave goodbye.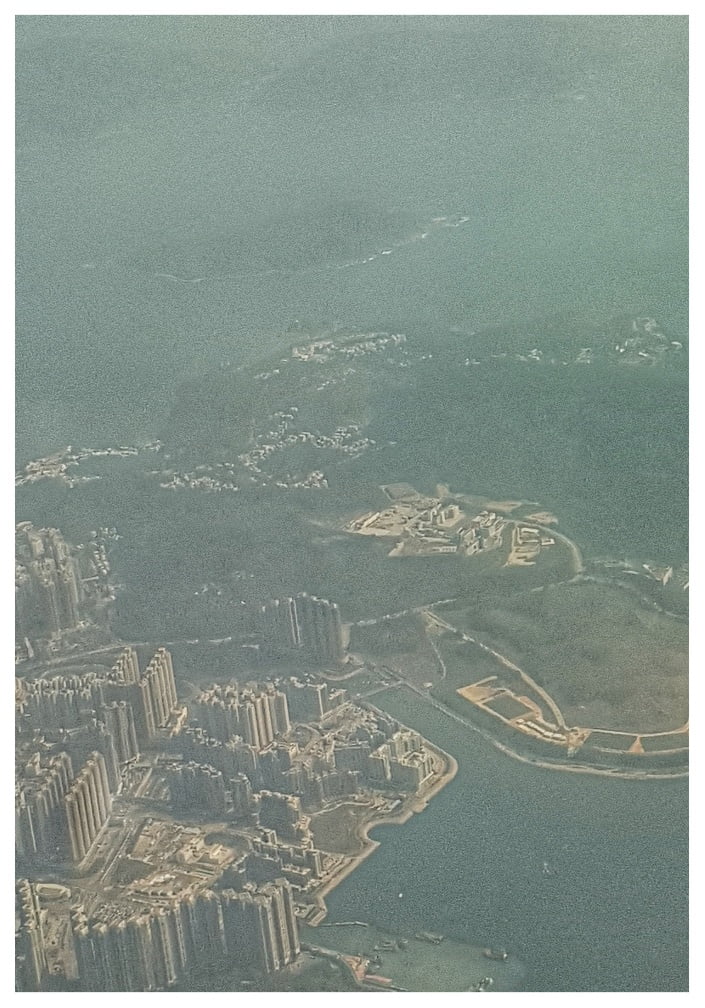 It was a weird flight, less than four hours, packed, lots of business men, not enough flight attendants I think. It was a Dreamliner, but the configuration wasn't as good as AC; my window seat had three windows, direct aisle access, and was very private, but attendants had to "bend around" to serve me. The centre seats had no privacy. But super comfortable. We will also be on a Dreamliner home, but not with these "sky suites" unfortunately.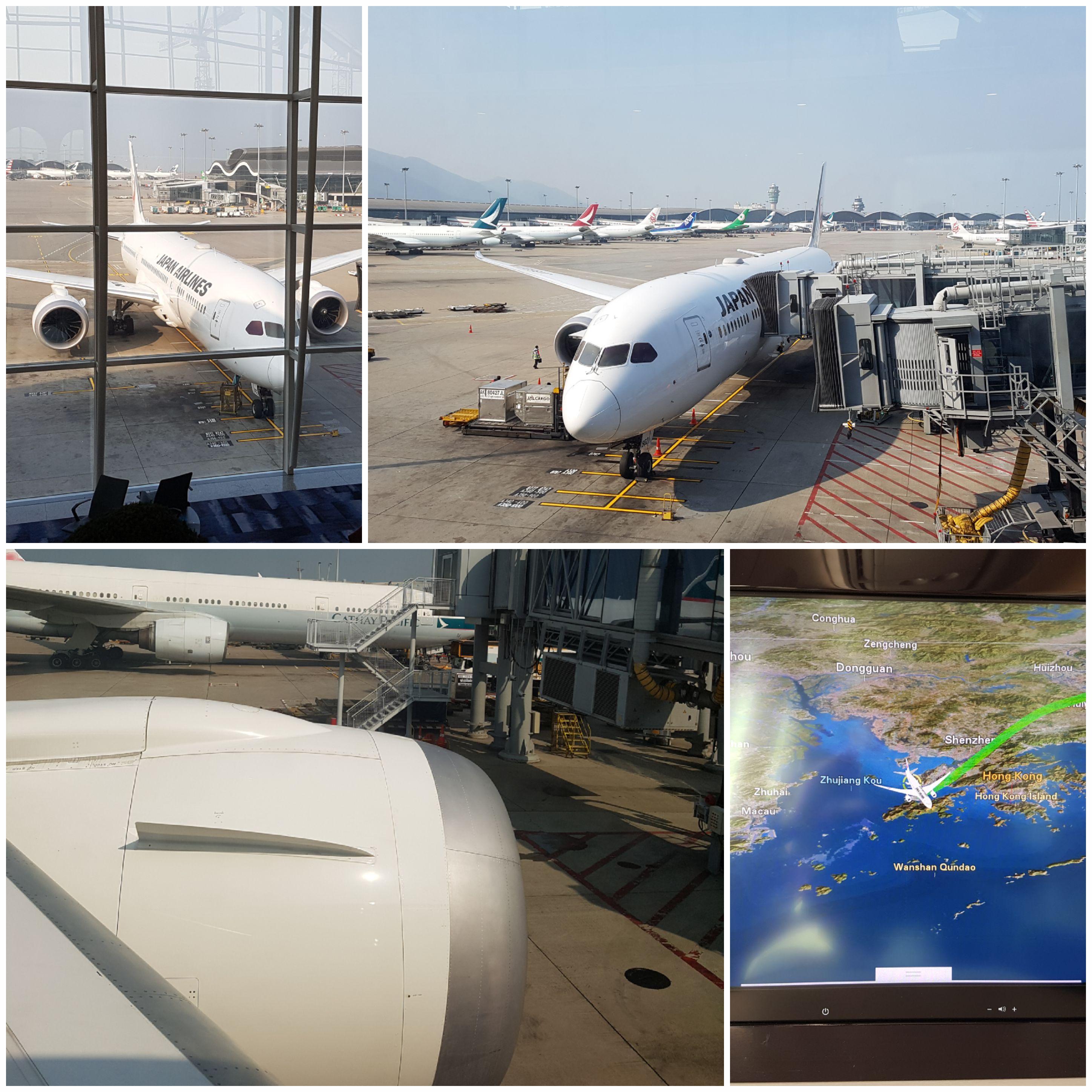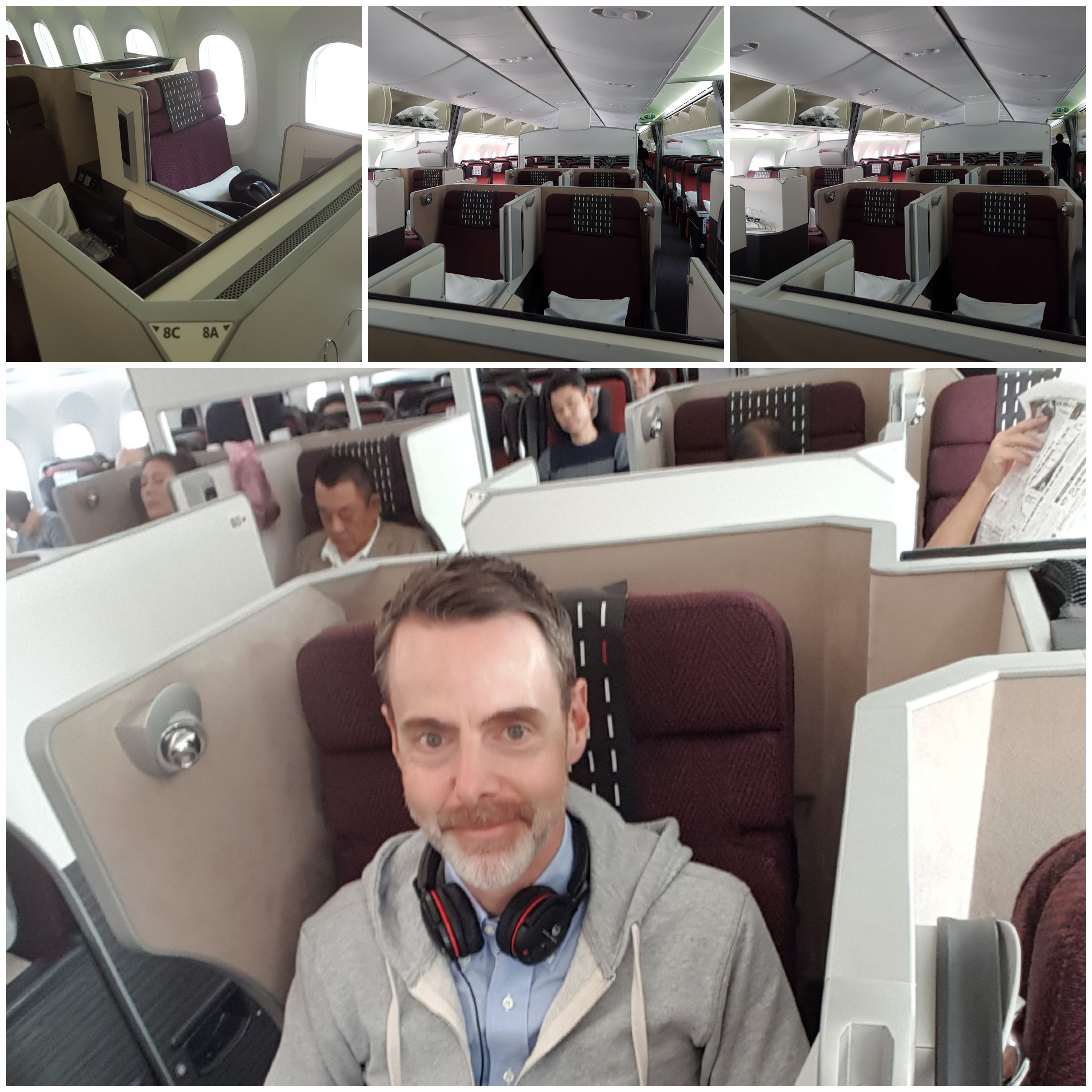 I had the western lunch, which, as airline food goes, was rather on the excellent side.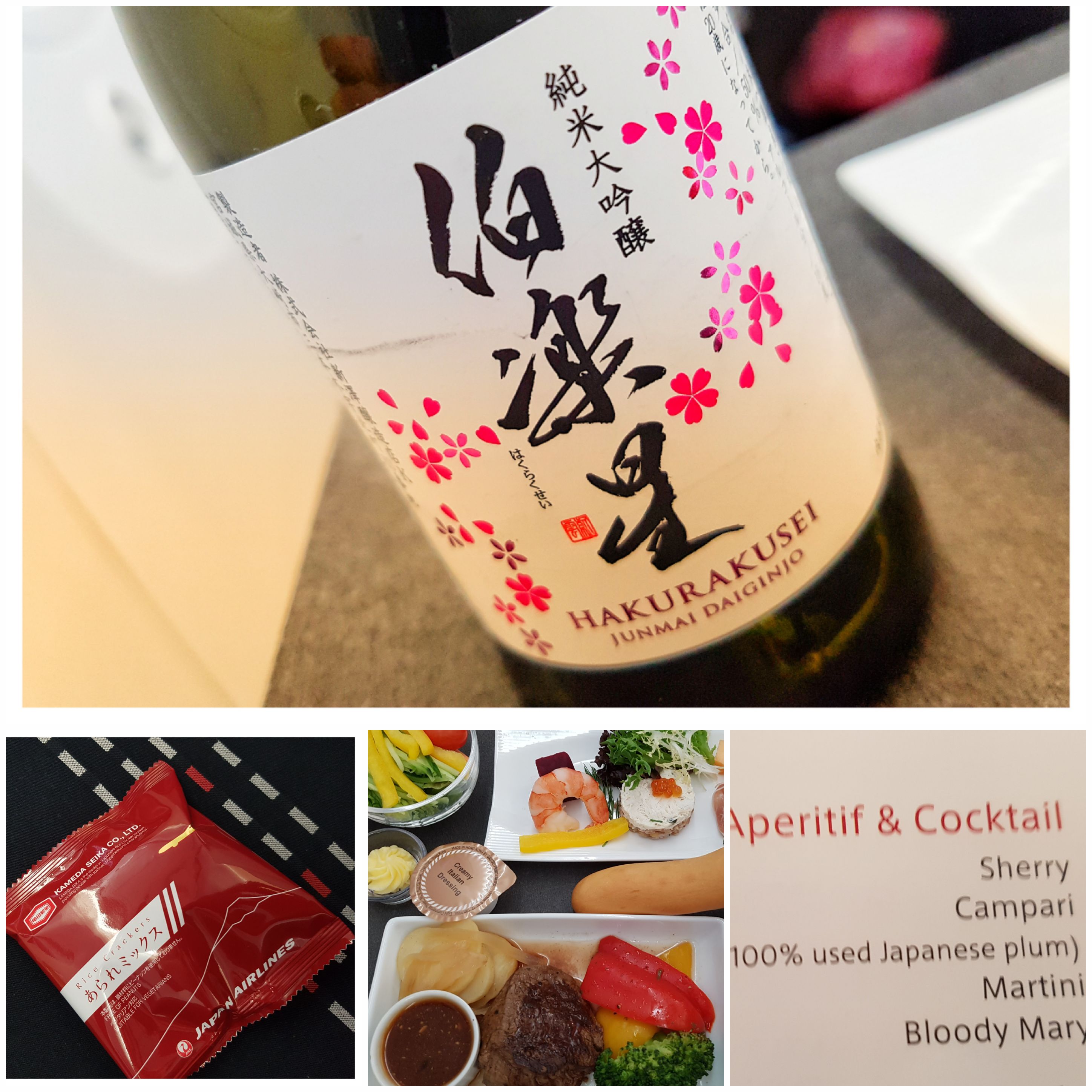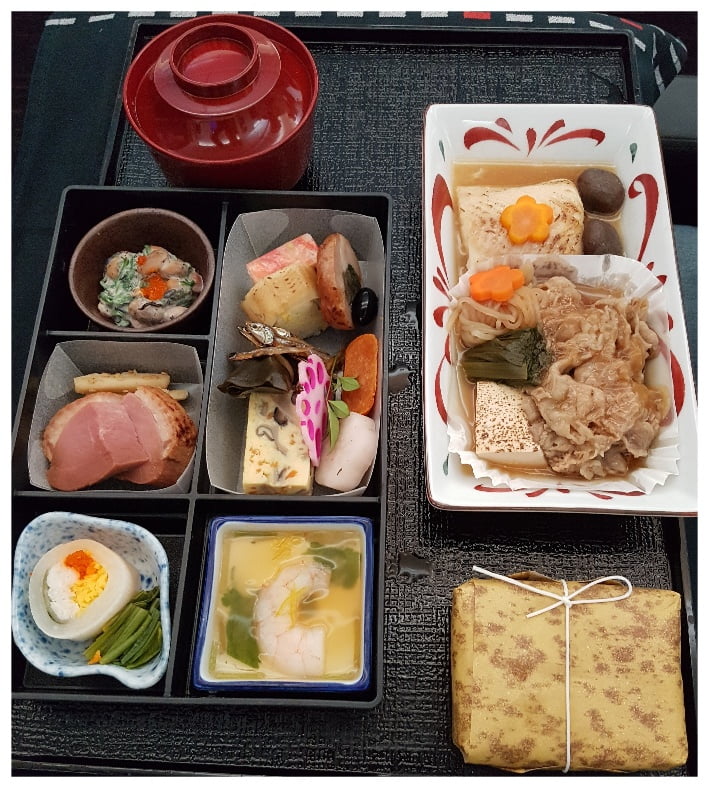 SS had the Japanese lunch which was exquisitely presented. He asked for sake and they gave him a small bottle. I liked how the "table cloth" they put on the tray was kasuri fabric. There were rice crisps as a snack. SS ordered for afters the plum wine which, as shown above, is "100% used Japanese plum" without substitutions. The wrapped paper on his tray was sticky rice.
It was late afternoon when we arrived in Tokyo and you could feel the winter in the air; back to reality.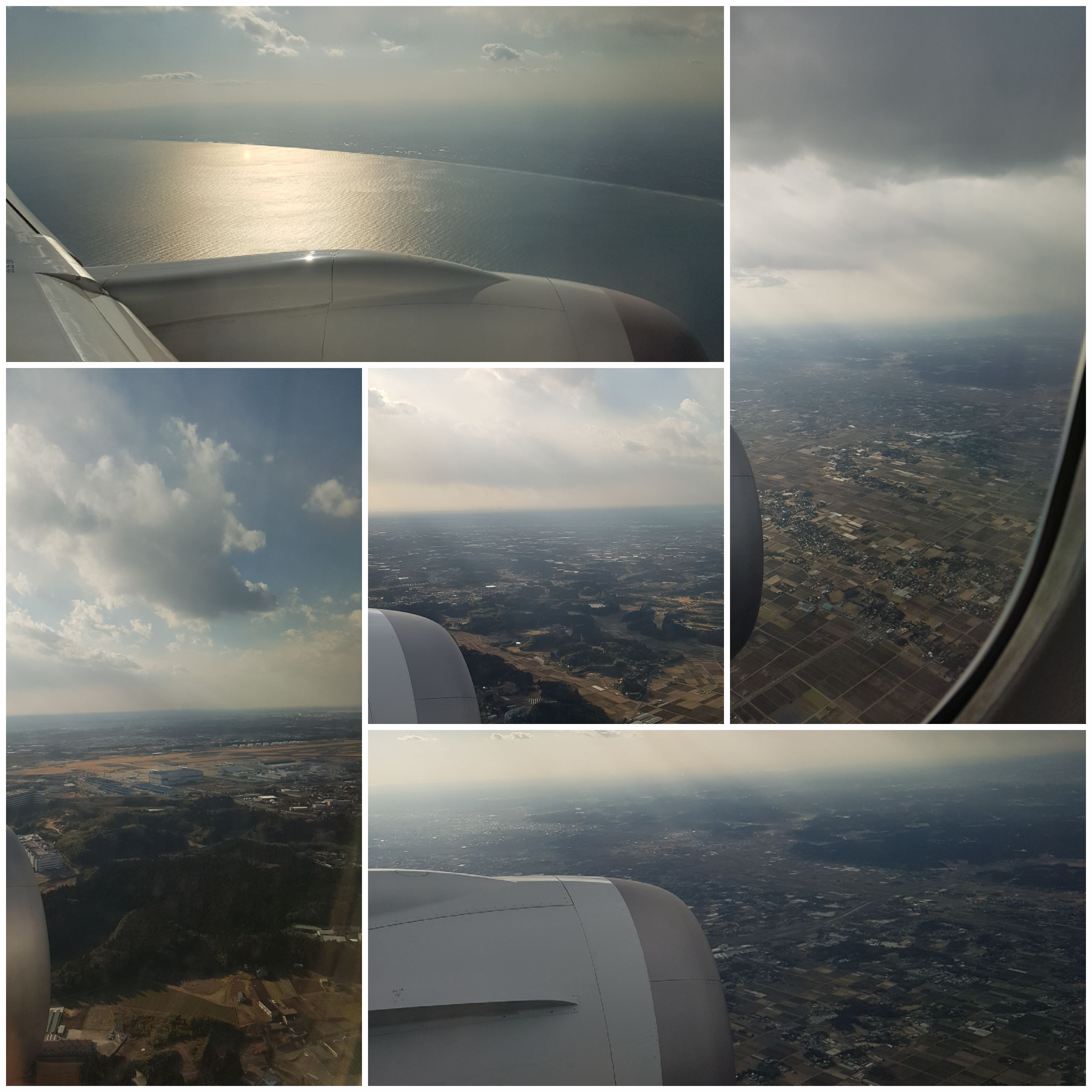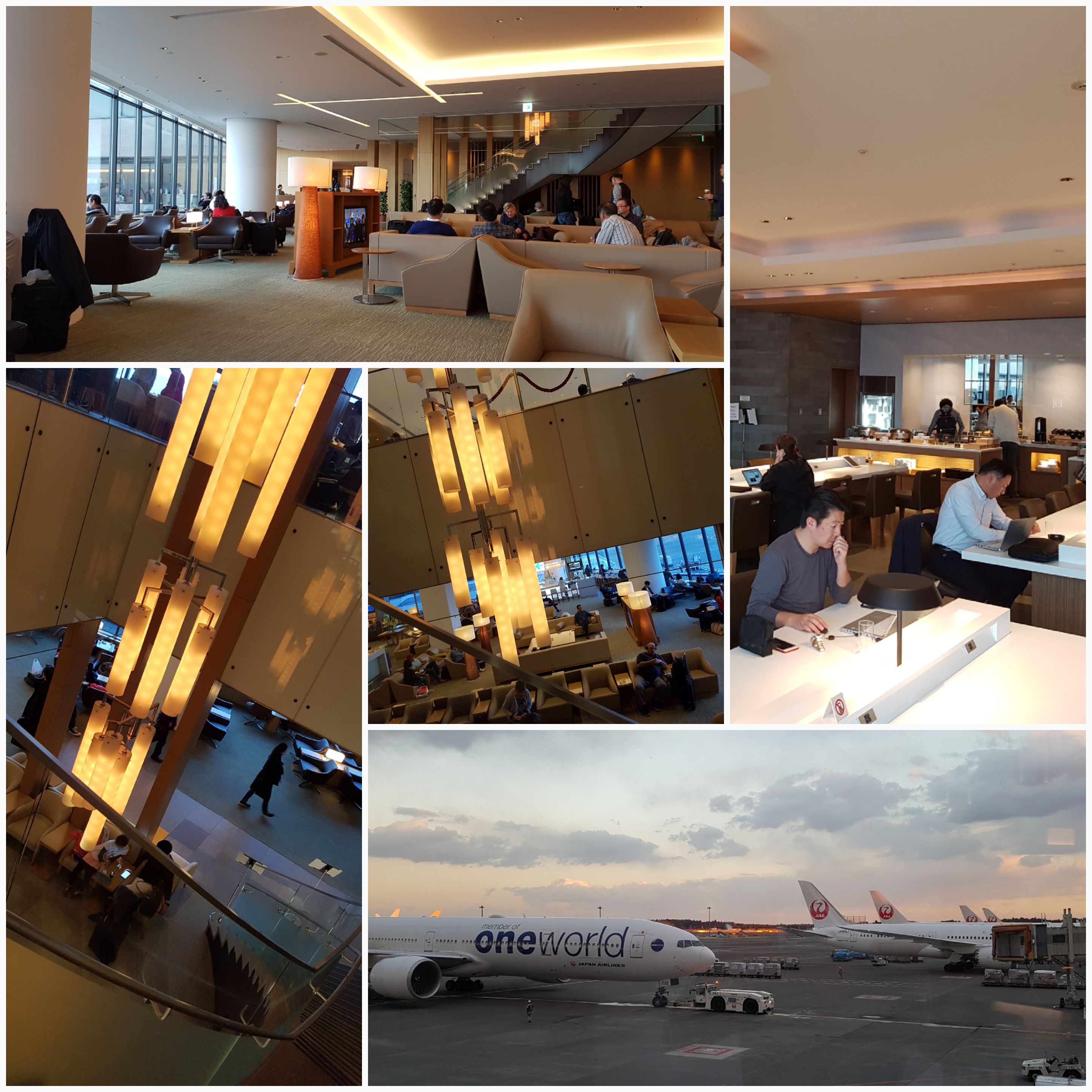 We checked out the shops and hit the lounge, which spreads over two floors. I took a shower, we ambled about, the second level serves food and we both had a small nosh; mostly dumplings, curries, salad.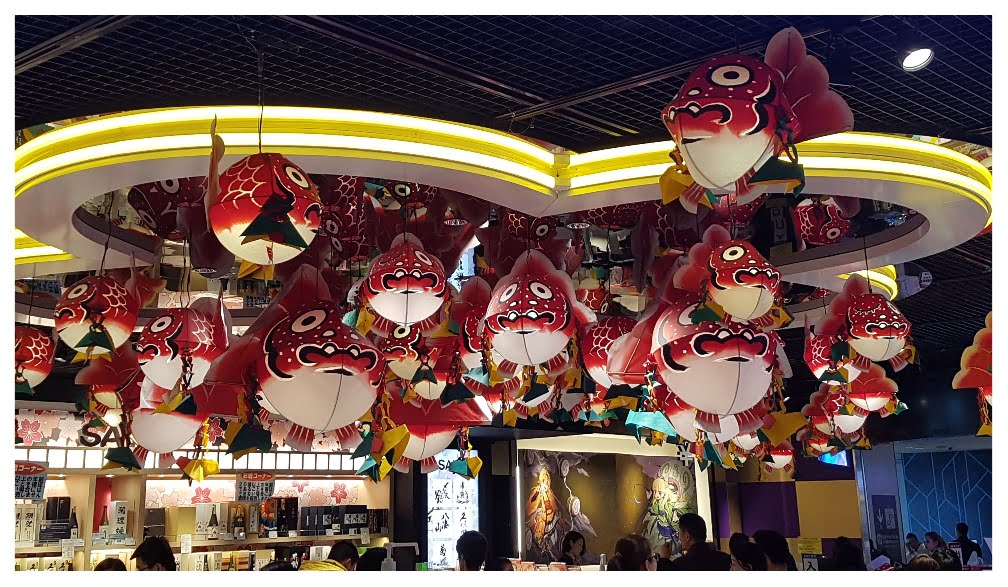 Lot's of New Year's adornment in the duty free shops. Soon enough it was time to board the final leg home.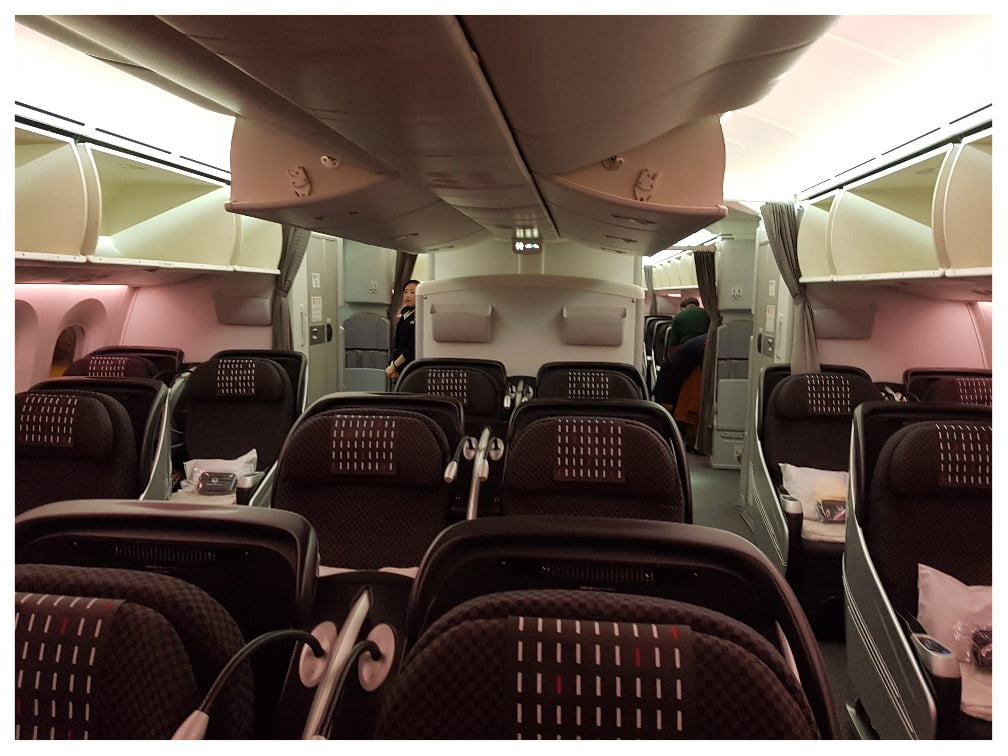 The plane was spanking new, the crew lovely, but the biz section was something called the "shell flat neo" which on the one hand doesn't provide the privacy of a pod and on the other hand doesn't go fully flat, which just doesn't make sense on an international flight; JAL really made an error on this design. The area that would normally be first class had three rows of biz, and we were in that nearly private section, which was much appreciated.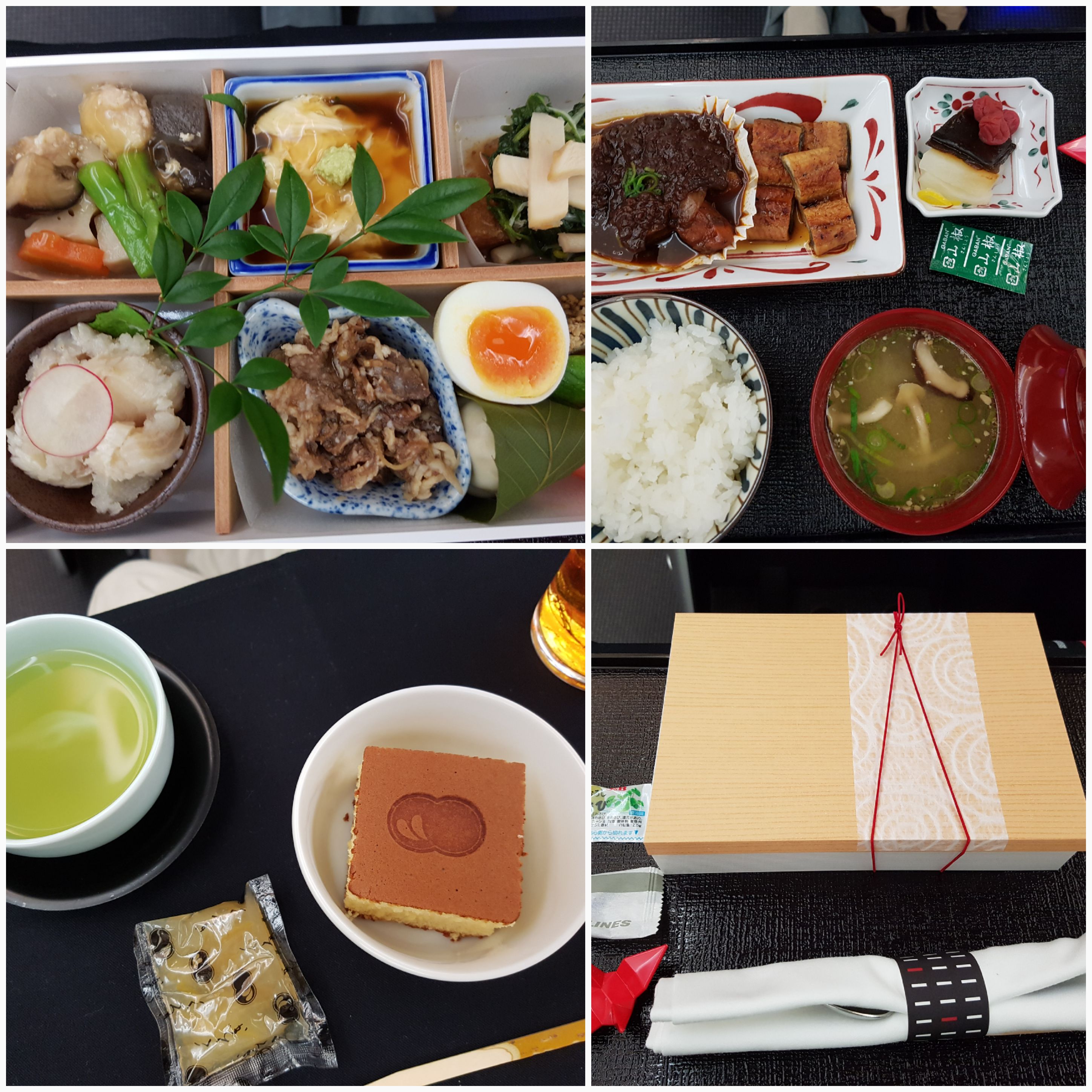 Went full on Japanese for dinner. It was pretty outrageous. First of all, the starter came gift wrapped! Starter was simmered chicken and vegetables; crabmeat in sauce; poached potherb mustard, chrysanthemum and mushroom with abalone; seared yellowtail; and beef ginger flavored burdock, slow cooked egg and "vinegared" turnip wrapped in smoked salmon. The main sounded revolting, tongue and eel, but the beef was actually a braise, delectable, and the eel had been broiled in sweet soy. Really excellent.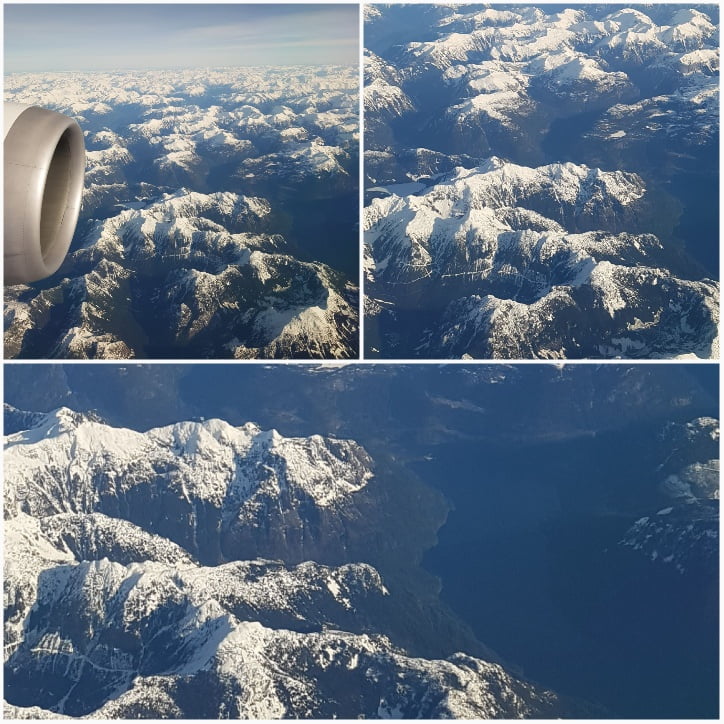 Close to home.