A Delicate Balance on The Twentieth Century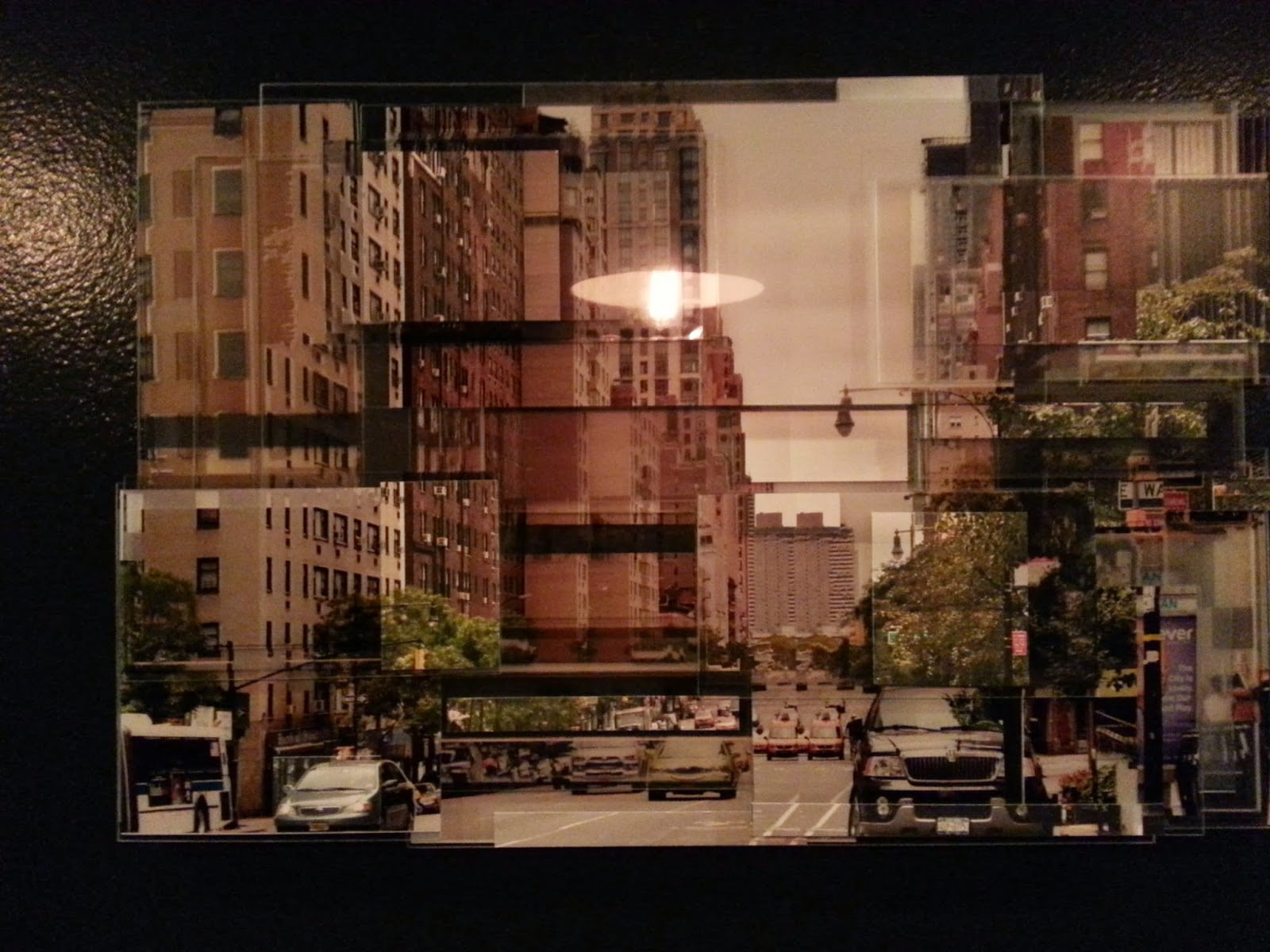 Happy Valentine's Day!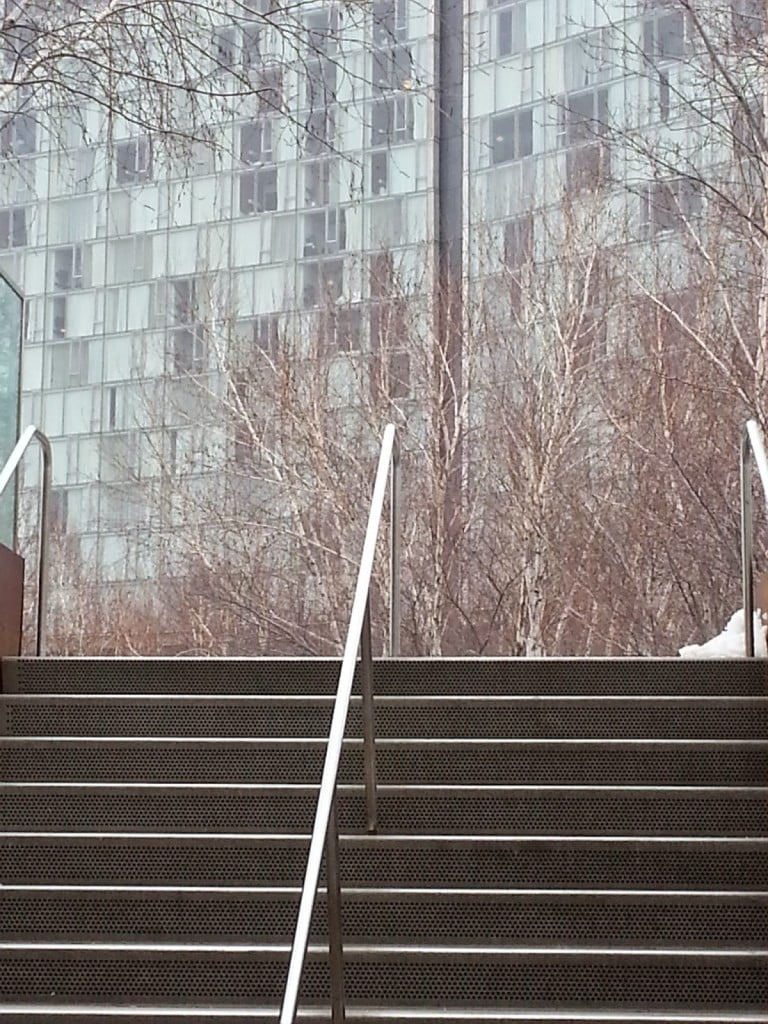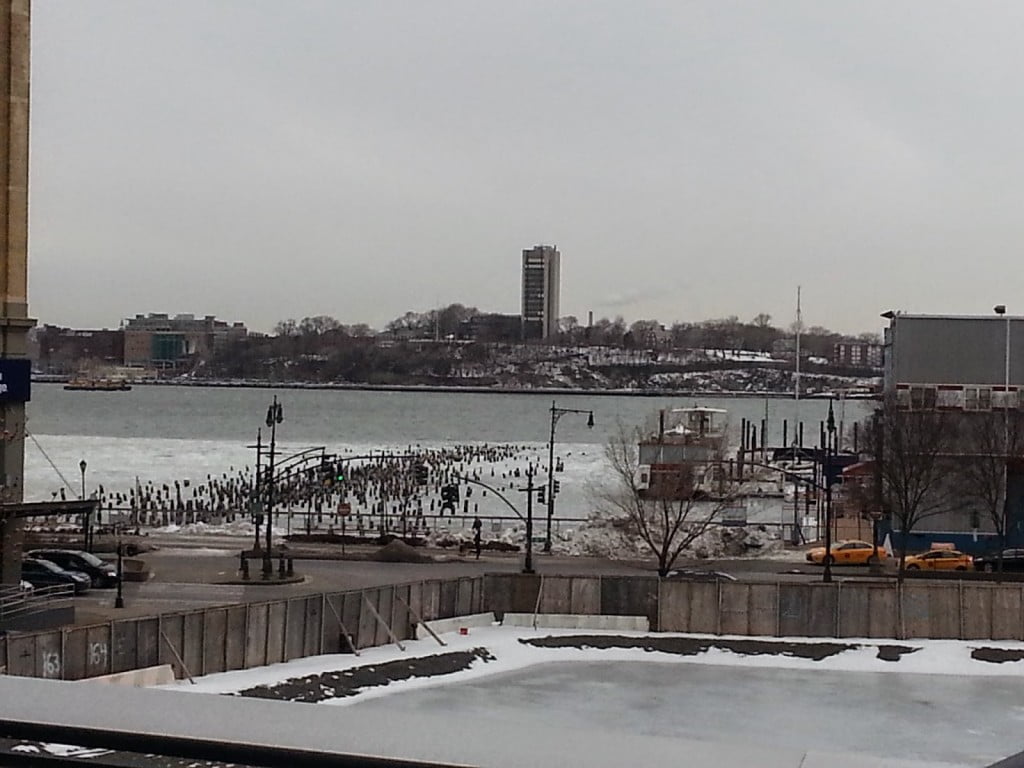 Pier-ing across to Jersey
We scheduled four sessions of sitting for today so first thing we headed out to the High Line, the re-purposed elevated spur of an old railway, now a 2.5 km park, for a winter walkathon .  It was cold, but not blustery, so slightly better than yesterday; it was no surprise only tourists and joggers were braving the terrain.  We started at the grim and gritty 34th Street end, walking south to14th.  Then we cut across the rim of the West Village and back up Avenue of the Americas. We passed the church that became a club called Limelight thirty years ago which brought back a few old memories.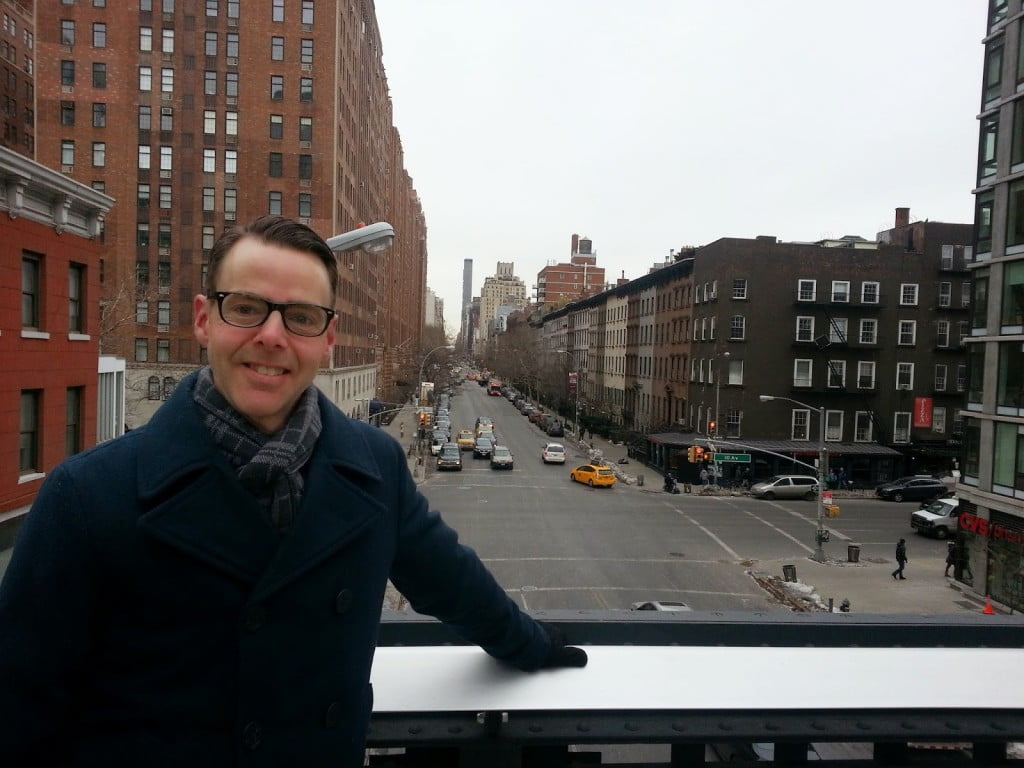 For lunch, or brunch such as it was, we went two doors down to the Archer Hotel where chef David Burke has a Memphis glam reminiscent outpost called Fabrick which is a play on words that nobody gets.  Sort of like Memphis was.  Burke is frequently on chef shows, a (losing) competitor on Top Chef Masters; his food always looked incredibly appetizing but never with the neurotic flair of too many swooshes and tweezer laden edible flowers.  Sorry David, you've been chopped.  (Forgive me for too many foodie mixed metaphors.  Call me the mix master.  Ouch…)  I would write that the food was amazing but in fact it was just competent; some French toast bites, deep fried with a caramel sauce were, however, suitably decadent.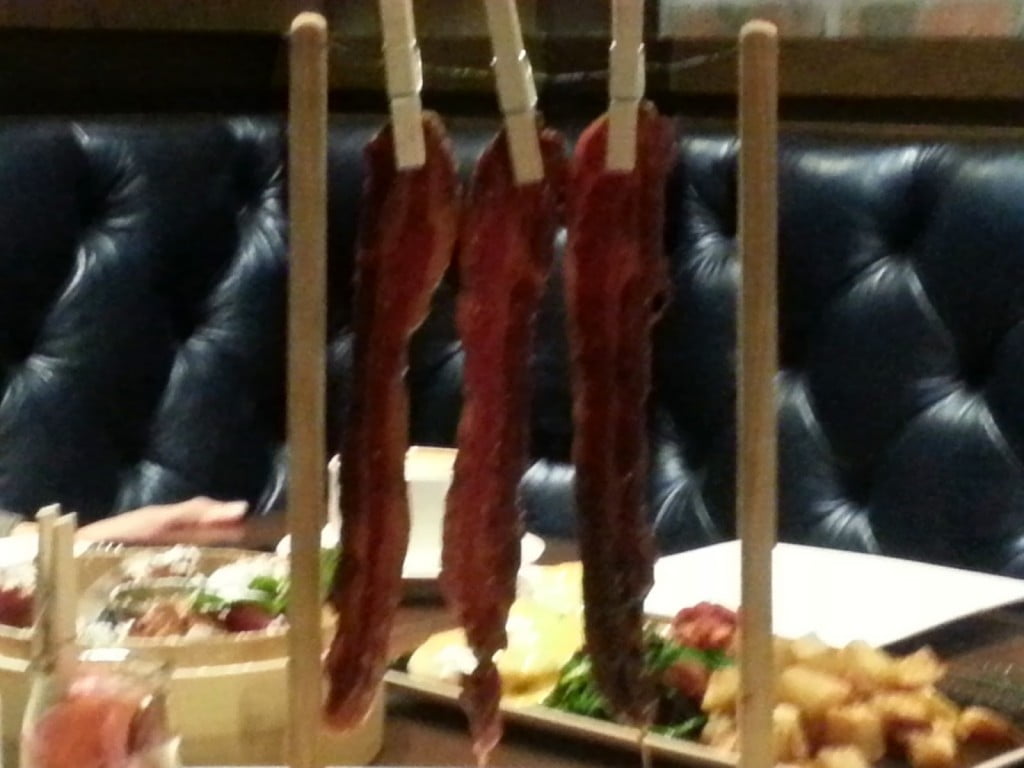 Side of bacon at the next table.  A little too cheffy
Post brunch we headed up to the John Golden to see Glenn Close, John Lithgow, Bob Balaban, Lindsay Duncan, Clare Higgins and Martha Plimpton in Albee's A Delicate Balance.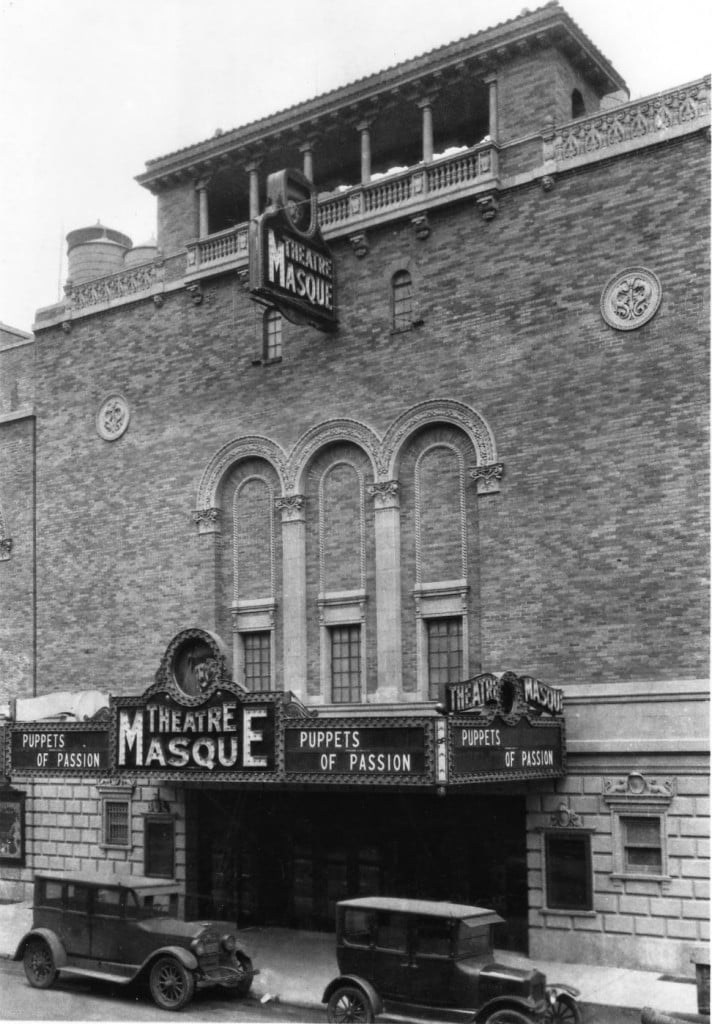 The Masque at birth
The John Golden began life as
the Theatre Masque in 1927, but was sold to the eponymous John who renamed it
in his own honour, now part of the mega Shubert organization.  Recently, Vanessa Redgrave and James Earl
Jones did a revival of Driving Miss Daisy.
Not so recently, Beyond the Fringe did a two year stint (back in the 60s).  And the late Mike Nichols did a year there at
the beginning of his career with his then comedy partner Elaine May.  A play called Angel Street with Vincent Price
did a three year run here back in the 40s.
The set, the unbelievable, towering, impressive, inspiring and appropriate set, was by Santo Loquasto, who (to date) has worked on 28 Woody Allen movies.  We both found the play funnier, more poignant and not as dated as we expected, although any drawing room drama written in 1966 and presented as contemporary is going to look a smidge out of touch.  Clare Higgins, in a minor role as the neighbour, more or less stole the show, while her husband, Bob Balaban (the NBC exec on Seinfeld who was infatuated with Elaine) seemed to be jettisoned in by accident.  But I think most people show up having fallen in love with Close in Fatal Attraction; Ann Roth dressed her up in suitably draping elegance.  I heard the security guard in the lobby complaining about his job, noting to a colleague "I'm sick of this stupid play and I'm sick of its two stupid intermissions," which made me laugh.  I mean you don't get a bonus for "working" a second intermission.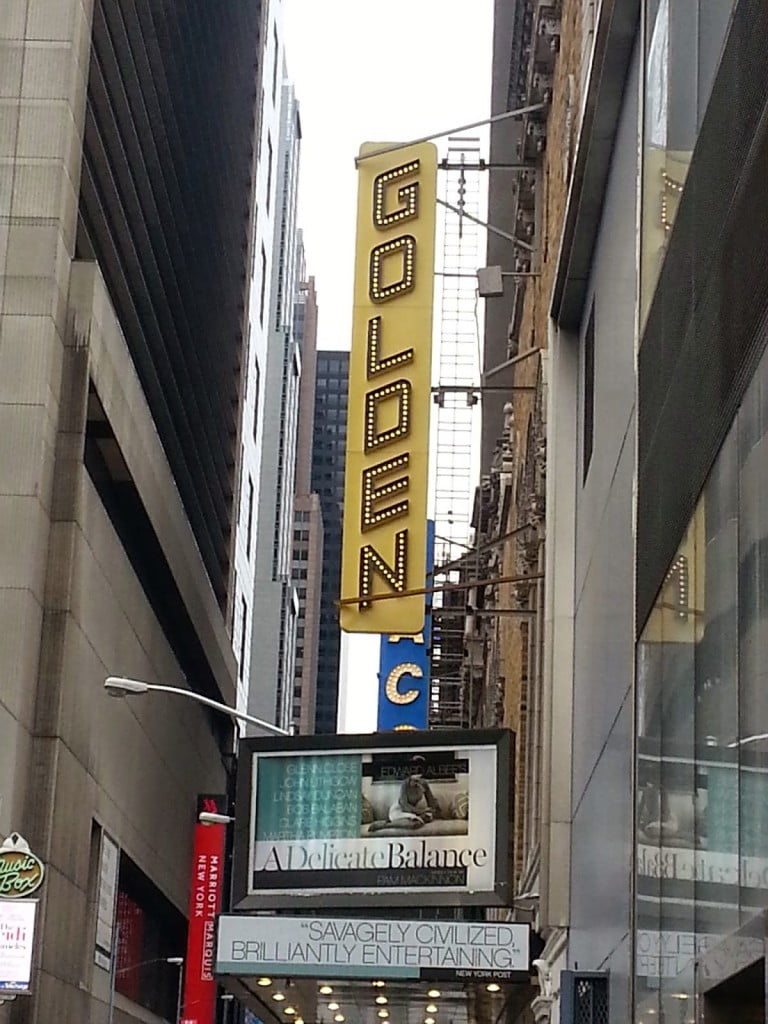 After our matinee (it was snowing.  Snow day!  Big wet flakes that dripped down your hair but didn't amount to anything on the ground) we walked over to DB Bistro.  Midtown isn't the best place to dine on the planet; if you've never read the NYT review of Guy Fieri's place, it's very funny but to the point. My favorite line is "Did you notice that the menu is an unreliable predictor of what actually came to the table?" 
Check it out
.  So given the options geared toward the tourist traffic, and the fact that every restaurateur wants nothing more than to turn tables on V Day, I think we did pretty well to get a decent prix fixe pre-theatre (er, sorry, theater) dinner.  They even threw together some fruit for SS as a dessert sub.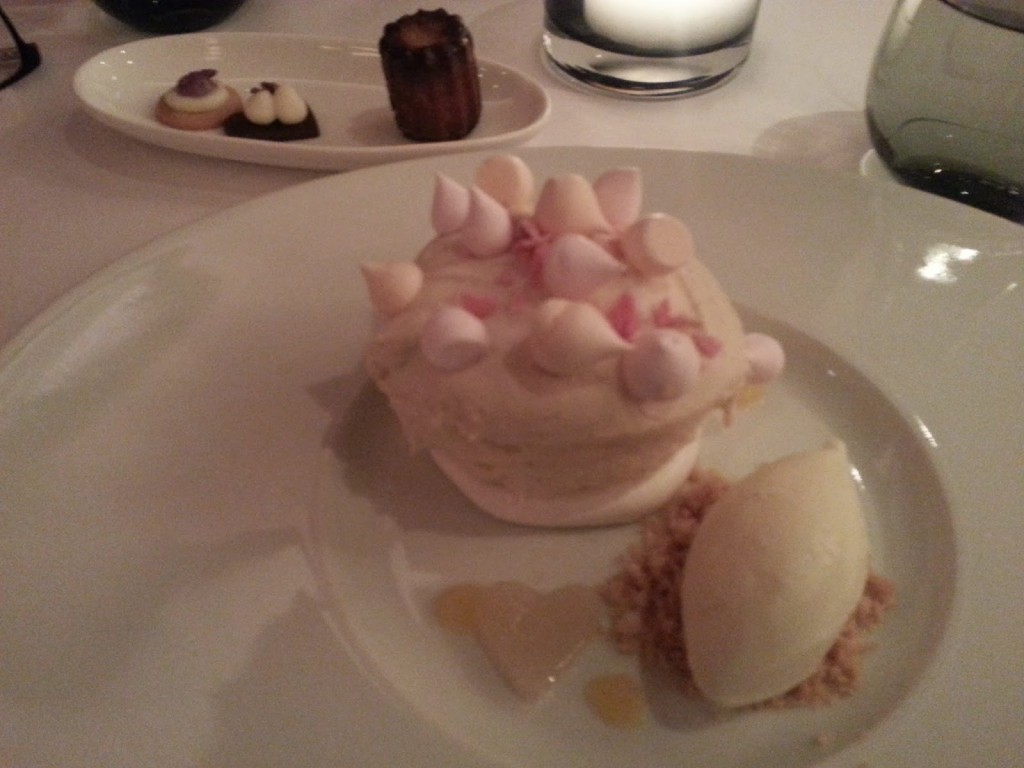 A beautiful Valentine's dessert at DB Bistro
Off to a musical at eight. The American
Airlines Theatre aka Selwyn Theatre opened in
1925.  Played Kaufman/Ferber's The Royal
Family as well as Design For Living, and a few other plays that have lived on
into revival history, but in the mid-30s became a cinema.  Showed a couple of plays in the late 40s but
then became, mainly, a seedy Times Square all-nighter with its share of drunks,
addicts, insomniacs and so forth.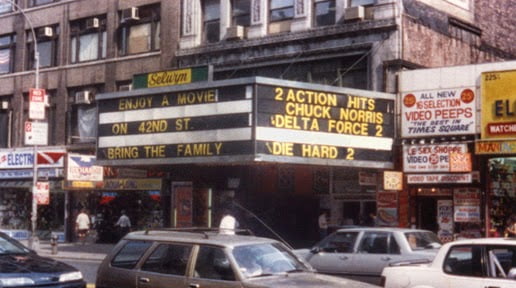 The Selwyn Theatre, 1990, pre-reno
This century,
$8 million in renos later, it opened as the American Airlines Theatre.  It is a relatively big house, but wide and squat and about as intimate as you can get for a 740 seater.  We had tickets for the first Broadway revival of On The Twentieth Century (since Madeline Kahn made the debut, infamously walking away from the production after only nine weeks).  Interestingly, Alec Baldwin and Anne Heche
appeared in the play, Twentieth Century, from Macarthur and Hecht's script of
the movie, which starred Barrymore and Lombard, in 2000.
Brian Bedford did his infamous Lady Bracknell here too.  And last time we were in New York we saw the
Odets' revival of The Big Knife with Bobby Cannavale and an awesome character
performance from Richard Kind (George Clooney's pre-fame best buddy aka for his
long run on Spin City).
We loved it.  So did, it seemed, the ultra enthusiastic crowd.  The production was over the top glam and glitz replete with an entire cast wardrobe change just for the final scene, the whole cast exceptional, Kristin Chenoweth hysterical, and start to finish very, very funny.  But will it play to Ohio?  When you see Phantom (the longest running Broadway show in history) queued up a block away, you wonder who will come for a musical comedy that is half operetta, mixes slapstick, farce and dancing shtick all in reference to 1930s screwball comedies?
It wasn't snowing on the way back to the hotel.  A balmy 1 or 2 degrees C.  We navigated the Broadway hordes back to the Refinery.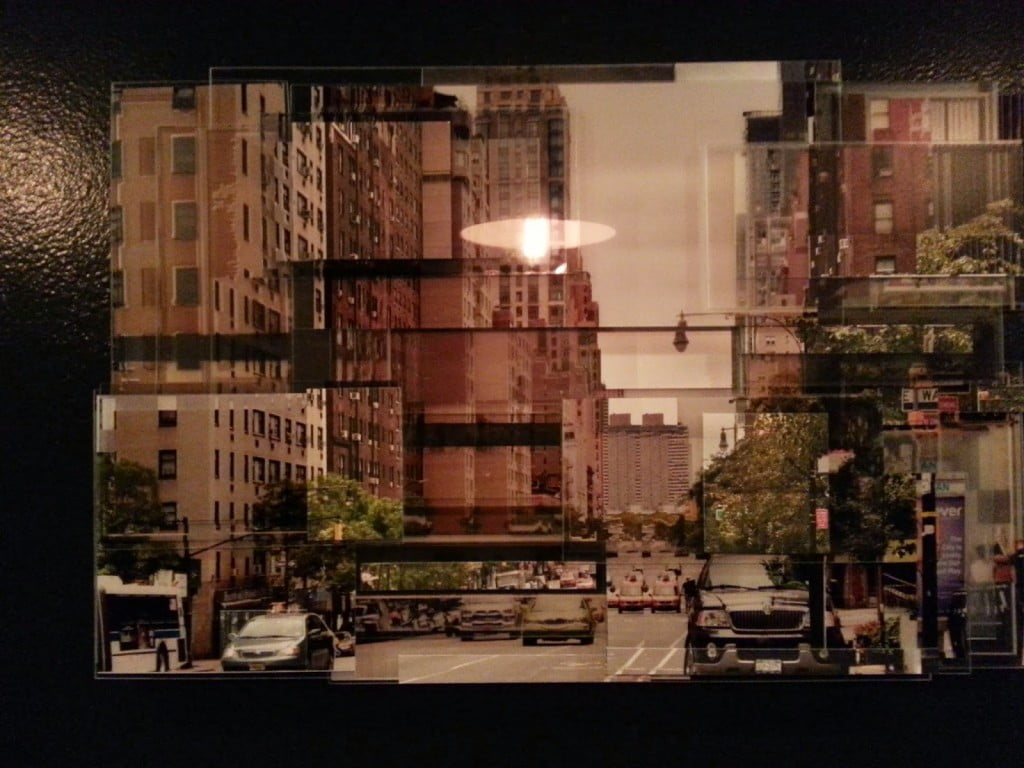 Hotel hallway art, three dimensional collage