Spoiler alert: Tosca dies at the end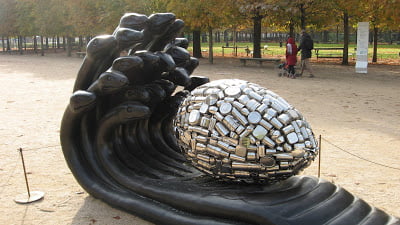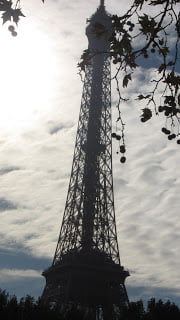 Tom Cruise proposed to Katie Holmes here
At eight it was bright and sunny and October cool.  I got SS a hot croissant (he favours one boulangerie over the other as we have two on our doorstep to choose from), an IHT (which reported that the Chilean miners were at one point visited by some of the Uruguayans who went down in the plane and for which the movie "Alive" was made and who advised them to form a pact and not share the details of their ordeal except under contract) and came back to the flat to have a refreshingly pedestrian breakfast, a bowl of granola!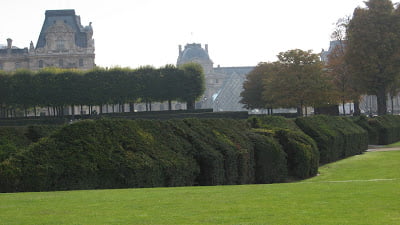 Exciting to be here no matter how many times you've been here before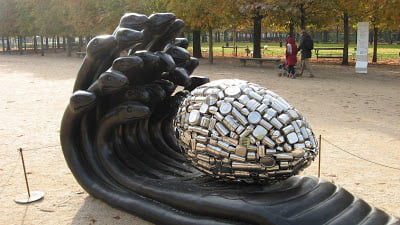 Stainless steel egg
Baskets hanging from a tree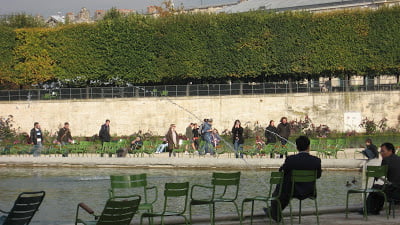 SS says this blog has taken a turn for the worse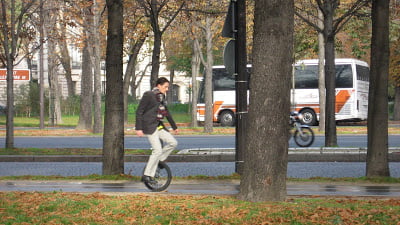 YSL's "fall line for unicycle" includes a 10% spandex blazer for improved mobility and an aerodynamic scarf; unicycle not included
We set out with no Paris agenda.  It was sort of fun and it's always a sort of adolescent thrill to return to Paris no matter how old you are or how many times you've been here and to just enjoy the city.  We walked towards the Opera (the old opera) then south in the direction of the Seine just passing the Louvre and west through the Tuileries towards all the mega cultural institutions in the 16th (there were, we estimated, over 200 people in line to attend the just opened Basquiat show at the Modern), into the haute neighbourhoods of the Trocadero, over the river under the Eiffel Tower where over-the-top throngs of tourists congregated in long, snaky lines to get a chance to walk up a staircase and look down on long, snaky lines of other tourists, then deep into St. Germain, eventually back to Ile de la Cite, into Les Halles, and back into the Marais.  I figure we covered over 15 kms on foot and, naturally, I needed a nap.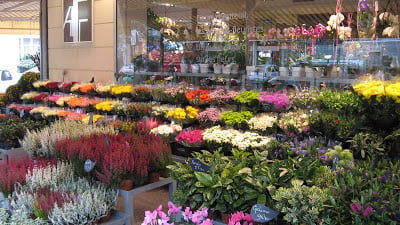 SS took this one for his mom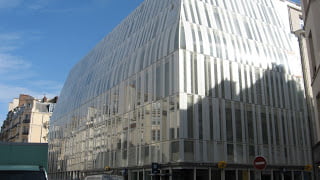 Re-enforcing SS's theory that the French don't do modern well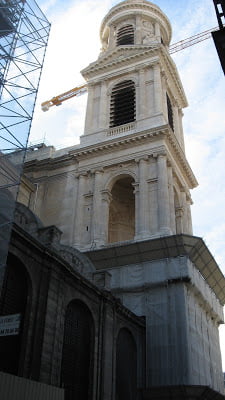 St. Sulpice, getting a make over for several years now…
For lunch we had no idea where we were or what to do so we arbitrarily decided on an old-school-looking place in the 15th just near the UNESCO building called La Gauloise; it was not unlike an Italian restaurant in Greenwich Village my friend Maurice took me to about ten years ago, very traditional and not updated to meet passing trends.  There were plush carpets, red velvet banquettes, career waiters and the musak was along the lines of Frank singing Somethin' Stupid in a duet with Nancy, formal but not too stuffy, businessmen in the back, a private room upstairs, china with the name of the restaurant on the rim.  Behind SS was a wall of signed photographs including Alain Delon (although a more recent version than, say, Purple Noon), tennis' Henri Leconte and Formula 1's Jean Todt.  We had a wonderful beef bourguignon made with lardons instead of bacon and it was a treat.
What we've found, having eaten out in France now for almost a month, is that regardless of the calibre of the establishment or how new, old, popular or not the place is, almost all restaurants never smell like restaurants, they smell like shops where you eat.  It can be off-putting.  When you go to, e.g., an Italian restaurant, they are usually rich in the smell of garlic and onions, roast meat and herbs and red wine.  It was just a simple observation we made a while back then, in the Edmund White book SS is reading he came across the following paragraph:
Above a certain level of income and social standing every detail in a life follows a fad.  For a while everyone had to serve dinner in the kitchen, which meant entirely redecorating the kitchen so that it would be Philippe Starck sleek and preparing nothing but cold food.  The French have a horror of the smell of cooking food, whereas Americans find it appetizing; in the nineteenth century the first French Rothschild went so far in this aversion as to have the food brought from the kitchen to the dining room on an odourless, because underground, train.
This is a keen observation as well as being hysterical (in both senses), especially when you consider how extensive the seven bullet description is on a bottle of Badoit sparkling water: Bulles fines et legeres; Nez discret et frais; Attaque ronde et veloutee; Bonne Longueur en bouche; Effervescence delicate; Finesse aromatique; Finale rafraichissante.  It's water!
In the evening there was no time for dinner as the opera started early.  Paris is remounting what was apparently a legendary La Scala production of The Marriage of Figaro.  We had tickets for opening night.  From what little I've been able to piece together they used Strehler's sets (and indeed Strehler) who oversaw the original production nearly 30 years ago. Of course many costumes had to be remade and, according to Le Monde, at very great expense.  Whether it was opening night jitters I don't know but the first act seemed very flat.  It was soon redeemed by an absolutely sublime second act, a third and not bad fourth–however there was a time during the final act where I think they should have stopped the production, brought out Strehler and threatened to hang him for his lighting; it was, after all, the Bastille.
Last time we were in Paris we saw an opera (Iphigenia and Tauride) dressed up in such a modern style as to be incomprehensible; but we were at the "old" opera and it was enchanting just to be there.  Last night we experienced something a little less enchanting: Standing room only tickets are allowed to sit in the aisles at the Bastille…  It was a bit like being at a folk festival.
Karine Deshayes sang Cherubino and (I felt deservedly) got more applause than Figaro. When s/he jumped out the window there was a gasp stage left which brought to mind the most wonderful Tosca anecdote the late Paul Baker used to tell, which I couldn't do justice to in a blog, but the nub of which is that the hefty stars of yore are less and less, especially with the active performance expectations modern directors demand.  Indeed, any more business in this production and they would have had to hire an underwriter for the IPO. Of course the star (for me) was the Contessa, eloquent and masterful, sung by Barbara Frittoli, who only endeared herself more with a curtsy which must have been rehearsed at least for a year and a half.  Seven minutes of applause at curtain (I timed it).  But, dare I say it, as beautiful to listen to and as serene as some of the arias are the libretto just seemed fat. But I am a heathen; I've only ever seen two of Mozart's operas on stage, Figaro and Idonomeo.
Oh yes: Tosca does die in the end of Tosca.  But after four arduous acts, it all works out well for Figaro.
PS: The "Figaro" aria we are all probably most acquainted with from Bugs Bunny is from the Barber of Seville, Rossini's retelling of the same story, not the Mozart version.  Write a letter.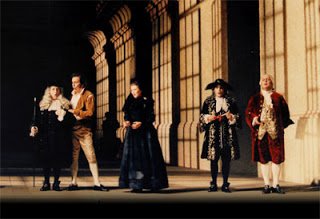 Strehler's genius third act set, a raked perspective of a grand hall