Time flies by when you're the driver of a train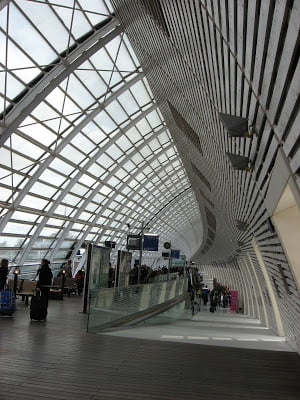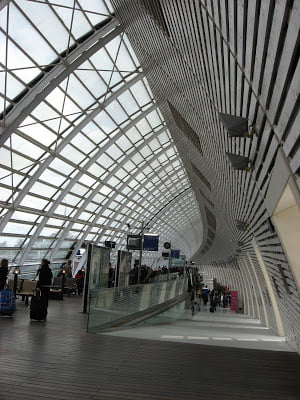 The TGV train station at Avignon; very cool
Blue sky, sun shining, and the famous Provence wind, the mistral, pounding.  You could feel it in the car and when we dropped it off at the TGV it was almost impossible to get inside.  Our hair looked like the Bride of Frankenstein, the heavy steel doors along the station were swinging wildly and the windbreak of poplars beyond the parking were swaying like willows.  We just had time to get the early train to Paris.  Too bad, on the first day of mid-term break for students, it was, yes again, a national manifestation, or general strike.  No train.  They didn't even know if the later one would arrive.  So, as per usual, we strategized on what we'd do if stranded in Avignon until, eventually, a train originating in Monaco rolled into the station.  Three hours later we were rolling into Gare de Lyon (with the announcement that those patrons with taxi reservations should be aware that all the taxi drivers are on strike).  At least the metro is running.
We took the metro to our rental agency in the Marais then walked the less than four blocks to our apartment.  We had a wonderfully situated and very inexpensive studio in 2008; we wanted the same area, the rue de Bretagne (one of my favourite streets in Paris, a park at one end, a canal at the other, and in just a few short blocks cafes, grocers, butchers, a market, a pasta maker, galleries, and all sorts of things that tourists have no interest in flocking to see but make it ultra Parisian).  We paid a little more for a one-bedroom, still small, but more spacious, with a proper kitchen table, east and west light, and only three flights up without an elevator.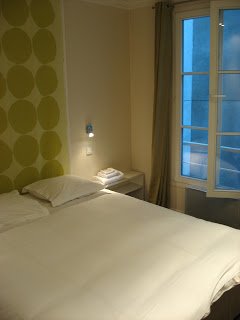 Small bedroom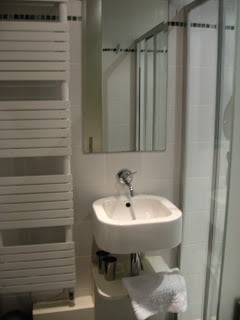 Small bathroom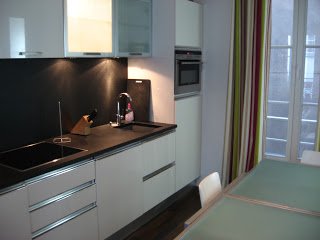 But hey there's a washer/dryer and dishwasher hidden in that kitchen; clean underwear!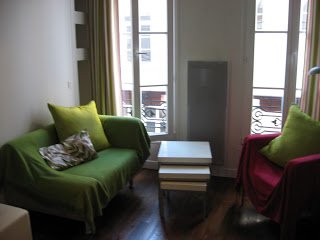 Even more small room
We don't have a lot of cuisine extraordinaire planned for Paris, but tonight Willi's.  It's a place I have gone to alone because you can have a great meal at the bar without feeling out of place and last trip I even gave up an evening start to the Nadal match to meet SS there for dinner (he had a very memorable meal so it was worth it…).  He had a scallops starter, a vegetarian main and an over the top chocolate pate in creme anglaise for dessert.  I had a starter which was rabbit wrapped in marinated eggplant with rabbit terrine on top and nicoise olives and peppers diced as a dressing, with some arugula on the side, a main of free range guinea hen in wild mushrooms on cabbage and cheese to finish.  Wonderful.  We walked there and back, about 2 kms each way, and it was brisk to say the least.
Tomorrow: The opera!  My name is actually on the ticket below the barcode.