Fewer Seniors, More Axe Body Spray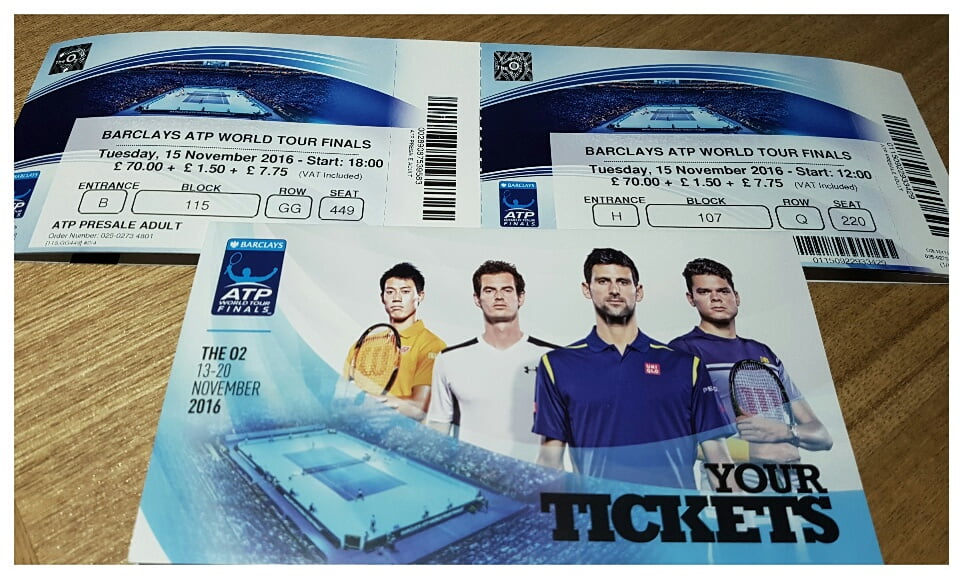 I had an affair with a tennis pro once.  Love meant nothing to him.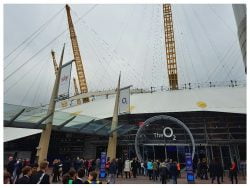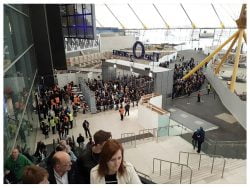 It took me 45 minutes to walk to Waterloo, 15 more minutes to walk to the Jubilee line, 12 minutes to walk from the arrival platform to the 02, and another 47 minutes to get through the two security gates and to my seat once entering the stadium.  But I felt safe.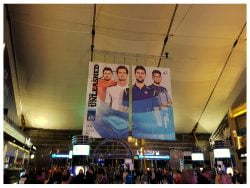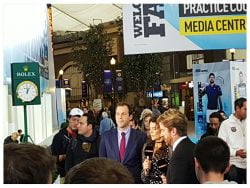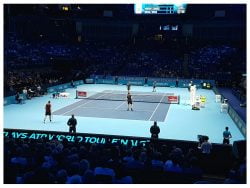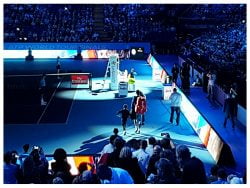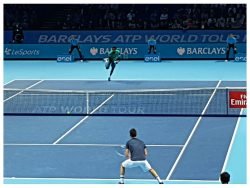 My double double date with the ATP started with a doubles match: Jamie Murray, Andy's lesser known but (on the doubles circuit) equally accomplished sib, and Soares, against the Bryan brothers, who I saw play back in 2012.  The Bryans are twins; you can tell them apart because Mike is the one who doesn't look like Bob.  That was a fun but straight set affair.  The singles match followed: the balletic and sometimes neurotic but almost always entertaining Gael Monfils with the up and comer and potential heir to Nadal (?), Dominic Thiem.  Thiem played the first set like he wanted to win; Monfils with his faux injuries and loopy drop shots capitulated.  Monfils played the second set like the player he is and dumfounded Thiem.  Then they played a third set of what's commonly known as tennis and in the end Monfils dropped it all.  But you know, he had a hot date and plans for the clubs later, so all was not lost.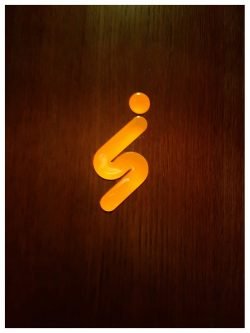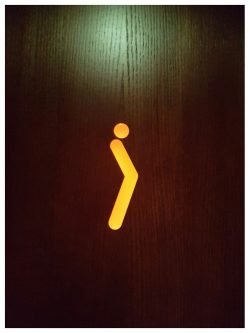 In the break between afternoon and evening, over two dozen restaurants that surround the 02 fill up, chock full.  Dinner at 5 p.m.; I could have been in Vancouver.  I had Thai at a communal table with: a Trinidadian woman living in London who has queued at Wimbledon successfully for seven years; a Russian woman who is going to every session (every session! Day and night! For a week!); a woman from Tokyo who was doing something similar to me, leaving her husband at home and hunkering down for the ATP; and a German couple who were bemused by our dedication to the sport but reticent to weigh in.  Everyone laid down their cards (Federer fan, Nadal fan, Djokivic fan, etc.).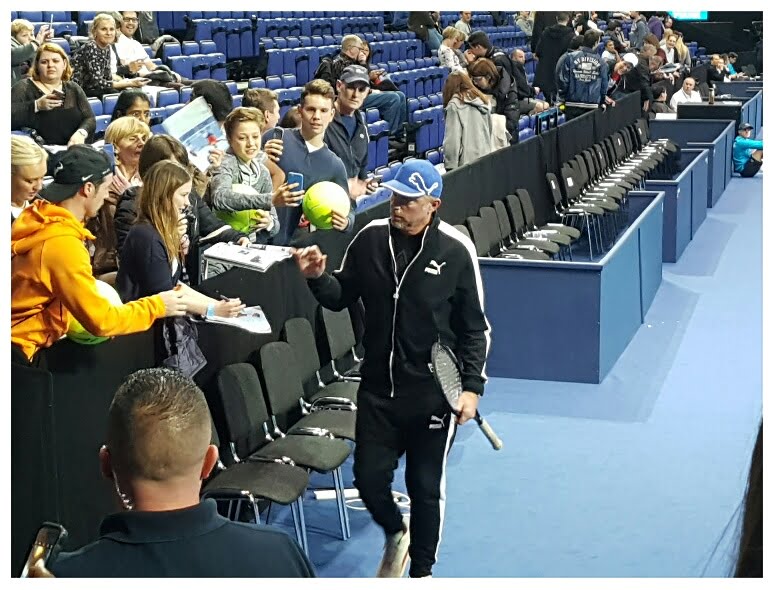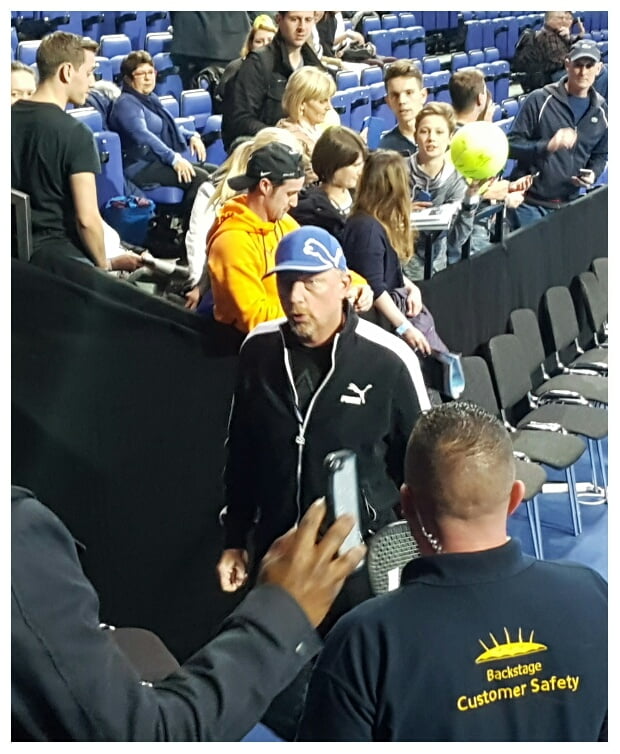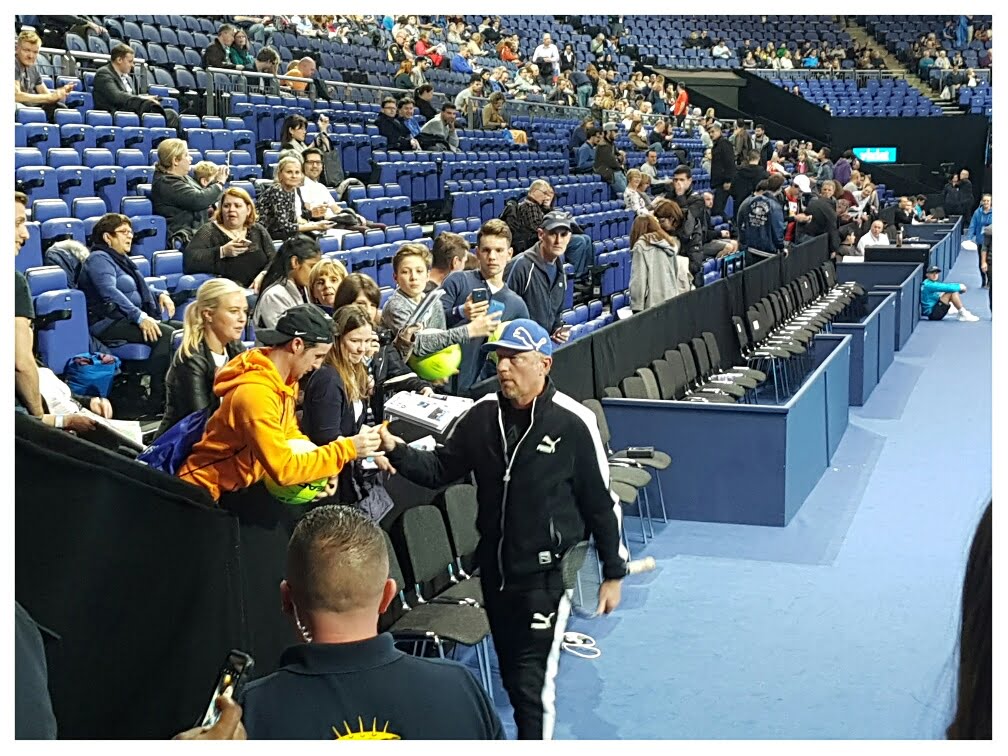 A seemingly cranky, visibly limping, Boris B leaves the practice session: Through a different exit than Novak!  I was mid lower bowl for the afternoon, row Q.  Quite good I thought. For the evening I was in third row.  Third row.  In keeping with the title at top, the crowd was significantly different day to night.  The afternoon session had a lot of men that looked like Jonathan Pryce and women that looked like Frances de La Tour; the evening it was more women that looked like Rachel Griffiths and men like Ray Winstone.  With a pint.  I came into the arena early to watch Novak hit the practice court.
The evening session began with Dodig and Melo versus Mirnyi and Huey.  Max Mirnyi.  Great name.  Treat Huey.  Great name.  Mirnyi used to play singles; at nearly two meters he was stunningly impressive in stature, but as with many of the tall boys he lumbers rather than lunges. The Brazilian and Croatian completely overpowered them.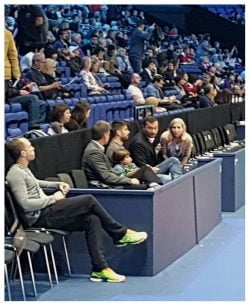 A footballer with his kid came in and sat at the VIP seats next to us.  This is how little I know about sport: He is Gerard Pique, plays for Barcelona, and is married to Shakira.  To which I say you think he would have better taste in denim.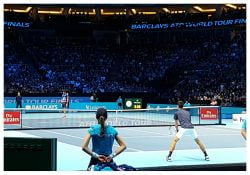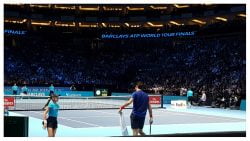 The evening singles session, Novak and Milos, was spectacular tennis.  Only two sets, but taut, well fought, over two hours, with umpteen opps for Raonic, but never was he able to capitalize.  To see his 141 mph serve at eye level, well that's a thing to behold. Did I mention I was seated in the third row?
In the two pics above you'll see that the towel behind the ball girl for Novak is an official tournament towel and that Milos is using a generic white towel from the locker room.  It started with Wimbledon, players stealing towels as souvenirs.  Now official towels on the tour are limited, so the "newer" guys keep them as part of the trophy room but the old guys, with too much loot to display, don't care.
Did I mention I was seated in the third row?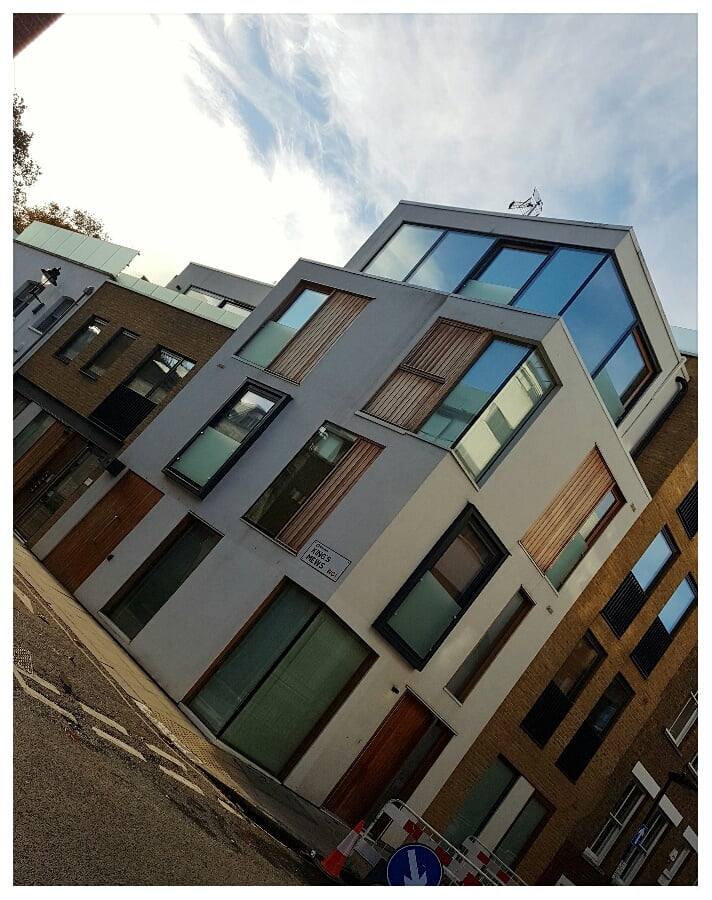 The crowds dispersing after the match onto the Jubilee line, thirty wide, were staggering.  I took the train the "wrong" way to Stratford, as it was near empty, then back into Holborn on the Central.