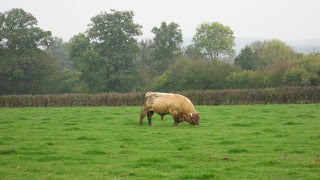 It was January at 8 AM: a mere five degrees!  Had communal breakfast upstairs; four Germans, two Belgians, two Anglos from Kent.  We were the first out of the B&B, on our way quite far north to Vezelay.  It was a day of major navigation, many side roads, ox-cart width, some u-turns, map confusion and one "roundabout vortex" which ended peacefully on the wrong road which went the right way.  There was a lot of "deviation" and plenty of roads "deformee" but all in all another sensational day in the country.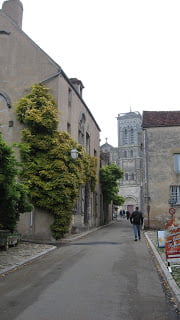 SS climbs the steep approach to the Basilica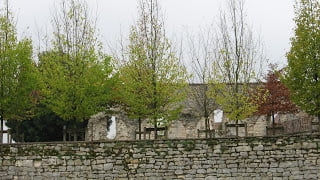 The 12th C abbey has not been restored
Even overcast it was idyllic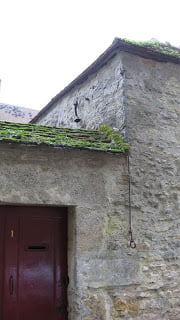 "Twice on the pipe if the answer is no…"
Overcast, but at least no rain.  We got to Vezelay just before noon.  It's a medieval town on a rocky outcrop with, yes, a church at the centre.  The basilica is, like many churches, originally medieval and much modified.  They say some of Mary Magdalene's remains were laid in the crypt…  We arrived toward the end of services, during communion, with an eloquent organ service filling the church.  This was followed by some prayers, a hymn, and another organ solo as the bells pealed.  It was dramatic and moving, the only thing missing was Jurgen Petrenko providing a voice over with the composer, the piece, and some historical anecdote on the pipes…
We circled the basilica and walked the cobbled streets where there is a tourist bent, but some pretty interesting shops nonetheless (including an esoteric bric-a-brac shop where I had to be restrained from purchasing items such as a pith helmet, a fencing mask, old tins and a music stand).  We took tea in a stone shop which was also eight centuries old.
From Vezelay we drove to two chateaux relatively nearby.  The first was Chastellux, a castle that has been in the same family for over a thousand years; it played an important role in the days of Joan of Arc when Burgundians fought against the Kingdom of France and a later owner was close friends with George Washington.  There was a stable for 60 horses, gardens and lakes which went on for acres, and a sign saying "closed for a couple of hours."  So we popped our heads in here and there but never made it inside.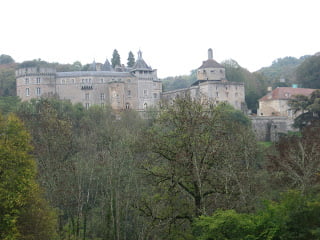 Nearest coffee is 32 kms away…
From there we somehow wound our way through a series of narrow roads and access routes to Bazoches.  This is "on the map" insomuch as it was built at the same time as the Vezelay Basilica and gained some considerable renown when Richard the Lionhart spent time on his way east.  It sits on a hill with a commanding view of the valley (which would have been, at one time, the whole kingdom, or "roi-dom").  It has one of those tree-lined entries you see in films and indeed there were snaps showing its use in films.  But inside it was a little perverse.  The castle is medieval, the doorways are between five and six feet in height, the stairs are narrow turrets, the style ancient.  But a later owner has painted over the stone walls and wood floors and gave it a Louis XIV makeover.  It somehow doesn't work and it seems like a pastiche of history.  Think Bugs Bunny as a jester in Chuck Jones' King Arthur episode.  In the libraries, of over 5,000 volumes, we noted the Cardinal Calvaire's two-volume memoirs and the 20 volume Cause Celebre; both, I think, rare on Amazon.  On the lawn I noted mole mounds; it's good to know the rich suffer too.  On the plus side it was heated, and I don't think that neck of the woods topped 9 today.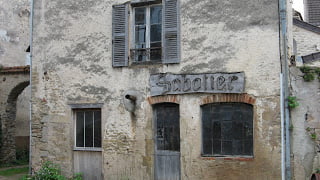 Even the welfare state couldn't save him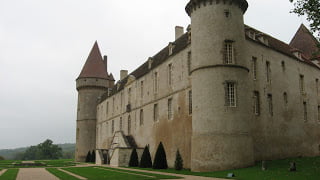 Look up, look way up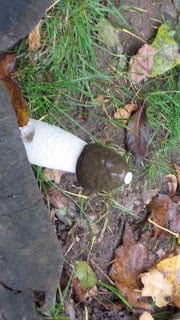 mycological curiousity
On the way home we detoured deep into the Morvan forest where we almost hit a deer (years of never hitting one on Saturna and we go to France only to kill Bambi), manoeuvred through dense fog, and saw the largest bull I can recollect (even including TO's Royal Winter Fair); Charolais cows are usually around a ton, bulls 1.5 times that.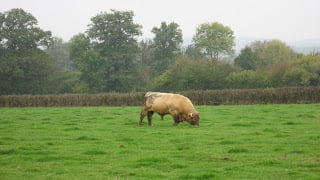 Ken
For dinner we did something very fun: The owners of the B&B cook for their guests three times a week.  We joined ten other people, eight guests and the two owners, for a wonderful three course meal.  It started with a very lightly curried cream of pumpkin soup with mussels and crème fraiche, then a veal wellington with wild mushrooms and potatoes then finishing with a chocolate tart with almonds and white chocolate cream with a dash of orange syrup.  Everything delicious, and some interesting chat.  We discovered the room where we're staying is 500 years old.  And when we saw the pictures of how the house was transformed, and that it took five years to rebuild and renovate, it made Saturna look like peanuts.