Ingenious Imitation of Nature by Man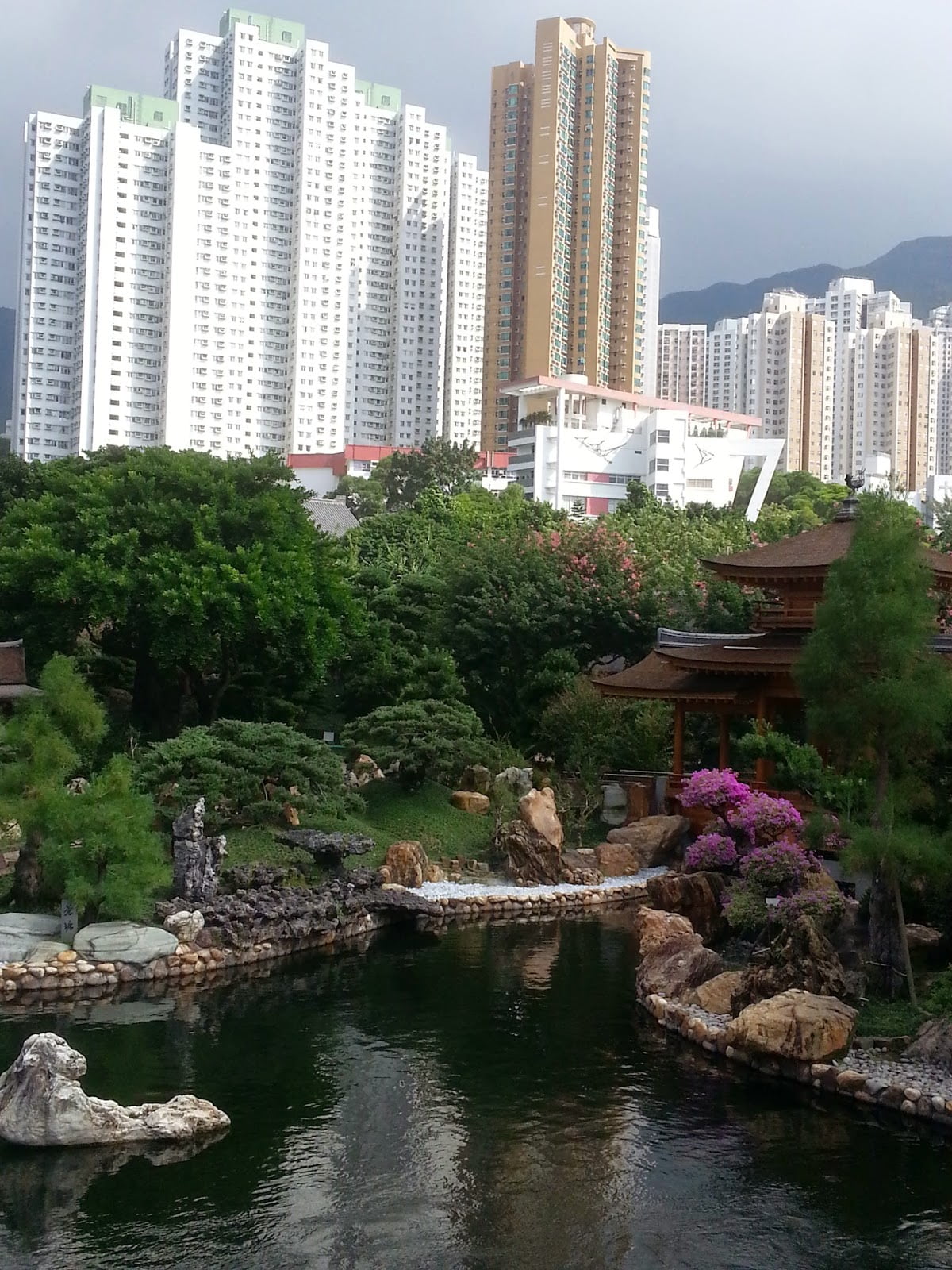 I have no idea what that title means but it's the title of a
garden SS went to this morning.  Although
it was our most beautiful day in Hong Kong, mostly blue sky, warm but not too
hot, no humidity, I just couldn't get my act together so SS headed out on his
own early in the day to the Nan Lian Garden.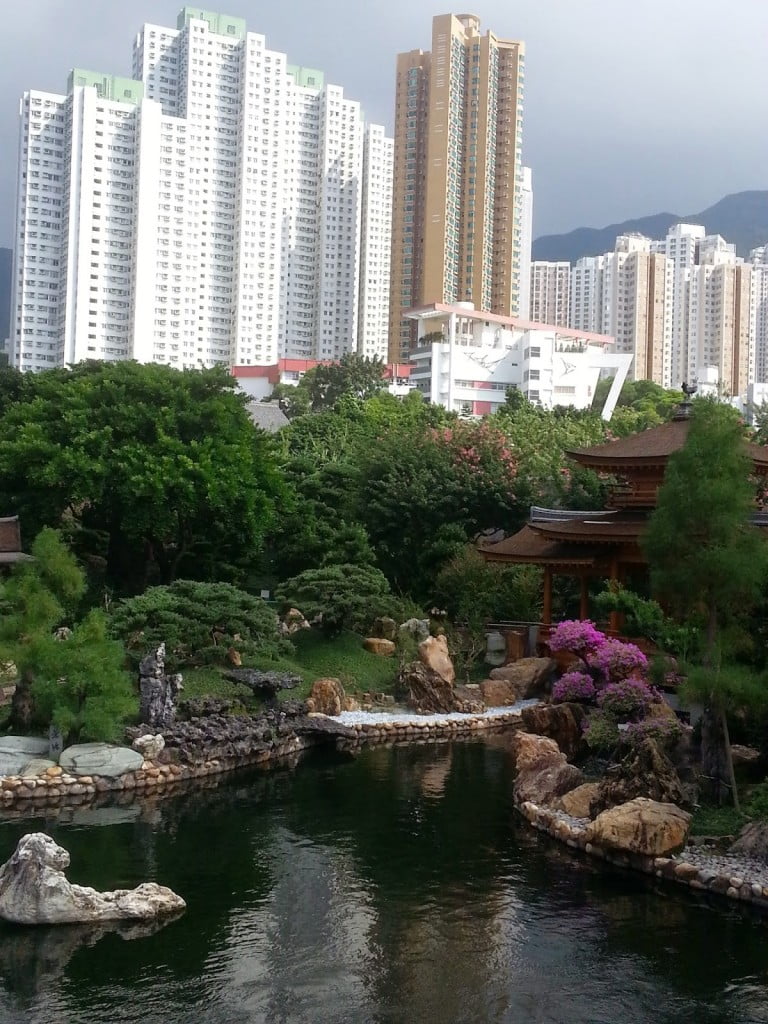 Steve Whysall, the Vancouver Sun garden columnist, had
recommended Nan Lian.  (The Sun has axed
Doonesbury and Cul de Sac, my two favorite comics, but left us with Betty, it's
only a heartbeat until they ditch their garden columnist.)   The
garden is located deep into Kowloon, about nine metro stops from our
hotel.  Connected to a Buddhist nunnery,
the garden is a contemporary version planted with reference to the Tang
Dynasty.  The pamphlet you receive upon
entering reminds patrons: No bawling and brawling; no frolicking or running; no
carving or graffiti; no hawking or touting.
Visitors are also requested not to wear graduation gown, wedding gown or
other similar costumes, which would disturb the serene ambience of the
garden.  I will not apologize for their
grammar or subject verb agreement.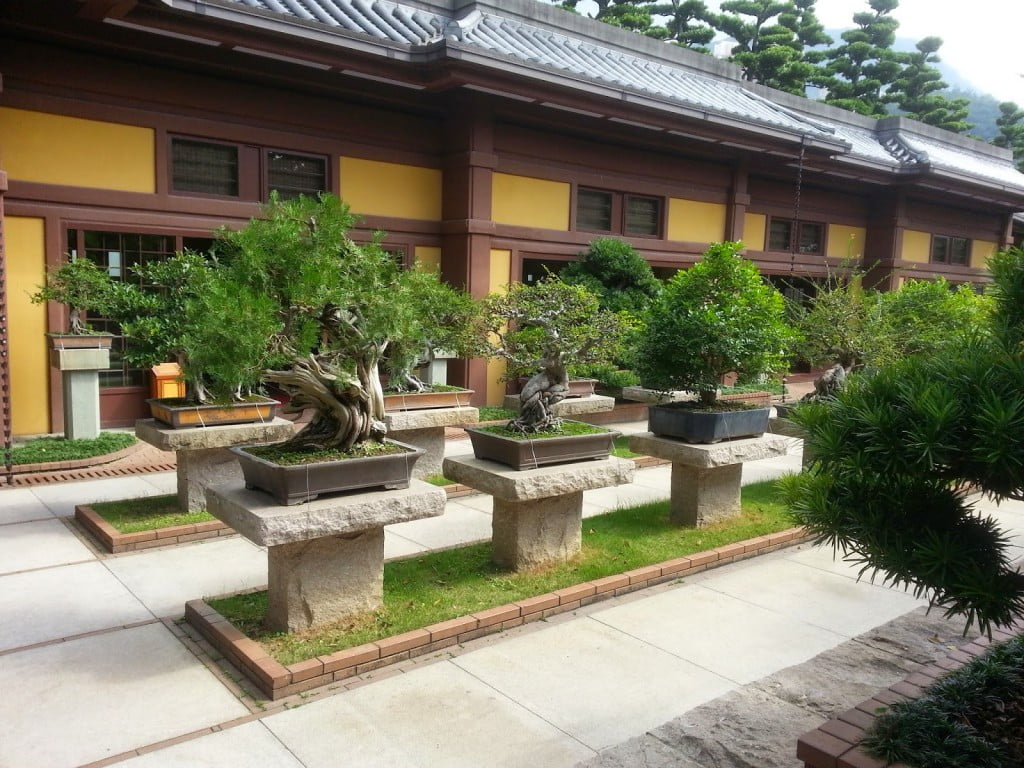 Bonsai trees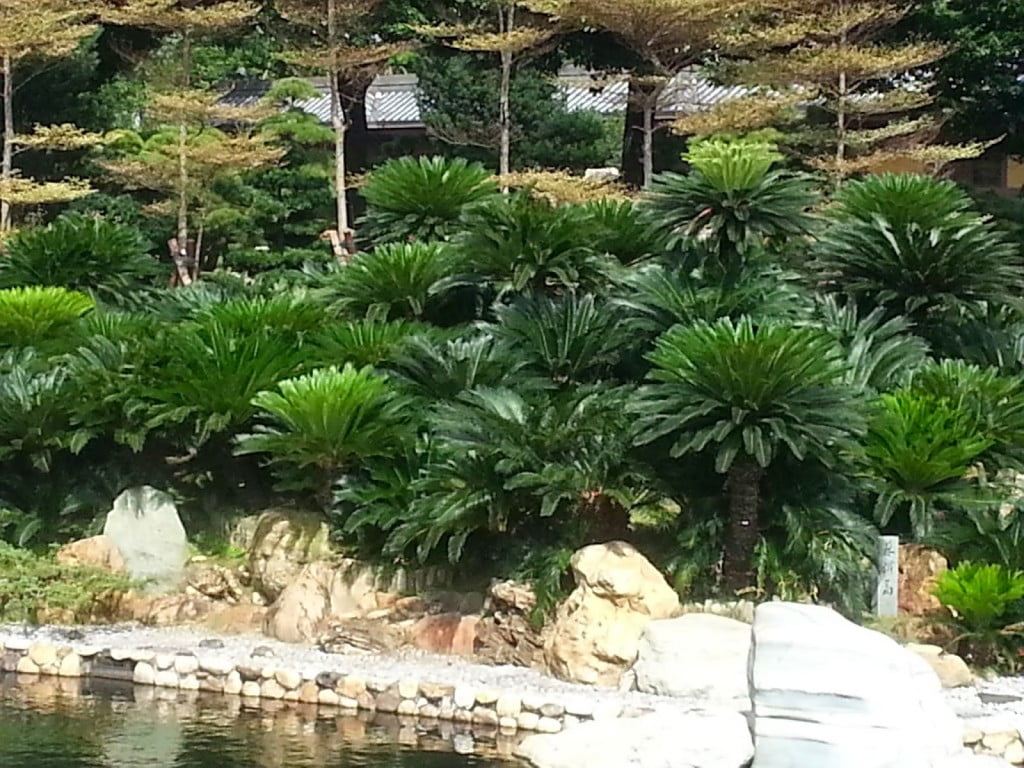 Tree ferns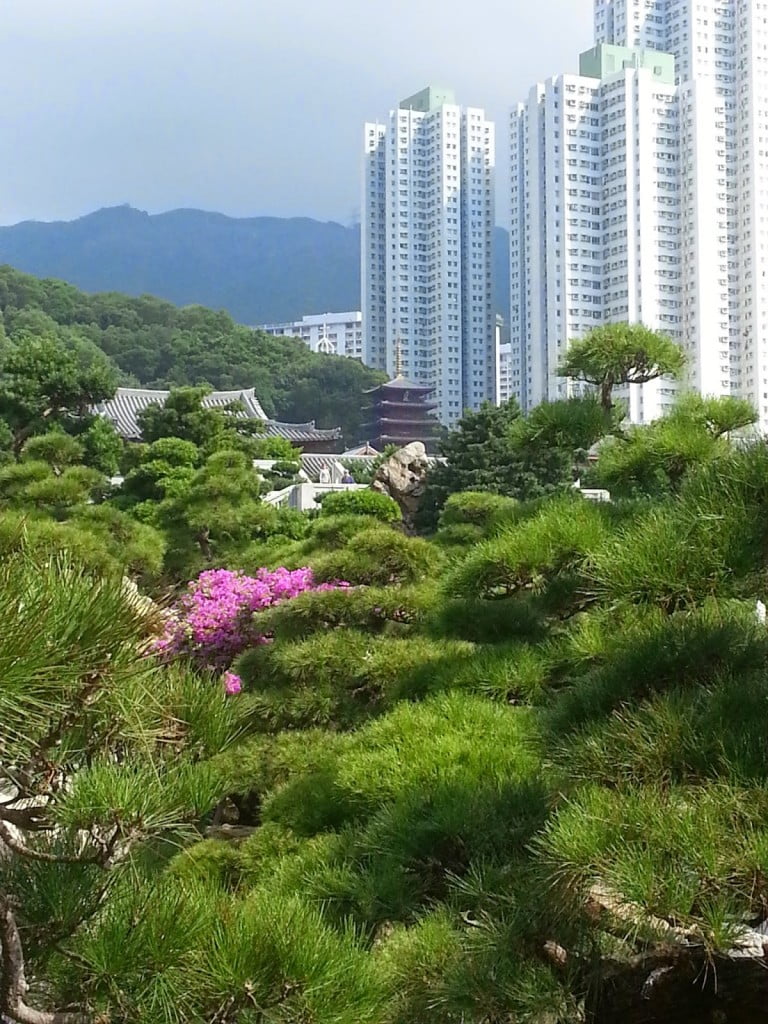 Pines in Kowloon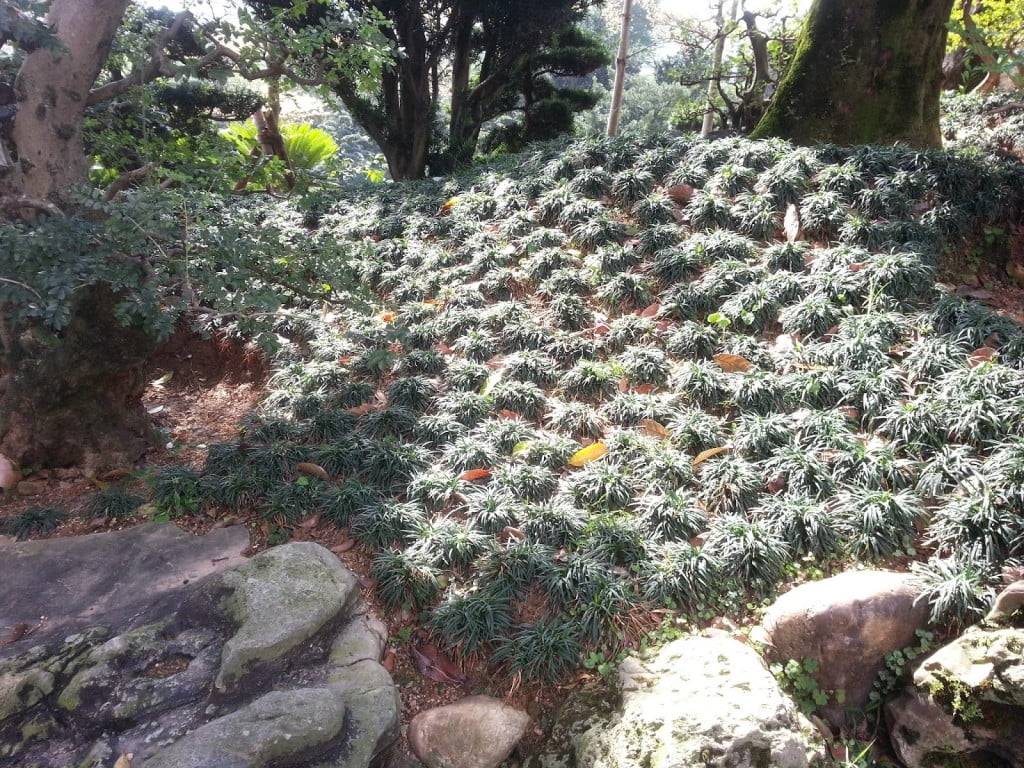 Ground cover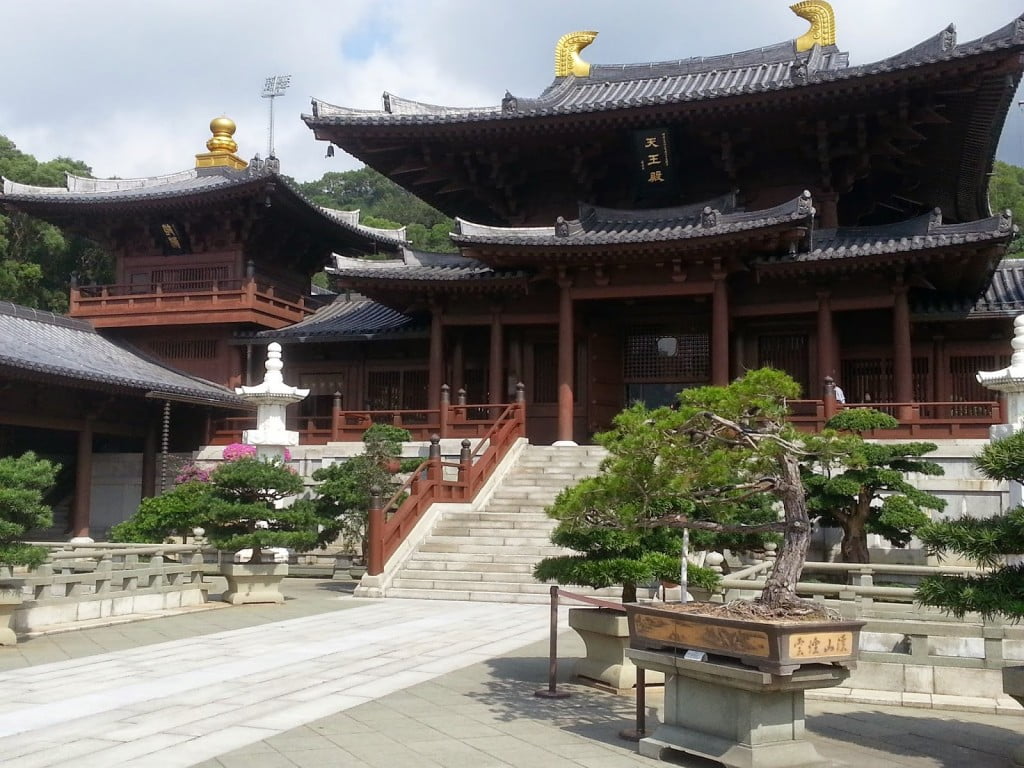 Buddhist nunnery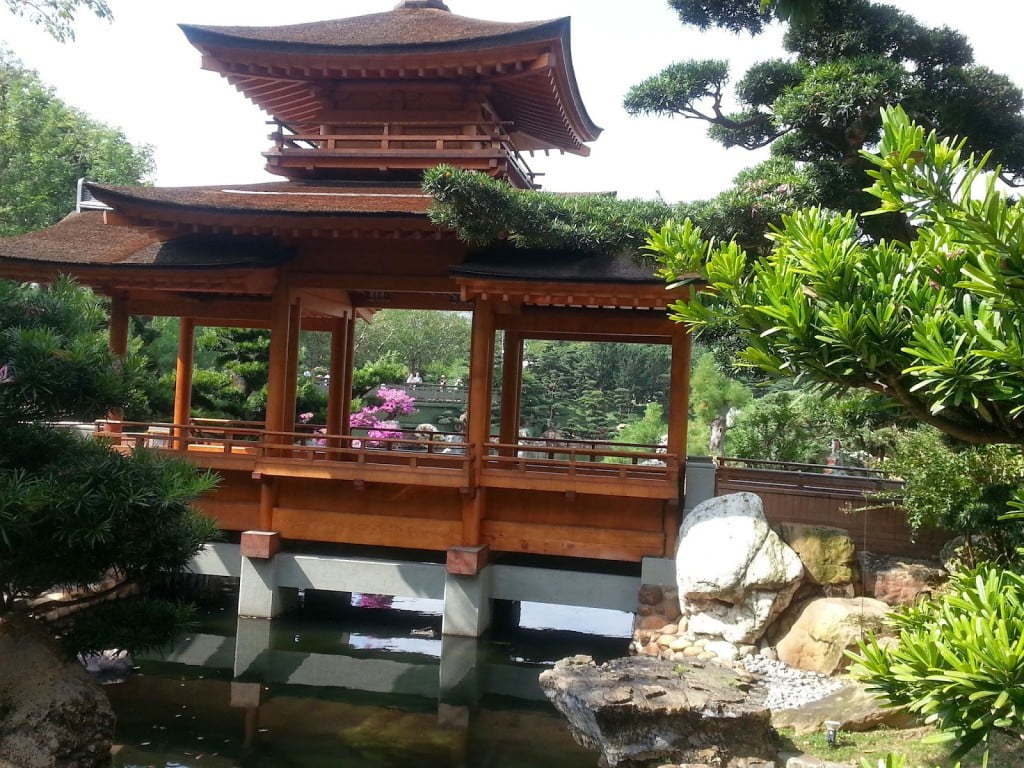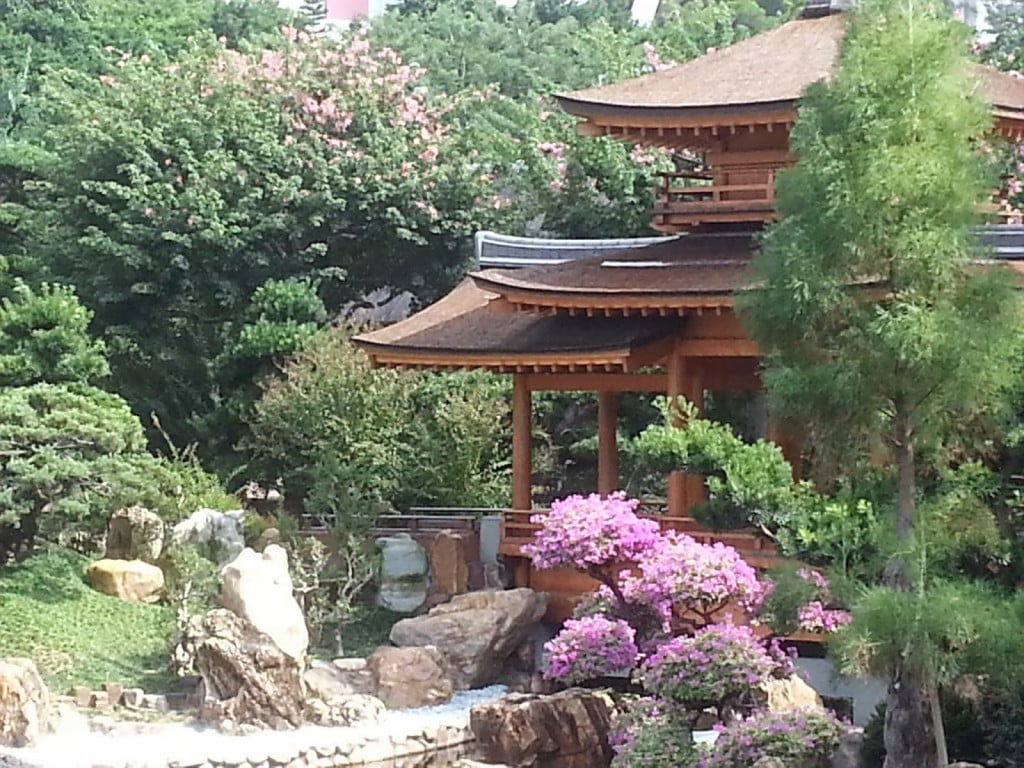 We met up for lunch at Lupo.
Iron Chef Mario Batali has an outpost here in an office complex near
Central Station.  The lunch buffet is a
reasonable $25 Canadian, give or take drinks, or mains.  The mainly antipasto salad bar was more than
sufficient for me, although SS added on a delectable gnocchi.  The style is in the way of Joe Allen,
contemporary American, but there were so many hiccups in service and casual
mistakes it was hard to believe the Batali name was anything except a
marquee.  The Bastianich clan is perhaps more
famous for Lidia or Joe, who hosts on Master Chef–and if you've seen Joe Attitude in
action your expectations on arrival at a place associated with that family are of a sort fastidious, with exceptional
attention to detail and aspiring to a level of excellence.  Sorry Mario: Food an eight, the venue and service four.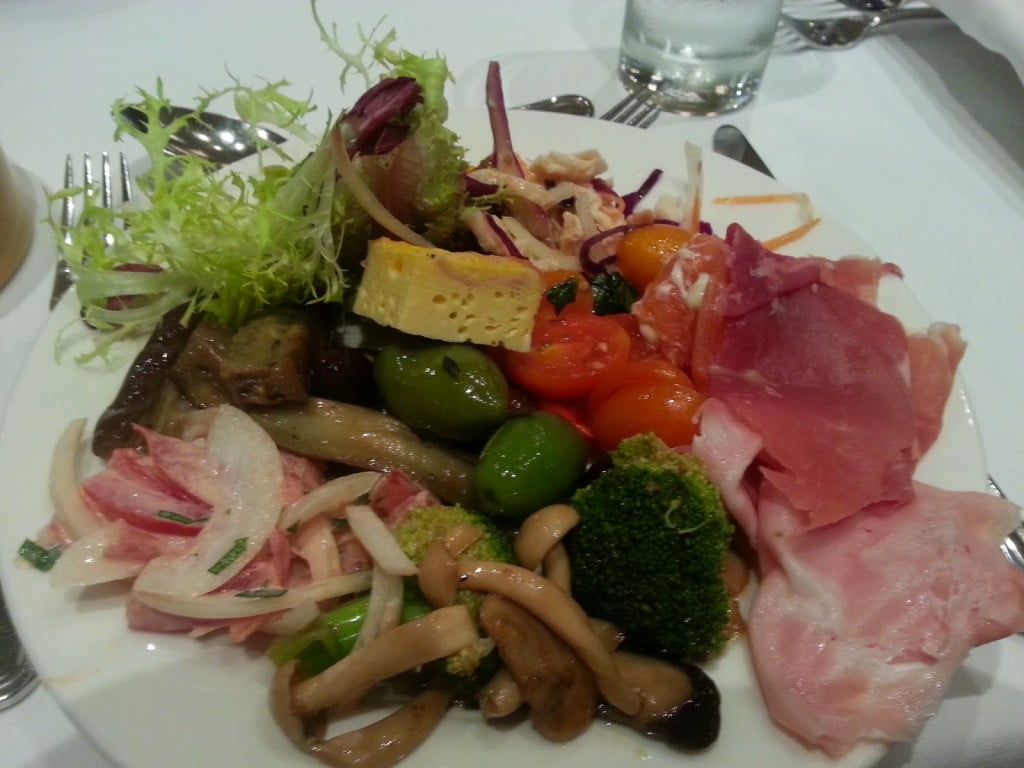 Antipasto buffet options
After lunch we strolled the side streets checking out shops
and markets we'd missed over the last few days.  There is a gallery in our neck of the woods showing gigantic prints by Sebastiao Salgado.  I had to Google him to find out he's a Brazilian born living in France expat economist turned photographer.  His photos sell for about $10k a pop.  And they're astonishingly captivating.  These pics don't do justice to how great his work is.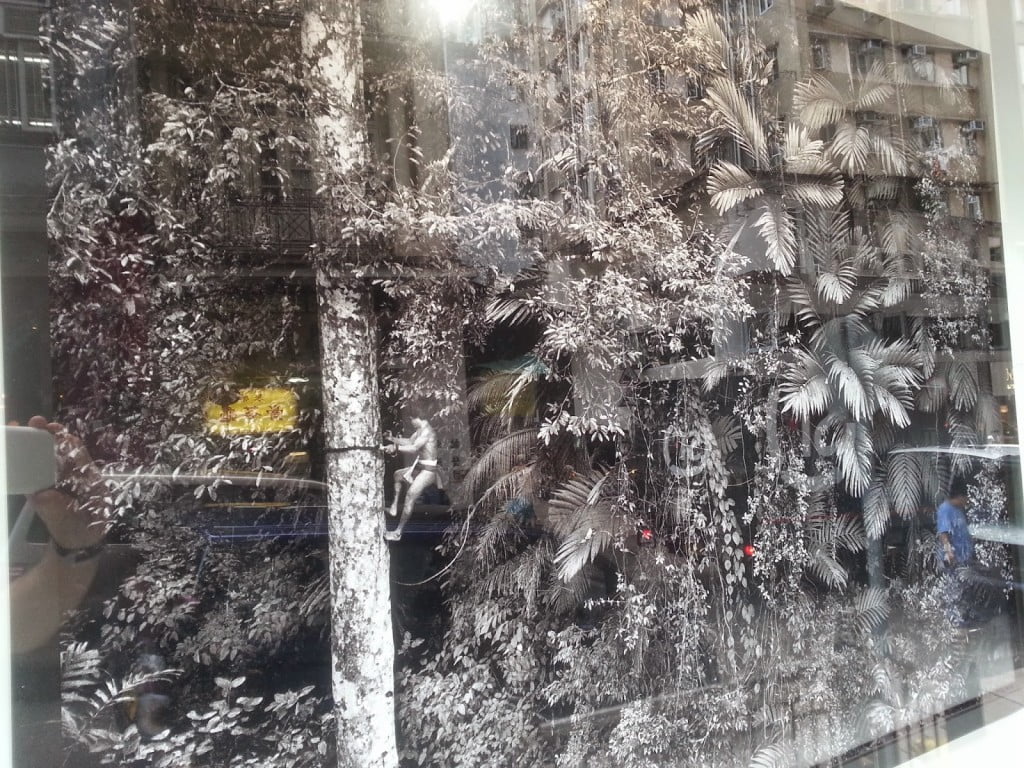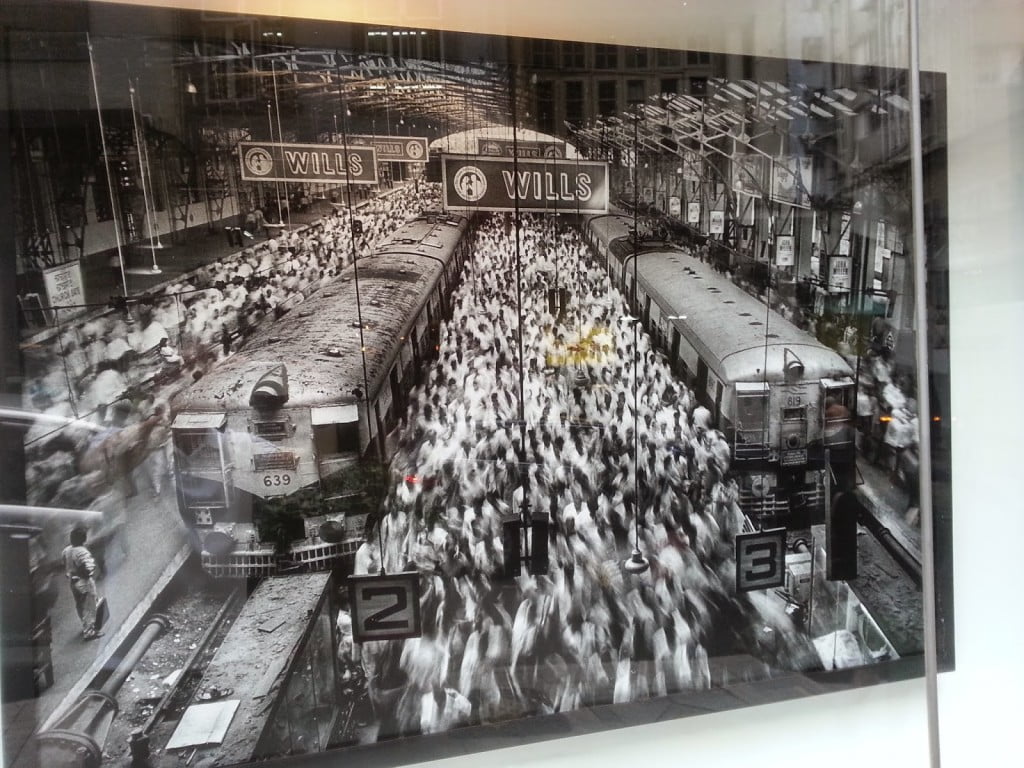 The city was hopping, teeming with workers, locals, tourists.  We had maybe heard seven sirens in Tokyo in
nearly two weeks, but the horn honking and traffic snarls here compete with
Athens for noisiest on the planet.  We wound our way back to the hotel.
Our flight home is a red-eye.  We'd paid a half day's hotel rate to stay on
site until six, which gave us time to pack, freshen up, and organize all our loot.  We were advised it would be impossible to catch a cab, and
it was, so we hauled our bags back to the local subway, which involved some
serious stairs, then transferred at Central to the Airport Express.  On the flight in, Cathay had a metro offer: We
paid about $40 each for a pass that would get us into HKG on the airport express,
then three days unlimited travel on the subway, then the train back to the
terminal.  At the terminal I returned our
passes and was refunded about $10.  Where
in the world can you get a deal like that?
(Certainly not HKG duty free, where a Lacoste polo sells "tax free" for
$140 CDN…)
Our check-in was pretty seamless. We did a looksee around
the shops which was tiresome then hit the lounge.  There are six CP lounges in the HKG terminal,
some just for first, some both biz and first. The main lounge, The Wing, is
probably the best I've ever encountered.
On one level there are showers and quiet zones plus the usual beverage
area.  Most travellers are upstairs.  There's a large standard lounge with comfy seating
and work pods, an enormous marble bar for drinking/working.  Standard western and Asian foods, hot and
cold.  Lots of reading material in
various languages.  Then down a hall
there are two more rooms: A coffee lounge with a barista and sweet stuff, then
next to that a really large Asian room called the Noodle Bar where you order
off a menu.  SS had some dumplings and I
had Dan Dan, which are egg noodles in spicy peanut sauce.  Of special note was the service, attentive,
and on the alert to clear.  Show up at a
US lounge and meet Surly, she's just next to Grumpy, who will check your
boarding pass before you have to deal with Resentful, who won't fix the coffee
machine which has been on the fritz since last week…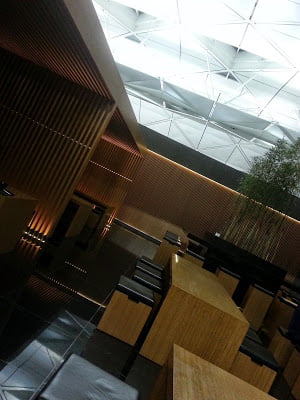 The Noodle Bar at The Wing, HKG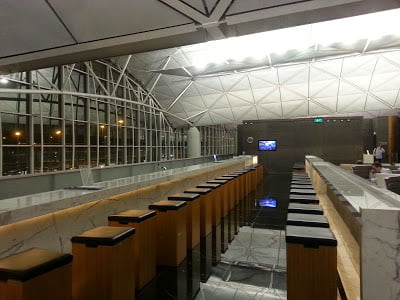 The Long Bar at The Wing, HKG
After a while in The Wing we got bored!  So we traipsed out to The Bridge, the newest
of the Cathay lounges and designed by Norman (the London Pickle) Foster.  We went from gate 2 to gate 35 and it may
sound close but if was four of those long moving walkways.  A very big airport.  You know you're somewhere big when one
airline is BA, another Emirates, the third Scoot and next to that Virgin
Space.  I'm joking about the last, but
not Scoot.  Who is flying Scoot?
The Bridge was beautifully designed with great relaxation
areas, a selection of western foods, dim sum, a long bar, and USB ports in
every chair.  Our gate didn't appear
until an hour before the flight.
64.  So we left The Bridge and
walked another click or so it seemed to gate 64.  Where there was no plane yet.  But there was yet another lounge, The
Pier.  This was huge, including showers,
a First section, and an enormous bar.
But it was old and dated and in need of refurbishment.  One business man layed out all three of his mobile phones on his chair.  Cripes!  We waited and waited and waited and then
asked about our flight.  Apparently, the
plane was at HKG but was "late in being towed."
I have never heard that before.
Sure enough, late, our 777 was towed into gate 64.  Our departure was bumped from one a.m. to
1:50 a.m.  Sigh.  At least we watched a cleaning crew of six,
including a vacuum, descend on the craft (something you don't see on AC).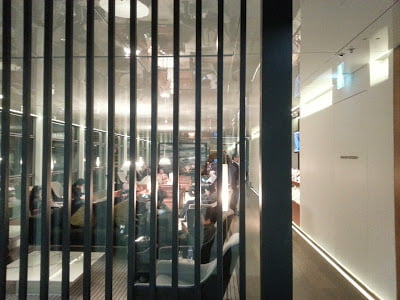 Very busy at midnight at The Bridge
Eventually we boarded and then were delayed due to heavy
traffic.  Seriously.  It was nearly two a.m. and there was heavy
departure traffic at HKG!  We took off
just before 2:30.  I was glad I had
noodles at eight!
The cabin crew was super-efficient upon departure, with the
hot towels, getting the meal cart into the aisle, etc.  The "supper" was a little basic; SS had the
beef pot pie and I had the Asian spare ribs.
There was a cheese course which I passed on but how could I decline the
chocolates?  SS and I both got some
sleep, then a few hours watching movies, then about 1.5 hours before landing
they offered a brunch which somehow seemed weird. Time-wise this is an awkward
flight.  It leaves past midnight.  So supper at one a.m., brunch near arrival,
which is several hours BEFORE you left Hong Kong and is really Vancouver dinner
time!  There was a fruit salad followed
by yogurt and cereal then a choice of hot entrees; both SS and I had the dim
sum.  I pity the travellers en route to
NYC—they will be toast on arrival.  We
actually did this exact flight, in reverse, from NYC to Vancouver after Chile.  But we did it in First Class, drinking Krug
Champagne and ensconced in a personal pod.
The newly introduced Cathay business won an award this year
for best biz class and on international flights and it probably is.  Pure 100% lie flat beds as long if not longer
than AC, large AV screens, superb service, great storage in your pod, and a
nice touch with orchids in each bay.  I
really can't complain.  Except: Who was
responsible for "towing" the aircraft late?
Incredible trip with a really enjoyable long-haul flight
home.  So ends the vac.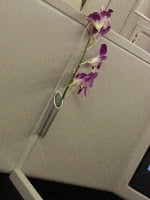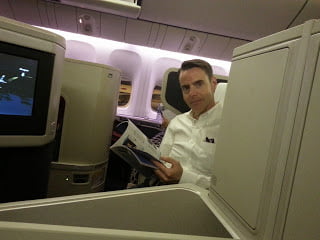 That's a wrap