We parted ways with how the other half live and rejoined our tribe: In economy class, sardined inside funnel tubes that aren't far removed from the Central Services supply ducts of Gilliam's Brazil.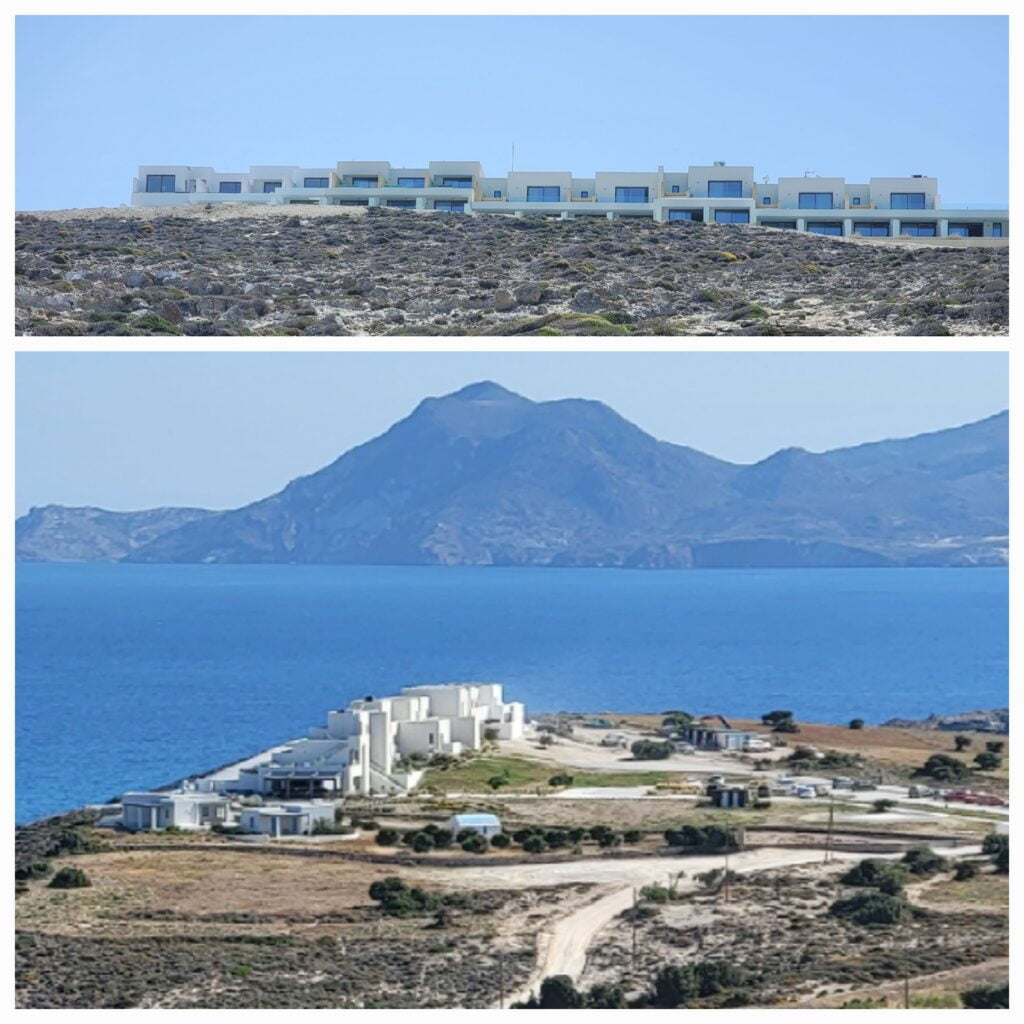 We had an early flight, but in Greece nothing is truly early. We took carbohydrates and caffeine on site, checked-out (they gave us a departure gift!) then drove to the airport, where the car rental agent was supposed to meet us to "take back" the Jimmy. No one showed up. Eventually I phoned the office. The woman who answered the phone said "And when is your flight?" with the inflection meaning isn't your flight in 20 minutes? When did you expect the agent to get there?
After some time a young guy showed up and I signed off on the Jimmy. Good riddance.
I took some pictures of the rinky dink Milos airport with it's two baggage handlers, two airline kiosks, three police who did security, and two toilets. Then a cop came over and demanded I delete the pictures as they were a security risk. Seriously.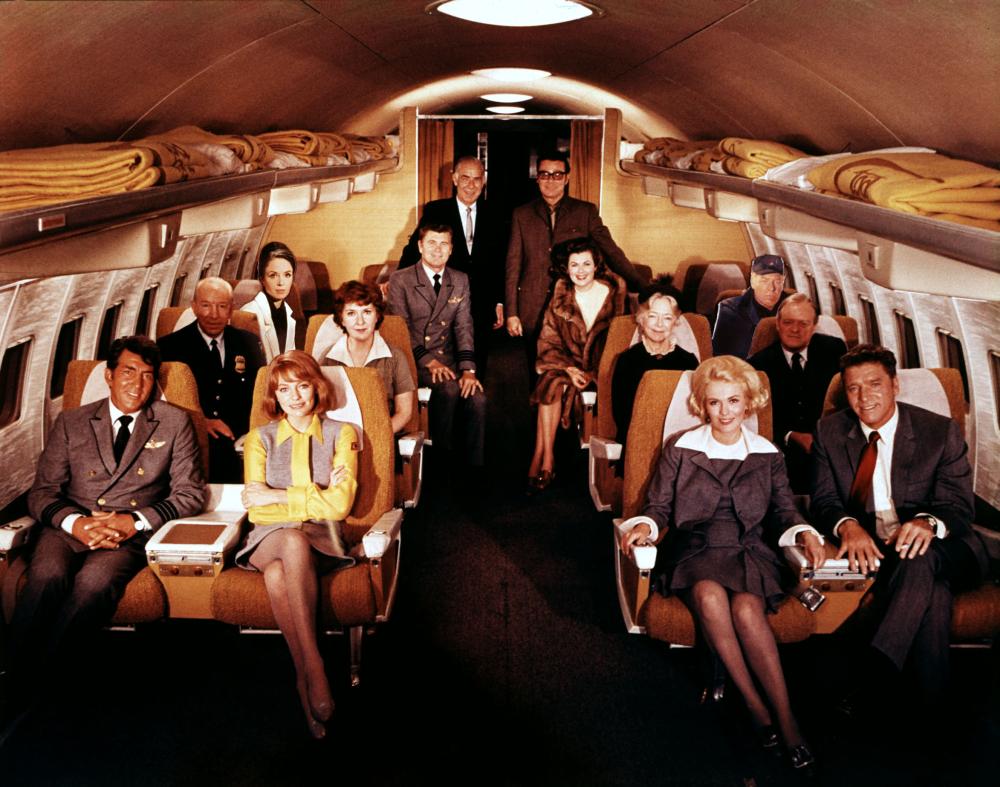 After much rigmarole and in the breeze-free 28 degree heat, we were eventually herded into a departure lounge. While it appeared the airport was piped for air conditioning, it obviously wasn't in use. I saw the couple next to us, who also checked out of White Coast today, had a Ziploc bag teeming with Moulton Brown sundries. Why didn't we think of that? Doh.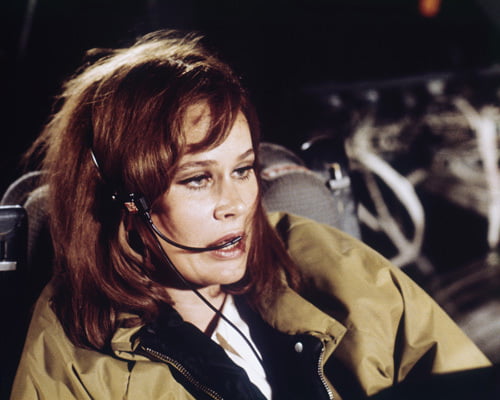 I noted the 9:40 departure was airborne at 10:25. No explanation given aside from an email noting late departure. It took about five minutes longer to return to Athens than leave and I was "privileged" as the young folk say, to have SS next to me to grip onto as our cowboy pilot made his seven point heavily banked turn into the airport; he must drive a Jimmy when on terra firma… Our original BA flight to the UK was cancelled and, given the recent events (all the Easy Jet cancellations, the chaos at Luton, the chaos at Gatwick, the chaos at Dublin, the fact that Heathrow has asked airlines not to book passengers until they resolve staffing!) perhaps it was for the best that our original flight was cancelled as our five-hour layover at ATH quickly became just a smidgen over two (so at least our stress was marginally reduced).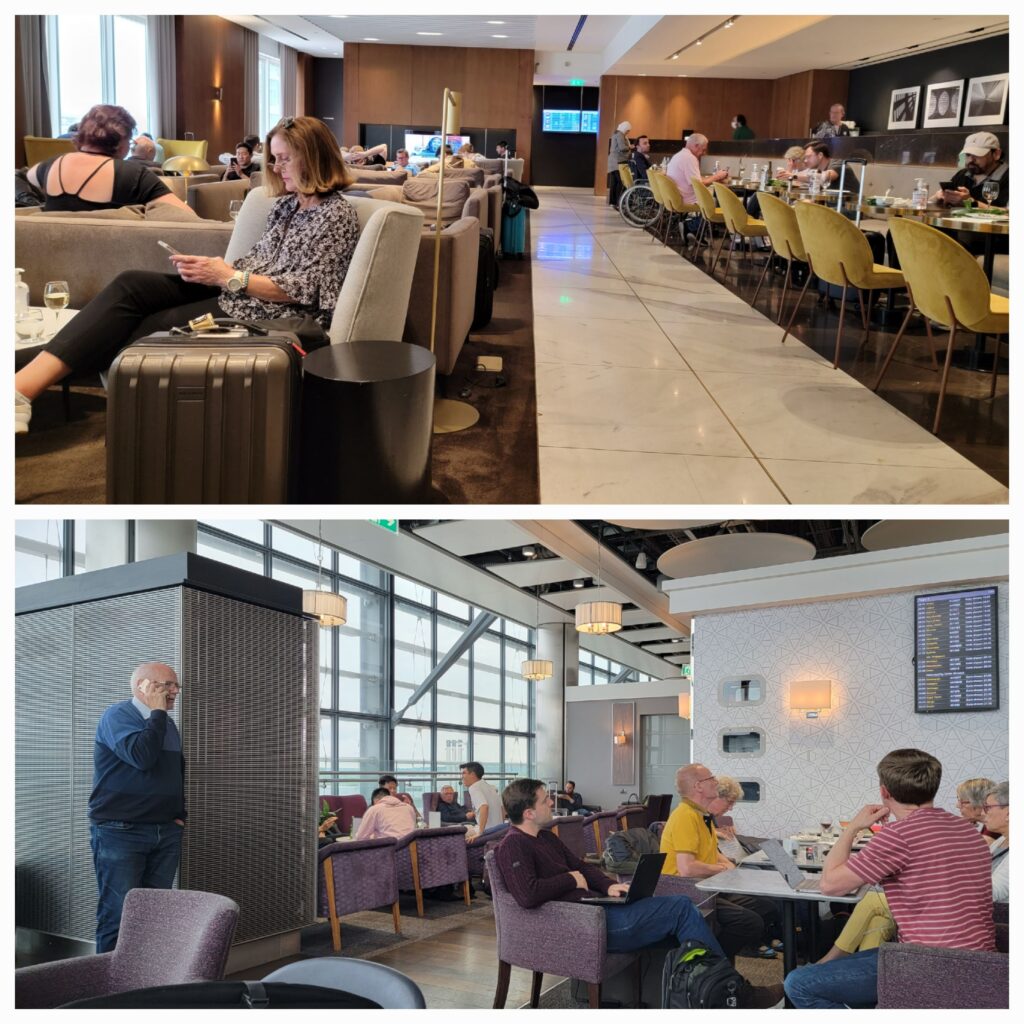 We collected our luggage then went upstairs to departures to check in at British. Very sluggish line, barely moved. After check-in, we went to passport control. Huge lines, about 35 minutes to get through. Then we went to security, not as long, not just as harried, also slow. Then we were in the airport proper. I used my "not that lucrative but utilitarian" Priority Pass membership to get us lounge access and that gave us the opportunity for some OK grub and beverages and WiFi and, truthfully, a little peace and quiet.
The BA departure was late-ish but at least it left. On the plus side, a brand spanking new Airbus, on the downside European economy is nothing to blog about. Nor is business to be frank. The train is the thing, but so is time.
So we arrive at LHR and taxi to our gate. The luggage handlers arrive, we can see them out the windows, the cleaners are en route, still no exit. We're all standing in the aisles prepping to disembark. The captain comes on and says he's waiting to find out what happened to the driver of the jet bridge. Then he comes on and says it looks like the jet bridge isn't operating. Then he comes on and says two engineers went to fix it and couldn't. Then he comes on to say we will exit by stairs, they just have to find the stairs. Then he says he isn't sure whether we'll walk down the stairs into the terminal or walk down the stairs and take a bus. Then he says we are taking a bus; the stairs have arrived, but we're taking a bus and they are "rounding up the buses." The buses arrive. It turns out the stairs need to be connected to the rear of the plane, so economy disembarks first.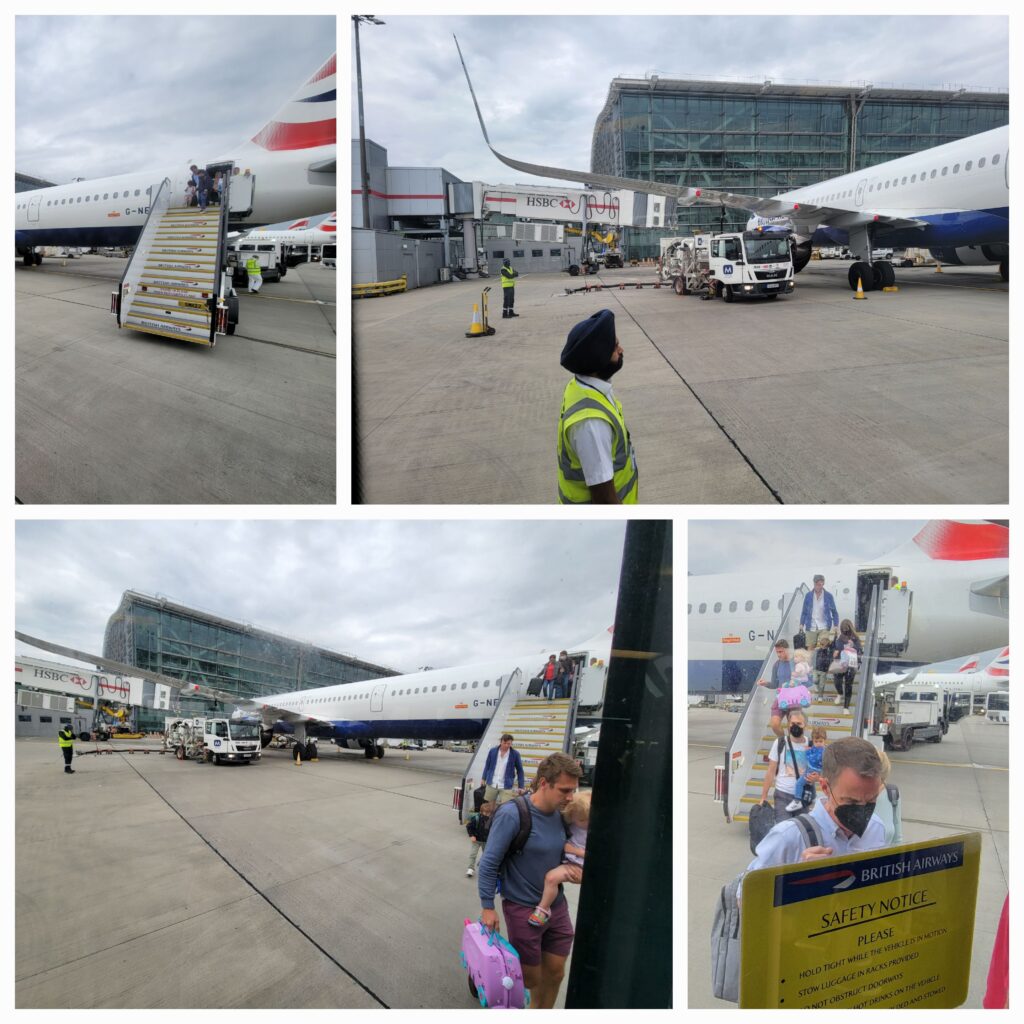 After that whole schmozzle our layover is much reduced, which is fine, but we need some food. Terminal 5 has some great options including a Wagamama, but the lineups are over an hour. So we shell out for a mediocre lounge, eat some mild curry and rice, and snake our way down to the departure gates. The Scotland crew is wildly efficient, communicative and we even deplane a tad early.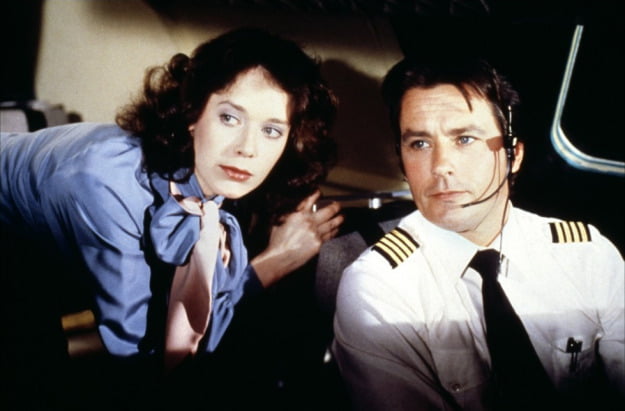 Taxi into our next site: No beach view, no extravagant breakfast, but much needed efficiencies, including a washer and dryer and kitchenette. We crash.