Sound, Fair and of Marketable Quality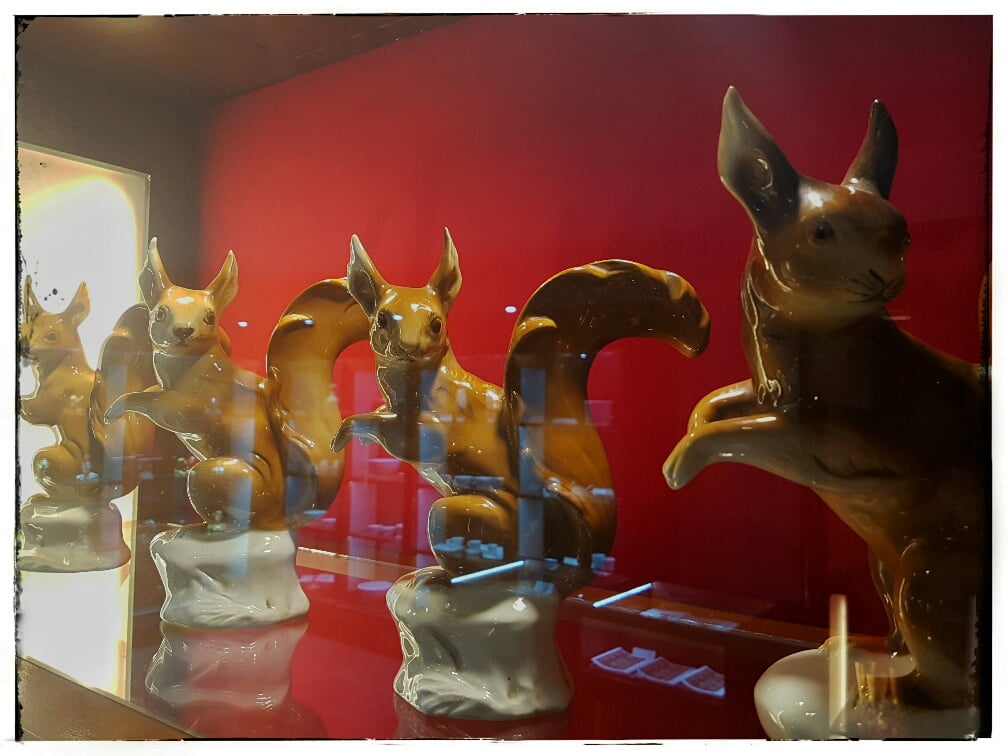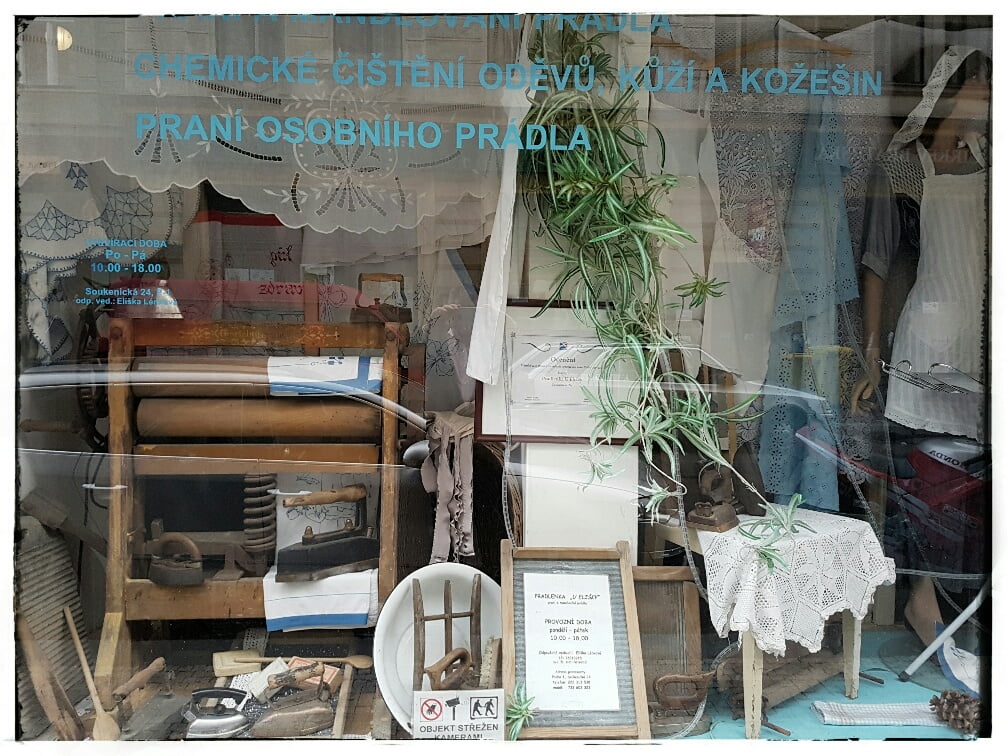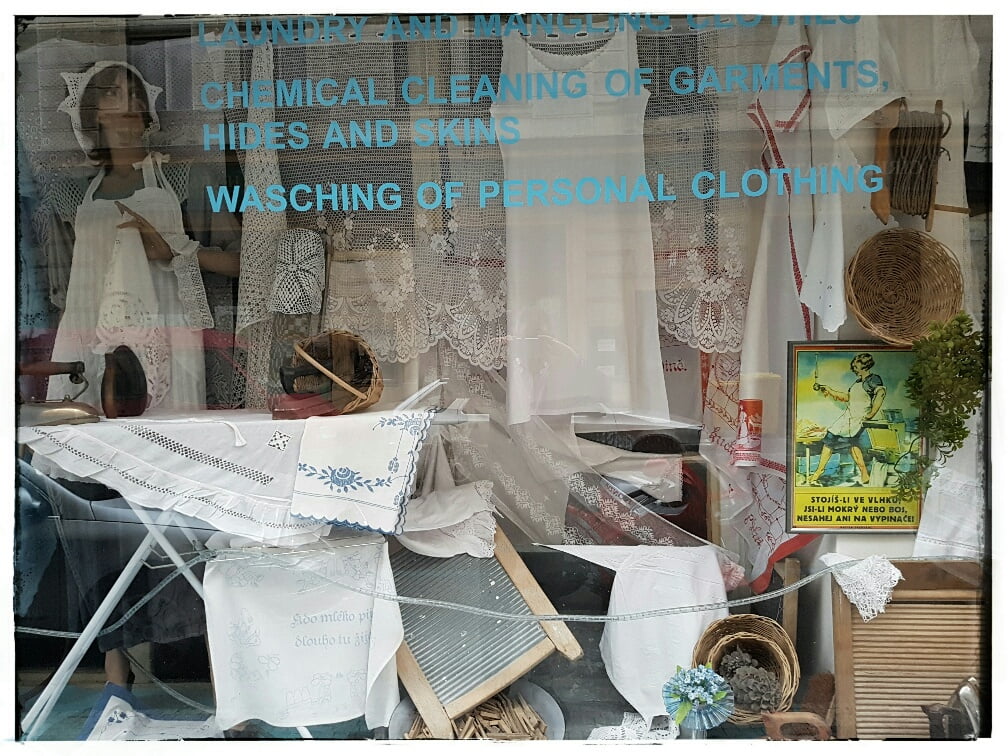 This morning we picked up laundry.  Sooner or later on vac you have to suss out a drop off laundromat.  Then we headed out to the southwest of the city, to an area called Vinohrady.  The weather was crazy: First it was mild with a breeze, then it got hot, up to 21, warmer in the direct sun, at one point dark clouds rolled in and mid-afternoon 12 minutes of rain, then more sun.  Very hard to dress for if you're on foot all day!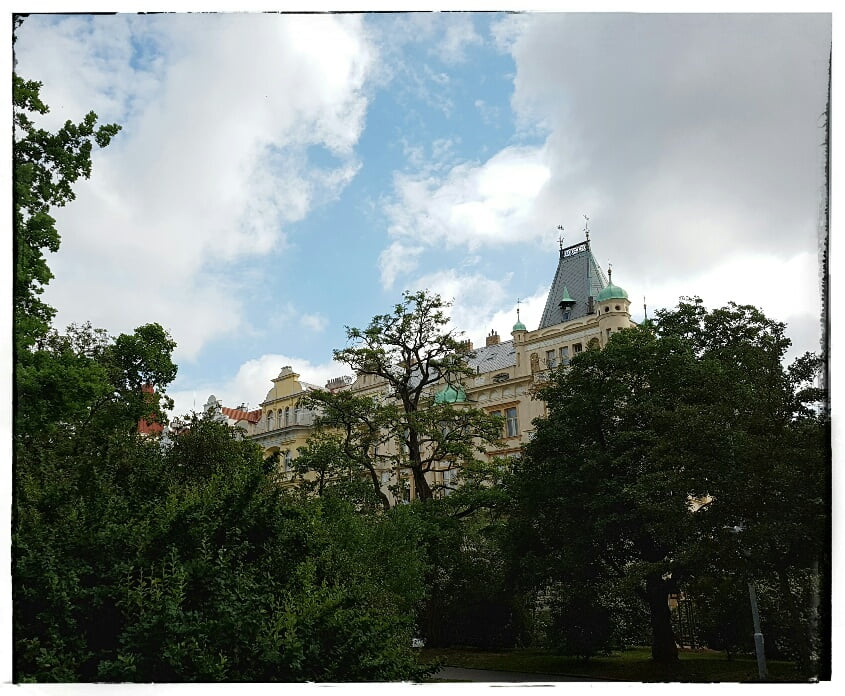 We walked out of the tourist centre into Riegrovy Park, a lovely, hilly spot which rises in behind the Central Station (in great disrepair and, as our driver from CK put it, an embarrassment to Czechs).  Vinohrady is a leafy burb with not much to offer the gawker, but it has a series of secession houses, representative of architects embracing "spatial austerity."  I guess Adolf Loos in Vienna was its most famous proponent.  They had a saying: "To the age its art.  To art its freedom."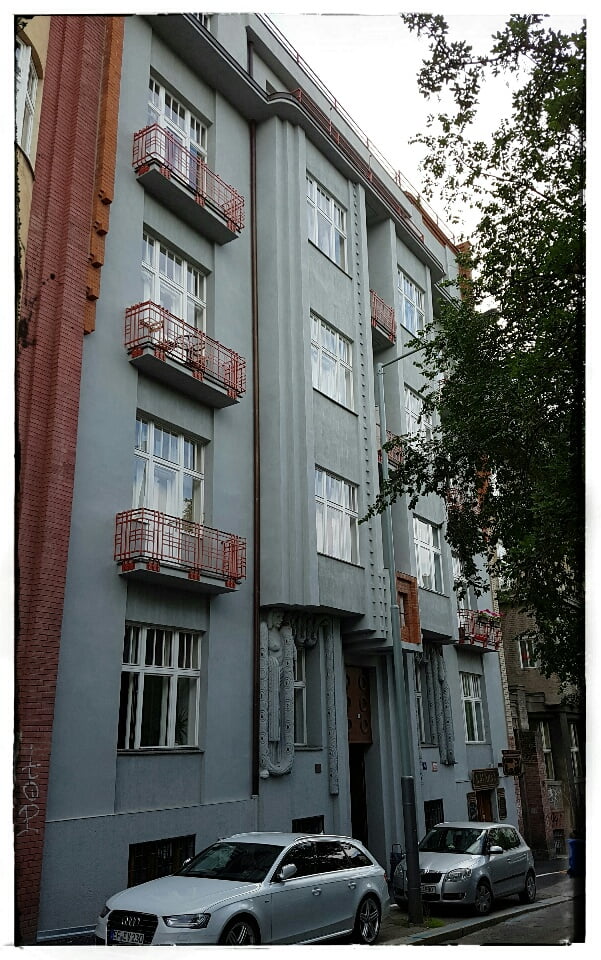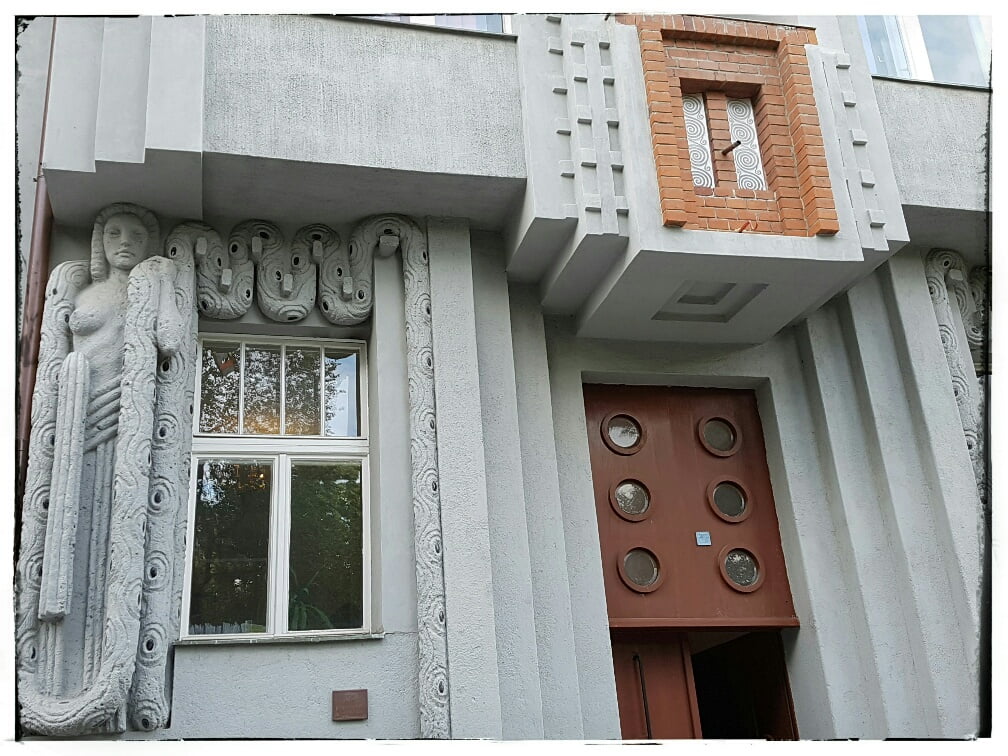 Bohumil Waigant designed Secession Style apartment from 1910, at Chopinova, No. 6.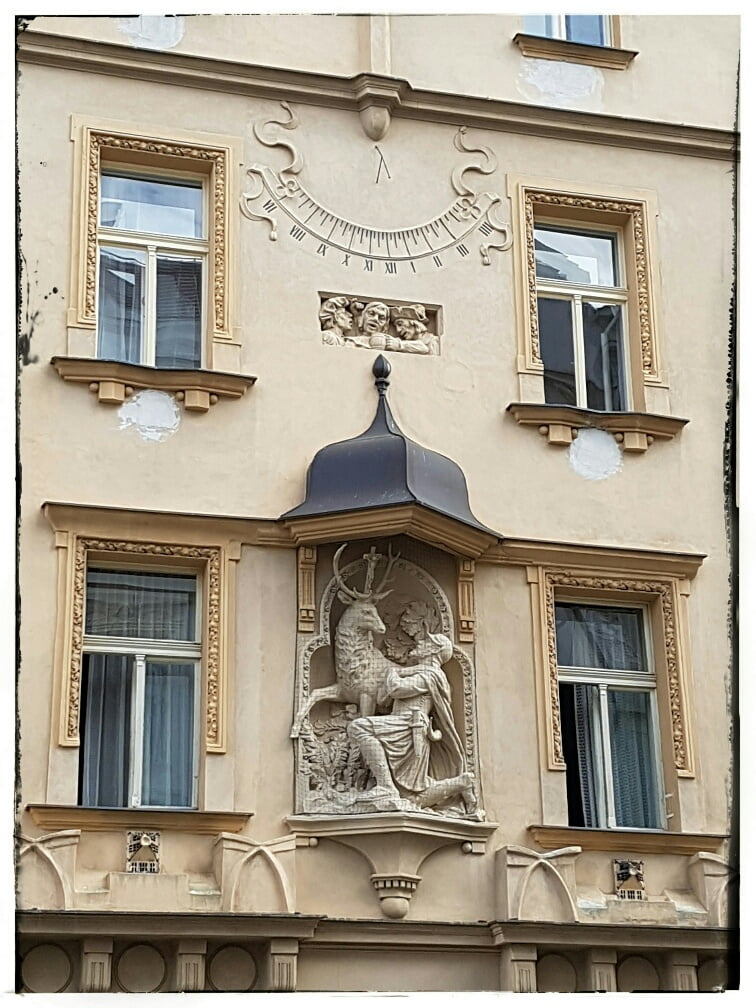 Although the neighbourhood is awash in many fine examples of earlier buildings.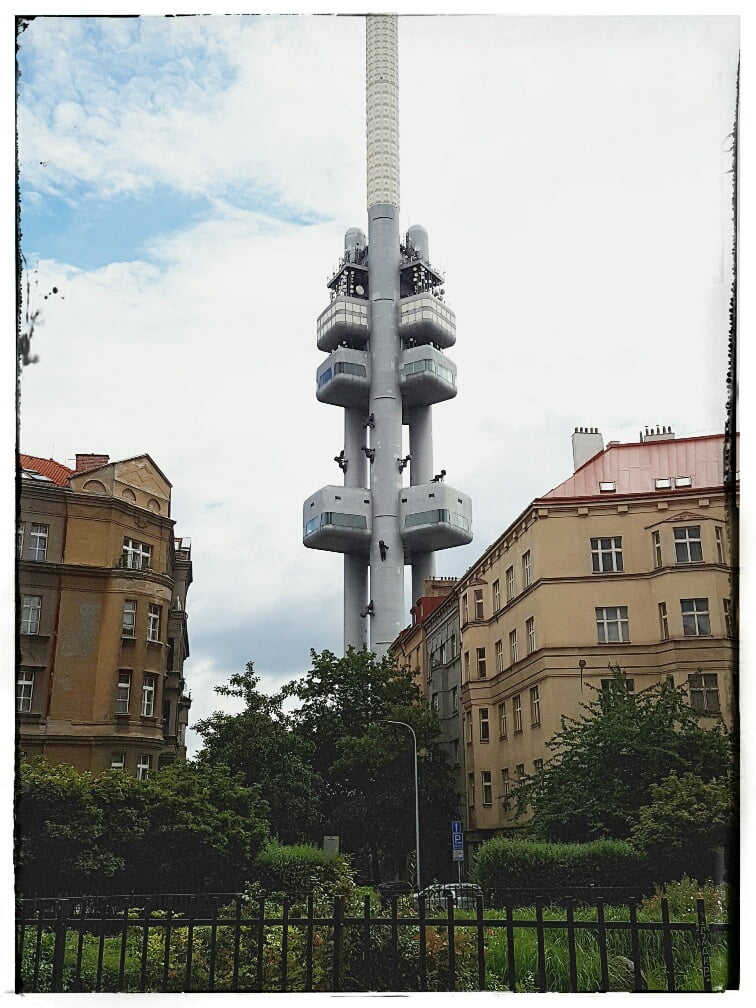 Beyond Vinohrady, in the Žižkov neighbourhood is the futuristic Television Tower built from 1985-1992.  Love it or leave it or have dinner at its panoramic restaurant.  It blots the landscape, sits on a park that once hosted a cemetery, and features a series of babies, by Czech sculptor David Cermy, crawling up the side.  Comes with the warning "may inhibit chick embryonic development."  Just kidding; but it does look like one big EMF disaster.  And a party to all the "hyperdimensional" hoopla on the www.
Our next destination was by the river, several clicks away.  We arbitrarily took a small detour to the Church of the Most Sacred Heart of Our Lord.  The guide books don't have much to say, tourists don't make the effort.  But it was astonishing from first view.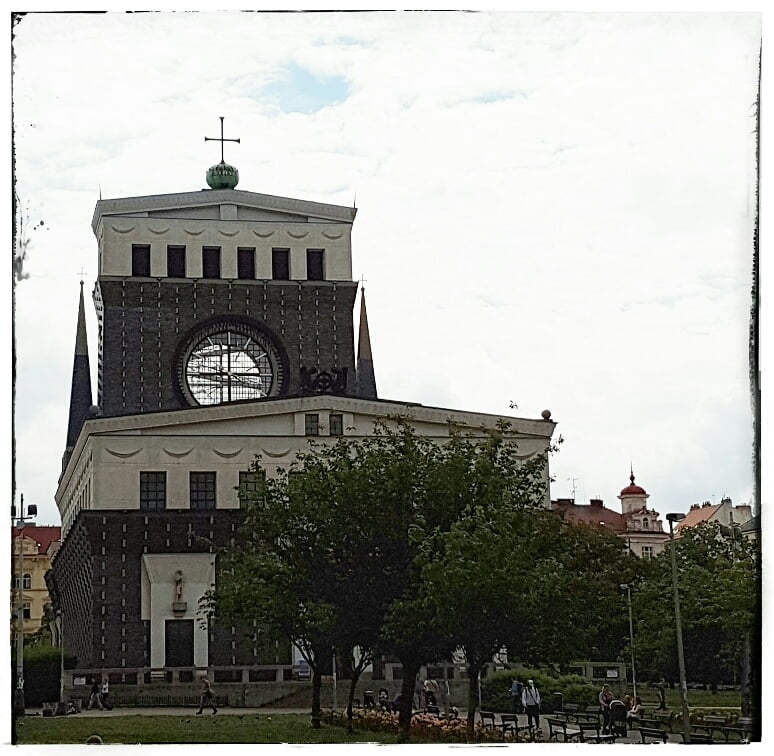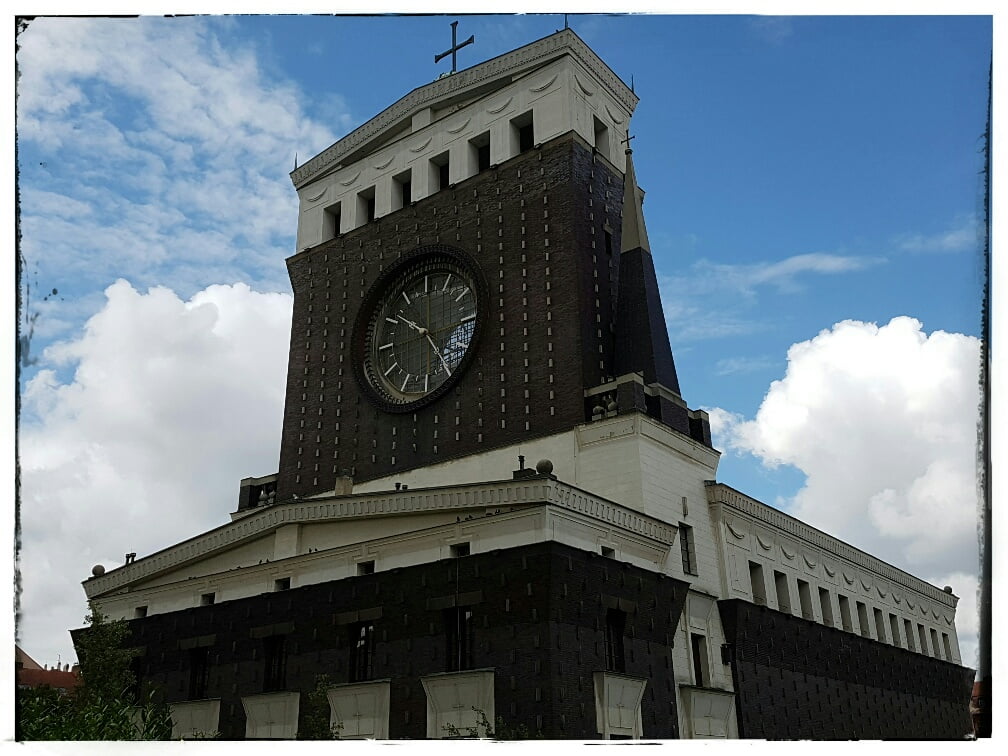 It looks like a post-modern masterpiece of the Michael Graves sort but in fact dates to 1932.  The architect was Josip Plečnik.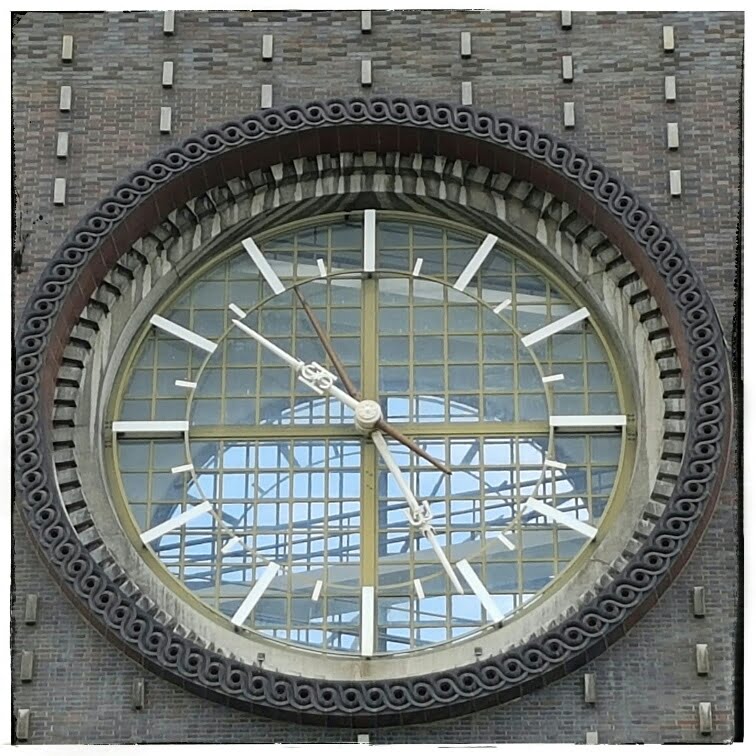 The glass face on the clock, at 42 meters high, is nearly eight meters in diameter.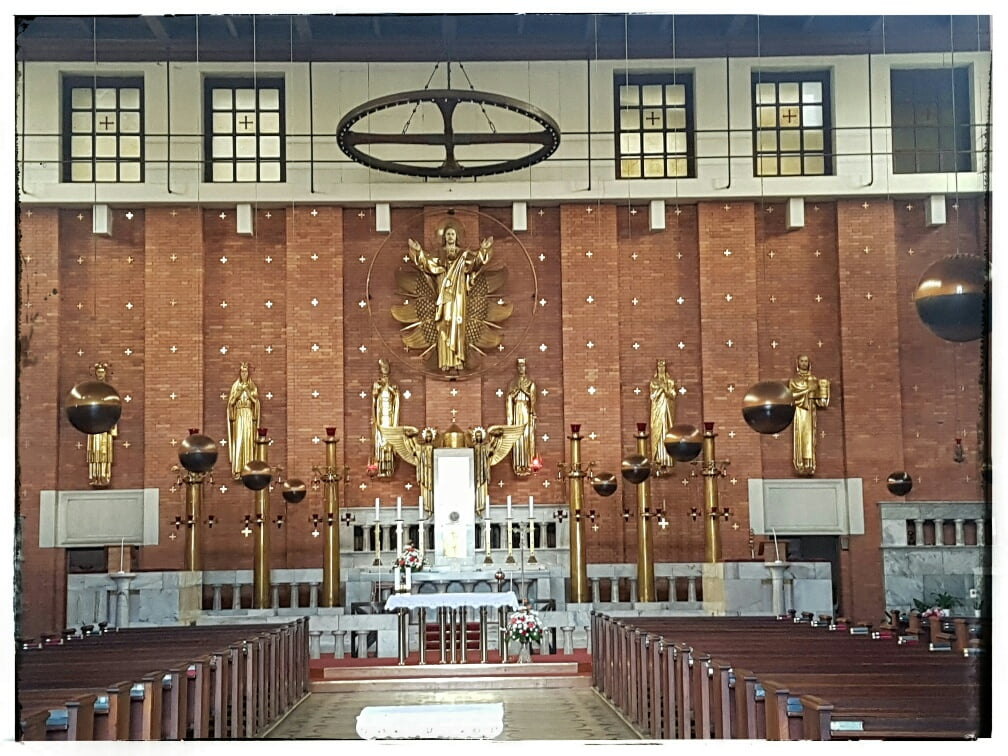 As became a theme for the day, the church was closed.  But I snapped a pic through the glass front door.  Very interesting orb lights hang above the pews.  Roman Catholic fun fact: This church has no pulpit.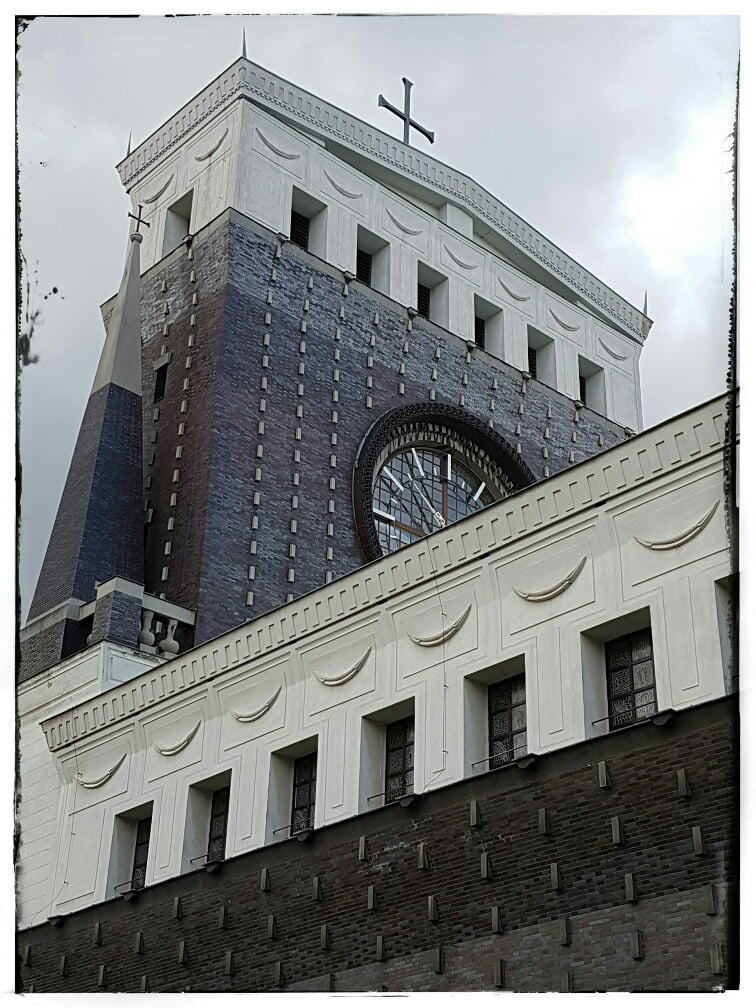 The bells on the church were taken by the Nazis and melted down for arms production.
We soldiered on.  At only 10:51 a.m. Fitbit alerted SS that we'd already walked 10,000 steps.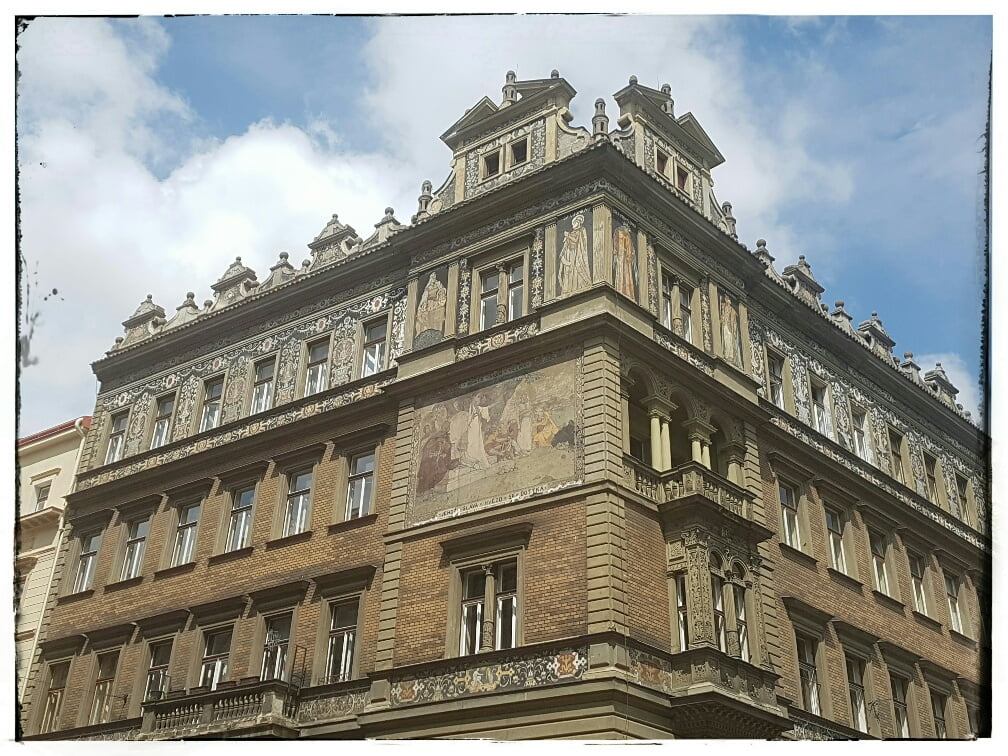 We wound our way down to the Vlatava on a strange central street with a weird variety of mini marts "non-stop" (the Czech version of 24 hours), dodgy bars, olde worlde antique stores, decrepit buildings, interesting if hard to explain boutiques, bridal shops, a beer spa (take a hot tub and drink all the beer you want), coffee shops, up and coming renos, and boarded up windows.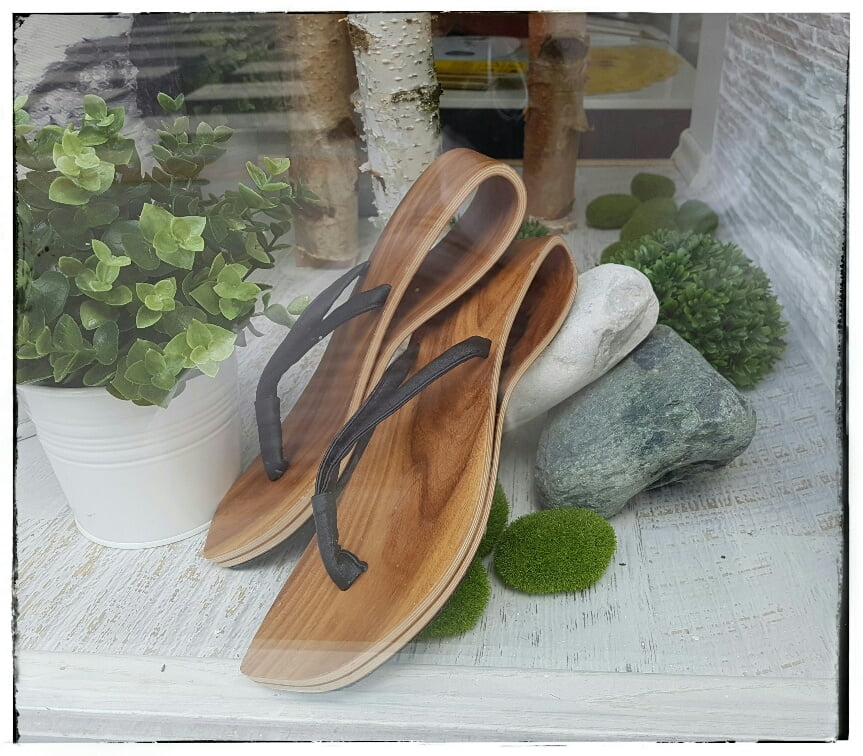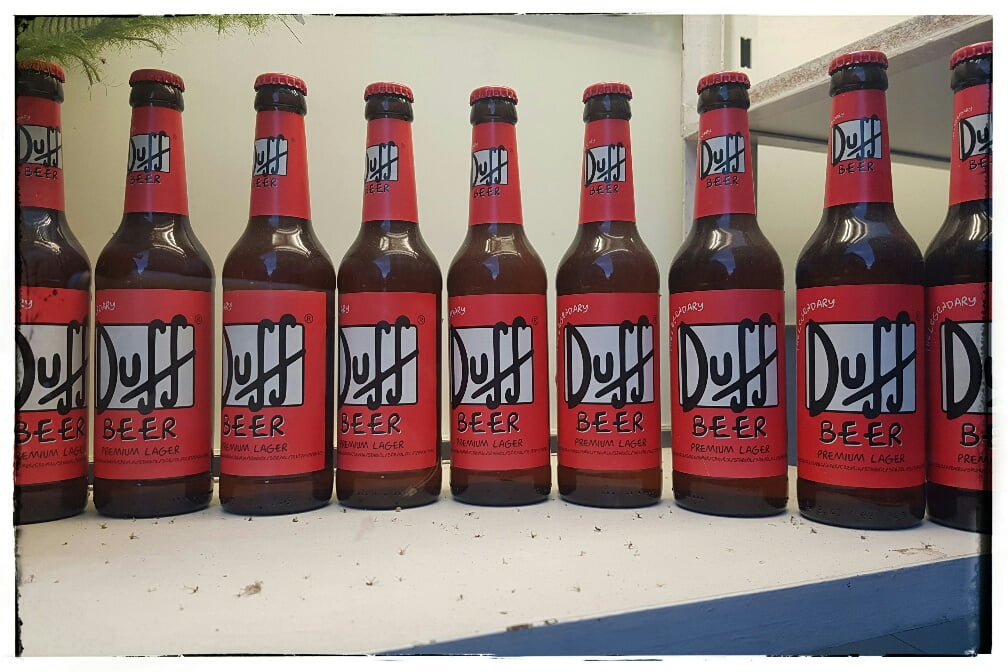 Seriously?
We crossed the river and walked the other side past tony waterfront apartments and some of the many locks.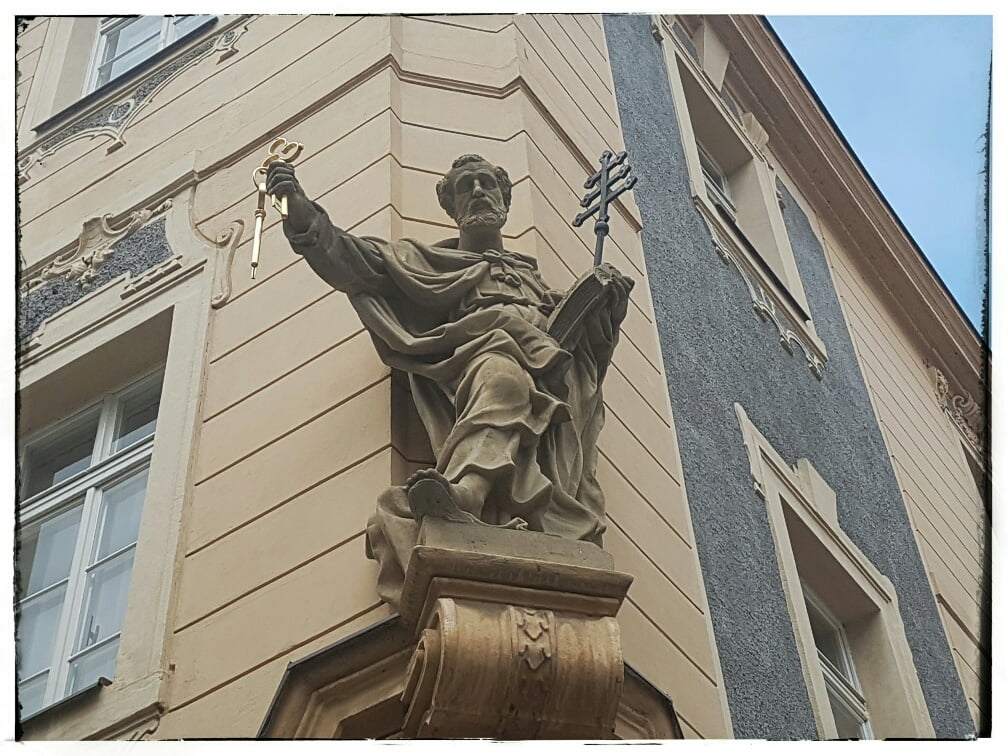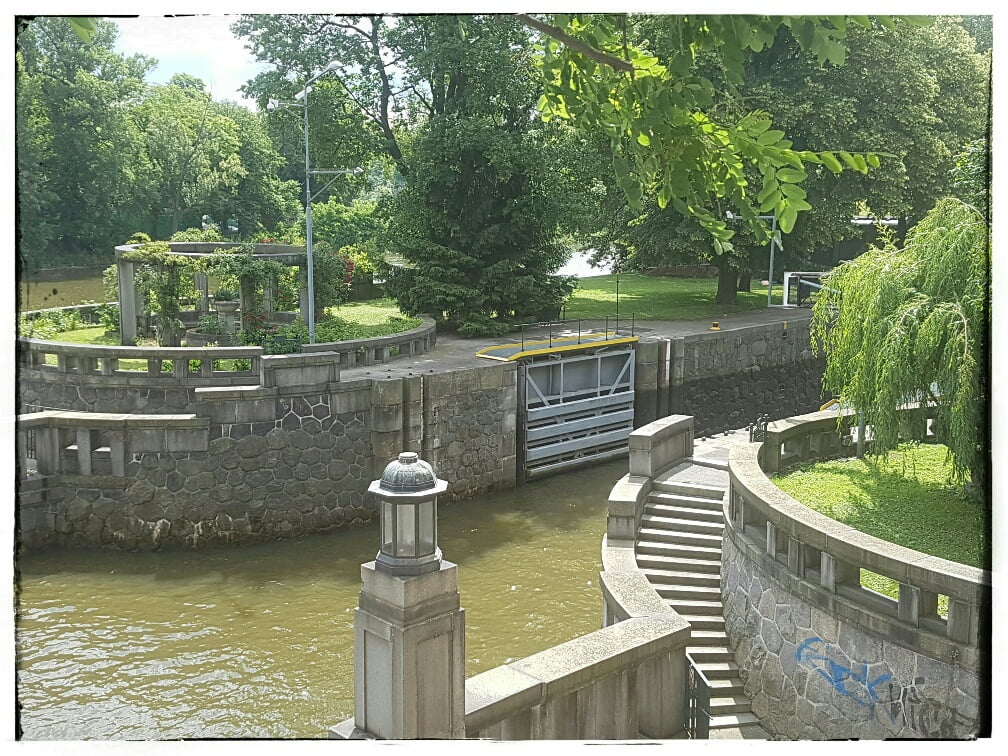 We went into a pop up store which had Czech porcelain from the 1950s through 1970s.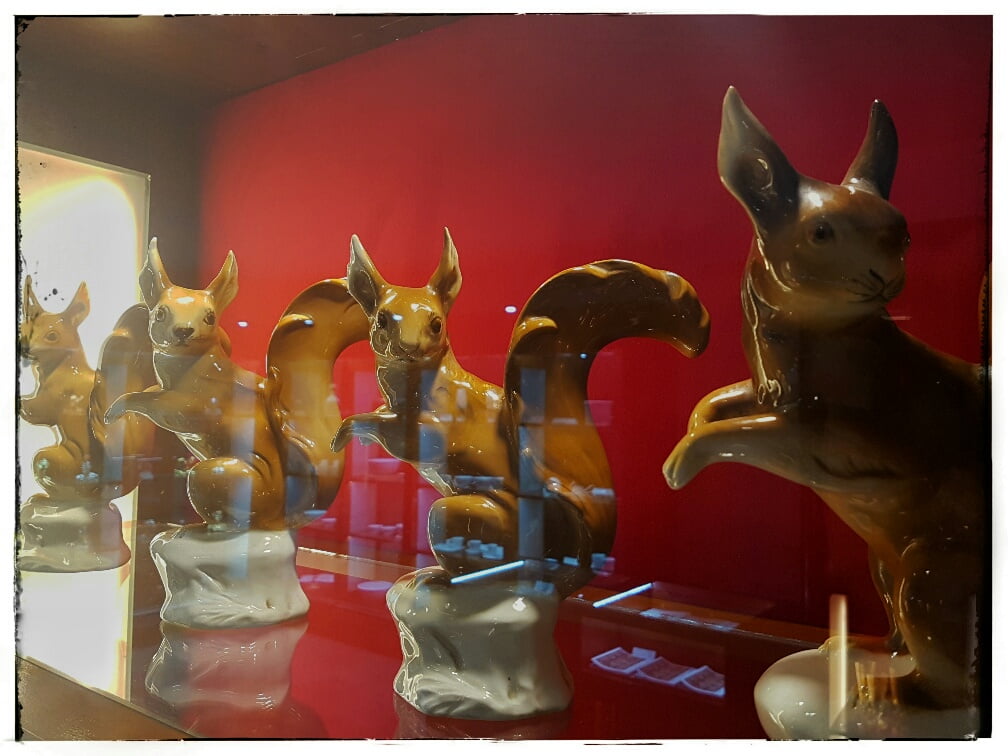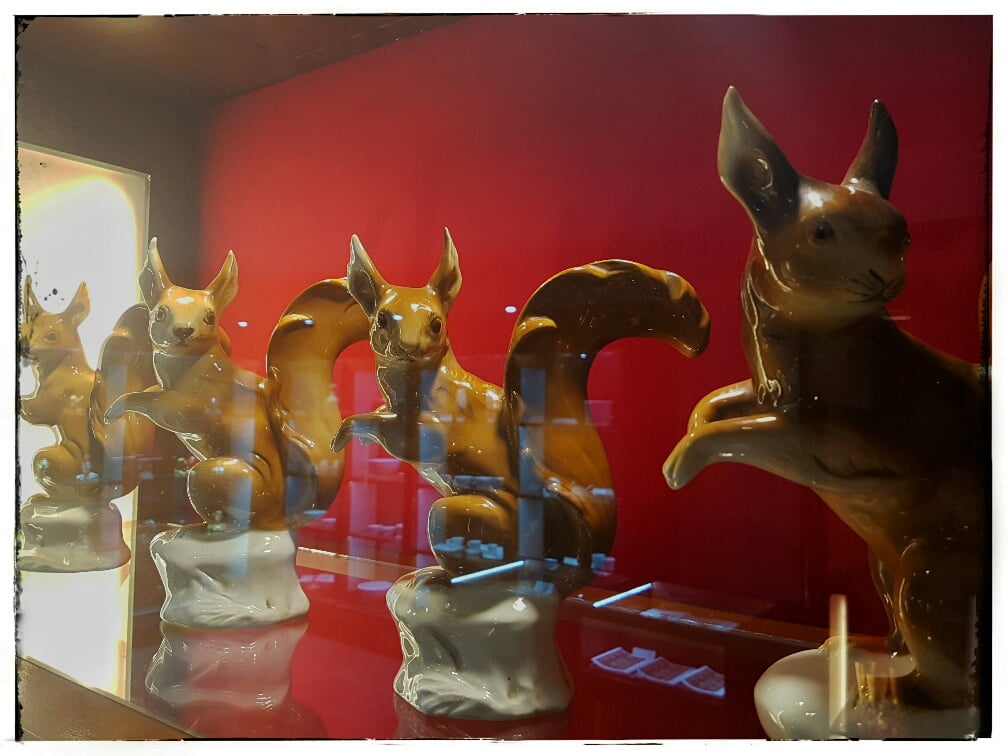 They had some very menacing, hand-painted Czech squirrels from 50 years ago.  All I could think of is that we buy them, we display them, and the Irish Terrier attacks them.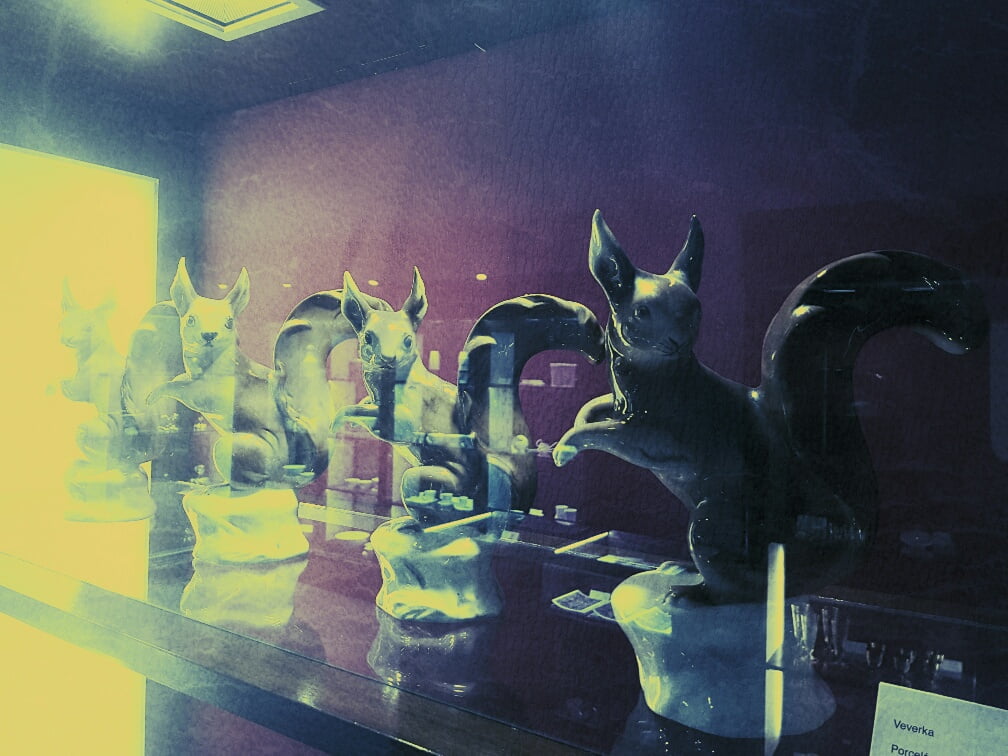 This is my version of what the dog would see if we owned the squirrels.  Imagine if we also found Morocco Mole!
There is a museum for pretty much anything in Prague.  Some shops, instead of saying, say, jewellery, put Jewellery Museum.  It's brilliant marketing.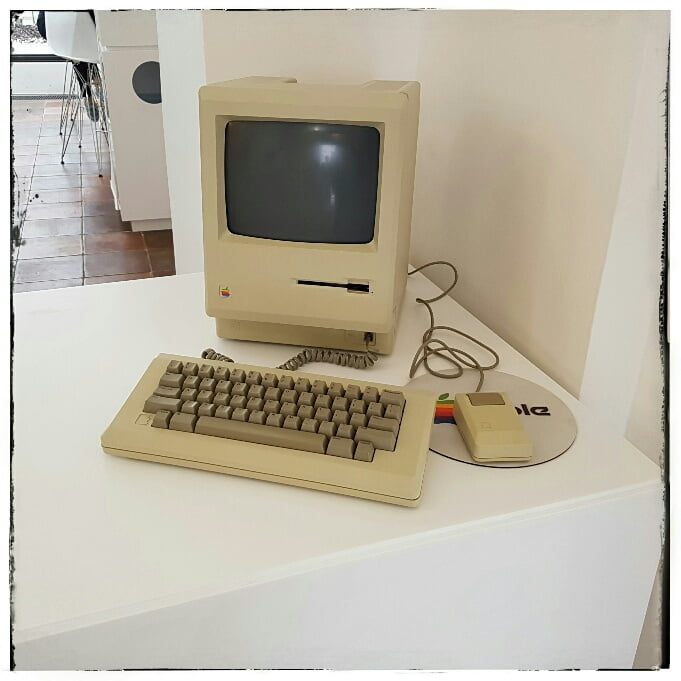 There is yes an Apple museum.  Although we didn't go in, seeing a Plus in the lobby brought back a few memories.  Speaking of apples: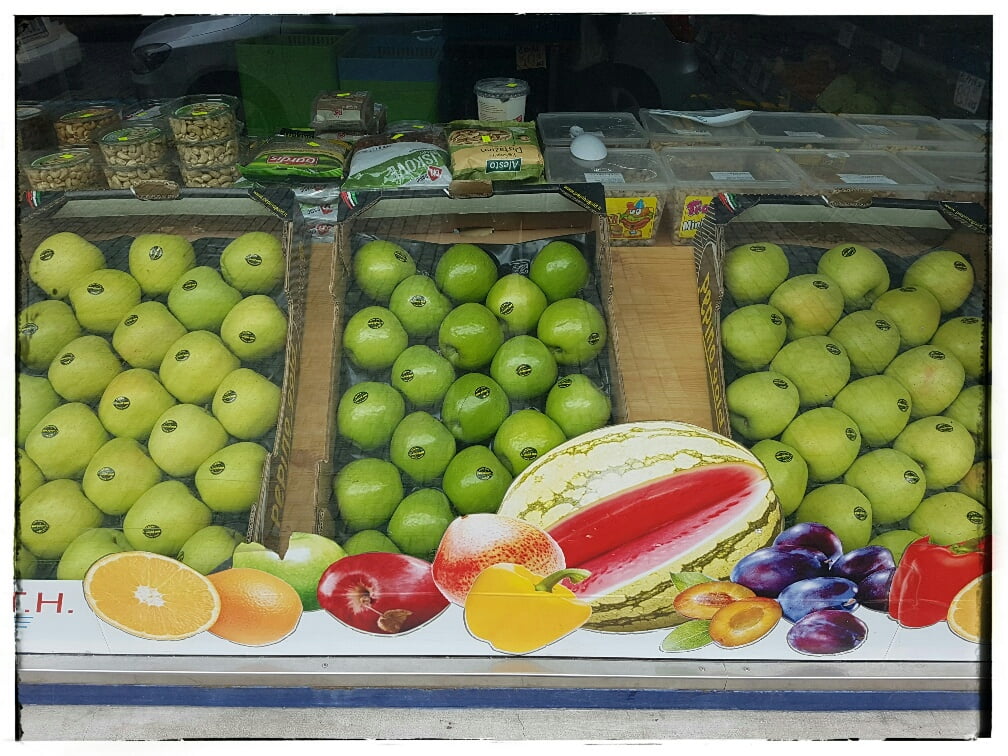 Apples fall under the EU's "specific marketing standards" policy and must be "sound, fair and of marketable quality" meaning, essentially, uniform, meaning food waste.  This is not a joke, even though it reads as one.  Thank god for, e.g., Loblaw's "naturally imperfect" produce.
We had lunch at Paul, a European chain, just to keep it simple, then hit a couple final bucket list items which were, you guessed it, closed on Mondays.  On my list was the Estates Theatre, an opera house dating to 1783 (and for which Mozart conducted the world premiere of Don Giovanni).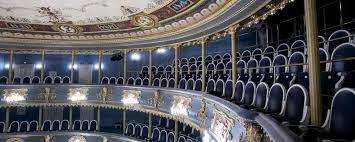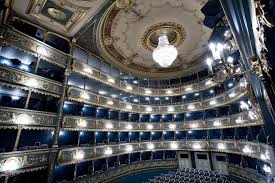 And there wasn't even a glass door for me to snap a pic, so I lifted a couple from the web.
Late afternoon there was, what seems to be a daily occurrence, about 12 minutes of rain.  Then the sun returned. We were getting ready for dinner, with the windows wide open, and someone down the street began practicing violin.  Not a school age learner, a skilled player.  It was really beautiful, sort of like a theme for the city.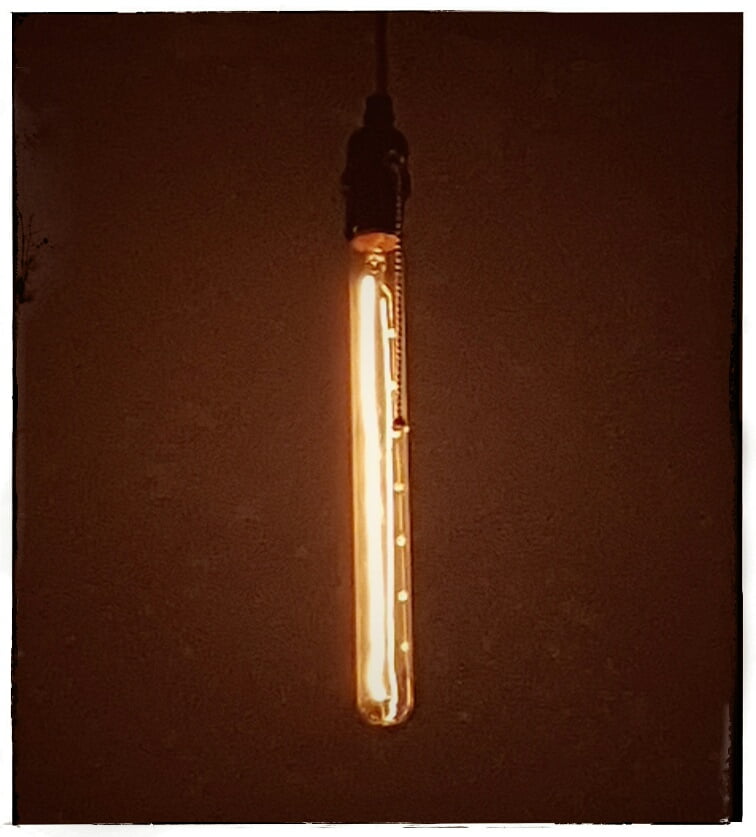 We headed out to dinner to one of the many wonderful local restaurants in the hood.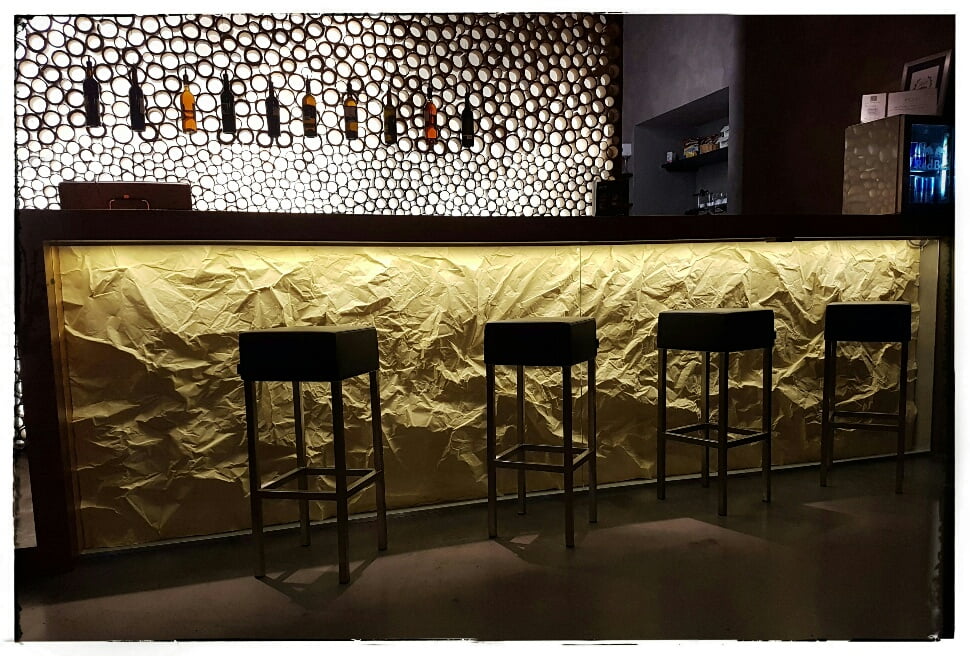 Our hotel bar has an enticing design.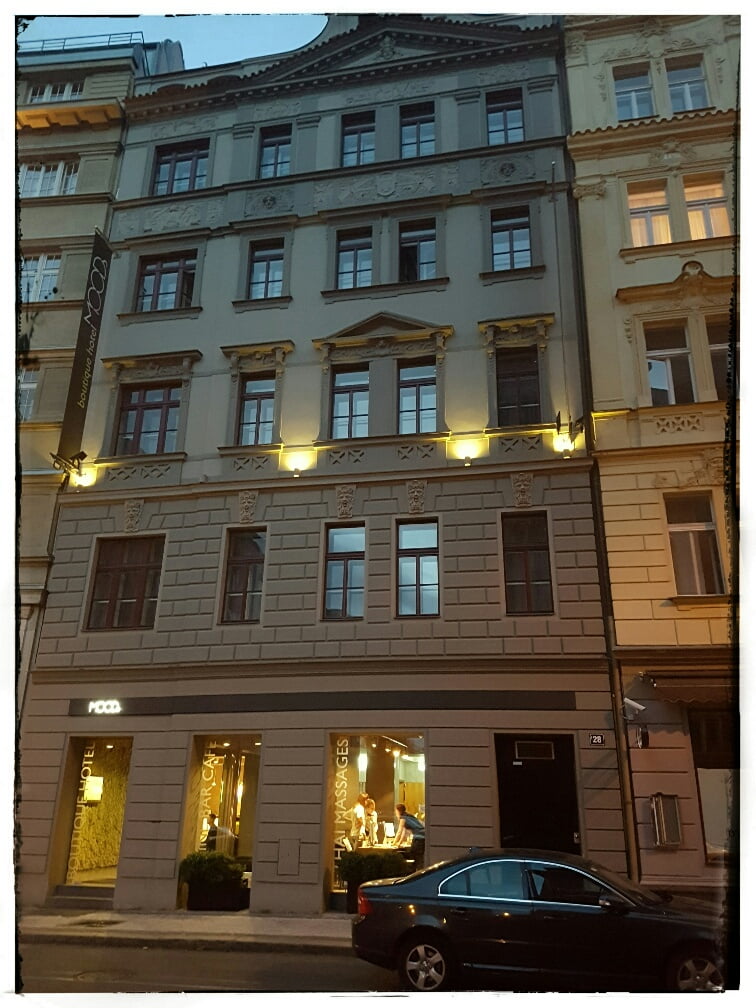 Last night at Moods.  Our hotel room is top floor, second and third window from the right.