Themes and Variations, Variations on a Theme, and a Really Good Meal, er Meals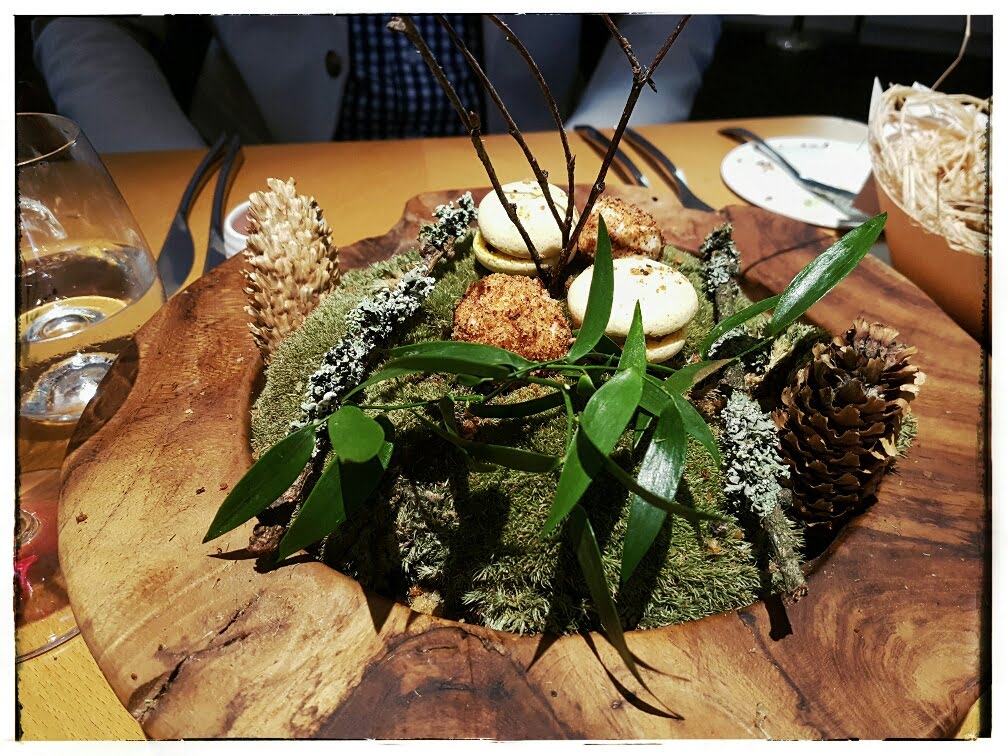 This morning started mild, but quickly turned hot and humid.  We took a very long walk to the south; in fact, we exceeded 10,000 Fitbit steps well before noon.
Along the way we walked through Wenceslas Square, the largest and most central and most commercial square of the city, replete with any number of UK chains (C&A, Debenhams, Tesco, Marks & Sparks).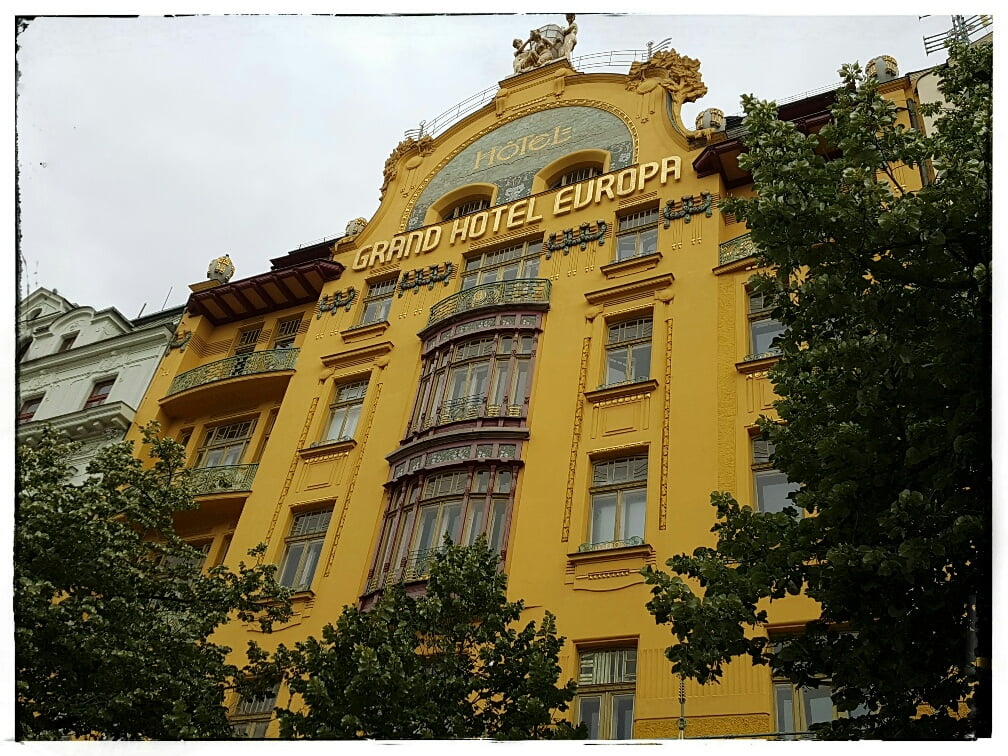 The Grand Hotel Evropa, originally built in 1889, modified in the art nouveau style in 1903, has over time gone from posh to Lonely Planet status.  Recently closed for "reconstruction."
As we headed out of the Old Town and into the New Town we came across the Hall Tower.  Dating from 1456, its use wasn't only against enemies outside city walls, but to spot fires or other internal strife in the city proper.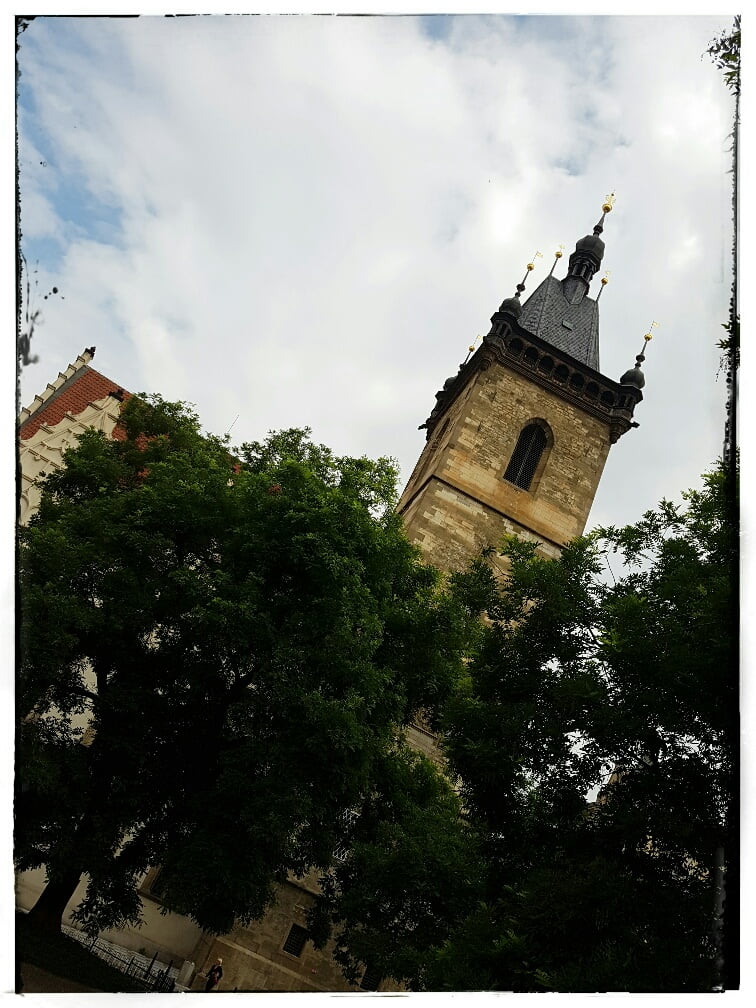 We've done a lot of towers, the Galata Tower in Istanbul, the South Tower on the cathedral in central Vienna, the castle tower in Cesky-Krumlov, to name just a few.  What's another 70 meters?  Being Sunday many church bells were ringing across the city, and you could hear them pealing clearly from the top, not as discordant as you'd imagine.  From the height and with such a clear vantage it was possible to discern Prague's original layout: The "Lesser Town" with the castle and its walled fortress; across the bridge the Old Town with its walls; then the New Town, also originally walled, but to protect agricultural land.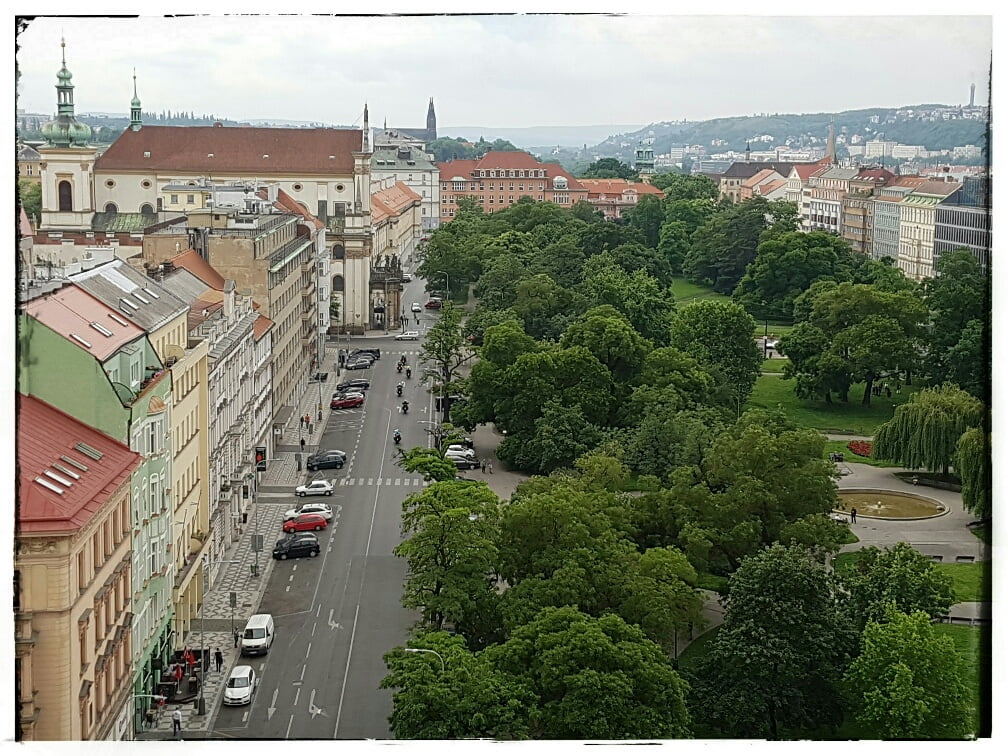 View south.  Way way way in the distance you can see the tiny spire of a castle.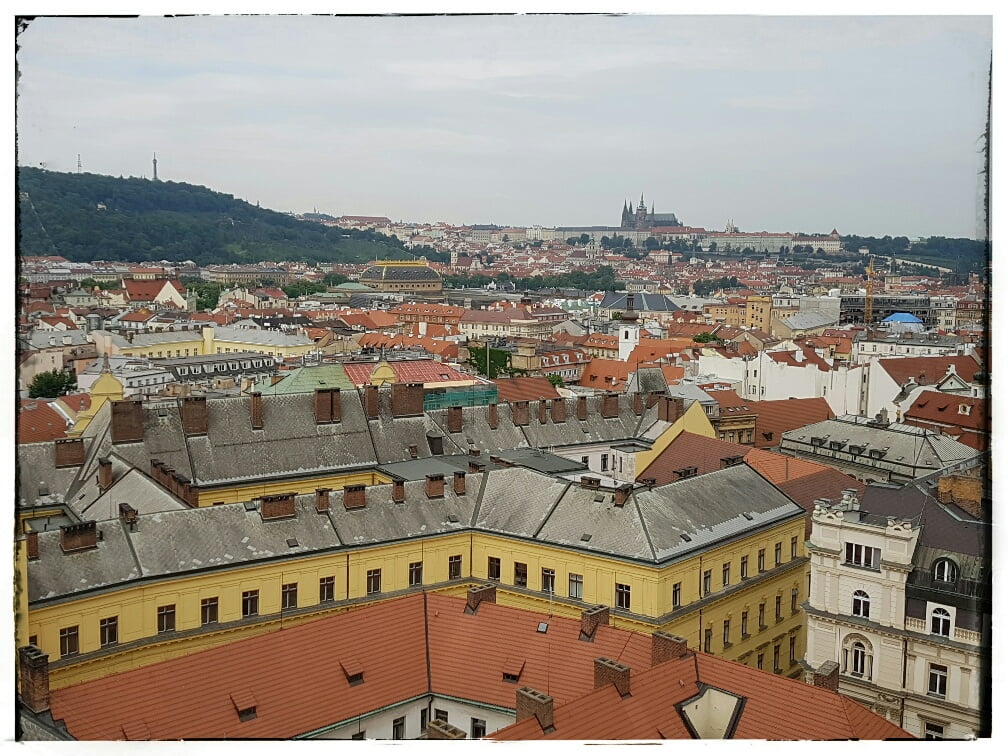 View west towards Prague castle (the largest castle in the world so Google says!).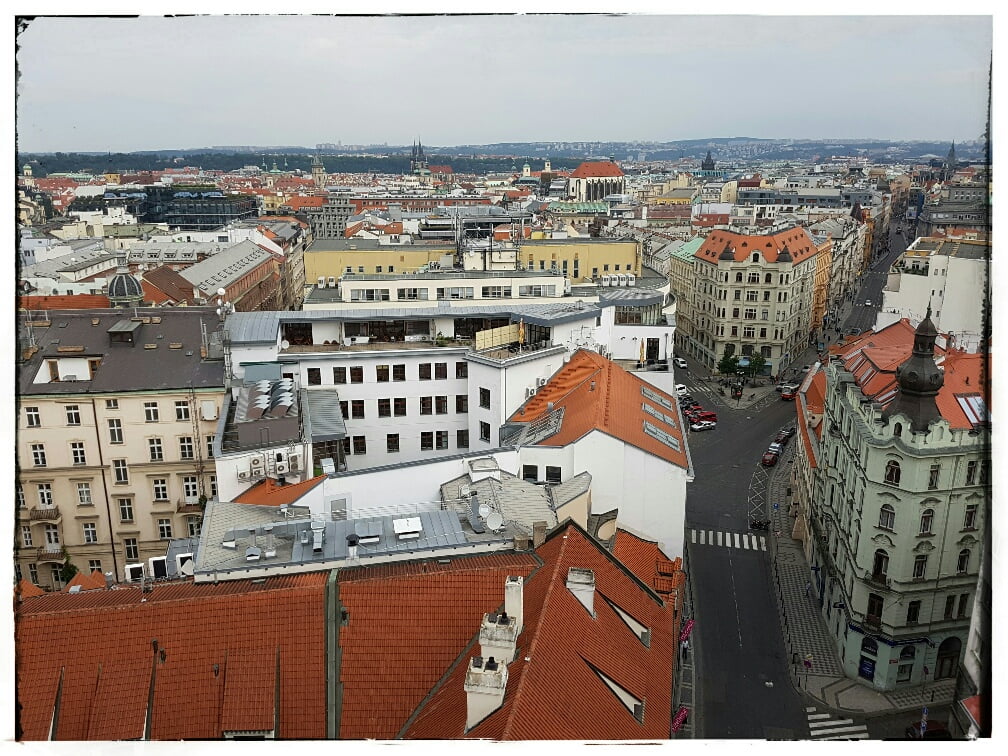 View North.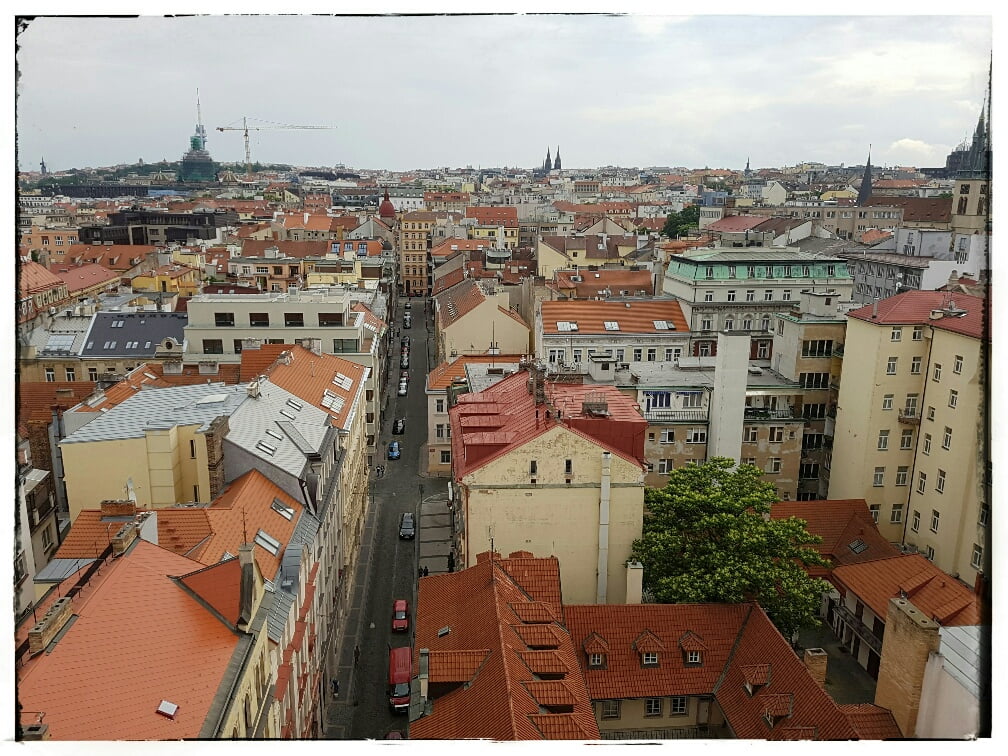 View East.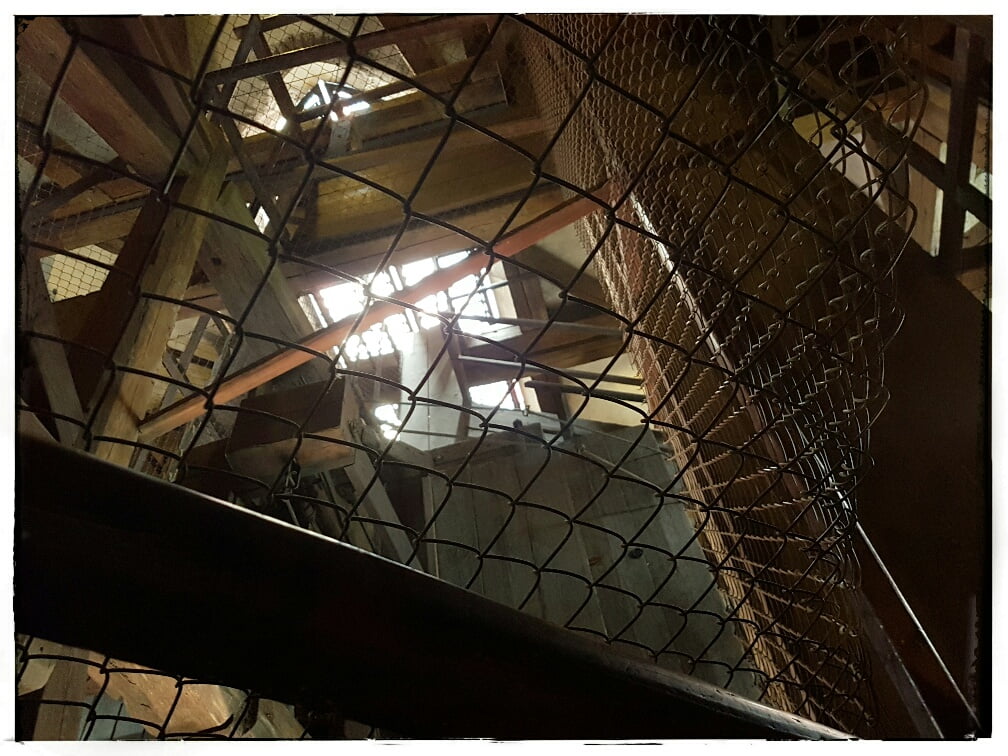 The rabbit warren of stairs, platforms and fencing to reach the top.
They had a world map with pins on the home cities of tourists who'd climbed the tower.  With over five million visitors a year to Prague I guess it wasn't a surprise to see a world teeming with push pins.  Although Greenland and Siberia have yet to make the effort. After that we walked southwest towards the river, starting in the park shown in the "south" pic above.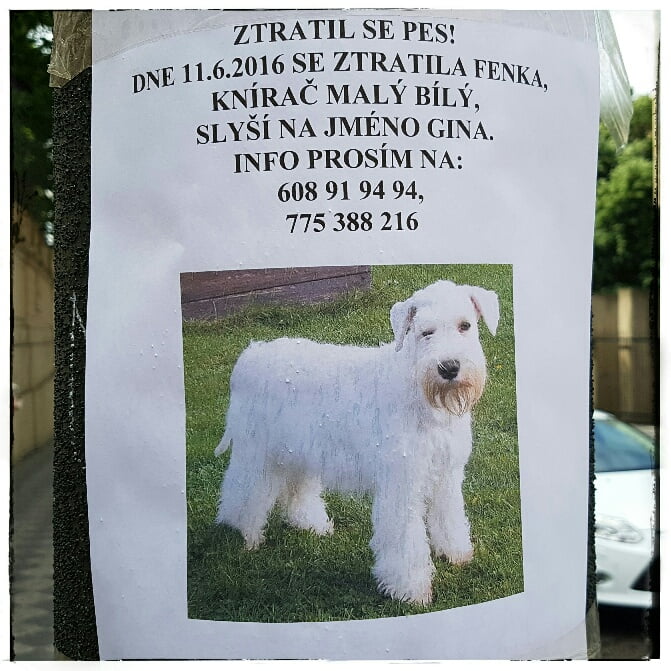 Oh, oh, someone lost a very expensive dog!
At day four we are becoming inured to the architectural diversity and magnificence of the city, dilapidated apartments over a century old, magnificent palace like structures under scaffolding, one nouveau flat after another.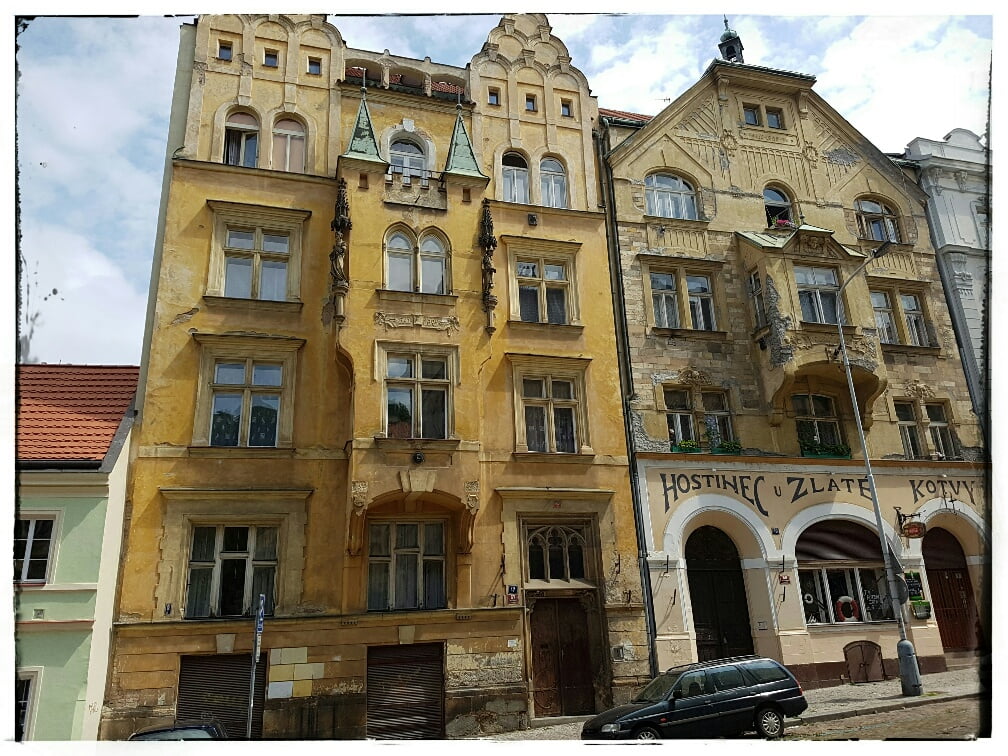 Case in point: Random photo of two "typical" residential apartments, both built in 1905.
We passed a run-down apartment building with an open front door almost off its hinges.  A pale mural on the wall caught my eye.  I went in to take a look.  It was too old and marred to be picture worthy.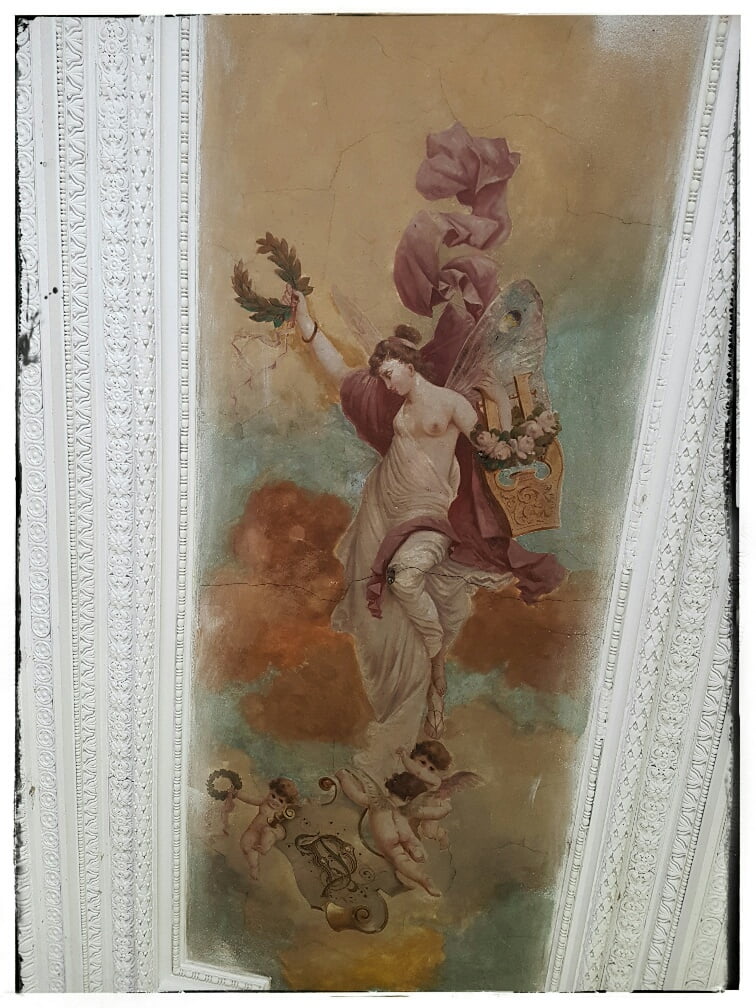 But I looked up and saw a shockingly detailed ceiling work.  Ah Prague.
The further south we went the less touristy and more a livable city it became.  There were, however, a few signs of the sort of things Prague is famous for…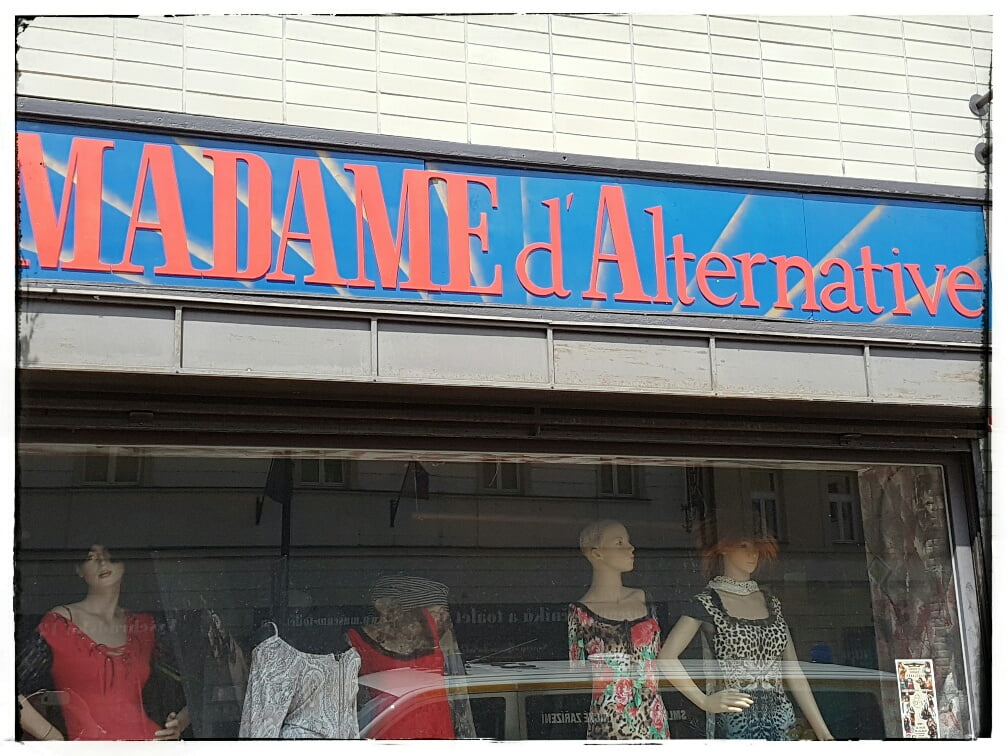 "d'Alternative"?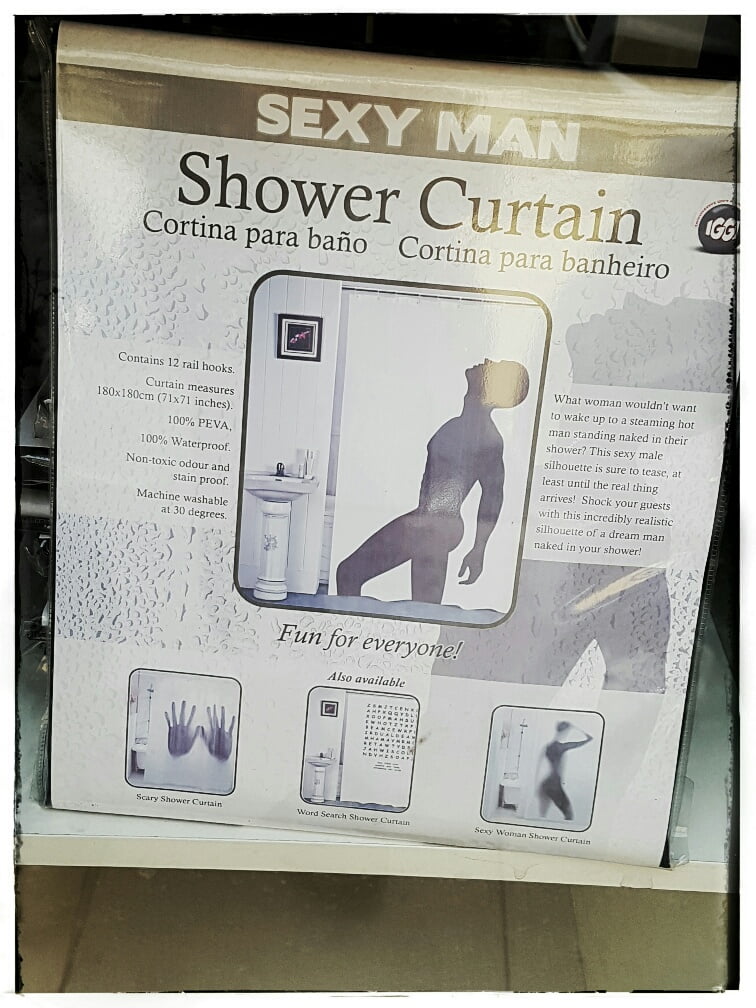 "Fun for everyone" or so the package says.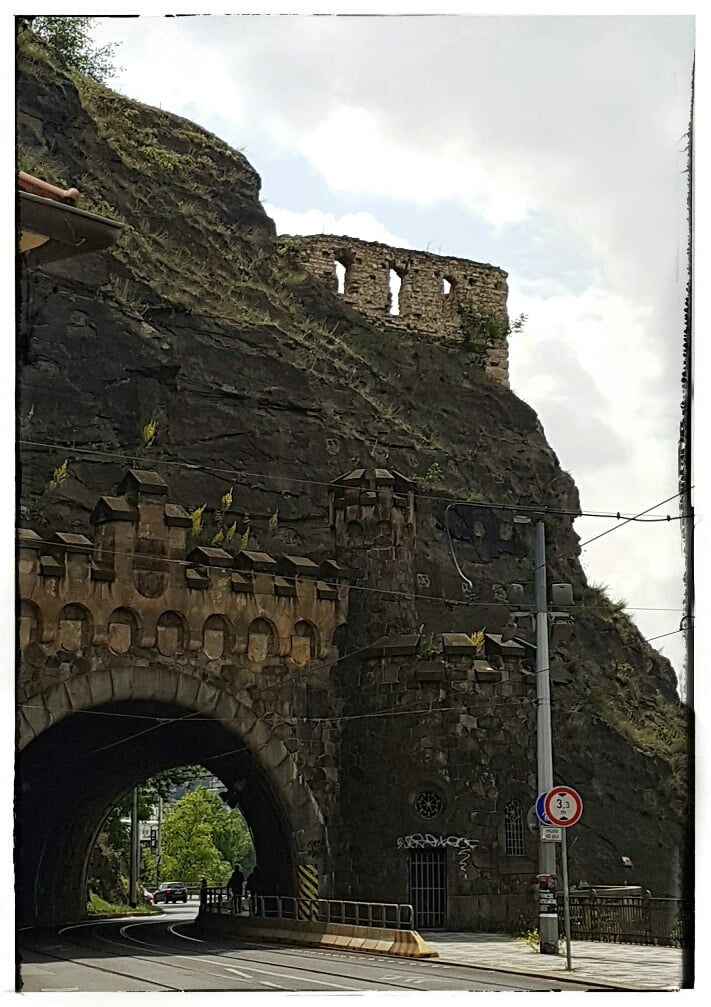 As you head "deep south" in Prague you hit a fort.  A lot of tourist groups take a tram along the river to make the effort to see the citadel. It houses Vysehrad, the site of the original castle from the 10th century before the new castle across the river became the seat of the king, as well as the Basilica of St. Peter and St. Paul. There's also a cemetery where Dvorak, among others, is buried.
Of course that wasn't where we were heading. We were en route instead to a selection of cubist houses.  It is rare in the world to see this unusual architecture, in its "working" form.  As one guide book put it aptly, "Prague's cubist architecture followed a great Czech tradition: embracing new ideas, while adapting them to existing artistic and social contexts to create something sui generis." All the shots below are of buildings from 1912-1914, still being lived in today.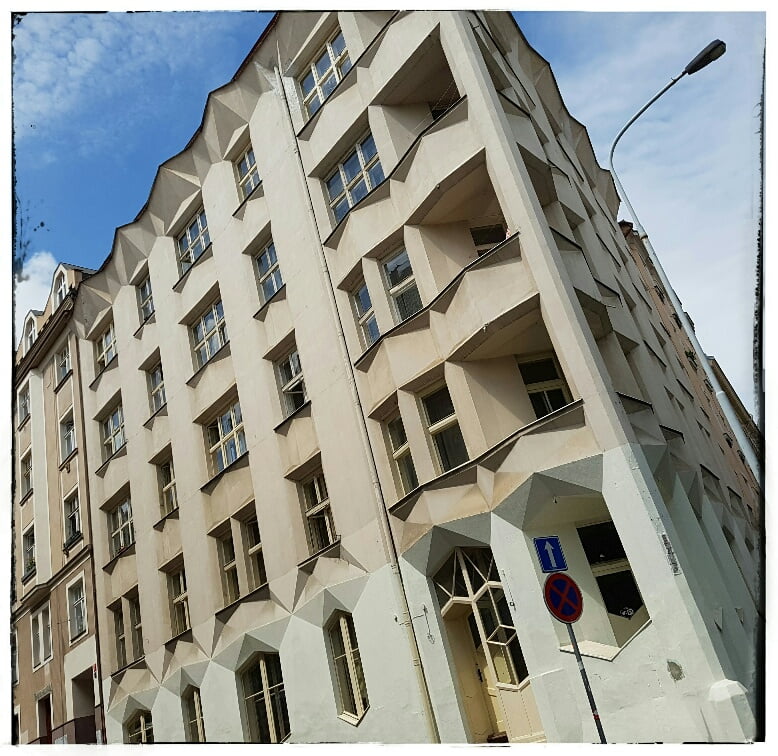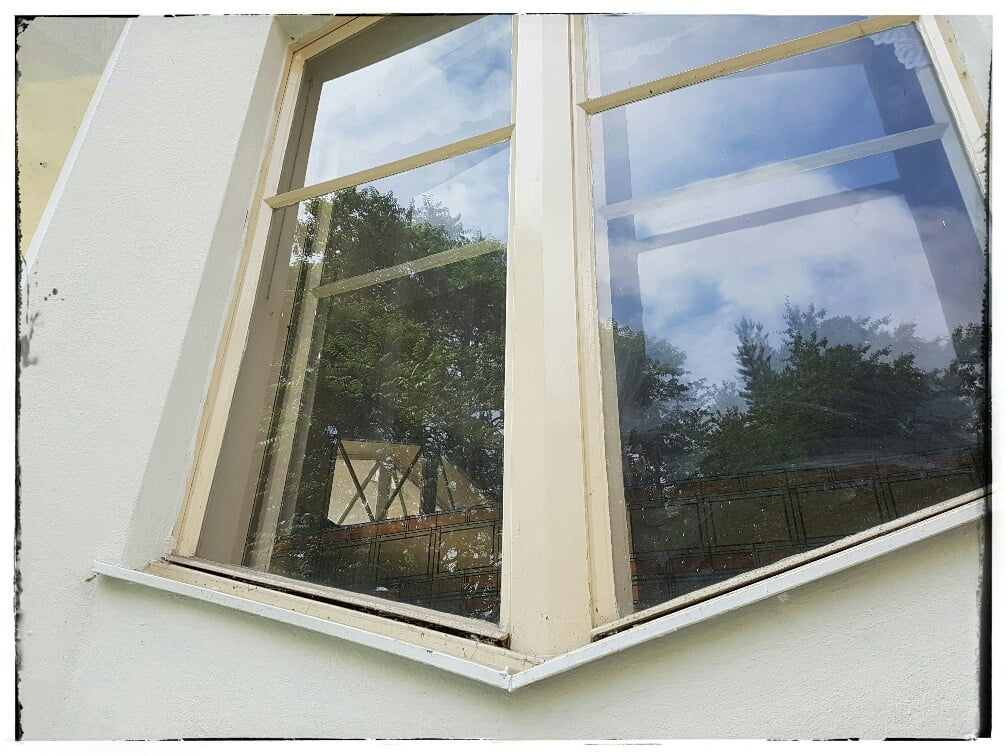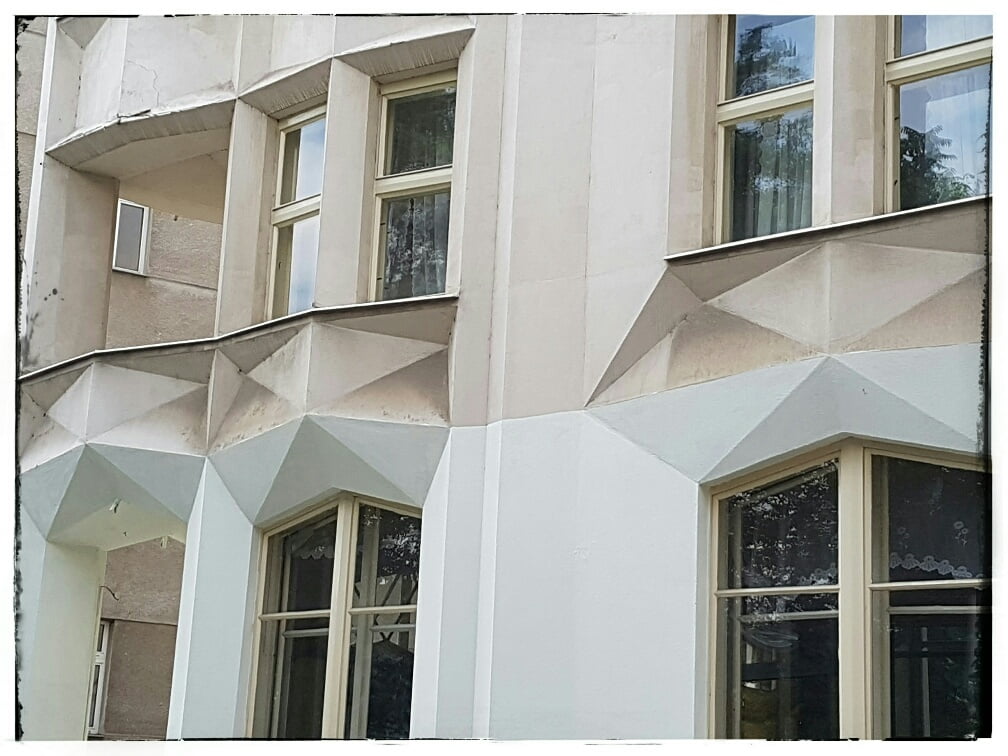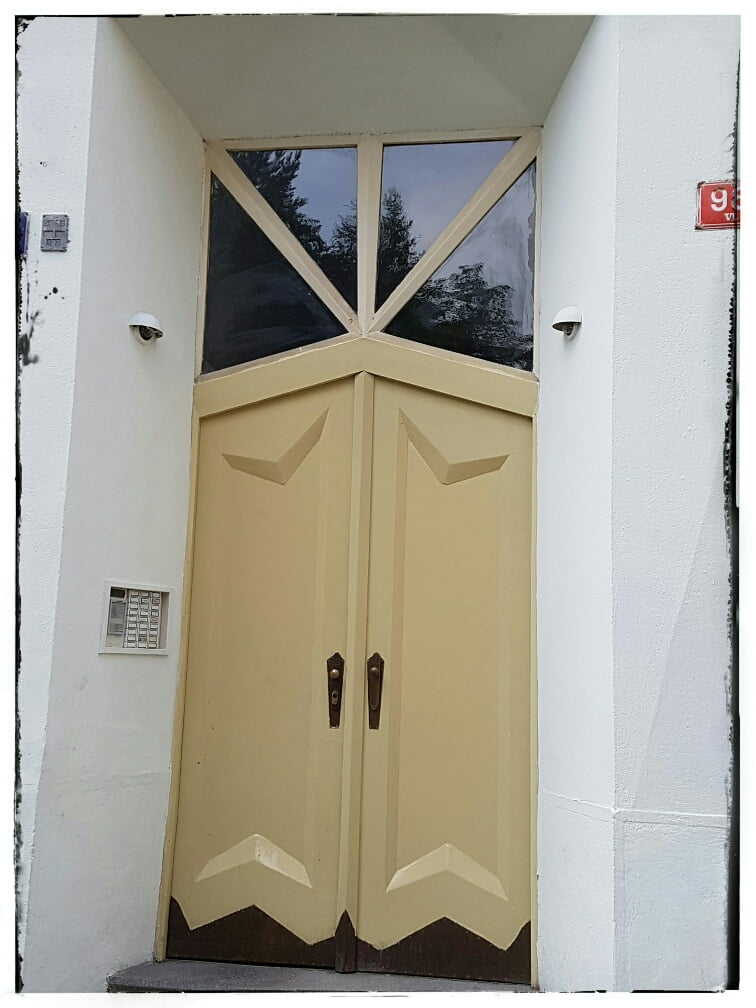 Josef Chochol designed the apartment house above on Neklanova No. 30.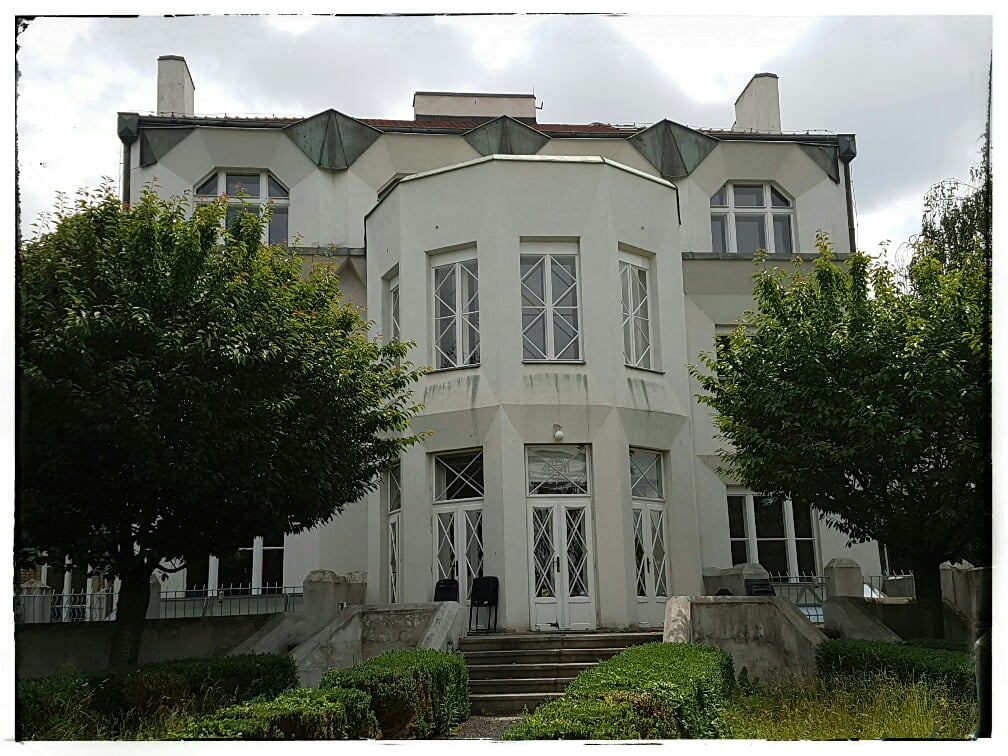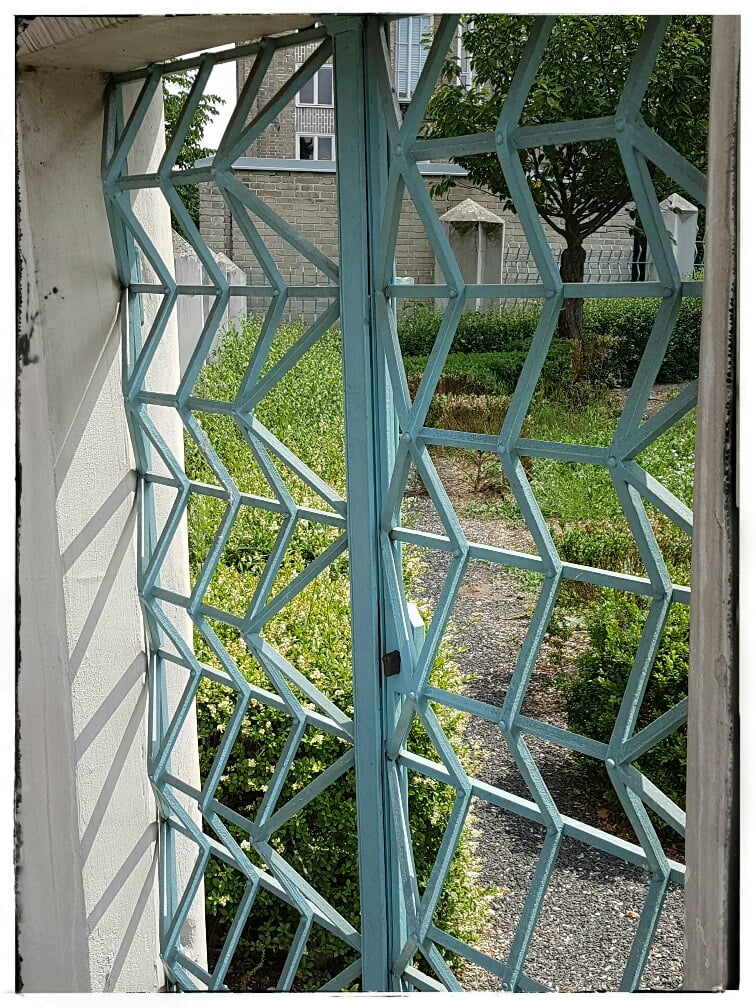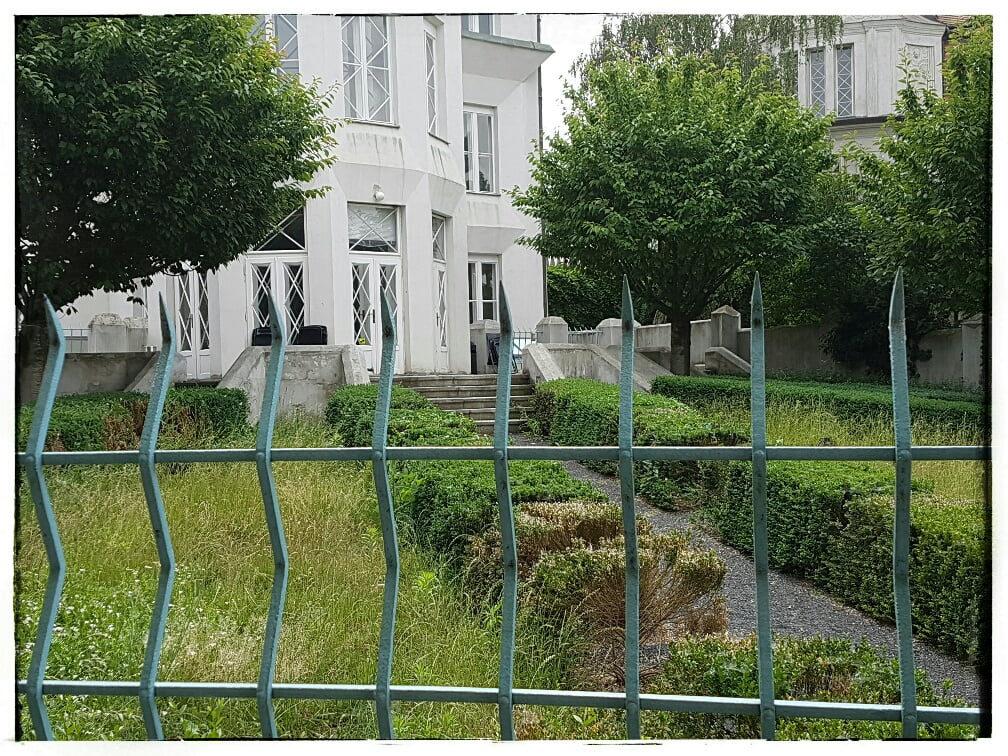 This is Chochol's "villa" at Libušina 3.
It was a triangular shaped lot so the cube is set back from the street.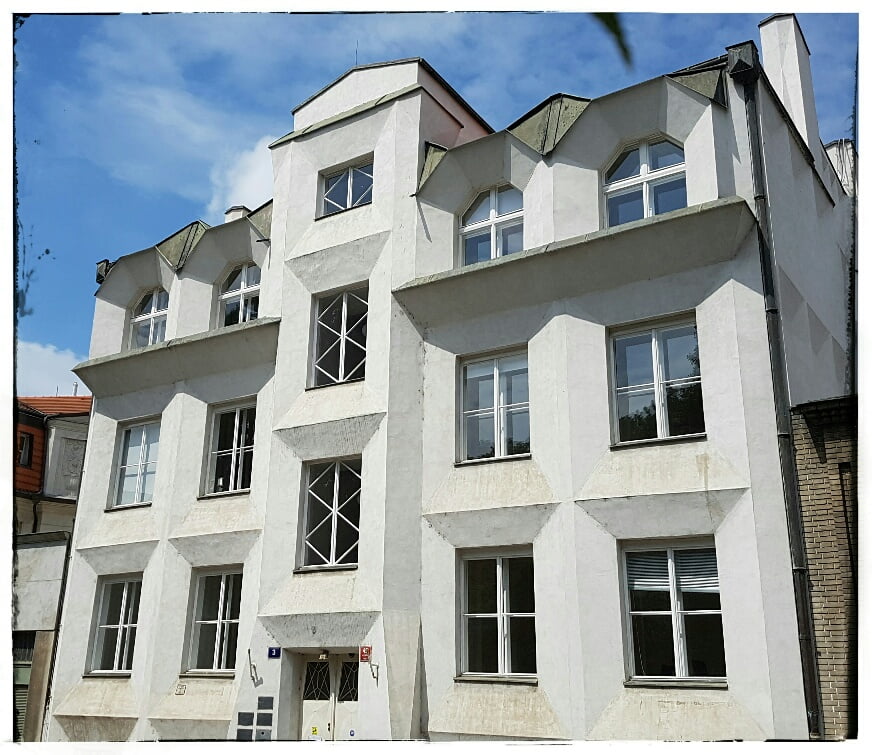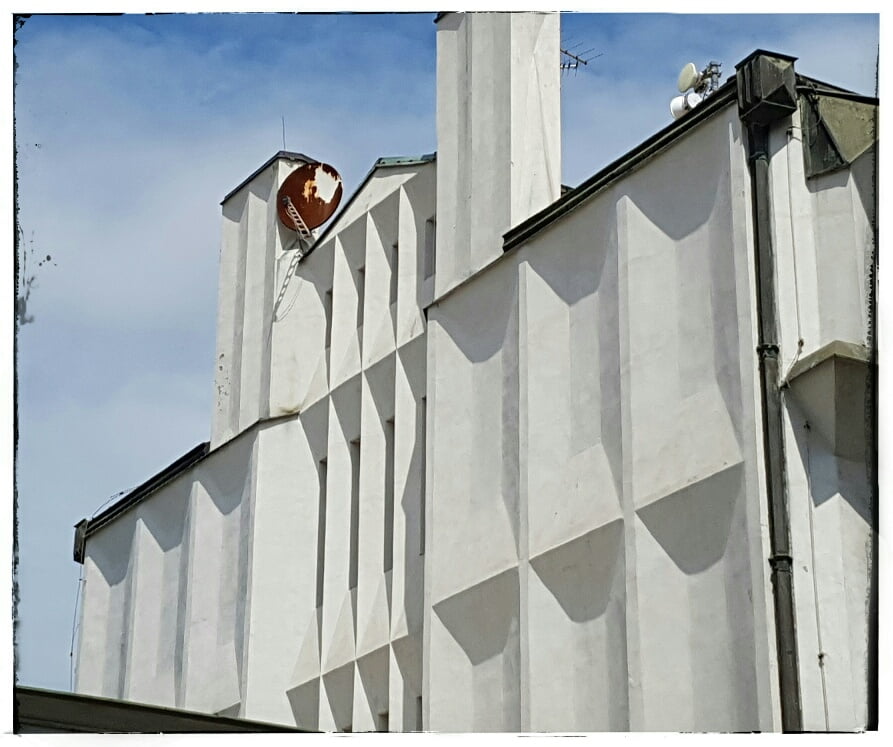 The above two shots were taken from the rear of the villa, which is also a street.  Chochol hadn't anticipated satellite TV or WiFi…
Both those homes were showing signs of age.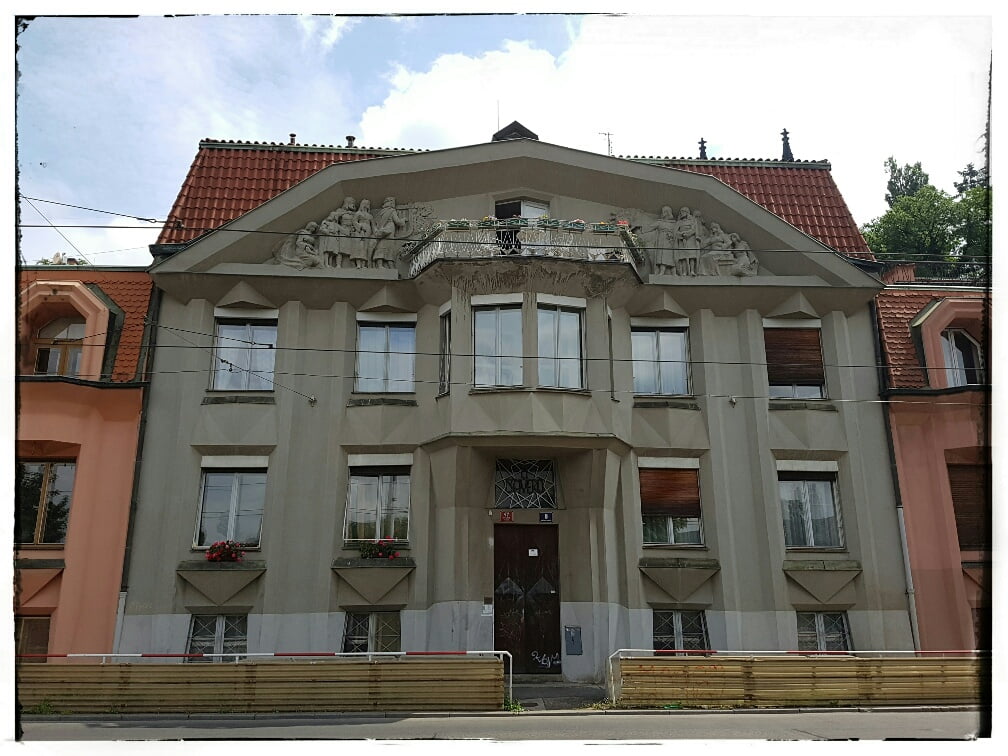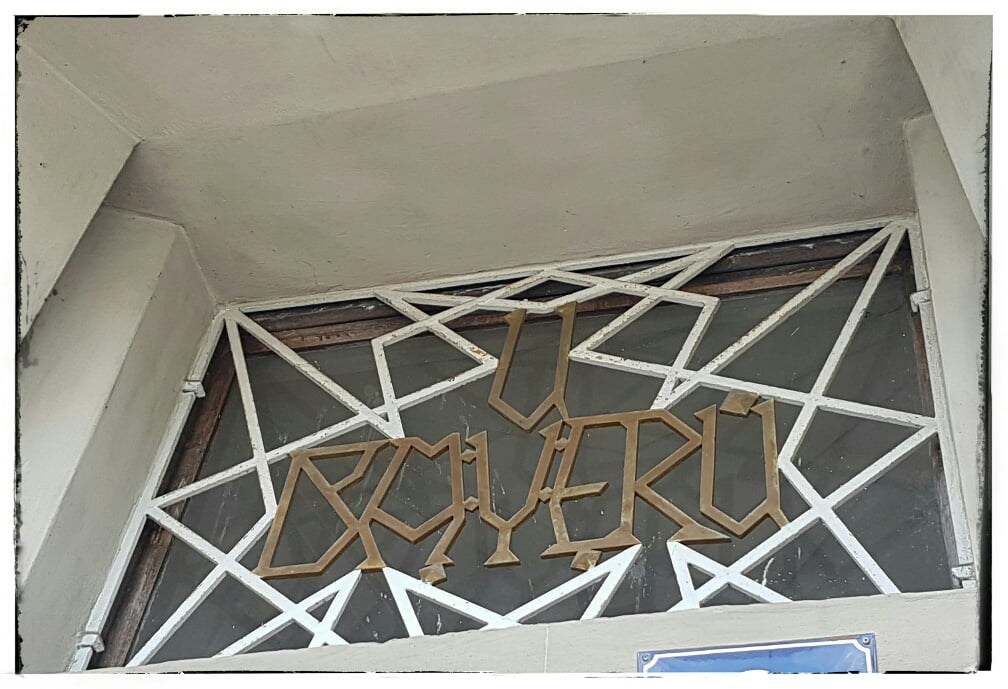 The above is a three family home, Rašіnovo nábřežі 6-10.  These are the earlier cubist buildings; they include baroque and neoclassical motifs.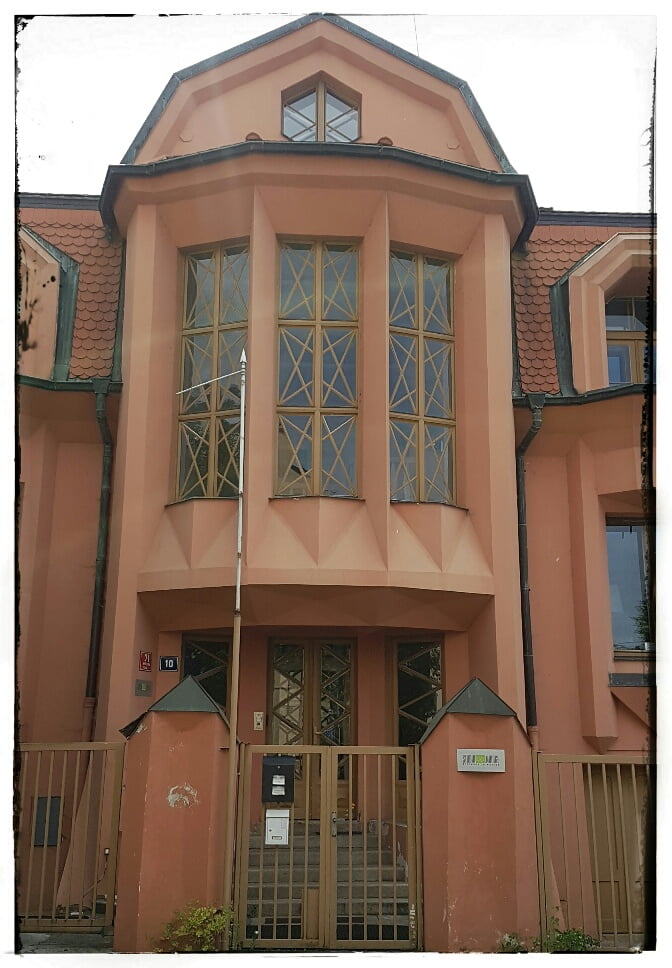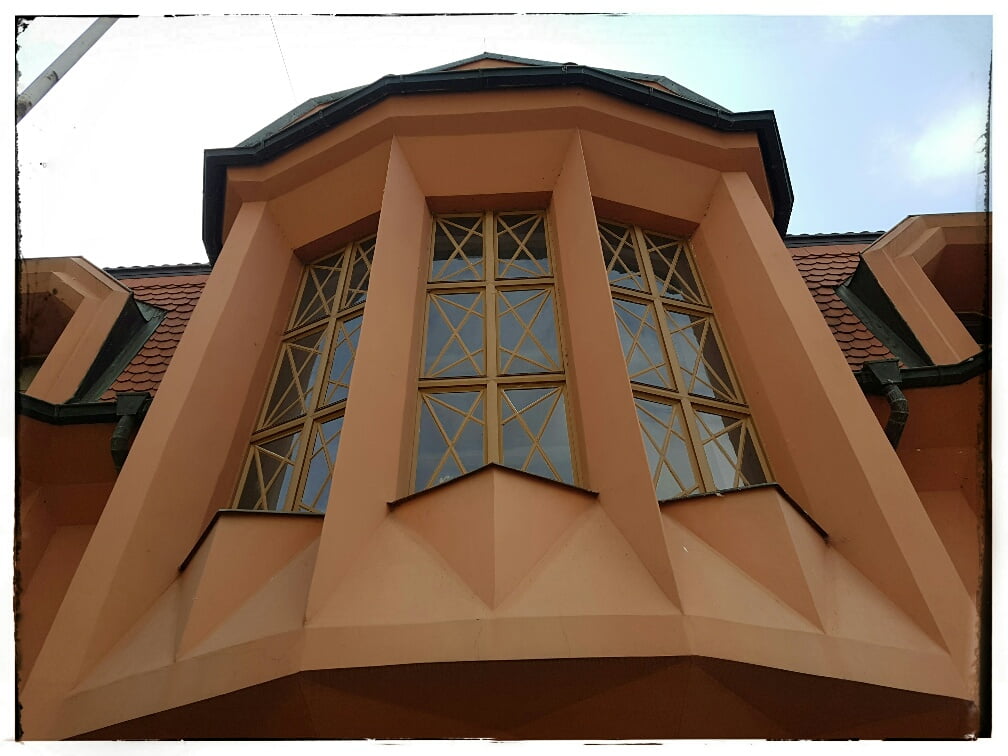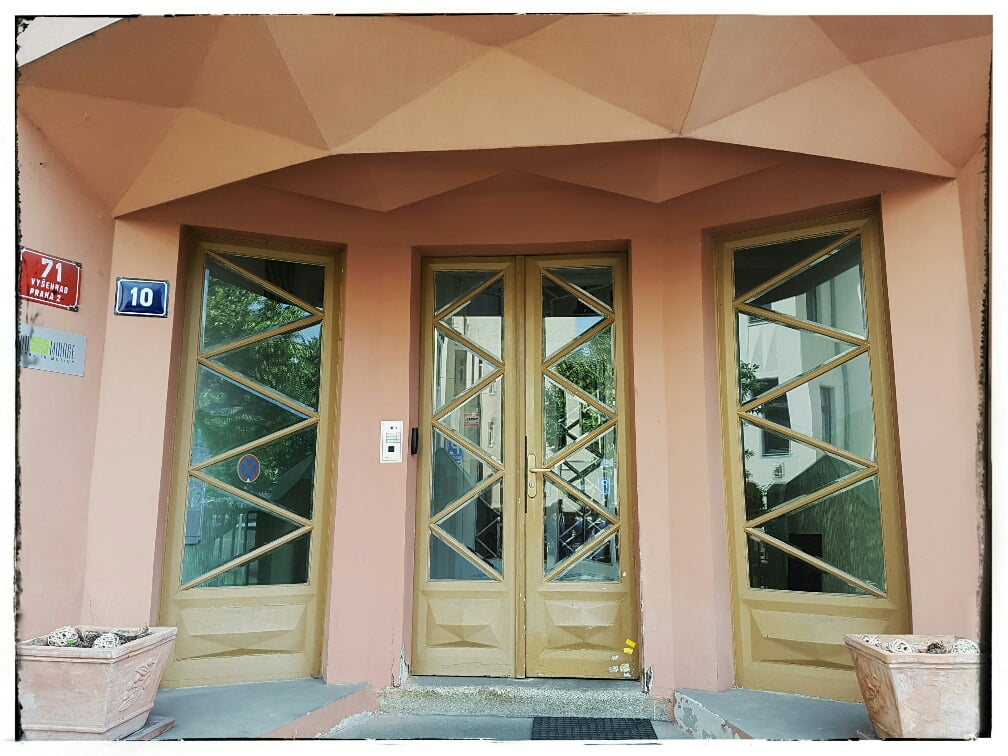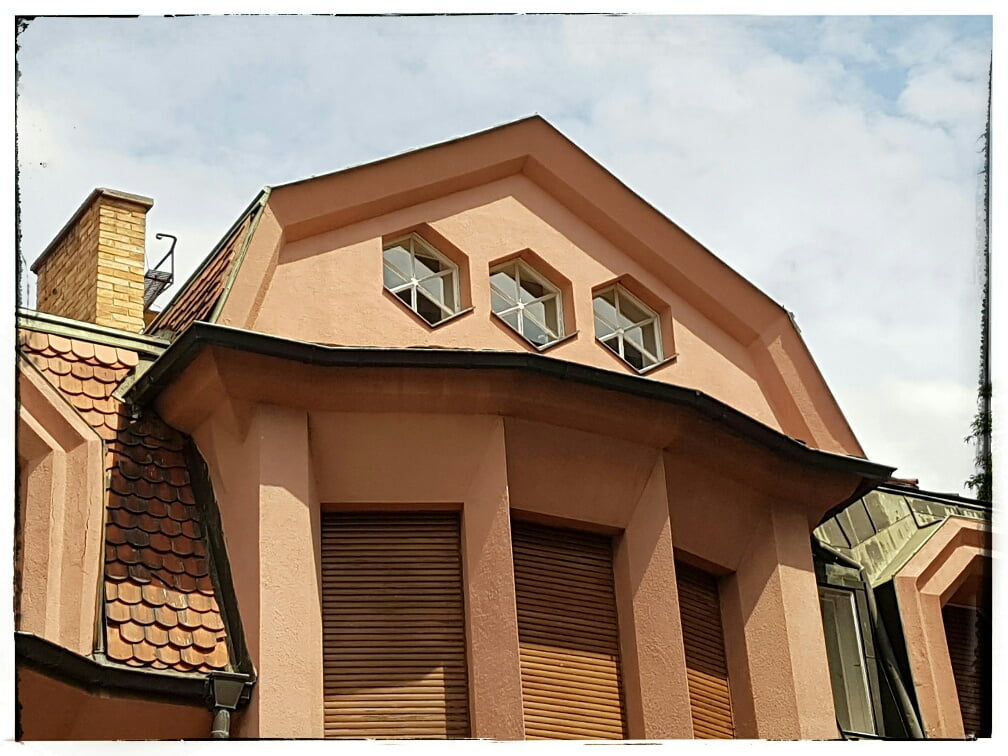 Of the remaining cubist buildings in Prague, these may be the best preserved, but they have been modified slightly without exceptional detail to intent.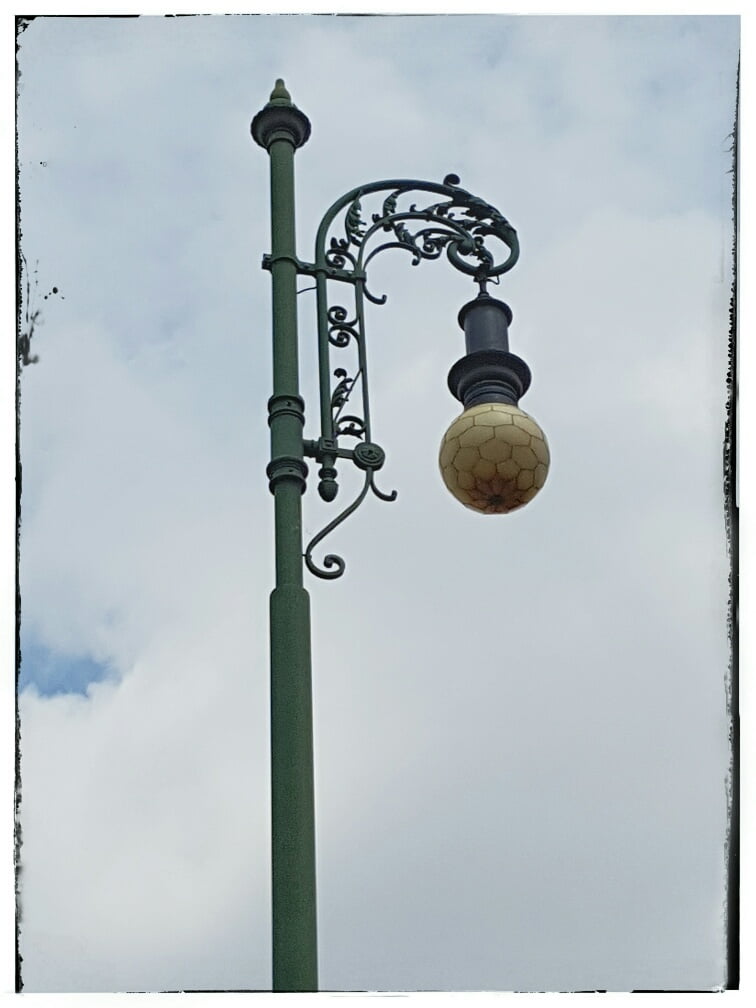 After that excursion, we walked back toward Old Town, first along the river, then into the New Town.  There were interesting vintage lamp standards here and there.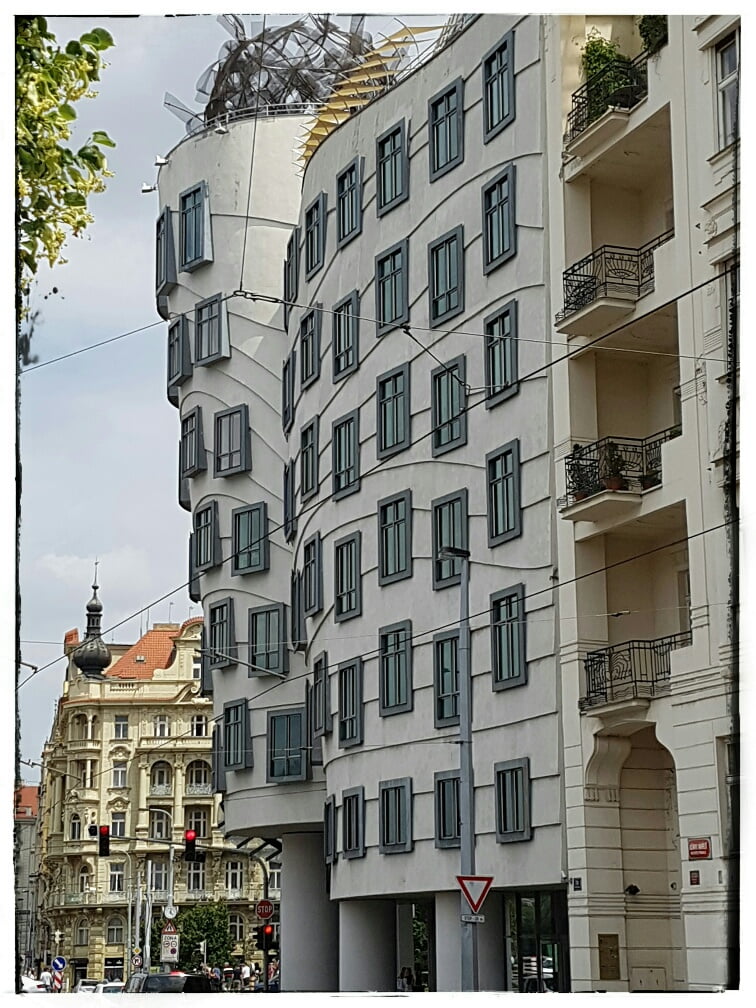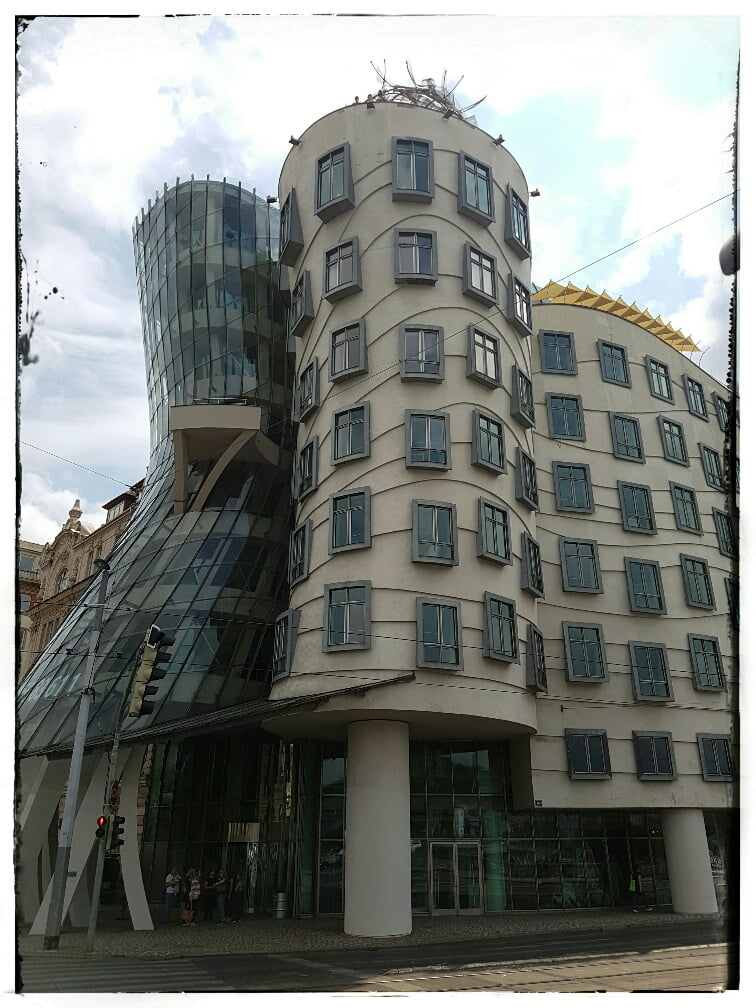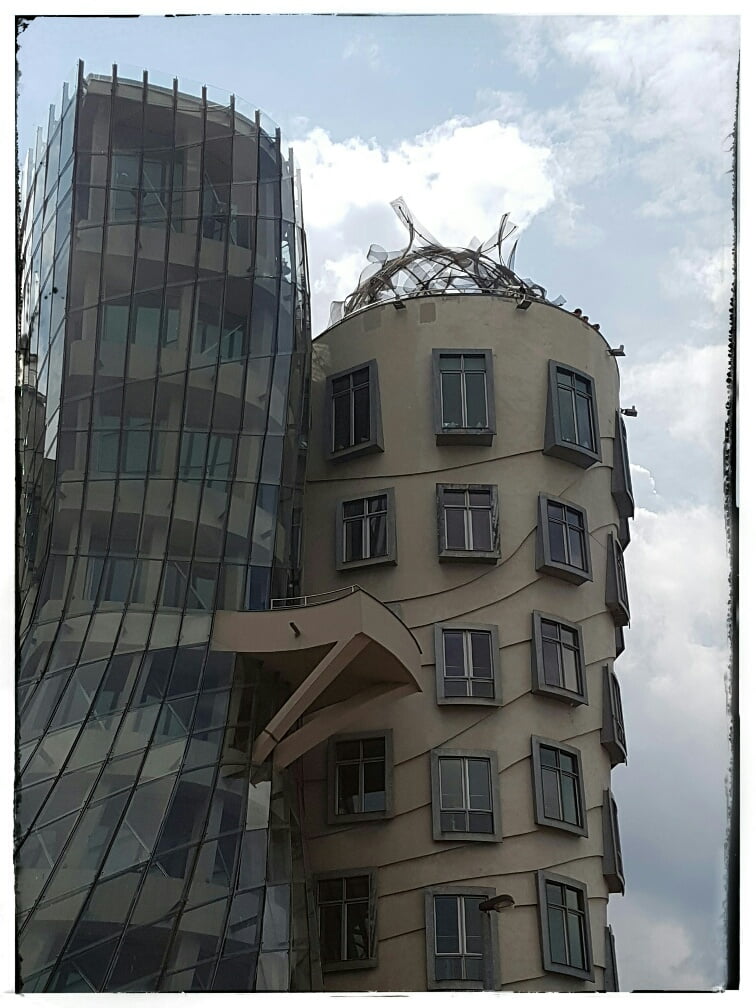 We went to the "Dancing House" or "Fred and Ginger" which is the Nationale Nederlanden building (aka ING); designed by Vlado Milunic in "cooperation" with Frank Gehry.  I reserve judgement…  What is of interest is that the plot is the site of a US bombing in 1945–which is of interest I guess because the Germans intentionally preserved the city (they say, true or not, that Hitler imagined "retiring" to Prague after "his work" was done).
For lunch we did something unnecessary, a fancy meal.  Two people can eat a decent meal here all in under $40 so there's no need to spend twice that, at lunch even, but we did simply to take in the Municipal House restaurant.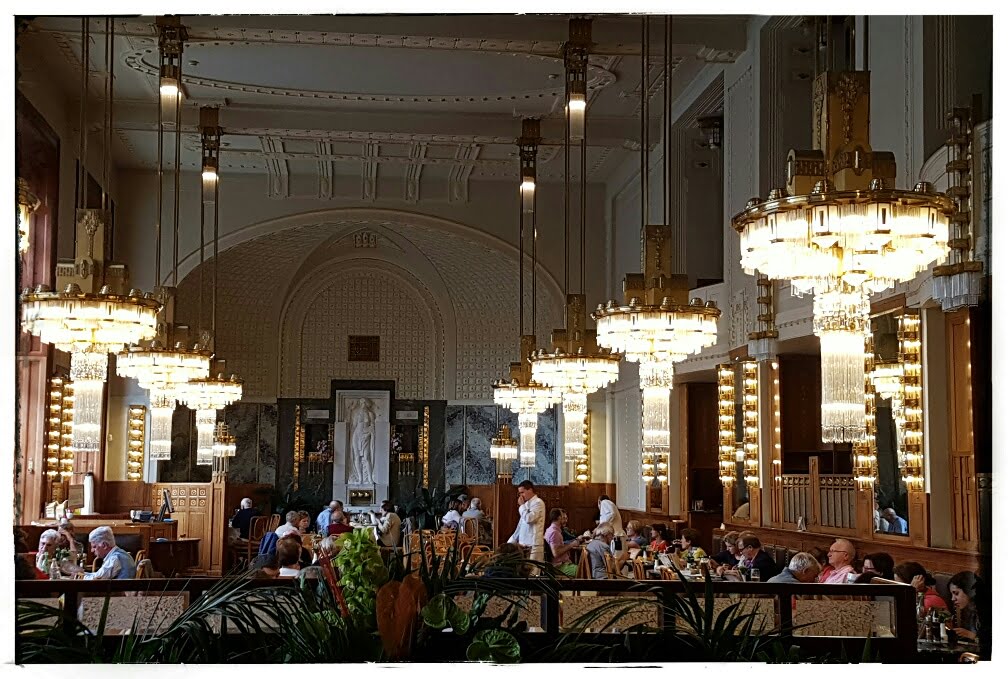 This is their cafe, more reasonably priced, but no, we didn't go there.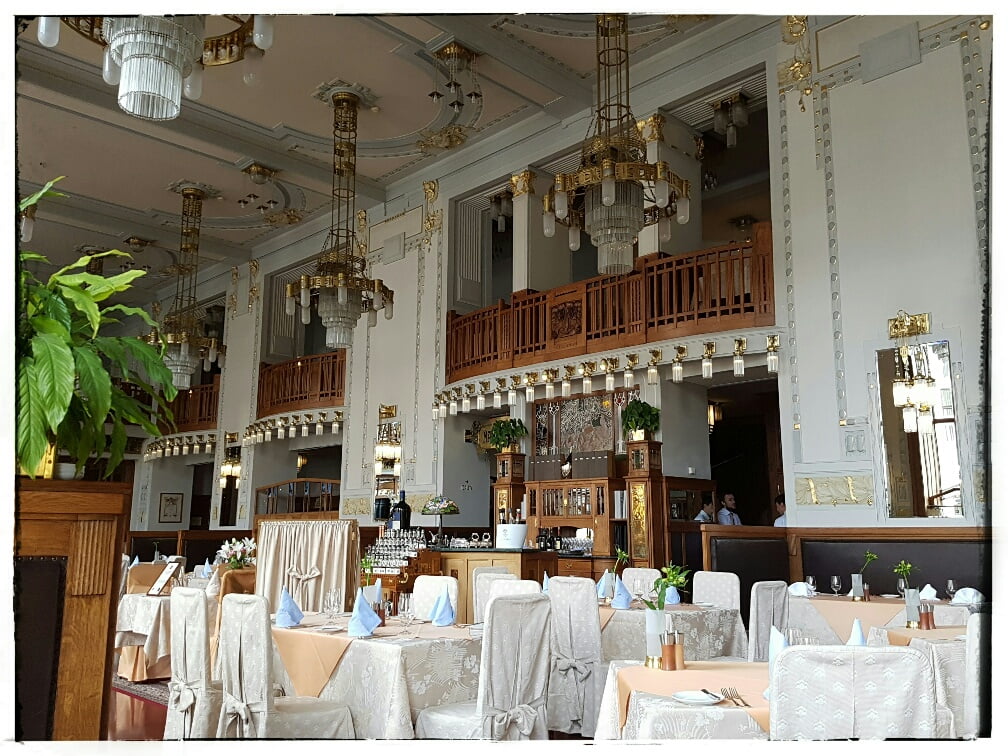 We went to the old school restaurant, waiters in waistcoats, cloth table cloths, crêpes Suzette cooked at your table.   Built between 1902 and 1911, it was built as a restaurant, it's always been a restaurant, and all the fittings are genuine. Bonus: They do a fixed price weekend lunch.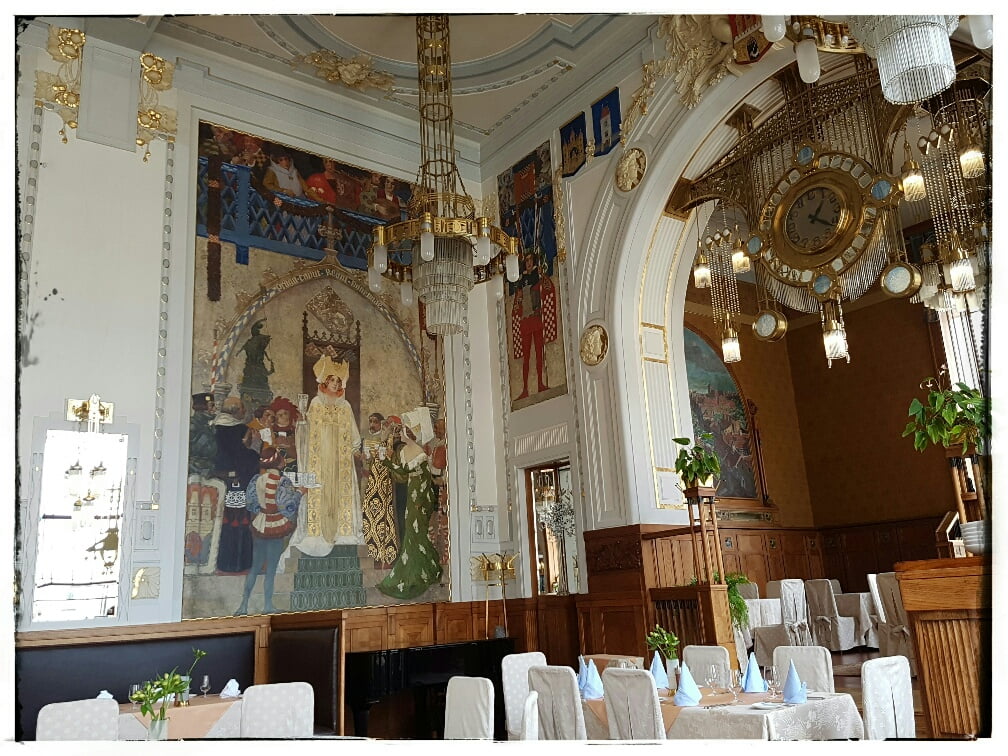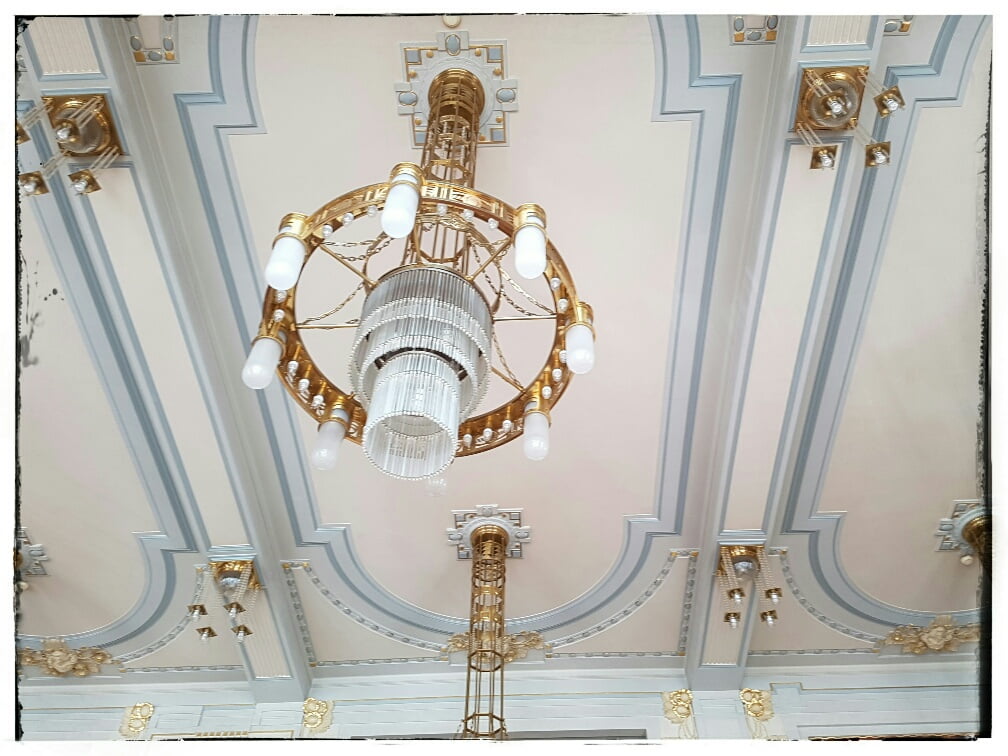 It was a riot.  Of colour and Art Nouveau over the topness. Really old school Prague.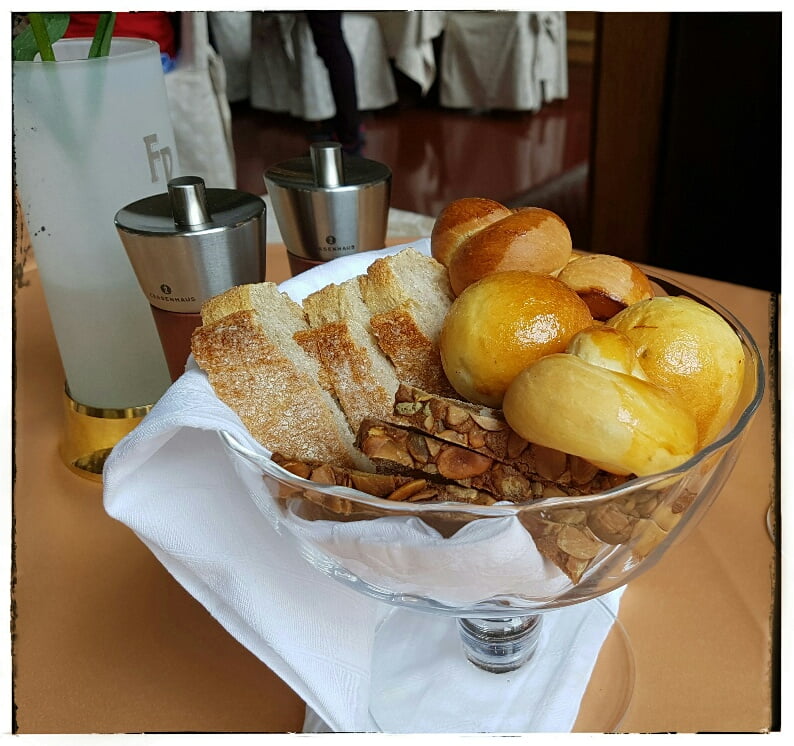 The best bread we've had this trip actually.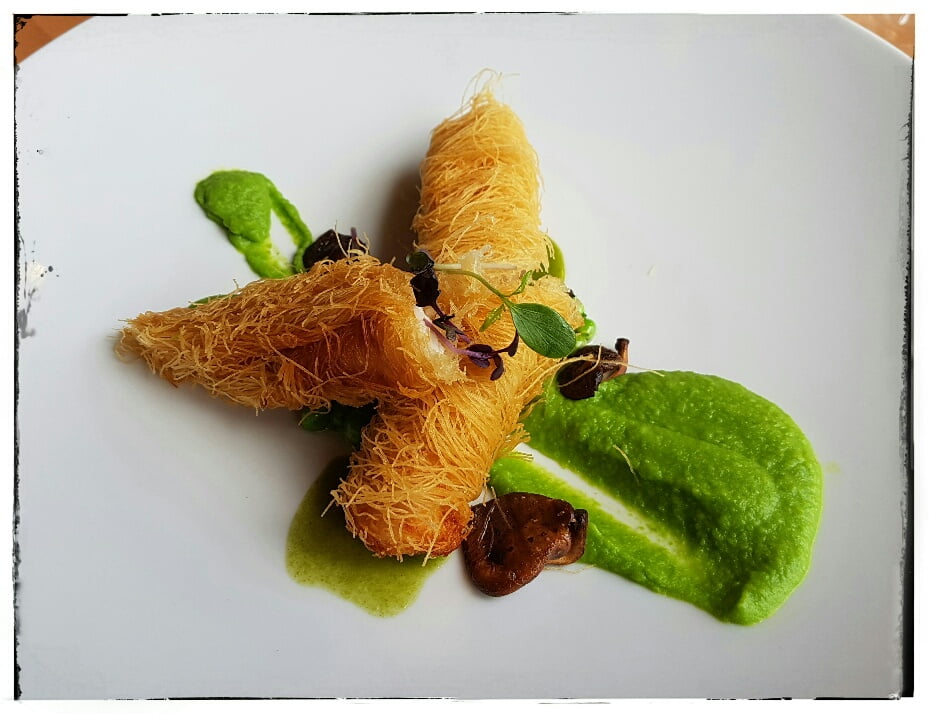 The set lunch main was a chicken in shredded pastry with really fresh pea puree.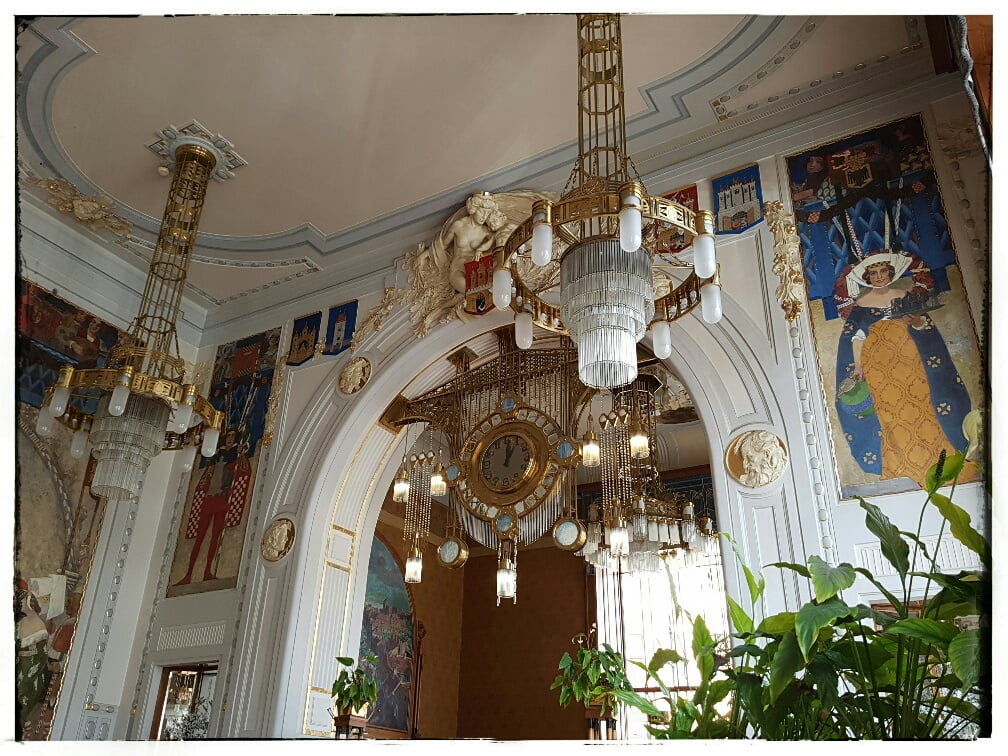 There were no men in top hats or women with boas, but I think over the last 100 plus years they've seen their fair share.  The men's room had an atomizer of Bugatti cologne.
We did a long after lunch walk but the clouds came in from nowhere and it looked ominous so we swung back to the hotel.  After a period SS decided to go for another walk alone.  Unfortunately, that was the 20 minutes when it finally rained full on.
For dinner we did a splurge.  I had done some research in advance regarding "one special dinner" and had chose a new-ish place called Field. The events in Florida sort of put a damper on our mood, but a day hasn't gone by on this trip without seeing at least one Uzi.  There's a lot to be grateful for in Canada!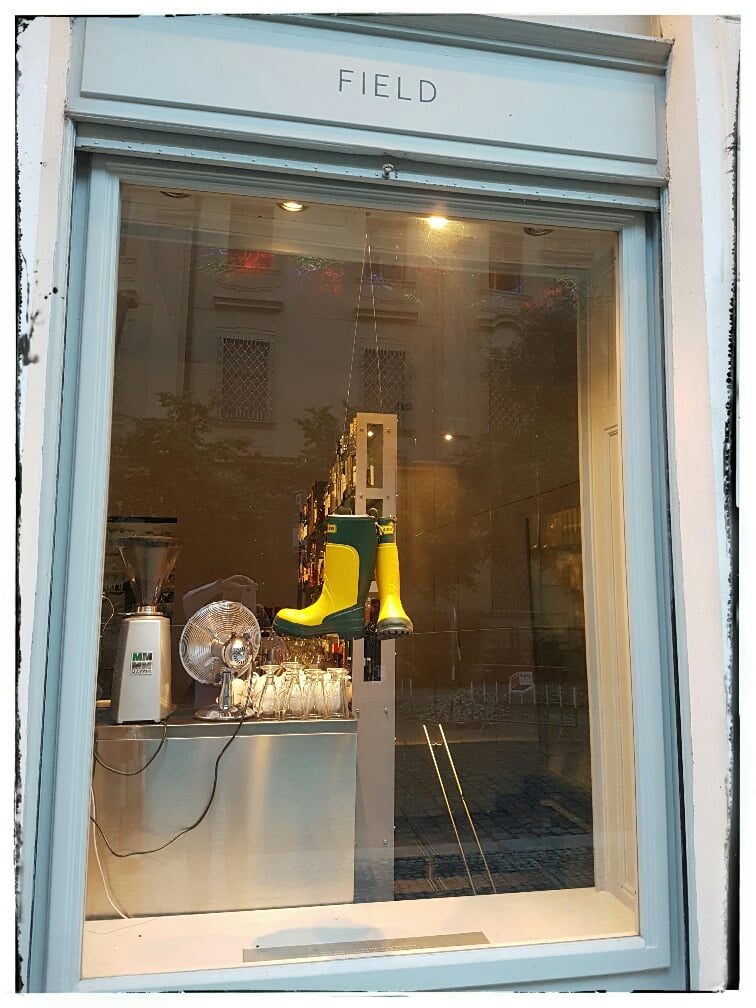 I booked this dinner about six weeks ago not knowing anything about Field and certainly not knowing this: It had received a Michelin star.  That just spells disaster the moment the cheque arrives.  At any rate, we soldiered on. It was (according to Google) 398 meters from our hotel.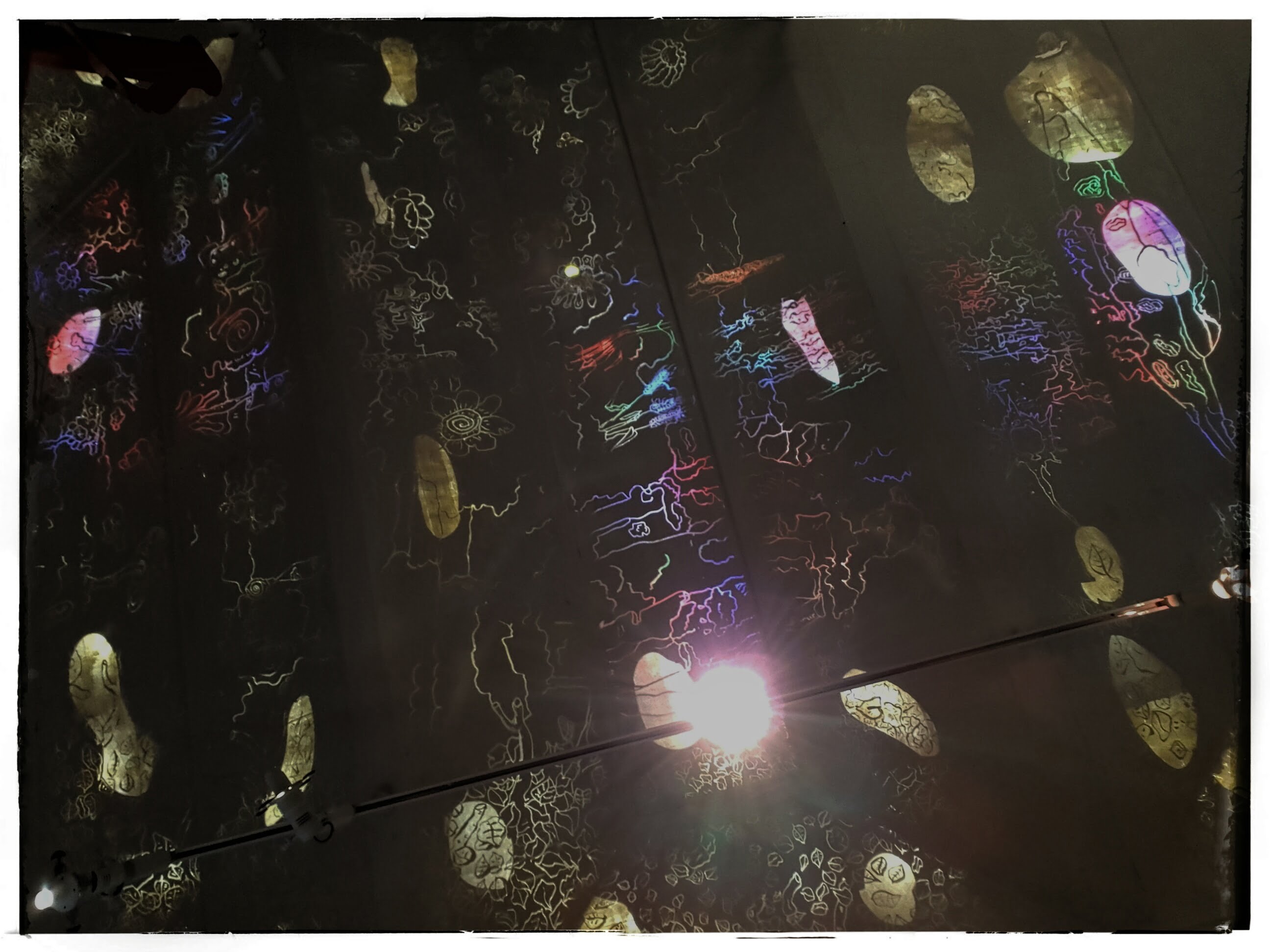 A mural by artist Jakob Matuska is projected on the ceiling.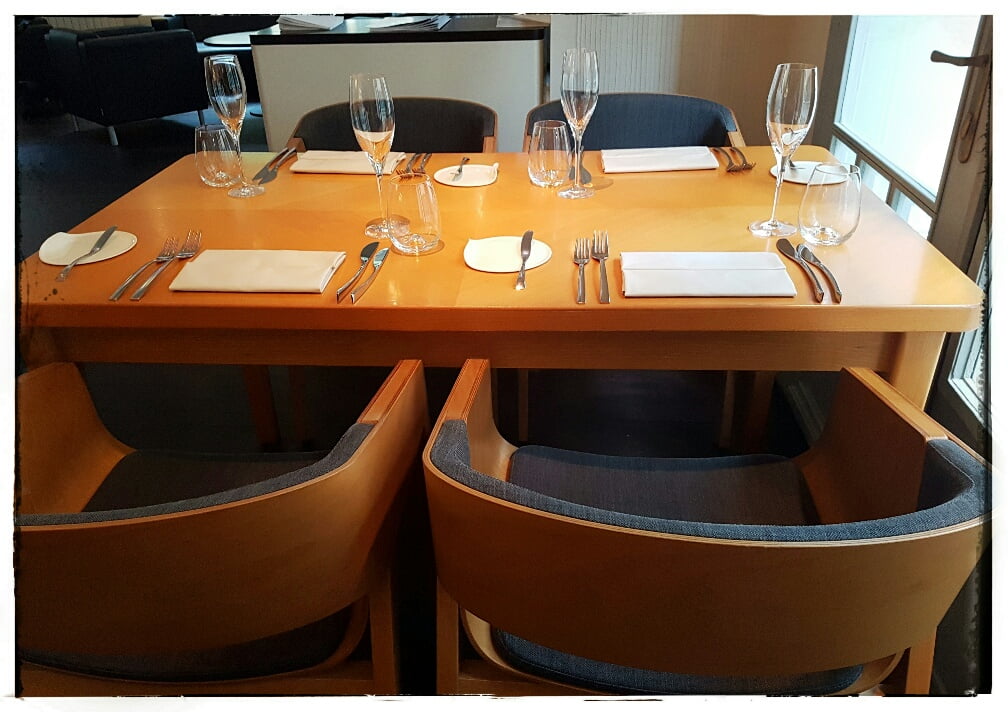 The ambiance was spare, modern, and airy, more Nordic than Eastern European.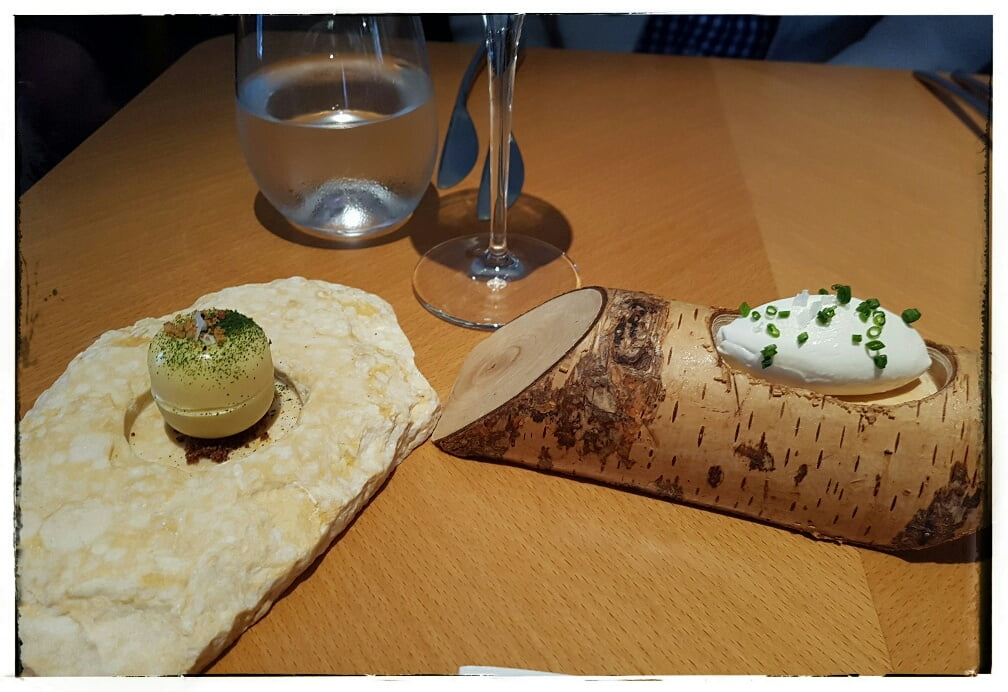 Bread is served quirky, with house made butter on a stone, and fresh cheese on wood.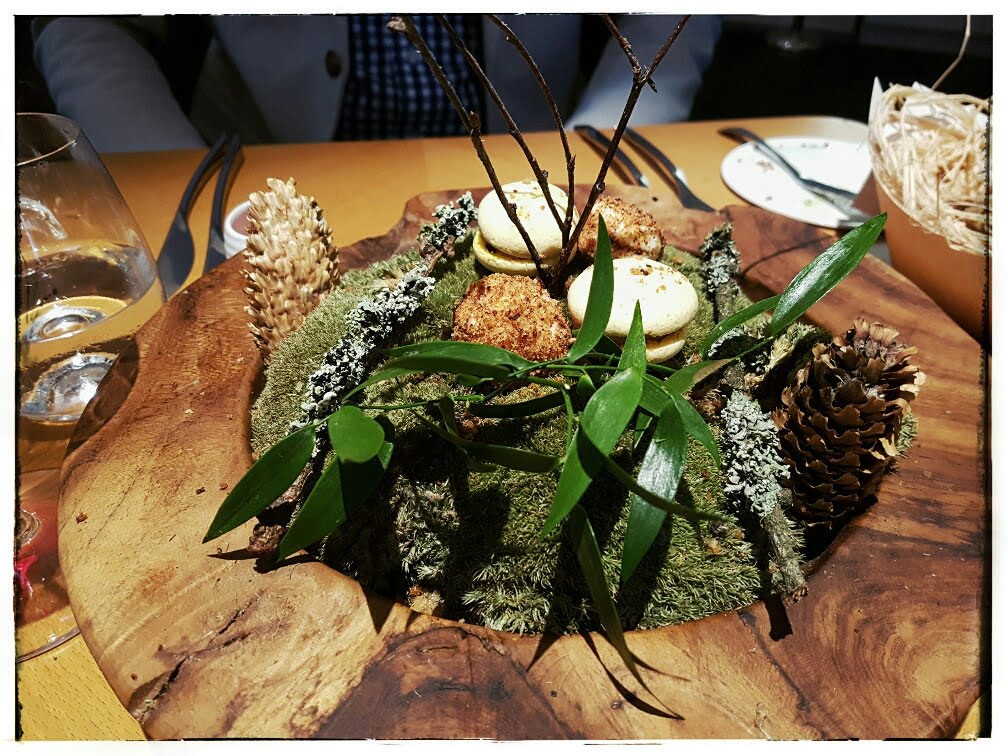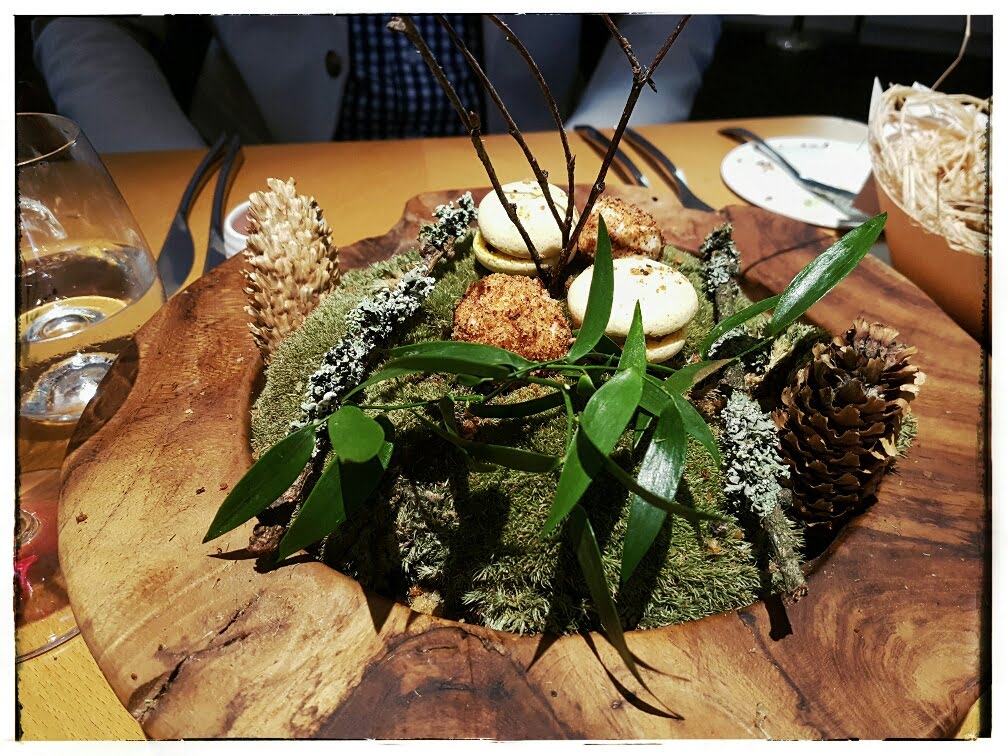 This is, I kid you not, the amuse bouche.  Macarons with foie gras and cheese balls in almonds. For starters SS had red mullet crudo with an avocado cream and I had duck in a million things including the most delectable Sherry jelly.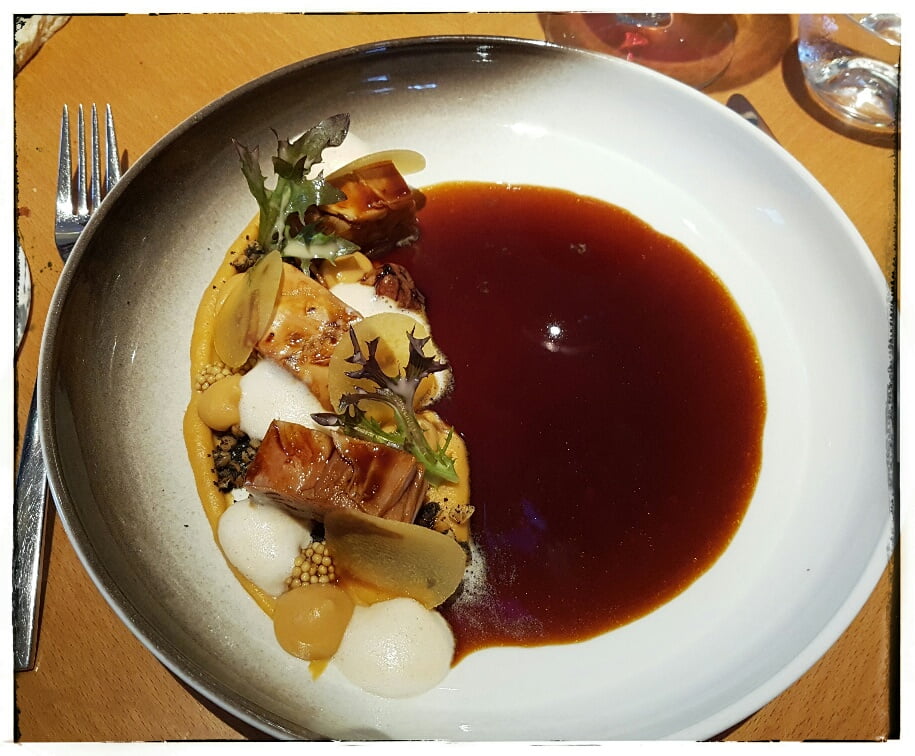 My main was rabbit, served with turnip (sliced and pureed), beans, mustard, greens, and a delectable sauce from the braise.  The sauces were in fact the star of the evening.  The demi glace with my starter was lick your plate good.  Stephen's main, beef brisket, came with a sauteed stick of breaded veal so tender and rich and addictive it felt like deep fried Mars bar.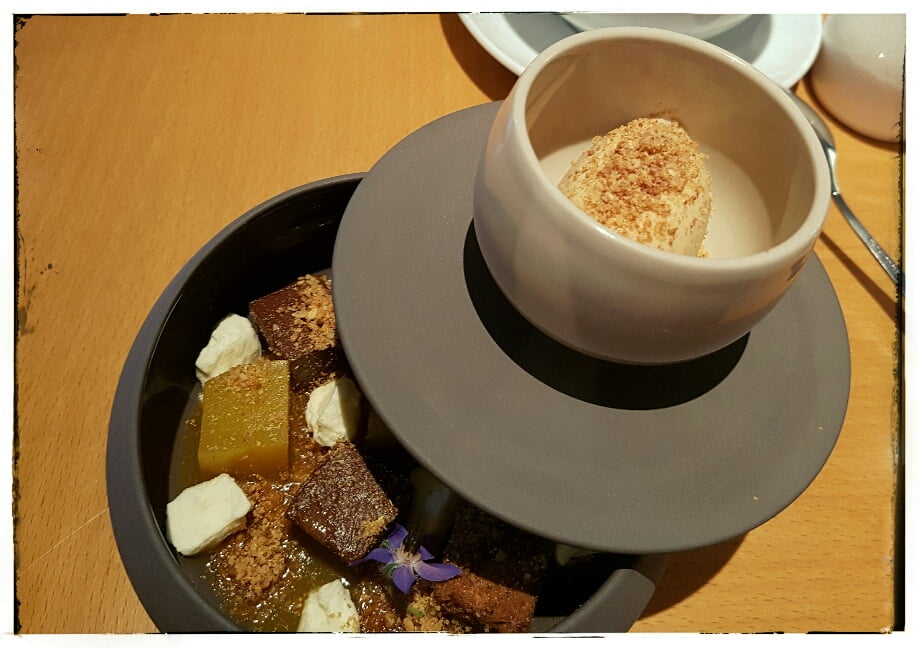 SS had cheese for dessert; naturally.  This is a hazelnut sorbet on top of a dish of pure dark chocolate, passion fruit squares, cake, 100% frozen cream and flowers.
Meanwhile, at the tables indulging in the degustation menu, they were getting dry ice treatment on sorbet and all sorts of other culinary tricks.
We ate a la carte: two glasses of sparkling, two starters, two mains, two desserts, a bottle of Italian wine, tea and coffee.  All in, including tax and tip, at a Michelin starred restaurant, it was, according to XE.com, less than $200 CDN.  A steal I think.  Cin cin Prague.
We took a long walk by the river afterwards before returning to the hotel.