Stephen and Glenn's Shogun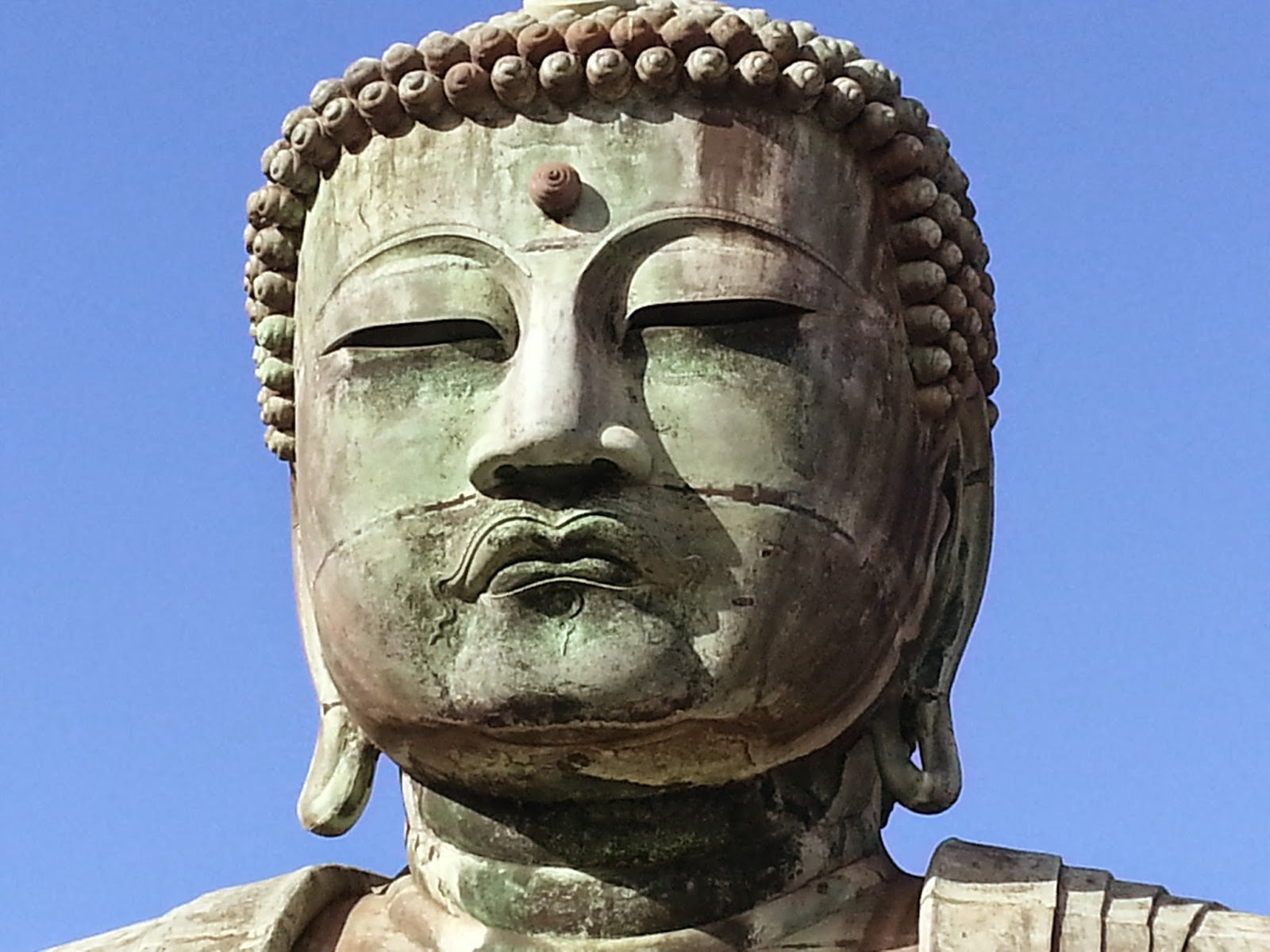 Or so it seemed, one shrine following the next.
A day away in Kamakura, the ancient Edo capital about an
hour away from Tokyo where, arguably, many of the defining moments of Japanese history
occurred.  A military coup of sorts crushed the Imperial Court in Kyoto and, in the 13th and 14th century Kamakura the seat of power for the country.  There were hordes of commuters
to battle on our way to the station.  As
a tourist fighting the flow of workers I often feel like the Olympian in the 1984
Apple commercial, breaking the mold.
Stephen says that Ridley Scott must have sent his art director on Blade
Runner to Shinagawa for inspiration: Everything is above street level, there
are silent masses, blue and grey suits, blue and grey skirts, a colossus of
leather footsteps against the pavement, like army ants in pursuit of prey,
everything in order and order as the way.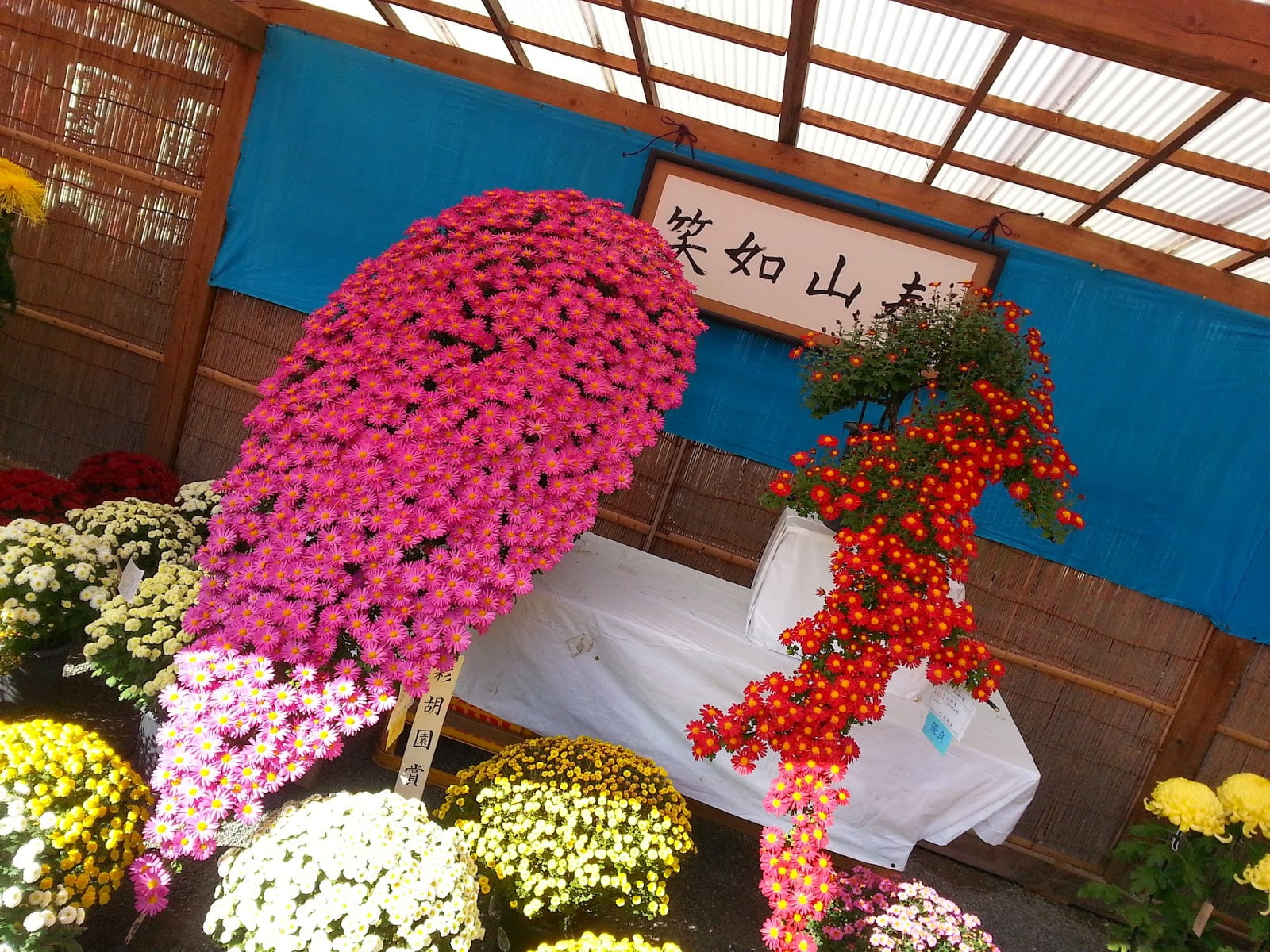 Chrysanthemums on display in Kamakura.  In the shape of Japan.
A gorgeous morning, brisk but blue sky.  We did something most tourists don't know you can do: Take a free guided tour in Kamakura.  And, you tailor it to be as active, long and diverse as you want.  The local tourist agency has volunteers from the area who speak your language.  Our host was Hideko, a retired woman, local, who offers English speaking day tours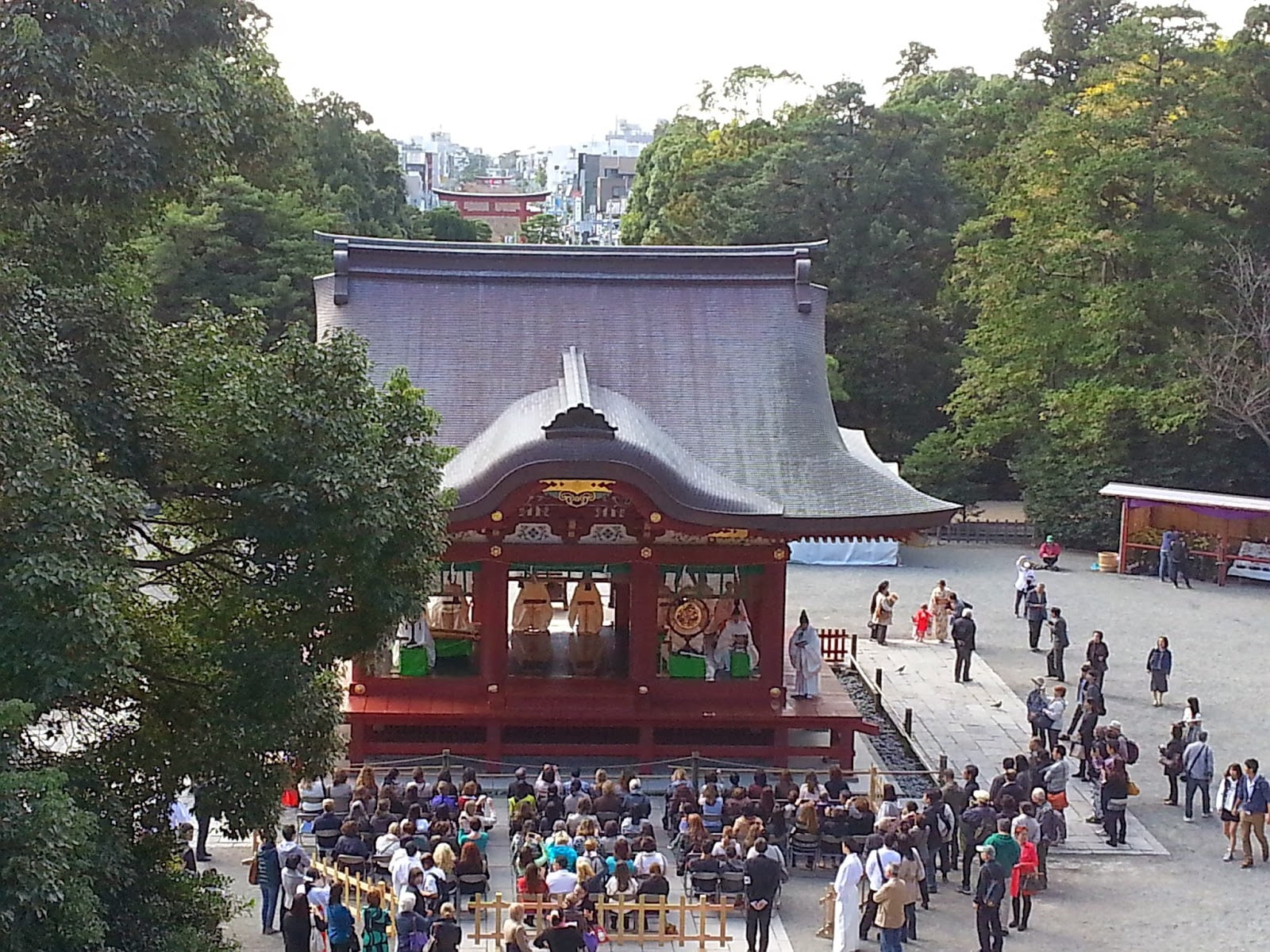 Music ceremony at Tsuruagoka, pretty much in the heart of the city.
At this first temple, Tsuruagoka, Hideko told us how to get our fortune read.  You pay 100 yen ($1), shake a box with sticks, shake one stick out a narrow hole, it has a number, the number corresponds with a box (in Japanese and English) and you receive your fortune from the box.  These are sacred, must not be shared, and believe it or not, some actually have bad luck–in which case you have to pray for good luck.  Ka-chng.  I am going to break the sacred trust: Mine was Dai-Kichi, meaning not just good luck but excellent or best of luck.  For my examinations: My confidence will be rewarded.  For my health, I will have a slight illness but take good care.  For my business I need to think over my business in a quiet manner.  For my marriage: I will need to consult my parents for good relation. And for wish, I simply need to make efforts and it will come true naturally.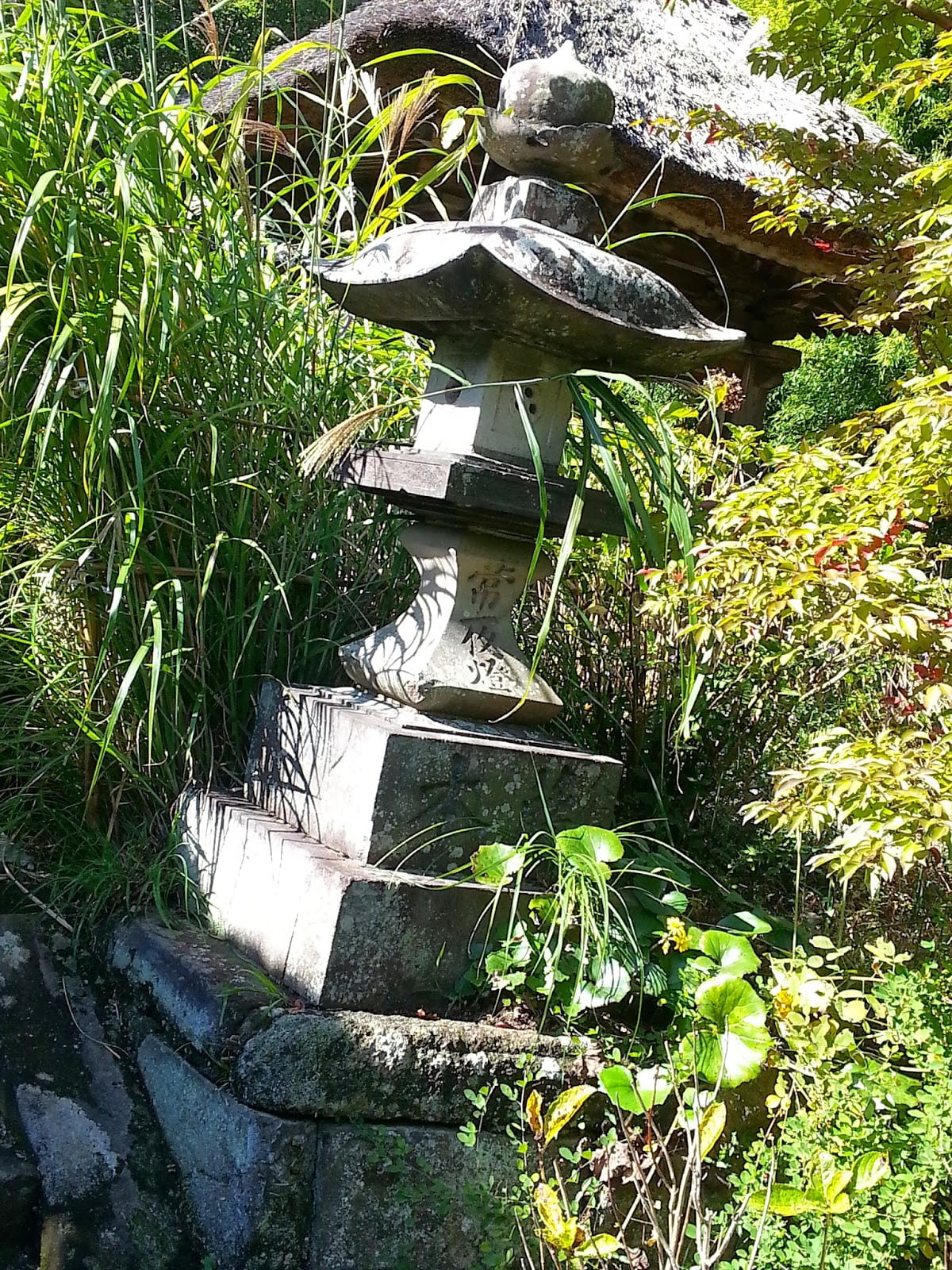 Garden adornment at Enoji, the Judges of Hell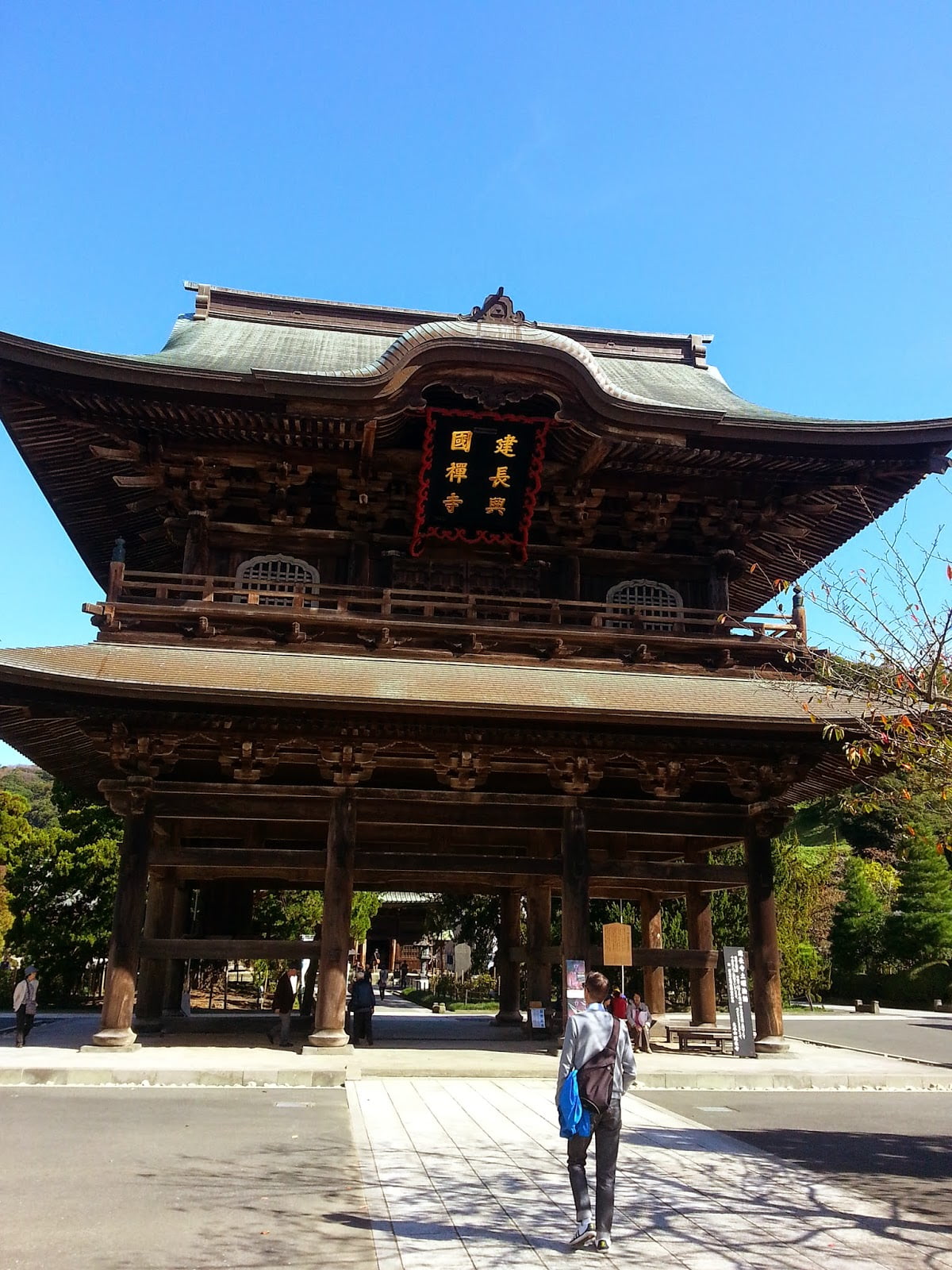 SS contemplates Kencho-Ji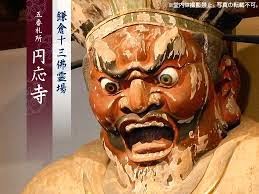 Emma O about to spit out a peony.  No pictures allowed at the Judges of Hell, so I had to cut this from the Net.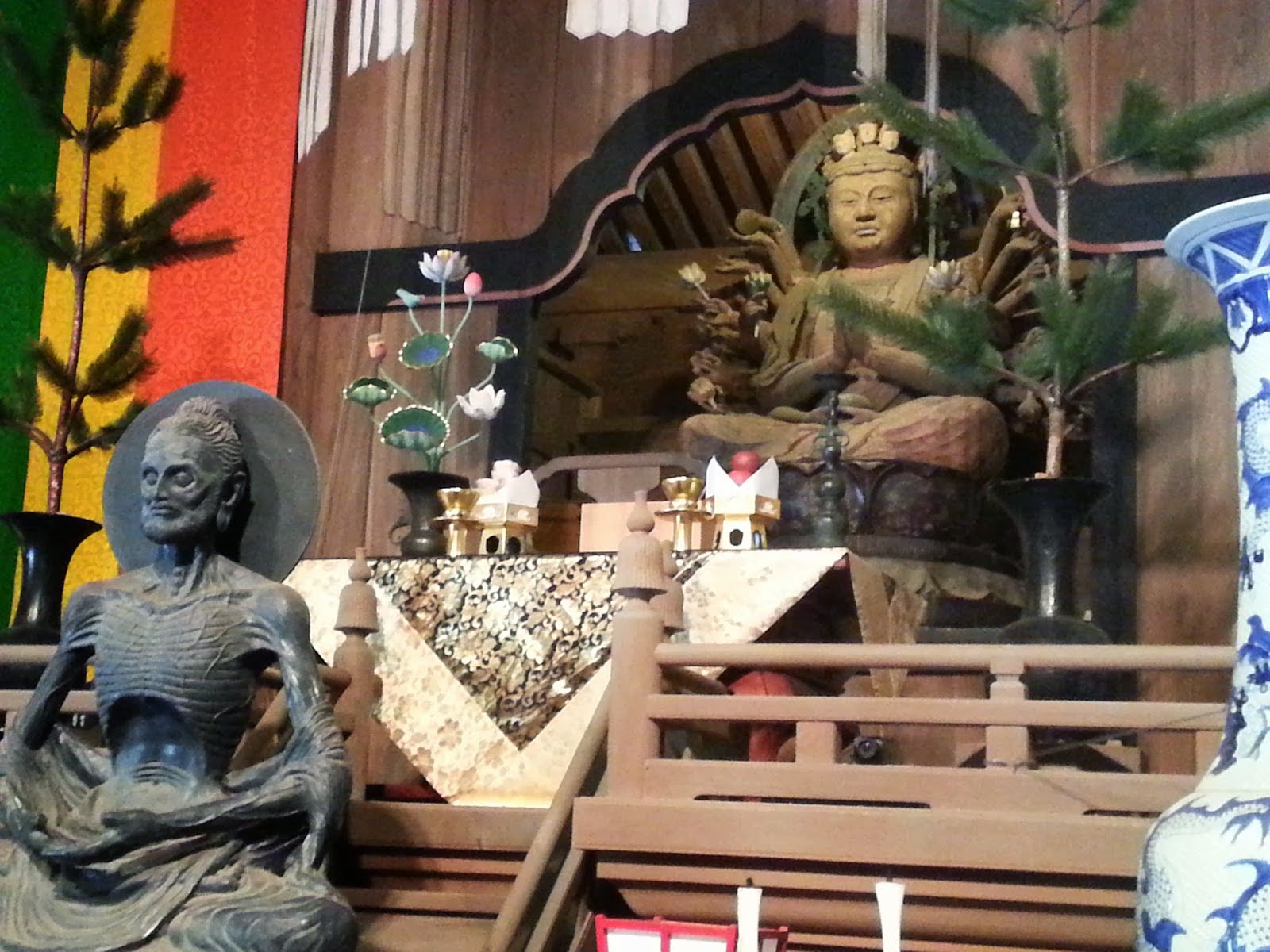 The emaciated Buddha in the front represents the Buddha's hardship at Kencho-Ji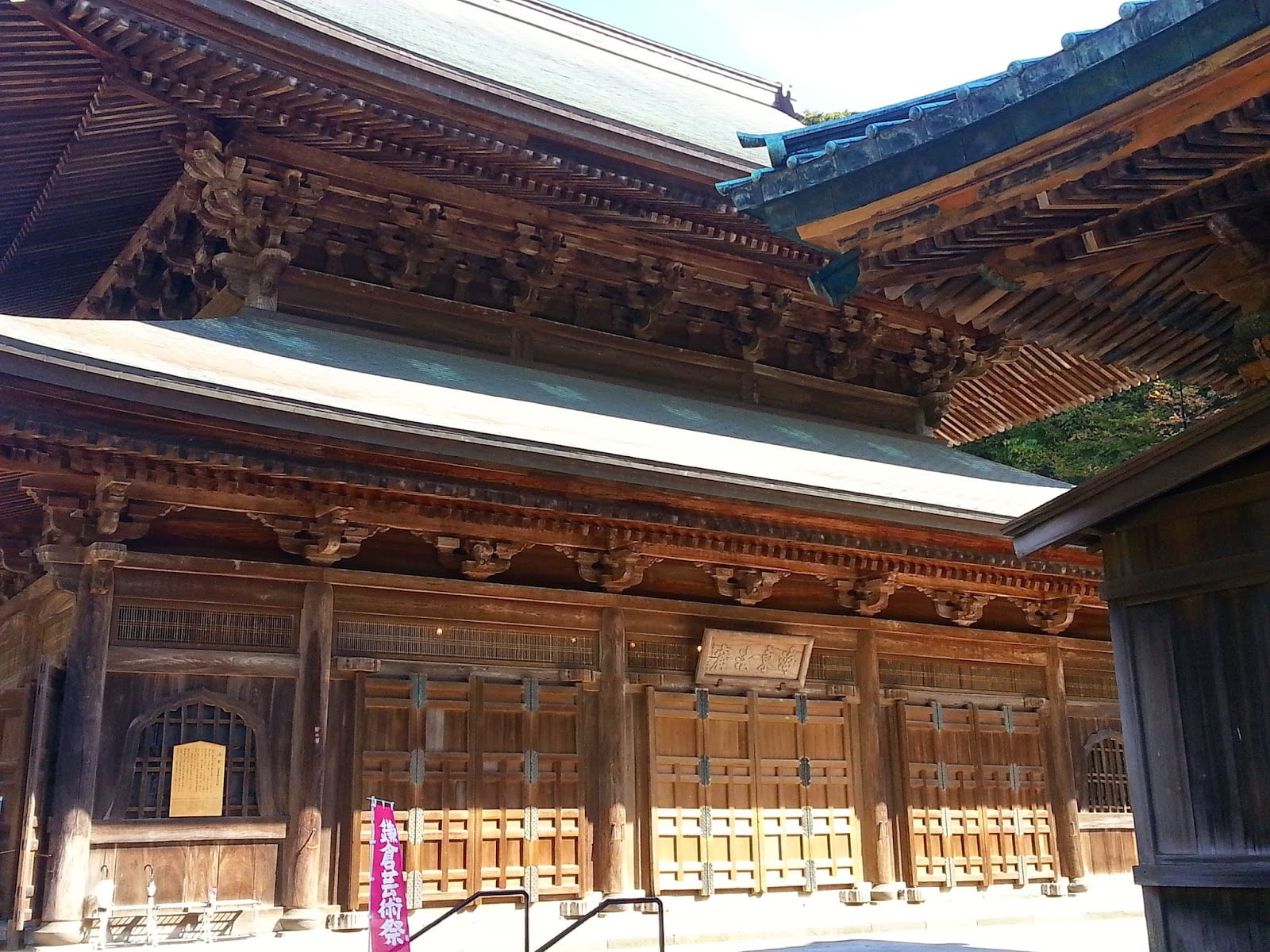 Tenmple at Kencho-Ji
8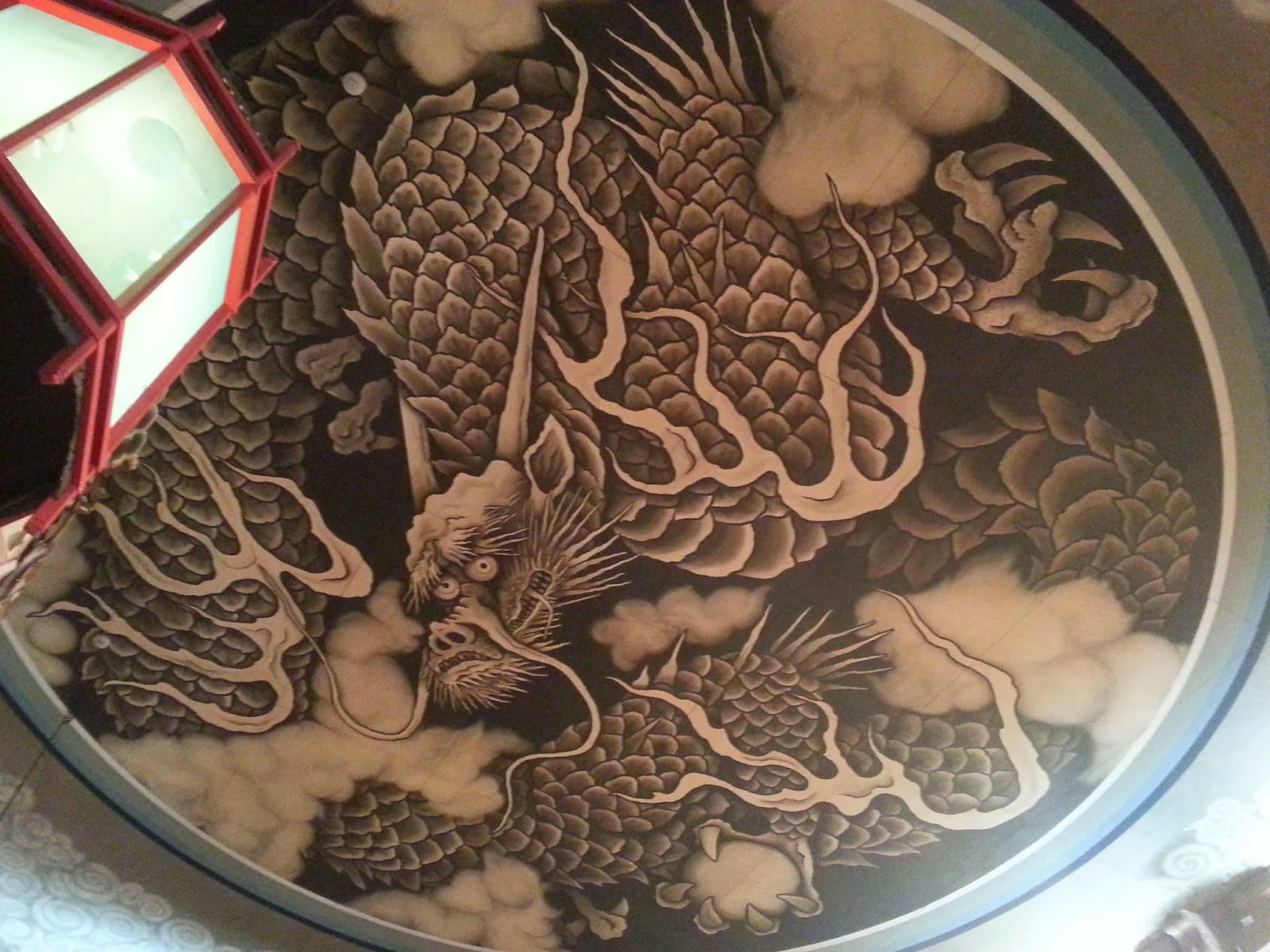 Five Clawed Dragon on the temple ceiling.  In Chinese mythology, a five clawed dragon represents Imperial authority,
In 2014 Kamakura has the flavour of an affluent seaside
town, a little Carmel, a little West Van, tiny streets, flowing green gardens
creeping over walls and terraces, boutiques and restaurants and "relic"
shops.  It's hemmed in by mountains, the
Pacific on one side, and before the advent of pavement, was connected to the
country's centre only through a narrow cleft, which made it a brilliant
military stronghold.  With the fall of
the Shogunate it became, mainly, a city of religion.  Today, a long central colonnade stretches
down the main drag to the largest local temple (the area has over 100) which is
lined with cherry trees that provide (at least in pictures) a spectacular
canopy of blossoms to the sea.  In
season.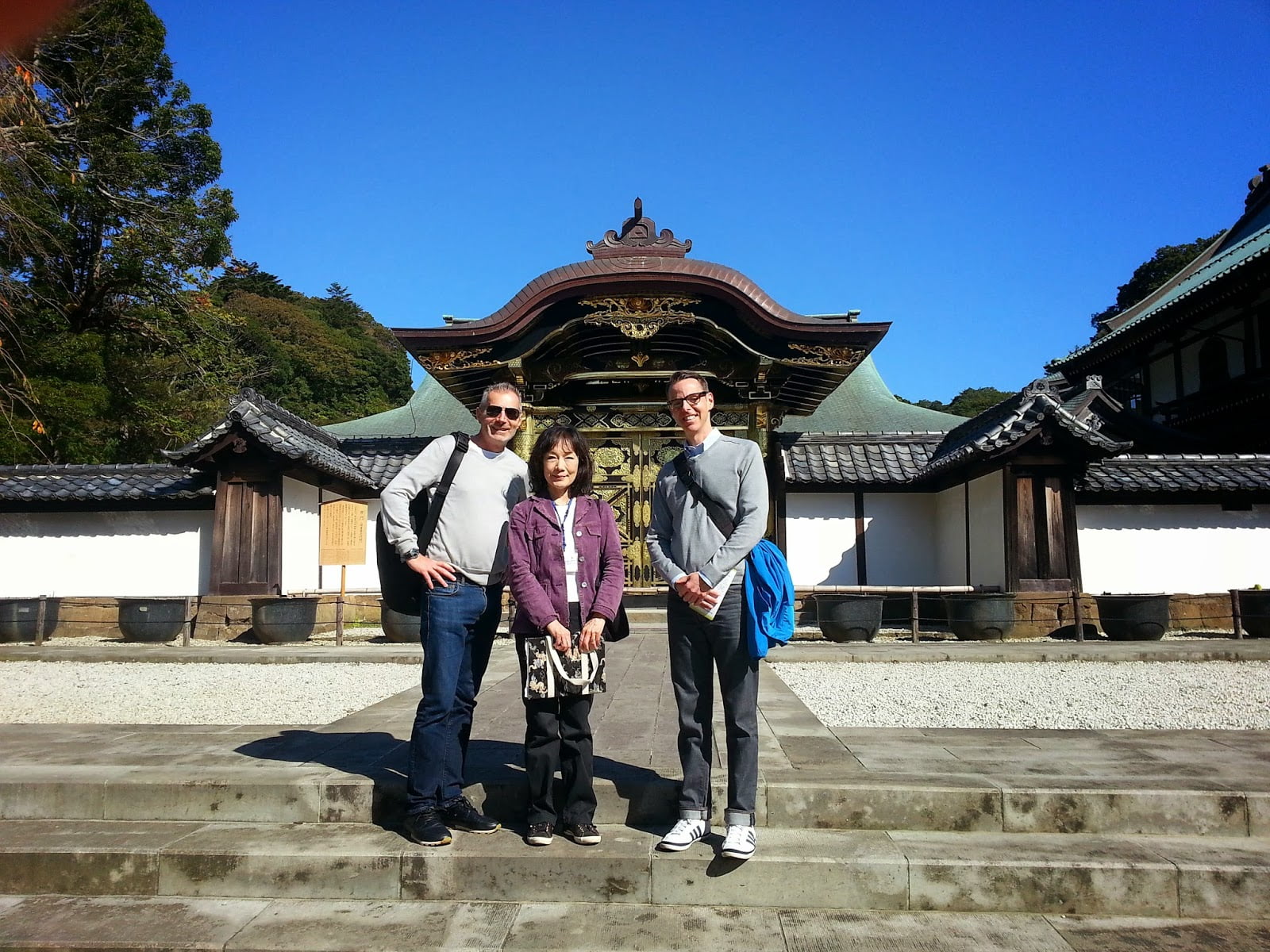 With Hideko, our guide for the day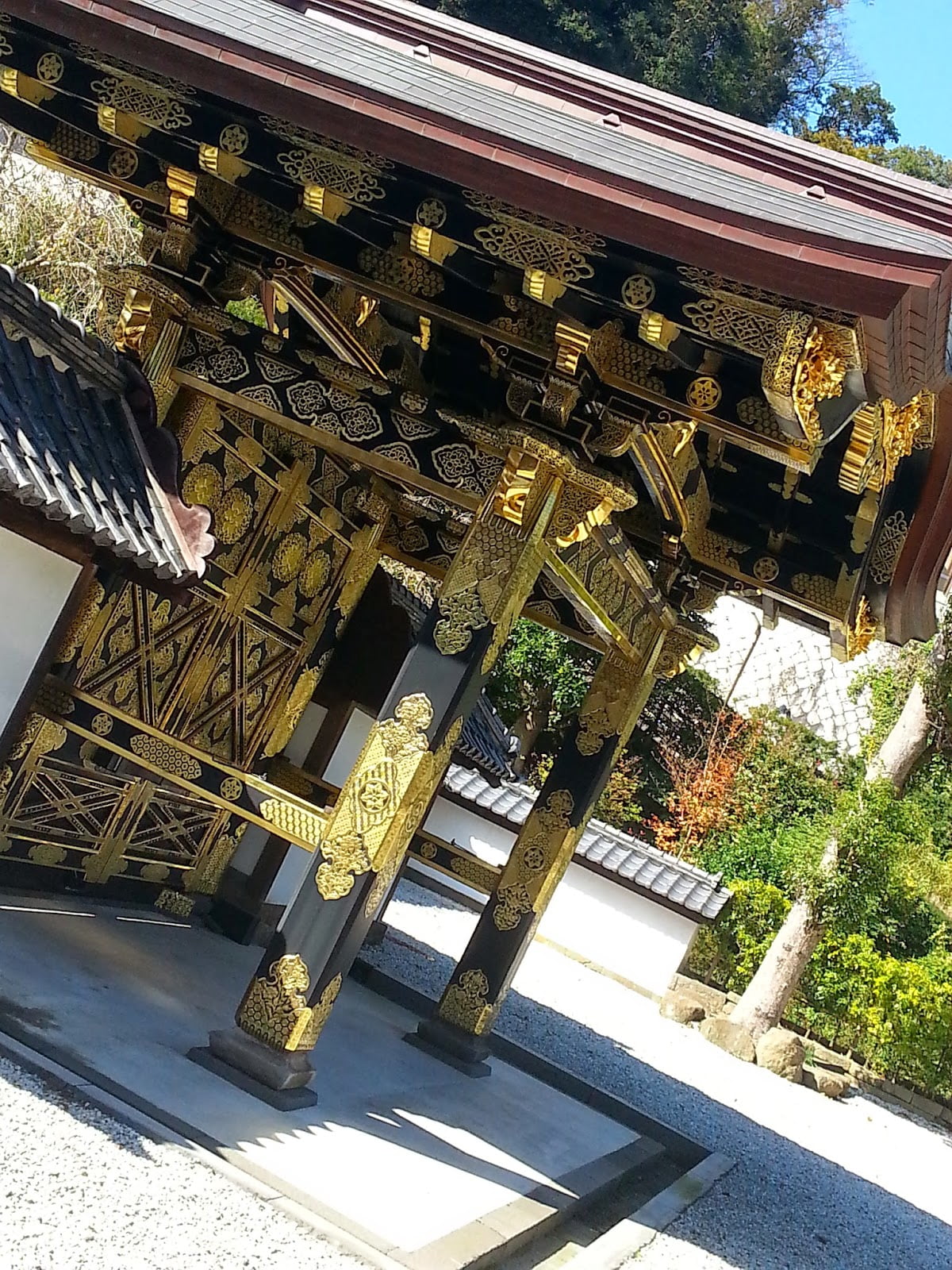 Ornate door at Kencho-Ji
Leading off the main street is Tsuruagoka Hachimango, a
Taoist shrine, founded in 1182 by the first Shogun, and famous for its
bi-annual displays of samurai horseback archery.  There was a music ceremony underway (you know
Japanese music, three strikes of the gamelan and a two minute rest, three
strikes of the gamelan, a two minute rest).
There were also families in kimonos celebrating birthdays and
weddings.  Hideko explained that (if
you're ever at a Japanese wedding) the single girls have long sleeved kimonos,
the married girls short.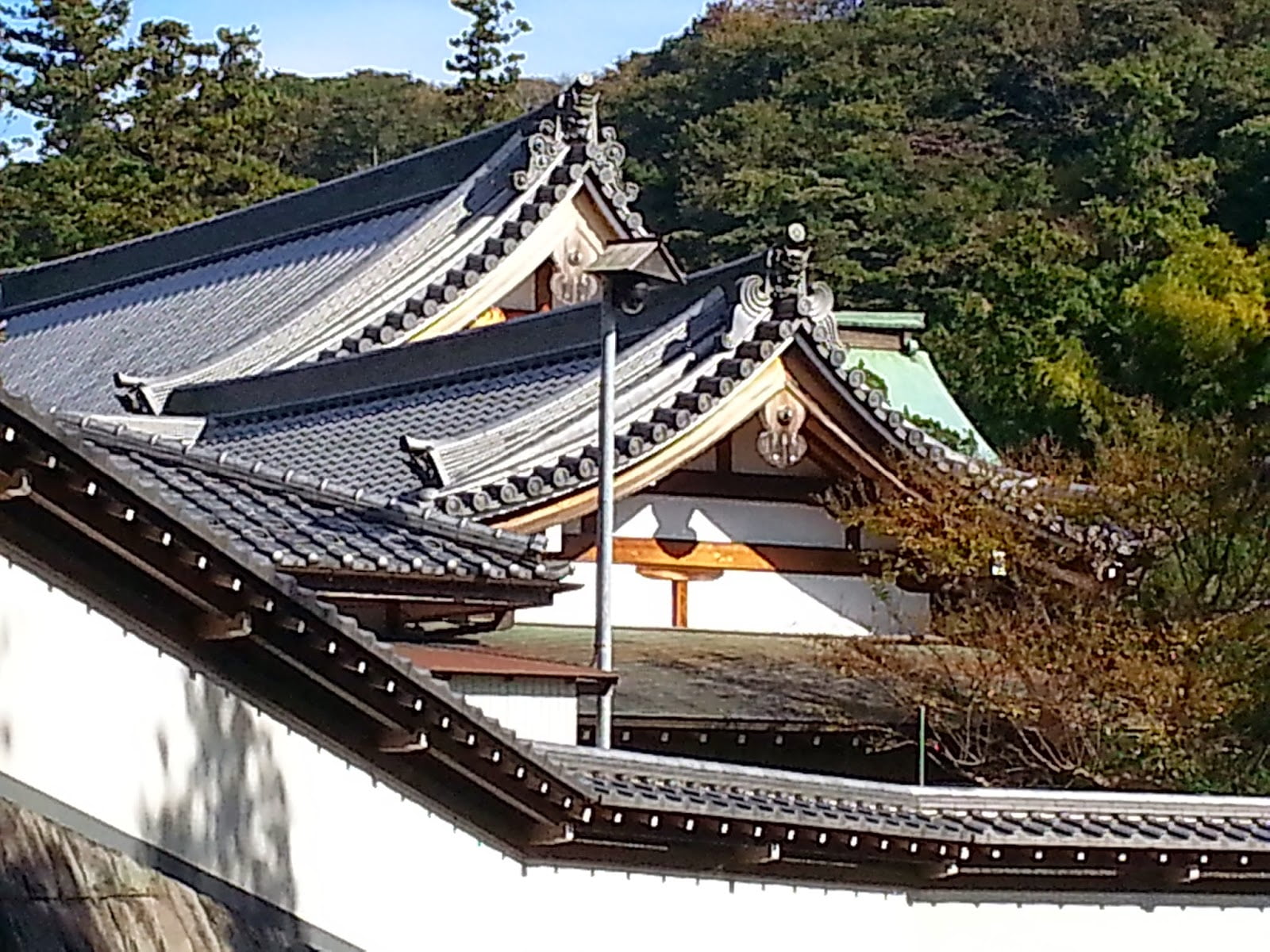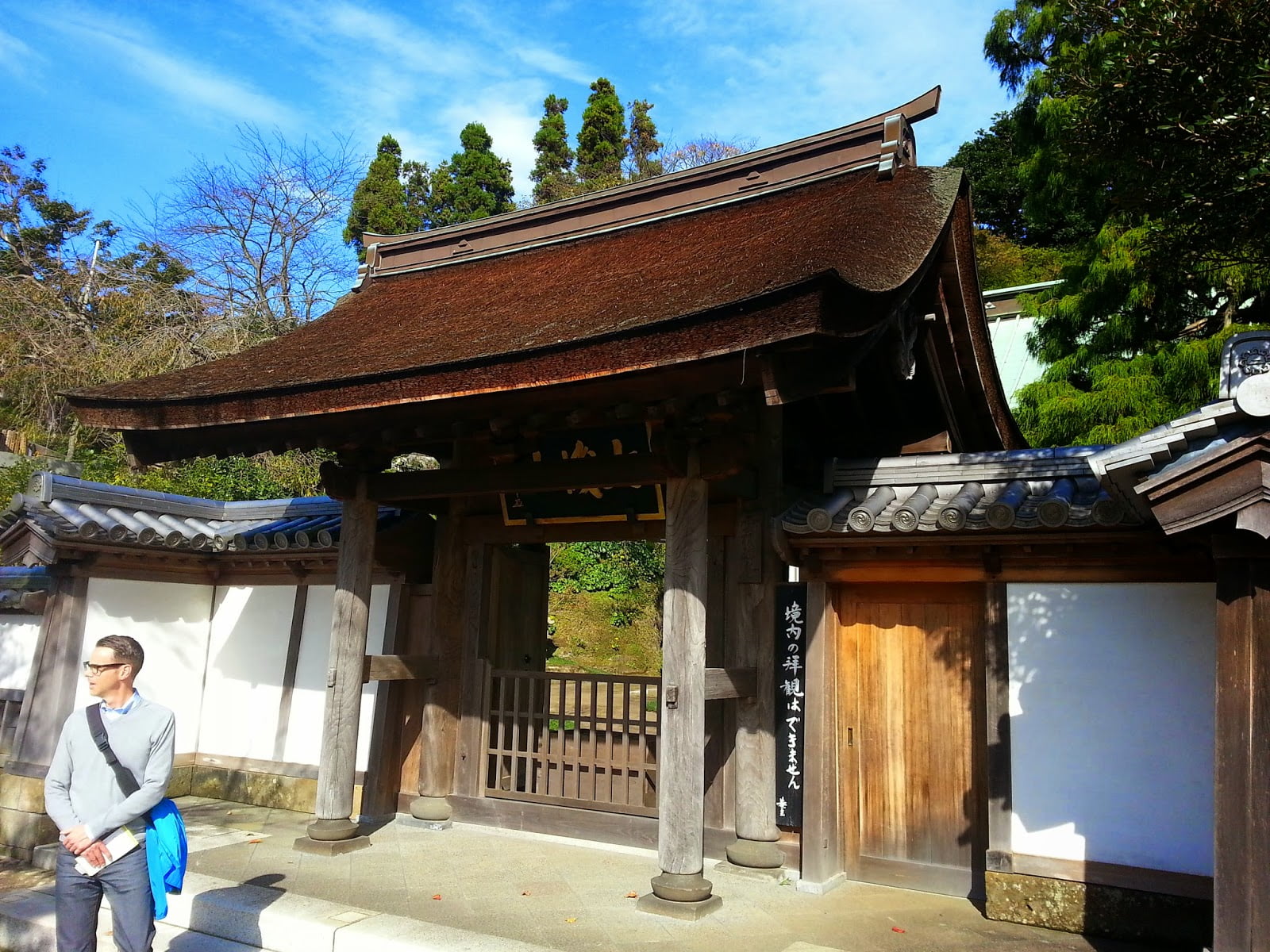 Original thatch roof, now rare
We had chosen two Zen temples about a twenty minute walk
away.  En route we stopped at the most
intriguing Buddhist shrine, Enoji, with gargantuan statues representing the judges of
hell.  Each oversees a facet of one's
death: How sinful you were, if you will be reincarnated as a man, woman,
animal; if you'll go to hell or not and if so how long.  It was half fearsome and half funhouse.
The first temple was Kencho-Ji.  Constructed entirely without nails!  Built in 1253 as seven buildings with 49
temples, it suffered over the years after fire and earthquakes, and is now 10
temples; it's the oldest Zen training monastery in Japan.  Interestingly, there are junipers over 750
years old reputed to have been planted with seed from Japan's founding Chinese
father.
The next temple, Engaku-ji, dates to 1282, although most
buildings are only around 400 years old.
The patron saint who established it was key to defeating the Mongols
(who knew the Mongols sailed across the ocean to attack Japan?  They failed. They hadn't counted on the
likelihood of a typhoon).  We had to
practice our Zen sitting here and SS attempted meditation.  This Zen sect swats you over the shoulder if
you fail to retain focus!  We climbed
across a local mountain with lovely views then down to a sister station to
Kamakura, Kita-Kamakura, for a lovely lunch, which I'll post separately.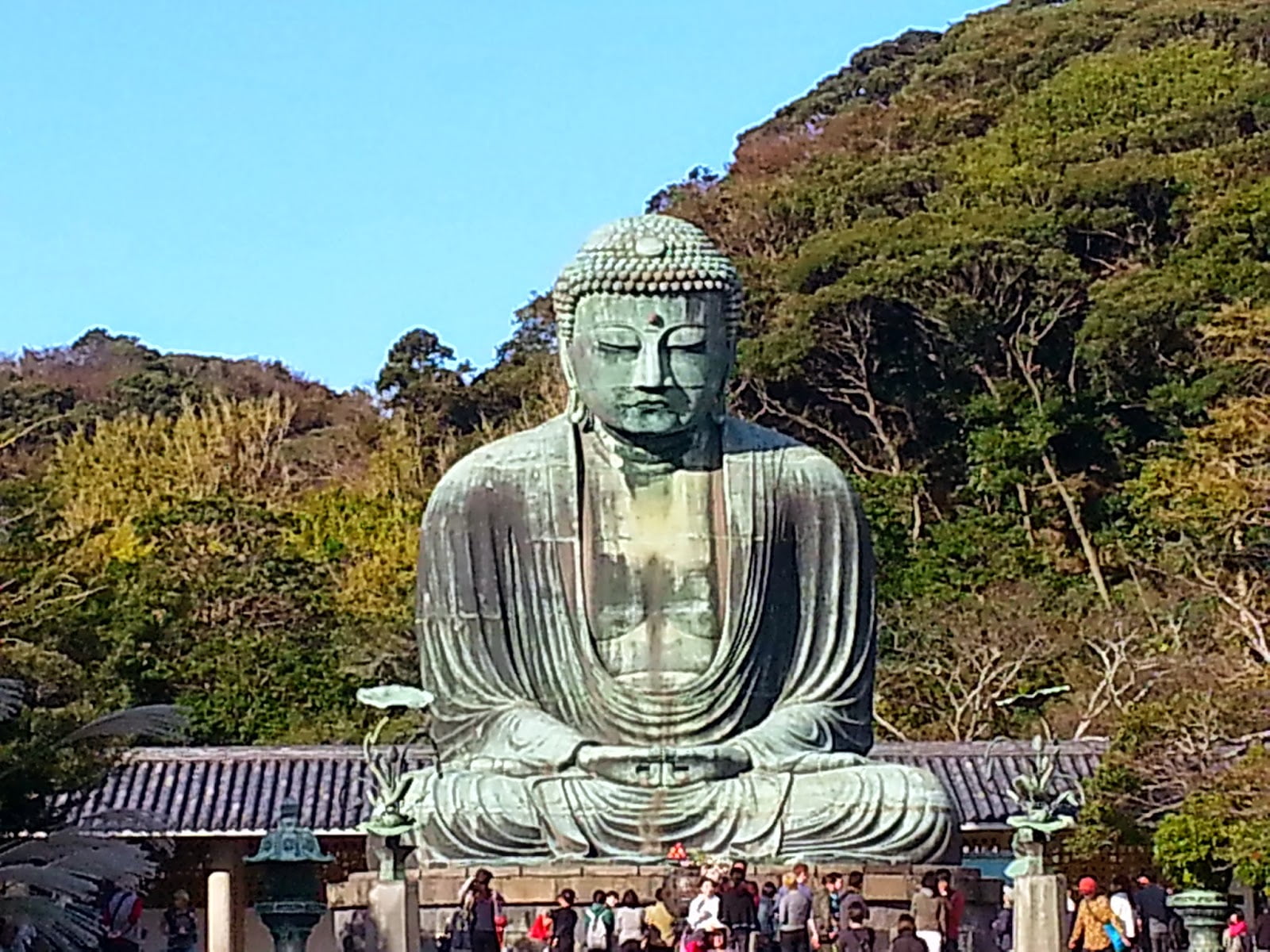 After lunch we took the train one stop then a taxi to the
Great Buddha Kamakura, built between 1252-1262.
Built from the legs up, in layers, through a clay cast, it's a mixture
of lead, copper and bronze.  The gold
leaf adornment has long been washed away by salt winds and rain.  Some tourists come all the way just to see
it; the only Buddha larger is 40 minutes outside of Kyoto, and it's
housed.  This statue was also housed, but
a tsunami washed away the structure X centuries ago.  It was of course incredibly impressive, but
teeming with gawkers.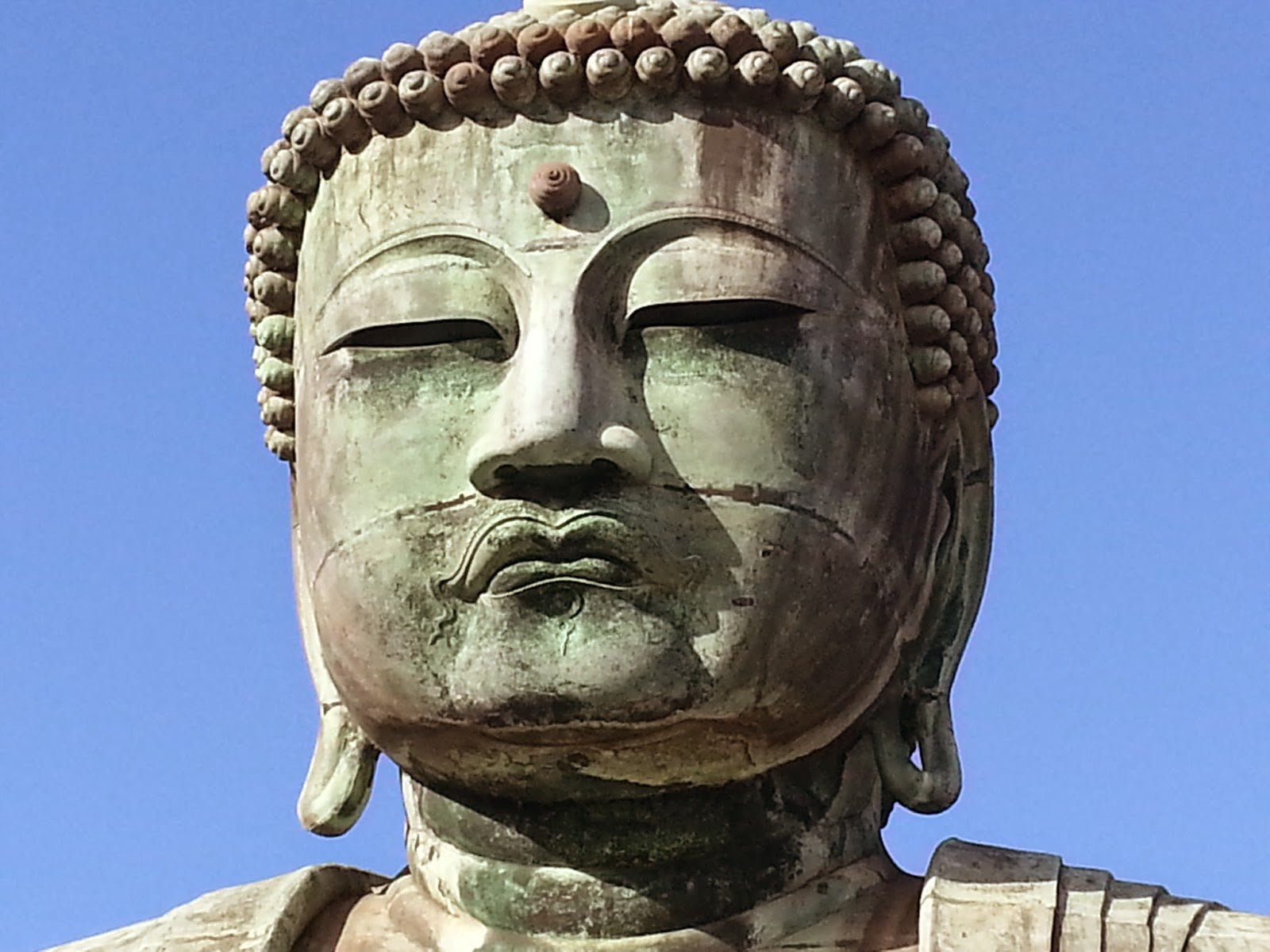 For our last stop, we cabbed just out of town to Hokokuji temple.  The great thing about
this is we were the last guests of the day.
Built in the 1200s, it had by the mid-1300's seven buildings and 23
pagodas.  Today, the statues and lanterns
and gate are the only buildings not reconstructed.  But the temple looks over a Zen garden (rock
gardens because rocks don't move and you can meditate on them without
distraction) with a vast bamboo forest in behind.  We partook of the matcha
tea ceremony which involved accepting a sweet cake, caressing a pottery mug,
sipping green tea, and appreciating the garden.
It was incredibly serene and the austerity did beg meditation (although
no discipline!).