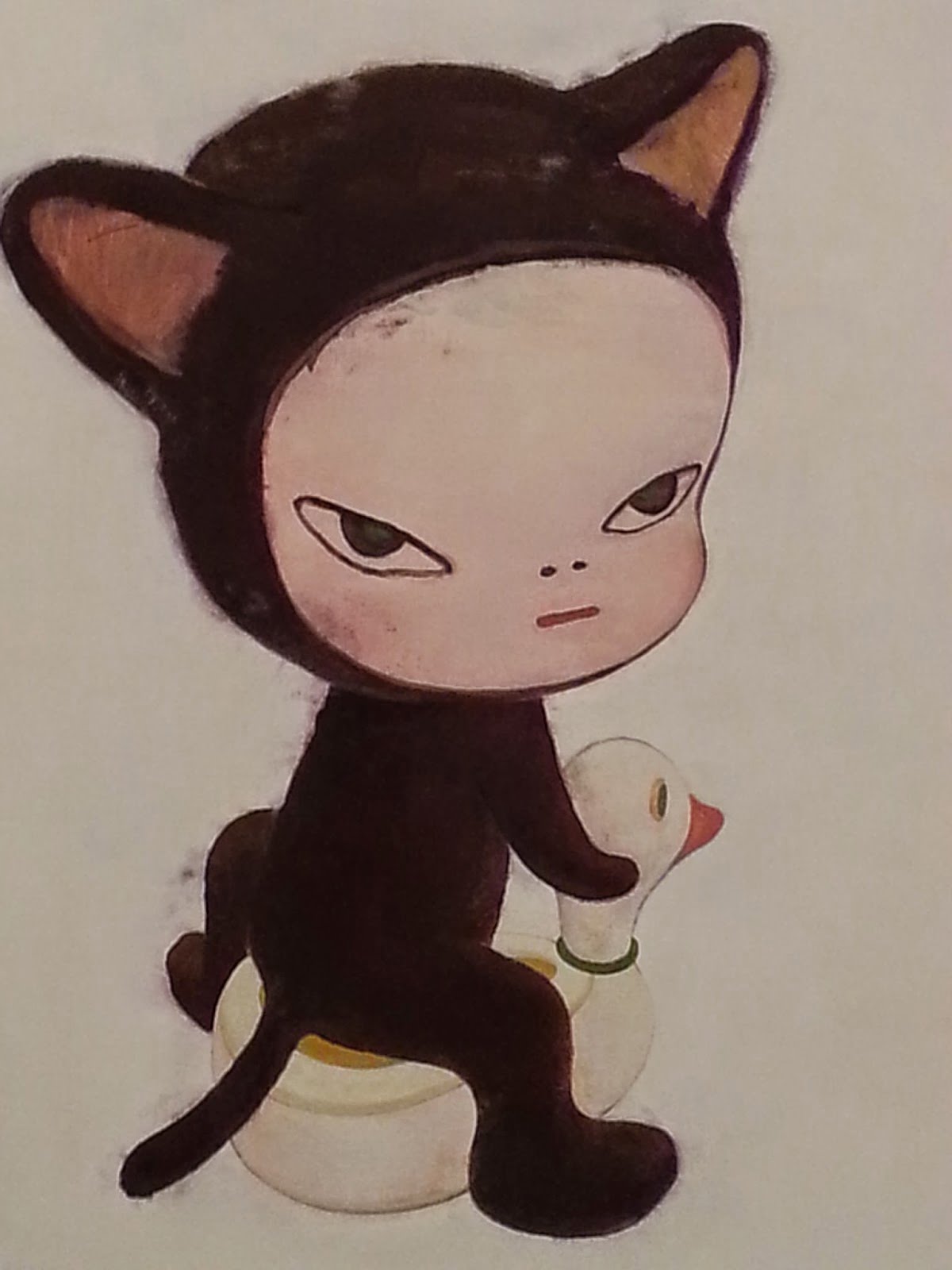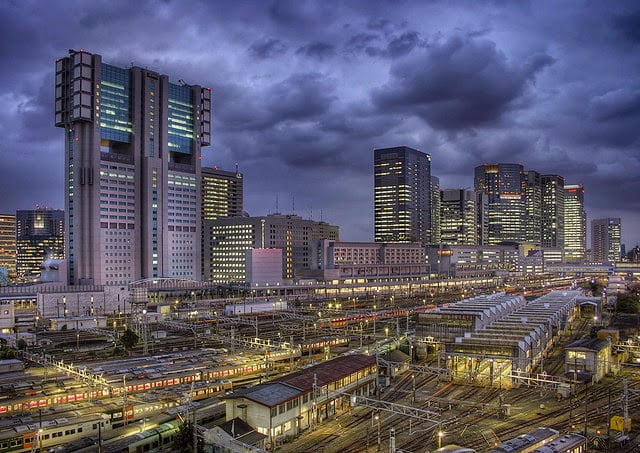 Shinagawa Station.  I did not take this highly retouched pic!
Everything has its place.
Everything has its order.  This is
the first hotel I've ever stayed at with a seismic activity warning in the room
("Tokyo sits on the Kanto Fragment Plate."
Not to be confused with the Mikasa plates Nan owns).  And red lights in the hallway in case of
emergency.  Please, don't wear your
complimentary slippers outside your room.
Going to the exercise room?
Please, take advantage of the change room on site.  Etc.  I
had an excellent sleep.  SS so so.  But we have the breakfast buffet included in
our rate, a lovely mix of the usual (yogurt, fruit, eggs, bacon) and the
unusual (persimmons, nicone, white and orange peaches) as well as the Asian
(pickles, miso soup, Chinese porridge, peanuts, cabbage).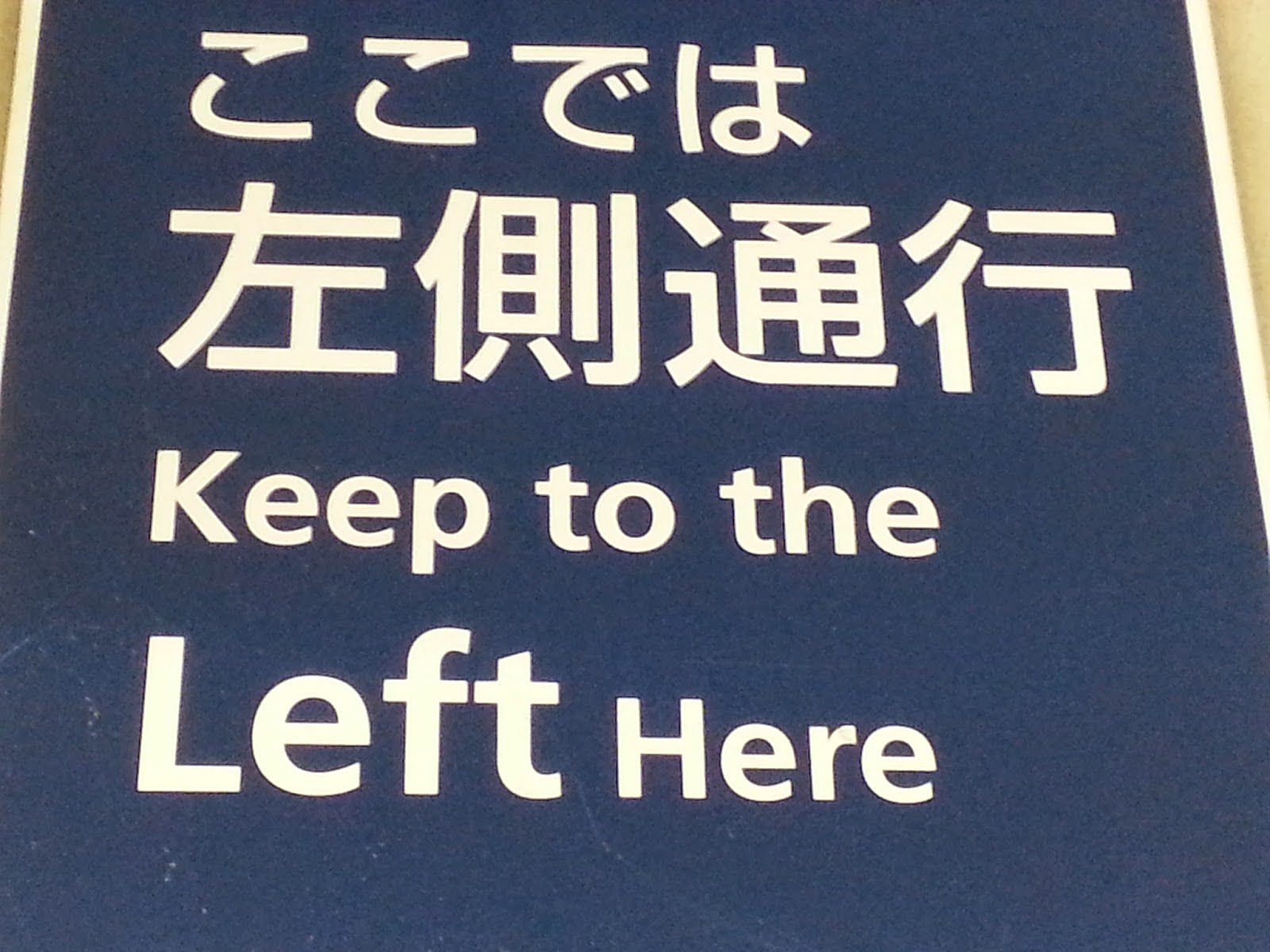 We were up early and away early.  Humid.  Sticky.  Like August in Toronto.  Believe it or not we navigated the subway
with aplomb.  Although the white gloved
attendants did not physically shove us into the car, we were squished in like
sardines.  In Japanese and English we
were reminded, to, Please, don't talk on your cell phone.  And there wasn't a whisper.  No chat, no phone, no pips from cellphone
games. It was weirdly sci-fi.  I felt
guilty whispering to SS that our stop was coming up.
We started with a nice walk in the Imperial Gardens but,
guess what?  They are closed Friday. Who
closes on Friday?  Instead we took a walk
through Ginza, the tony shopping area, but most of the boutiques were closed
(the rich have to sleep off the foie gras, they can't just roll out of bed and
pull out the Amex).  Mid-morning we tried
a Starbucks to see if it was any better than the tepid instant at the hotel,
which was a suitable disappointment; and nearly three dollars for a short.  Off to the National Museum of Contemporary
Art.  It was housed in a non-descript
bunker-like fortress with an uneven mix of exceptional Japanese and European
art (Klee, Dubuffet, Arp), and somewhat tiresome new media.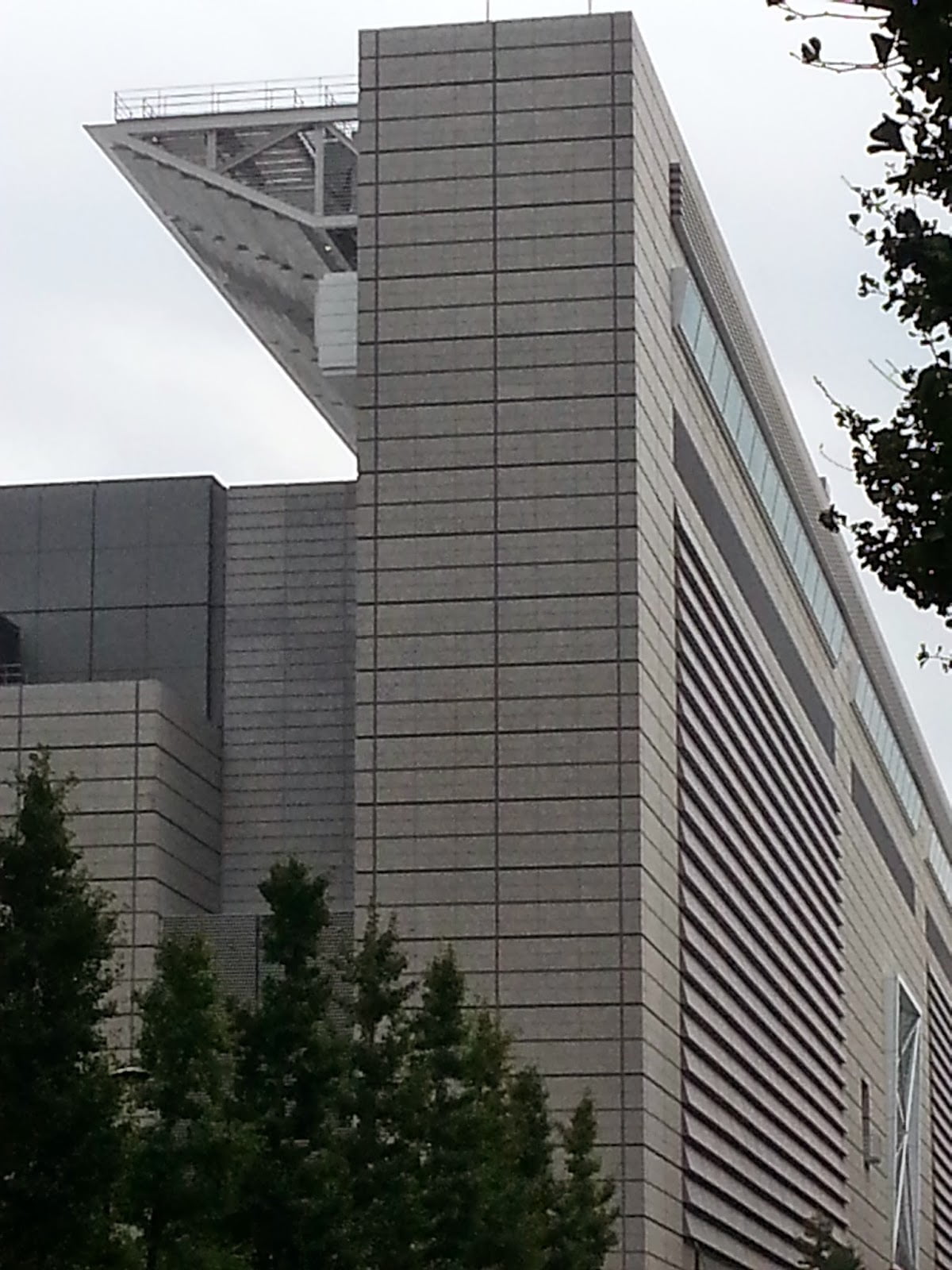 I don't know
Afterwards we took lunch in an office building.  It sounds odd, but almost every office tower
has the standard uninviting empty lobby you see the planet over, except here
there are five floors above, and three below, hosting restaurants, bars and
shops.  Signs outside with pictures
indicate the "B" level (below street level) or floor "up" you need to go
to.  It was a point and order lunch,
neither of us quite sure, but in the end I believe we avoided whale.
Following lunch we walked to the kite museum.  This was no small feat.  It's hosted on the fifth floor of an office
building, no signage and no English characters.
I have a local SIM card, Google told us we were there, but how would we
know?  In about 600 square feet they had
a pretty decent history of kites in Japan.
A man who had been to Alberta talked to us in stilted English about his
experiences in Canada.  It was peculiar
and wonderful and inspiring.  En route we
had encountered an ambulance; the first siren we've heard.  So we stopped curbside to let it pass and the
driver thanked us with a wave.  For a
city of such intense order (it's like jay walking may result in hari kari) it
was astonishing to see no one give way.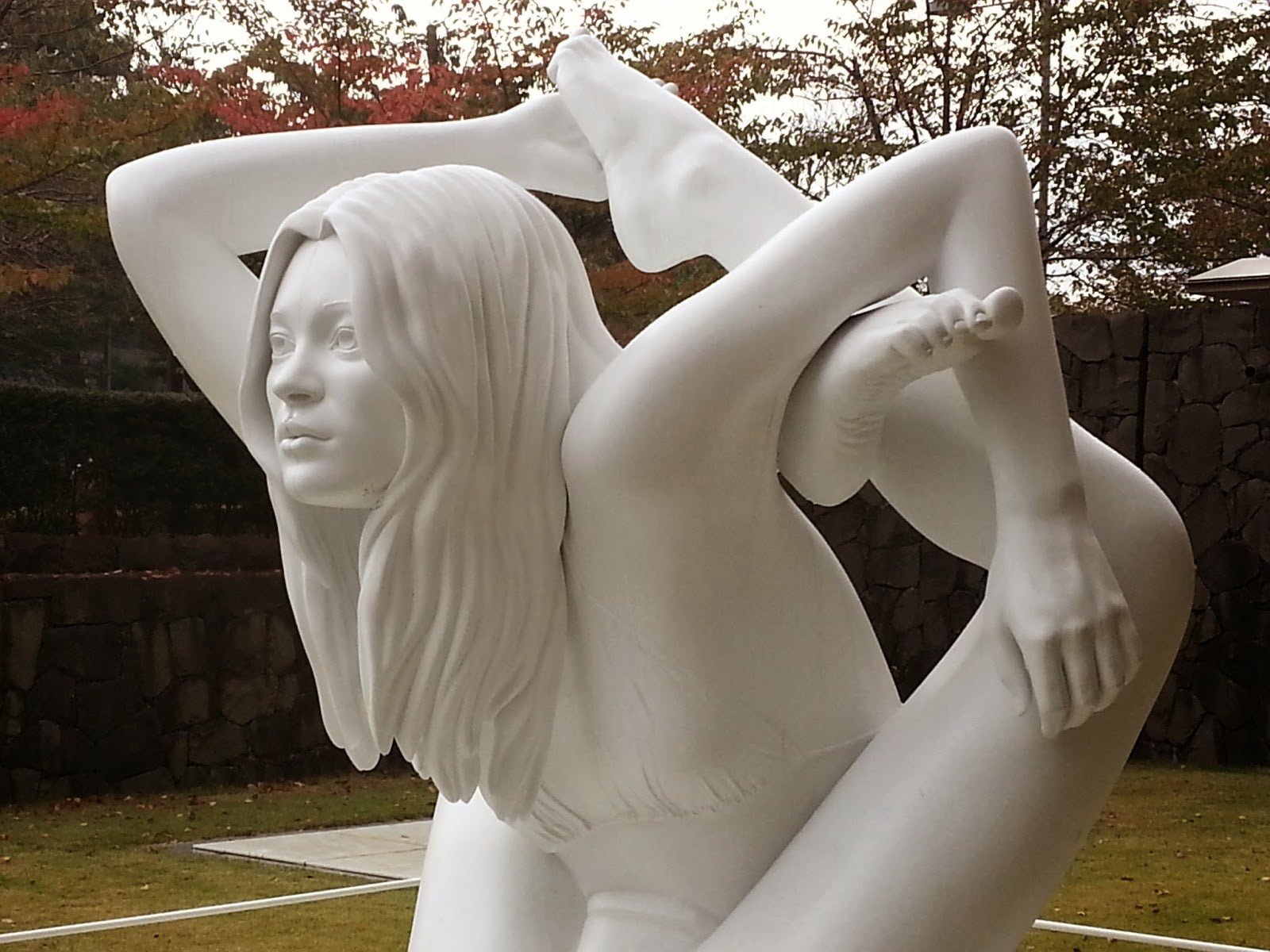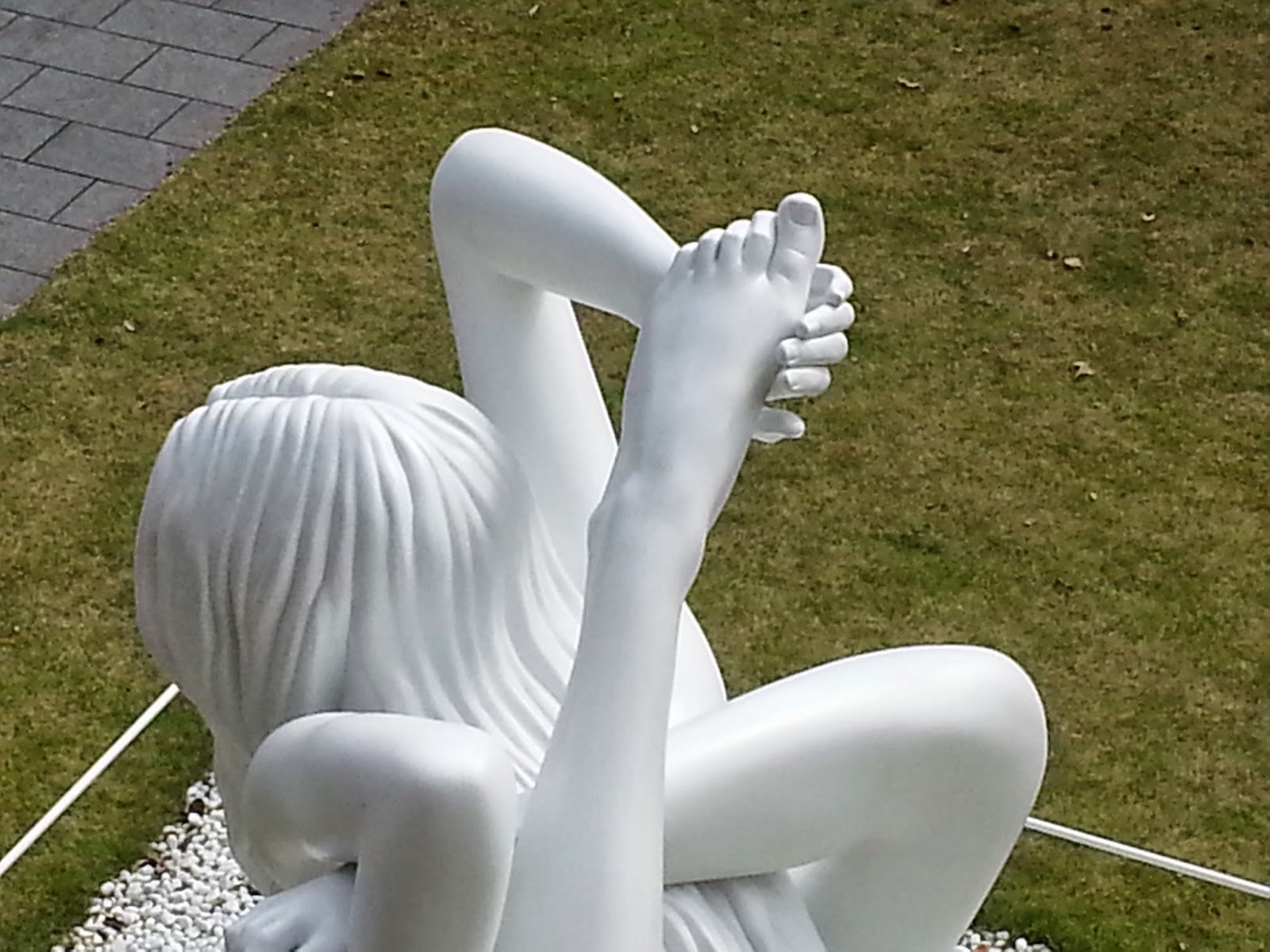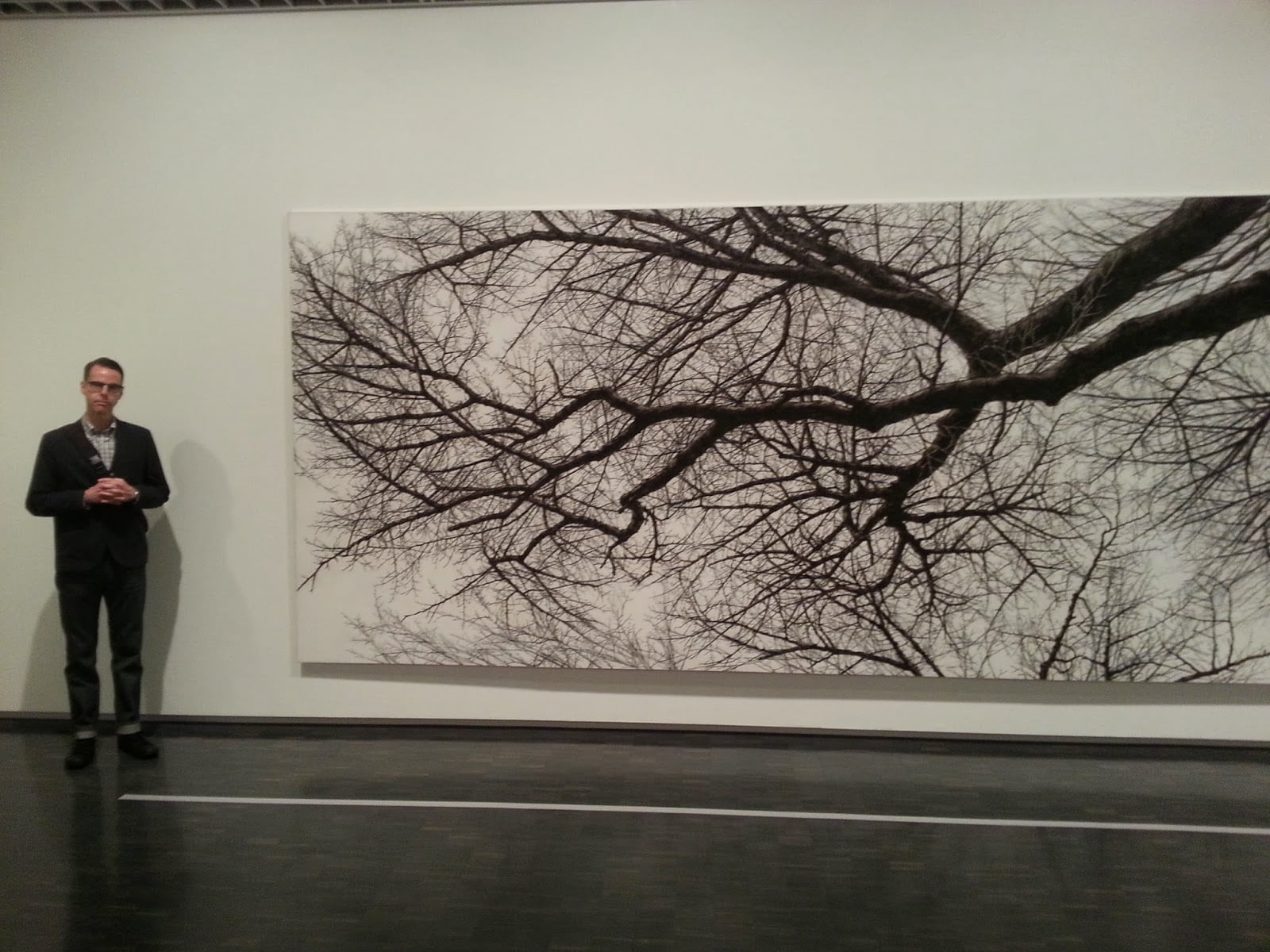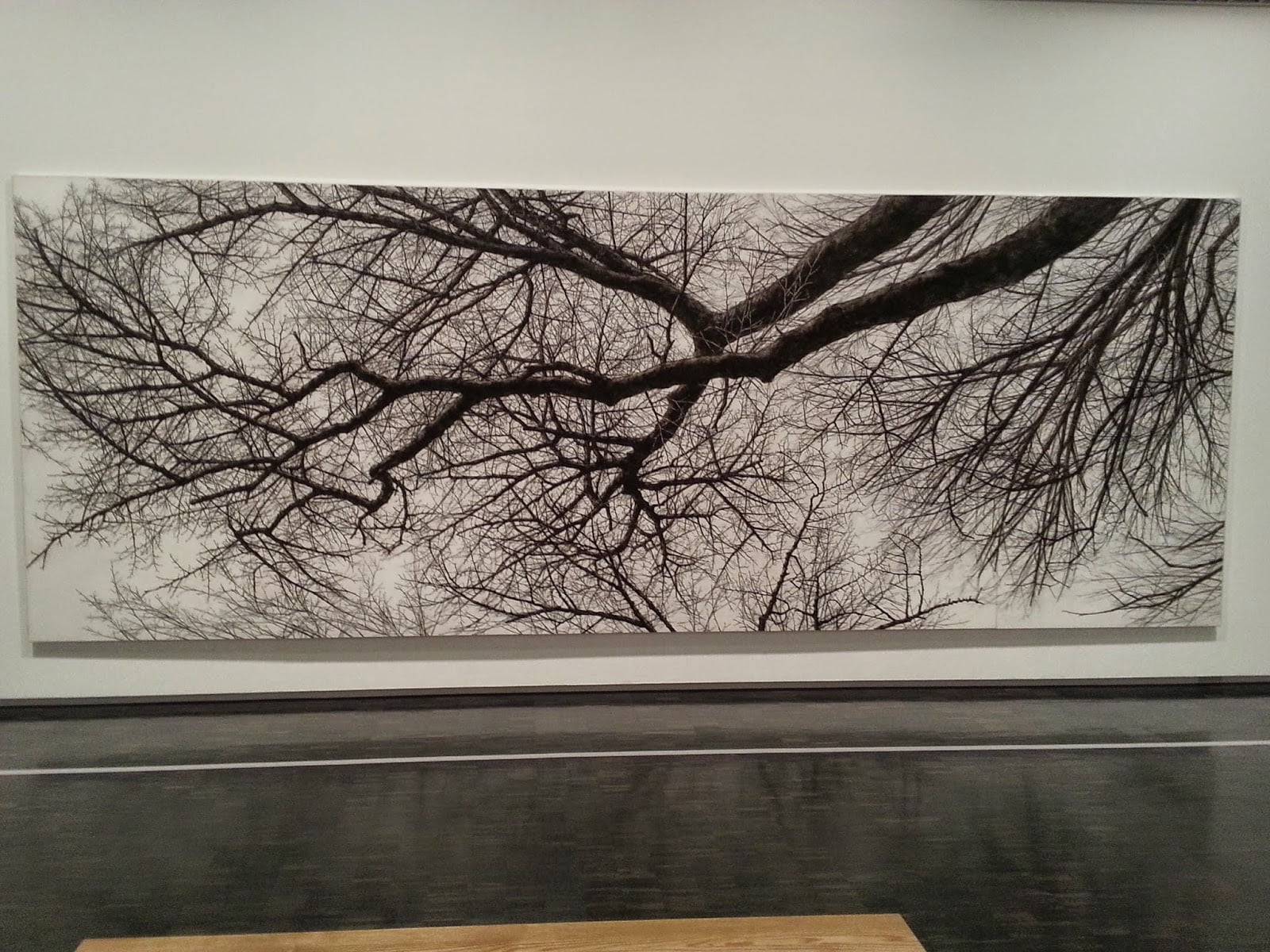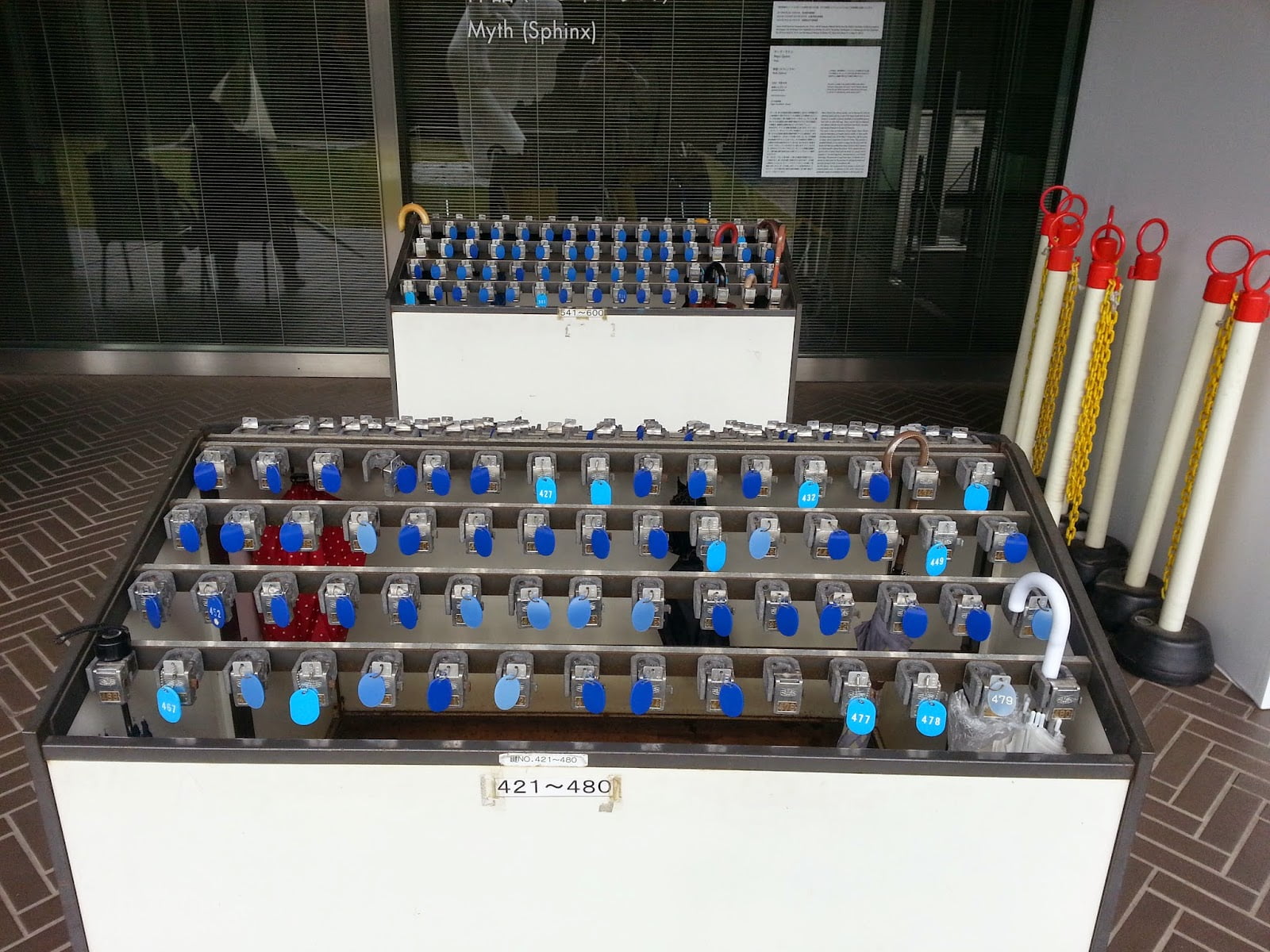 Umbrella lockers.  How smart is that?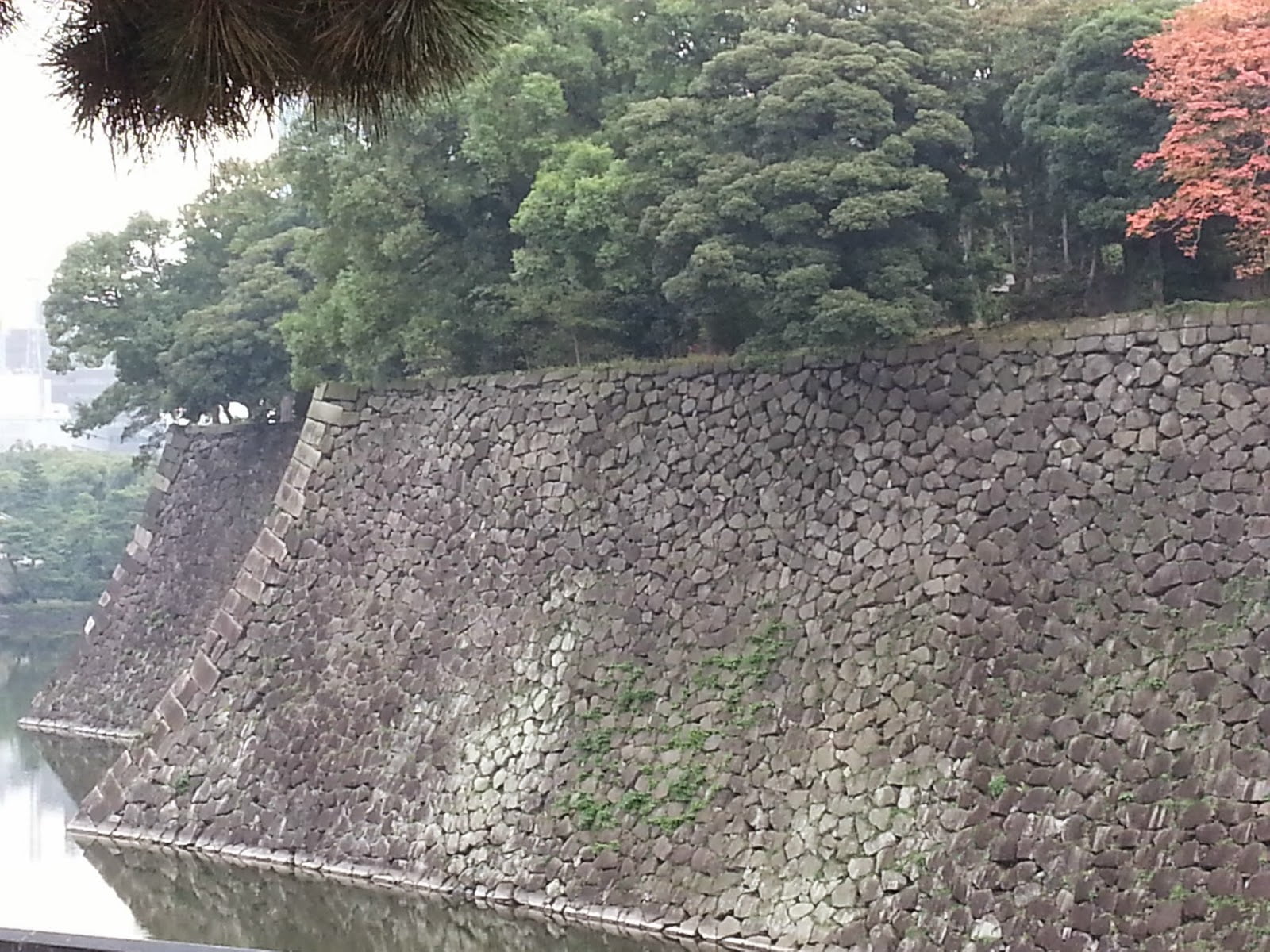 SS says the palace walls date to medieval times from the original Edo Shogun's castle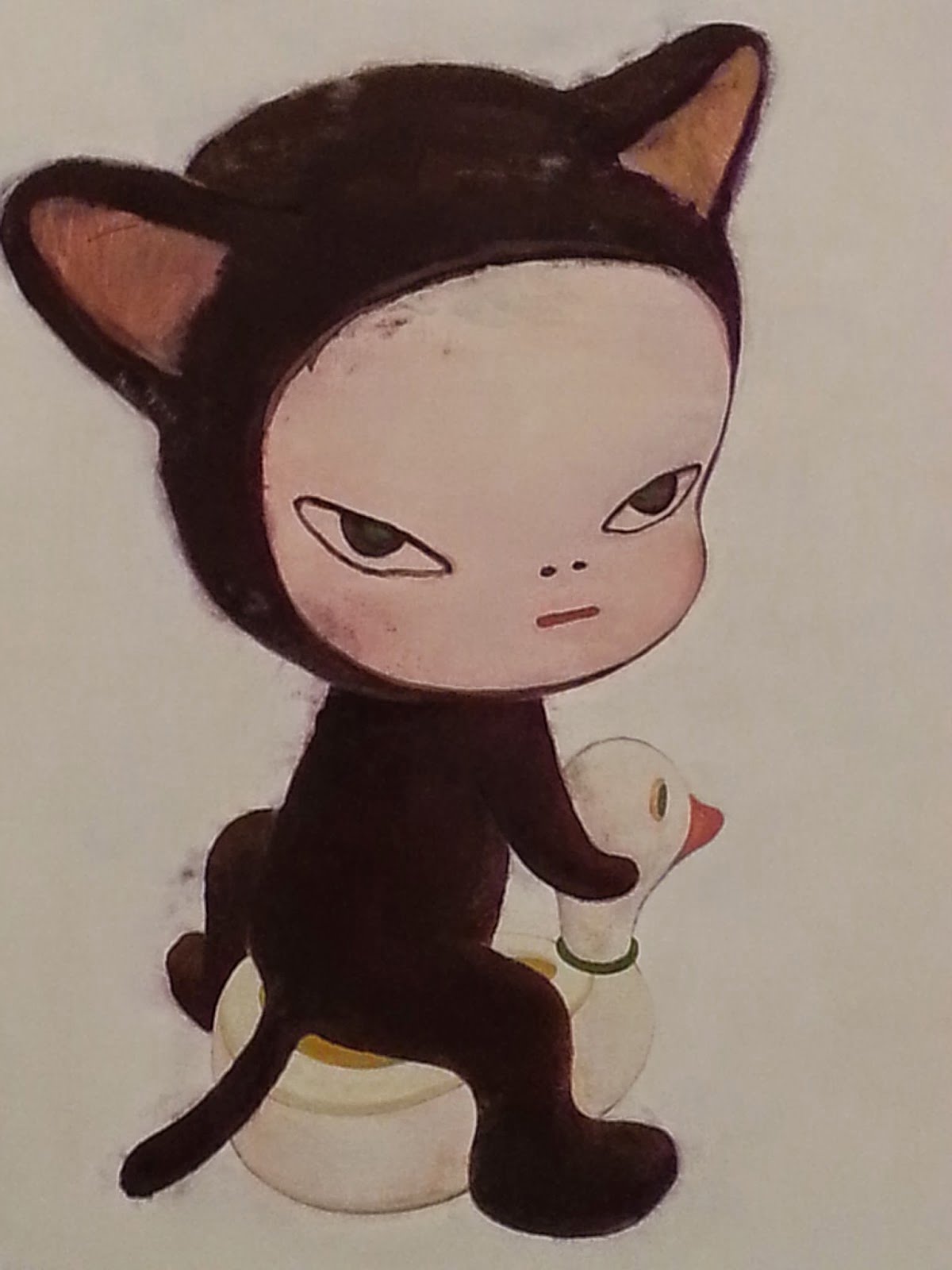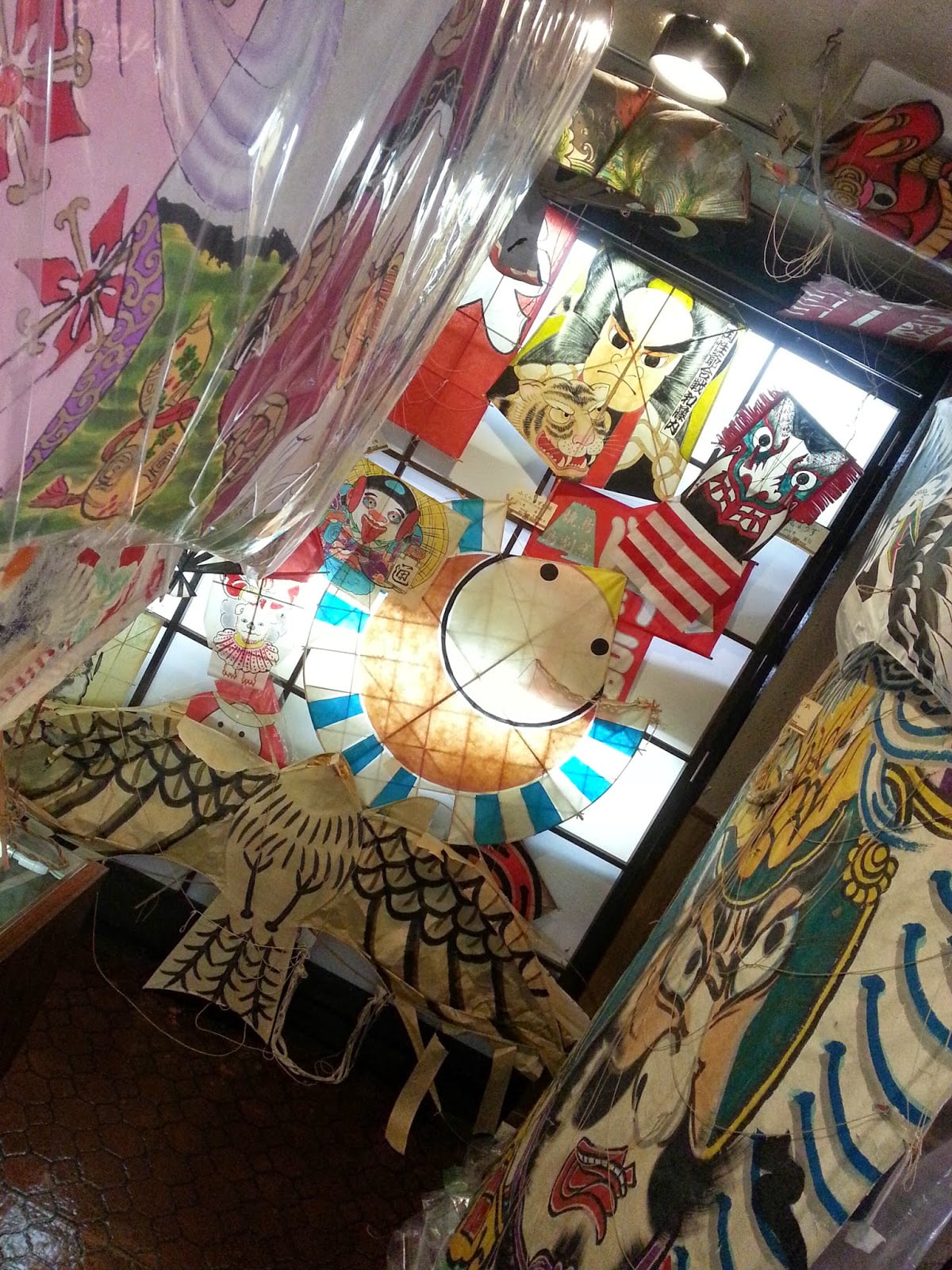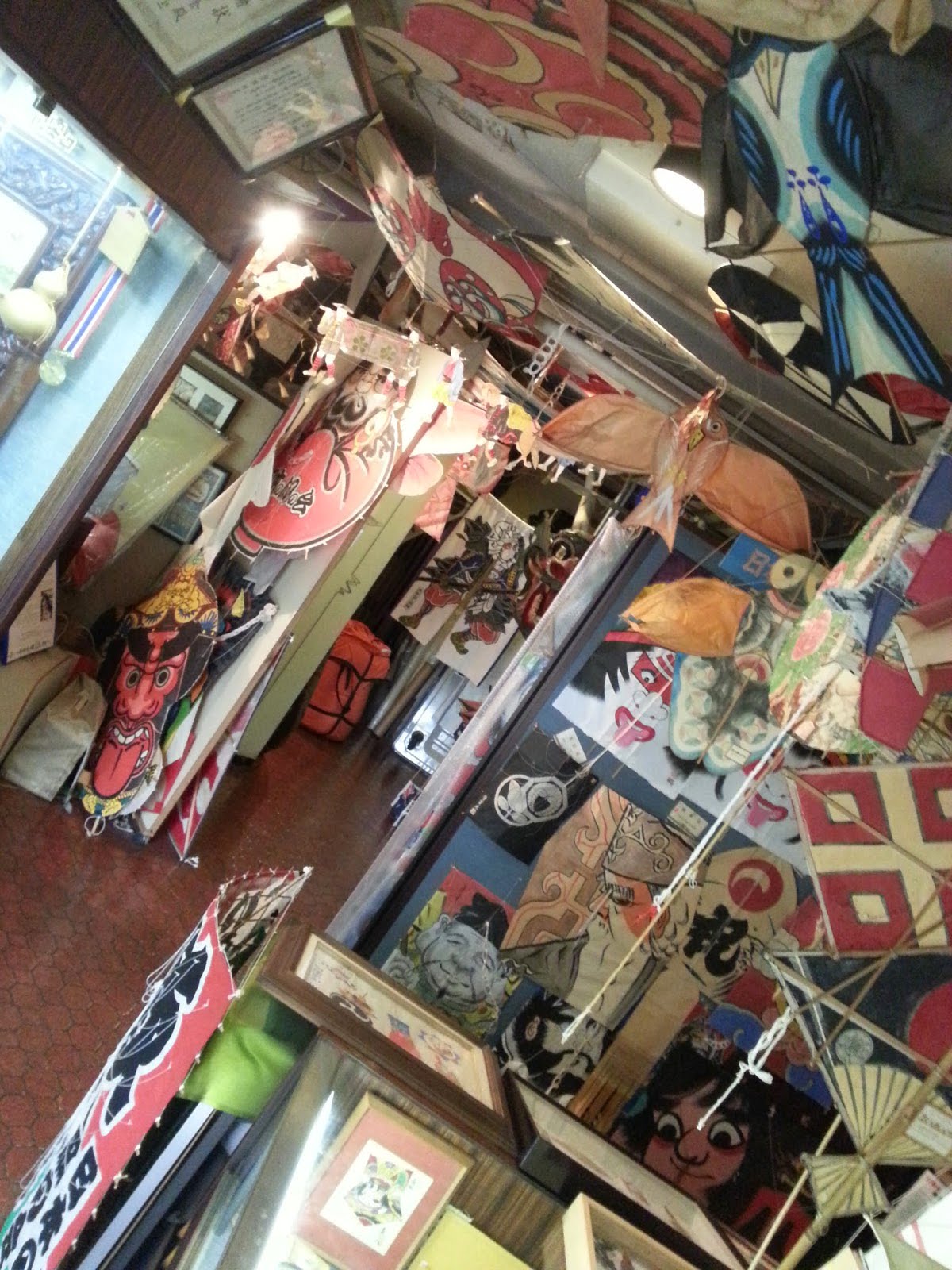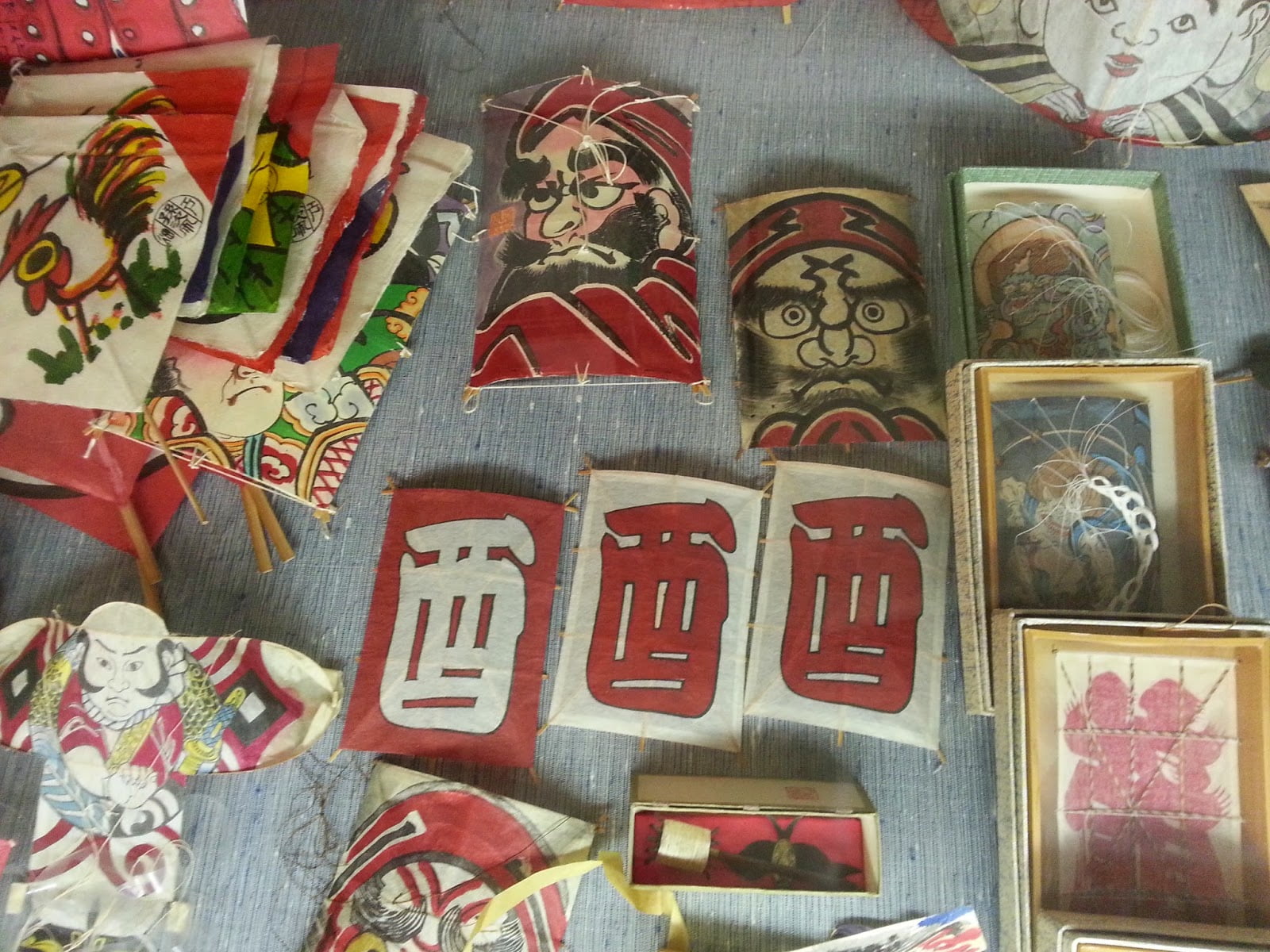 Antique tiny kites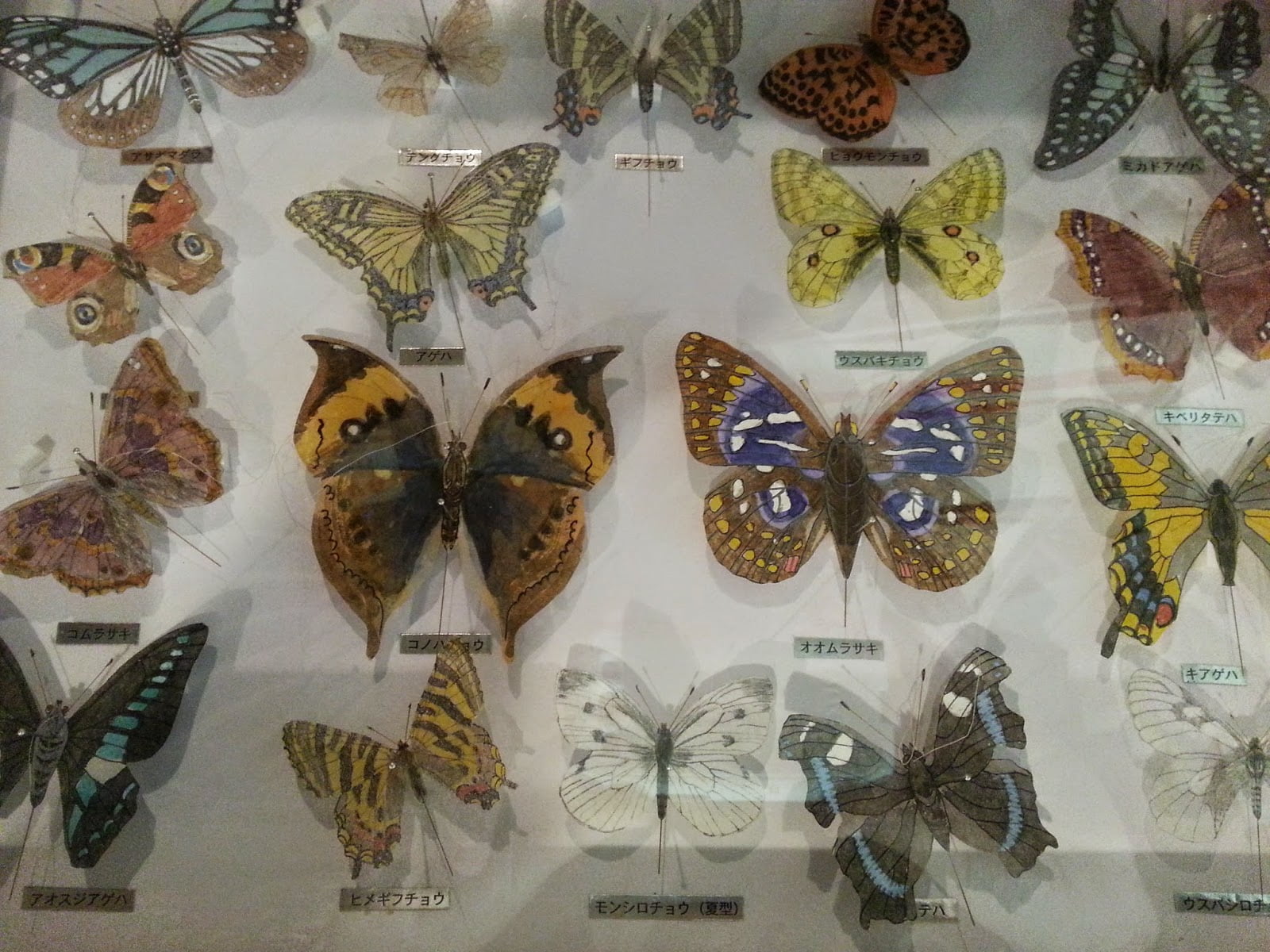 Miniature kites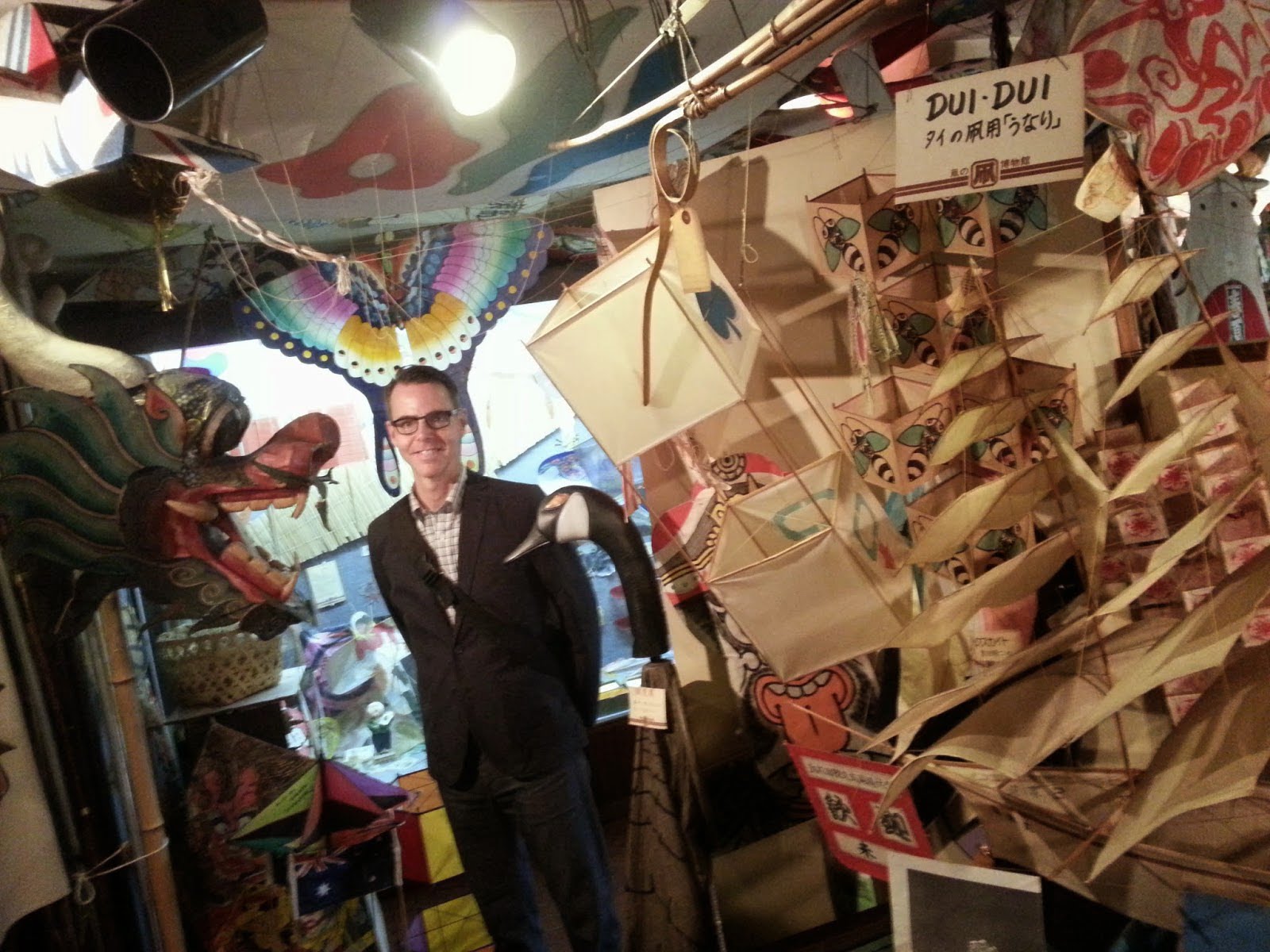 SS stands next to a Santa Maria kite
By mid-afternoon it was time for siesta.
For dinner we took the subway to Roppongi.  In the midst of the Friday evening rush hour
we were, this time, crammed into packed cars by the white gloved guards, more than literal sardines.  I have never appreciated being 185 cm so much.  We had a nice meal at an American-oriented
place recommended in Fodor's, called  Roti (the guy at the table next to us talked about his brother's oil well) and
later, through a sea of Waldo's and various other festive costumes, we made our
way back to the hotel.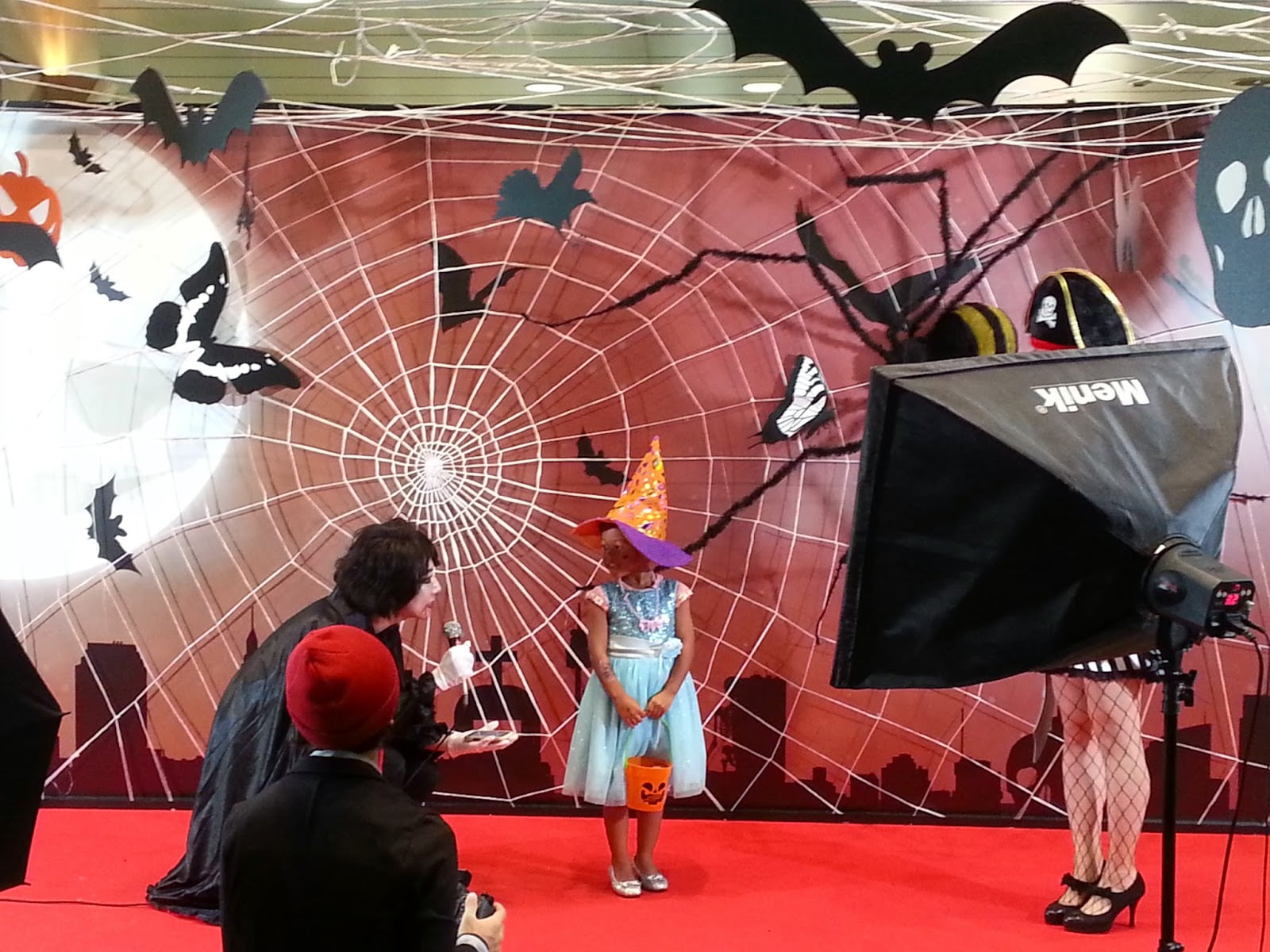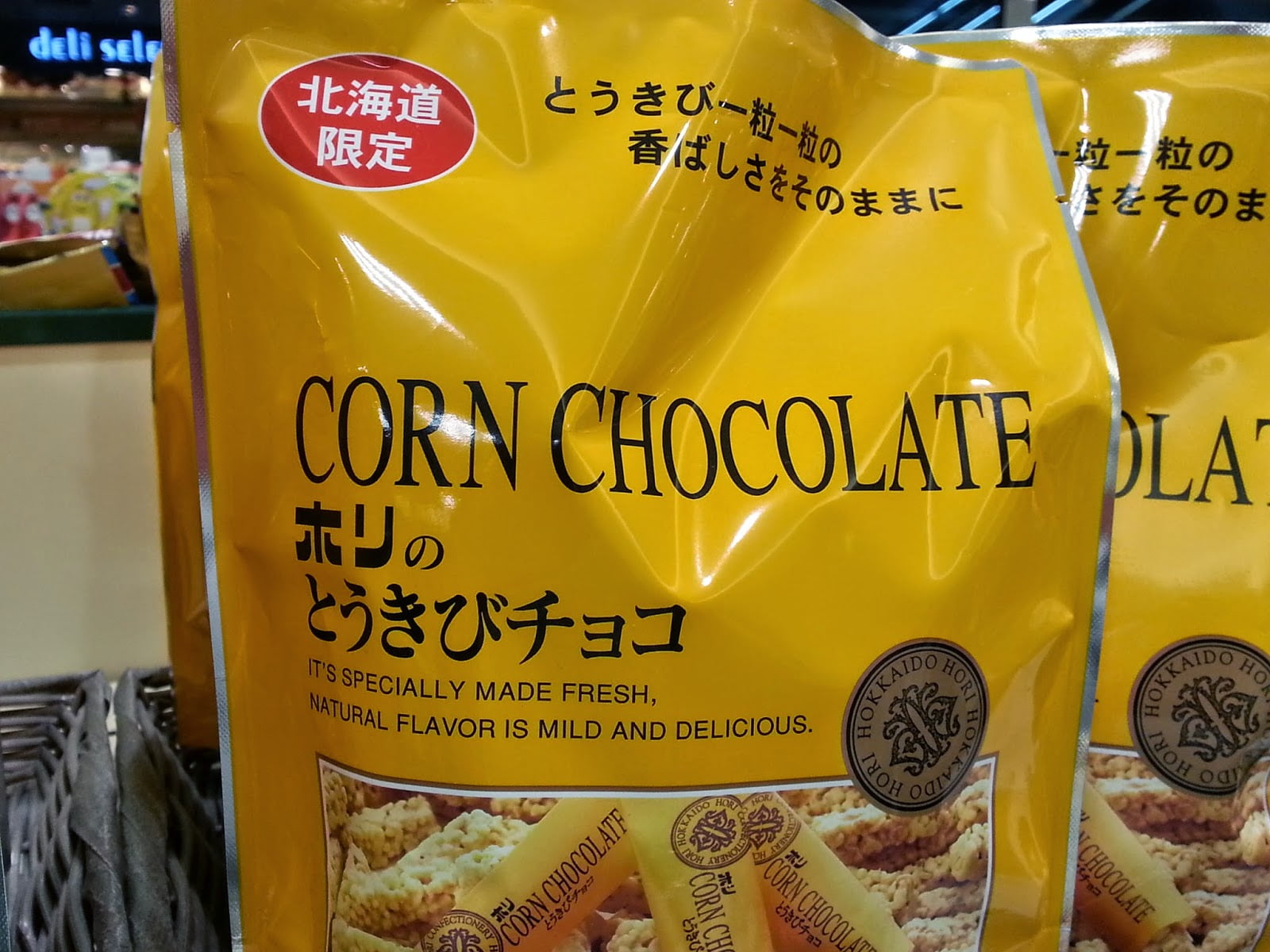 I just don't know