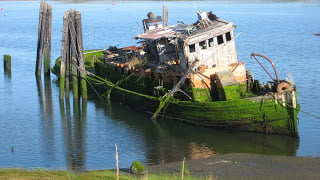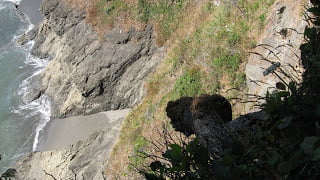 Guess.  Then scroll down.
Wednesday, August 17, 2011: Our "resort" serves a "continental" breakfast: individually wrapped muffins, bread in the shape of a bagel, hard boiled eggs, Tang (I swear, confirmed by an RV-er), "coffee" with whitener, bananas and yogurt.  I stuck with the latter two.  We tried coffee from the drive through hut across the highway—I was noticeably out-of-town by standing carless in-between running pick-ups with a dog on lead (one woman even got out, with her car idling, to admire the "Airedale"), but it too was a facsimile.  We later went to a bookstore (any town with a book store in the centre of town is by definition economically depressed) and although there was no one even browsing books, they had superb coffee, and the coffee shop was busy.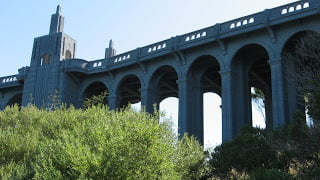 The dirty thirties engineering marvel
Our plan for the morning was to take a six mile hike along the picturesque Rogue River, but that was something of a bust; we drove too far inland, then backtracked, finally found the trail head but in the end it was too dense and poorly maintained to trek.  We ended up at a State Park where there was about a mile of river shoreline to traverse and plenty of sticks to throw for pooch; the fresh water took the saltwater skank off, but he was quick to regain it in the afternoon.  We saw eagles and hawks, a river otter with a salmon in its mouth, a bi-plane, chipmunk fights, and teenagers in the remote picnic area engaging in what is commonly referred to in the vernacular as "friends with benefits."  After our river walk we went back to town (I can't help writing that without thinking first of Agnes Moorhead in All That Heaven Allows getting dressed up for town and second SS telling me that his gran did the same thing in North Bay!).  There was an old wreck at the burnt remains of the once thriving cannery and some interesting perspectives on the Rogue River bridge which rounded out the AM.
The bridge over the Rogue: Completed under Hoover in 1932 using, for the first time in North America, an engineering technique developed by a French, Ernest Freyssinet.  Functional and like new.  Note to Gregor Robertson: It's called engineering.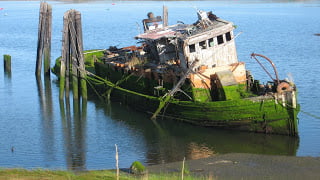 Wreck of the Mary Hume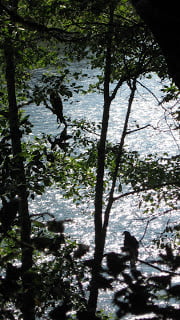 Hard to see but two large birds–turkey vultures?–resting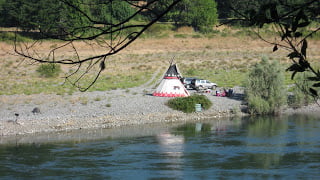 All Quiet on the Western Front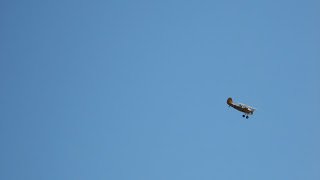 North by Northwest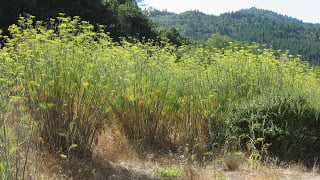 Field of wild fennel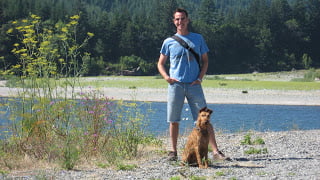 A River Runs Through It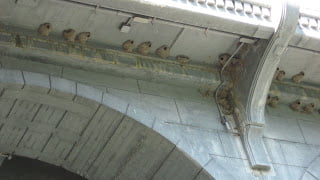 Swallows nests under the bridge
The wreck is the Mary Hume, built from old growth wood, her keel from a 141 foot white cedar hauled down the Rogue, and christened in 1881.  It served Mr. Hume's king salmon cannery on the Rogue River, hauling salmon and wool down to San Francisco.   In the 1890s the whaling industry was in full swing; the ship was sold by the Humes to a company that put her to use on long voyages to the arctic.  On one six-year voyage it hauled a record $400,000 worth of whale baleen back to SF.  Of course its trips to the Arctic were not without misadventure, including scurvy and lunacy among the crew, who were kept on ice until they could be buried.  As the whaling industry waned it was sold.  In 1909 it was reconfigured as a river tug, and kept in commission until retirement in 1978.  It still holds the record of being the longest sea vessel in use on the Pacific as well as having the longest record of a single registry ship.
For lunch we crossed the bridge to a little out of the way bakery for homemade soup and sandwiches, took cupcakes with us for later, then drove south of Gold River towards Brookings, where myriad parks dot the rugged coastline.
Most of the afternoon we spent at Cape Sebastian, an overwhelmingly beautiful and grand outcrop, with vertigo-inducing views to the cliffsides below.  We took the 1.6 mile beach trail down, which traversed what felt like three climate zones: First, a windswept, bitter tunnel-like path that wound down to the south bank, then a long warm, still, switchback through forest, awash with hyper Stellar's Jays and the odd Flicker, then a roller coaster saltwater misted path above the sea, pock-marked rocks with shore birds and seals below—Holy guano paysano—dropping suddenly onto a long, secluded beach.  The only thing was that unlike mountain hiking, up first, down later, we had the heavy lifting at the end.  Although we had the hike to ourselves, the parking lot was abuzz.  It amused me that most visitors we witnessed, in the parking lot, didn't even get out of their cars!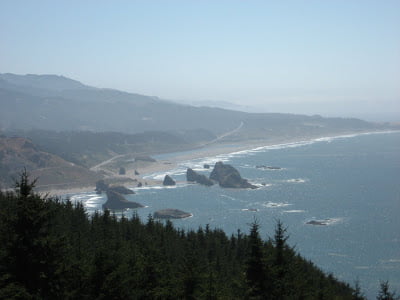 1.6 miles down to the beach.  Felt like five miles back…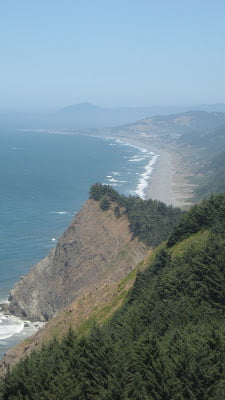 View north from Cape Sebastian to Gold Beach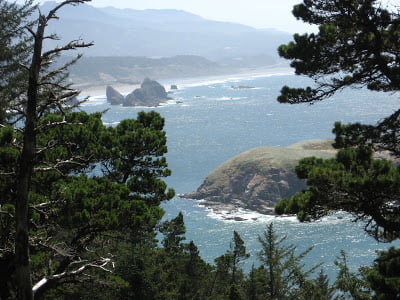 South from Cape Sebastian, Into the Woods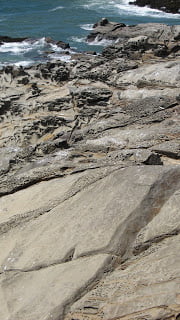 Rocks.  Go figure.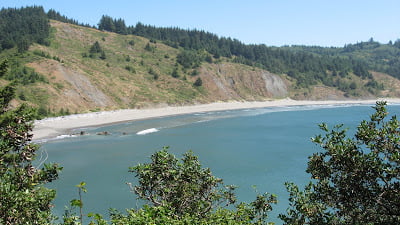 Beach at Cape Sebastian.  Lottsa hiking and a beach.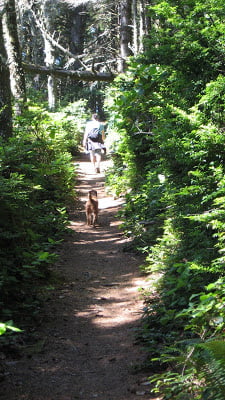 Boyz in the Hood
After the Cape we drove south into Boardman State Park which is dotted with various pull-outs and viewpoints.  At Thunder Rock Cove we had to leash the dog who put his famous guile and agility to misuse on the cliff edges.  Later we strolled a very windy wind-surfer beach that, in the parking lot, had the feel of a 1960s B-movie.  All that was missing was Troy Donahue in too tight short shorts having a blow out with Sandra Dee.
It was a fantastic day, weather wise, activity wise, and konked out the pooch who was snoring before dinner.  Speaking of which we went to Spinners, the go-to place for townies, not a single good view at any table despite the beachfront locale, servers all recruited from the basketball team, a perverse amount of booze on offer ("there's a beer menu a wine list and a martini menu—do you want all three?") and no one serving water under six foot five.  It was actually quite pleasant, despite getting the cheque while still eating.  What's the phrase?  In America you pay the check with a bill, in the UK you pay the bill with a cheque.  Mr. T was glad for our return and took to his dehydrated slop with a dedicated concentration.
View at Thunder Rock Cove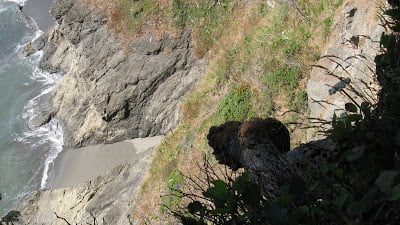 Tree stump going into space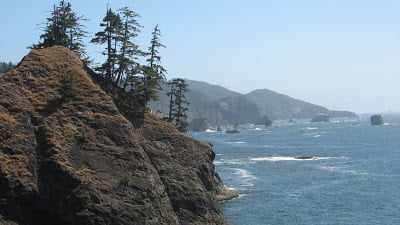 This and the following four pics: Views from Thunder Rock