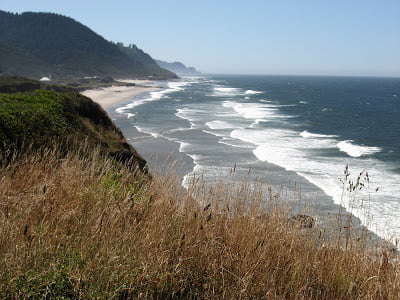 Tuesday, August 17, 2011: Cannon Beach to Manzanita, Nehalem, Rockaway Beach, Tillamook, Hebo, Neskowin, Lincoln City, Depoe, Otter Rock, Newport, Seal Rock, Waldport, Yachats, Florence, Gardiner, Reedsport, Winchester Bay, Lakeside, North Bend, Coos Bay, Bandon, Langlois, Sixes, Port Orford, Gold Beach.  Also, Smith Lake, North Bay Rd, Glenn Ave, Lois Lane and, my favourite, Matlock Way.  It was a bit ambitious.  Especially considering it took us one hour twenty-two minutes to go the first hundred kms!  So many towns with 25 mph zones and road work and hairpin turns and RVs with the oomph of a 2cv Citroen.
View south from West Oswald State Park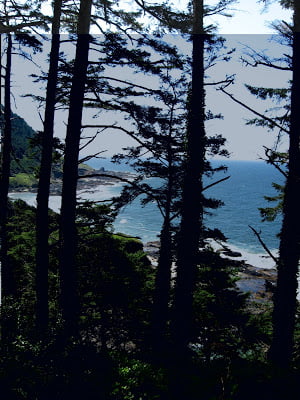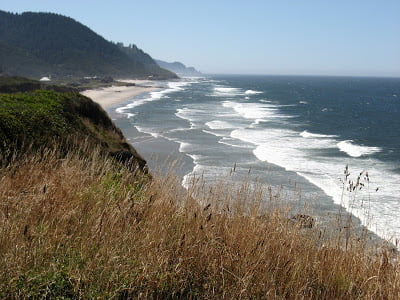 But magnificent scenery, all the way.  The start started out with archetypal Northwest treelines into a rocky shoreline, transitioned midday into the dunes famous along the coast here—some spilling for kilometres from sea inland, toppling through the brush onto roadways—then becoming open, spare, Mediterranean, a craggy shoreline and horizontal windswept evergreens.  But it was a long drive to tackle in a single go.
Gold Beach sits where the Rogue River funnels into the Pacific.  We arrived just past four, checked in, then took a walk along the beach.  It was warm, blindingly clear sky, but windy, then to a small bistro off the main drag called Anna's.  There was a chef and a server.  It could top out at 20 covers, tops, but there were only about 12 of us Tuesday; still, it was full tilt and although our service was excellent some diners waited a half hour for simple mains.  SS had a homemade tomato soup with dill, I had a salad all crunch (red peppers, celery, snap peas, cucumber, and a little avocado, but no lettuce) then we both had ling cod with caramelized onions, succotash and potato popovers.  Nice.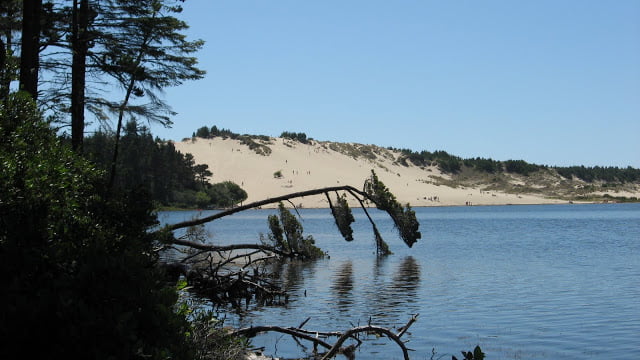 Picnic lunch at Honeyman State Park.  Teens surfed the dunes.  The lake was like soup.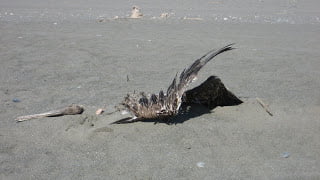 Pelican, deceased.  Damien Hirst, 2011. 1.25m quid.
The Long Day Closes: My favourite "boring" movie.  Which is, I guess, a pretty broad category.  Does Joseph Losey's Boom! go in the boring or unusual category?  I don't consider Resnais or Bresson boring, probably a debatable point.  Another consideration: How many people will you meet in your life who have seen a Terrence Davies movie?  And liked it?  25?  30?  Check out the Wikipedia entry; it reads like an algorithm, which is particularly perverse given how much compassion went into the film.  I guess boring has now become so common, I mean how many "Saws" will hold your attention? that we should have an "authentically boring" category as well.