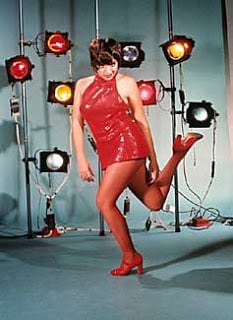 Midtown.  Plus: Close to everything.  Minus: Close to everything.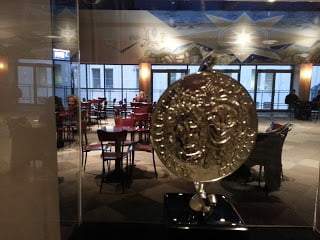 Think of the Tony.  Tony, Tony, Tony, Tony….
Friday night we had tickets to Roundabout's The Big Knife.  This is an old Clifford Odets play about a
Hollywood star coming to grips with commercialism, selling-out, integrity,
etc.  Big cast, stunning set, great to
see the orchestra packed for a play (as opposed to a musical).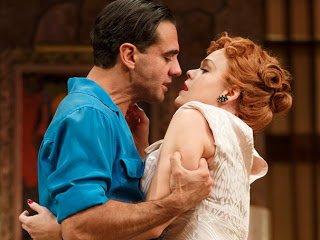 Cannavale with Ireland.  And that's how he treats his wife
For convenience, as well as budget, we took a pre-theatre
prix fixe menu at an intimate local restaurant called Silhouette; with tax and
tip it turned out to be the most expensive meal of our holiday.  Thank you NYC!  But that's the thing about staying in midtown:
You are trapped with the hordes of tourists also staying in midtown, and since
you're bound up with all these out-of-towners everyone gets dragged into the
expense together.  At least downtown you
have some choice, variety and less exp options.
At Silhouette the couple next to us were regulars, with a friend in from
California.  They had brought their own
wine, which they waxed poetic about, talked boisterously about staying at the
Ritz Carlton, and for some reason went on and on about how great Cleveland
is.  You live in NYC and you long for
Cleveland?
Odets play stars Bobby Cannavale, who in turn plays the
hearthrob star; I guess he's best known for Nurse Jackie, Boardwalk Empire,
etc., but he's an accomplished stage actor, had a running gig on Will and Grace
and was in a quirky and forgettable indie called the Station Agent.
His wife was played by Marin Ireland, currently known for Homeland.  I guess they were the draw, but the
supporting cast were the scene stealers, especially Richard Kind, who dominated
the set with amazing precision (he has been around forever and aside from a
voice in many Pixar movies was a regular on Spin City and Mad About You).   The star's agent was also especially good;
his career spanned back to, wait for it, Love American Style and even the short-lived
Tony Randall sitcom Love, Sidney.   If
there is a problem with the play it's that the language is of a time and place;
characters say lines that would be uncommon or implausible today.  They react in a way that is stagey, driven by
the script.  Of course the story is quite
brilliant and I was totally captivated, but when you compare it with, say,
David Mamet at his best, it's like an old car with a wind up crank versus one
with an electric starter.  The set, a
Beverly Hills mansion in the 1930s, was breathtaking.  We didn't stand, but most did.  People stand so much now I'm never sure what
a SO-performance is and what isn't.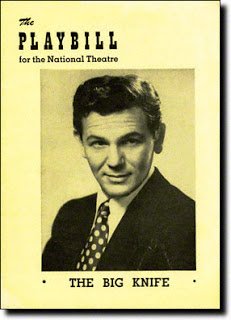 From the 1949 version
Saturday morning was sunny and clear.  How beautiful.  But it was also NYC spring: A nippy seven
degrees.  We decided to have an actual
breakfast out since we were scheduled for a matinee then a cab to the airport
for a night flight.  Again, being bound
to midtown we went to the (highly recommended and very popular) Norma at Le
Parker Meridian.  SS had eggs
Florentine.  I had eggs Benedict.  We both had a coffee.  That was it; two dishes, two coffees.  The bill was, wait for it, $74.  And the place was jammed with groups and
young people and families, all paying $23 for bacon and eggs and $7 for
coffee.  For the whole trip, whenever
breakfast wasn't included at our hotel, our breakfast budget was under
$10.  Sticker shock.  Afterwards we walked up to Central Park, then
back down Fifth Avenue, then to the hotel to pack and check out.  SS saw Anderson Cooper going into the Harvard
Club, down the street from our hotel; our one celebrity sighting.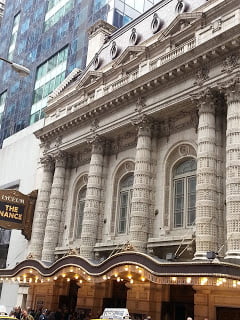 Lyceum on 45th.  The play's the thing since 1903.
After a late checkout, left our bags at the hotel and walked
a few blocks west for the afternoon matinee of The Nance, starring Nathan Lane,
probably most famous on Broadway, or in the stage and film versions of The
Producers, but always worth catching on Letterman.  A preview, opening next week.  Three months ago I'd tried to get tickets and
there was nothing but the second balcony.
Yesterday we went into the Lyceum box office and voila, two tickets in
the orchestra.  Ka-ching.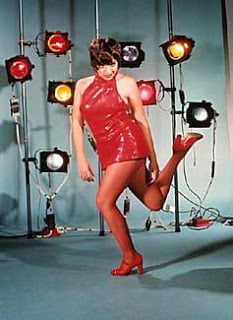 Liza With a Z; at the Lyceum in '72
Every seat was taken.
Packed out.  Neither of us had
ever been to the Lyceum, the oldest continuously operating theatre in NYC
(since 1903).  It's quite a place; superb
acoustics, great sightlines, but it's also got small common areas and the
perpetual issue with not enough facilities and women queuing for the toilet.  Since I wasn't permitted to shoot photos,
I've uploaded a few from the Net.
The Nance is about the end of burlesque in NYC as LaGuardia,
in a re-election gambit as mayor, used his license commisioner Paul Moss (sort of a Ray Cohn / Joe McCarthy similarity), to "clean up" the striptease acts. In real life, the Minsky's, which more or less owned burlesque, were outlawed as indecent. Lane plays a character who does a pansy
routine in between the striptease segments.
It was one of those very specific focussed star vehicles that, with Lane in the lead, was funny
and moving and engaging in fits and starts, and Lane was pitch perfect, but you couldn't see it any other way.  Like how Hairspray was hysterical with Harvey
Fierstein on stage and then John Travolta was this maudlin lump in the
movie.  Again, an exceptional set design,
an actual band, great supporting cast.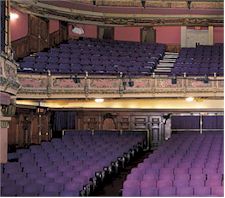 Rake on the balcony, not shown, like Valparaiso
It was cloudier afterward but still pleasant.  Back to the hotel, picked up our bags, and
taxied to JFK.  Although such a short
visit, it felt much longer.  Hope we're
back before another 15 or more years go by…