JFK to YVR Cathay Pacific F Class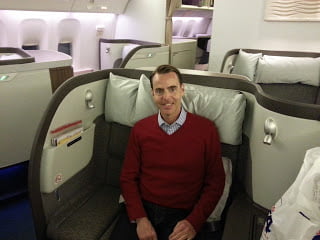 There was a significant birthday leading to a significant
trip so, since it all has to come to an end sometime, I thought we'd end it
with something significant: The first time either of us has ever flown first
class.  Maybe the last time?
As with Santiago, there was a separate area for business and
First Class, with a separate counter for F class, although we were at JFK so
early there was no line-up anyway.
Regardless of the class, though, US air security is a complete
undress.  No wonder the rich all have
shares in private jets.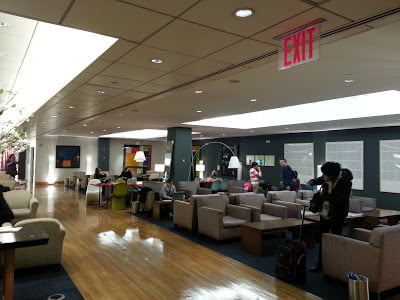 British Airways Business class lounge, JFK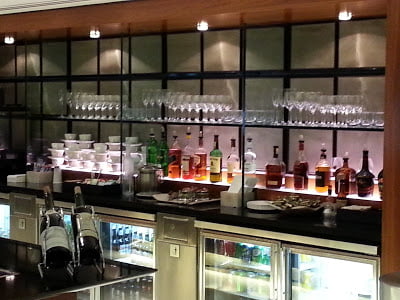 The swishy bar in the first class lounge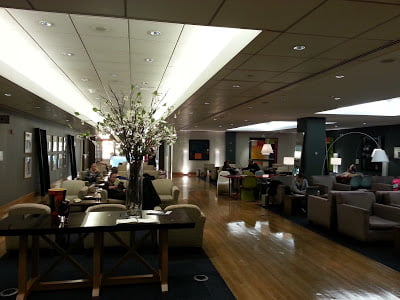 Biz class was very spacious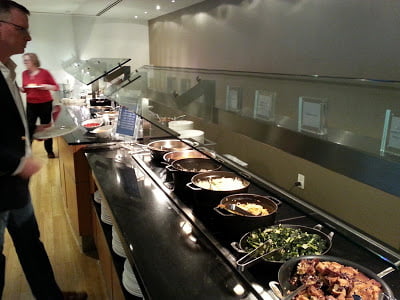 In the "elite" dine before you fly, a hot and cold buffet.  Some tasty tidbits, but it was also a little hit and miss.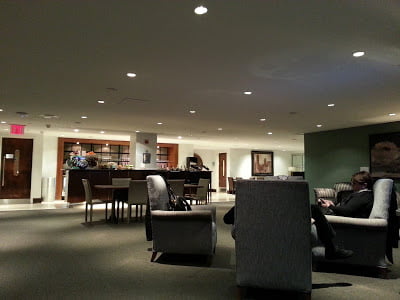 BA First Class Lounge; quiet, but nothing to write home about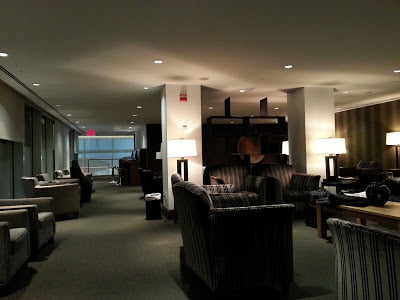 At JFK the lounge access for Cathay Pacific is through British.  There is a general "Concorde" lounge, then a
business lounge as well as a first lounge, for F class passengers.
About the only good thing I can say about the F class lounge is that it
was quieter than the biz lounge.  Oh, and
there was a lot of premium booze, like Woodford Reserve and Martell and Veuve Clicquot.  But
who drinks before flying?  A big plus is
that as F class you can access a special pre-flight dining room (through the biz class area).  There is a "chef" who creates an assortment
of dishes.  We are, essentially, talking
buffet.  But it was a nice touch, and
since we had arrived at the airport so early, it was great to have some hot
food.  Dinner on the plane would probably
be after 11 (scheduled departure is 10).We boarded without too much hassle just before 10.  There were six F class berths; 2/2/2.  Each very private.  Each spacious.  If my Google stats are correct, the 36 inch width on Cathay is the widest in the industry.  A 17 inch screen can be unhinged from the console and pivoted in front of you and as close as you like.  No overhead bin; instead, a closet for your on board items, shoes, etc.  They provide you with pajamas, slippers, and, for men (it was all men in F) a Zegna amenity kit with Acca Kappa sundries.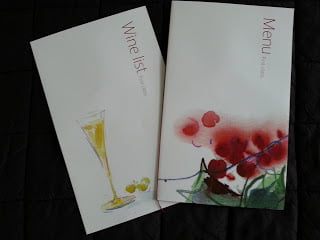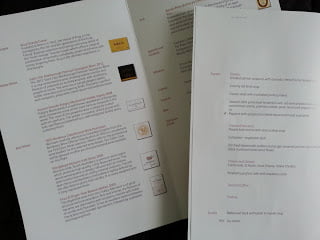 Wines included Krug Grande Cuvee, a prohibitively good 2008 Girardin Puligny-Montrachet, and an interesting Lynch Bages Pauillac.  Dinner was a selection of "American" food (gravlax or salad or soup, then steak or pasta) or Asian influenced dishes such as conch, vegetarian duck and stir-fried seafood.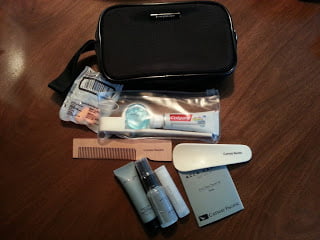 They came around with water and Krug and warm almonds straight off.  It was a gorgeous night to leave JFK (or Kennedy, as they now call it), with all the lights of the metropolitan area and Long Island brightening up the shore.  Surprisingly, we left the gate on time and we taxied promptly and there was no waiting on the runway.  That said, it was 10 p.m. and not too many flights were scheduled afterward.  Since the flight goes JFK-YVR-HKG, a lot of the passengers put on their pajamas right away.  SS and I had the intention to try and stay awake as long as possible…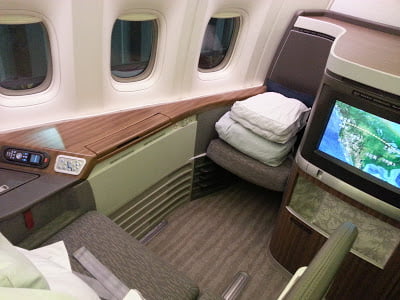 Bedding and duvet on the extra seat.  Screen pivots out.  Console is a closet.  Decent privacy blind.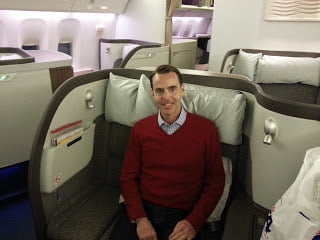 SS settles in.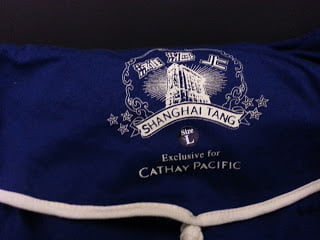 Nice pair of pajamas and slippers to lounge in
Shortly after takeoff they took our food orders.  SS had the smoked salmon, I had the salad, we both had the steak.  The air hostess says to me "How would you like your steak done?"  Seriously.  That's what she said!  I said medium rare.  What a strange question on a plane?  I had a dog of a steak on Air Canada flying to South America, and SS had a dog of a steak on LAN flying back, so expectations were low.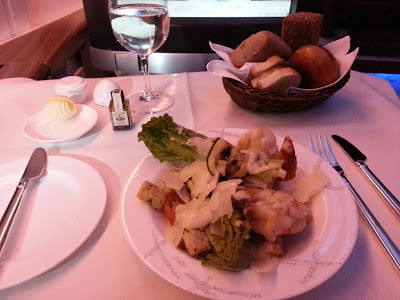 Giant shrimp Caesar Salad with basket of warm breads.  Below: Steak.  It was, I hate to say, perfect, cut like butter and on a very tasty jus.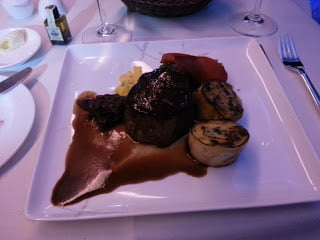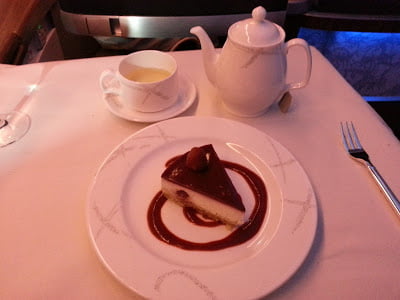 Skipped the cheese course, but the raspberry yoghurt cake on raspberry coulis, with a nice pot of chamomile tea, hit the spot.
I watched movies for as long as I could then flattened the seat and dozed off.  The noise reducing head phones were good, although not as good as the real thing (i.e., Bose).  The staff asked a couple of times if they could make my bed up, but I decided to just stretch out without the mattress.  Fully flat, but with just a tiny, perfect pitch up on the head.  Very comfortable even without the bedding.  Woke up around midnight local time as the captain announced the YVR landing.  Bathrooms are "touched up" after every use it seems so even after five hours it was spotless.  Clear night, glittering lights of the Lower Mainland through my three windows (!), soared over the North Shore, turned, landed from the west.  Hassle free.  I would call service extremely efficient and organized but not as warm or friendly as Singapore, Thai or Asiana.
We landed a little early, they had exit gates open for economy and the front end, our "priority" luggage actually came through first, and quickly, coupled with Nexus through Customs, we were the first in line for a cab, and home by 1:15 AM PDT.  Saturday night in Vancouver didn't bear any resemblance to Buenos Aires!  Good trip.
Where next?