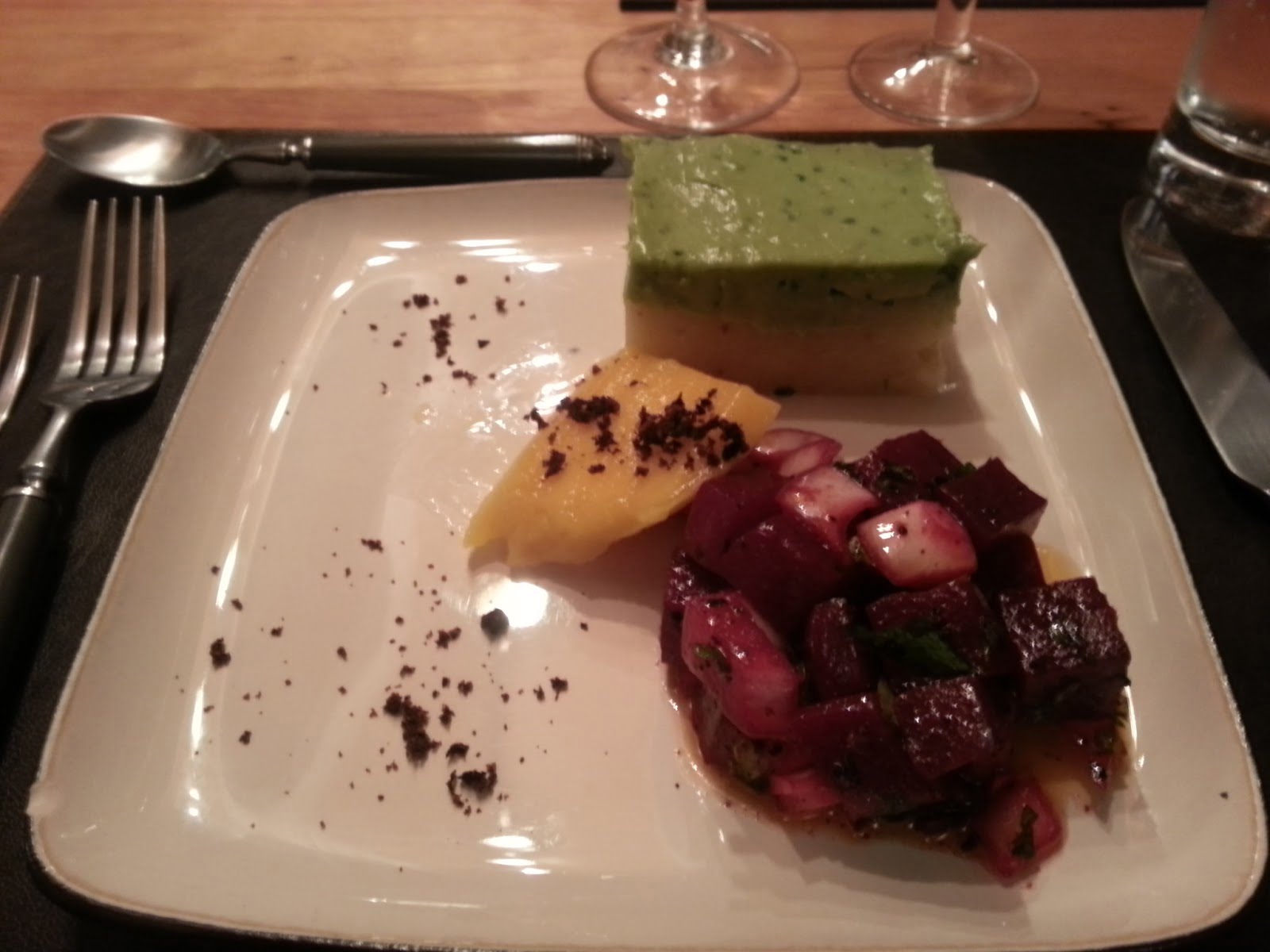 Our left luggage was in the room, waiting for us.  We unpacked, organized, and took off for a
dinner at Casa Saltshaker.  Buenos Aires
has a tradition of what they call "closed door" restaurants; these can be
nightly or irregular events where a chef cooks at his home, someone else's
home, or an undisclosed location revealed only on the day.  Casa Saltshaker is an expat's home, and he
cooks three or four nights a week for up to 12 at a communal table.  It was a stab in the dark!
Casa Saltshaker rates quite high on TripAdvisor; but while
TA is a fair gauge for hotels, it's a little less reliable for
restaurants.  The location was chef Dan's
home, a one bedroom loft with a garden in a nice neighbourhood.  He's an American by birth and according to
the site a trained chef.
Beet salad, potato gallette, mango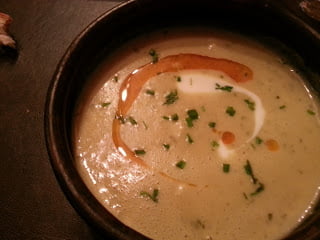 Joining us were four Spanish guests; two of which were
portenos, or locals, their son who lives in Spain with a Spanish wife, two
girls from Toronto (one of whom spoke Spanish, thank goodness), and a Pole who
spoke perfect English but not a lick of Spanish.  It was a social, lively, and fun evening, full
of language hurdles and interesting observations.  The food however varied between quite good
and not too bad; we had slightly higher expectations–but it was a fun night
out.  We started with a lovely take on a
potato gallette, then followed by maybe the highlight of the evening, a soup
with all the ingredients of hummus (chickpeas, lemon, tahini, garlic, some
spice) topped with avocado.  A marinated
fish was mediocre and a roast chicken wasn't up to snuff.  A dessert of limoncello mousse (excellent)
and chocolate hazelnut cake (so-so) topped off the evening.  They paired each dish with wines, perfectly I
might add.  What was much better than the
food though was the conversation.  It was
well past midnight before, exhausted from such a long day, I turned to SS and
suggested we make a move.  But earlier I asked
the Argentines: It's a work night, say Tuesday.  Nothing special.  You have to get up the next day at seven for
work again.  You're eating at home.  What time do you have dinner?  They answered, unequivocally, 9:30.  And then I asked, what time do you go to bed?  And they said 11.  And I just shook my head.  They eat heavy, they eat late, and think
nothing of it.  Total, all in, including
food, booze, tax and tip, $65 US per.
Quite good I would say.
We taxied home for about $5 and, being Wednesday night, it
was teeming with nightlife, people everywhere.
Of course.