Government, Slums and the New Rich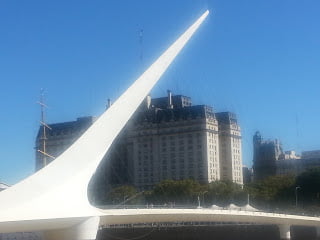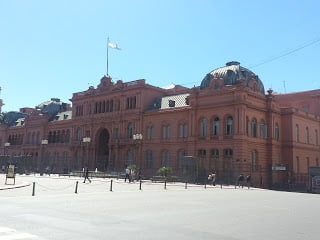 The Casa Rosada, or red house, once Argentina`s White House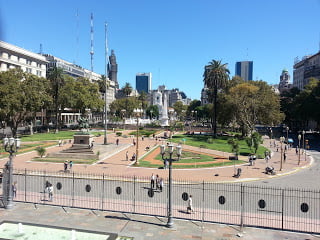 View from the balcony where Madonna, er Evita Peron, made her famous speeches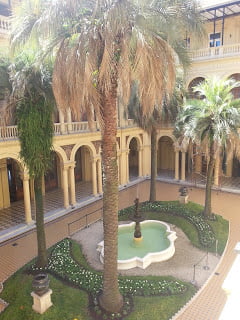 Interior Courtyard (one of many)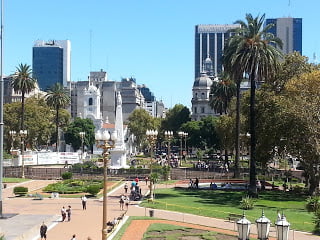 We did a tour of the Casa Rosada.  The once upon a time seat of government, now mainly for ceremonial use.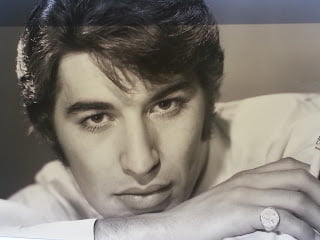 From the Hall of Famous Argentinians: Rinaldo!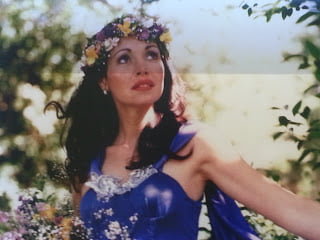 Gilda!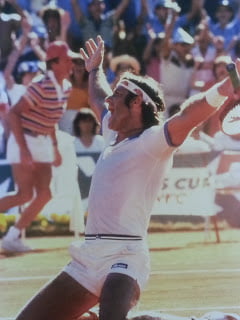 But no sign of DelPo…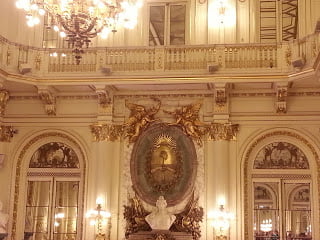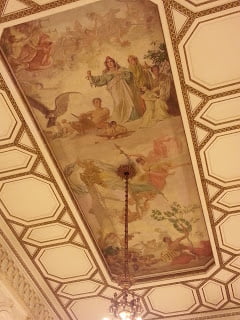 Then, after finding the best antique stores in the Americas, all
in one place, and not buying anything (!, see Buying a Pith Helmet…), we wandered San Telmo, the oldest
barrio, with its decaying mansions and narrow cobbled streets.  It has the feel of a Graham Greene novel, past
glory, decline, a clash of classes and interests.  By far the most interesting architecture of
the city.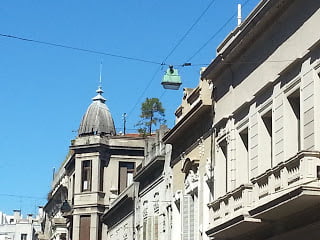 A tree grows in the barrio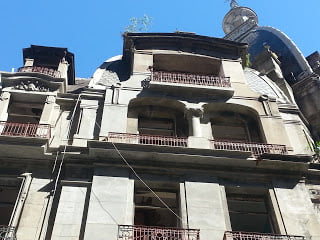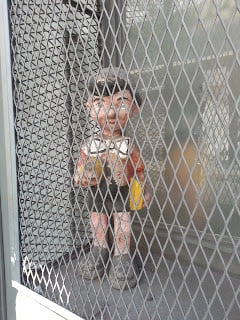 Hey little fella, why so glum?
We took lunch in a wonderful French-style bistro, Petanque, with high
ceilings and large windows, a mild breeze wafting across the room and a
waiter that looked like Mickey Dolenz.
Afterwards we turned toward the waterfront: Recovered, redeveloped,
gentrified.  The pedestrian walkways
along the river, rows of mega restaurants and towering condos are reminiscent
of any redevelopment in any large city and, with the exception of an 18th century
frigate and a very modern pedestrian bridge, you could be in any metropolis on any continent.  Maybe Buenos Aires is becoming the BA of Robert Heinlein`s Starship Troopers?  We noted that this was the first
neighbourhood we'd visited free of any signs of tagging.  They must have private security patrols in
the night.
The other waterfront highlight is the Philippe Starck
Faena hotel
which, I guess, was even too expensive for Tom Cruise, who flew in last week for a premiere but only stayed 10 hours and didn`t even dine there.
From the waterfront we returned to Palermo Soho.  It was the afternoon prior to a long weekend
and awash in locals, visitors, families, teens, and out-of-towners driving slow
with their emergency lights on.  We did a
little window shopping and took a coffee in an uber-trendy spot called Nanche,
surrounded by a local version of Sloane Rangers perusing their shopping and
scrolling through their iPhones.  We paid
a ridiculous $18 CDN for two coffees, one water, and two small pastries, and
mine wasn't even what I ordered.  After a
short siesta we headed out for another culinary adventure.
Las Pizarras is, as one waiter put it, a "rustic"
bistro.  It's like they moved in
yesterday, or last year, hard to tell, put everything down without sorting, and
began serving food.  At least once they
ran out of glasses!  By nine each table
was full and there were groups on the street waiting (on the other side of the
locked door; it turns out to be standard evening restaurant practice).  The chef, who had just returned from Montreal's
Lumiere festival and had three years culinary experience in London, UK, under
his belt, explained the very creative menu.
SS started with a tortilla, I had a soup with the ingredients of vichyssoise
but hot and with a goat camembert, followed by a duck with pumpkin and SS had
the most sensational rabbit in a to-die-for barley risotto with a bitter green
salad.  For dessert (they cooked each, to
order) SS had a chocolate cake and I had a sticky toffee pudding.  They seated a last table of three just before
11, as the trio pleaded with the owner who, reluctantly, agreed to serve them.  Rustic, yes; also a madhouse, a wild mix of
locals and tourist foodies, skinny modelos, business people, trendies, old
timers and of course us.  Absolutely
spectacular.