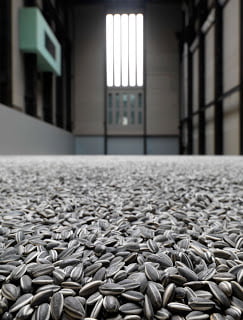 It started out nicely, up early, a crisp sunny autumn day, check out, cab up to St. Pancras, Eurostar to Paris.  Last time I took Eurostar it was from Waterloo, a charming station but without the guts for a powerhouse like ES; it was like having a po-mo reno on a prized Victorian relic.
The St. Pancras makeover is something altogether different, something to blog about.  One of those rare public spaces that is both architecturally interesting without being derisory, and for those who don't give a care about aesthetics it's enormously practical.  Easy on too.  We had an upgrade, not to the luxe business premier, but a class in-between with spacious seats, uncrowded car, complimentary breakfast.  A gorgeous day for a train journey.  Then disaster: A one day strike in France.  Of course they'd been threatening for a while, it just happened to coincide with the one day we actually needed to take a train from Paris to Dijon to get our rental car.
We waited in vain for the RER from Gare de Nord for the station transfer only to discover there would be no trains for several hours.  We decided instead to take the metro but the throngs of RER users spilling over to the subway put us off.  We went to take a cab but were dissuaded; the city was in a crisis, traffic at a standstill, so we retraced our steps (and stairs, so very many stairs) back to the metro and connected seven stops later to the Gare de Lyon.
There we discovered that although trains were running they were only running half mast and our reserved tickets, although they'd still be honoured, would have to be used two hours later.  That put us in a jam: We had to get to Dijon before the car rental place closed so we could get to the hotel in Vosne-Romanee, which is virtually Beaune.  It all looked haywire.  But what option was there?  We persevered, catching a 4 PM to Lausanne which got us into Dijon at 5:40 which got us to the car rental kiosk at 5:50 which just gave me enough time to inspect the car and report back before they closed.
I was in a panic about driving a standard in France in the dark in an area I didn't know, but the sun (after a long and stark gorgeous late autumn day)was only beginning to set as we careened out of the terminal garage and into a slew of traffic with enough late afternoon glare to get us out of the city centre.  My navigator, AKA SS, had forgotten his glasses, so I was left to drive, navigate and translate.  A little stress. Here are some foreign driving tips I learnt quickly.  First, don't turn on your lights, even if it's dusk; you will get honked at.  Second, don't signal.  You know where you're going—why does anyone else need to know?  Third, merge forcefully, wilfully and with intent.  Passive merging will result in an accident.  We witnessed one on a roundabout.
Although we'd reserved a Golf, we received a Citroen Nemo, not far from Robyn's old Nissan Multi, faux-SUV but sits high.  And it goes zero to sixty.  Who could ask for anything more?
At the hotel there was only time to park, check-in and change for dinner.  We are spending our time in Burgundy in two locs, the first in the east in Vosne Romanee at Le Richebourg, sort of one step up from a Best Western but with an in-house restaurant of note.  We decided to do our first dinner on site.  SS went whole hog, a scallops ceviche with fresh raspberries and a raspberry/balsamic vinegar sorbet, then a veal roulade with a truffle risotto (quite extraordinary) and morels, a cheese course (the best of which for me was cranberry, the best of which for him was a soft cheese with ashes on it—no one knew whose) and a chocolate sponge with cardamom ice cream and a cappuccino sponge on top (honestly, it looked like a Ronettes' beehive).  I went simpler; a French version of a caprese with shockingly tasty in-house pesto, a pork shoulder cooked to perfection but with violet mashed potatoes (it added blue colour but not flavour and was unusual) and baby carrots steamed in clove and brown butter sauce, no cheese, then a ginger bread flambé which was basically a custard with coconut brown sugar with burning calvados on top.  And, yes, we had to get some Vosne Romanee because why else would we come here?
No one, not the rental car assistants, the hotel staff, the waiters or the concierge, offered any commiseration.  France is France.  And, come to think of it, in 2005 when I was here there were riots rampant around Paris, and last visit I got caught up in a political demo and had to shimmy my way out of it through gendarmes with Uzis, so what's a little "whole country" disturbance?
Tomorrow something else.
Mea Culpa: That was not gravel at the Tate Modern as I reported yesterday.  It looked like gravel, it sounded like gravel, onlookers thought it was gravel, but it was not gravel.  It was—wait for it—10 million pieces of hand crafted porcelain each hand painted to resemble a sunflower seed.  My deepest apologies to the artist.  Makes the Chilean miner's issue chicken feed by comparison.