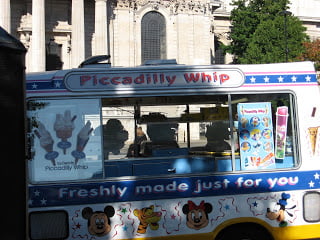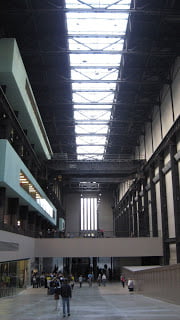 SS tries to make his way into the Tate Modern
Another nice day.  And they call it London.
We took coffee in a St. James Cafe Nero which used to be the rectory of a church, then tubed to Canary Wharf.  SS had a vision of a UK version of, say, Toronto's Distillery District; no, it was more like a modernized Milton Keynes, high street shops in a mall, monstrous towers.  Nice views to Tower Bridge though. See the pickle from the pier below.
We tubed back to the Tate Modern.  Although the setting is spectacular it's somehow never as fulfilling as the original, with the Constable's and Turner's on one side and iconic modern pieces on the other, but it was new to SS.  Can you spot him in the entrance above?
The main floor was a new installation, about an acre of gravel.  Not Saturna Island gravel, Tate Modern gravel.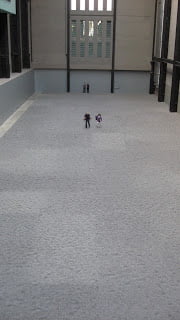 Press interview with the gravel artist
We tried to take lunch in the seventh floor restaurant, best view in the City, floor to ceiling windows across the millennium bridge to St. Paul's; too busy, Monday lunch, half hour waits, that's the small town in us, never thinking you need to reserve for a Monday lunch.
Took the same food on the street level cafe which is pleasant but noisier with characters that reminded me of extras in the Carry On films.
We split up to do the few last things we could do with such a short stay.  It would have been interesting to trek over to see the Damien Hirst butterflies and magical to have tickets to Caryl Churchill's The Number but it wasn't in the cards.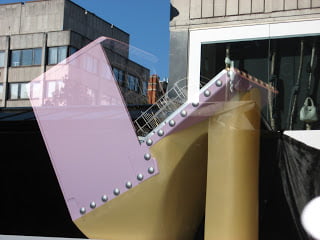 Dishwasher shoe in Selfridges' window
We had pre-theatre dinner at Jacob Kennedy's Bucco di Lupo in Soho.  Giles Coren (the better looking but less witty half of the unusually addictive The Supersizers Go and a sort of sergeant at arms on Gordon Ramsey's F Word UK) says this restaurant is boffo.  (He actually said something much more thesaurus-ish, about his tongue singing the next day, big font "Peter Travers" quotable stuff.)  I beg to differ; very good simple Italian cuisine but, just an example, Granville Island's Oyama sausage far exceeded the "home made" version on SS's plate.  A pre-theatre menu made it affordable and the space has charm (in a neighbourhood of sex shops and donair take away) but I wouldn't run back.  Plus we had to reserve at 5:45 as the play started at seven.  Seven.  A revival of Clifford Odets' The Country Girl.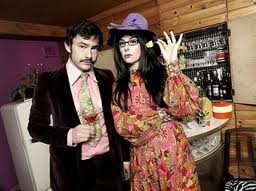 From The Supersizers Go 70s, one of my faves
In the above episode, Giles follows Len Deighton's entertaining guide which recommends a host allot a full bottle of spirits, per guest, for the first four hours.  More thereafter.  For those with time to waste:Giles and Sue have a swinging time in 70s London.
Anyway: Morgan Freeman and Frances McDormand played the Bing Crosby and Grace Kelly film roles on Broadway last year.  The UK has gone more traditional: Martin Shaw (who has been around so long he actually starred in the 1960s Doctor in the House series) and Jenny Seagrove (Local Hero, Moonlighting) put on American accents of the sort that American actors sometimes try with Coward and Shaw.  It started off a bit flat and we wondered why they had given so much care (e.g., the outlets were American, in Boston they get a bad review and it's in the Christian Science Monitor, the broadsheet with the old masthead) and it seemed all the themes are much better explored in The Lost Weekend or Days of Wine and Roses.  But the second act was riveting, tears all round, kleenex on the floor (excuse me, tissue on the floor) and it came together with great aplomb and in weird way sort of redeemed the play itself, which had initially seemed irrelevant.  We happened in on the opening night so there were bigwigs galore, none of whom I recorgnized (behind their specially reserved area, stanchions which I promptly stepped over).  Not as much star power as I was expecting.  At a premier in 2005 for Heroes, I was four rows behind Mike Nichols, who somehow had been allowed to bring in a glass (not a plastic cup) of white wine to his seat and took surreptitious sips at almost quantifiable regular intervals.  It was one of those not too memorable plays made brilliant by Richard Griffiths (on a raked stage, it did look like his girth might give way at least twice) and John Hurt.  Afterwards I read in a paper that during one performance, when a certain audience member's mobile rang for the third time, Griffiths stopped the play and asked her whether she had any further calls to take.
This blog does have a link to Griffiths as uncle Monty, but that has nothing to do with our last day in the UK.  Tomorrow: France.  And red sludge.  Don't know when we'll have Internet again.