What if Rikki lost the number?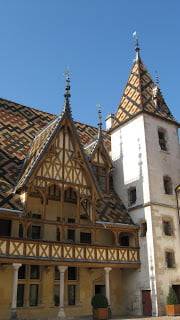 Steely Dan never told us but it would be something like me forgetting the Michelin map I purchased specifically so we could navigate the tricky side roads and myriad diversions of Burgundy and have to wing instead.  It would be my navigator forgetting his glasses and unable to see road signs.  It would be myriad other things forgotten.
Today it didn't matter.  It was beautiful in Burgundy, belle in Beaune.  We found free parking, miraculous in and of itself, and spent the day wandering the streets and parks.  We visited the Musee de Vin, oddly captivated by a 20 minute pre-war documentary on cooperage (two men in sabots, no gloves, no electricity, two days, one barrel; who knew it was so complex?), and a good amount of time at the Hospice, built for the multitudes of infirm following the Hundred Years War, where there were eccentric English translations to antique embroideries (Jacob accused of stoling statues runs away).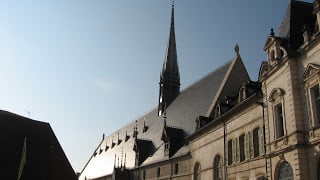 Hospice in Beaune, during morning coffee, too lazy to take a better shot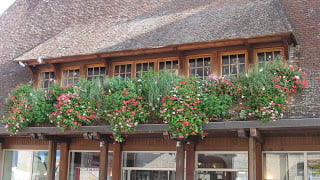 SS took this for Heather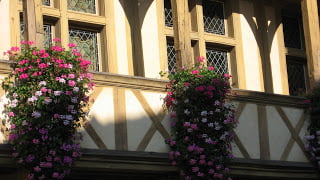 SS took another for Heather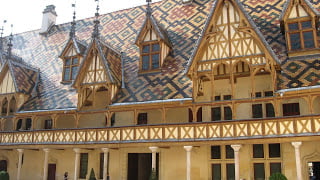 Roof on the interior of the Hospice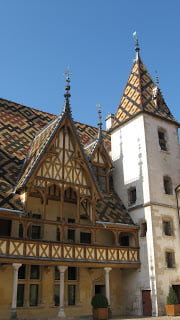 Another view of the Hospice
For lunch we went Le Jardin des Remparts, a hoity toity place on the edge of the old town in an old chateau, grand rooms, high ceilings, a manicured garden, and a boxer (not a dog I was told, a girl, a girl dog I said, no a girl—which was plain from the start as she wandered into the formal dining room several times, slobbering, nine teats on her belly). The table of men from Singapore men at the other end of the dining room were on their annual visit to Burgundy, sizing up bottles at hundreds of euros each…  You get the picture.  (If you must know more, link to the pretentious page here.)  It has a one star Michelin chef and  a whopping 90 euro prix fixe.  But little known is that at lunch you can get the exact same food for 28 euros.
We started with an amuse bouche I forgot to take a picture of: four small mouthfuls, a snail in Burgundian sauce, a cheese puff, a burgundian ham charcuterie square and a cone with a thimbleful of sorbet and a raspberry.  The next amuse bouche came as a soup.  It was, truthfully, the finest tomato soup on the planet; there was some sautéed sage in the broth and a flavour enhancer (SS estimated it was duck fat) that rendered it exquisite.  Three hot fresh rolls each, one sourdough, one bacon, one mustard, with butter and an anchovy butter.  My starter was an egg pancake, light like candy floss, with braised onions and "special agent Dale Cooper" bacon with a reduced onion sauce so rich it was like lobster.  SS had sardines, one breaded, one not, on a custard disk with dollops of parsley/pea puree on the side.  For mains I had a risotto with an elaborate mix of wild mushrooms, seared chicken (and seared chicken liver, not my sort of thing) and two wafers of fried chicken skin (also, not my thing).  But to diminish how exceptional, flavourful and unique this dish was with my distaste for liver is insulting to the brilliance the chef put into it.  SS had mackerel (the fish knife came from a waiter asking "Mackeral" as if Klink was yelling Schultz) seared with an apple scented mayonnaise with fresh sliced apple with a side of mushroom aspic and sautéed wild mushrooms with (not shown in the picture) a flute of foamed potatoes with chives that were, frankly, obscene.  We then received a dessert amuse bouch, a spoonful of coconut milk with a sliver of fresh raw coconut, a rose-scented custard with raspberry sauce and a mini gateau basque and, if that wasn't enough, a small bowl with a soft nougat, a raspberry on top, wafer "frames" and some graham crumbs.  Dessert came after: We both had figs, whole roasted figs on top of sliced cold figs with dollops of berry sauce and a sorbet.  Of everything we ate the sorbet was the only item that was a mistake; SS said it had a fresh herb in it, but I called it the Sani-Flush sorbet.  After that SS had coffee and I had verveine tea—which came with freshly picked verveine in a pot, magic.  With coffee/tea they served us house made marshmallows and house made toffees.  Twenty eight Euros folks.  Plus wine, water, coffee, tax, tip: less than $150 CDN, unbelievable value.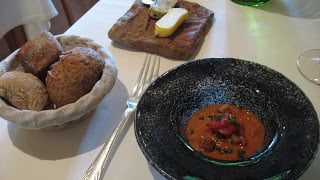 Soup Serendipity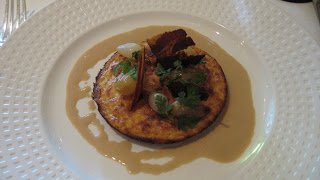 Eggs-quisite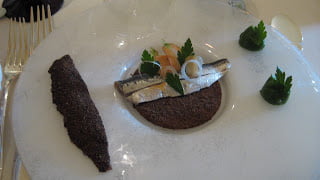 Pawn to rook four.  Check!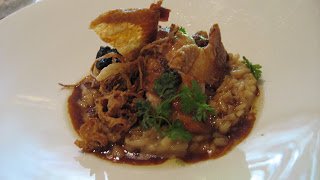 It's not busy, it's business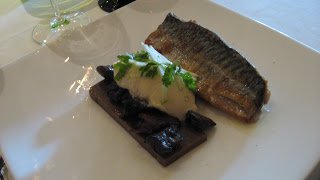 Mackerel My Kommandant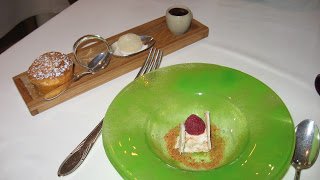 Have some dessert with your dessert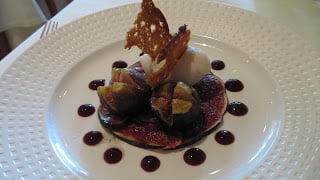 It doesn't count, it's fruit
Well apart from lunch the day was a total let down.  Several walks in parks and on side streets in the sun, window shopping, a trip to Nuits St. Georges, some explorations in wine caves, a sauna, dinner at a cafe, etc. You get the picture!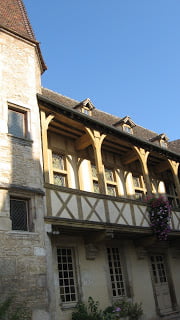 SS snaps another for his mom