Like a Circle in a Spiral, Like a Wheel Within a Wheel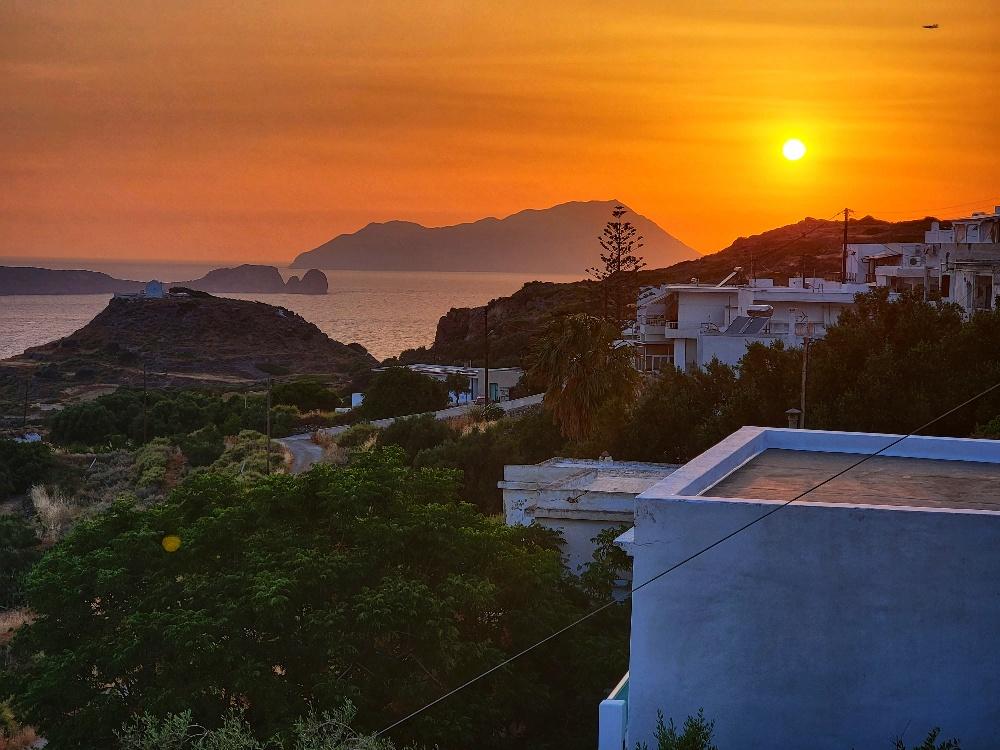 So it was like that, you know? Just Dusty (geddit?!). Windy, fiercely windy, a lot of dust. And then it all died off and turned ambient and Conrad Hall caught the setting rays like in Day of the Locust. (So, obviously, these posts are written after the wine at dinner…)
OK, so: Breakfast, a huge protein and carb loading festival of calories is included in the tariff, pastries, bread, cake, fruit, yogurt, cheese, cold cuts and hot choices like eggs benny and waffles. And after that some steps were in order.
We started by driving to a little fishing village called Fyropotamos, which sits on the northern tip of the island. What looks like a Roman ruin on the edge of the bay is in fact according to the guide books an old mining factory. (Note to self: Google what a mining factory is.) The pretty little church, a chapel in the memory of Saint Nicholas, is a protector of seamen. Someone said seamen!
The flowing dresses and headstands (yes headstands) of wannabe influencers were on full display in the rising sun and it took some doing to get tourist-free pics.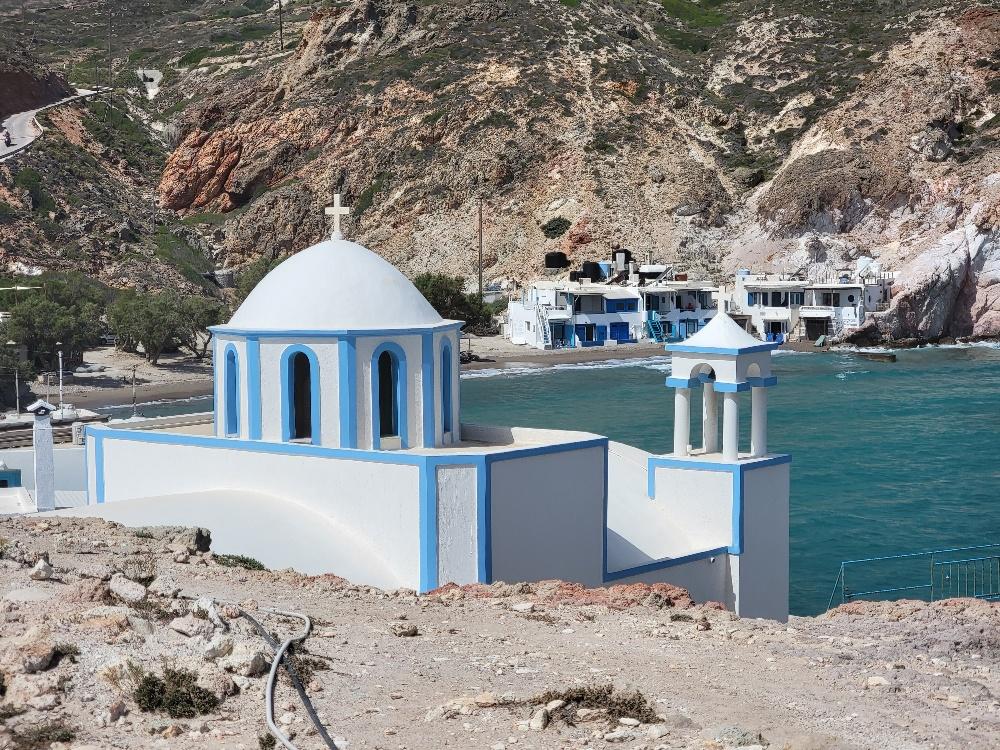 Our route had taken us through Triovasalos, a sort of business hub for locals, where acquaintances reconnect by double parking and idling in narrow laneways while others honk or manoeuvre by with gall and dexterity. Michio Suzuki's name was taken in vain many times…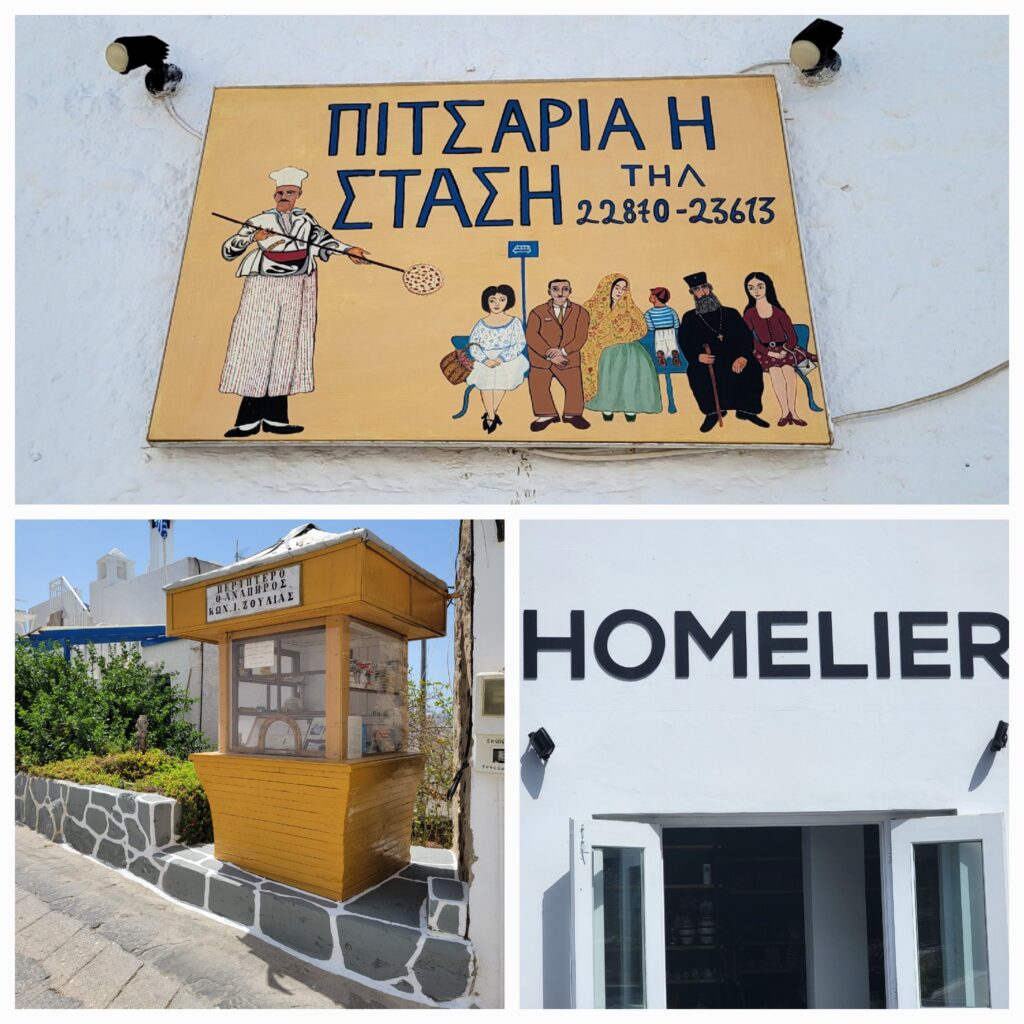 We drove out of that bay and over the mountain to a second village, Klima. Here the fishing huts have largely been converted to cottages. Where fisherman used to store their boats at sea level, and live on the floor up, are now the nautical version of a British mews. (Note to self: Write the to the Guardian's Notes & Queries asking what's the nautical version of a British mews?)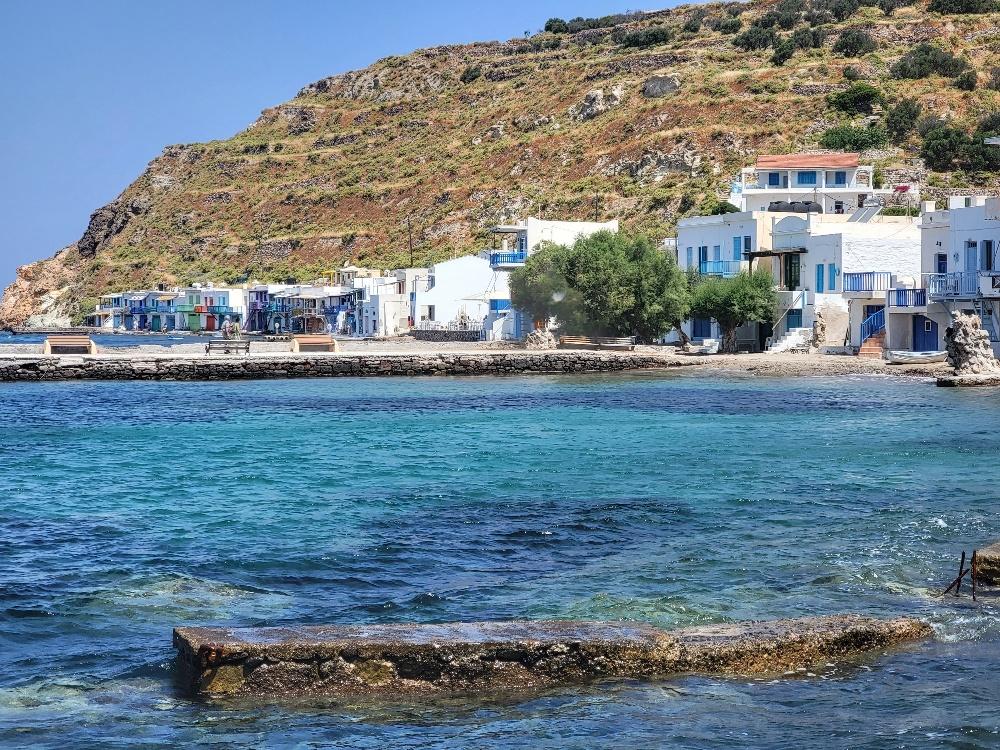 The valley around Klima was littered with wild sage which filled the air with a lovely pungent aroma, and small orchards of lemon trees and figs surrounded the old homes that lay in various states of disrepair, of marked difference to the upmarket tourist digs. The terraced hills led up to the Roman amphitheatre but it was too hot to make the hillside trek even after the pre-diabetes breakfast spread.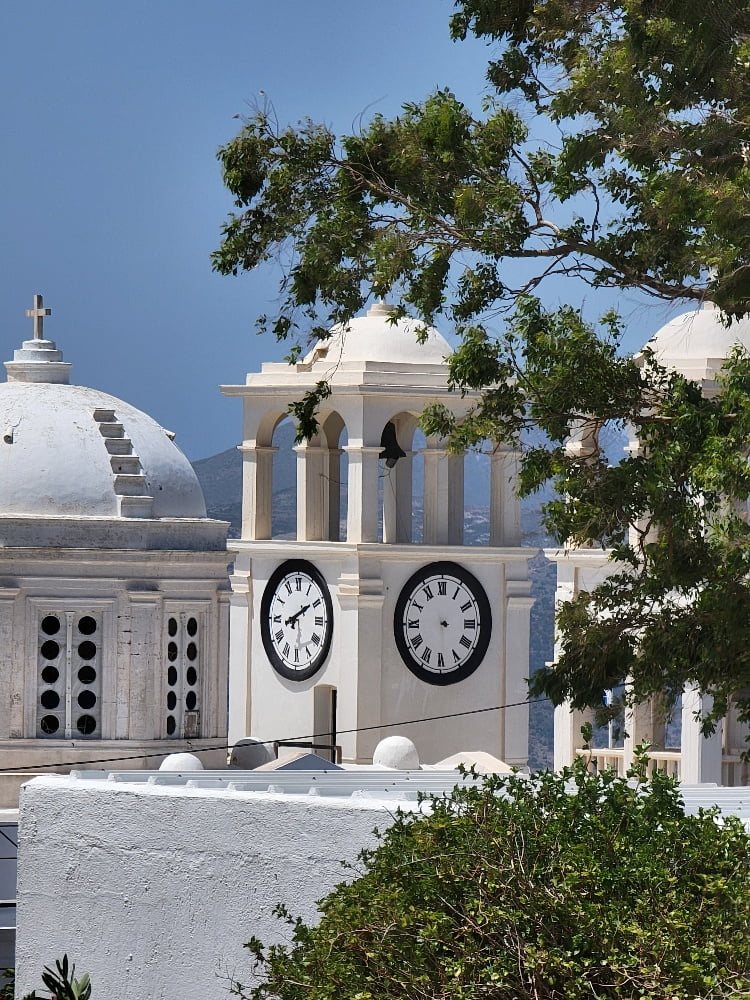 After Klima we drove up to Tripiti, "a suburb of Plaka," most of which is perilously close to the cliff edge and accessed by tiny one-way cobblestone streets lining the blue white homes. At the top of Tripiti are a series of old windmills, some in ruins, others gentrified as guest houses. All it lacked was signage, Windy Ridge (Stephen's drag name, after several failed auditions for RuPaul he has only recently retired, but I see an opportunity on Insta, as Kendall Roy on Succession annoyingly calls it. Succession ludicrous fact: Method actor Jeremy Strong did a sprint in Tom Ford dress shoes to be as dickish as his character and fractured his foot. Now that's dickish) was a hub of kinetic energy; sadly, Russian gas has proved a cheaper commodity. Look at the trees though; due to wind they virtually grow sideways.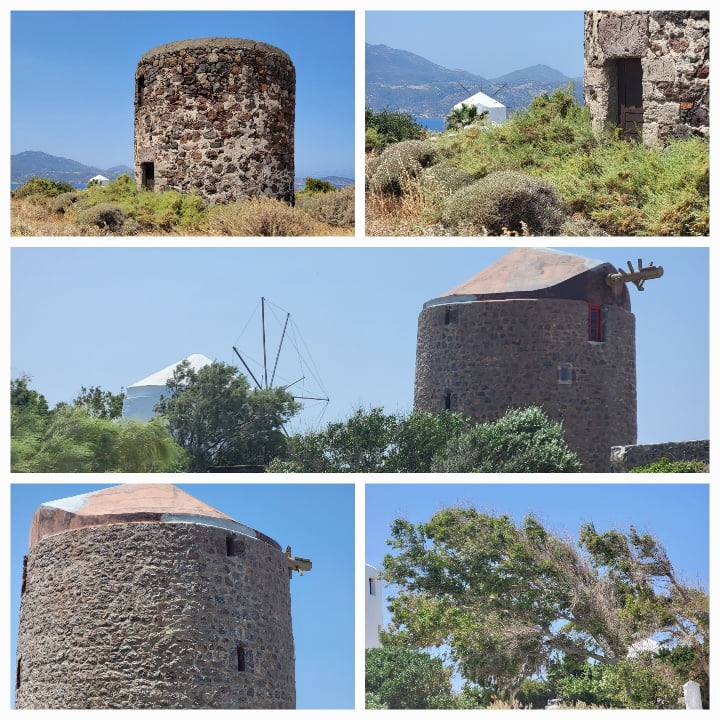 By early afternoon, sweat soaked, we turned back to White Coast to languish in our plunge pool and read.  Prince Andrew, sick with C19 and unable to attend his mother's jubilee.  Huh.  That's the excuse of the decade.
Stephen took a late day walk to the beach where there were, no surprise, some rocky caves protruding on the foreshore.  Caliban, the Tempest, Milos; it all comes together. "A southwest blow on ye."  (I "Good Quoted" it.  Who remembers Caliban quotes?)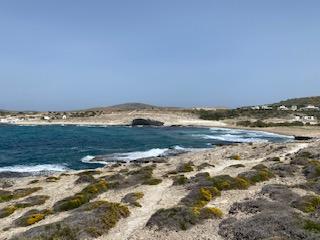 For dinner we returned to Tripiti.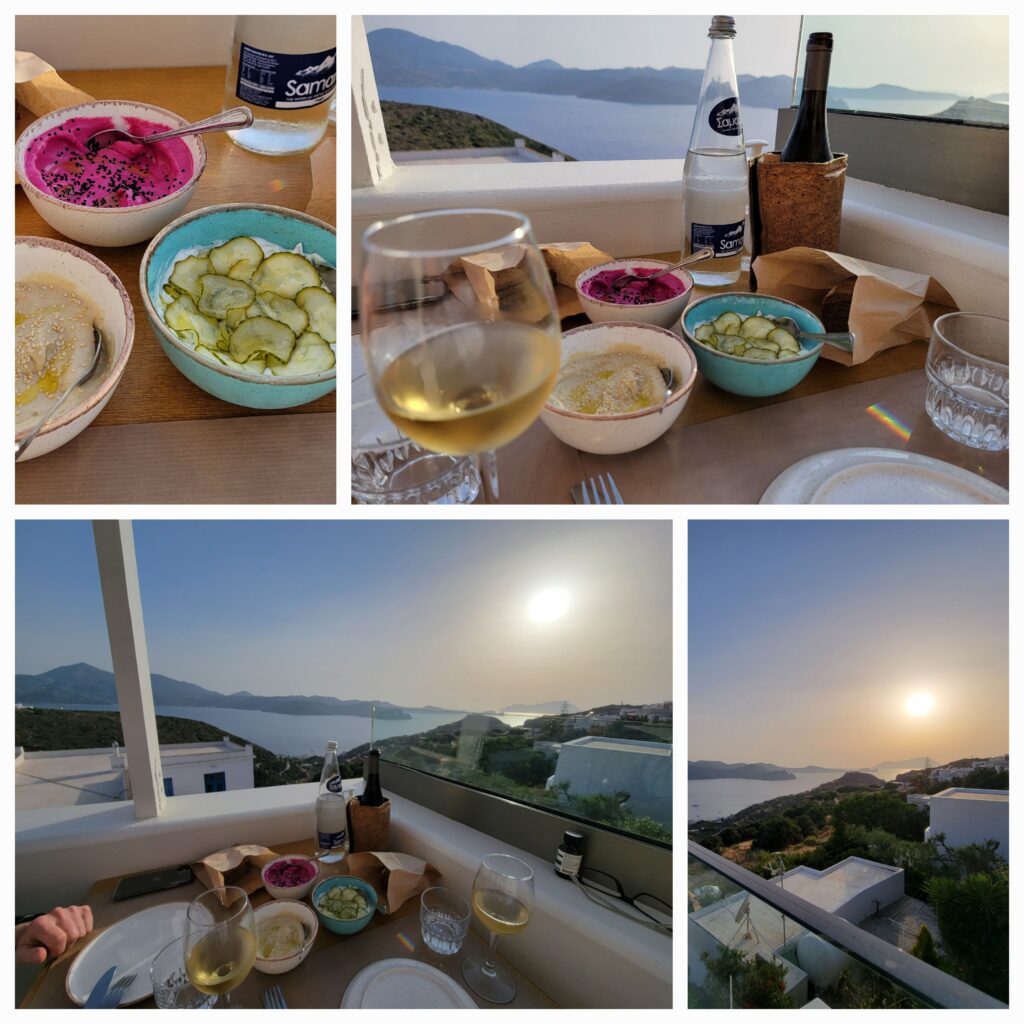 The winds had died down and we took a light supper on the deck at a small restaurant called Okto where we (believe it or not) scored the best table on offer while lesser mortals waited on park benches, Aperol spritzes in hand, for an opportunity to dine al fresco.