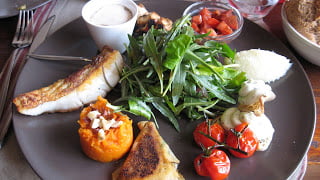 It's stop not arete and parking not stationnement and shopping.  The Quebec sign police would have a field day.
We took the lawnmower on the motorway SE to Aix (as in extremee or excusez or X the LA band from the early 80s) home of Paul Cezanne.  It was getting exhausting being retired in St. Remy and we needed a little urban flair.  If you've already shipped the dog don't worry; staff at the "mas" will be on site for delivery.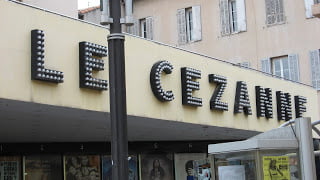 On his deathbed Cezanne said he was proudest of the multiplex named in his honour in his home town of Aix
No museums. But a couple of churches.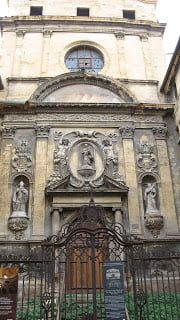 Resting in disrepair while planners decide whether it's "code" or not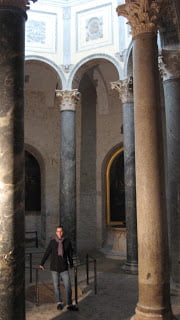 Cathedral St. Sauveur: The baptistry shown here dates to the 6thC!  The rest is "more recent"
Spent most of the day wandering the medieval city, window shopping, and taking in the market, which was huge and a wonderful mix of fruits, vegetables, flowers, trash and treasure; even a "macaron" truck (no Piccadilly Whip for the francos).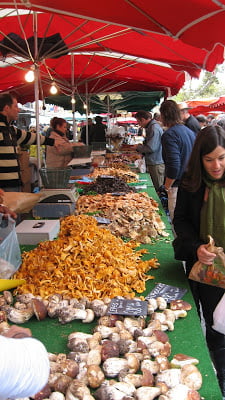 Focus on fungi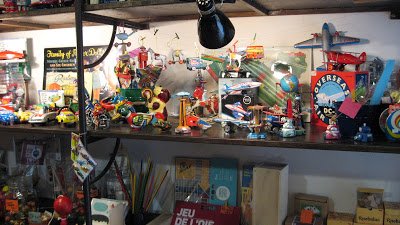 Tin toys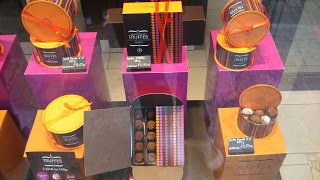 Sweet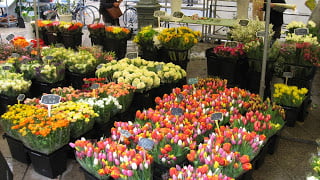 seems a little early for tulips
Scoped out many lunch spots but settled on a "terroir" bistro in a hidden corner and it was a gem: L'Epicurien.  I was getting a bit tired of the structure of French eating (Anthony Burgess wrote a wonderful essay in 1982 on the profound structure of French versus Anglo eating, here if you have the time to waste, but basically the theme is that it's an all or none proposition, nothing light or on the go).  I chose a simple salad; fresh beans, red and green peppers, white and purple potatoes, tomatoes, boiled quail eggs, arugula and greens.  Wonderful.  SS went whole hog with a tapas platter followed by a cheese assortment.  Thinking I would finally get away with a "non-French" one dish meal I ordered coffee.  It came with three amuse bouche desserts…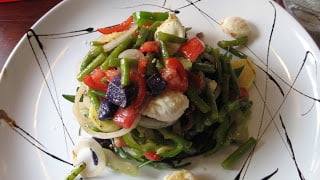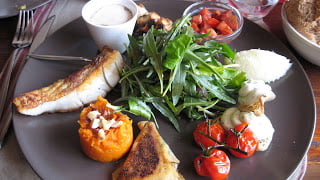 SS's first course at lunch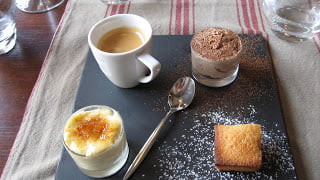 We drove home from Aix on the back roads through glorious "tree tunnels" which lined the shoulder-free highways.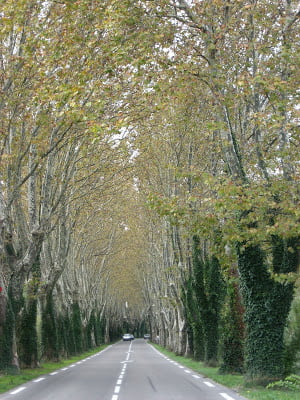 The tree-lined highways in and around St Remy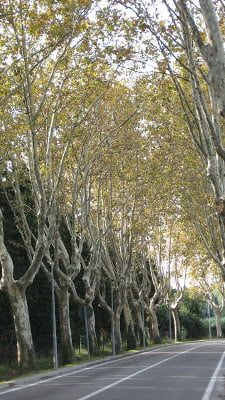 The NYTs calls them "plane" trees
For dinner we headed out to a nearby village called Eyragues.  Don't ask me how you say it.  I left the camera in the car and this was a mistake.  The restaurant was in a large, spacious modern room with pine beams and a wall of glass looking out onto a manicured but overgrown garden.  We were the first table–because I book at 7:30 and it takes three hours to eat dinner and any later and I'd collapse.  It was an all out eat fest.  When we sat down they served us a small plate of three things: a braised cherry tomato on an apple gallette, a corn bread madaleine and a tiny quail's egg in a savoury panacotta.  Then we ordered.  Then they brought us a small piece of toast which they drizzled with local olive oil.  Then they brought us an amuse bouche: a king crab salad on toast and a mushroom veloute (soup).  I was clever: I skipped my starter.  Of course it confused the waitress and probably the chef but how else can anyone manage?  SS not so clever: His mushroom entree came as mushroom ceviche, mushroom terrine with hazlenuts, and a mushroom compote with probably the finest most exquisite foie gras in the hemisphere on top.  Bread was an option of pain blanc, whole wheat or a lemon scented brioche (he took the latter!).  Then we had our mains.  I had a roast partridge breast and date quinoa with pistachios alongside a partridge confit (two plates of course) with quince juice.  SS had beef tenderloin "blue" with mushrooms, caramelized onions and proscuitto.  Then came cheese.  We both had a soft "brillat savarin" which was served with a warm poppyseed miniature muffin and a perfect square (not trapezoid!) of pomegranate seeds jelly.  At this point the buttons were beginning to pop, and the restaurant was full, and other guests were getting strange entrees such as a white crispy nest which, when sauce was poured on it, disappeared and revealed a scallop.  Never ones to give up we persevered.  Dessert came to SS as a Burgundy chocolate castle; with was just walls of chocolate, chocolate ramparts, chocolate tower and chocolate courtyard.  Mine was a trio of outrageous: A whole Norwegian pear poached and sitting in a bed of caramel; a small glass of steamed milk pudding with caramel cake; and a half a lemon thyme meringue sitting on a tonka bean ice cream on top of a small chocolate brownie.  This wasn't enough however; a trio of dessert amuse bouches appeared: a honey cake, a light frothy hazlenut cream and a spectacular small nut and vanilla tart.  Coffee please!  Wouldn't you know they served it with cofffee marshmallows!  Call the tailor, these pants don't fit!  It was a really spectacular meal, totally unexpected.
PS: Except for lunch, dinner and a newspaper, it was le non shopping.