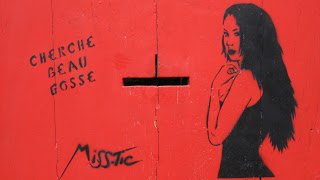 Even the graffiti has je ne sais quoi
Any more culture and we'd be yogurt.
Today, all day, in Arles.  It was sunny, then overcast, but mild, up to about 18C.  We started with a coffee in a brasserie on the square, where I read in the IHT that Sarkozy has fast-tracked the pension reform and, in response, national demonstrations will be scheduled for next week on Thursday and potentially Saturday!  Still lots of gas stations closed but the only demo that we witnessed was municipal workers playing polka music on a ghetto blaster in the centre (to disrupt the myriad tour groups who gather and discuss architecture).  Of course they took a break for lunch…
Arles has been settled since prehistory, with the Greeks creating the "indigenous" city from the 6thC BC.  The Romans expanded it substantially and the population warranted both a theatre, which could hold 10,000 spectators, and an amphitheatre (along the lines of Rome's Colosseum) for 20,000.  We began at the theatre.  Built under Augustus in 1stC BC it has been substantially updated to operate as a modern day theatre.  Nevertheless, the sides are strewn with remains, bits of pillars and arches and walls.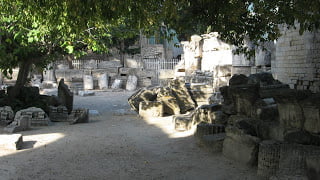 A little Roman detritus
From the theatre to the amphitheatre, built in 90 AD.  Picasso had front row seats here (as it's been used for over 150 years for bull fights).  And, as the pics show, it's an odd mix of original stone, retouched and restored arches, and some decidedly non-Roman touches.  After the Romans left Arles the theatre was a natural for a fortress.  For centuries it had a small village inside, houses, churches, shops.  In the Middle Ages towers were built to strengthen defences.  As late as 1826 there were 212 houses and two churches still inside!  They were demolished for the restoration.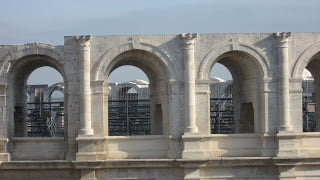 Restored arches on the amphitheatre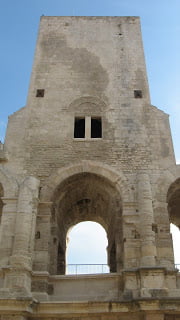 Towers were built onto the theatre in the Middle Ages when it was transformed into a fortress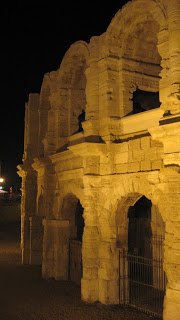 Lit up at night, on the way back from dinner
From the amphitheatre to the church cloister.  A serene complex which abuts the church, it sits on an Episcopal complex from 5 AD.  New construction began in the 12thC, completed in the 15thC.  It was then restored in the 18thC, just in time for the French Revolution…  Meaningless architectural detail: It looks like a rectangle but in fact it's a trapezoid.
Tastes change: Gothic arches on one side of the cloister…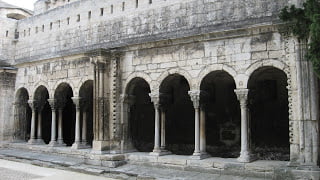 …Roman arches on the other.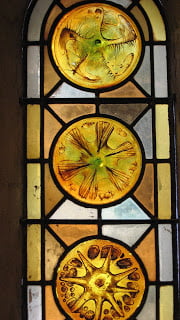 Exquisite stained glass in the church cloister
Everything closes for lunch, except restaurants, so we took a very tasty vegetable soup and ravioli stuffed with salmon (only nine Euros) before heading back into the breach.  We walked a few kms from the old city to the antiquities museum.  The walk along the Rhone took us through some dicey old neighbourhoods eventually to a "new build" on what was once the site of the Roman circus.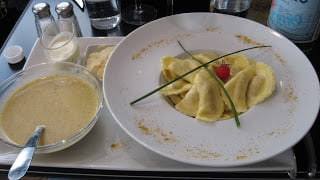 Not bad for 9 Euros, tax and service included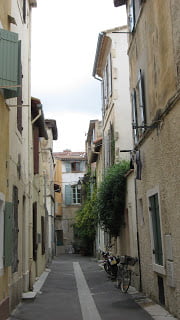 Typical side street in the old city.  (Not shown: the heaps of merde de chien–watch where you step!)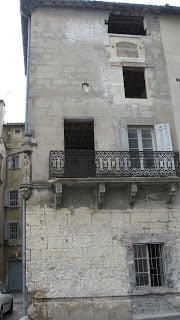 Sarah Richardson has yet to makeover Arles
The antiquities museum was simply a masterpiece of Roman ruins in excellent shape; whole mosaics of floors, many sarcophagi, statues, pillars, coins, and especially jewellery.  A number of pieces going back to prehistory—flints, arrowheads, unusual tools—were side by side with Greek and Roman weapons, plumbing fixtures, and other features of ancient Arles.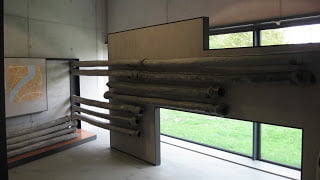 Before they got around to using PVC pipes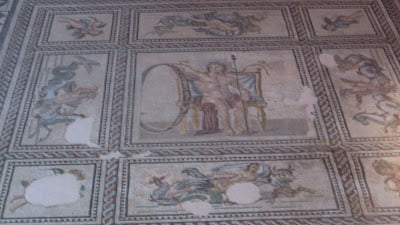 Floor mosaic, about 8m x 8m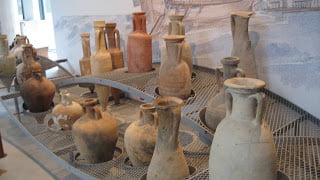 Wine vessels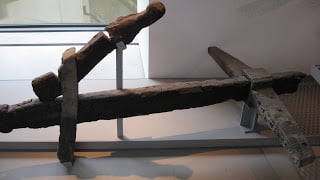 Weapon ("unknown") from the time before Constantine
Onwards!  Back to the old town where we visited the Bath of Constantine; as was traditional, there was a hot, lukewarm and cold bath, as well as a "palestra" (a training room akin to our gym; btw, a gym in France is a club de forme, which is much more encouraging to a lardass like me, because my form is club size).  Of interest is that the whole population, every day, bathed!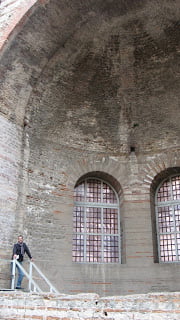 Slightly larger than the average bath
From the baths to the Musee Reattu.  Housed in a building once belonging to the Knights of Malta (a little Dan Brown-ish) the collection was a tad erratic (we later read a pretty scathing review in the guide book).  There was, however, a phenomenal show by French photographer Pierre Jahan.  Many of the snaps on display were taken at the end of WWII and a few really curious ones were curators opening the Louvre's art, which had been stored during the war.  There was a great pic of the Mona Lisa being unveiled in 1946.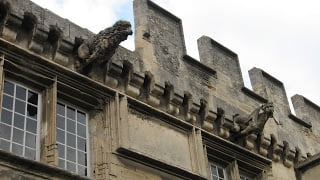 The Musee Reattu is housed in what was once the Grand Priory of the Knights of Malta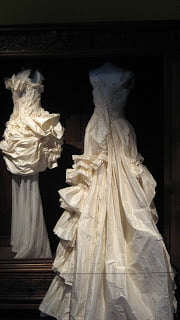 "Gorgeous little things…"  A display of Christian Lacroix couture gowns
Next the cryptoporticos.  This was basically a below grade gallery built as a foundation to hold the forum up top.  There was nothing to see—it was very dark—and essentially involved going underground about three flights of stairs and walking two kms in dank air to look at poorly lit stonework. Much room for improvement!
When we emerged we went to the church,  the Eglise St. Trophime (another UNESCO site).  Portions date to the 11thC, some the 12thC.  They say if you only visit one thing in Arles this should be it, but really it's just a lot of very impressive architecture, a mass of art and tapestry, esoteric relics and exquisite glass.  So, really, there are better ways to spend your time.  Of pretty interesting note, given the Dan Brown feel, were faded frescoes in one of the chapels including a pyramid a la the US dollar, the remains of many saints and one chapel completely bricked over!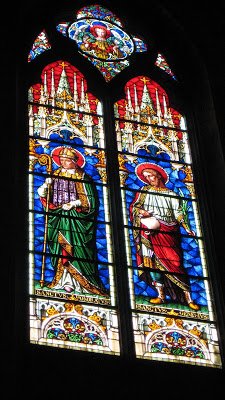 Stained glass in the "eglise" a little less laic than the cloister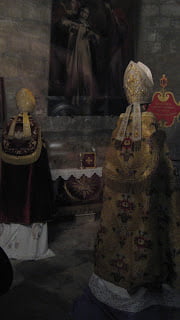 Historic papal vestments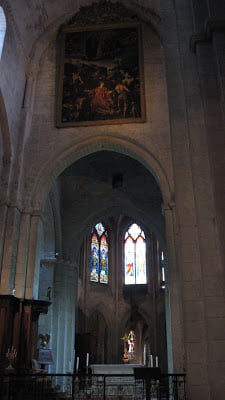 Gothic arches in the nave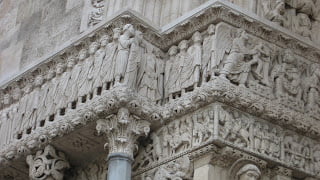 Elaborate carving on the front entrance: The blessed on their way to heaven…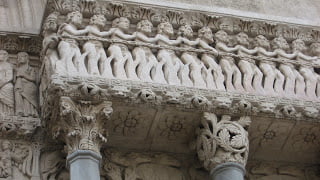 …and those a little less fortunate
There was more to see.  Seriously.  But I called it a day and we returned to the hotel for a nap.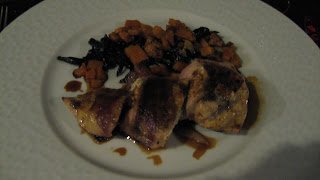 The dim light couldn't do our food justice, but trust me it was delectable
For dinner we went back into Arles.  It was a Friday night in a tourist destination and we didn't have a reservation.  The place we thought we had reserved was closed for the season.  We scoped out a place during the day which was recommended in Lonely Planet, Fodors, etc., but it was, yes, closed for the season.  Oh well…  We took a long shot and went to a small bistro called Le Cilantro; didn't like the name or the fact that the kitchen was on the front and the seating in the back.  And we were the first table in an empty restaurant.  But once the amuse bouche arrived–a local charcuterie sample, olive tapenade and vegetable chips–everything was better.  I had a light chestnut soup with slivers of roast pheasant to start and SS a big effing slab of duck foie gras (!) with a roast onion side and medjool dates.  For mains I had a salmon souffle (basically a filet of salmon wrapped in a feather light egg blanket) with caramelized shallots and vegetable terrine, and SS had a roast chicken wrapped in bacon with roast vegetables (squash, wild mushrooms and zucchini).  For dessert I actually couldn't translate it, so a chocolate pear concoction showed up.  SS chose the cheese, an exquisite soft young goat cheese, a light blue and a mild hard, very, very good selections.  With coffee they served a wonderful dessert amuse bouche: a sponge cake the size of your thumbnail with a dollop of cream icing, an uber rich chocolate mouse (only a few tbsps) with a dark chocolate wafer, and a marshmallow that was a dead ringer for those cheap banana penny candies of yore, except with real banana flavour.  Pretty good luck for a Fri night.  Of course we weren't up to speed with all the other tables getting wine decanted and having extravagant degustation menus, but all the same an excellent evening.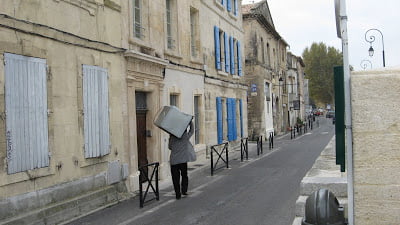 Another sort of cultural sight: Man carrying oven