Easter in Chicago.  Checked into the Fairmont Airport.  Last time we lucked out with a north facing suite, view of the mountains, bathroom bigger than Michael Fassbender's business if you know what I mean, shutters you could swing back from the bathtub and watch TV or take in the view, double sinks, two-person shower, the works.  This time south facing, standard king, still very nice and well appointed and as equally terrifically sound-proofed.   Honestly, you can watch a jumbo speed down the runway (through the Nikon Prostaff telescope, standard) and still hear a pin drop.  Nice.  Not so nice?  Well, we passed on the $35 salmon sandwich and the other fine selections at what is arguably one of YVR's best restaurants but also priciest, and had, for $11.99, the White Spot burger and beer special; something appealingly socialist about how the prices at YVR are the same as the city.  Free WiFi for free membership in the free President's Club, terrifically non-elite elitist, and SS promptly returned to work.  Aah, the government.  I could also pass on the bed, uber-soft and all enveloping, like lolling in jelly.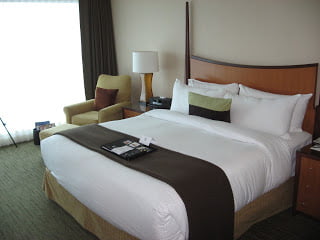 Fairmont YVR: Too soft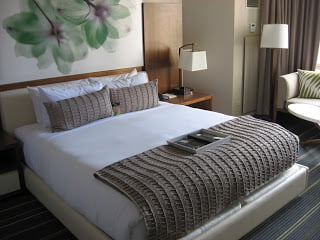 Fairmont Chicago: Just right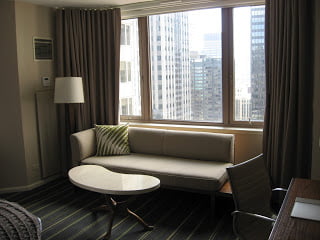 Standard king on 32nd floor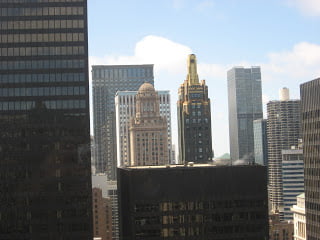 Mies out the window. The Carbide/Carbon deco building in the distance is now a Hard Rock Cafe and Hotel.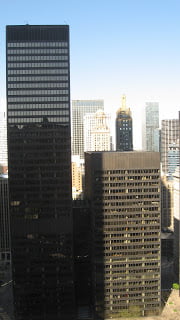 More Mies-ey
On the morning of travel we breezed through check-in and had Nexus to speed up Customs.  But SS was "spot checked" unbeknownst to me and I was left alone in the departure halls not sure what to do or  where to turn and not allowed to re-enter the Customs area.  Our gate, 78, was the furthest distance possible without ending up in the Fraser, and I jogged down to the gate to make sure he wasn't there, jogged back, then jogged back down again as they were in the final stages of boarding.  A crew member said "if you want to fly you better board" so I passed the gate but I just stood on the gangplank unsure of which way to go.  At the end, the very bitter end of boarding, SS showed up.  They had demanded to see his bag which had to be pulled from the plane and delivered to Customs.  At this point we had no idea whether we were going to arrive at O'Hare with or without underwear.  I took a sedative.
Took a walk up the Magnificent Mile.  Sort of a glorified mall, Robson Street on a Chicago scale, but happened upon an exceptional high-end food fair at the Water Tower complex and we had charcuterie, cheeses, dips and vegetables, with Prosecco, so all was not lost.  Nothing else to write a blog about, every chain under the sun, but the Bloomingdales in the 1912 Medinah Temple was of note as were signs and buildings and something glorious called sunshine.
Nap.
First evening jumped in a cab to Green Zebra, an elegant vegetarian restaurant on W Chicago where we met up with Irish/Vancouver Julie and her UK/Washington DC friend Wendy, for a pretty splendid small plates sharing feast.  Some highlights included sweet potato dumplings with crabapple ketchup and flatbread with charred leek jam, taleggio, cured fennel and Thai basil.  SS did the tasting menu.  Julie and Wendy shared what was, apparently, a superb baked Alaska for afters. A wonderful bottle of Au Bon Climat.  Great evening.  Chef Shawn McClain signed a menu for us.  Later we cabbed to the W for cocktails, the wrong W, and then to the Lakeshore, where we admired the views of Navy Pier and the downtown skyline to $14 drinks and music which Julie begged go old school to no avail.  Having arrived at our limit, our old person's limit, we cabbed back to our respective hotels.
Next AM a little slow, but we got it going, thanks in no small part to the Nespresso in the room; nice touch Fairmont.  Onto Wicker Park for a little window shopping (glorious day) then back to Chicago Avenue for a basic lunch at a Michelin-guide recommended diner called Flo (a little too greasy and fast food for our tastes: No TripAdvisor review for you!) then North along Halsted walking, up and down Boystown and beyond, found some Peychaud's bitters but not much else, train downtown, took a 3:30 Architecture Institute high-rise tour, then back to the hotel for a rest before hopping back in a cab to Boka.  Excellent food in a spectacularly mediocre room (half the restaurant is an outdoor space converted, with rather flimsy passion, into a dimly lit cloister).  Pass.
Saturday AM a little slow on the go (great beds at the Fairmont, so unlike the YVR airport venue) then into the downtown.  Gloriously sunny and warm and deep blue sky.  Checked out the over-the-top garish lobby at the much-touristed Palmer Hilton, into Macy's (previously Marshall Fields), sourced a vintage poster shop, and otherwise traipsed about State Street, that great street, and the grandee of Michigan Avenue.  Then trained north to John Hancock Center for Vibram shoes and a fine lunch at the Water Tower food fair where they were playing the Masters on one TV at the bar and college field lacrosse on the other.  Go figure.
Back on the trains north to Lincoln Square for quaint shopping poking about, had hazed over and there was no wind so it had become a whiff of how humid I'm sure the windy city can get, and then back downtown on the "better late than never" Brown line.
We had no dinner plans and nothing in our various treks led us to consider making a reservation and as a fallback we were considering Aria, the Top Chef Texas near-finalist Beverly Kim's restaurant in our hotel, but it was perpetually empty, and worse, from the street, was dead; the sushi bar was a ghost town, night after night.  So on a whim we walked across the street to the Radisson which has an Italian bar and restaurant called Filini, after the strings of lights across the room, for a very tasty basic Italian dinner (eggplant and house made mozzarella bruschetta, a Caesar with fresh anchovies, braised oxtail gnocchi, a half chicken in rosemary and a green salad).  SS went for a dessert of basically house made donuts with raspberry, vanilla and chocolate dipping sauces.  Chef came over and poured us a couple of very fine grappas gratis.